IFL Watches Serves Up A Ghoulish Symphony With Its Customized Seiko 5 Sports Halloween Collection
Haunting horology on your wrist
What happens when the tales of old, filled with mythical creatures and spine-tingling legends, dance upon the wrist in a display of ticking artistry? This Halloween, the age-old craft of watchmaking takes a spellbinding twist. IFL Watches, the mastermind behind these playful, evocative designs, brings forth a trio of custom, hand-painted timepieces in the form of the Halloween Collection.
Let me paint this picture for you — three custom hand-painted Seiko 5 Sports watches, each one limited to 100 pieces. Excited much? As a quick disclaimer, these are not official Seiko watch launches. IFL Watches creates custom hand-painted dials and releases them in very limited quantities. Still, these Halloween-themed pieces are kind of cool. Using the 42.5mm Seiko 5 Sports as a base, these watches feature the 4R36 movement inside. These watches are rightly known as reliable workhorses. You can wear and abuse them, safe in the knowledge that they won't let you down.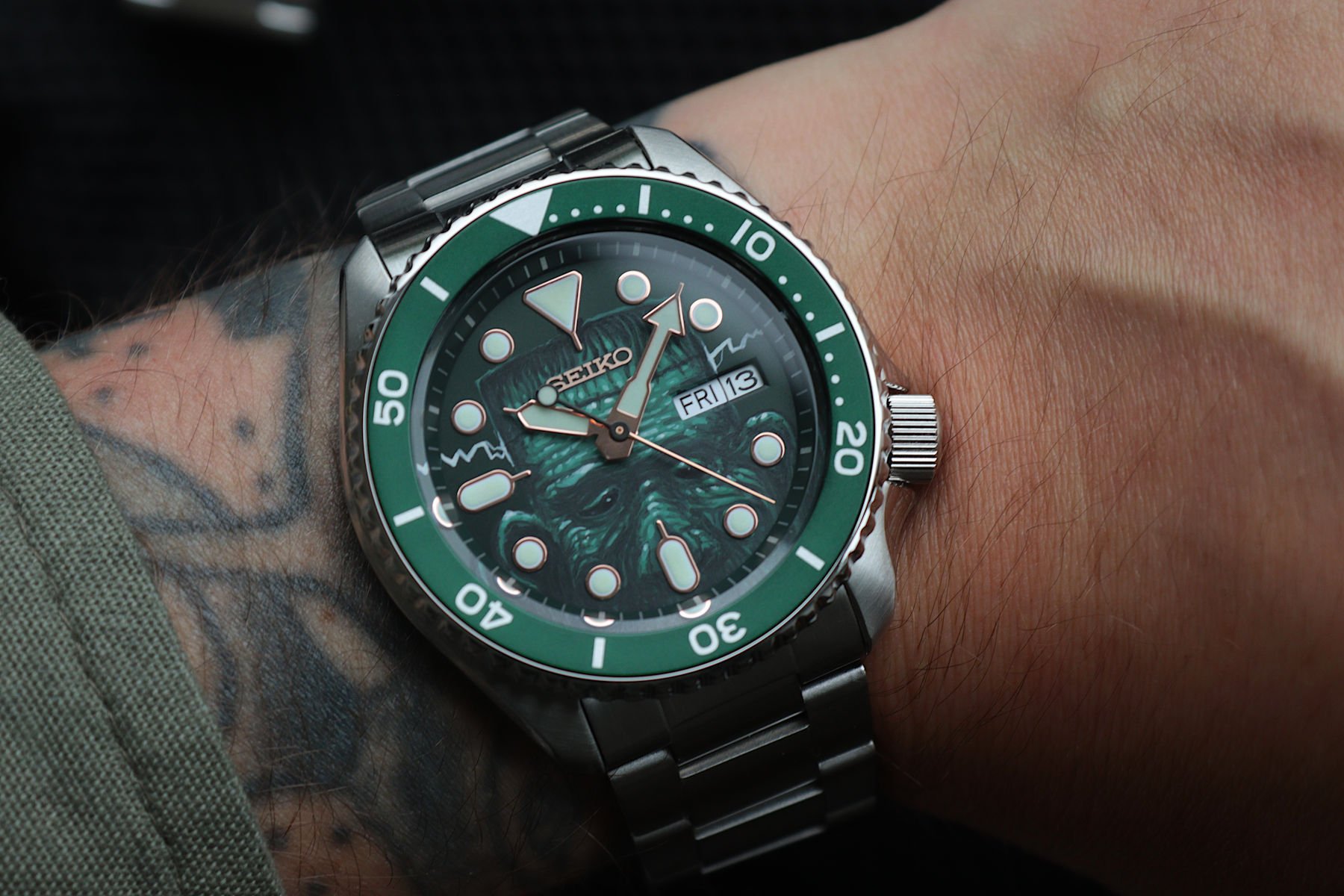 FrankN: The mythical monster reincarnate
First in line is the FrankN. When you think of Frankenstein's monster, you probably picture a lumbering creature with scars. But what if that monster wore a watch? OK, it may lack the self-awareness to choose a self-portrait on the dial, but play along here. The green undertones of this piece, derived from the Seiko 5 Sports base, add that touch of tragic elegance we've come to associate with the iconic monster.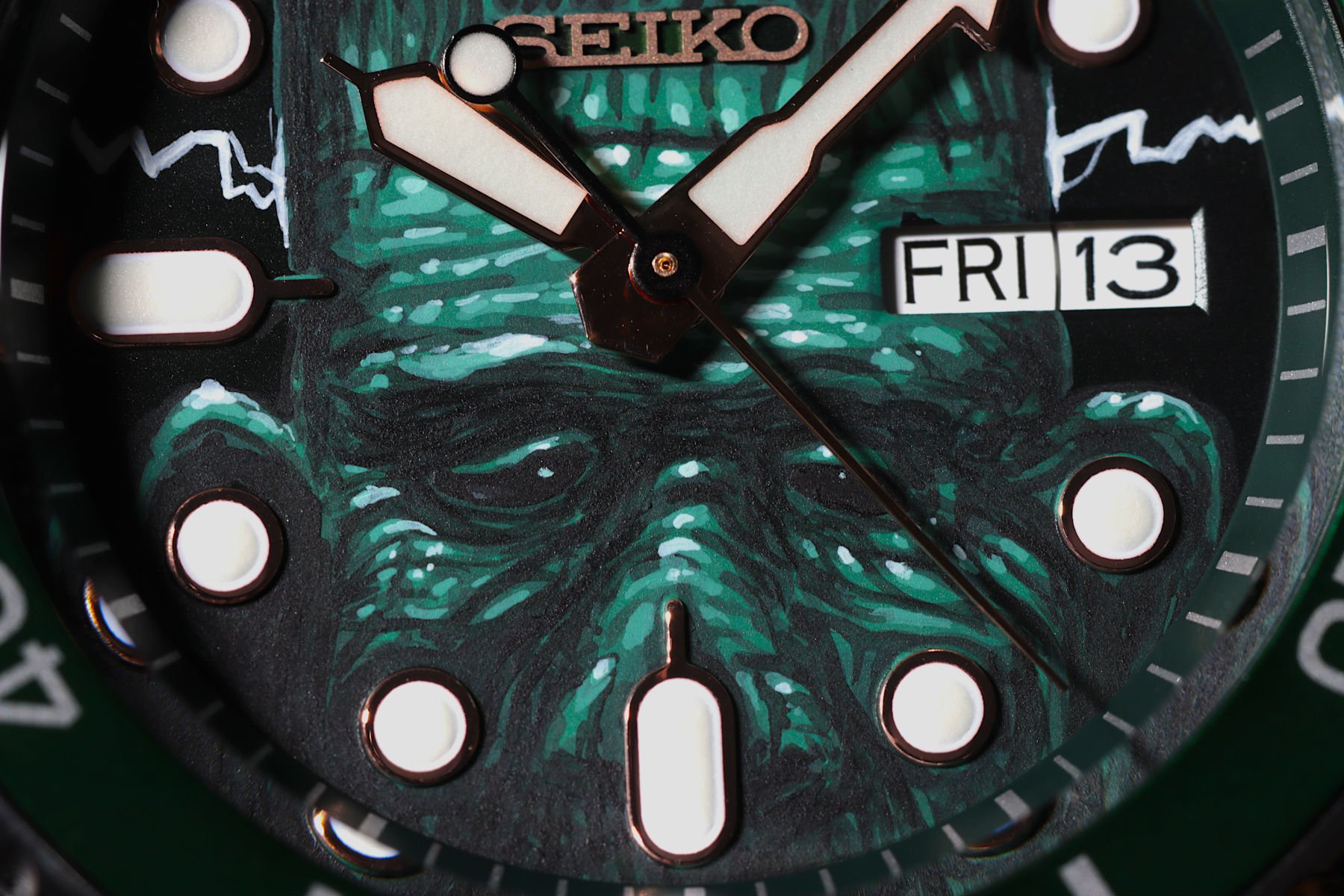 When photographing the FrankN, I got a sense of just how impressive the paint job is under the macro lens. The minuscule individual hand-painted lines are layered to provide the depth and texture of Frankie's face. I can only imagine the ice-cold steadiness required to paint something at this level. I know I couldn't do it, and I think that makes me more impressed by the artist's work here.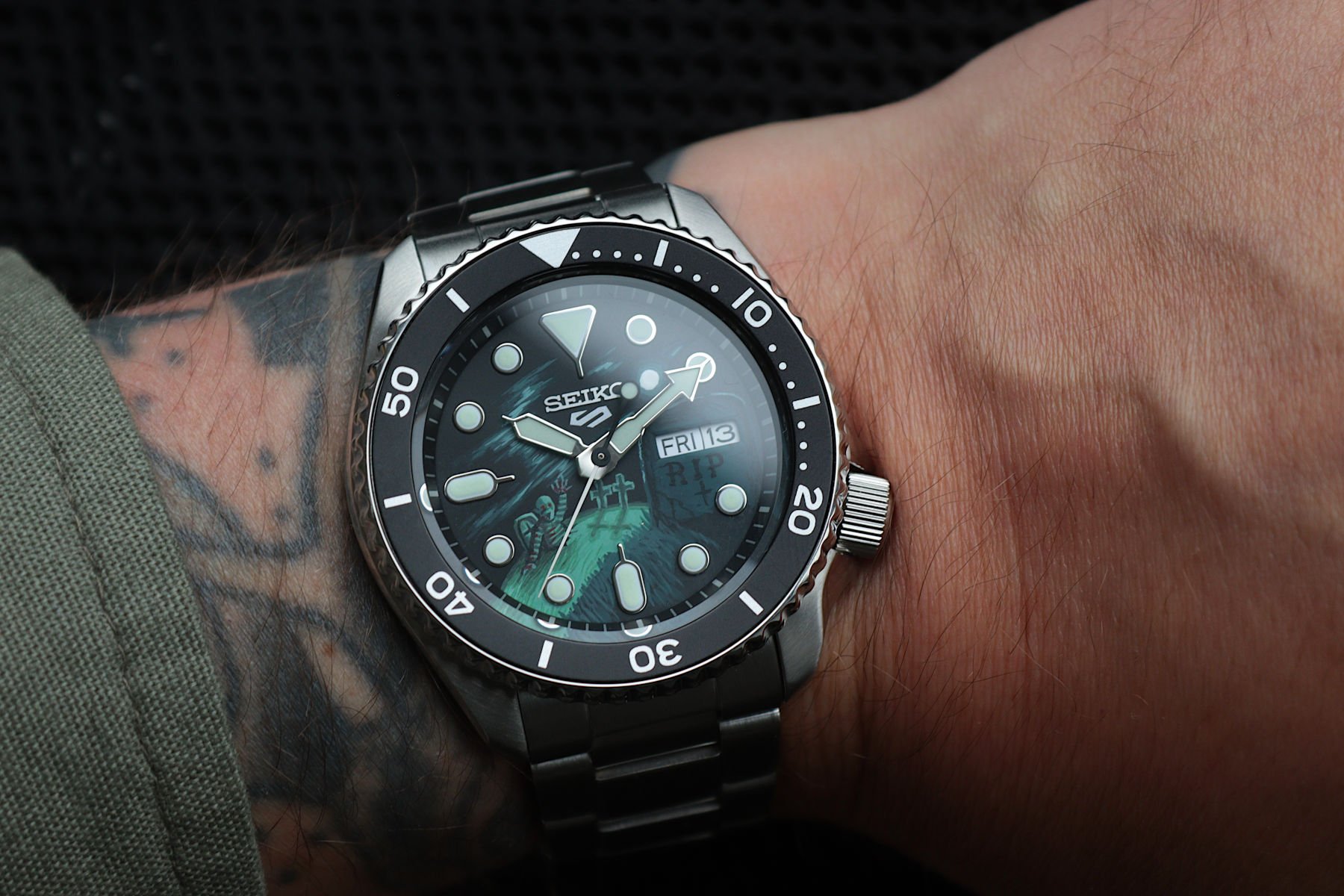 GhoulZ: Ticking from the tomb and ready to rise again
Dive deeper into the abyss and find GhoulZ next. Of the three models, this was my favorite and the one I found myself wearing the most. Zombies aren't just for movies and TV — now they're for watch dials too. This piece is an ode to the undead. The hand-painted dial, set against silent tombstones, captures an eerie essence like no other. And the day and date window styled as a tombstone's mark? It's a pretty clever way of integrating it. That said, I wish we saw white-on-black wheels here as they'd blend in just a tiny bit better.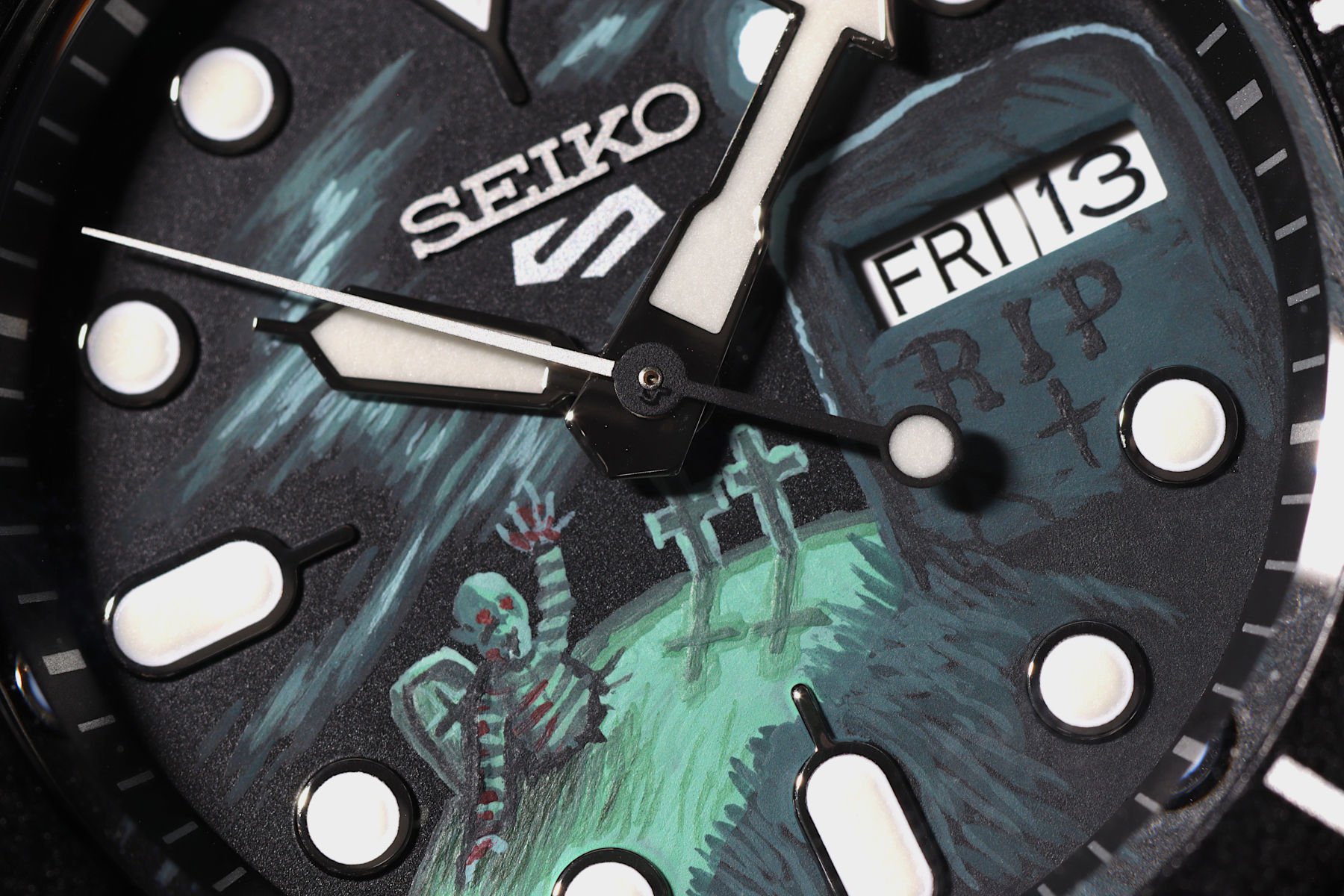 With its primarily gray palette, the GhoulZ is probably the most "under the radar" of the three (not that any of them is that subtle). Once again, the layered elements of the painting are very impressive, but the command of the moonlight shining by the 2 o'clock marker particularly impressed me. It eerily highlights the zombie as it rises from the earth in the shadow of its neighbors' gravestones.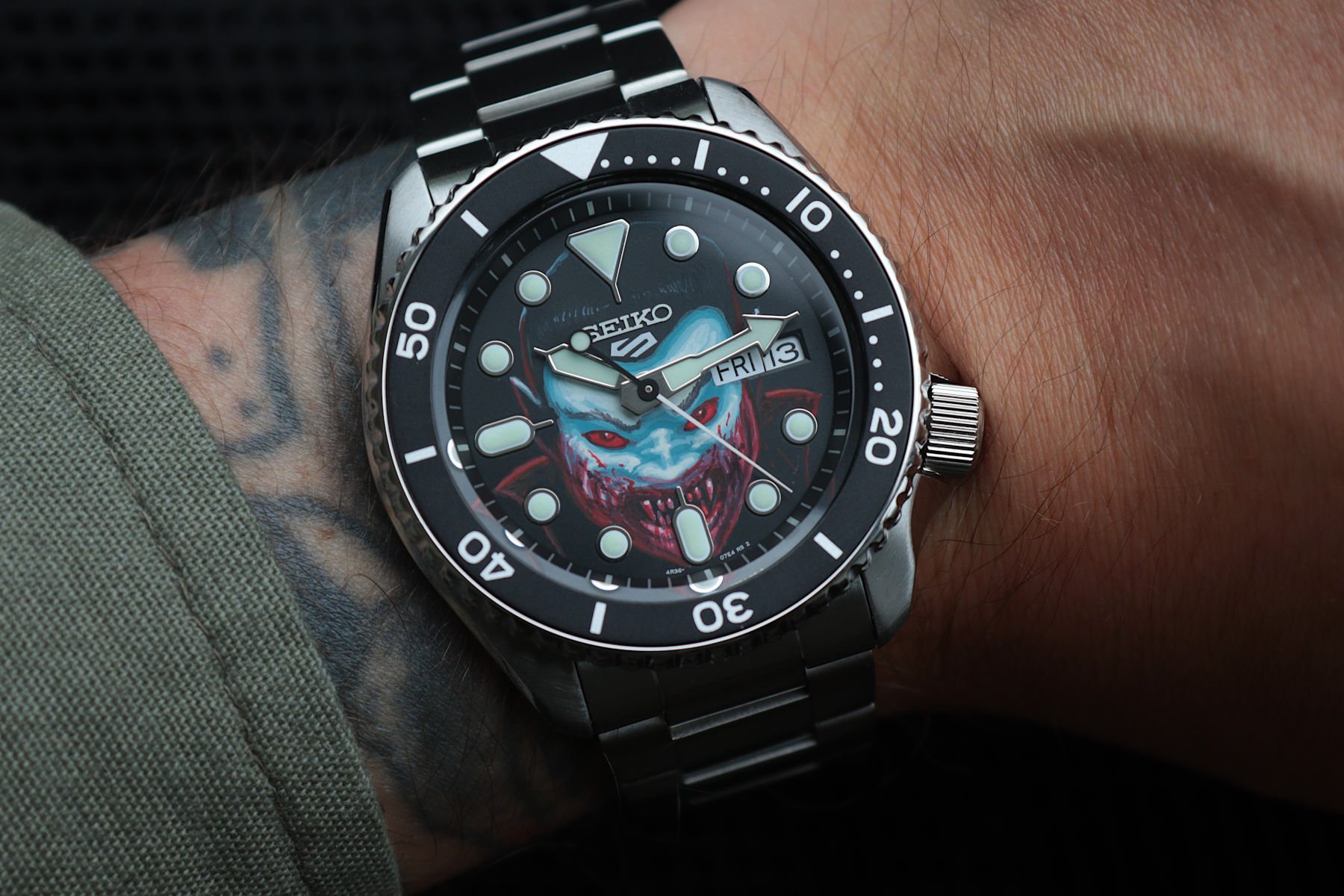 CountD: Dracula's timeless dance
Last, but oh-so-not the least, step into CountD's realm. The iconic vampire Dracula isn't just about bites and bats. No, he's also about sophistication. After all, Dracula himself was a count, a man of nobility. And this watch? It's the embodiment of nocturnal elegance, with a spot of bloodsucking nightmare thrown in for good measure. Each tick, a subtle nod. Each tock is an affirmation of the tales that keep us awake at night.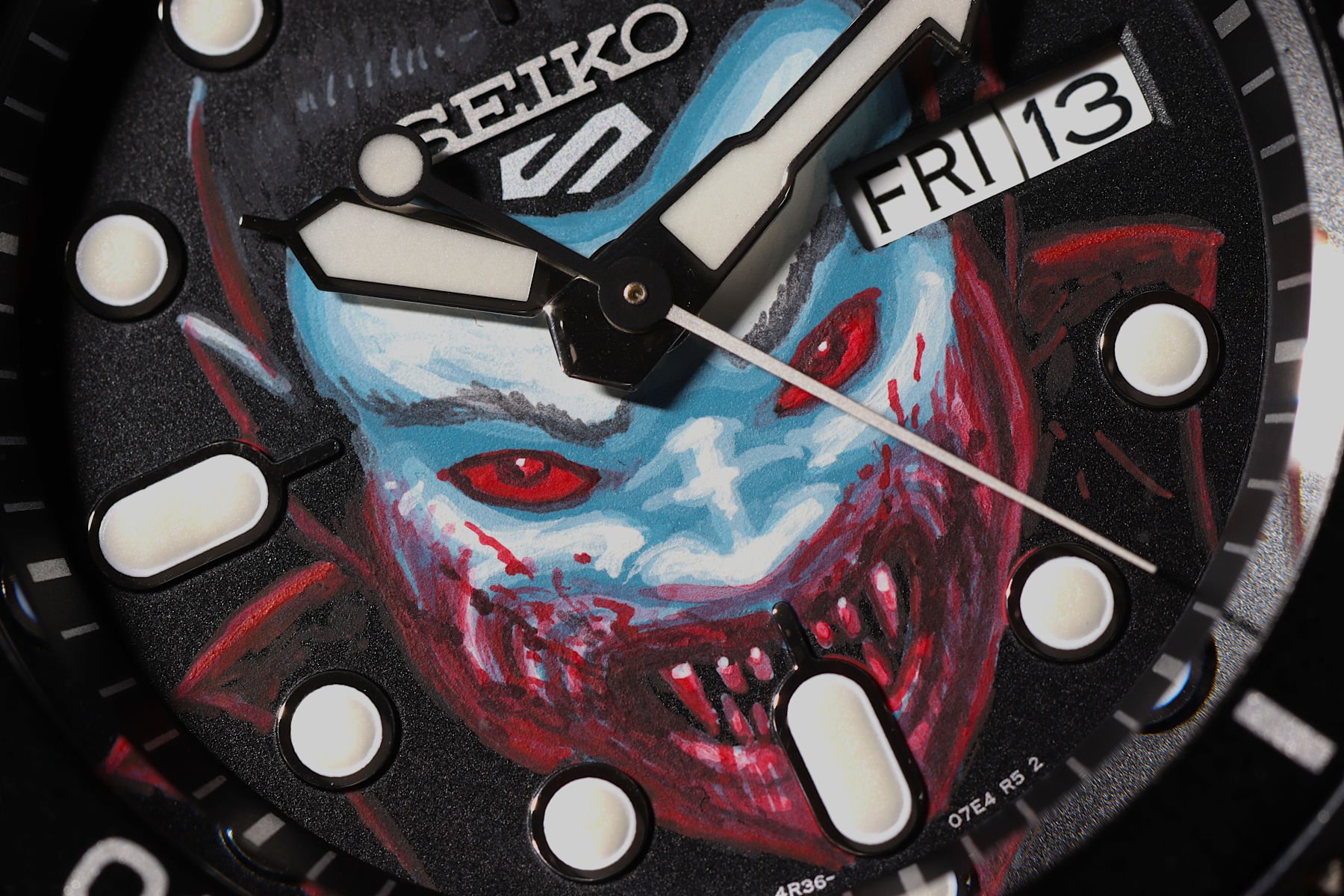 Thanks to CountD's lust for the red stuff, this watch is by far the most vibrant and chilling of the three. The vampire's pale white undead flesh perfectly contrasts its blood-soaked grin. Again, the artist's attention to detail in building the layers of the face structure is particularly impressive to see under the macro lens.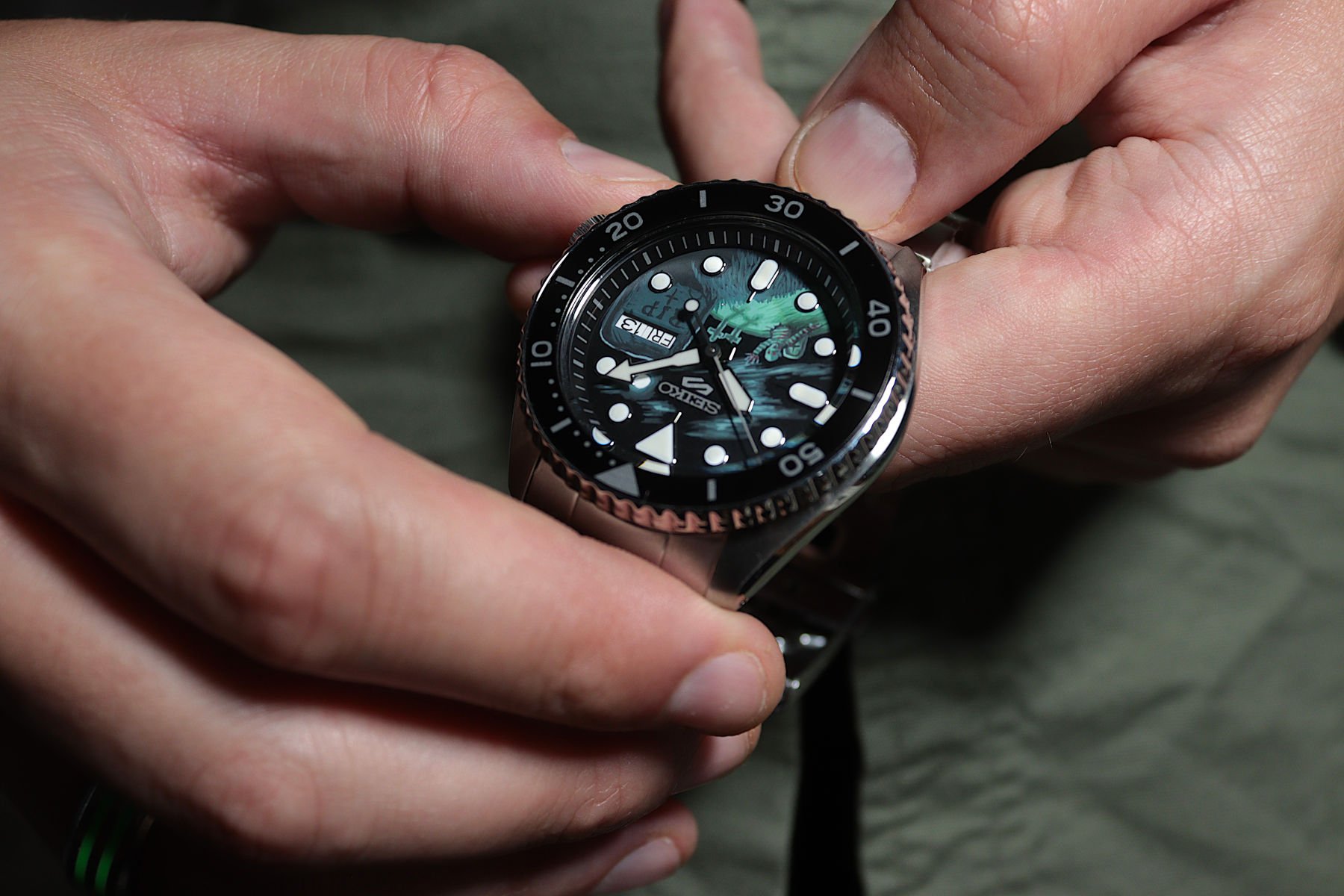 The Halloween Collection is about more than time
As with IFL Watches' previous projects, we're not merely talking about watches. We're talking about art. Each watch from this Seiko 5 Sports Halloween Collection is a piece of the artist's soul. It's a perfect amalgamation of IFL Watches' belief in fun in watch collecting and the artistry of hand-painting. Delivered in a unique IFL Watches Box with a certificate of authenticity (and, of course, a two-year warranty), these watches are a hauntingly beautiful testament to tales as old as time. What's not to love?
Priced at €990, they obviously command a premium over the Seiko base models. For some, this price will always be the elephant in the room, and that's fair enough. I think it's worth remembering that these are art watches, and they go way beyond being the simple tool watches Seiko originally designed them to be. IFL Watches takes the blank canvas and carves a spine-tingling horror story in miniature form. No, these watches won't be for everyone. They're meant for those who like a playful side to their watches and want to wear something something a little bit different. That said, every IFL Watches project sells out pretty quickly, so the audience must be there. And even if the Halloween Collection is for you, take a moment to appreciate the incredible talent required to paint on such a minute level.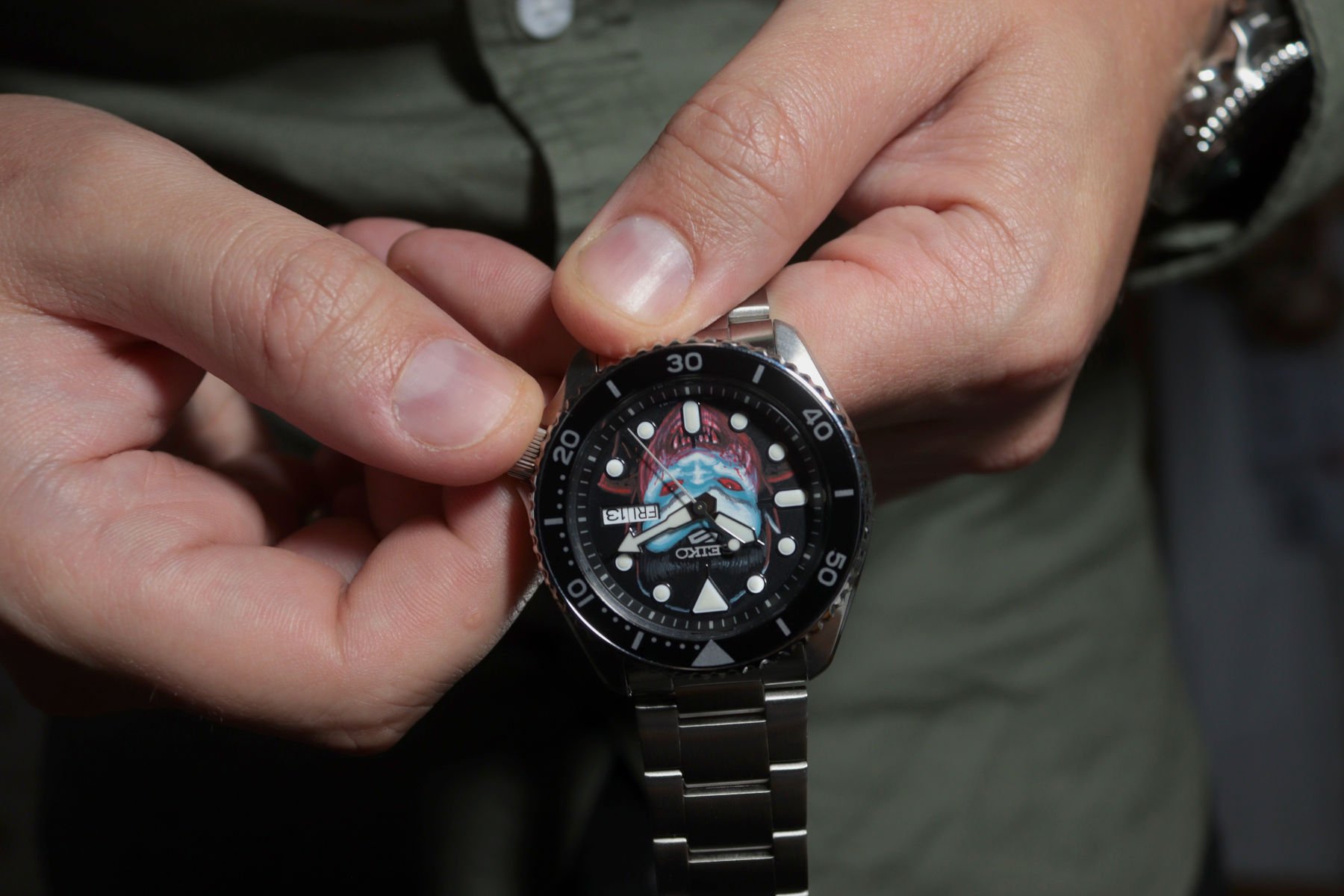 Who's behind this magic?
If you were unfamiliar with IFL Watches, here's some quick info about the company. Based in Stockholm, Sweden, and founded in 2019 by two passionate watch enthusiasts, IFL Watches has built a reputation on customized, hand-painted watches with fun, playful concepts and stories. We've covered a few of IFLW's other launches, so take a look at the Candyman Oris or the Deep Sea Diver Casio for examples of what else is in the portfolio. As you'll see, they represent the company's fun yet highly skilled approach to watch customization.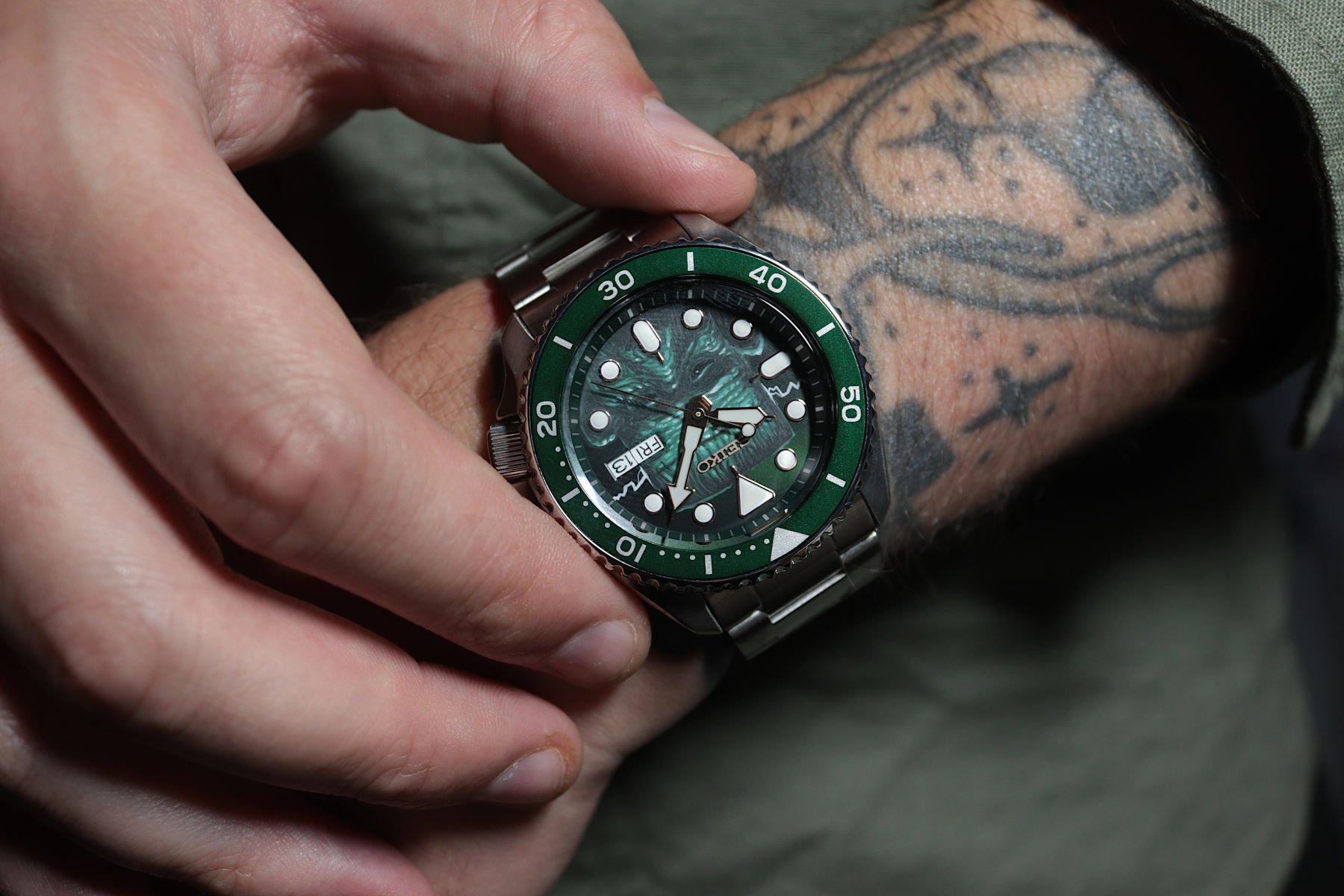 Final thoughts on the IFL Watches Seiko 5 Sports Halloween Collection
In a world where time slips through our fingers like sand, what better way to capture its essence than with a watch that resonates with tales of yore? The Seiko 5 Sports Halloween Collection isn't just about telling time; it's about cherishing every tick and tock, each second becoming a story. These are fun watches and definitely impressive from an artistry point of view. I like IFL Watches' take on making watch collecting more fun, and the Halloween Collection does just that. The watches will be available starting Monday, October 2nd at 4:00 PM CEST on the IFL Watches website.
Which of these spooky timepieces calls out to you? Ready to wrap a legend around your wrist this Halloween? Let me know your thoughts in the comments below!