Introducing An Enamel-Dialed Customized Diver: The IFL Watches Oris Divers 65 Candyman
Customization taken to the next level
Let's assume you are one of the lucky people who still have their summer vacation in front of them. You want to treat yourself to a nice watch to take to the pool and the beach, something truly bright and summery but also well off the beaten tracks. Well, the team at IFL Watches has something pretty compelling for you! This is the Oris Divers 65 Candyman.
It is bright, it is fun, and it is still a proper water-going watch underneath its flashy exterior. Now, I don't know about you, but that ticks a whole lot of "summer watch" boxes for me.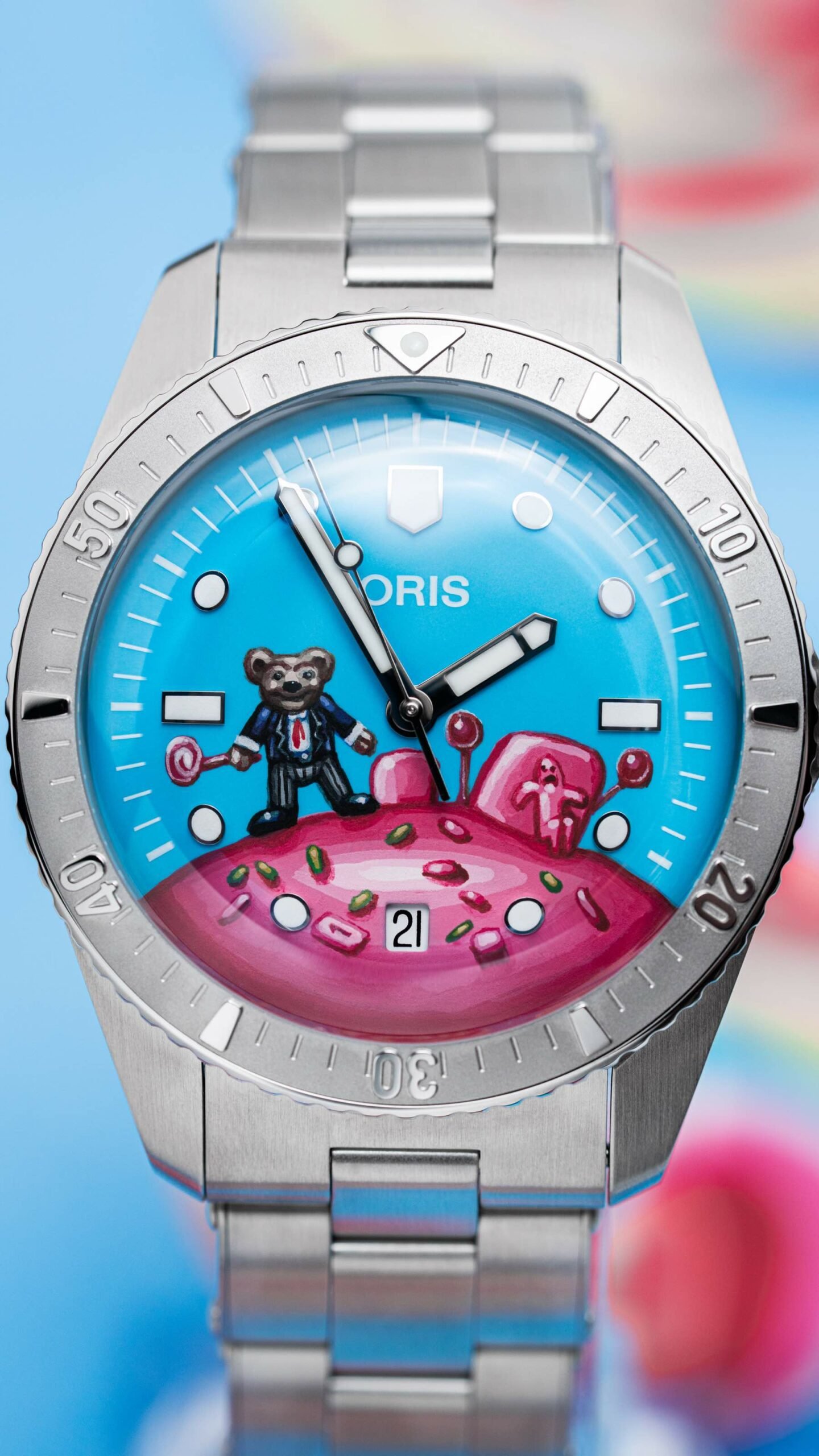 IFL Watches
IFL Watches — or IFLW — has only been around formally since 2019. A group of Swedish watch-loving friends teamed up to build a business around their shared passion. Starting with luxury accessories like cases and stands, things escalated from there.
Today, IFLW is widely known for customized Casio G-Shock, Tissot PRX, and Oris watches. Now, normally, those wouldn't interest me all that much. I have never been into modding watches beyond the occasional strap change. And even then, I often pick straps that look as though they could have been original to the watch. Still, I have found myself very tempted by IFLW's customizations. And that has everything to do with their style.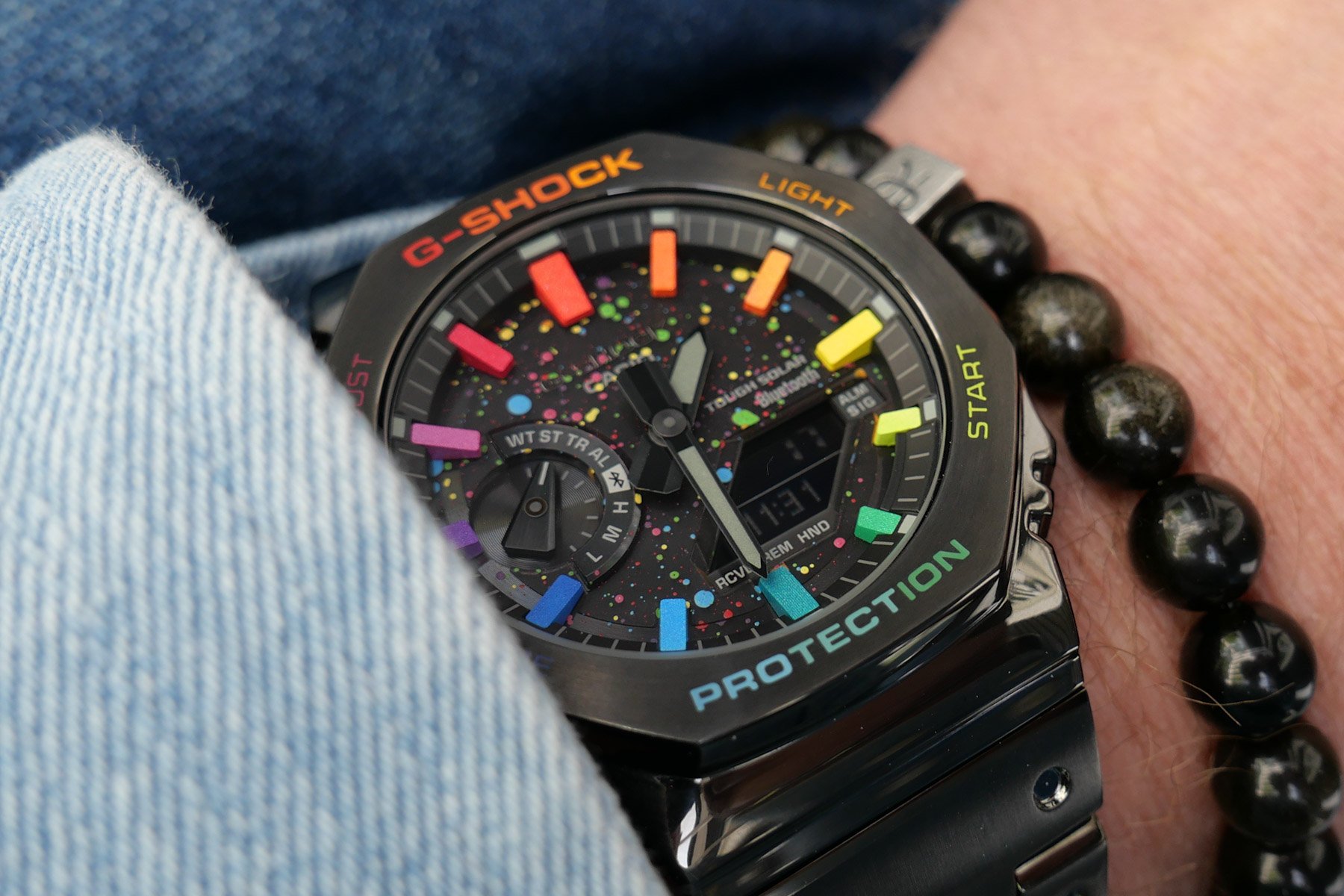 IFLW's projects tend to remind me of my teens in the early 2000s. I was/am into street culture, which was then heavily shaped by people like Pharrell Williams. To be "the bomb" in those days, you needed a pair of Evisu jeans and an oversized T-shirt from A Bathing Ape or Billionaire Boys Club. The style was colorful and often adorned with camo patterns and cartoon figurines. IFLW's speckled dials and rainbow indices remind me of the bright red or yellow "swaths" on the back pockets of Evisu denim. So I can only assume these Swedish friends are roughly my age… In any case, their approach speaks to me!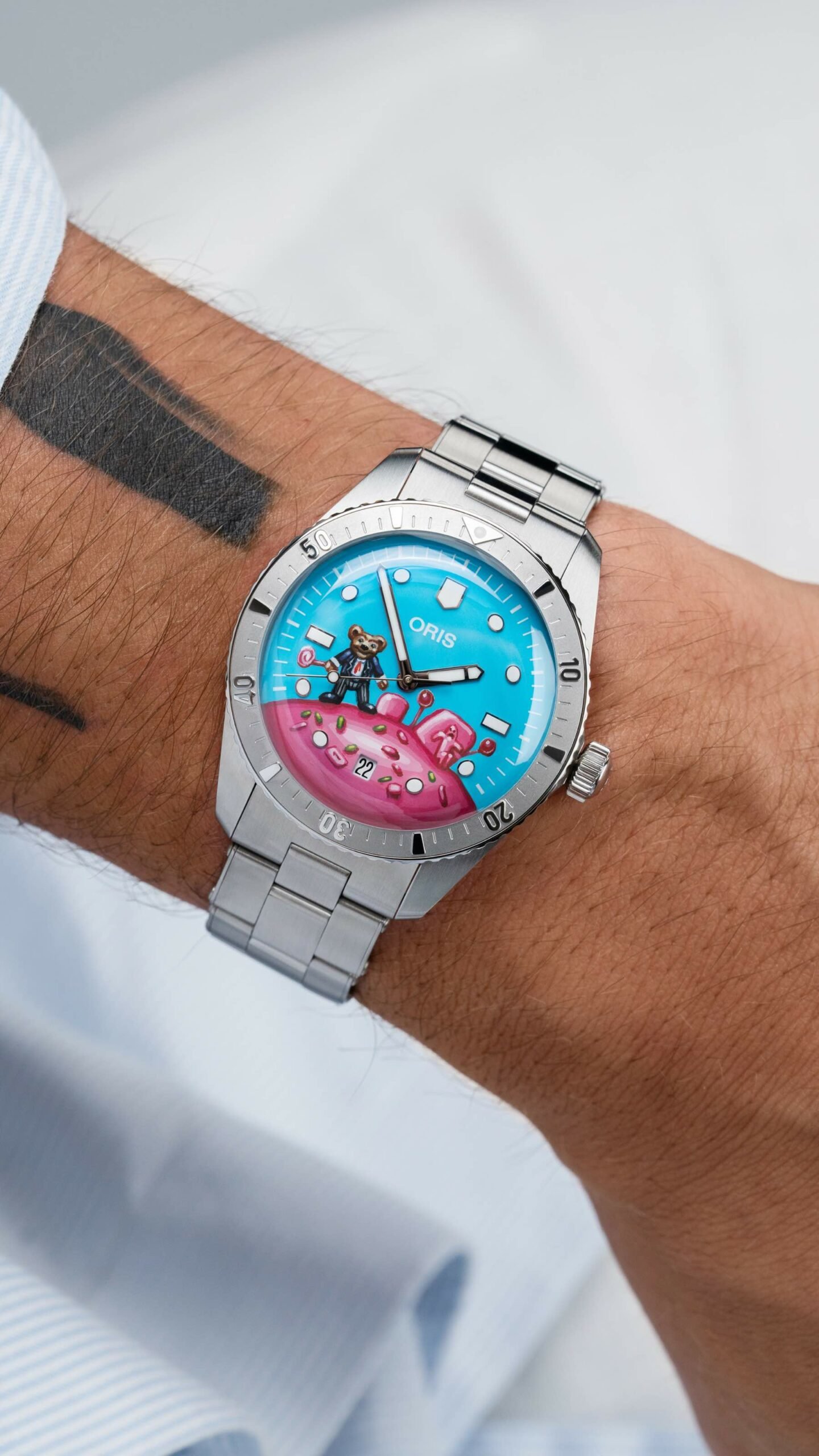 IFL Watches Oris Divers 65 Candyman
Onto today's release, which is a big one for the company. IFLW has taken on Oris watches before but not quite like this. Let me start with the watch that is the canvas for this project, the Divers Sixty-Five "Cotton Candy." This 38mm version of Oris's vintage-inspired diver features an instantly recognizable full-steel bezel. The keen observer may also note the slightly different end link. You get the same 100m water resistance rating and the Sellita SW200-1-based Oris caliber 733. Ticking away at 28,800vph, it provides a power reserve of 38 hours. The bracelet is constructed with real rivets, so there's no faux riveting for visual effect here.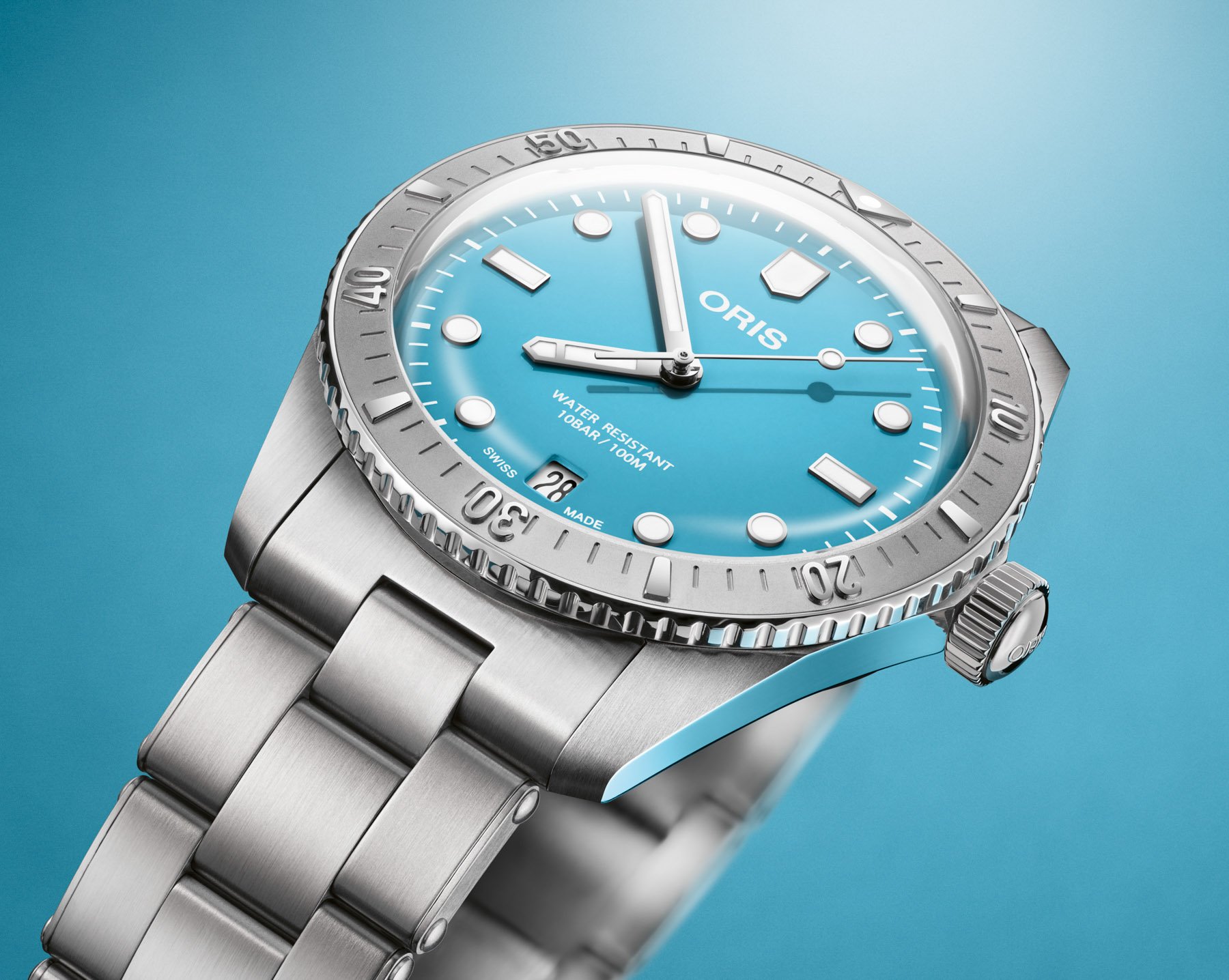 But all of that plays second fiddle to the star of the show here — the dial. IFLW has taken the dial from the Cotton Candy and handed it to one of the team's artists. And this person is not simply any artist but a hand-enameler. The result is the mascot Oris bear placed in a bright pink candy world, sprinkling candy.
IFLW describes the depiction as "Thor, the Oris Bear, as he cheekily romps through a Candyland, his jovial smile outshining the timid candy character in the backdrop." But hold on; I see a pretty clear reference to the 1985 short horror story "The Forbidden" by Clive Barker. In it, a serial killer is referred to as "Candyman" as witnesses report him oddly smelling of cotton candy. The story was later turned into a series of slasher films under the name Candyman. Reinspecting the dial, that bear doesn't look too cuddly to me. And the figurine hiding from him doesn't look like a kid about to receive some highly anticipated candy.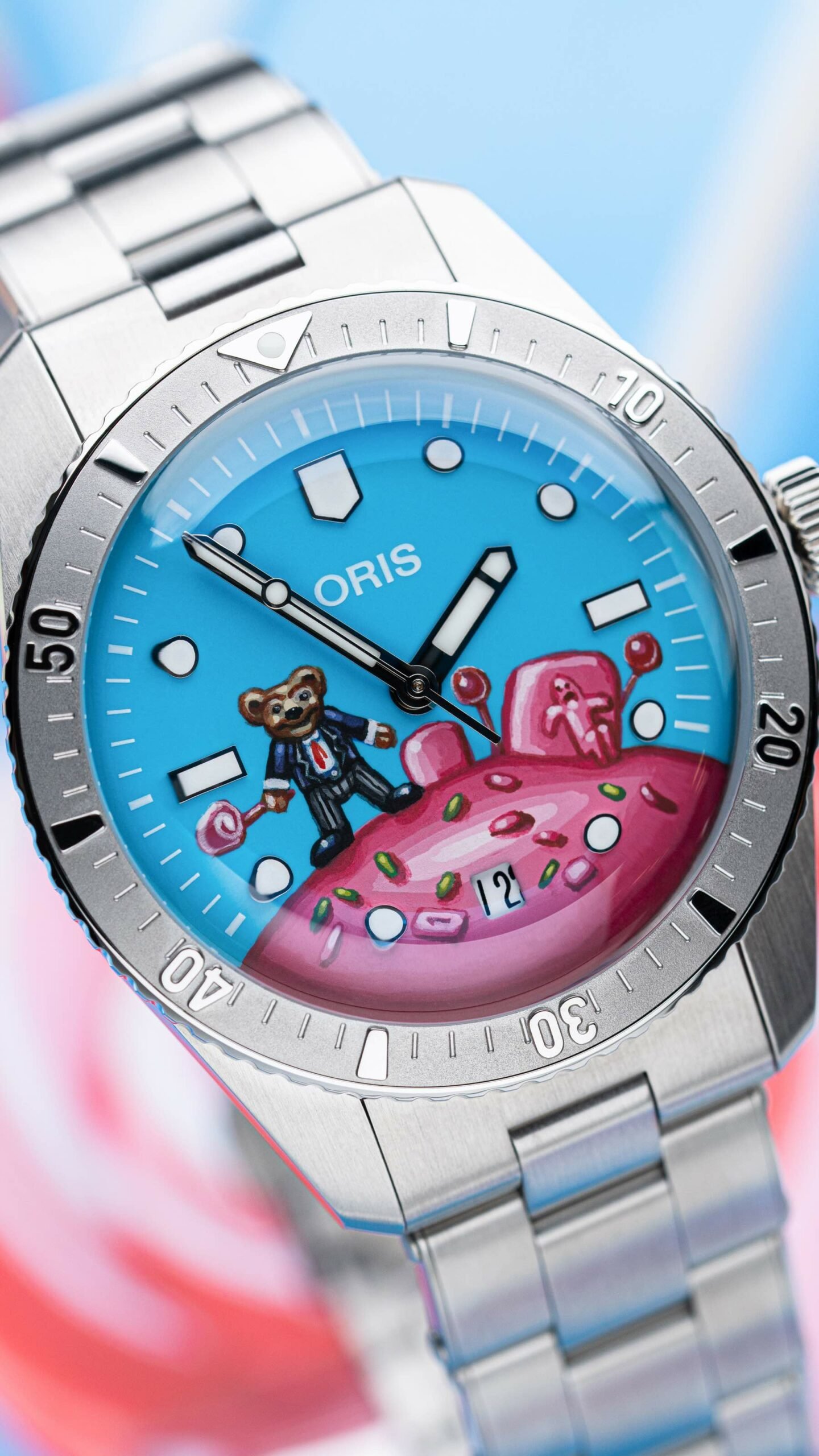 Pricing and availability of the IFLW Oris Divers 65 Candyman
IFL Watches will make only 25 of these. And if the horror reference wasn't enough of an Easter egg for you, the unique serial number can be found on the dial too. Just have a look at the piece of candy between 6 and 7 o'clock to find, in this case, number 1. That is a very cool way to emphasize that each dial is unique and enameled by hand.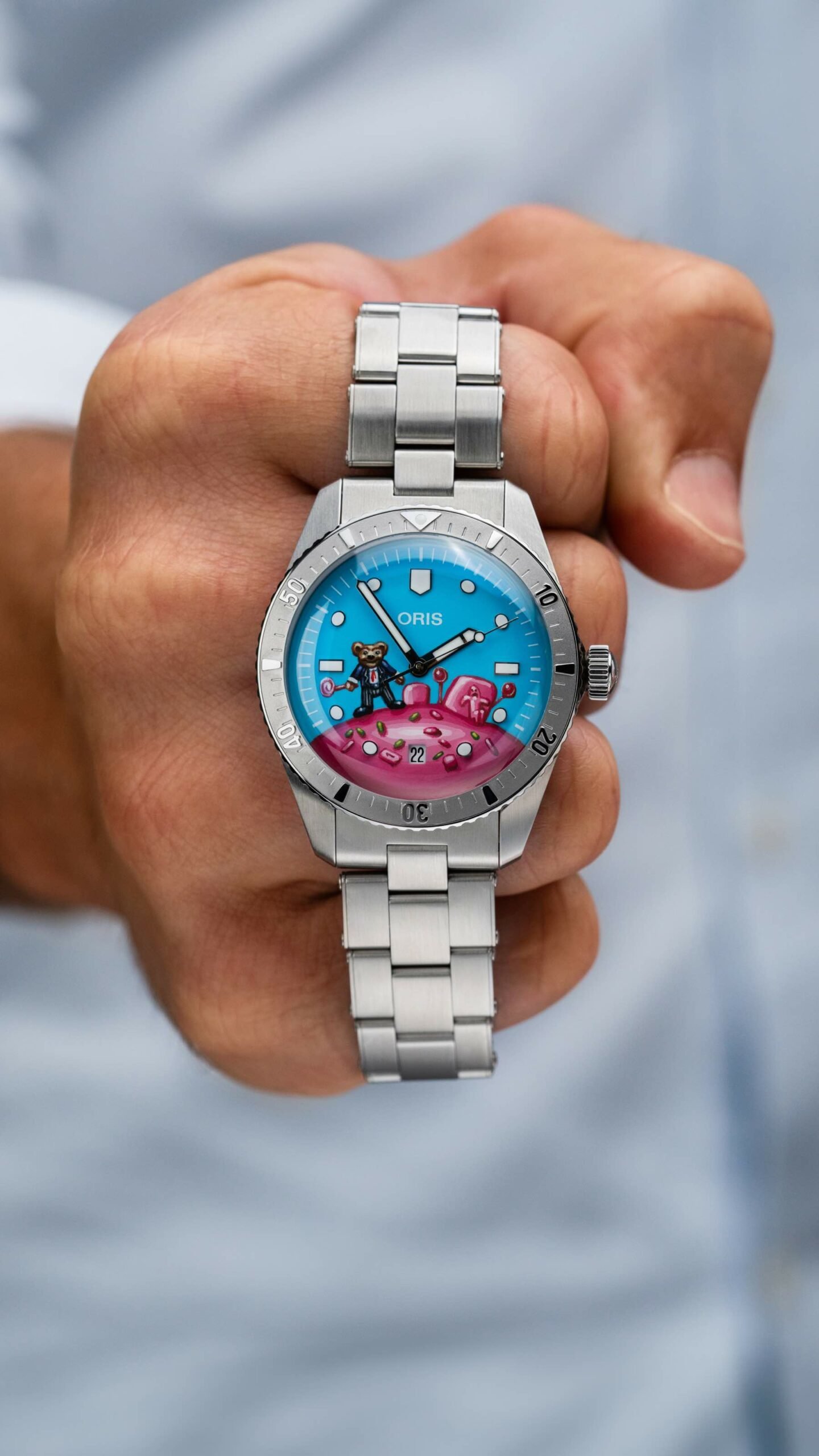 The IFL Watches Oris Divers 65 Candyman comes in at €3,490. This is a €1,140 premium over the regular Cotton Candy, which isn't bad for a fully hand-painted enamel dial. You get the same two-year warranty as usually offered by Oris.
So, if you want to be among 24 others who plan to jump into their late 2023 summer holiday with an enamel Candyman on their arm, I suggest you head over to IFL Watches' website quickly.
What do you think of the new IFLW Oris Divers 65 Candyman? Let us know in the comments below!