Money As Motivation: Is Choosing A Watch With Your Brain Better Than Choosing With Your Heart?
Striking the perfect balance between resale value and passion is also an option, of course
The lion's share of new watches you buy will drop in value like a rock the instant you put them on your wrist. Is that a bad thing? Not if you love the watch, wear it with pride, and start adding emotional value to it. But that will be worthless once you want to resell your watch. Is it the price you pay for losing interest in your former horological lover? "Your poor choice from the heart made you lose money," some arrogant person might say with a superior smirk on their face. People who buy with the brain aim for watches with (presumed) resale value. But when you have this investment-like approach, you have way fewer choices. And as passionate watch aficionados would claim, the joy of wearing a watch selected after running the numbers is minimal. The big question remains: is choosing a watch with your brain better than choosing with your heart?
Let's not talk about watches as investments. Why? Because RJ already wrote an article that tried to answer the most relevant questions back in 2018. Yes, since then the market has heated up significantly, but the basics still apply. Based on historical data and information, watch X might be a good or solid investment. But we don't have a crystal ball, and we're also not financial advisors.
… writing about watches as investments is as exciting as an essay on the price of frozen concentrated orange juice.
And since Fratello is founded on a passion for watches, writing about watches as investments is as exciting as an essay on the price of frozen concentrated orange juice. Although I did like the movie Trading Places, in which the Duke brothers illegally try to corner the market on frozen concentrated OJ, but fail because Eddie Murphy and Dan Aykroyd find out about the scheme and expose it. Anyway, a story about investing in watches is way less entertaining than that movie.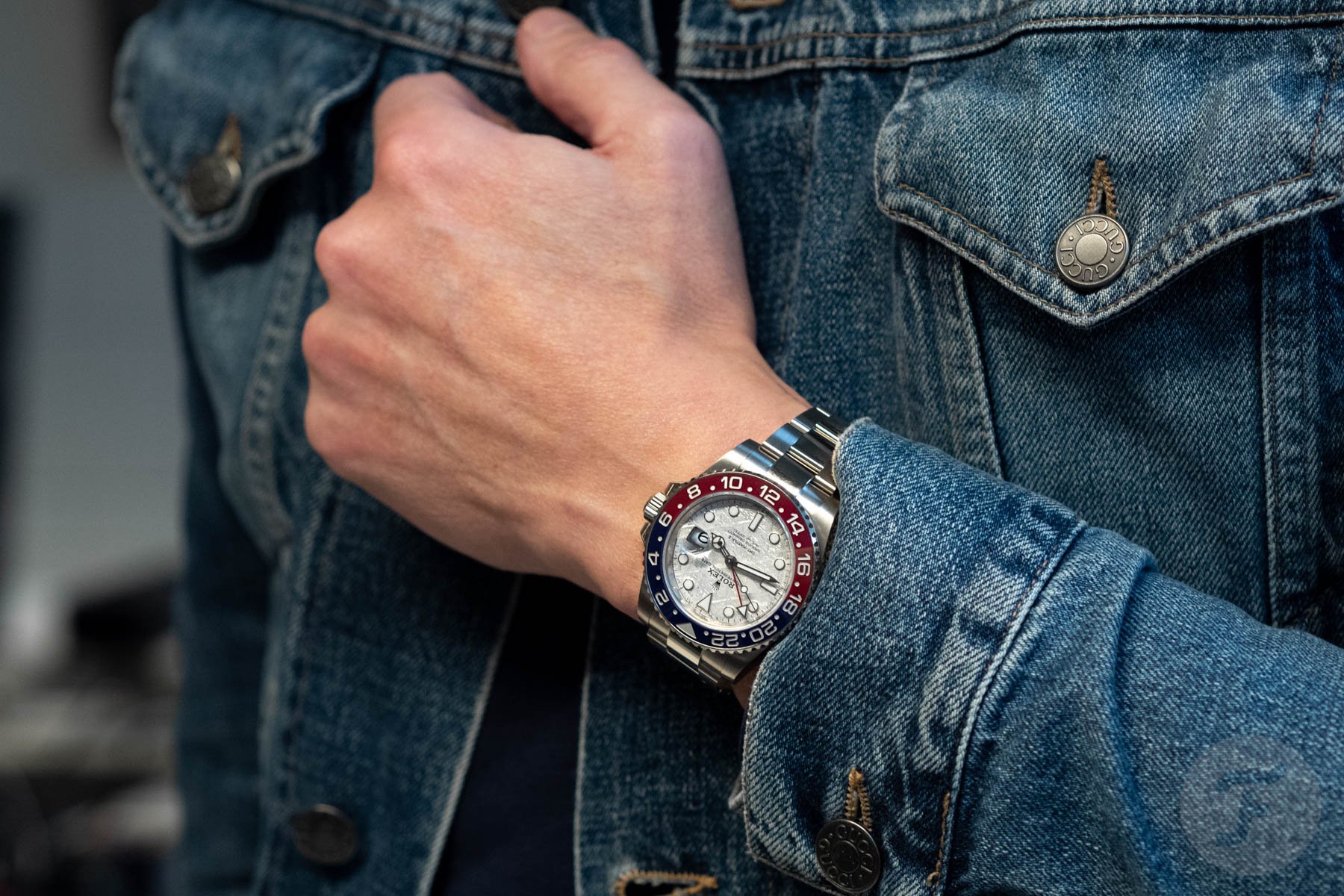 Is choosing a watch with your brain better than choosing with your heart? Let's find out
Since we love wearing watches, the simple answer is to choose with your heart. But please, I beg you, also use your brain. Especially when you are not part of the happy few with bottomless pockets. So yes, buy what you like, buy what sings to you, buy what feels good. Just set a budget. And don't give your heart the security code to your bank account. Keep that safely in your brain, so your heart doesn't plunder your savings. If you do that, in the end, you'll wear something you love and not what the market shows to be a "wise" decision.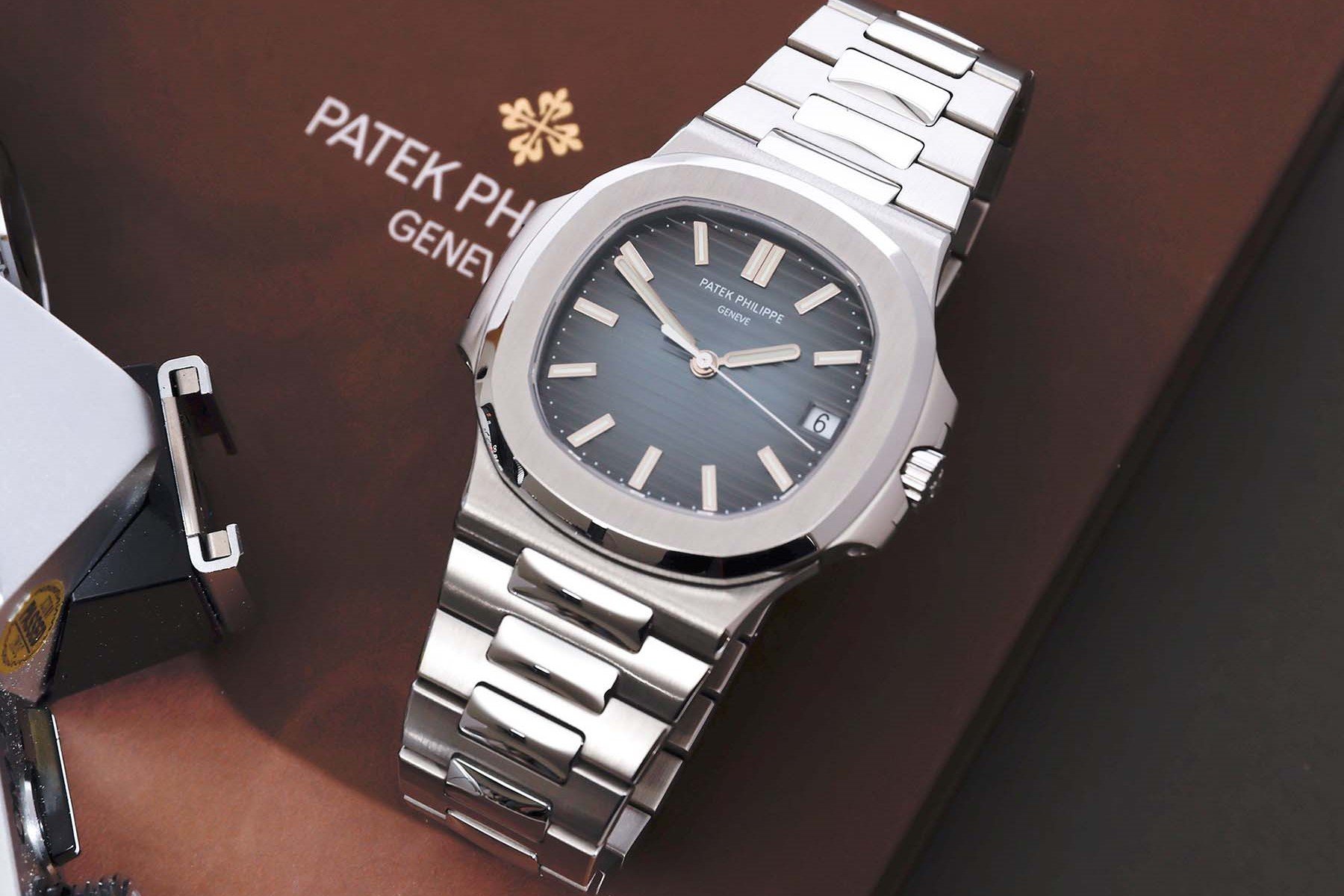 And you know what? On the market, complete certainties don't exist. Yes, a Patek Philippe Nautilus Ref. 5711/1A will not lose its value when you buy it from your dealer. On the contrary, it will go up, but that's a very extreme example.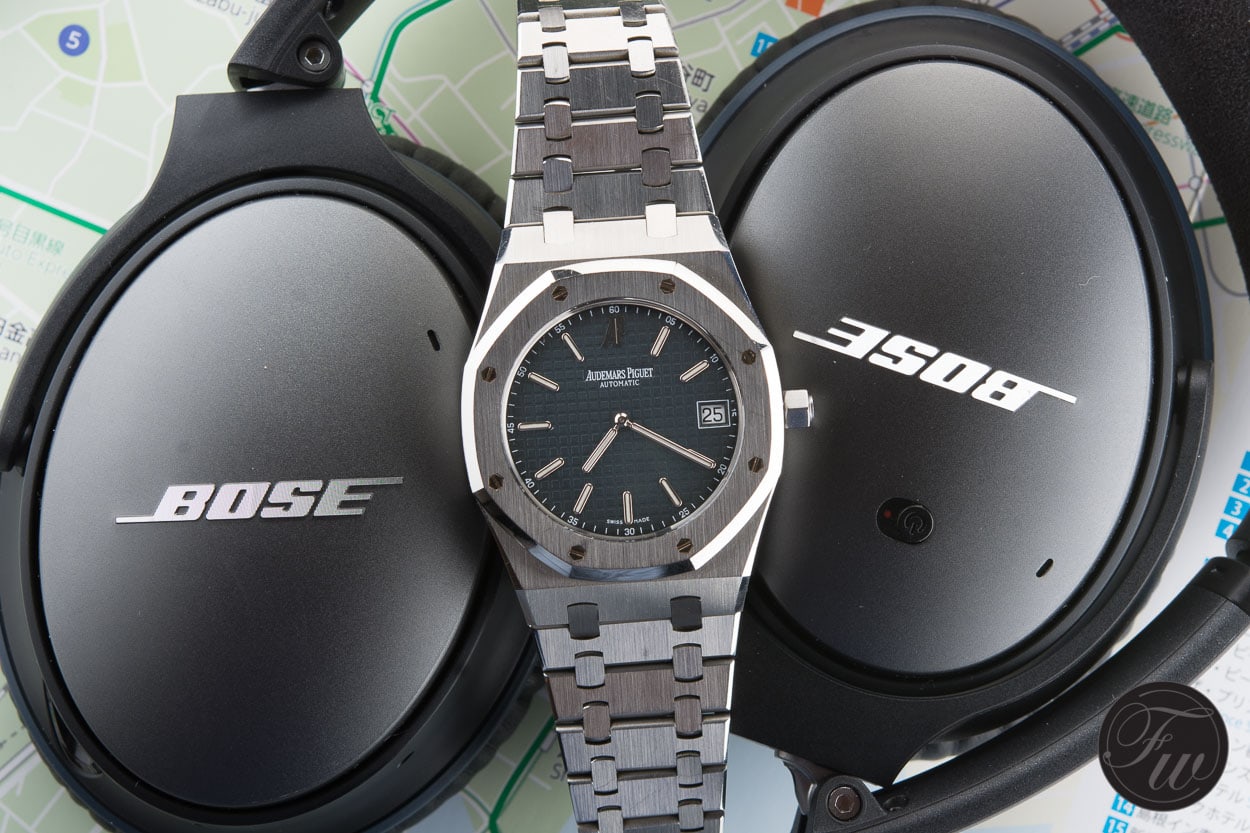 The price should be right
Yes, Rolex watches also hold their value and then some, and the AP Royal Oak is certainly no slouch either. But there is more in the world of watches than Rolex, Patek Philippe, and Audemars Piguet that deserves our close attention. Let's have a look at some watches from some respected, well-established Swiss brands to see how you stand on the matter of heart versus brain.
… in the end, every luxury watch is meant to be worn with pride.
Before we proceed, you should keep something in mind. If you buy these watches new with a decent, let's say, 20% discount (you know how it works), you're not going to lose a lot of money if you even lose any at all come the day that your love for the watch runs cold. The fact you don't want to buy a watch that instantly loses half its value is something you certainly can take into consideration. But in the end, every luxury watch is meant to be worn with pride.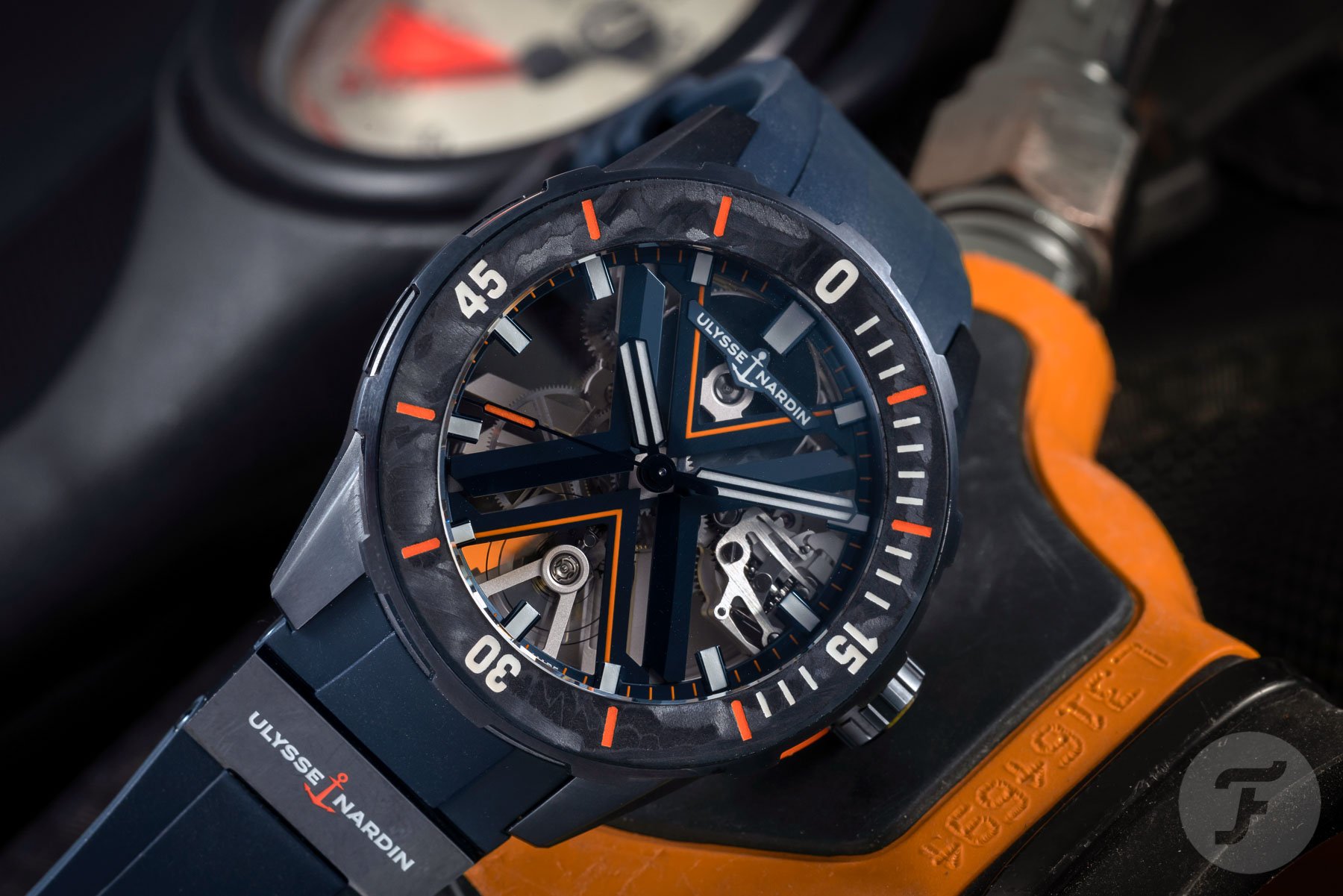 The heart wants what the heart wants — A colorful, see-through Ulysse Nardin
The first candidate is the Ulysse Nardin Diver X Skeleton LE, a €19,300 sports watch in a 44 × 16mm titanium case that is water-resistant to 200 meters. Quite an outspoken design, wouldn't you say? The side of the case is micro-beaded for a matte look and matches the color of the big X on the dial. The sapphire glass is protected by a concave Carbonium fiber diving bezel that's unidirectional, just as it should be for a diver's watch.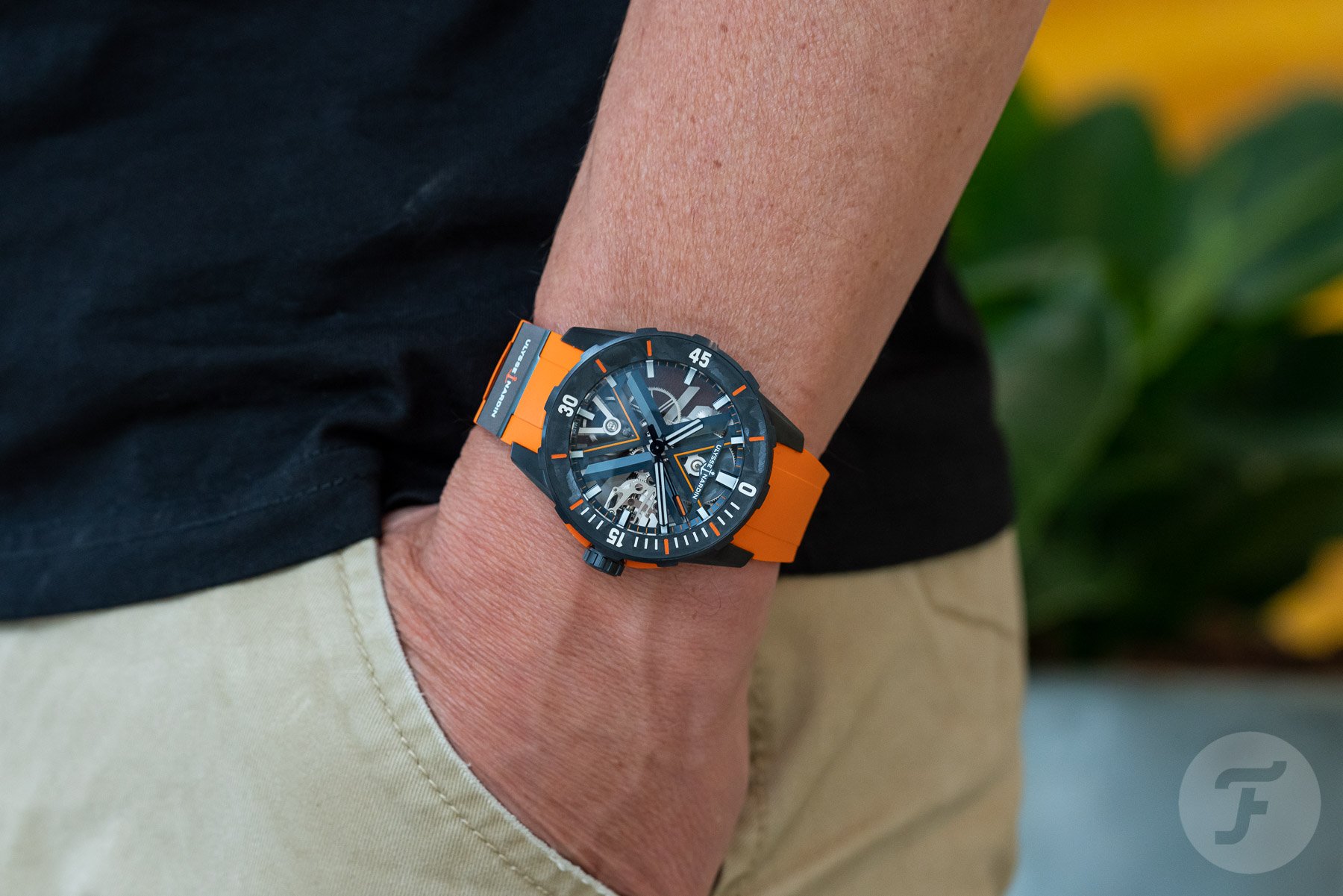 Carbonium is a lightweight and strong carbon composite that is mostly used in the production of aircraft fuselages and wings. The material is also used on the movement's barrel cover. Overall, this is quite the avant-garde looker, made by a historical Swiss brand with a long tradition in marine chronometers.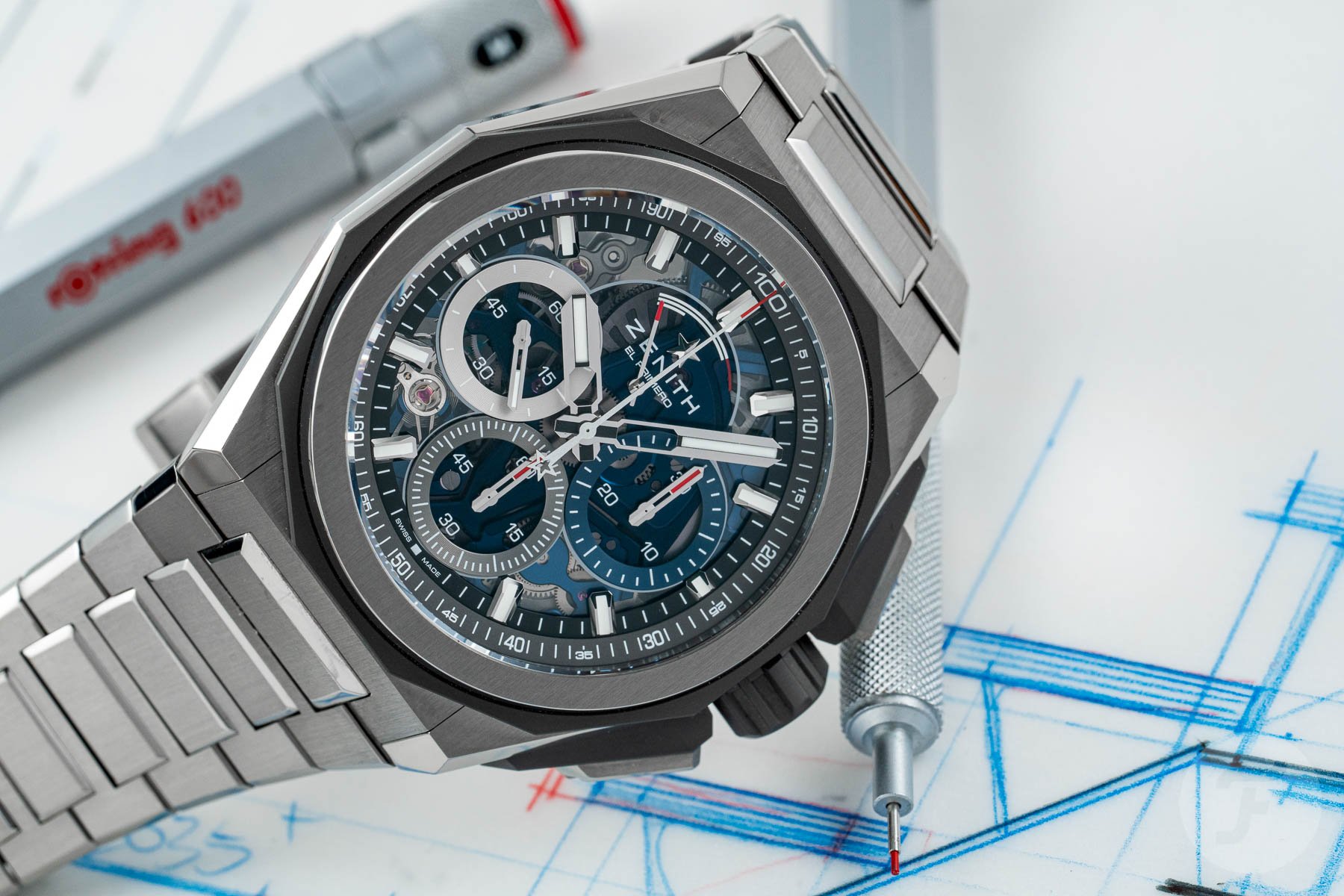 A fast-beating "heart" that gets your own heart racing — The angular Zenith Defy Extreme
What about the €17,600 Zenith Defy Extreme as an alternative to the Ulysse Nardin? This edgy, modern chronograph shows a brushed titanium case that is boldly faceted and measures in at 45mm. Enthusiasts love Zenith for its famous El Primero chronograph movement, and its recent retro models are both easy on the eye and easy to love.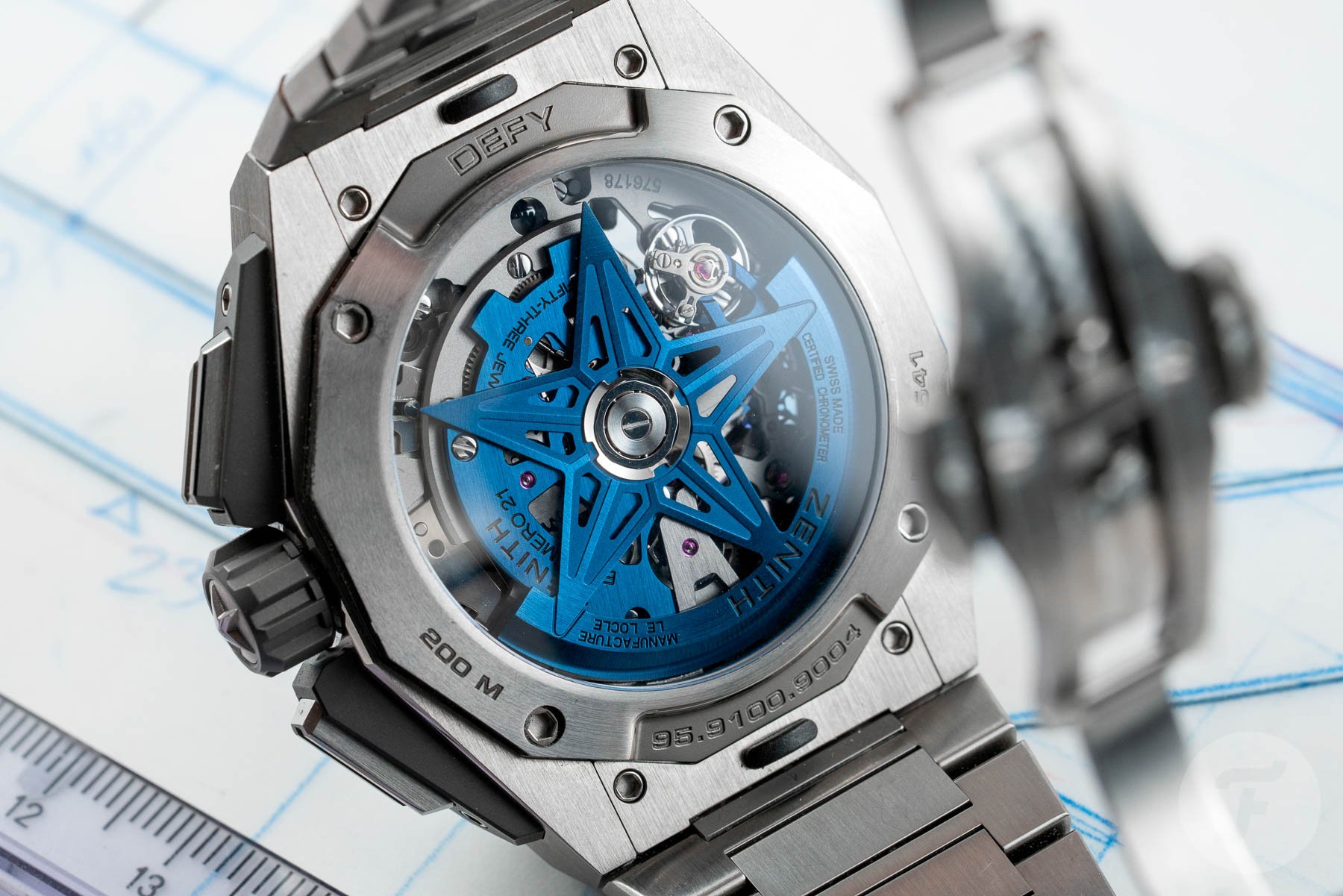 The Defy Extreme, however, is a watch that is a bit more polarizing. It's a visual spectacle, to say the least, with its open-worked dial, but the bezel is a noteworthy design detail as well. Its circular inner portion is complemented by a 12-sided ring underneath that matches the pusher protectors. The automatic El Primero movement inside is not a detail, but rather a unique selling point — a "USP" for all you sales veterans out there.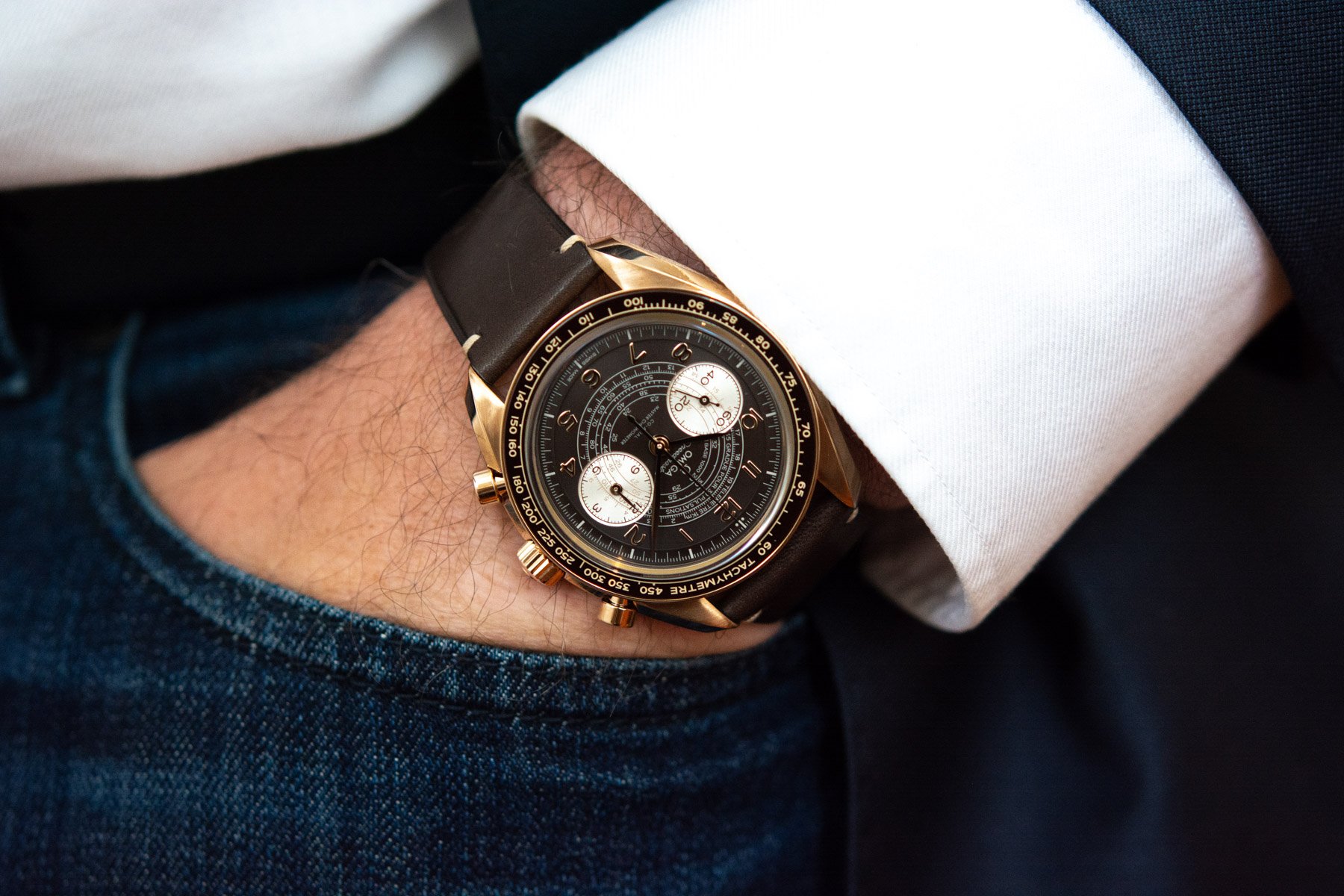 It's a Speedmaster, but not as you know it — Omega presents the Chronoscope
Also a chronograph, but way more retro than the architectural Zenith Defy Extreme is the Omega Speedmaster Chronoscope. I picked the Chronoscope with its 43mm case made in Bronze Gold that costs €14,000. This material creates a warm look that enhances the retro feel of the dial with its 1940s "snail" design. The polished brown ceramic bezel shows a tachymeter scale in "vintage" enamel.
Inside the Chronoscope beats the manual-winding Co-Axial Master Chronometer Calibre 9908. That is not only a very precise movement, but it's also remarkable in the aesthetic sense.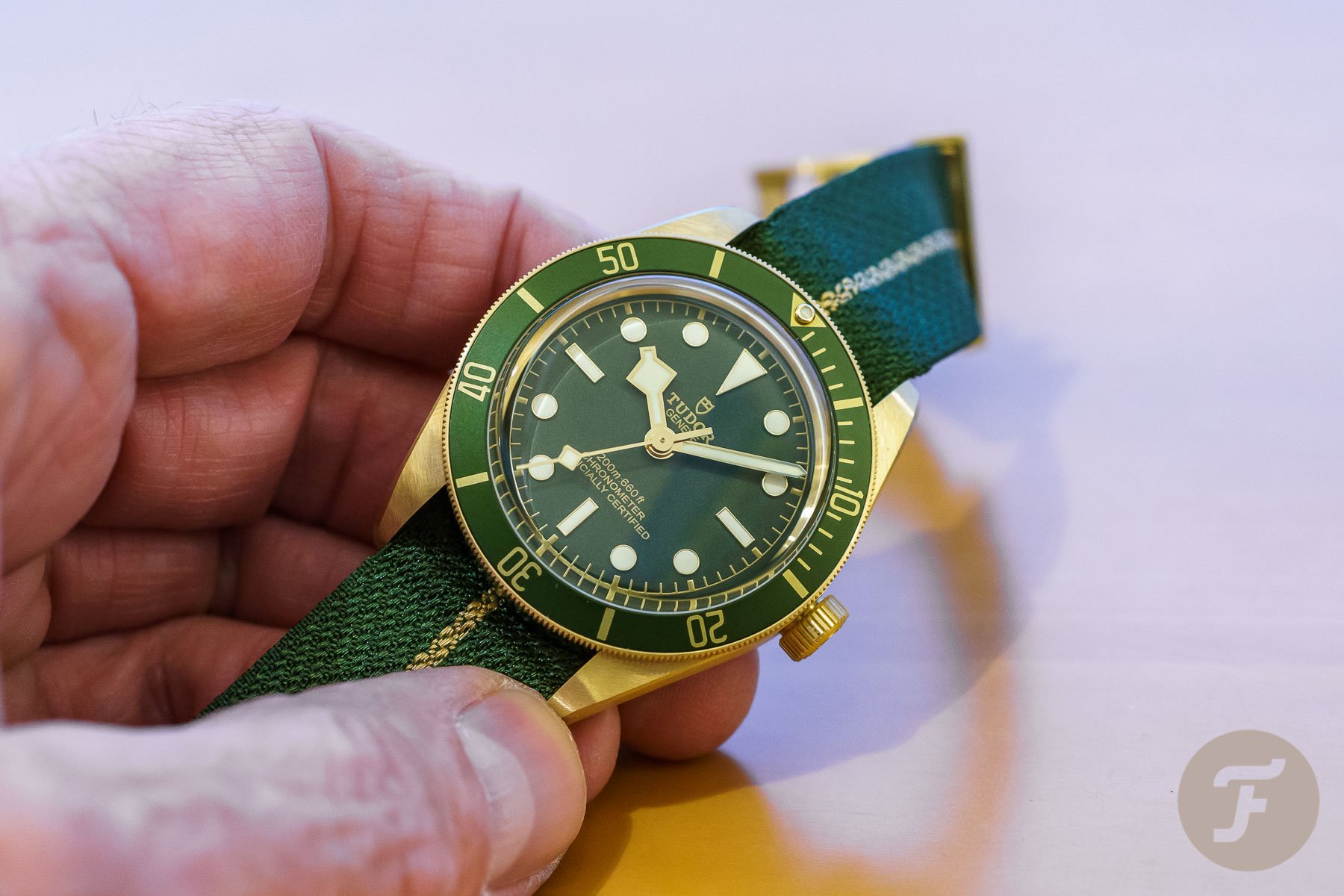 Gold, always believe in your soul — The glamorous Tudor Black Bay Fifty-Eight 18K
The Tudor Black Bay Fifty-Eight 18K is a little more expensive than the Omega Speedmaster Chronoscope. But this dive watch that costs €15,880 has an ultra-luxurious yellow gold 18K gold case and not a less noble bronze-gold alloy. It sure makes for an exclusive and unique Tudor. The color combination is more modern than traditional yellow gold watches, and that creates an exciting and unique look. Inside the 39mm case of this über Tudor watch beats the chronometer precise automatic caliber MT5400. Notably, it is visible through the sapphire case back, which is also something you don't get with an "ordinary" Tudor.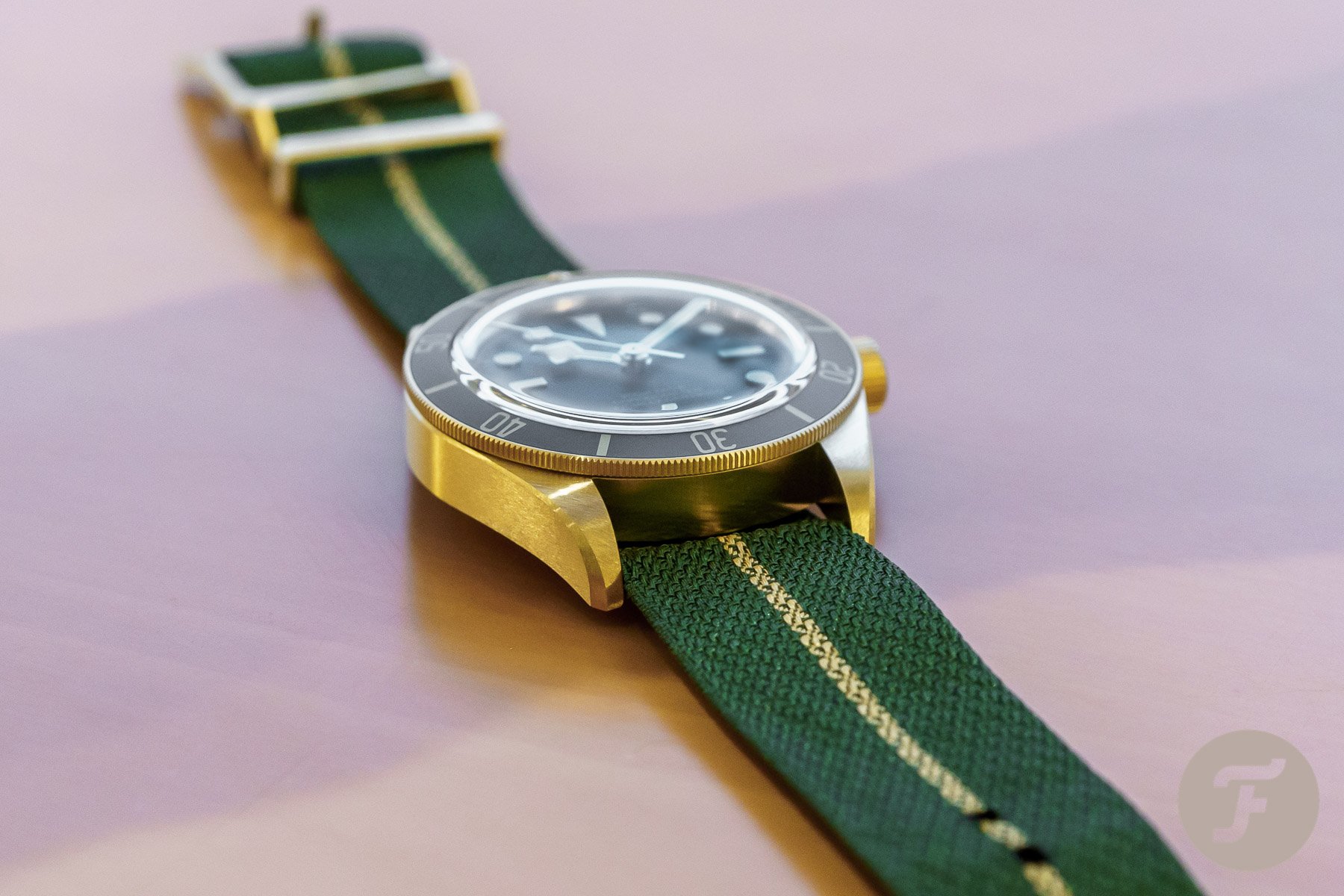 Is choosing a watch with your brain better than with your heart? — Make up your mind
The watch you desire might not be amongst the four examples I've presented, but I bet you made a list ranging from least to most liked. What was the main motivator behind your imaginary list? Was it money, or was it the watch's looks that did it for you? Did an emotional aspect, such as the history of the brand, seal the deal for you? Or did something a little more tangible like the movement, the material used for the case, or the functionality play a role?
… my heart and brain are in complete harmony.
Did your brain keep your heart in check, or was it a case of "the heart wants what the heart wants"? It could also, of course, very well be a combination of all of the above. Let me know in the comments; I'm curious to read. For your information, I picked the Omega, and the way I see it, my heart and brain are in complete harmony.
Please find and follow me at Lex Stolk • Instagram