March Mania Second Round: Gerard And RJ Carry Omega, Audemars Piguet, Patek Philippe, And Grand Seiko Onward
Don't sleep on the Sinn or the Zenith, though...
Roll up, one and all, March Mania has reached its second round! At this stage, our eight competing writers get a rest. Rob and Dave will present our weary warriors' remaining four watches over the next four days, with each post featuring the winners of two first-round votes.
Here come the last four standing from Gerard and from RJ's groups. The writers aren't going head-to-head just yet, so the seedings attached to each watch stay put from the previous round. By the end of the week, we'll be down to the final two from each initial group of 12 as we barrel towards the showpiece final. As always, what we need from you is simple: vote for your favorite watch and let us know why in the comments below. Remember, one lucky commenter will win a Hamilton Intra-Matic Automatic Chronograph so the more your comment, the better chance you have.
Login to your Fratello account and drop us a comment. Who did you vote for and why? What's your prediction for the later rounds? Will the Omega Speedmaster 321 triumph once again… Who knows? You decide!
Gerard's Group:
(1) Omega Speedmaster Professional 3570.50 (2006) vs. Sinn 142.St 142.010 (2005) (6)

Omega Speedmaster Professional 3570.50
Again, similar to the previous round, it is not that surprising that we see the Speedy make it through once more. Taking a landslide victory against the Rolex Day-Date with 72% of the voting, Goliath took David to the cleaners. At this rate, we are going to see more Speedmasters in the later rounds than I had perhaps naively expected! If a Speedmaster is to take the crown, will it be the 3570 though? That said, it still has to get past the Sinn 142 next. While the 3570 is definitely the favorite in this matchup, there's still time for a big upset!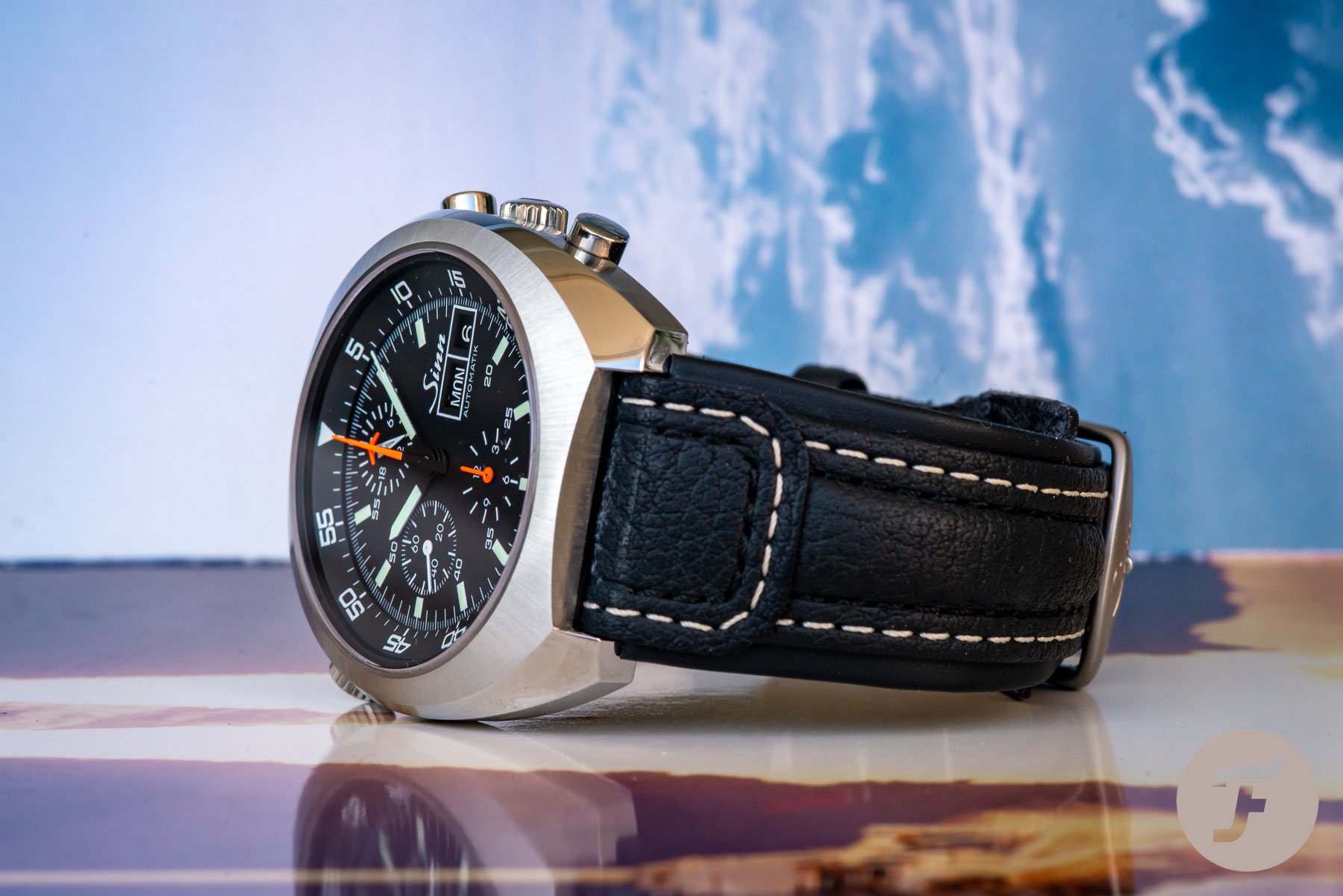 Sinn 142.St 142.010 (2005)
I was pleasantly surprised to see the Sinn 142 make it this far in the competition. Not because it's a bad watch (clearly it's quite the opposite!), but because I thought it might have struggled in the earlier rounds to carve out its own niche. That was not to be and it even knocked out the Seiko Darth Tuna in the last round (securing 57% of the votes), cementing it as an underdog contender!  Can it take down the Omega Speedmaster 3570 and continue its march towards glory? Well, only time will tell on that one.
March Mania: Second Round Proper — Gerard — (1) V (6)
(2) Patek Philippe Nautilus 3700 (1978) vs. Zenith DEFY Classic 95.9000.670 (2019) (4)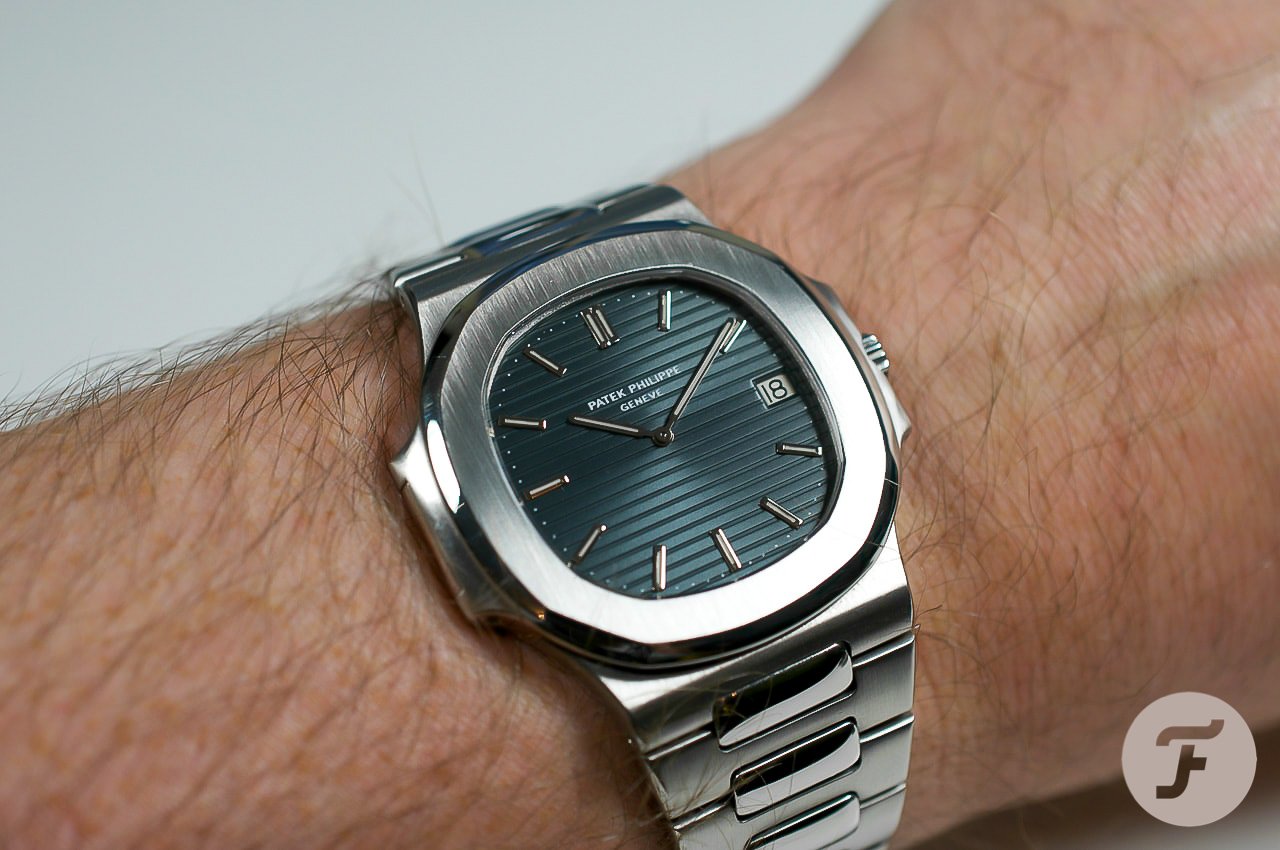 Patek Philippe Nautilus 3700 (1978)
I'll be honest, I was a bit gutted when the King Seiko didn't make it through, losing out to the 3700. The 3700 gained a very respectable 65% of the votes last round. It was always a long shot to hope for the King Seiko to win, as the Nautilus is one of the few irrefutable industry icons. It definitely has the chops to go all the way, but first, it has to overcome the Zenith Defy Classic. I fully expect it to win this round, but never say never. I'm sure G2 will be happy his heavyweight continues to barrel forward. It's definitely one of his strongest contenders to go all the way!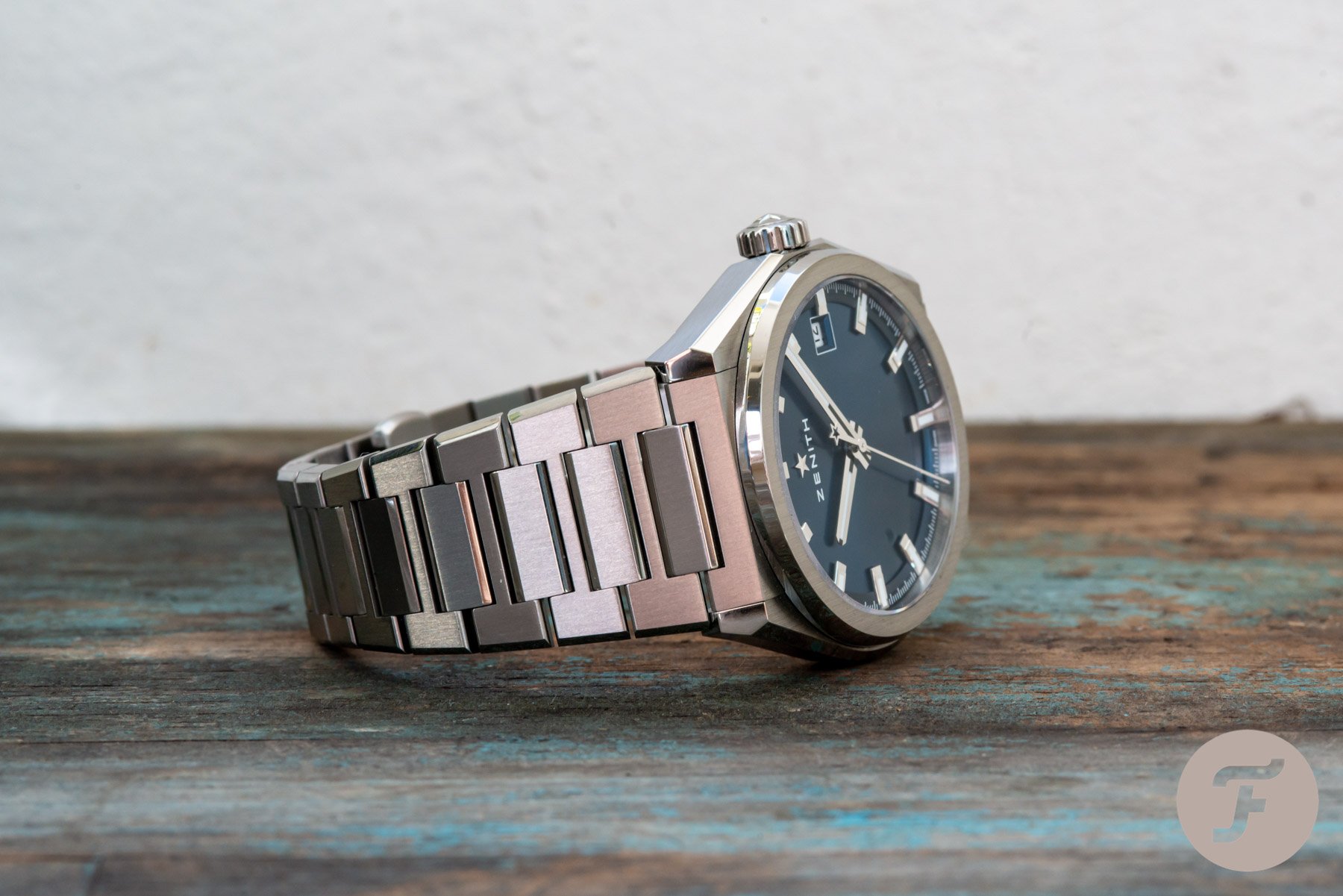 Zenith DEFY Classic 95.9000.670 (2019)
The Zenith DEFY Classic took down the Rolex Air King in the last round with a solid 61% of the votes. I probably didn't see that one coming. I'm glad it did though as I am a big fan of the Defy Classic and its whacky sibling the Defy Skeleton. I think Zenith did a fantastic job on the case in particular. I love the angular design. Will it take out the Nautilus? Hmmm, that could be asking a bit much, but should it prevail it would set an interesting tone for the rest of the tourny. Smart design will always triumph, but this is a match-up of timeless classicism pitted against itself. Only one can prevail!
March Mania: Second Round Proper — Gerard — (2) V (4)
RJ'S Group:
(1) Omega Speedmaster Calibre 321 vs. Grand Seiko SLGH003 (4)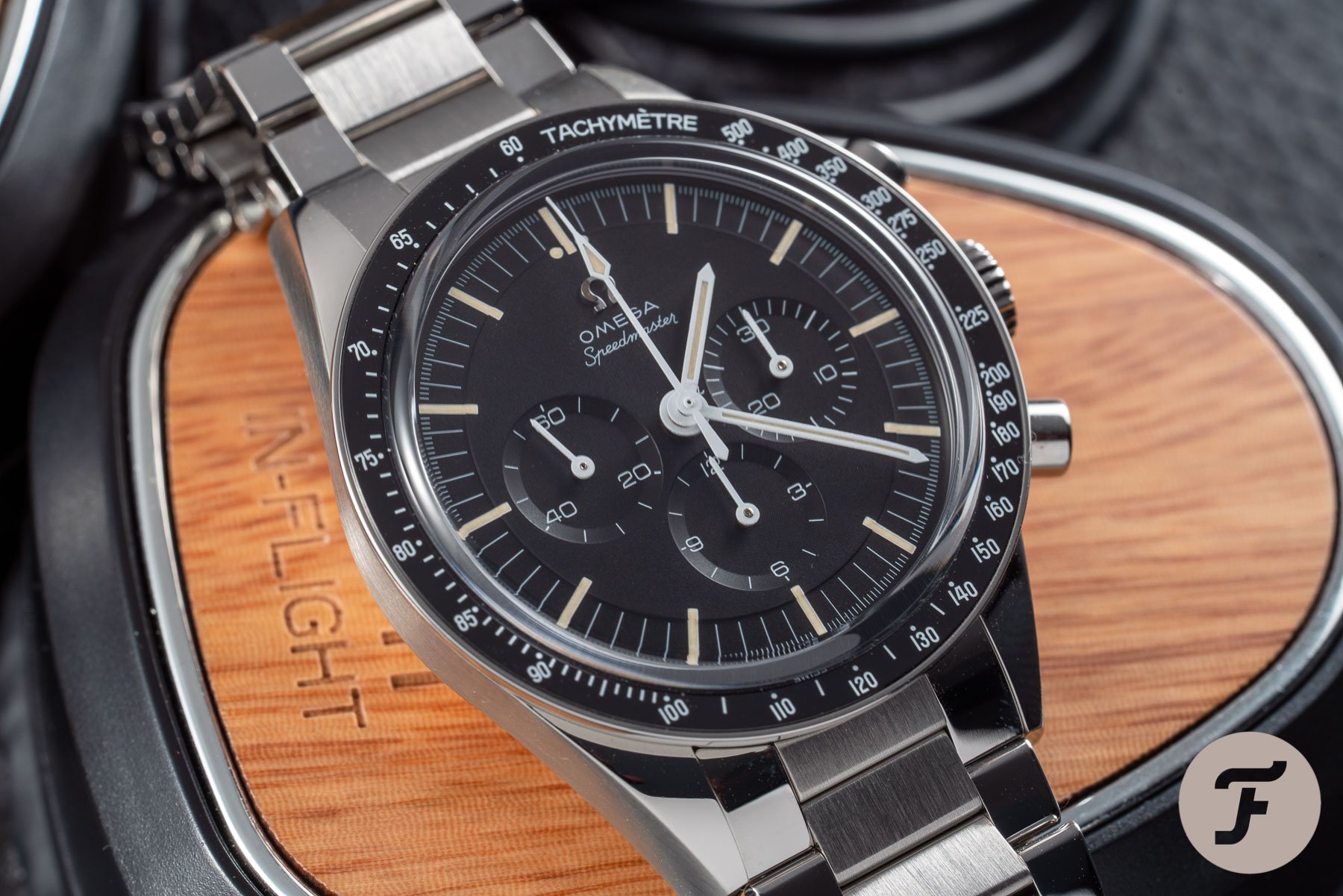 Omega Speedmaster Calibre 321
Wow. You lot really do continue to love the 321, don't you? I thought the results would be a lot closer last round when the Calibre 321 went up against RJ's much-loved PloProf 1200m. But no, the 321 smashed the PloProf to smithereens with a resounding 84% of the votes. yes, you read that correctly. Unfortunately, I expect to see this dominance continue in the next matchup.  Saying that, I have been wholly wrong in most of my predictions so far, so does that offer a little glimmer of hope to our competitor?
Want to refresh yourself on the Speedmaster Calibre 321? You can read RJ's initial article right here.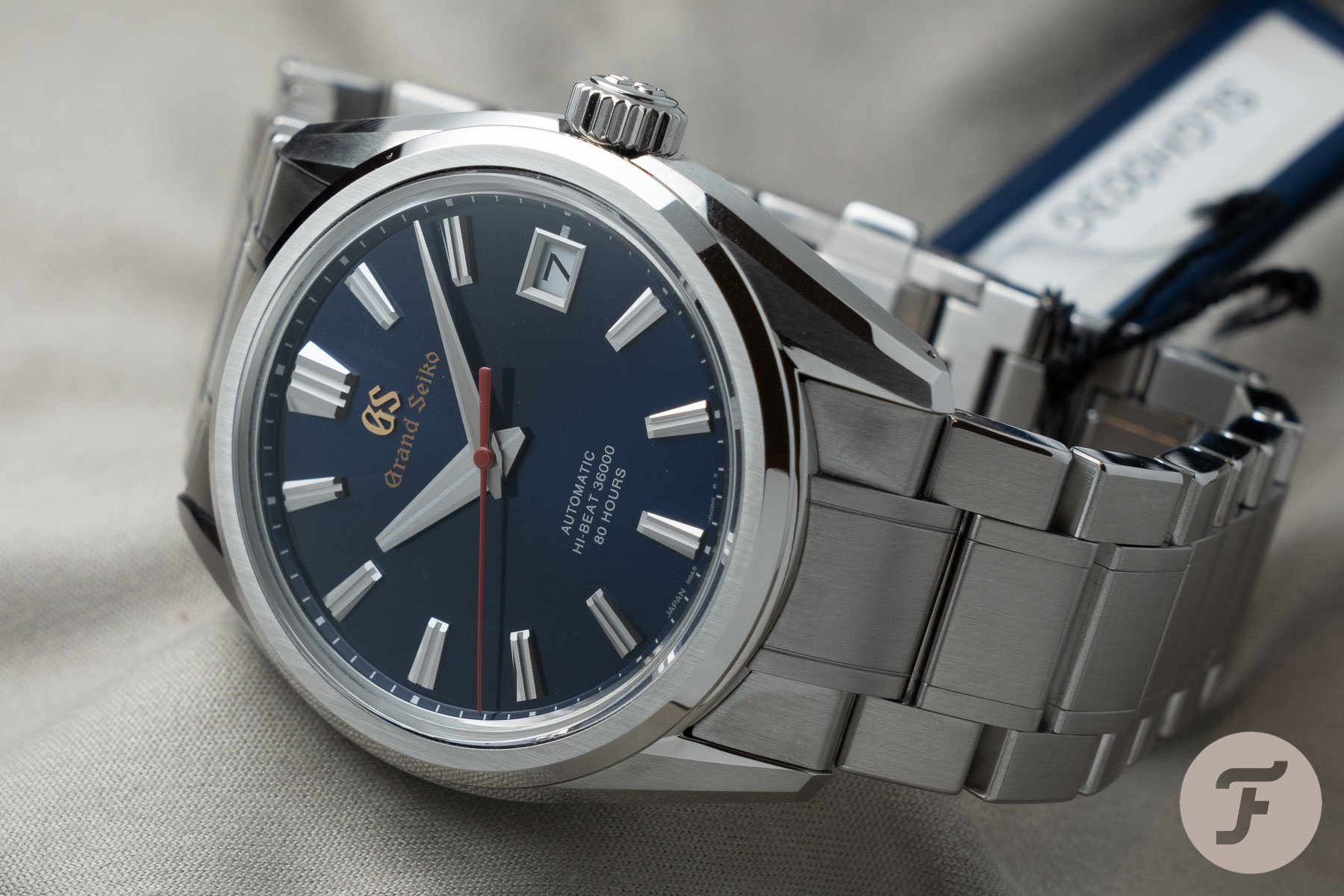 Grand Seiko SLGH003
Enter the competitor, the Grand Seiko SLGH003. Some may say it's fortunate to be in this matchup, eking out the competition in a closely contested battle. With 51% it is the winner though. The SLGH003 has two big things going for it in this matchup. In my opinion, they "should" set it above the 321, but let's see how you lot vote, eh?
The biggest attraction, for some, is in the movement. You can read all about that right here. For me, however, it's the metalwork. As always from Grand Seiko, the case is stunning. The Zaratsu is sublime. I'm not afraid to say the word; like Voldemort — I'll say that too. I ain't scared of nothing! Not only is the case that benefits from the polishing of the Gods, no, but the hour markers and hands also receive the same treatment and really make this watch sing. As the owner of a Zaratsu enhanced watch (not this model though) I can attest to the difference this makes on the wrist. Once you go Zaratsu, you never go back…
I've said the Z-word three times now. Does that mean I've summoned the blessing of the Gods for this match-up? Fingers crossed!
March Mania: Second Round Proper — RJ — (1) V (4)
(2) Omega Speedmaster Apollo XI Moonshine vs. AP Royal Oak 15500ST (3)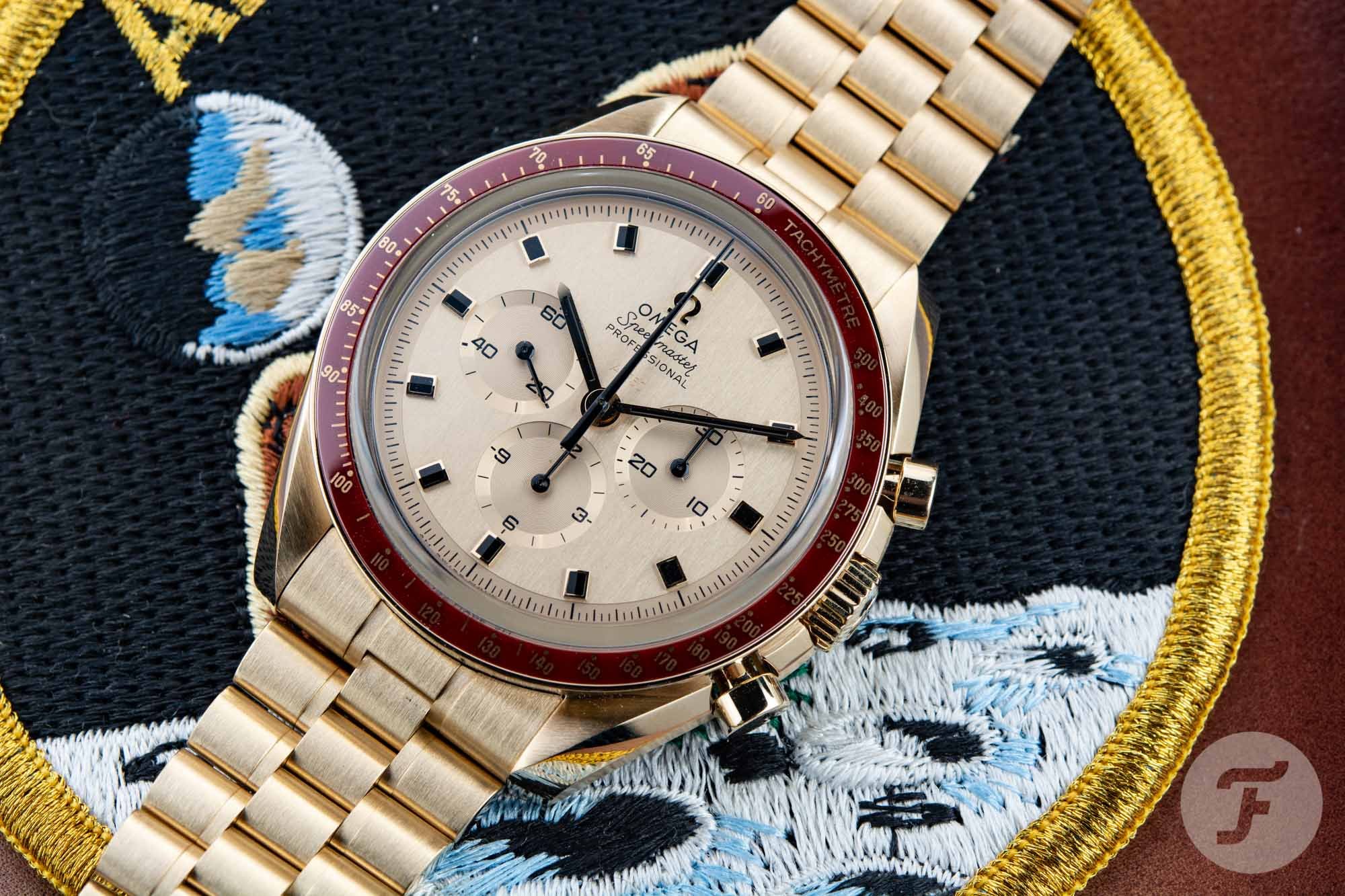 Omega Speedmaster Apollo XI Moonshine
Another of RJ's match-ups, and another Speedmaster. This time it's the Apollo XI Moonshine that makes it through. With 58% of the vote, the Glashütte Original PanoMaticLunar performed admirably and was unfortunate not to cause the upset.
Now, our glorious leader loves this watch. Ask him, he will admit it, and also admitted he wants it to win over the 321. His article on "one year of ownership" of this watch can be found here. It's one of his most worn watches and earned him the nickname "Goldmember". I mean there are other similarities there — they're both Dutch, for starters! As for this matchup, I wouldn't like to predict the outcome as I am struggling to decide how I think it'll go. Both are very strong contenders, so will will have to wait and see how the voting goes.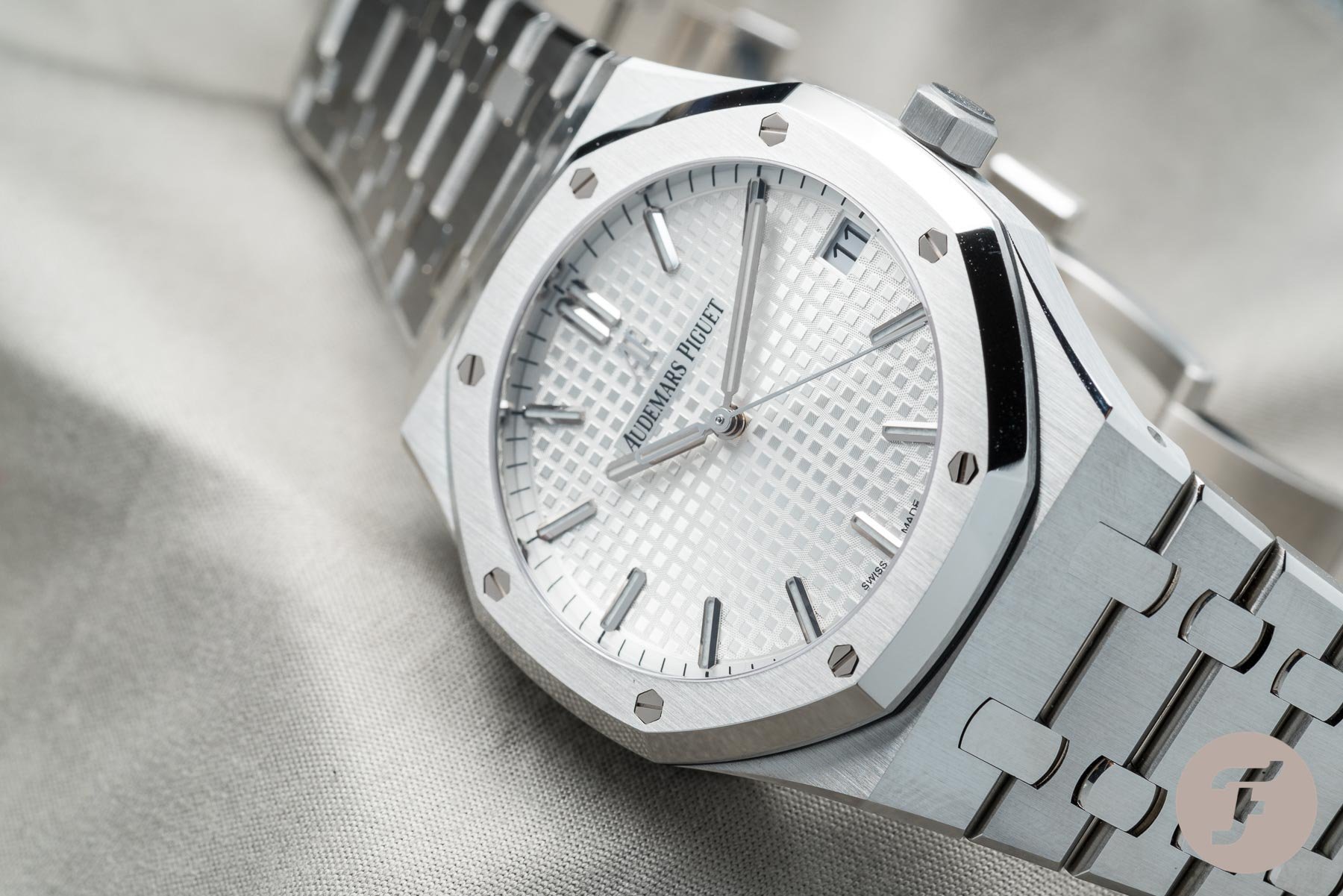 Audemars Piguet Royal Oak 15500ST
Last round, the Audemars Piguet Royal Oak 15500ST beat out the Rolex Submariner Date 126618LB with a cleary victory — 76% of the votes. The 15500ST is the current "standard" model in the Royal Oak lineup, but it is far from standard. You only need to see this watch in the metal to appreciate why it's a grail piece for so many. I think that pictures can never do justice to just how much of a joy this watch is to put on the wrist. It is just a gorgeous stainless steel sports watch. It's worth taking a look at this article, where RJ shared his thoughts on the 15500ST.
As mentioned, I have no idea how this matchup will go, and I'm also torn on how to vote as both are great watches. This is one of the first matchups where I'll be super sad to see one watch go. What do you think? Get voting, people!
March Mania: Second Round Proper — RJ — (2) V (3)

Win the Hamilton Intra-Matic Chrono by participating!
So now it's over to you! We want your votes, but we also want to hear your thoughts. Better still, by sharing them with us, you'll put yourself in the running to win either a LIC leather watch strap or (drum roll, please) the HAMILTON INTRA-MATIC AUTO CHRONO. Yes, that's right, as Karina detailed in her post yesterday, we will be giving away one of Hamilton's most popular models for one lucky commenter. How do you win? Comment on the March Mania tournament as often as you can, engaging with other readers, helping to create a happy community atmosphere. The best contribution will be handsomely rewarded, so what are you waiting for? Let your voice be heard!