Max Verstappen Presents His New TAG Heuer Watch
Dutch Formula One driver Max Verstappen unveiled his third watch, made by TAG Heuer. The TAG Heuer Formula One Max Verstappen Special Edition 2018 was presented during an exclusive event at the Hotel Arena in Amsterdam.
TAG Heuer launches a new special-edition watch designed by Max Verstappen
The new special edition timepiece is limited to 1.300 pieces, and as said, was designed by the racer himself. Rumour goes that all 1.300 pieces have been sold instantly. After the launch of two successful special editions in 2016 (we covered that one here) and 2017 (and this one here), TAG Heuer decided to continue the success story with Max Verstappen.
The design for the third piece began earlier this year when TAG Heuer met him at Silverstone, where he spoke to the design team about his vision for the watch and his design preferences. In July, Max Verstappen visited the brand's museum and manufacture workshop in La Chaux-de-Fonds to launch the production of his own watch.
Hotel Arena in Amsterdam
This third Max Verstappen special edition watch was presented today during a well-organized event in the Amsterdam Hotel Arena. The building of this hotel once functioned as a home for Roman Catholic orphan girls. Later, at the beginning of the 20th century, also disabled and incurably ill women found accommodation. In WWII the buildings have been occupied by the German Nazis, after the war, the original inhabitants returned to the mental institution. Financial problems of the institute made the last residents leave the building in 1982. Then it became a home for 'Dam- and Vondelpark Sleepers' who could rent a mattress for a few dollars in the establishment as a municipal Sleep-In. After an extensive renovation, Hotel Arena where this presentation of Max Verstappen's watch was organized, opened on 7 February 2002.
Max Verstappen about the watch
About the watch, Max Verstappen explained yesterday: "The watch is very sporty, with nice racing colors in black and red. The red was inspired as well by the Senna version, which I personally like very much. Also the bracelet, it reminds me of the bracelet I received from TAG-Heuer after my first Grand Prix win. And of course the red, white and blue line in the dial; no idea where that came from.. 😉 I think overall it's a very cool watch – exactly like what I wanted it to be!"
Hands-on with the watch
After the official presentation, we had the chance to handle the watch and experience how it feels in real life. It certainly didn't disappoint. Of course, it can be seen that this watch was made for Max Verstappen fans in the first place, more than with pure watch aficionados in mind. I can imagine that otherwise TAG-Heuer, or Max, had chosen for a mechanical movement instead of the current quartz one.
But all in all, we liked the watch in real life much better than we thought. We saw it from render drawings in the preceding press information, and it looked quite flat. As said that certainly wasn't the case in real life. The 43 mm case feels comfortably heavy and so does the bracelet. All in all the shape of the watch and the bracelet is so that it wears comfortably on my 18 cm wrist. The watch is sporting a flat sapphire crystal and has a steel screw-down case back with special Aston Martin Red Bull Racing engraving. Not much different from the 2016 and 2017 editions. Water-resistant of the watch is 200 meters.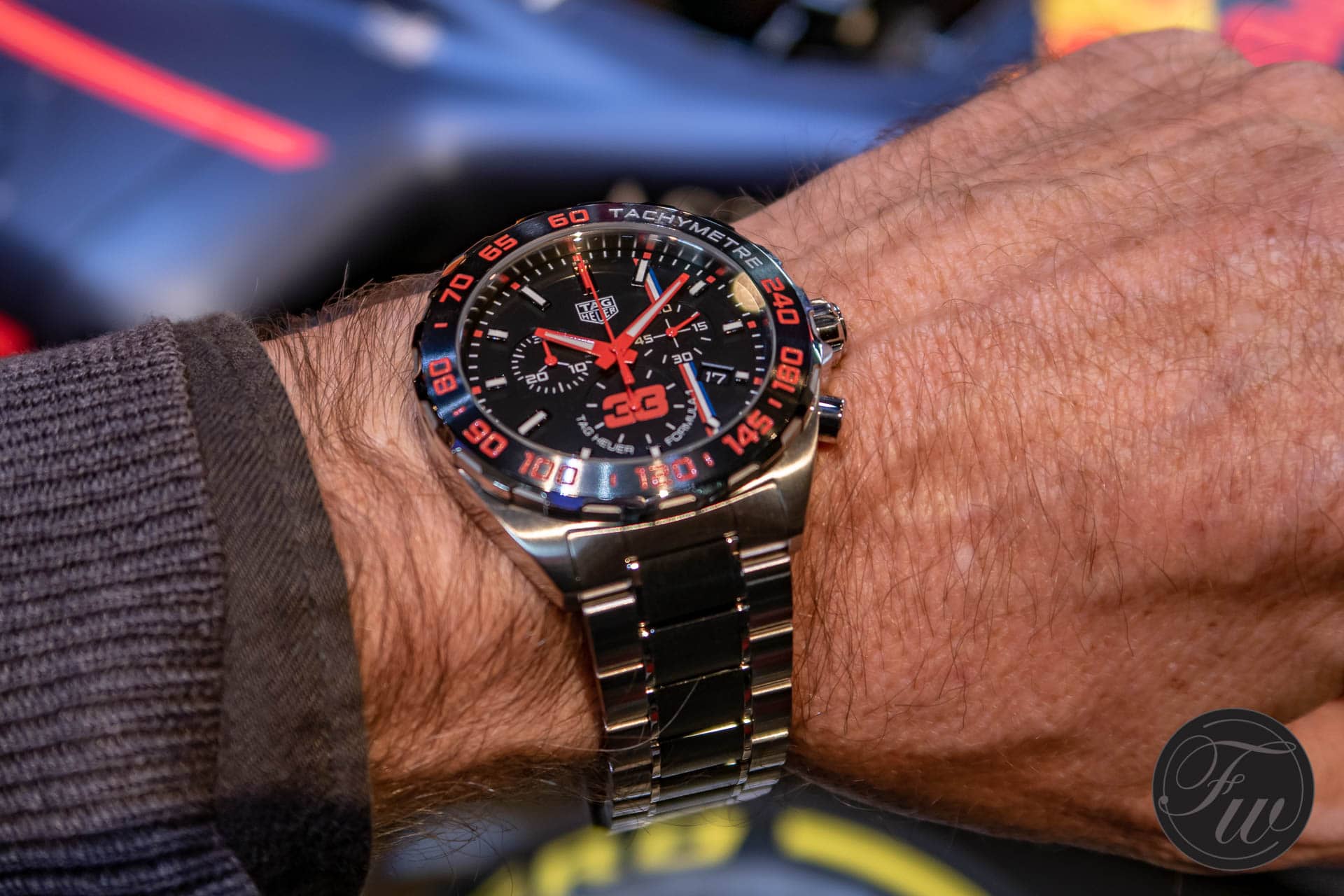 Some observations about the bezel
The black ceramic tachymeter bezel is something which puzzled us most. As you will know a tachymeter bezel is used to calculate speeds, and as such we think it's strange that Max chose to install a bezel which has a maximum speed of 240. His Aston Martin Red Bull Racing Formula One car must be able to do much more than 240 km/h, strange to chose a bezel which stops at that point then. Or it must be that the indication on the bezel was meant in miles per hour, which we can't imagine for a Dutch-born driver.
Another thing about the bezel is its toothed edge. That looks very technical, professional and solid, however, implies that it should be able to rotate. Something which shouldn't be the case with a tachymeter scale of course. We have to admit that we didn't try it, but I'm sure the bezel is fixed and won't rotate.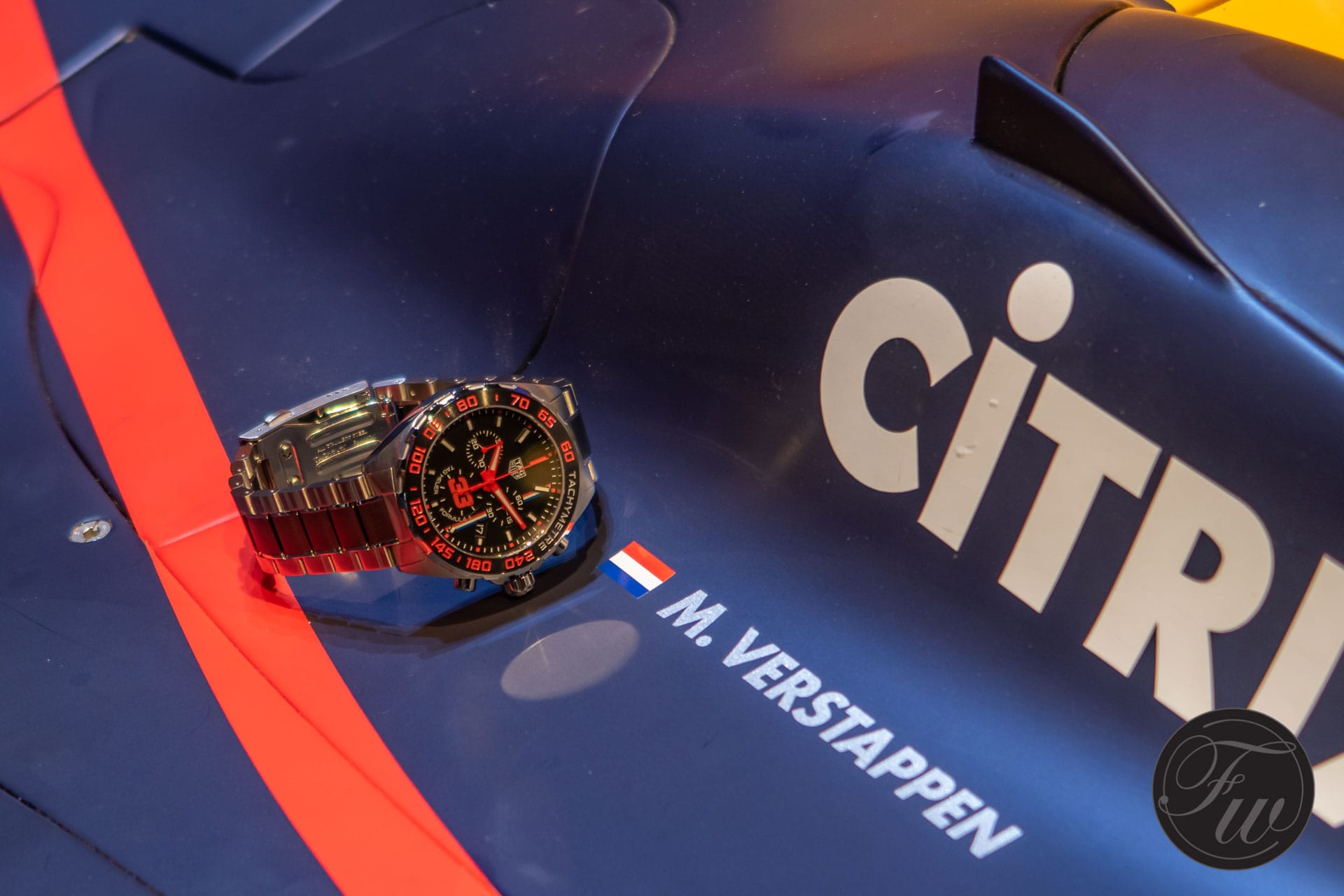 Entertainment
During the event, which was hosted by Robert Doornbos and Dutch TV personality Rob Kamphues, a pit-stop challenge was arranged – a short contest between Max Verstappen and world-famous Australian vlogger Supercar Blondie (with almost 2 million Instagram followers and over three hundred thousand subscribers to her YouTube channel). In this challenge, they had to change one tire on an Aston Martin Red Bull Formula One car as quickly as possible. Super Car Blondie won the contest, and then guests had the chance to beat the time set. A driver's seat was available as well, where people could try to beat Max Verstappen on a virtual race track.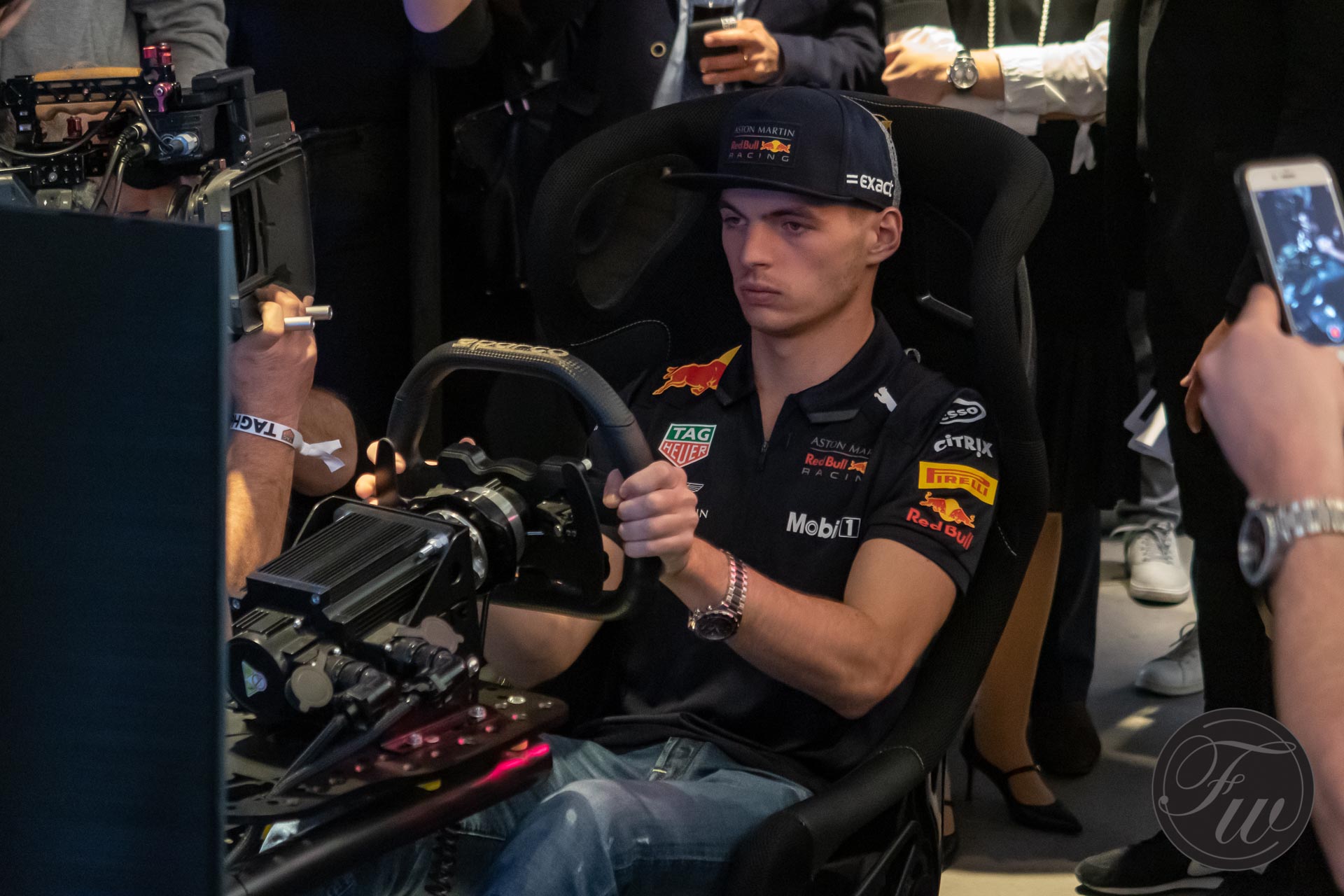 Specifications and pricing
Let's end this write-up with some facts. The reference of the TAG Heuer Formula One Max Verstappen Special Edition 2018 watch is CAZ101U.BA0843, and as said, it's equipped with a quartz chronograph movement. Functions are a chronograph with minutes-, seconds- and 1/10th of a second-counters, the date, hour and minutes, and a small seconds hand.
The dial is in black opaline with a red-lacquered hour and minute hands with white Super-LumiNova. The applied indexes are black gold plated polished with Super-LumiNova as well. The case is made in stainless steel, diameter 43 mm, has a black ceramic fixed tachymeter bezel. A flat sapphire crystal, a polished steel screw-down crown at 3 o'clock, and round polished-steel push button at 2 and 4 o'clock. The case back is of screw-down type, with special Aston Martin Red Bull Racing engraving.
Last but not least is the price for this to 1.300 pieces limited edition: € 1.950,= or $ 2,250.=. More information can be found at the TAG-Heuer website.