Omega Speedmaster Blue Side of the Moon – 52Mondayz, week #3
While the SIHH overpowers the media this week with watches on show there, I thought it would be adequate to give some pushback. Happily, I am allowed to wear the Omega Speedmaster Blue Side of the Moon to do so. This is the watch Robert-Jan did an extensive hands-on review on two weeks ago, complete with incredible close-up pictures by Bert Buijsrogge. Tip: head over to that review first, if you didn't already do so.
Omega Speedmaster Blue Side of the Moon
As most has been said and shown on this watch in the above-mentioned excellent review, I had to look for something additional to write about. I found it in the material where the watch is made from, ZrO2, Zirconium Dioxide, often seen mentioned as Zirconium Oxide as well. Usually, Zirconium Dioxide is casually referred to as Zirconia, in the watch business it's most commonly known as just Ceramic.
A watch case made of Ceramic
Rado is known for their ceramic watches for a long time already, but nowadays many watch brands have watches with ceramic casings in their program. The Omega Speedmaster Blue Side of the Moon I'm wearing this week is not really an exception there. But why would a watch manufacturer choose ceramic as material for a watch casing?
Enhanced scratch resistance
The main reason would be the enhanced scratch resistance compared to stainless steel. And even more to precious materials like gold an platinum.
Now all ceramics are harder than steel and/or gold. However, they're much easier to break or shatter as well. Which you don't like when constructing a casing for a wristwatch I can imagine. Not ZrO2. Zirconium Dioxide is a ceramic with a strength compared to steel. In fact, Zirconium Dioxide has the highest mechanical strength and fracture toughness of all major fine ceramics. These characteristics result in an extremely high resistance against wear.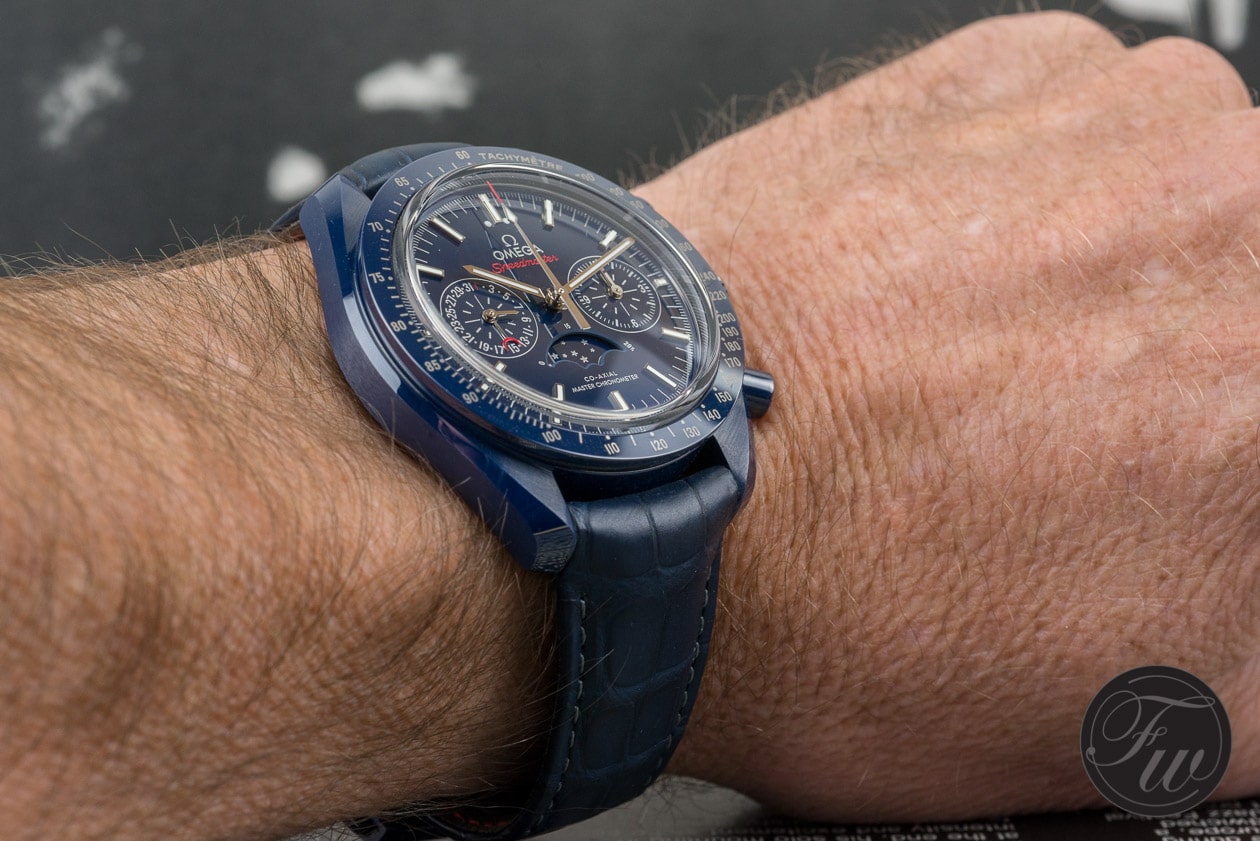 ZrO2 goes well together with steel and other metals
Besides this strength, ZrO2 for a ceramic has a relatively high thermal expansion. As not all components of a wristwatch can be made of ceramics, metals have to be used in the construction as well. Think of the movement, winding shaft, etc. The thermal expansion of ZrO2 is almost equal to that of steel, and therefore often the material of choice for joining these materials.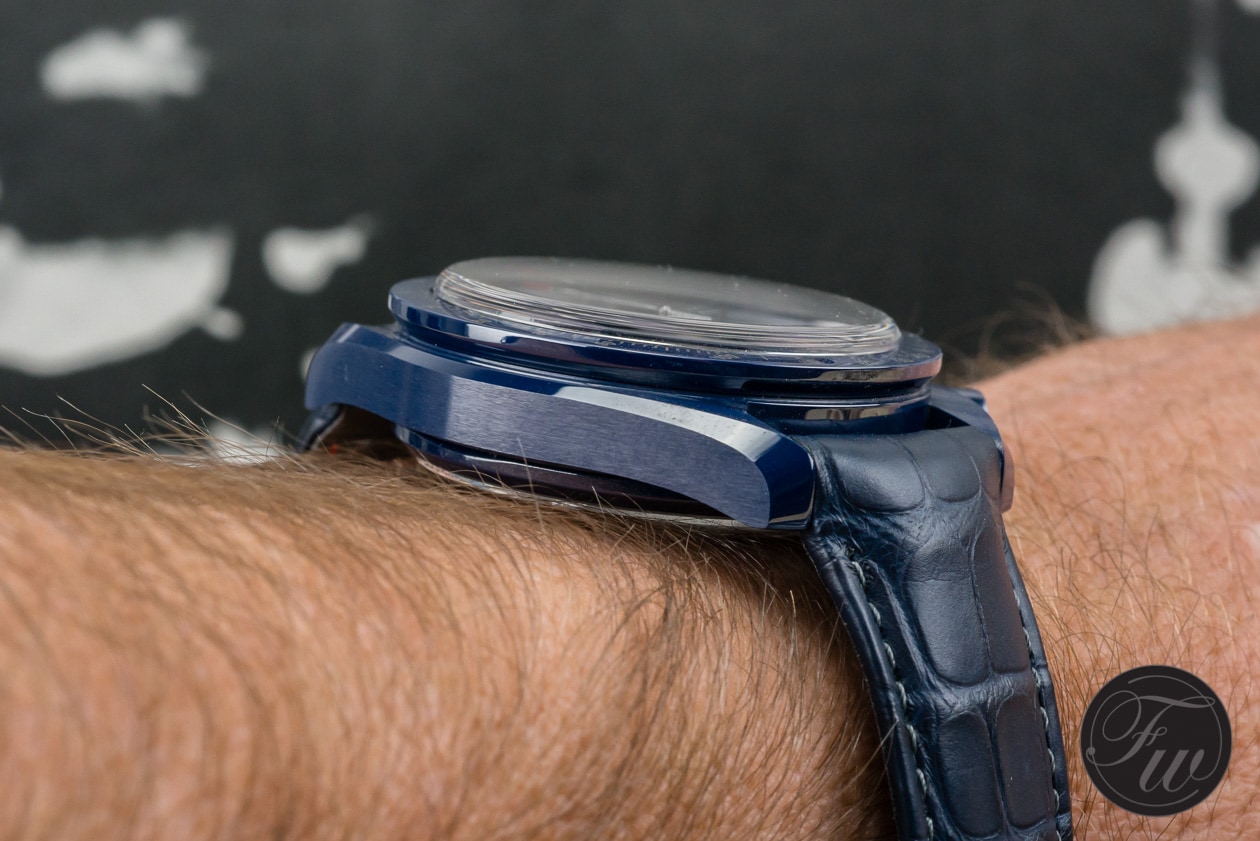 Comfortable to wear
Opposite to a high thermal expansion is Zirconium Dioxide's low thermal conductivity. Its excellent thermal insulation makes the ZrO2 material, which touches your wrist, feel rather comfortable. This advantage might not be very important as often Zirconium Dioxide isn't used for the case back. The Omega Speedmaster Blue Side of the Moon, for instance, has a beautiful large sapphire case back to show off its caliber 9904 Master Chronometer movement.
It doesn't corrode
The last advantage I would like to mention is Zirconium Dioxide's chemical stability. That sounds quite scientific, however practically means that the material is not reactive to most chemicals, or for instance salt water. Only sulfuric acid might slowly attack it. However, that would attack other materials in the area of the watch, like your skin, much much faster.
So where does ZrO2 come from?
Raw Zirconium Oxide is a white crystalline oxide made by heating to high temperatures in air or oxygen of Zirconium. The principal commercial source of Zirconium is the mineral Zircon. Two-thirds of Zircon mining occurs in Australia and South Africa. The worldwide annual total Zirconium production is approximately 1.5 million tonnes, which obviously isn't all used for producing watch casings.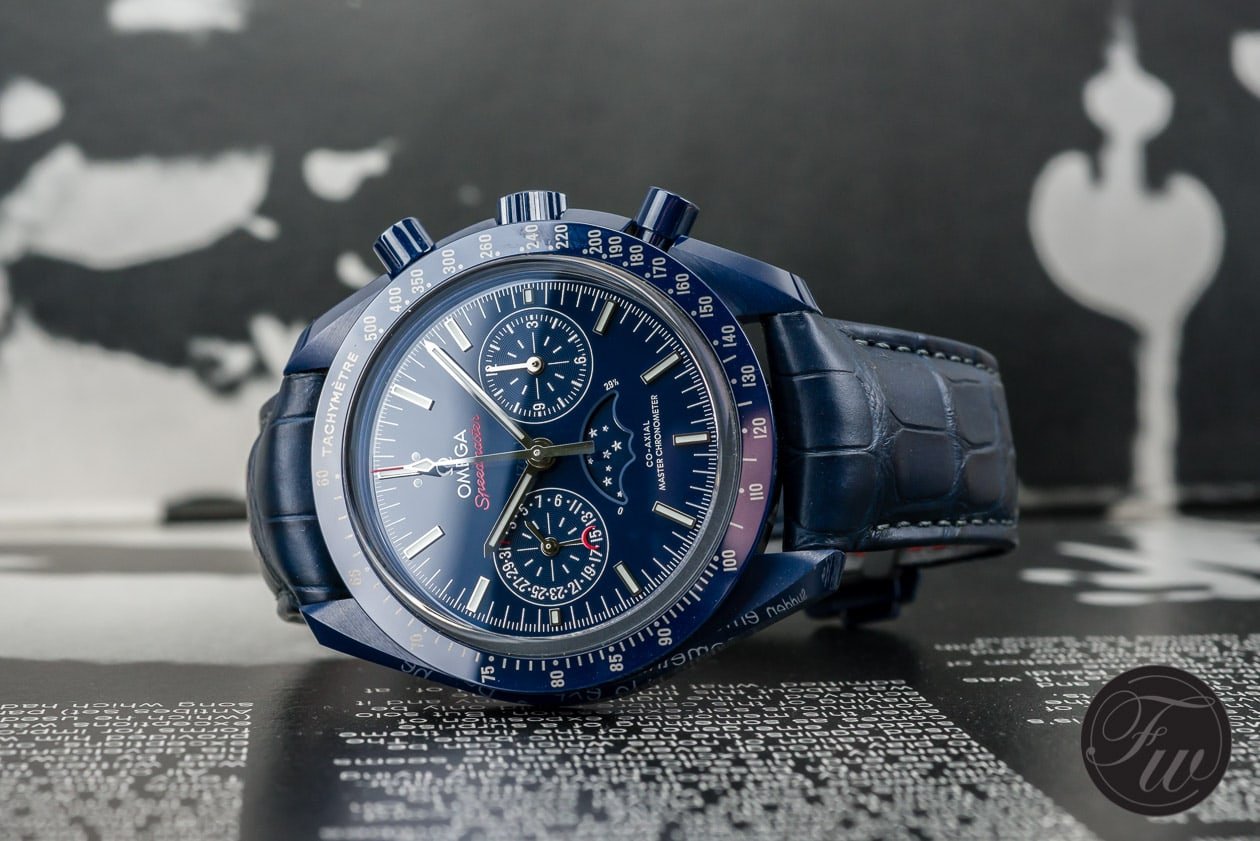 Specifications and pricing
This 52Mondayz episode is quite different to all others, which I wrote until now. I would like to finish it with my regular ending though, the specifications and pricing for this weeks watch. Omega's full official model indication of the Omega Speedmaster Blue Side of the Moon I'm wearing is 'Omega Speedmaster Moonwatch Co-Axial Chronometer Moonphase Chronograph 44.25 mm'. No less. This immediately informs about the diameter of the watch, which is rather impressive as well. In my opinion, however, it's OK-ish for a chronograph of this importance.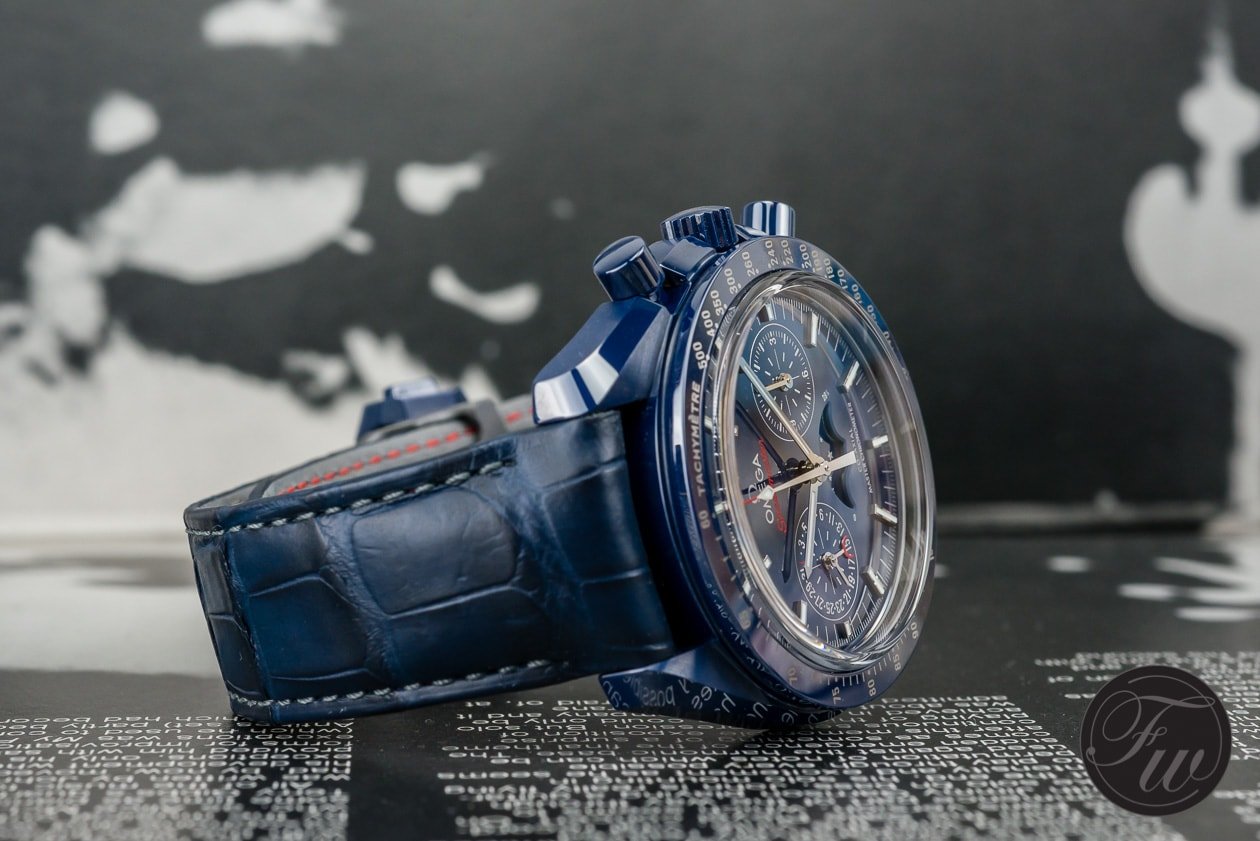 The reference number of the Omega Speedmaster Blue Side of the Moon is with 304.93.44.52.03.001 not less impressive, just as it's price of € 11,800.=. The model exists in 9 variations. Starting at € 9,500.= for a stainless steel one up to € 45,400.= for a model in platinum, which we reviewed here.
More information on these watches can be found at Omega's website here: www.omegawatches.com