Is A Platinum Speedmaster End Game Material?
We've seen many gold Speedmasters recently, but what about platinum?
We've seen more gold Speedmasters in recent years than ever before. The recent introductions of the Speedmaster Apollo 11 Moonshine, Apollo 17 in yellow gold, and the new Moonwatch models in white gold and Sedna gold, for example, have brought a lot of color to the #SpeedyTuesday news feed on Instagram. But what about a platinum Speedmaster?
This precious material has been used for the Speedmaster since 1994, but only in very small quantities. How come? It is not so much the fact that processing this rather gummy material is challenging, and therefore expensive, but because the demand is just low. Many of you prefer white gold over platinum (for a considerably friendlier price), with almost the same looks. Platinum does look different from white gold, but only a few spectators will see the difference when they are confronted with a platinum watch.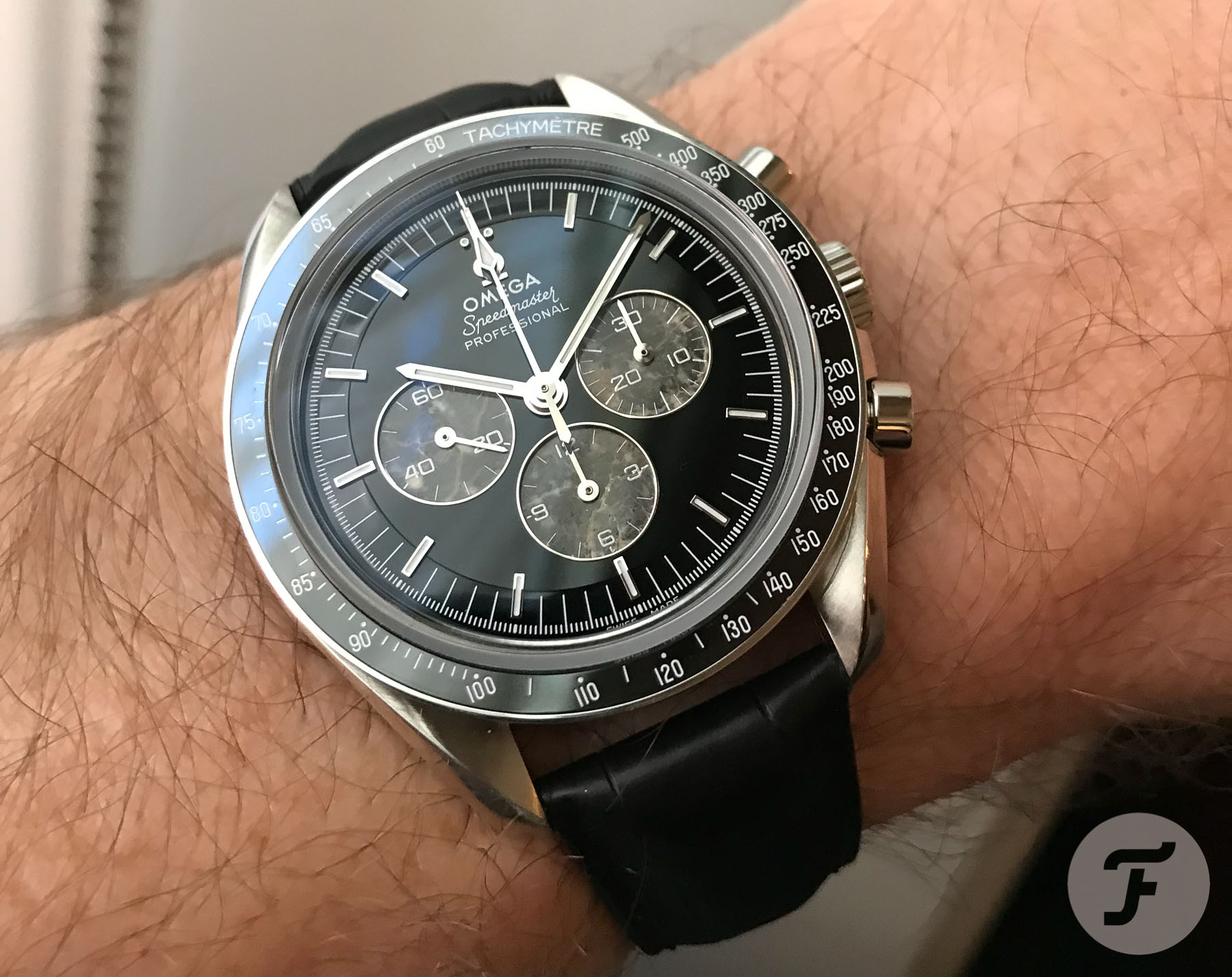 The Platinum Speedmaster — very desirable or not at all?
Some brands make a platinum watch easily identifiable, by using the same parameters in the design. For instance, Patek Philippe uses a diamond between the lugs at 6 o'clock. Rolex has been using ice blue dials on its platinum models for quite a while, for example. The first Omega Speedmaster watches in platinum were skeletonized, but other than that there's no typical identifier for Speedies made of this precious material.
I find it somewhat interesting that before 1994, Omega didn't produce a Speedmaster in platinum. Other brands have been using platinum quite often, but admittedly the majority see the material deployed on dress watches. A sports watch in platinum was probably even over the top in the 1970s. But how cool would it have been to have a vintage Speedmaster available in platinum?
Let's have a look at some of those platinum Speedmaster watches that have been introduced since 1994.
Platinum Speedmaster Apollo XI 25th Anniversary — 1994
To commemorate the 25th anniversary of the Moon landing, Omega introduced two different Speedmaster Professional watches in platinum. Both possessed skeletonized movements, done by Armin Strom. One is a platinum Speedmaster with skeleton dial and movement, without diamonds, and the other one has been fitted with 36 baguettes on the bezel and — when you opted for the platinum bracelet — 80 more on the links and end-pieces.
The Speedmaster Professional in platinum with reference 3097.30 (reference 3096.30 for the platinum bracelet version) was limited to 50 pieces only. Inside was caliber 867, a skeletonized and decorated version of the famous caliber 861. This 42mm platinum beast came in this brown box in the shape of a book, like the white gold version of the Apollo XI 25th anniversary.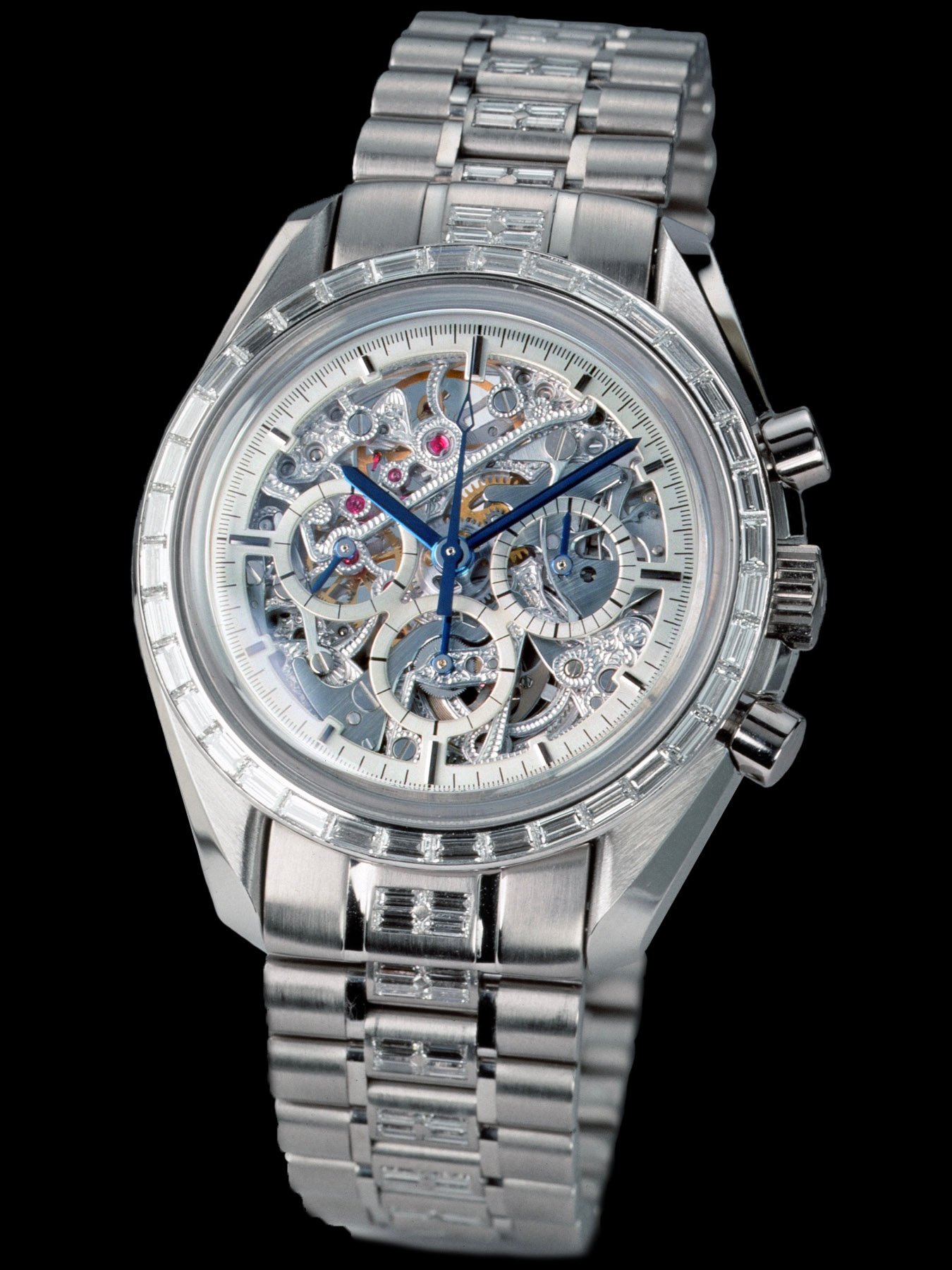 An additional 10 watches (five on a leather strap, five on a bracelet) were made in platinum in the same year, with baguette diamonds. These were also fitted with the caliber 867 movement and a skeletonized dial. Reference 3098.30 came with the platinum bracelet with 80 additional baguette diamonds and reference 3099.30 came with a leather strap. All of these 1994 platinum watches had a see-through case back, to show Armin Strom's work on the caliber 867. These watches are as rare as hen's teeth, and I only had the pleasure to try one with a platinum bracelet from an Italian watch collector, I met randomly during an event.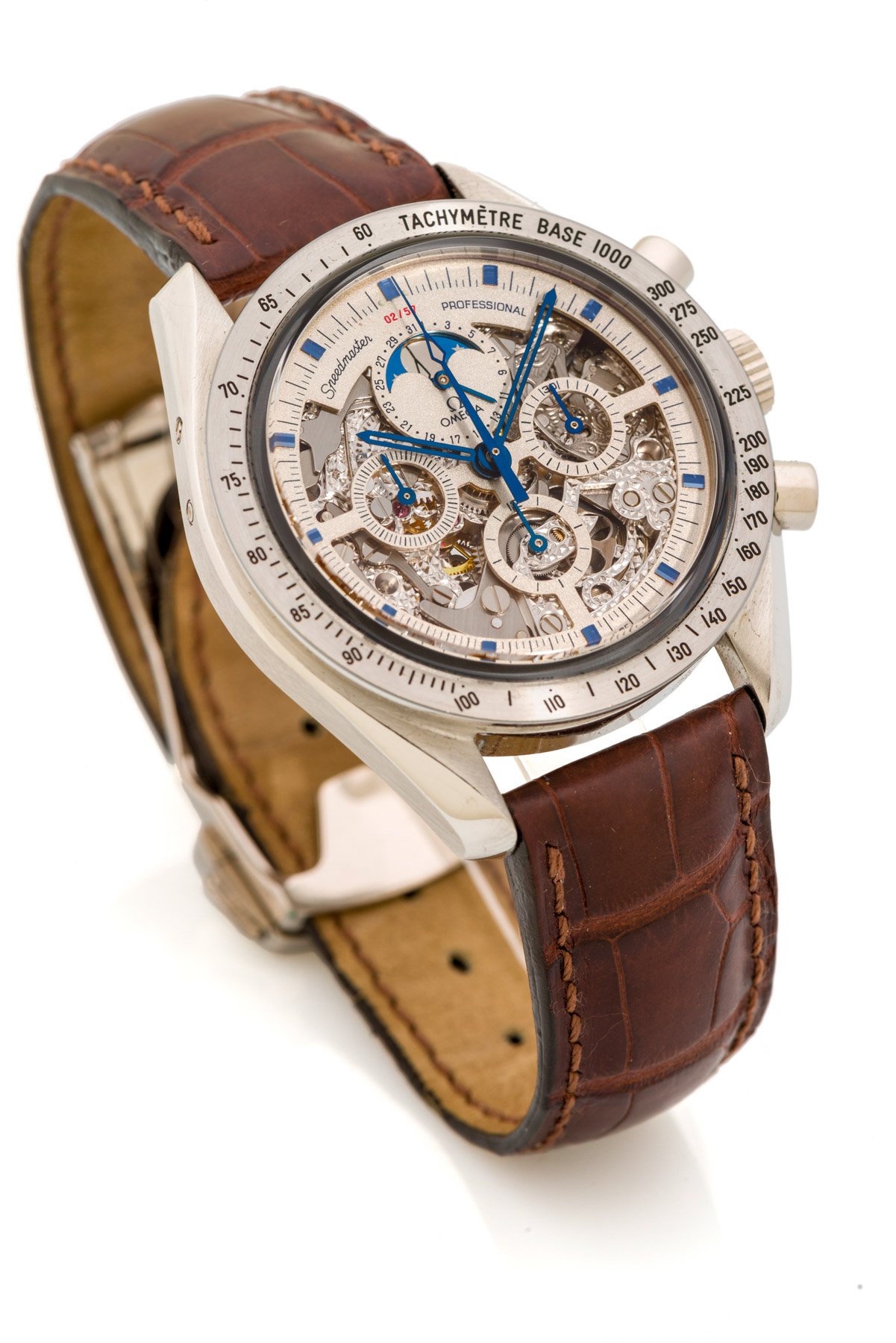 Speedmaster Moonphase Skeleton in Platinum — 2003
Then, in 2003, Omega repeated its platinum game with a skeletonized Speedmaster also worked on by Armin Strom. This time, the moon phase complication was visible. Instead of the 861, Omega used its caliber 1866 as a base and dubbed it caliber 3604 A. Limited to 57 pieces only (referring to the first year of the Speedmaster — 1957). It is a 42mm case Speedmaster with a see-through case back, so you can admire its skeletonized movement from both sides.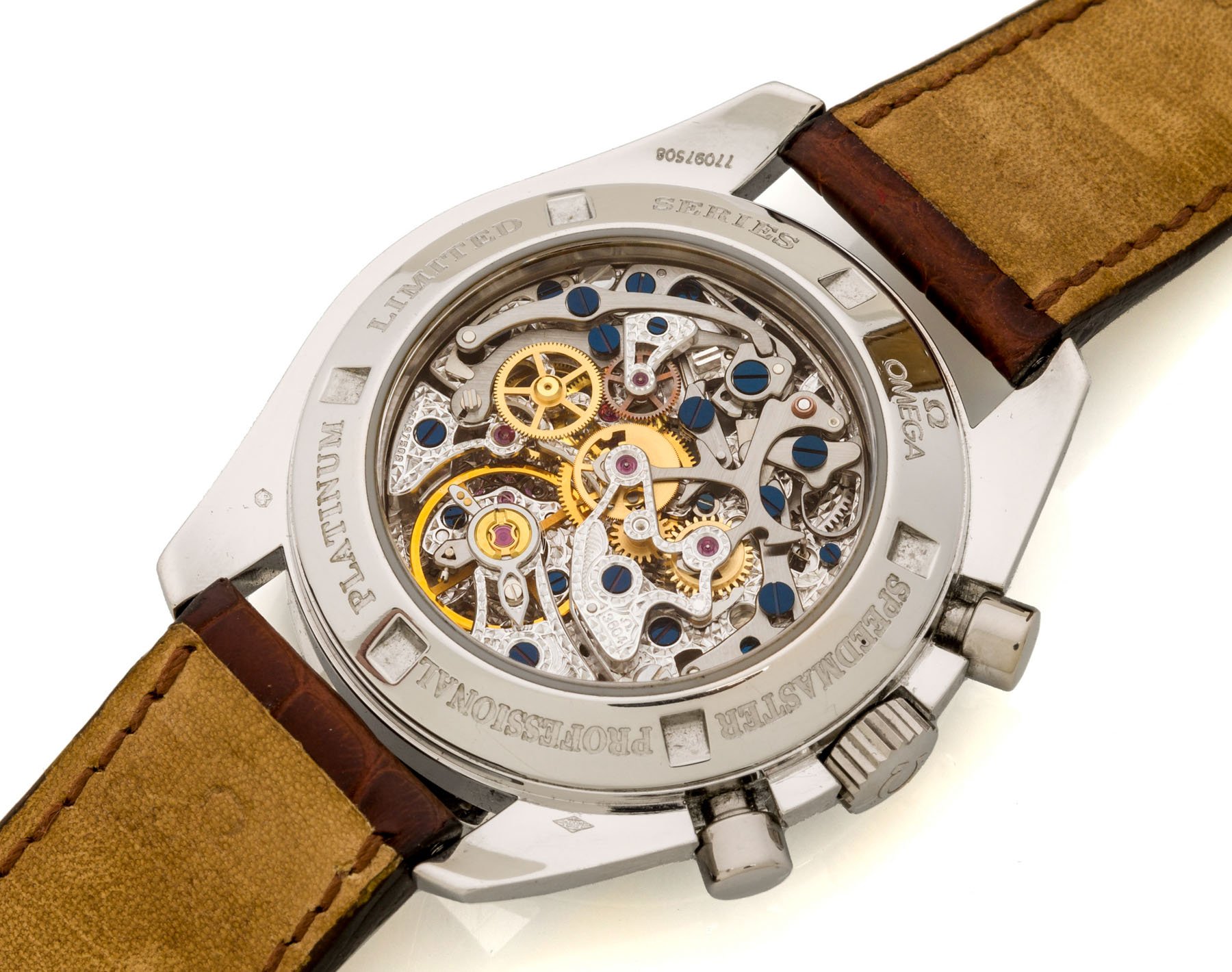 This platinum Speedmaster reference 3688.30 was only available with a leather strap. You do see these pop up at auctions occasionally. In 2017, one was sold for CHF 35,000/$35,000 at Antiquorum.
Speedmaster Apollo XI 40th Anniversary – 2009
In 2009, you might remember the steel Speedmaster Professional Apollo XI 40th anniversary edition with the silver medallion mission patch at 9 o'clock. Also on the dial was the time of the lunar landing, printed in red. The case back shows a larger mission patch. It was limited to 7,969 pieces, and of course, you can debate whether this volume really constitutes a "limited" edition.
Coincidentally, at the time of writing this, there are only 11 of these watches offered on Chrono24. Anyway, the really limited version of this watch was the platinum edition, which was made just 69 times. To make a clear distinction between this platinum Speedmaster Apollo XI 40th anniversary edition and the steel version, the medallion on the dial and case back are made of yellow gold. Inside is the caliber 1861 movement, like any normal Speedmaster Moonwatch at the time. The reference of the platinum Speedmaster Apollo XI is 311.90.42.30.01.001.  This model was delivered in a special wooden box, with the mission logo on the lid.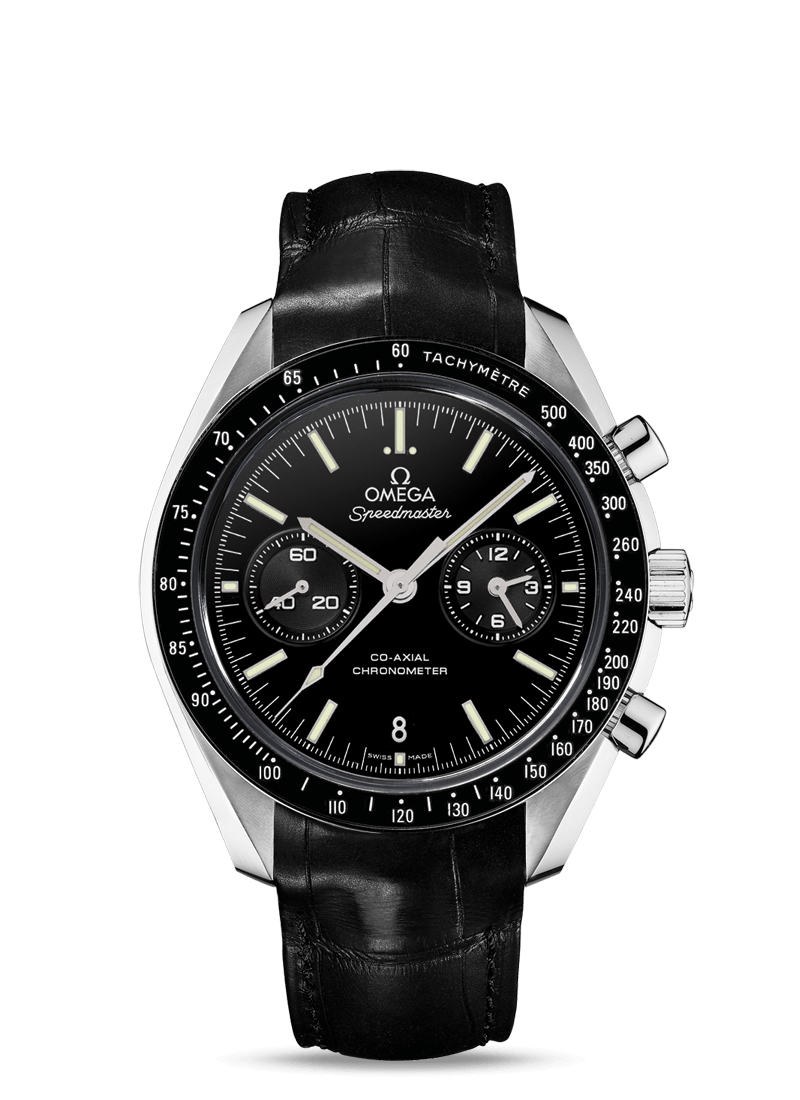 Speedmaster Co-Axial Chronometer Chronograph – 2011 – 2017
When Omega introduced its new caliber 9300 collection of Speedmasters in 2011, they also included this platinum version. It is nearly identical to the steel version that we covered here back in 2011, but with a platinum case and an enamel dial. Where the steel Speedmaster Co-Axial Chronometer Chronograph used Omega's caliber 9300 movement, the platinum and gold versions were equipped with caliber 9301. This iteration has a gold rotor and gold bridges. The applied indexes on the dial are made of white gold and the subdials have white enamel elements.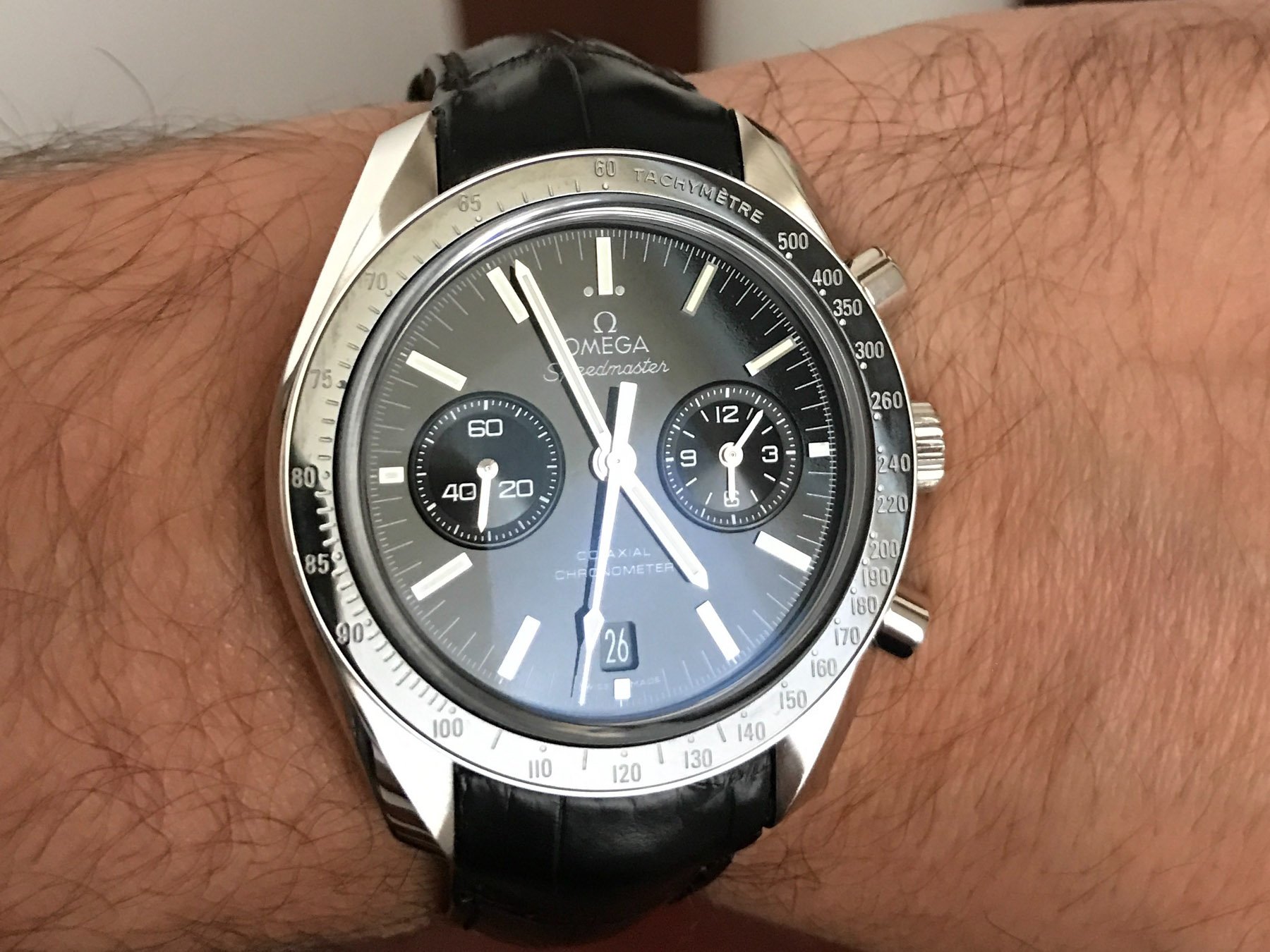 I have to admit that I missed this platinum Speedmaster when this article was published. Some of you commented that the 2011 Speedmaster Co-Axial Chronometer Chronograph was also available in platinum, till 2017. We even received the above picture from one of you that actually owns the platinum version. This reference 311.93.44.51.01.002 seems to be quite rare though, less than a handful are offered on the pre-owned market on Chrono24.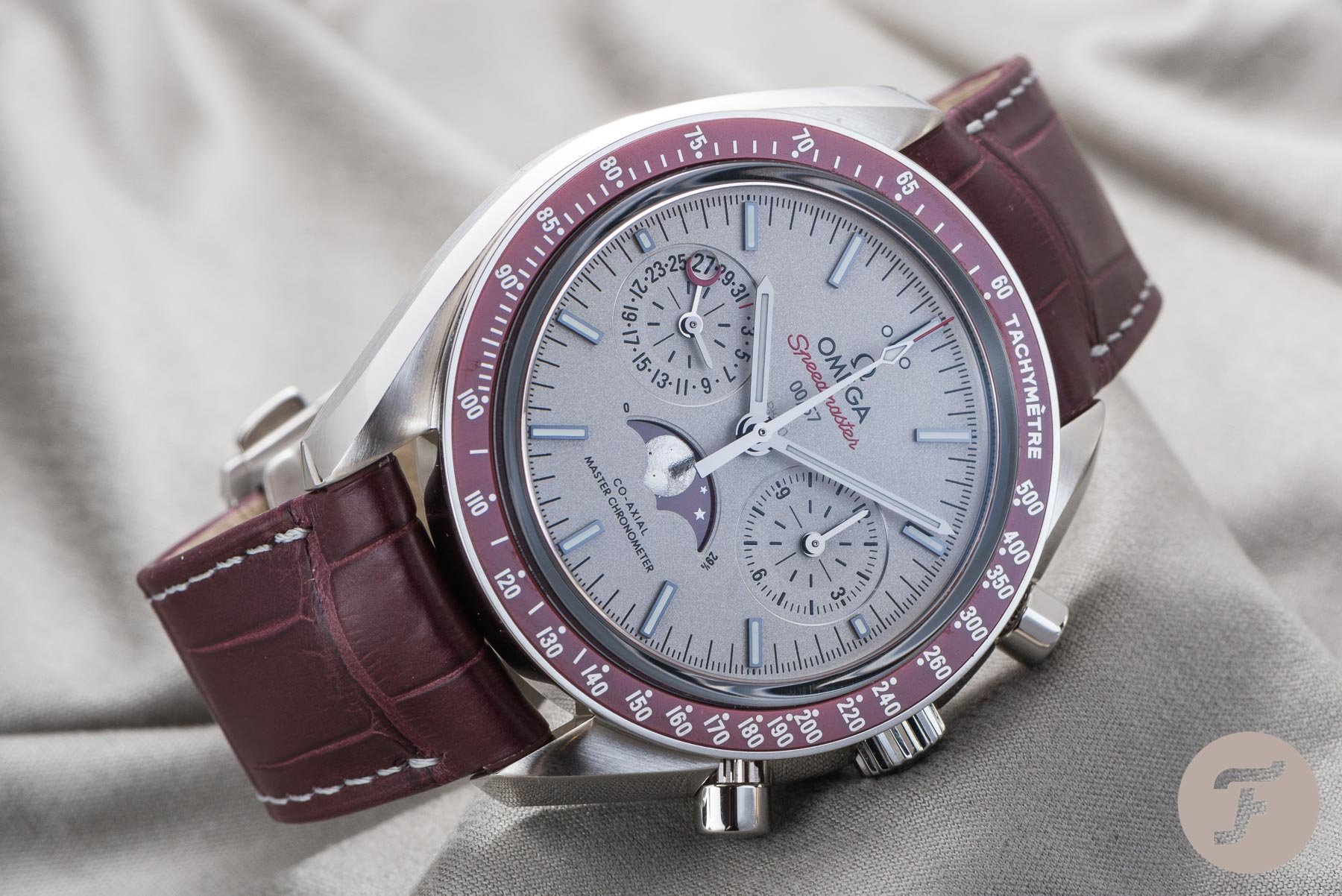 Speedmaster Moonphase Co-Axial Master Chronometer — 2016–now
A few years later, in 2016, Omega surprised everyone by releasing the Speedmaster Moonphase Co-Axial Master Chronometer 44.25mm in platinum. This watch had a platinum dial and a red ceramic bezel. This model, with reference 304.93.44.52.99.001, was a limited edition of just 57 pieces and boasted a retail price of €46,100. This platinum Speedmaster Moonphase watch was equipped with the in-house caliber 9905 movement, certified by METAS as a Master Chronometer.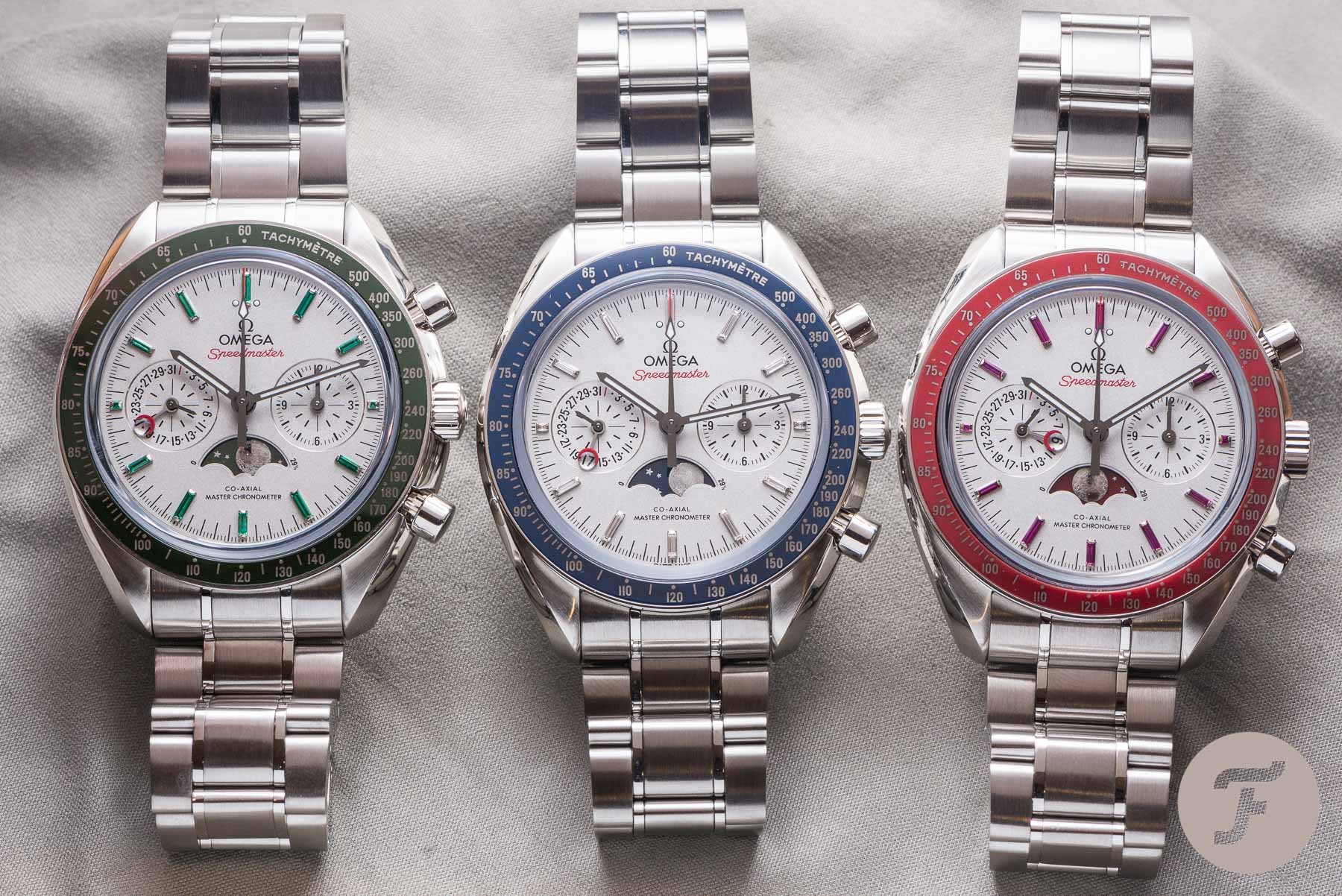 In 2018, Omega again introduced three new platinum Speedmaster Moonphase watches based on this exact model. This time, with baguette diamond, ruby, and emeralds as hour markers, depending on the color of the bezel and moon disc. I remember being incredibly amazed by the weight of these watches — nearly half a kilogram per watch. The platinum bracelet added an enormous weight, of course. And to the price as well, these were communicated to retail at CHF 70,000. Interestingly, these watches never made it to the market.
But then, one year later, in 2019, the exact same watches were introduced once more, but this time without the bracelet. The blue platinum Speedmaster with baguette diamond hour markers has reference 304.93.44.52.99.004 and retails for €53,800. The green platinum Speedmaster has emerald hour markers (reference 304.93.44.52.99.003) and retails for €61,300, and last but not least, the platinum Speedmaster with ruby hour markers (reference 304.93.44.52.99.002) has a retail price of €53,800.  The latter looks very similar to the limited edition of 2016 but has ruby hour markers and a different strap.
Platinum Speedmaster Professional Calibre 321
Also introduced in 2019, on the day of the 50th anniversary of the Moon landing, is this platinum Speedmaster Professional. Although the 44.25mm Speedmaster Moonphase Master Chronometer in platinum is quite an impressive watch, regardless of which version, there's something special about a platinum Speedmaster Professional still.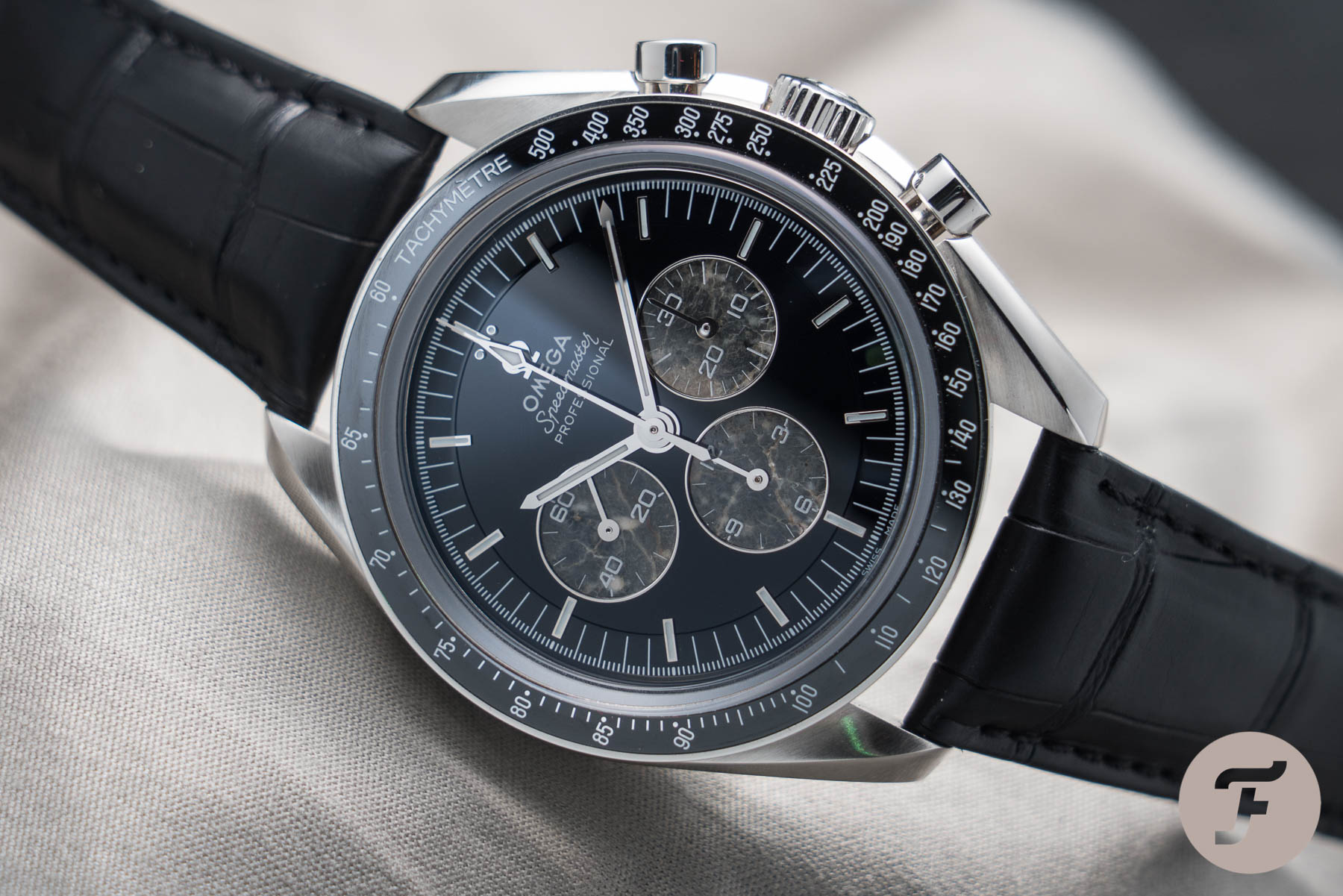 This 42mm case Speedy is the "Moonwatch" and when that classic comes in platinum, it is just a little bit more meaningful. At least to me, as a Speedmaster enthusiast.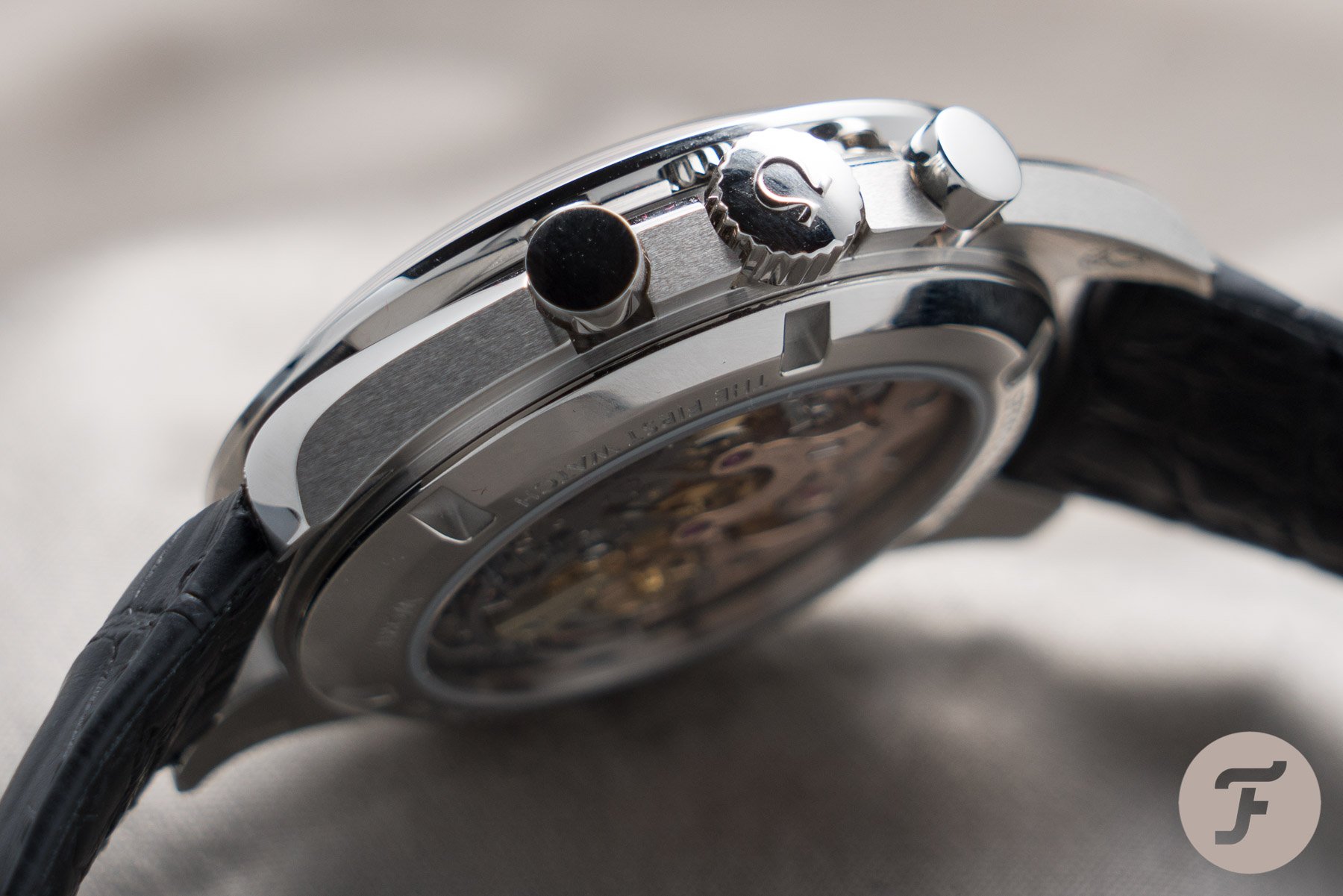 The case of this platinum Speedmaster is based on the 4th generation of Speedmasters (also known as the 105.012). It is easily identified by the bevel on the case back. What I love about this Speedmaster Moonwatch reference 311.93.42.30.99.001 is the dial. Beautiful onyx is combined with lunar meteorite for its sub-dials. With a retail price of €59,200, this watch is out of reach for many, but, in my opinion, of all Speedmaster platinum versions, this is the one to have. It combines rare materials with the classic Moonwatch case design and the iconic chronograph movement.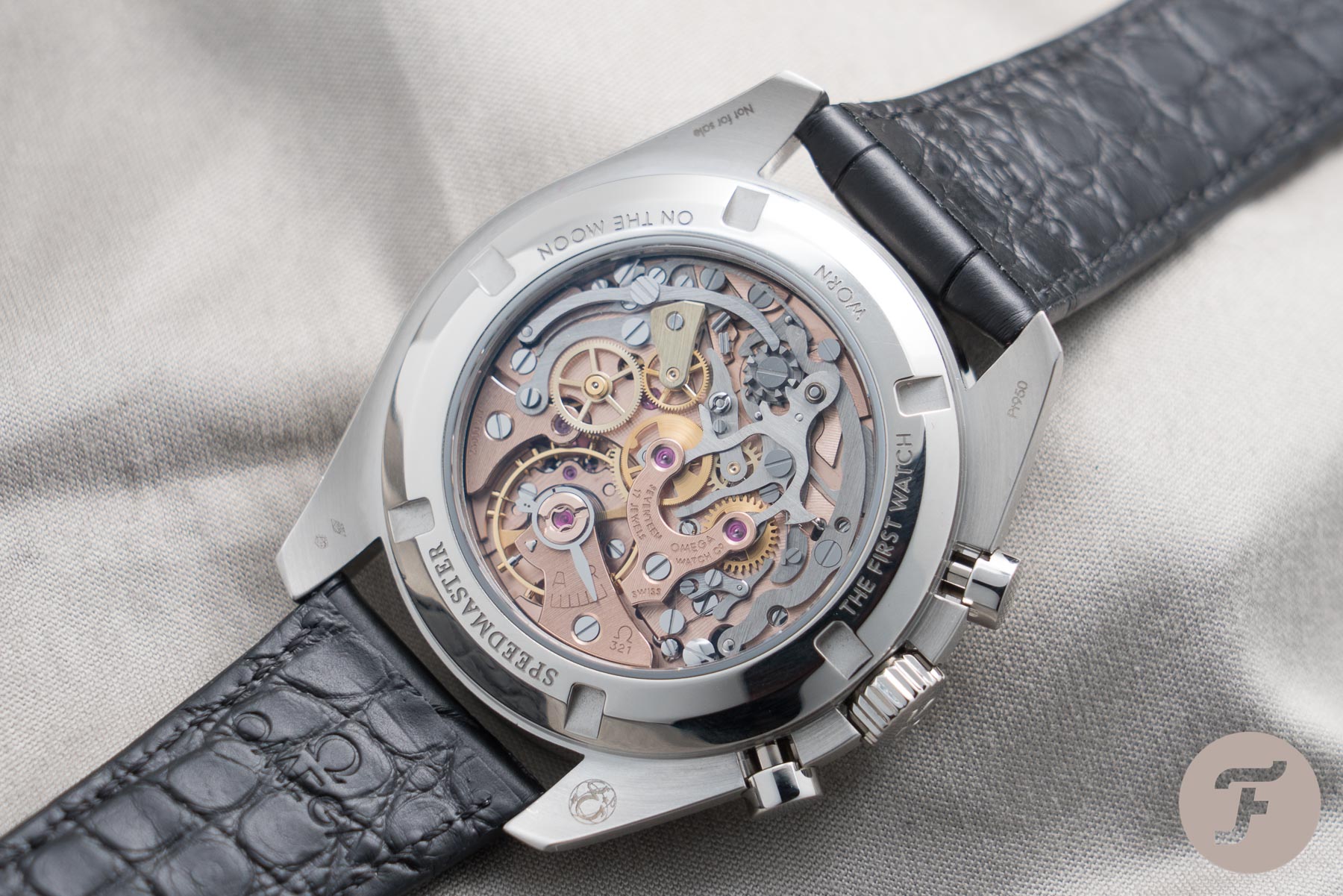 This is not a limited edition in the classical sense but limited by production capacity. And probably also by demand, as it is only for the lucky few. You can find our hands-on review of this watch here.
More information on Omega's Speedmaster collection here.