Pre-Owned Spotlight: Vintage And Neo-Vintage Picks From Rolex, Omega, And Cyma
Four fantastic watches that beg for a closer look
Here at Fratello HQ, it's a common occurrence to see more than a couple of our editors scrolling through pre-owned watch sites. It's part of the daily ritual. Whether or not you're looking to buy something, it can be a lot of fun and a learning experience as well. Who knows? You may even come across something you have never seen before. The only risk is that said watch may quickly become your new grail. Regardless, it's something that we all enjoy. Every now and then, we put together a pre-owned spotlight — a list of highlights to showcase some pieces that have recently caught our eye. After our fair share of scouring the pre-owned sites, I'm here today to share with you four watches that got my attention.
That's right! I'm not gonna let RJ have all the fun as he did a couple of weeks ago. Today, it's my picks that will get the spotlight. And boy, do I have some cool watches to show you! This lineup is split in half, featuring two proper vintage watches and two pieces that could be considered neo-vintage at best. Without further ado, let me show you what I've found. My picks include a beautiful Rolex Explorer 6610, Lex's favorite Omega Speedmaster Broad Arrow Replica, a Bond-worthy Omega Seamaster 300M, and one of the coolest Cyma watches you've ever seen. It's a vintage watch sandwich with a tasty double-stacked Omega filling.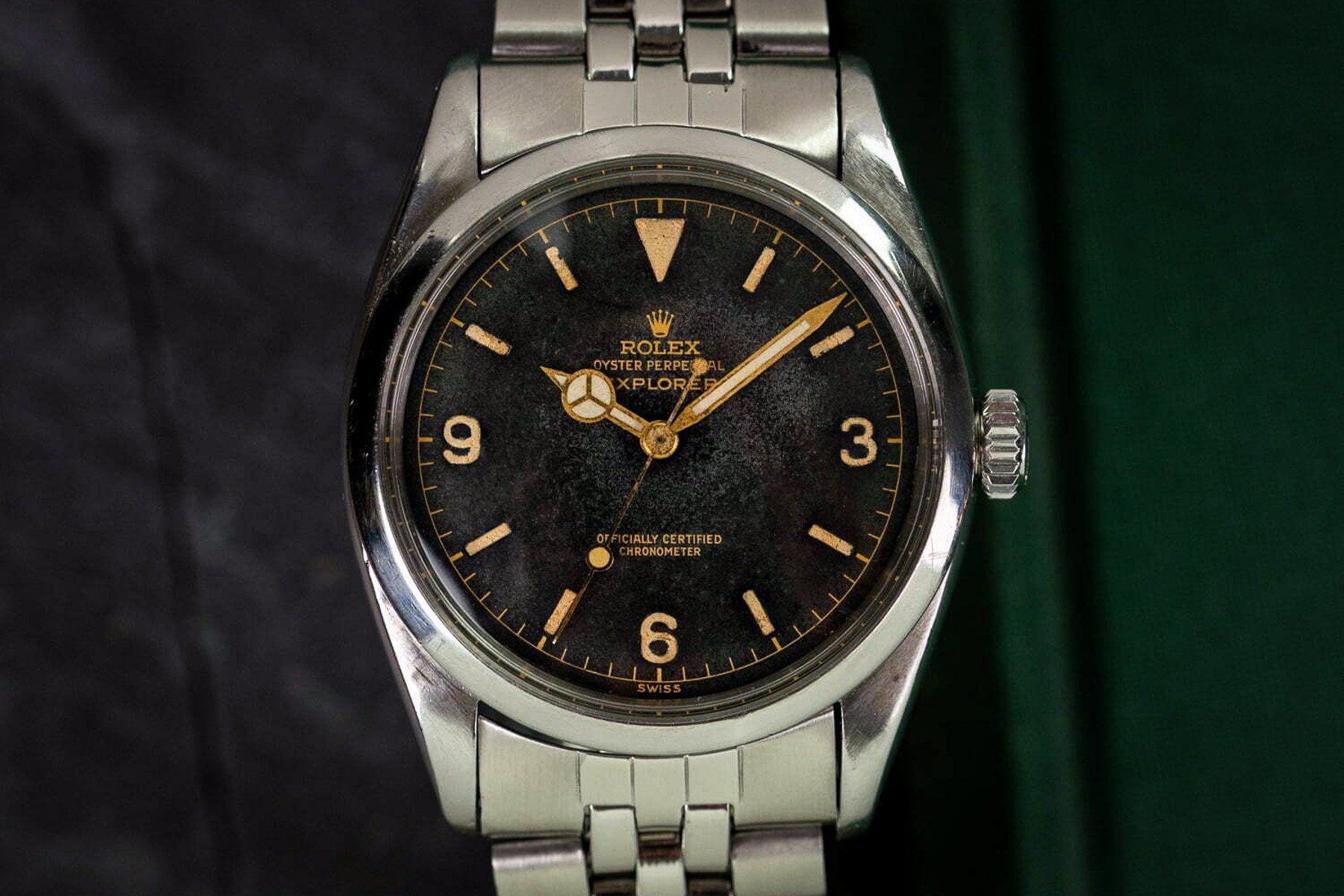 1957 Rolex Explorer 6610
We kick things off with a stunning vintage Rolex Explorer (ref. 6610) from 1957. This particular reference only saw a four-year production run in the mid-/late 1950s before the more popular 1016 took its place. With a 36mm Oyster case, it remains ever-wearable, even today. Though it shows signs of wear, the patina only adds to the charm of a tool watch that has experienced a life well lived. This model also features a very desirable "gilt" dial. This term refers to the galvanic plating process used to create the dial's golden numerals and black coating, as Thomas explained here. The iconic "3-6-9" numerals on the dial, executed in radium lume, are preserved surprisingly well. They have taken on a beautiful warm tone and now match the dial text and golden Mercedes hands beautifully.
This particular watch is on offer through our friends over at Amsterdam Vintage Watches and will set you back €21,500. It's the most expensive on the list today, but for good reason. Due to the short production time, these 6610 Explorers are pretty rare. That, coupled with how long ago these were produced, means that they don't come up for sale in decent condition very often. The example here has some patina on the dial. This is likely due to the radioactive material used in the lume, which has taken its toll on the black paint, giving it a faded appearance. Whether or not you're in the market for one of these, it's certainly worth a closer look. And don't worry, the next three picks are priced much more in line with what we mere mortals may be willing/able to spend.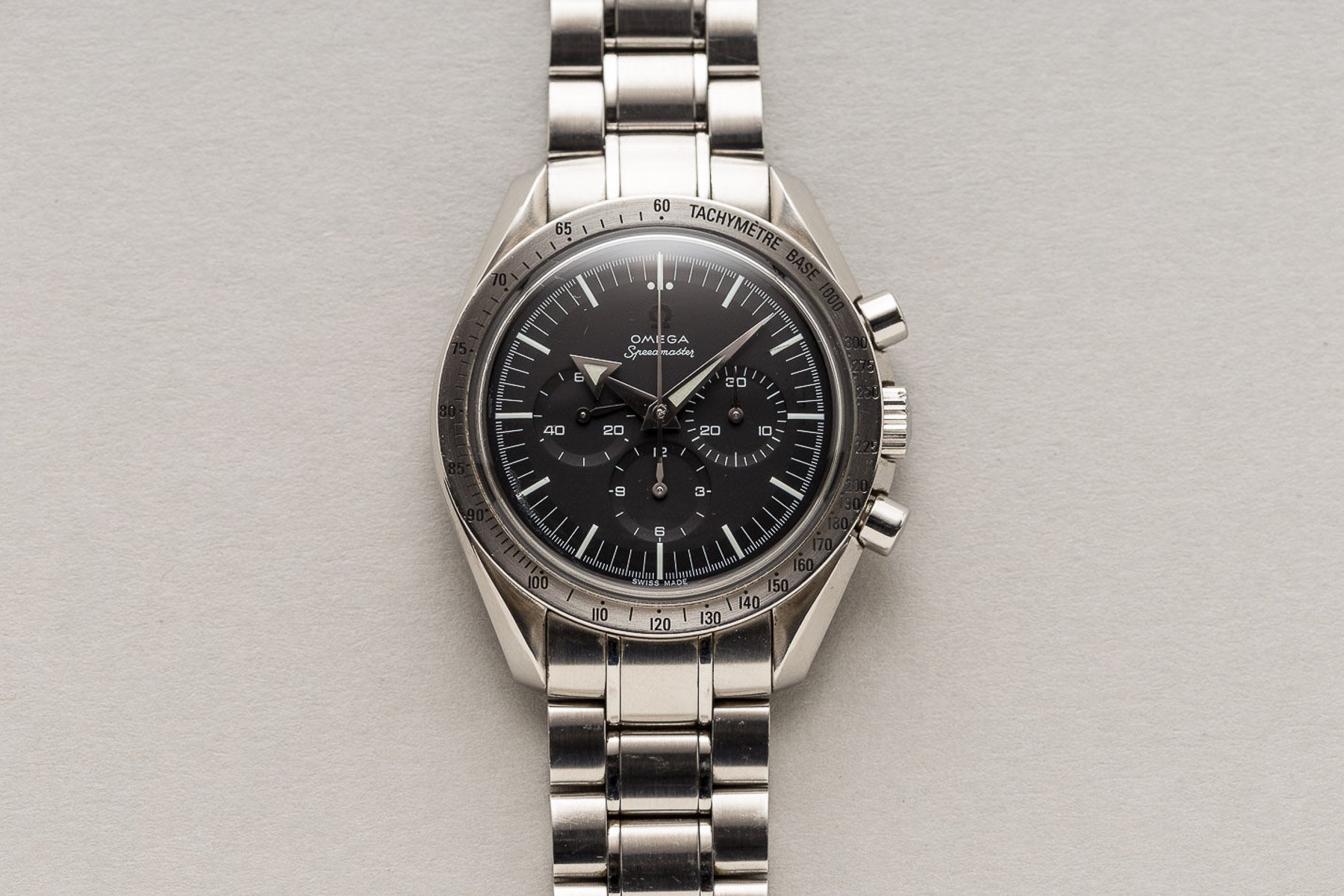 Omega Speedmaster 3594.50 Broad Arrow Replica
On to a pair of wonderful modern classics from Omega. Calling these watches "neo-vintage" is even a bit of a stretch, as sales records date both examples to 2005. And though that doesn't sound to be too far in the past, we're almost at the point where they are 20 years old. Let's rewind to November 2005, when this Speedmaster 3594.50 Broad Arrow Replica sold to its original owner. Interestingly, this means that it's a relatively late production, as this model first went on sale in 1997 as part of the 22-Speedy Mission Case and from 1998 onwards on its own. Omega first sold it with a no-pusher clasp before replacing the bracelet with an upgraded version. Production of this model likely stopped around 2003.. The watch remains in great condition and comes with its original box and papers.
Inside, the caliber 1861 looks to be in excellent condition. Other than that, I won't go into too much detail here, as Lex already wrote quite the love letter to this model a couple of weeks ago. And I'm sure he'll certainly be tempted by this great offer from Berlin-based vintage dealer Shuck The Oyster. It's currently listed for €4,900. A more-than-fair price for what will undoubtedly become a future classic.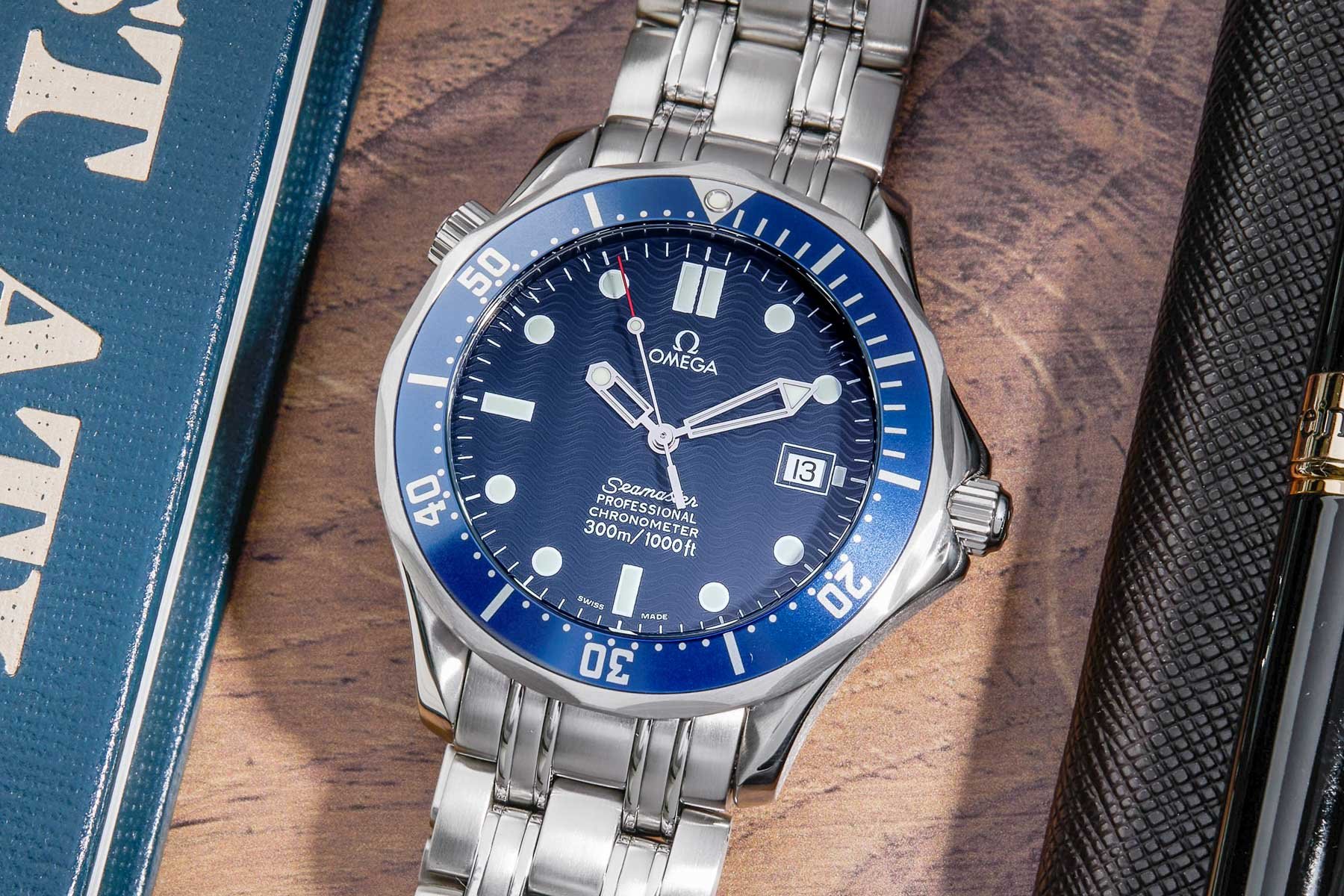 Omega Seamaster 300M 2531.80.00
Speaking of future classics, here is a watch that needs no introduction. We fly now, rather appropriately, over to London, where this Omega Seamaster 300M (ref. 2531.80.00) is currently on offer. Introduced back in 1993, the Omega Seamaster 300M became quite the iconic watch, likely due to the spot it proudly took on the wrist of everyone's favorite fictional man of HMSS, James Bond. Though Pierce Brosnan's first outing as Bond in 1995's GoldenEye saw him wear the earlier quartz version (ref. 2541.80), he later opted for the automatic model we see here today. It took to the silver screen in 1997 for Tomorrow Never Dies. Rather fitting is also the fact that 2022 marks the 60th anniversary of James Bond's cinematic debut in 1962. Back then, it was the late Scottish actor Sean Connery who played the character with a Rolex Submariner 6538 on his wrist.
I have quite a soft spot for these wave-dialed, aluminum-bezeled Seamasters. Not only is the 41mm size perfect, but they are also significantly less shiny and "luxurious" feeling than the current Seamaster Diver 300M models. The spirit of a tool-watch diver lives on in these models, much like in the pre-ceramic five-digit Submariners. And though my heart lies with the 2254.50 model, the classic blue 2531.80 is one worth getting your hands on today, especially seeing as how prices do nothing but climb. You may have seen these for sale in decent condition for just under/over €2,000, but that's a thing of the past. This particular watch, which is freshly serviced and comes with its original box and papers, will set you back £3,050 (currently, about €3,500). The watch is available now from the well-known pre-owned retailer Xupes.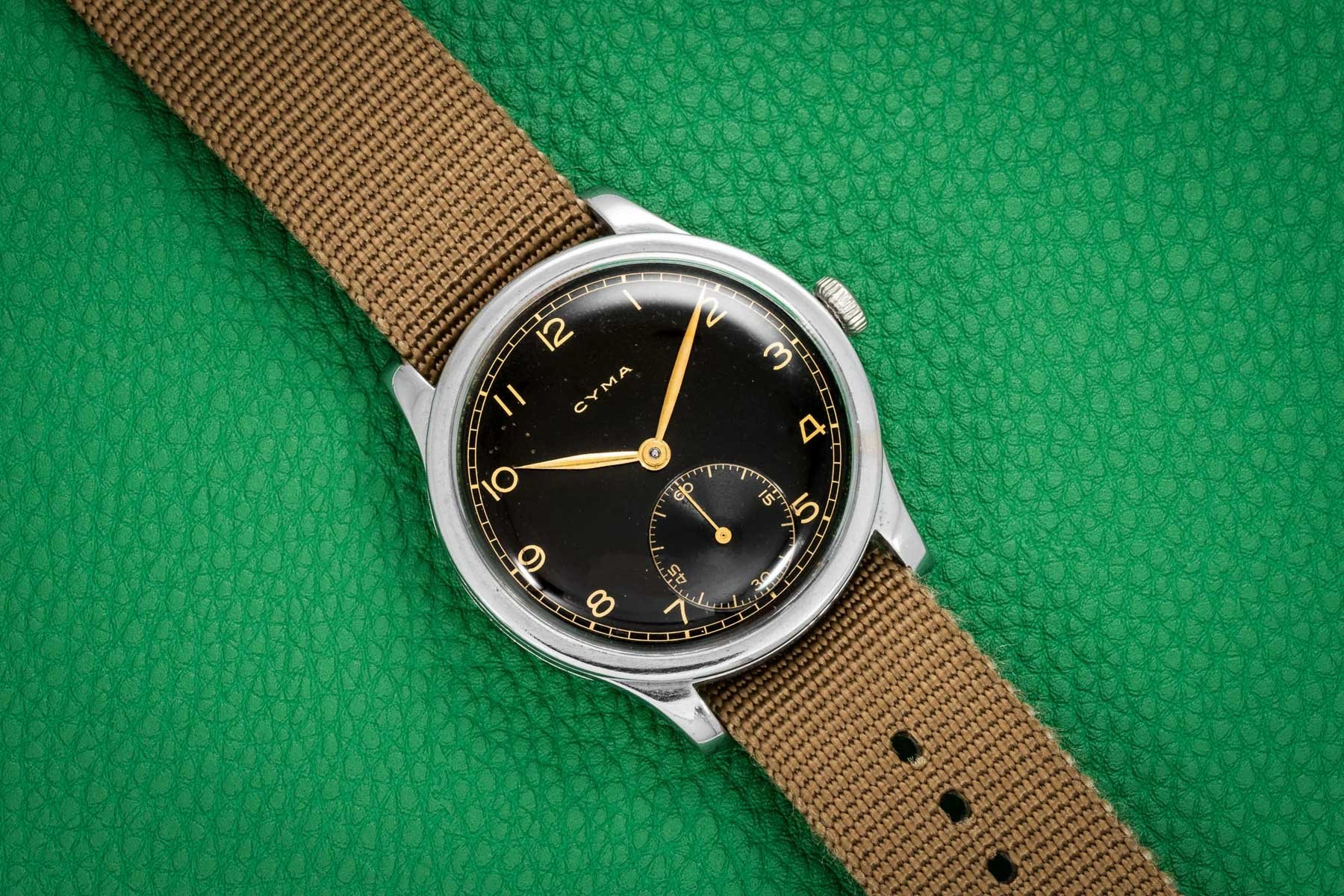 1940's Cyma Jumbo 38mm with Dirty Dozen appeal
Now, I've saved the most interesting pick for last. It also just so happens to be the most affordable watch in the pre-owned spotlight today. What is it? Well, it's a wonderful oversized Cyma dress watch from the 1940s. Much like the Rolex Explorer 6610, this watch also features a beautiful gilt dial. Thanks to the lack of radioactive lume in its sharp golden leaf hands, the dial's glossy surface remains in fantastic condition. The watch has a classic sub-seconds layout with a lovely radial sub-dial at 6 o'clock. Surrounding the dial is a railroad minutes track, and each hour is designated by a gilded Arabic numeral. Cyma is a brand that is most renowned for having produced one of the 12 "Dirty Dozen" watches. Without lume and with a chrome-plated steel case, this watch has a similar appeal — a demilitarized "civilian's" version of the famous Dirty Dozen watch.
The watch is equipped with a hand-winding movement and has fixed lugs that take a 20mm strap. It comes on a nylon strap with Zulu-style hardware. Honestly, I think that this watch on a well-worn leather NATO could be a beautiful thing. But I'm fairly biased as I've recently fallen into the rabbit hole that is vintage oversized dress watches with small-seconds dials. I even managed to get my hands on a pretty sweet Longines (also from the 1940s), but that's a story for another day. This Cyma is one of many watches in this form factor available from the 1940s. As such, if you dig this look, a quick search will reveal hundreds of watches in a similar style. That said, this Cyma still earns its place in this week's pre-owned spotlight. It's priced at $2,850 and is available from the NYC-based vintage-specialized retailer Analog Shift.
Final thoughts
There you have it, my dearest Fratelli — a smorgasbord of pre-owned watches for your consideration, appreciation, and education. A dusted-off vintage icon, some less-than-neo-vintage watches that will certainly be the classics of tomorrow, and a lovely oddball Cyma as the cherry on top. I hope you enjoyed following along with some of my watch-sleuthing this week.
Is any of these picks your grail? Did you learn something new? Would you like to see us put together highlights like these more often? As always, let me know your thoughts in the comments below.