Rolex Daytona 116520 — 52Mondayz, week #11-2020
Privately modified Daytona
We are gliding on very thin ice here. Does a privately modified Rolex 116520 in full black PVD coating open a taboo topic?
I have a friend that wants me to hear me say I like modern Rolex Daytona watches. He wants it so badly that he left me his 116520 for a week so that I would test it out and feature it on 52Mondayz. A week later, I got a text message asking what the verdict is. My reply? "I'm not feeling it." But, after much heckling, I gave the watch another chance. It stayed on my wrist a month longer. And then for another four weeks after that. I could easily start a new series called 12Monthz because of this Daytona and how I postponed writing about it multiple times. People in advertising often say that deadlines are the biggest inspiration ever invented. Judging by my experience with this Rolex classic, I'd have to agree.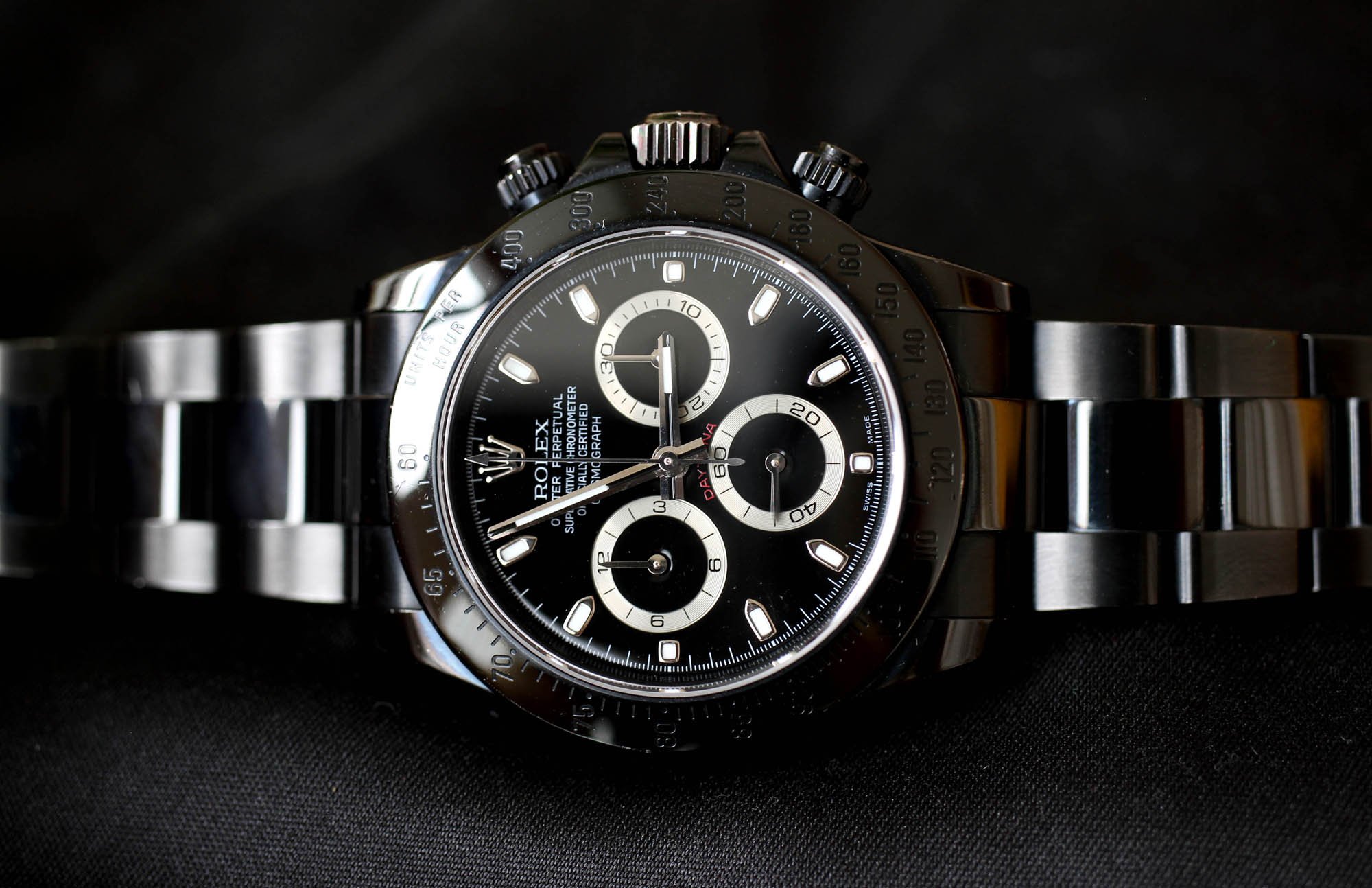 Easier start
Writing this article is much easier since reading our recent Sunday Morning Showdown on the Rolex Daytona 116500LN. I've never felt closer to RJ than after reading this article, but no myth was ever strong enough for me to get a Daytona. Well, I would like to have one of the early references, but they are all way beyond my biggest budget. Before you go on reading, I encourage you to also read the Giorgia Mondani piece explaining eight series of the Daytona 16520.
Core traces of ref. 116520
Now we can get back to today's reference sitting in between the 16520 and 116500. The difference between the Rolex Daytona 16520 and 116520 can be noticed quickly. The earlier, Zenith-powered movement in the 16520 has the chronograph hour counter at 6 o'clock, while the in-house movement version in the 116520 has it located at 9 o'clock. In comparison to the current ref. 116500LN introduced in 2016, the steel 116520 tachymeter bezel was replaced with a black ceramic one.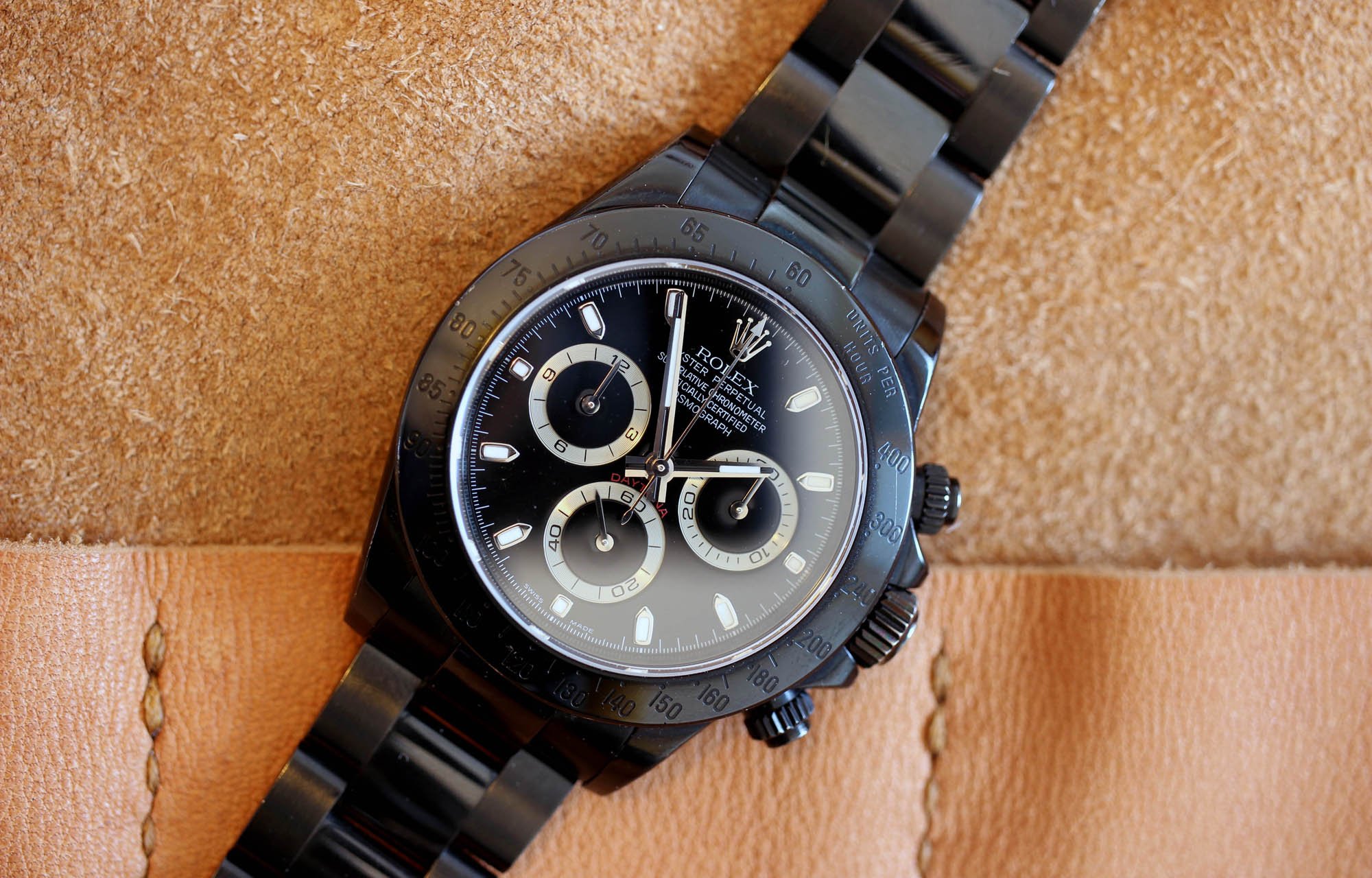 Today's suspect
My friend bought this Daytona from its first owner in 2018 for €8,000 and it was already modified. That guy wanted something special, so he sent it to a special firm in the Netherlands to have it disassembled and PVD coated. Physical vapor deposition (PVD) is basically adding a thin, hard coating of black material to the surface of the watch case. It should be hard to scratch; the coating protects both the finish and the stainless-steel underneath. As you can see in the pictures, the black coating still has a tight hold on the links and case, but highly exposed elements such as the clasp or crown are starting to wear down. But it is appropriate to mention that my friend might be one of the guys to have coined the "daily beater" term. You can find him fighting his big dog or a chainsaw, always with this Daytona on his wrist.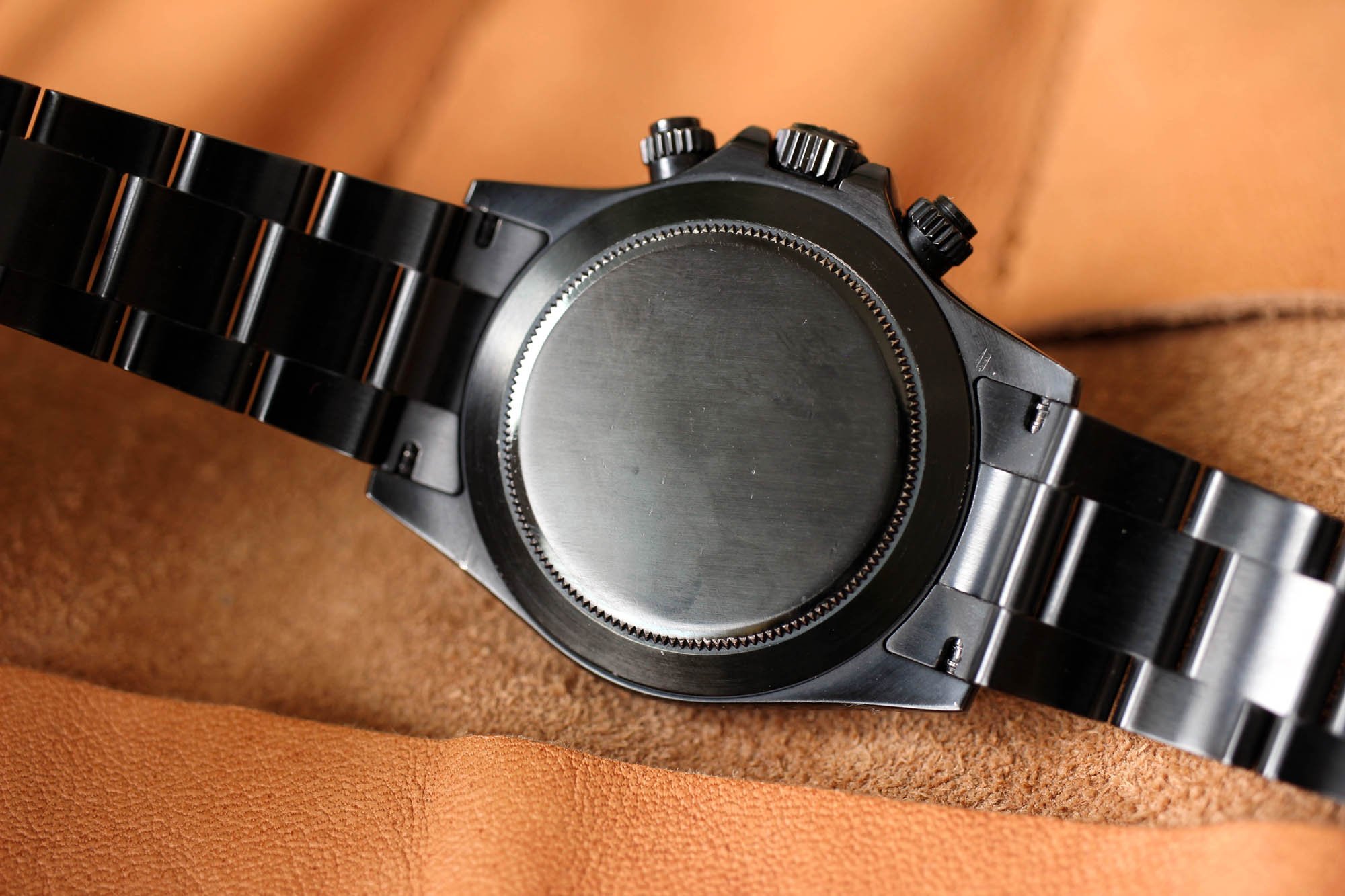 Disputes about modification
So why would somebody pay extra money to change something so well-made, to begin with? Don't ask me, as I have more everyday problems in my life than, let's say, Lenny Kravitz or Rubens Barrichello. It seems that for some, individuality trumps provenance.
Once you take that path of modification, there is no way back. At least not as far as Rolex is concerned when it comes to servicing the watch. Even by touching one single element, let alone a complete revamp, you more-or-less lose the warranty. I heard a story of an owner whose watch papers were threatened with confiscation when he tried to get his modified Rolex serviced. On the other hand, business is business and whether you succeed in servicing your watch at authorized service centers depends on your relationships with local representatives.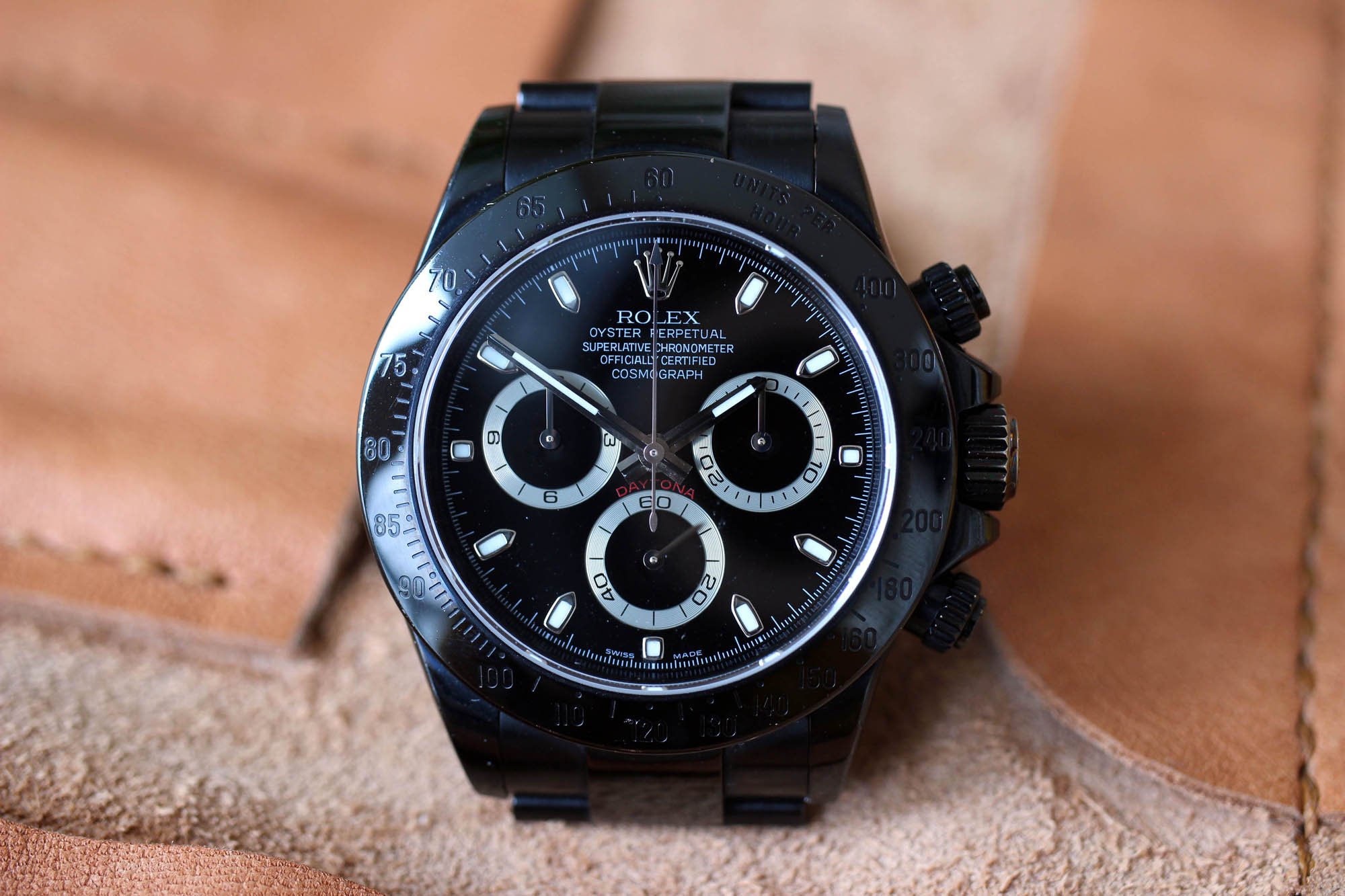 My opinion on the 116520
I like it much more than the current Daytona whose bezel is way too striking and sporty for my tastes. I don't remember any other object with so many triangles on it. The bezel on the current model just competes with the dial too much. And when it comes to busy dials, the Daytona takes the prize as it is.
Despite the dial madness, readability is quite okay (although not the best I've seen). The screw-down pushers look and sound like an amazing concept, but, in reality, they made me hate using the chronograph. I either got tired before I started or forgot what I wanted to time by the time I got there. I am not sure if more practice would help as I was immediately discouraged to practice.
The basic case shape, proportions, and dimensions are typically perfect.
Still, the biggest issue I have is the style of the markers. I don't mind that they are short. They are just too oval, static, and bit chubby — the complete opposite of what I would expect from the "greatest" racing chronograph. The bracelet is just amazing. The same is true of the clasp that I found myself playing with frequently. I am always stunned by how such a simple looking thing can be a hundred times better than clasps on other watches. The basic case shape, proportions, and dimensions are typically perfect. These thoughtfully designed and expertly machined elements contribute to its comfort on the wrist, despite its weight. Despite all this positivity, it is still a "NO" for me. I am sorry to say it doesn't even come close to my affinity for the Omega Speedmaster Ultraman.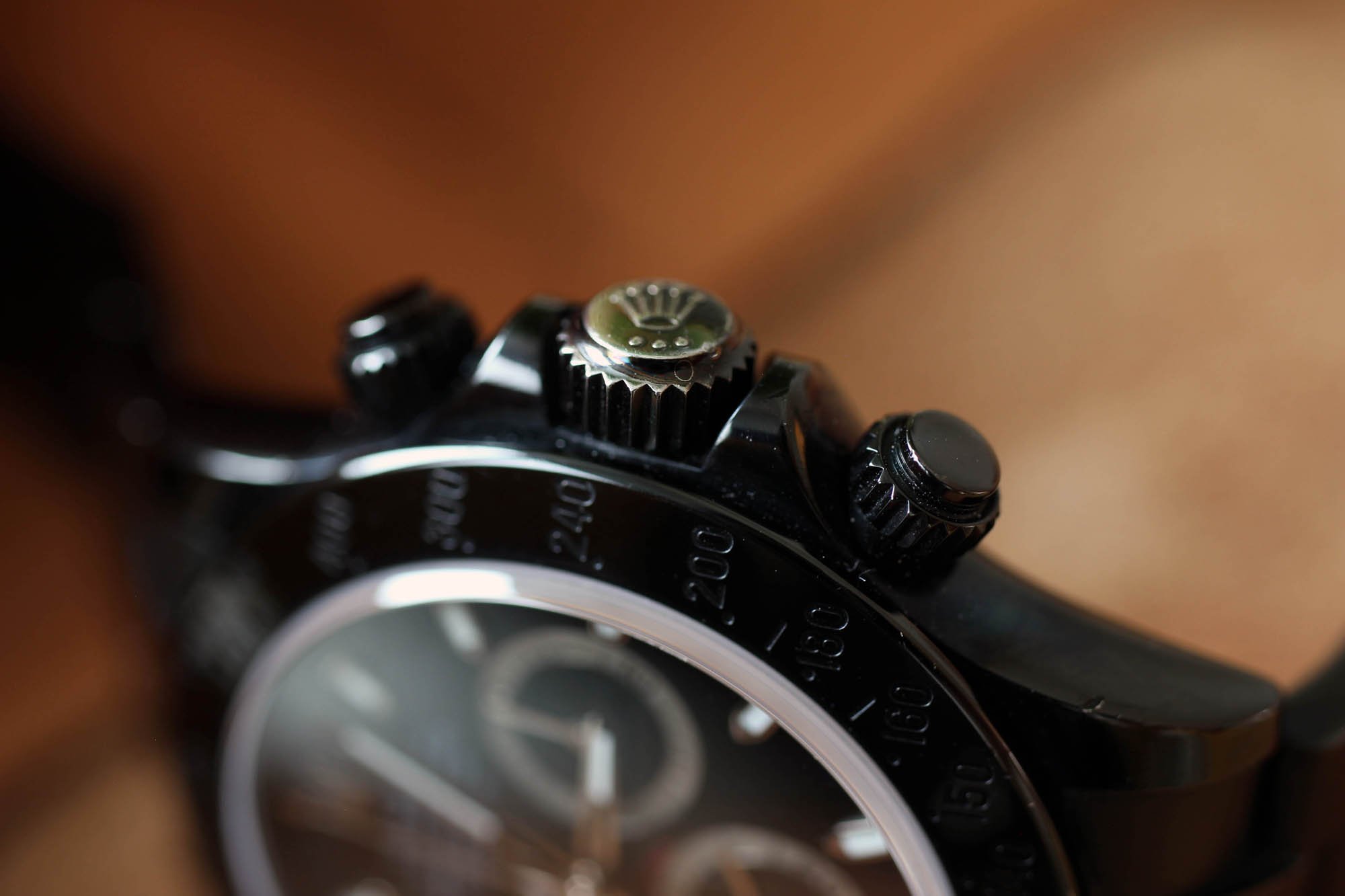 My opinion on the modification
It looks different, that's true. The sad part is that that's all. It is just an all-black watch. I doubt it made the original reference any better. If the idea was to make the tachymeter bezel unreadable, then okay. But don't be surprised if you meet your friend and he suspects you're wearing a fake. The more I think about it, the less I understand it. If someone is after something truly unique, he or she should go and meet any independent artisan that creates unique watches from scratch in terms of the movement, the case construction, or the decorations. If you need some advice, we can immediately suggest looking into Kari Voutilainen or ArtyA watches.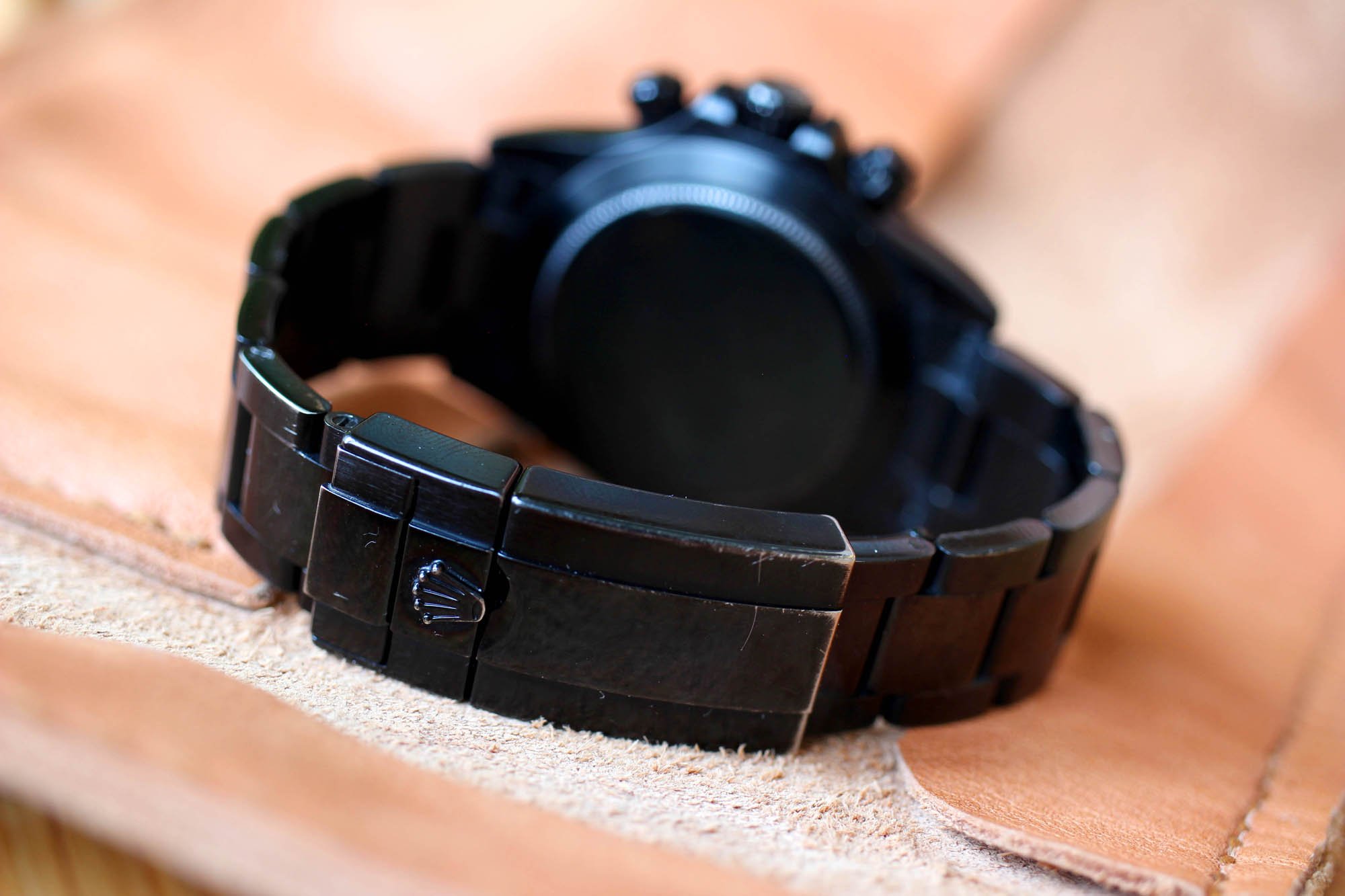 Last thoughts
I am surprised to realize how this article evolved. Usually, I have a notion of what the article will look like before I start typing, but not this time. Now I can't stop wondering how baffled I feel by someone modifying a watch even though I admitted I essentially don't like it very much to begin with. I also thought about scratching the entire article. But at the end of the day, I realized that polarizing or sensitive topics are the lifeblood of our community. And so I leave it up to you, the Fratelli, to forge your own opinion. How far would you go? Would you customize at all? Share your ideas with us in the comment section below or on our Instagram! Learn more about the Rolex Daytona here.