Seiko 9983-7000 Superior – 52Mondayz, week #52-2019
Vintage quartz grazing the 1000 dollars price tier
Seiko's persistent devotion in the 1970s to chase precision down to just a few seconds a year is pretty fascinating. Meet the Seiko Superior 9983-7000.
Making new friends is a part of the watch collecting passion that I truly enjoy. When I get a message from a fellow collector in Slovakia, the small country where I live, the joy is even greater. That's how I met Michal too. He dropped me a line a few months ago and added a few snaps of watches from his collection. A couple of days ago, when he came to Bratislava, we finally had lunch together and, unsurprisingly, talked watches. What was surprising though, was that he trusted me enough to lend me one of his favorite watches for a few weeks, the Seiko Superior 9983-7000.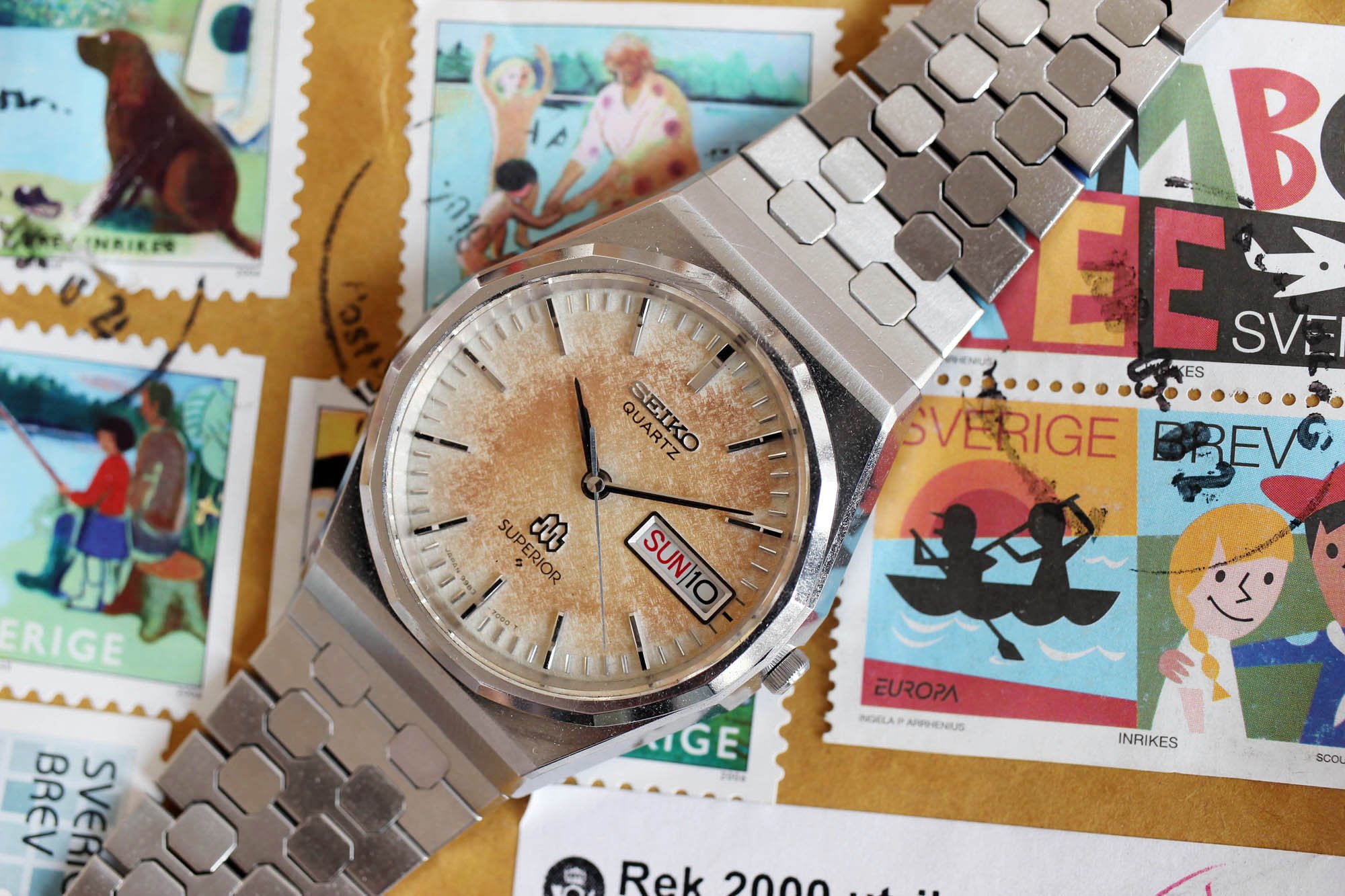 Best Seiko quartz movement
Listening to the story behind the Seiko Superior is as exciting for me as reading about the birth of Silicon Valley. Seriously, if you told me a few months ago that I would ever get excited about quartz watches, I would have had you for a fool. Who is the fool now? It takes a lot of time and training to organize your mind around the "holy grail" Seiko references. And now I have to clear even more space for another reference coming from the era of the quartz precision chase?! To make sure that chaos doesn't ensue and to help you understand the essence of today's story more quickly, I will help myself out with this Grand Seiko page on quartz movements. The chart you see below lists the Crème de la Crème of Seiko quartz movements, with us taking a closer look at the most accurate of them all.

Seiko Astron was just the beginning
In 1969, Seiko introduced the world's first quartz wristwatch called Astron 35SQ. Its accuracy to within ±5 seconds a month was already stunning. But it was not enough for Seiko. Research that was backed by a lot of investments continued not only in the Suwa but the Daini factory too. Thanks to their quick progress and the implementation of production and assembly automation, the already scary price tags reaching up to 450,000 – 1,000,000 Yen decreased considerably.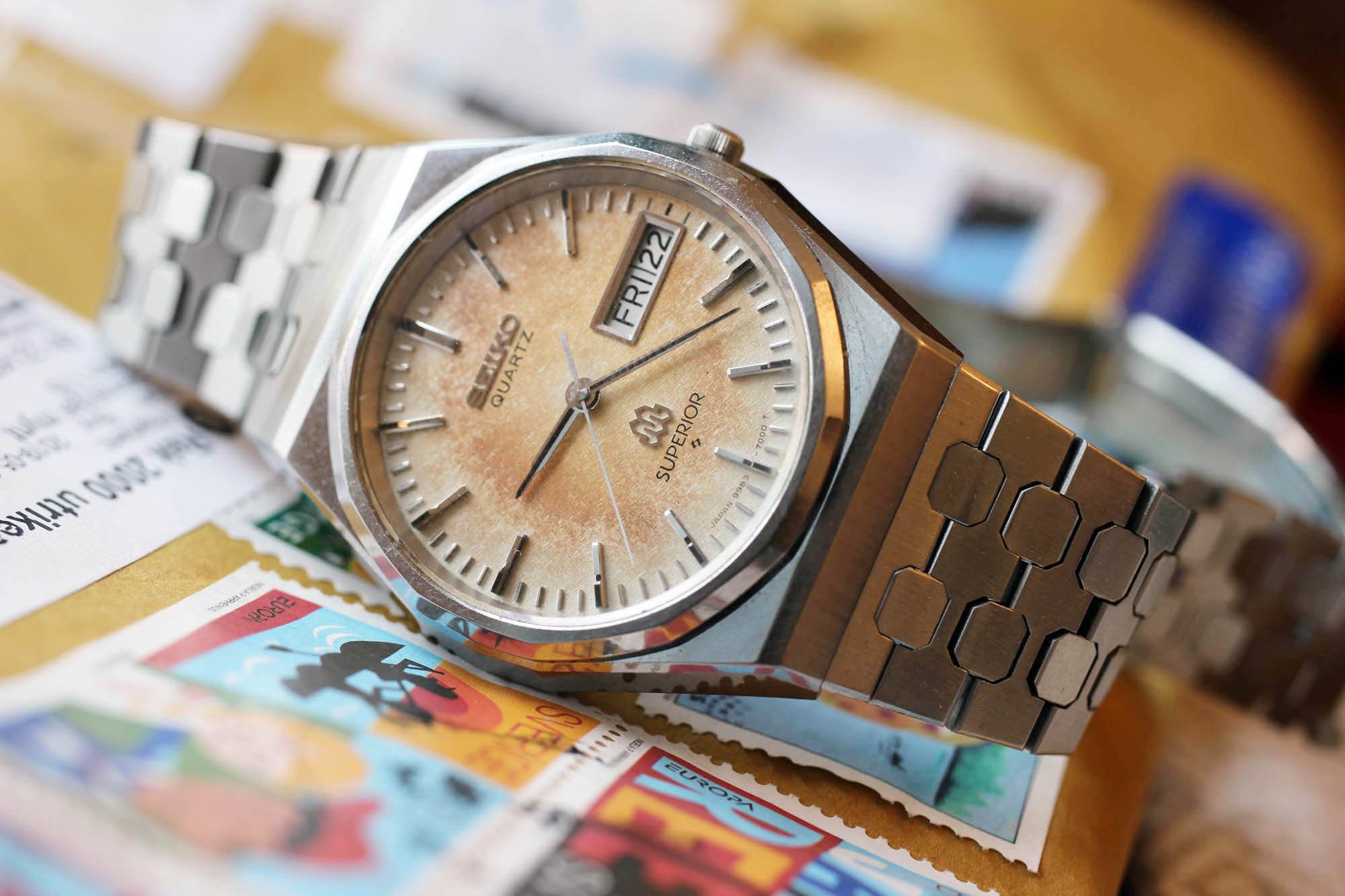 If I wanted to be turned into a bracelet, I wouldn't mind being the one on the 9983-7000.
Hunt-Lauda kind of rivalry
Coming back to the table above, the first four columns show the accuracy improvement from ±10 seconds to ±1 second a month, which twice the precision as their previous achievement. It seems like nothing. But image the engineering power and investment needed to achieve this. Looking at the second half of the 1970s, when the ball game moved from counting precision, not on a monthly, but rather a yearly basis, the game gets even more impressive. Today's champion, the Seiko Superior Twin Quartz caliber 9983, managed to squeeze the variation down to under five seconds per year.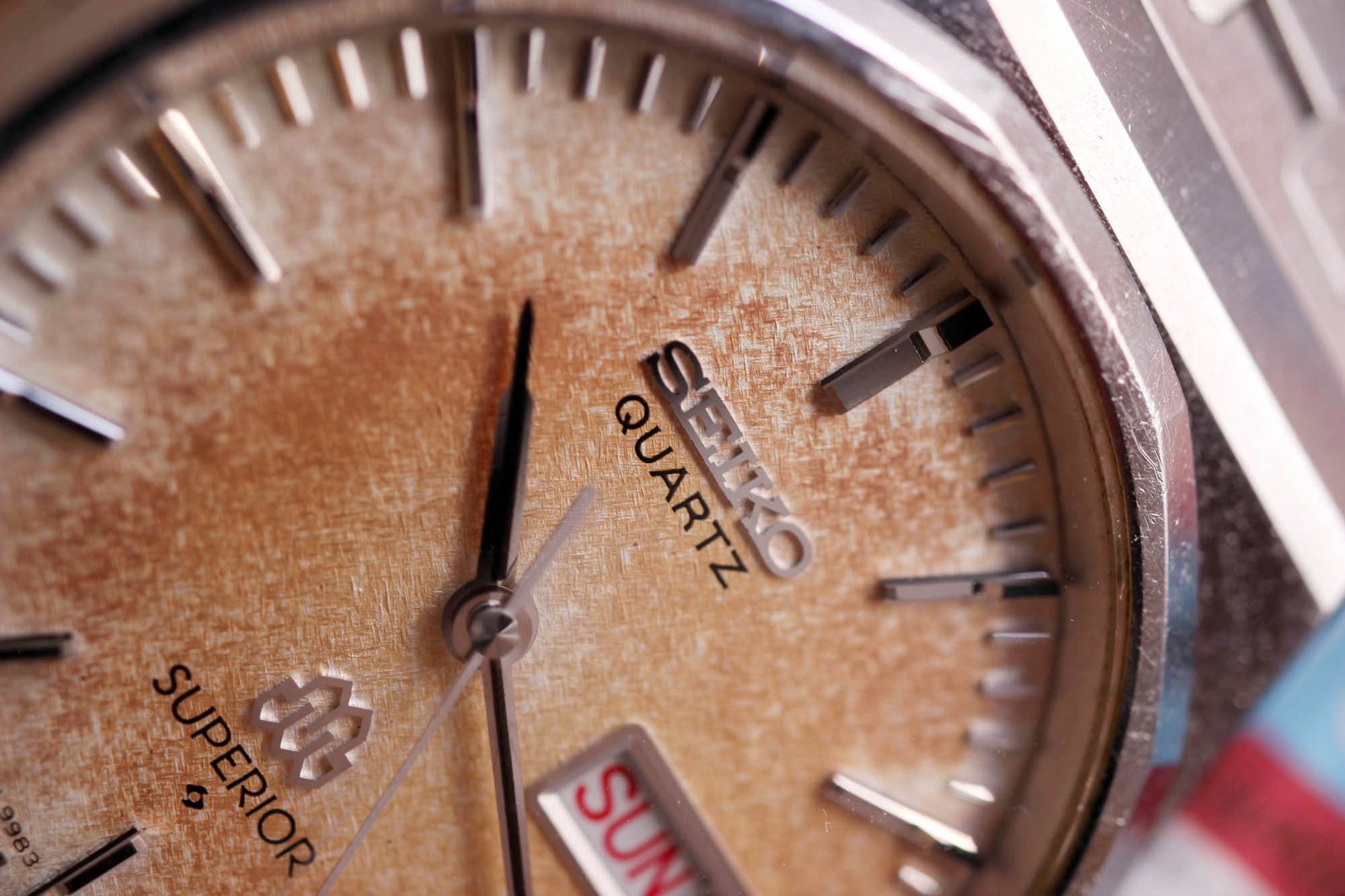 Problem-solving
The key problem was the resonance frequency of quartz oscillators that varied with temperature changes. But again, the masterminds from Japan came up with a solution consisting of two quartz oscillators set alongside each other. One was used to control time and the second sub-oscillator to detect temperature. The high level of accuracy at ±5 seconds a year was achieved by adjusting for the variations resulting from temperature changes. A more thin profile and smaller power consumption was just a bonus for new Superior Twin Quartz owners. If they wanted to grab the latest feature from the front pages of the 1978 Seiko Catalog, they had to pay 230.000 Japanese Yen.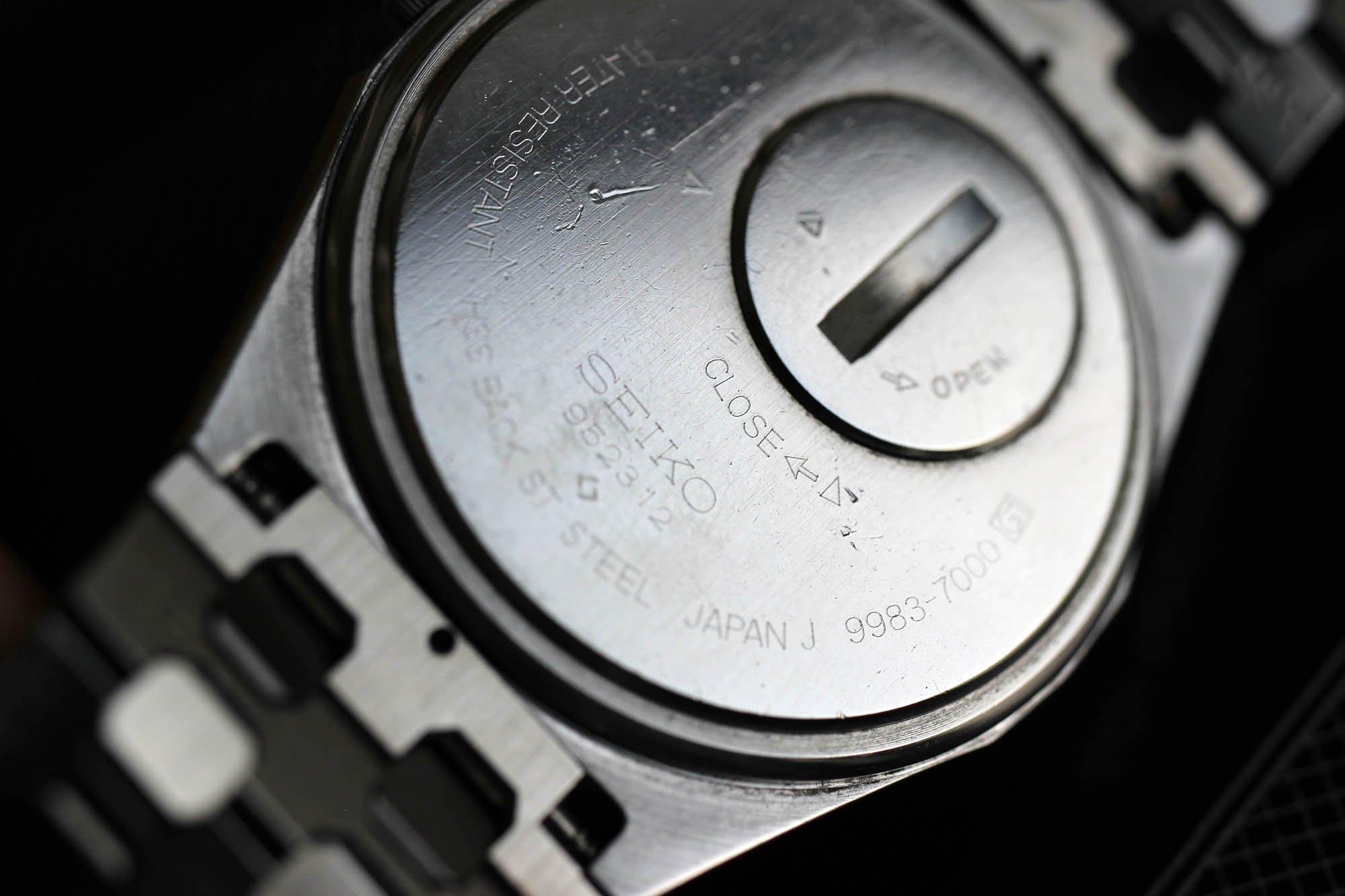 Superior 9983-8000 and 9983-7000
So same, yet so different. I thought twice before typing the following sentence, but I just can't resist, and I have to spit it out. The Seiko Superior Twin Quartz 9983-8000 is a no go for me. It looks like a prototype watch case for students training over-polishing techniques. Really, I can't look at online listings and have to keep scrolling until my eyes stop to admire the sharp edges of the 9983-7000. It seems like Taro Tanaka took the rounded 9983-8000 and left his design katana to rage a bit on every single curve. What you get is no fat on the sides, leaving just the right steel case mass above and below the dial.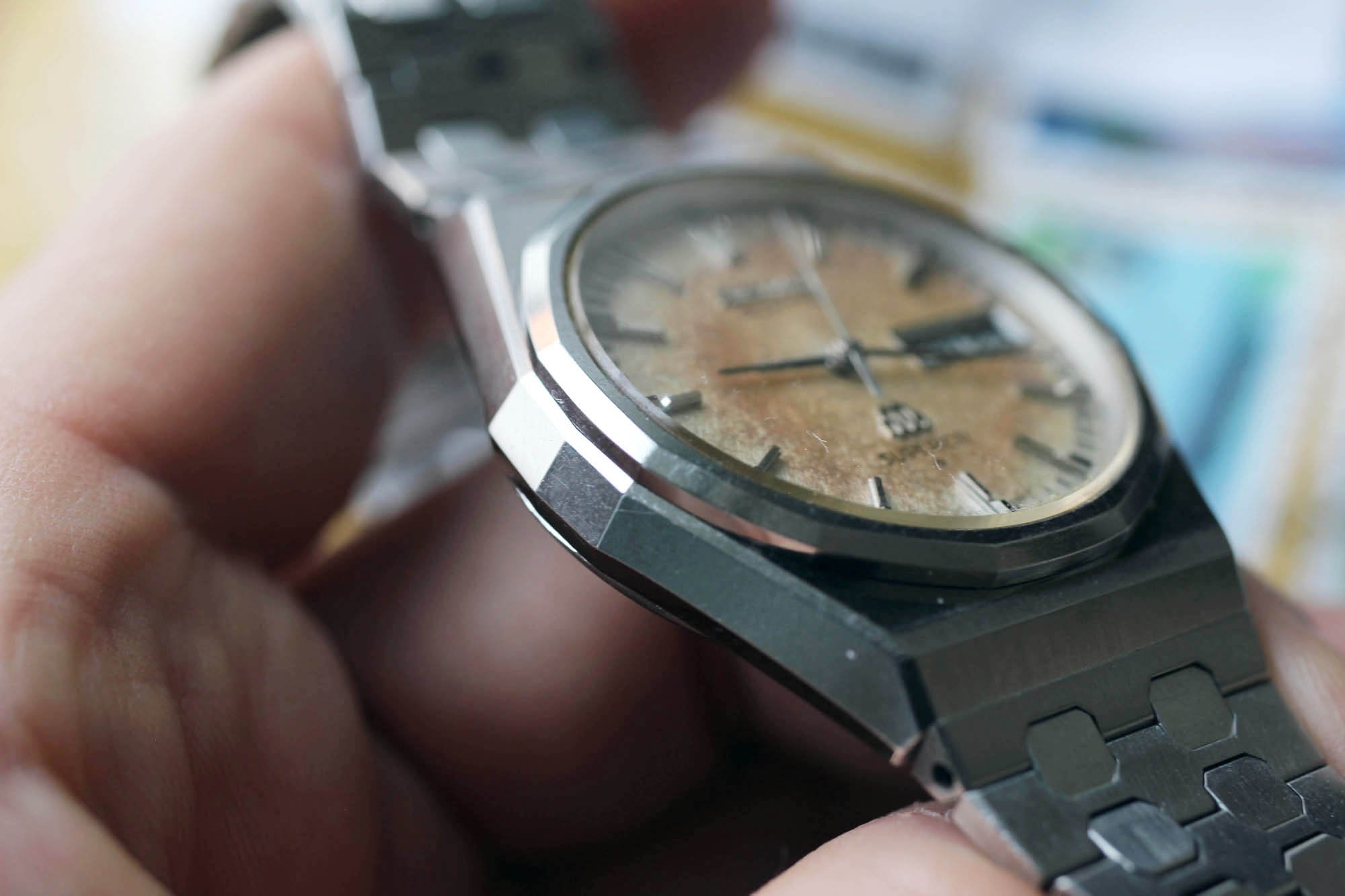 Edgy Seiko
On any given eBay listing, the Seiko 9983-7000 might seem like a watch with standard casing. But once you hold it and let the light reflect on it, you'll see the full beauty. The case sides at the crown and at 9 o'clock have a novel shape, comprising of two strictly cut flat sides at an angle, resembling a jewel cut. If I'd say that the minute indexes are surprisingly high, I'd have to think twice about the hour indexes…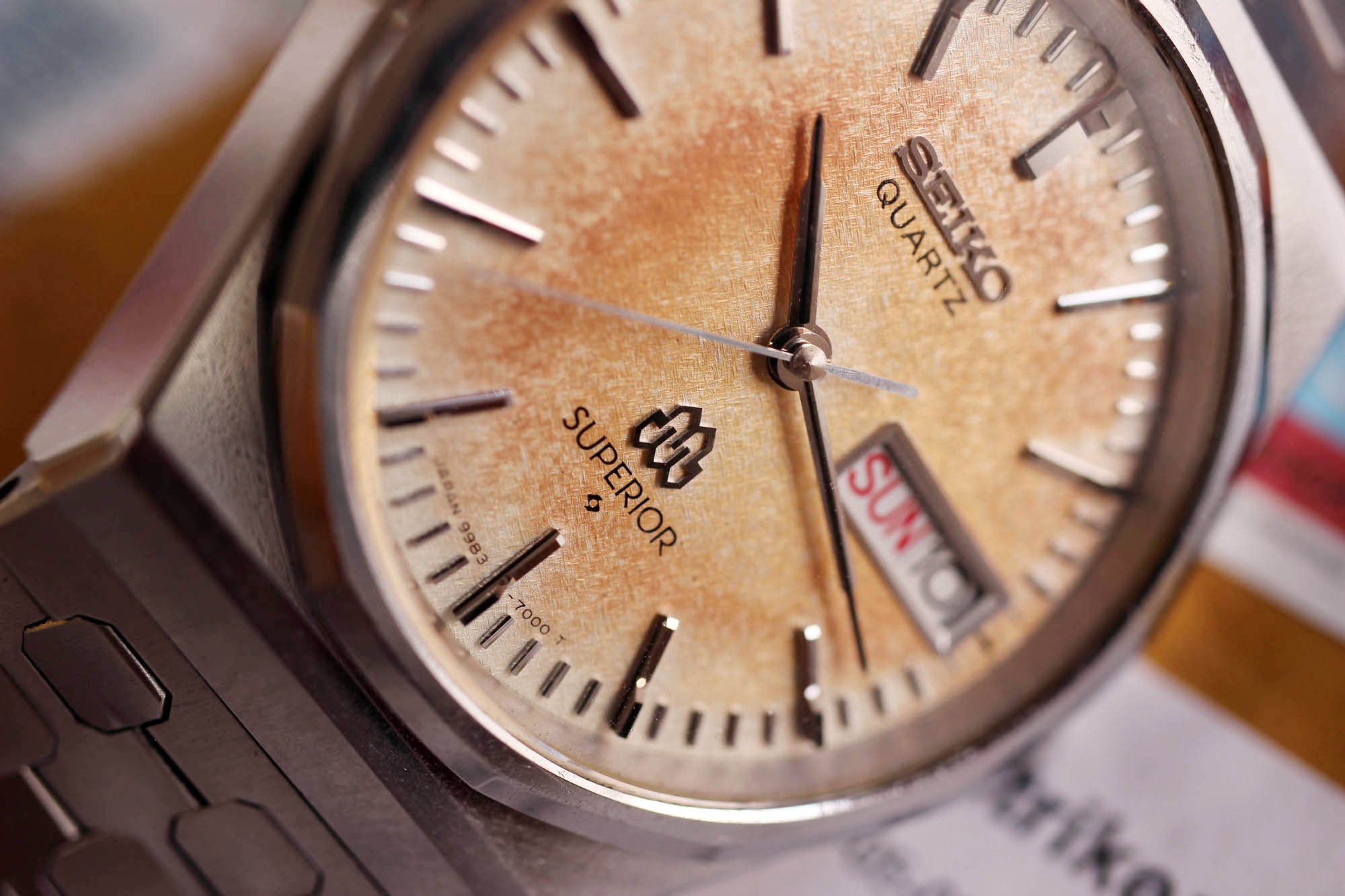 Dial thoughts
When I see the macro shots of the Seiko 9983-7000 dial, I feel pleased about investing in this super quality lens. The dial structure is something you hardly see with a naked eye, but you know there's more than meets the eye. And I don't mean the "rusty-like" patina blooming all over the place, but rather the gentle, crystal-like structure.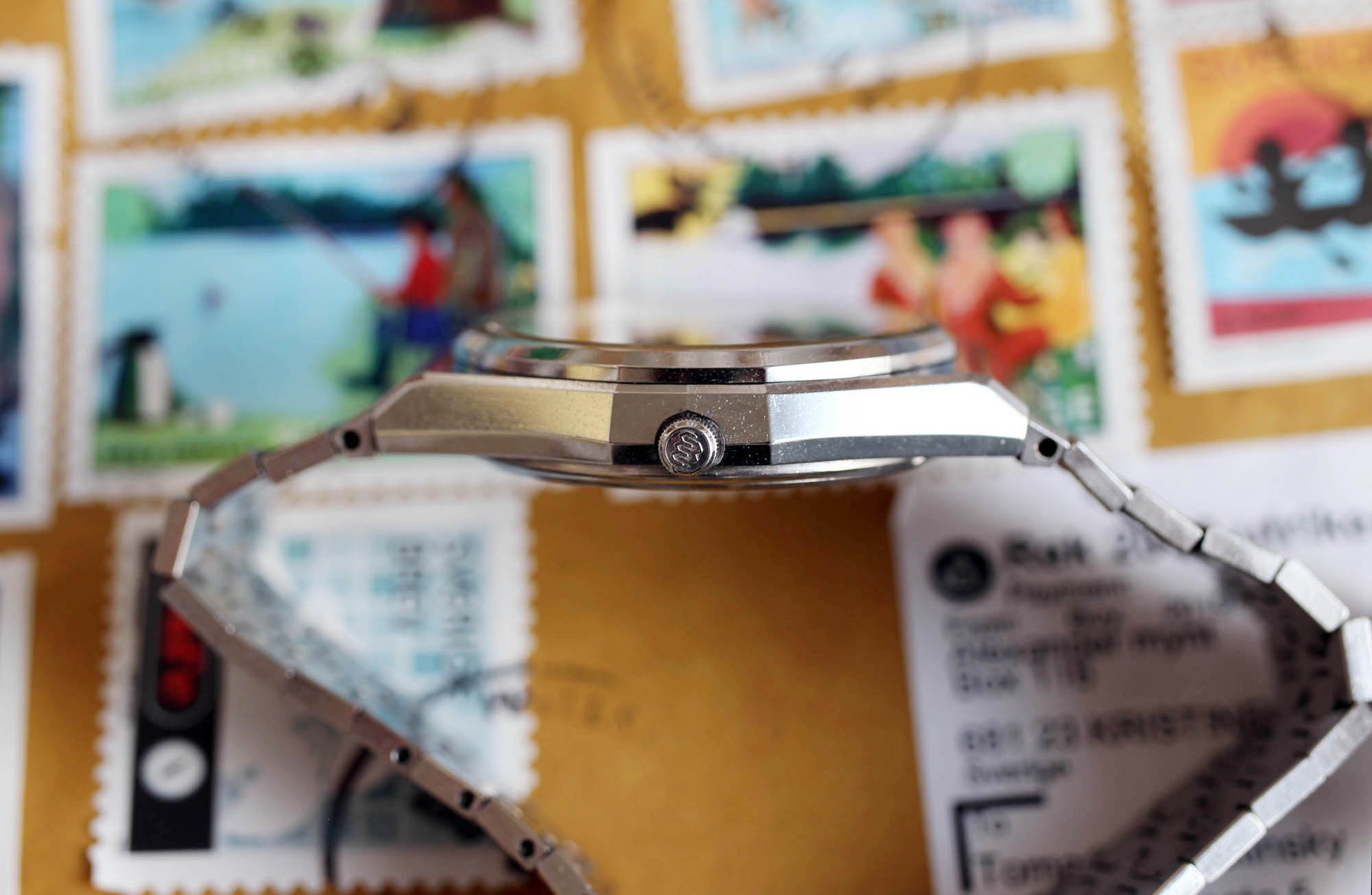 Bracelet only
If I wanted to be turned into a bracelet, I wouldn't mind being the one on the 9983-7000. No kidding, it is so good it could make for a separate article. To describe how it feels, I would say it wears like a first-class soft leather strap. Just made of steel, hence a bit colder. The end-links of this Japanese take on the Royal Oak bracelet integrate into the case with superb precision and elegance. Admittedly, the links on my 9983 are a bit looser than one would wish for, but they still maintain their original quality and craftsmanship. Folding the clasp is so genuinely simple and thin, that it leaves you wondering whether it's not going to wobble off your wrist. But a few days on and I bet not only your shirt will have a new protégé.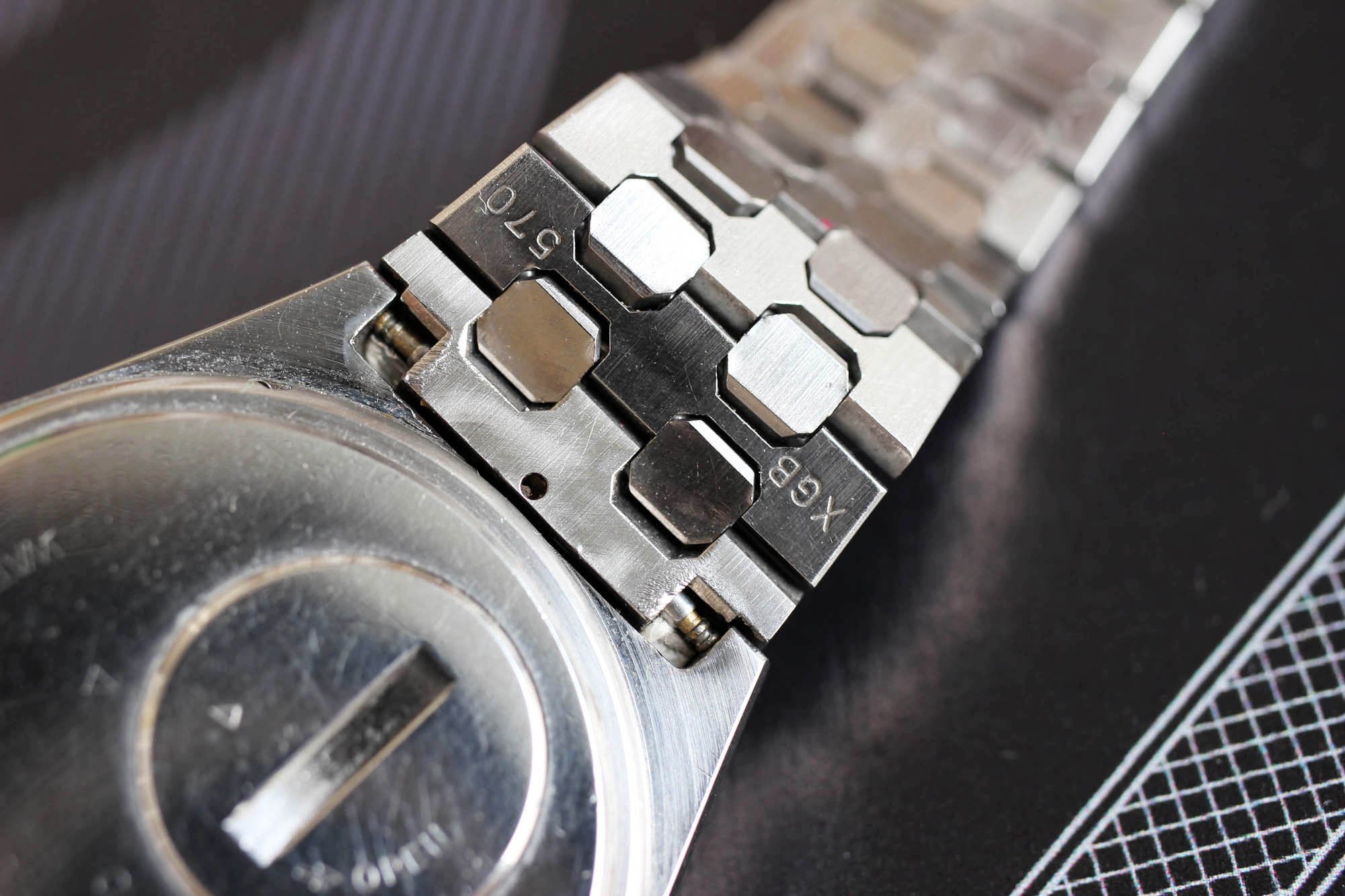 Shotgun notes
The crown is so small as if to remind you that you don't need to use it most of the year. But if you decide to pay some attention to it anyway, take a loupe to enjoy its details. The case height of 9mm and the 37 mm diameter make for comfy wear. The battery lid on the case back blends in perfectly, and you can hardly feel it.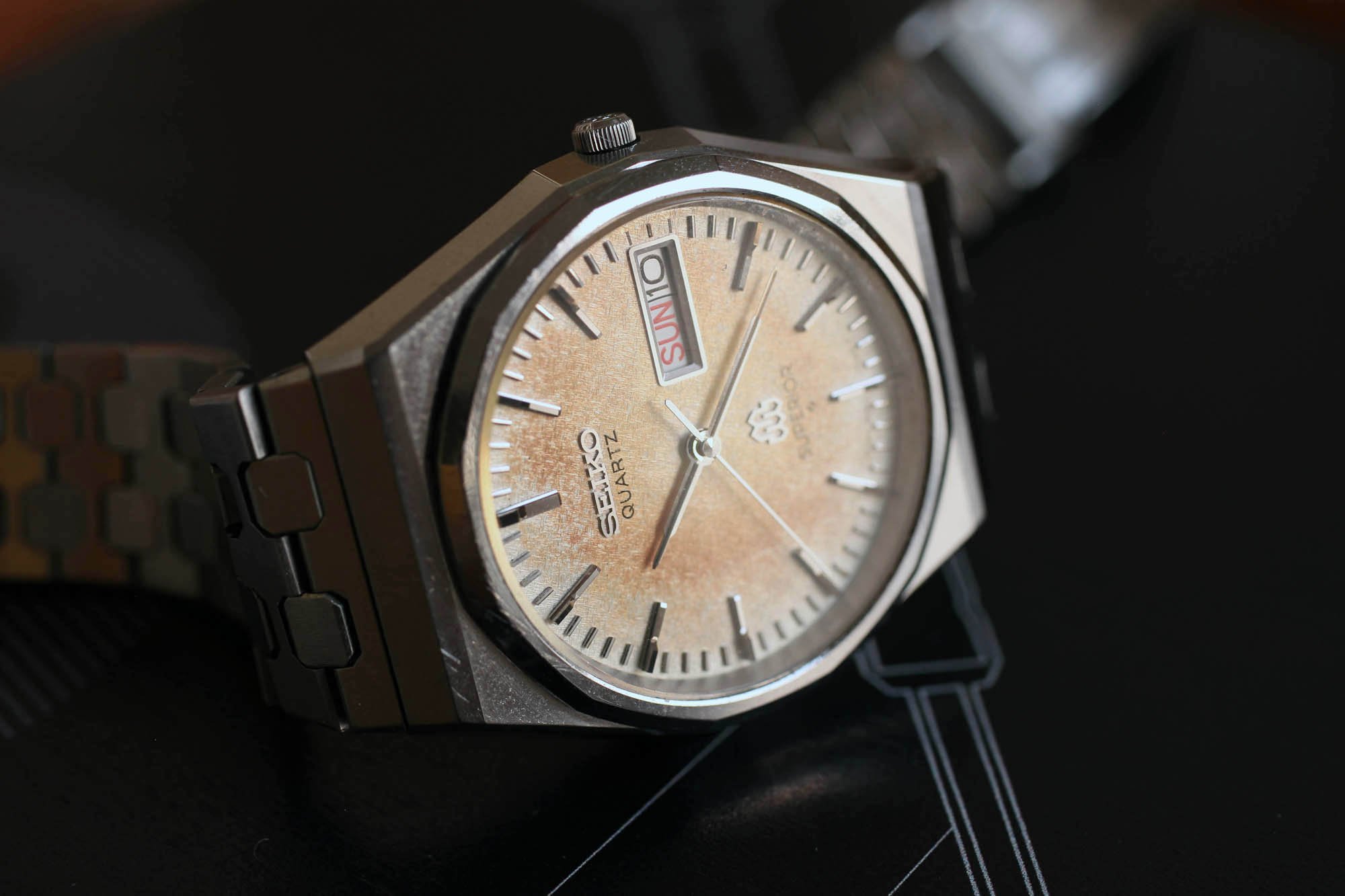 Last thoughts
Would you believe, that in time the Seiko Superior Twin Quartz 9983-7000 hit the market in 1978, you could buy Rolex Submariner for the price? Well, not today. Times changed. Although Rolex is flying high, you still need to get some funds ready if you want to grab this precision pioneer. Indeed, the super sharp and accurate Seiko Superior Twin Quartz 9983-7000 can quickly go up to 1000 euros. Before if you decide to grab one, I suggest exploring the whole Superior family and find the model you like most.
Watch specifications
Case Material
Stainless steel
Movement
Twin Quartz, accuracy within 5 seconds a year
Strap
18mm lugs, Steel bracelet