Six Alternatives To The Rolex Explorer — Each For Under $1000
With some small and hardy choices tougher than their inspiration!
The Rolex Explorer is a legend to some, but to others, it's a cliché. This year, I applauded its return to a sweet 36mm case size. But was it really the first watch to scale Everest, or was that a very British Smiths? No matter which one it is (well, it was the Smiths), the Explorer is as evergreen as it is tough. With its small and resilient demeanor, it is built for adventure and is an ABC of legibility. But what if you don't want to spend $8,000, and you want the watch sooner than next year? We found six alternatives to the Rolex Explorer, and I know two of them intimately.
With a goldilocks goal of 36-38mm, we have some pretty cool alternatives for you, from microbrands to re-issues and tough nuggets with a military twist. The field watch itself is alive and well, and the bonus is even better. Pick the right one, and you'll have a bullet-proof adventure buddy still sleek enough to fit under the slimmest of tailored shirts. What if I told you that half of these rock a 200m depth rating and are available for under $500? Seriously. Now, you won't find a watch here with the exact Rolex Explorer aesthetic — 3, 6, and 9 numerals, a triangle at 12, and a bracelet. Nevertheless, this is about the spirit of adventure, and small-diameter tools for the wrist that can take a beating.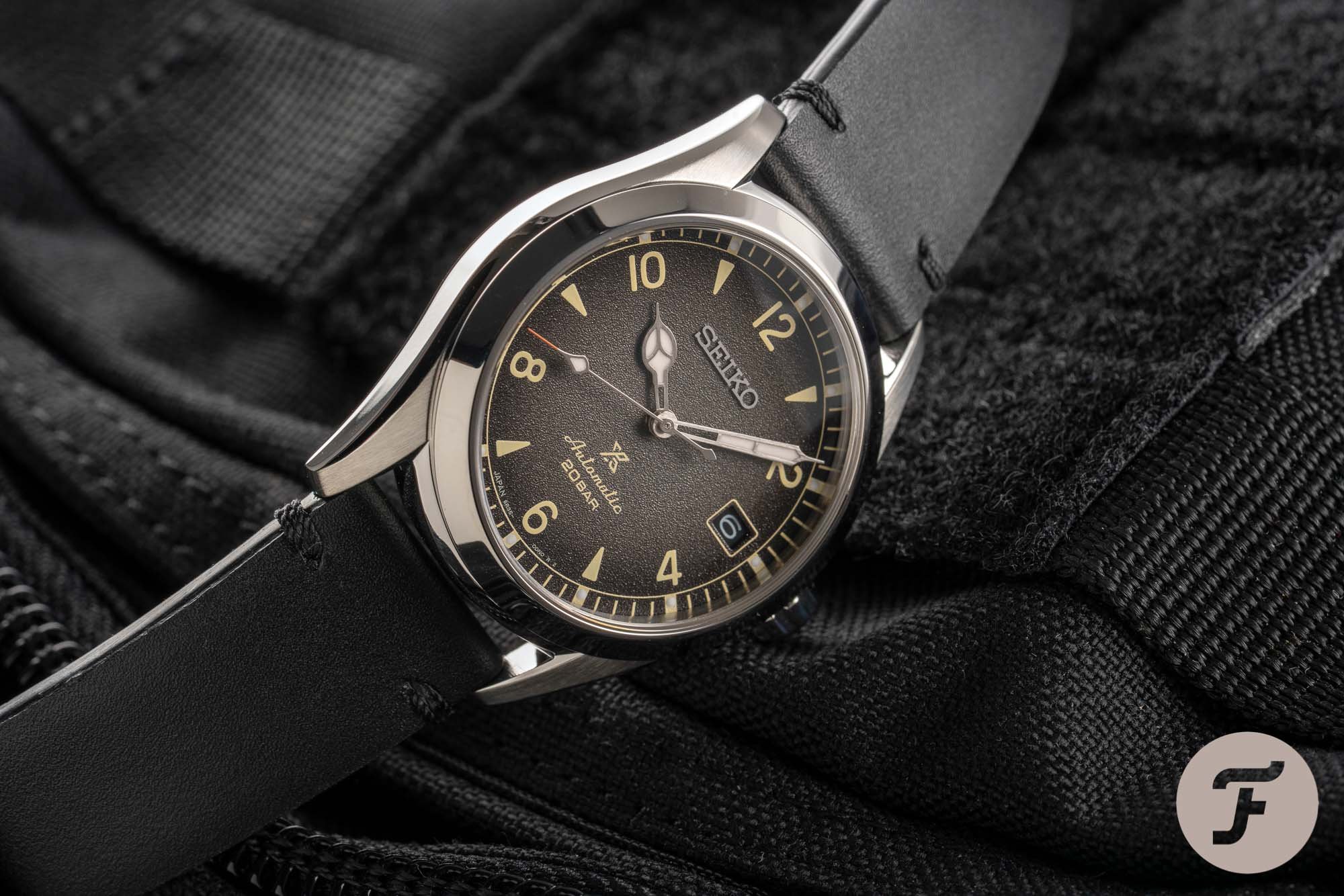 Seiko Alpinist SPB159J1>
With the name and a story, what better rival to the Explorer than Seiko's Alpinist. "This isn't the Alpinist we know," I hear you say (stop shouting). I love Seiko, but not the Alpinist — sorry. The original's lumpy case with that god-knows-how compass is not for me. I find the design quite messy, I'm sorry to say. Here, however, is a 38mm remix of exploratory perfection. I'm not a fan of cathedral hands, but they work on this grey fumé dial. As for value, the dial details alone set it apart. Framed by a broad polished bezel is a dark gradient delight.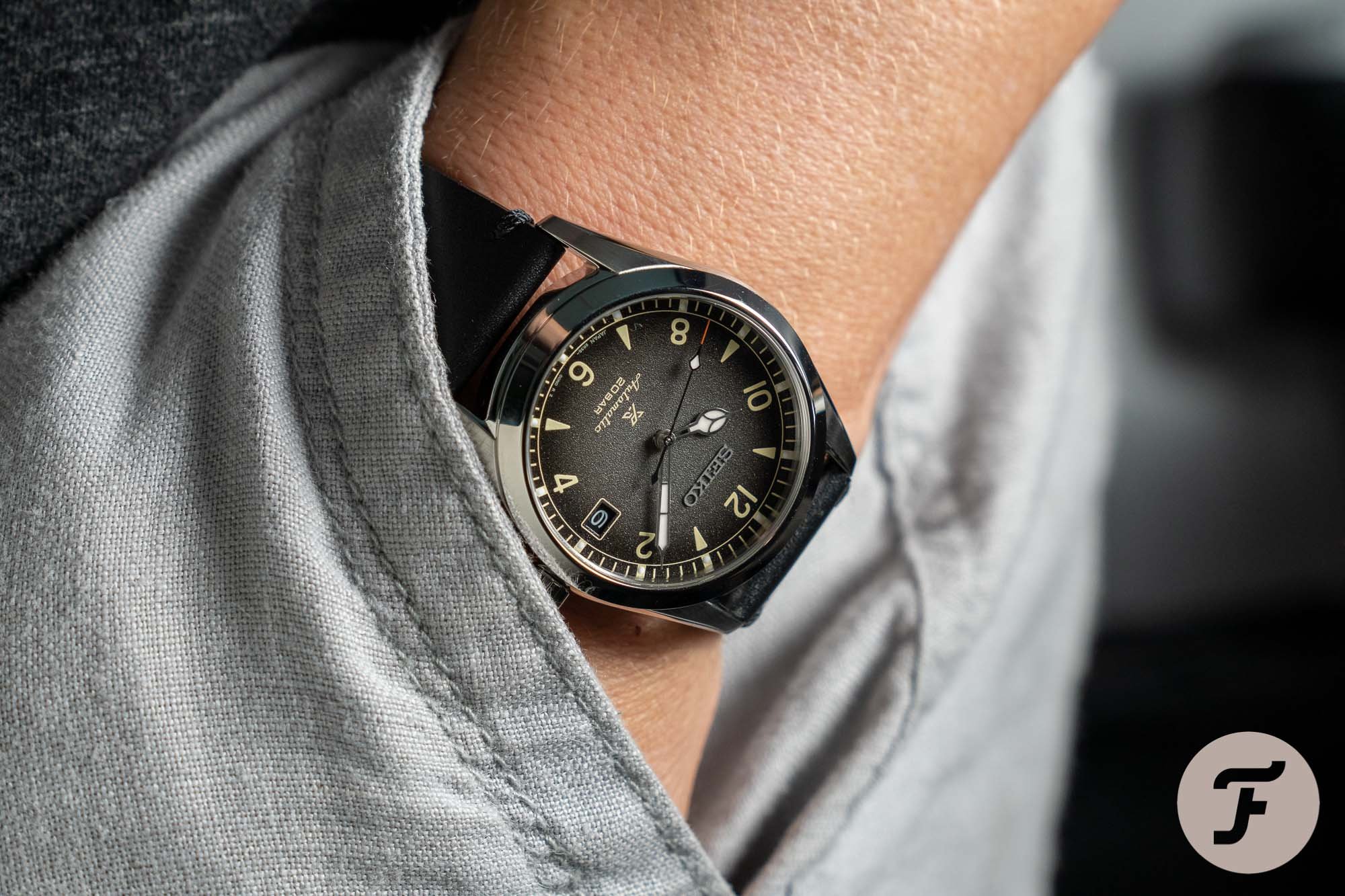 Everyday tough with a Japanese twist
The overcast sky vibe is a fine contrast to the warm beige lume print and the quirky cathedral hands. They're an acquired taste for sure, but for some reason, they look right on this Baby Alpinist. The short lug-to-lug of 46.4mm makes for a great fit, and it'll surprise you with its 200m depth rating. The SPB159J1 is a pure delight, and a great everyday watch on soft leather for around $700. Purists beware, there's a new Alpinist in town, and it is dangerously good.
Lorier Falcon Series II
I feel like I'm cheating here, as I own this one. The Falcon Series II is such a solid value proposition that I have to share the joy. But how does it fare as a Rolex Explorer alternative? Let's start with the bracelet. I would put my own reputation on the line and proclaim it the best flat-link microbrand bracelet. Period. Sure, its finissage is simple "tool-ism," with decent brushwork that's a bit undefined. But the solid links have a quality-inducing weight and tight tolerances. The flat-topped links have slightly rounded corners underneath for comfort, and it drapes like a dream.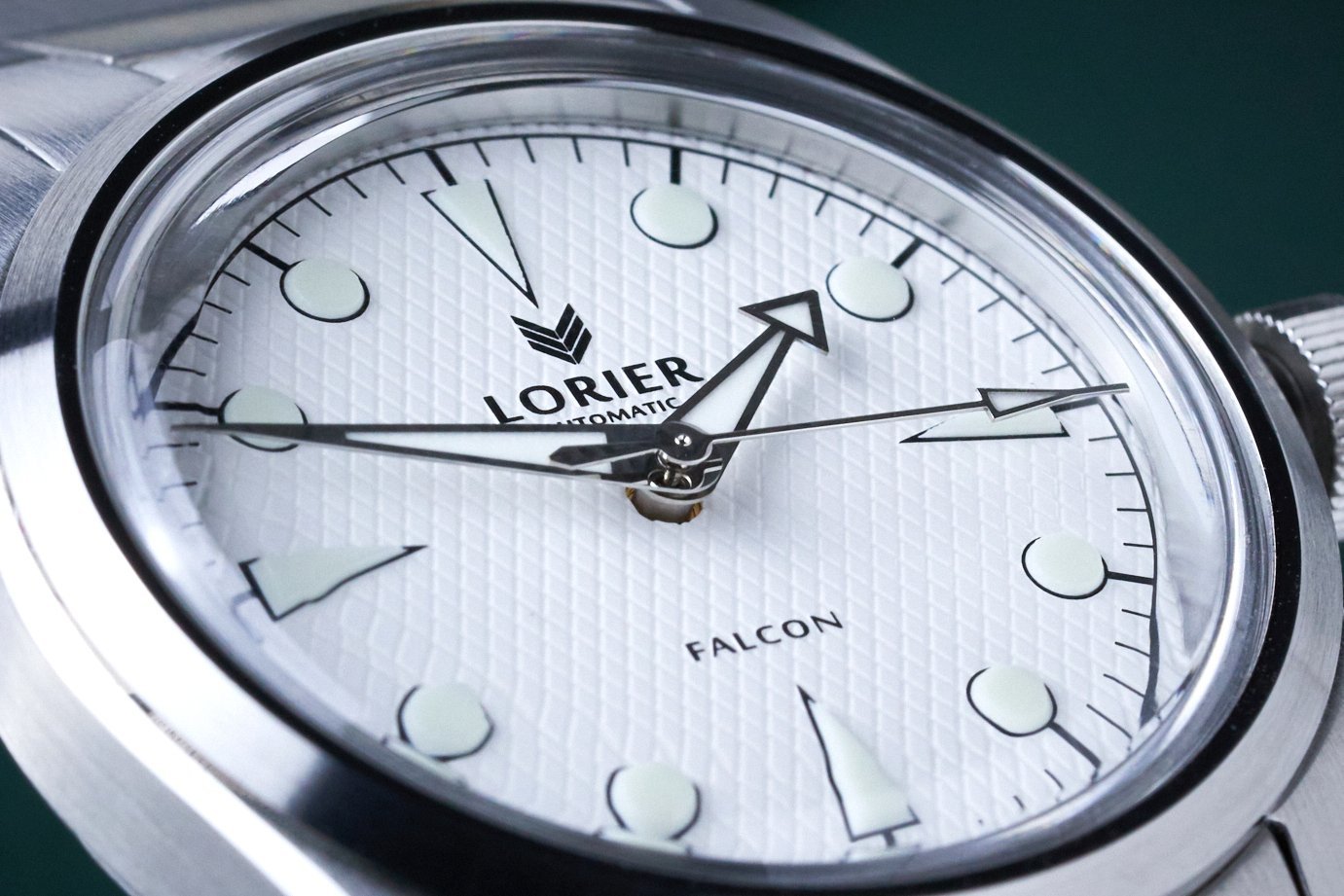 The goldilocks zone
The case itself is brushed, with a sharp, polished chamfer running the short-lugged length. The Lorier Falcon Series II has a 36mm diameter and a slim 11mm profile, making it tough but suave. It is a tool watch but will slip under the slimmest of slim-fit cuffs, which makes it a great one for the office. The white dial is crisp as a patch of freshly fallen Norwegian snow (I should know), with blue, long-lasting lume on the thick indices. On the dial itself, there's a diamond-patterned structure, with superb execution for the price. The Miyota 90S5 automatic in mine is COSC-accurate and smoothly operated with a big crown. Not to mention, it's cheap to service. At $499, I would check Lorier's website, as each re-supply sells out quickly.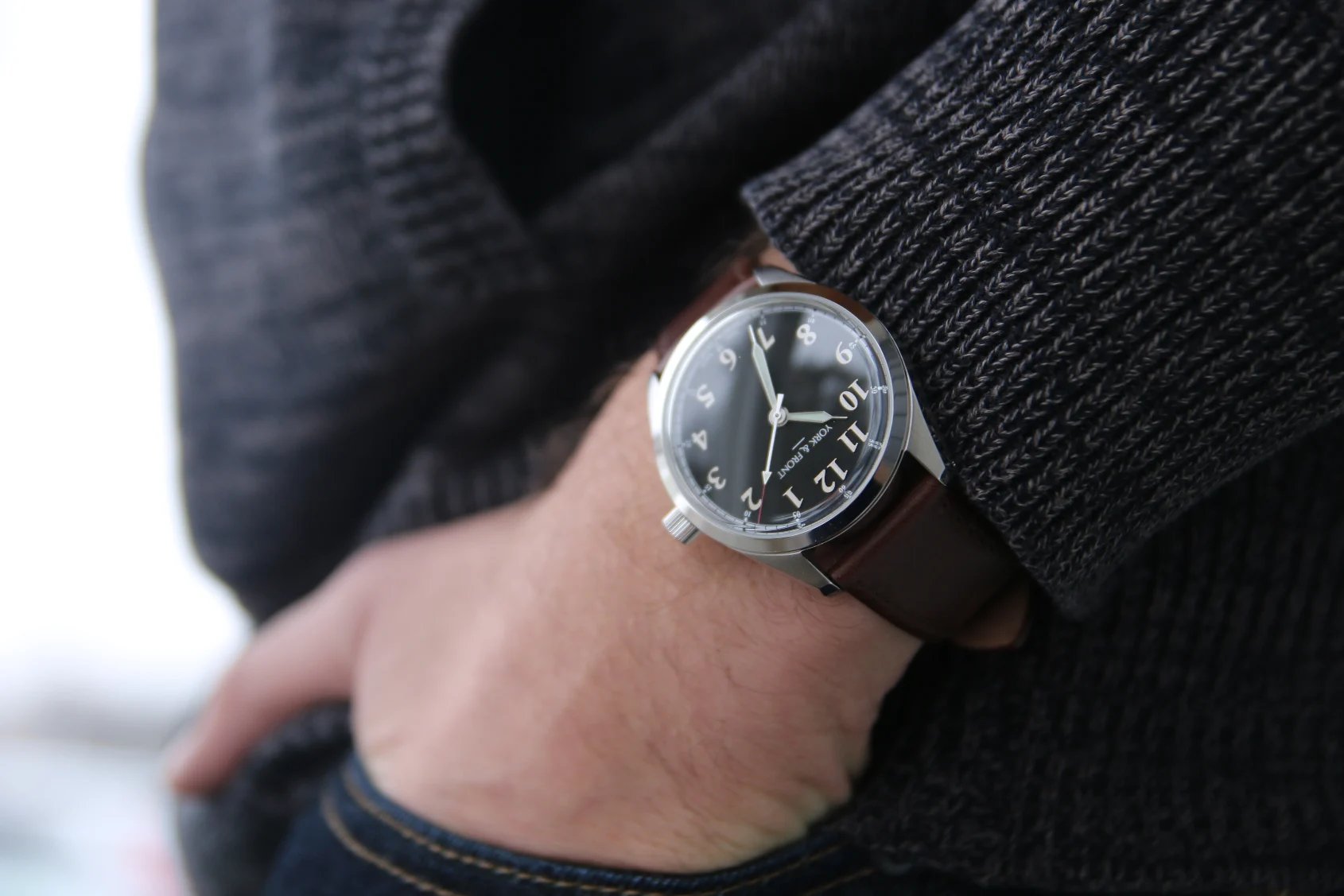 York & Front Burrard
Exhibiting a more military aesthetic, the Burrard might not exactly mimic the Explorer. It is, however, a tempting alternative with some quirky design twists.  This Swiss-made, Canadian brand has a mature language for a debut, with a crisp white or matte black dial. Coming in at 38mm, the Burrard is pretty much a recipe for comfort. The matte black dial has a silvery-white outer minute track and unusual brushed numerals.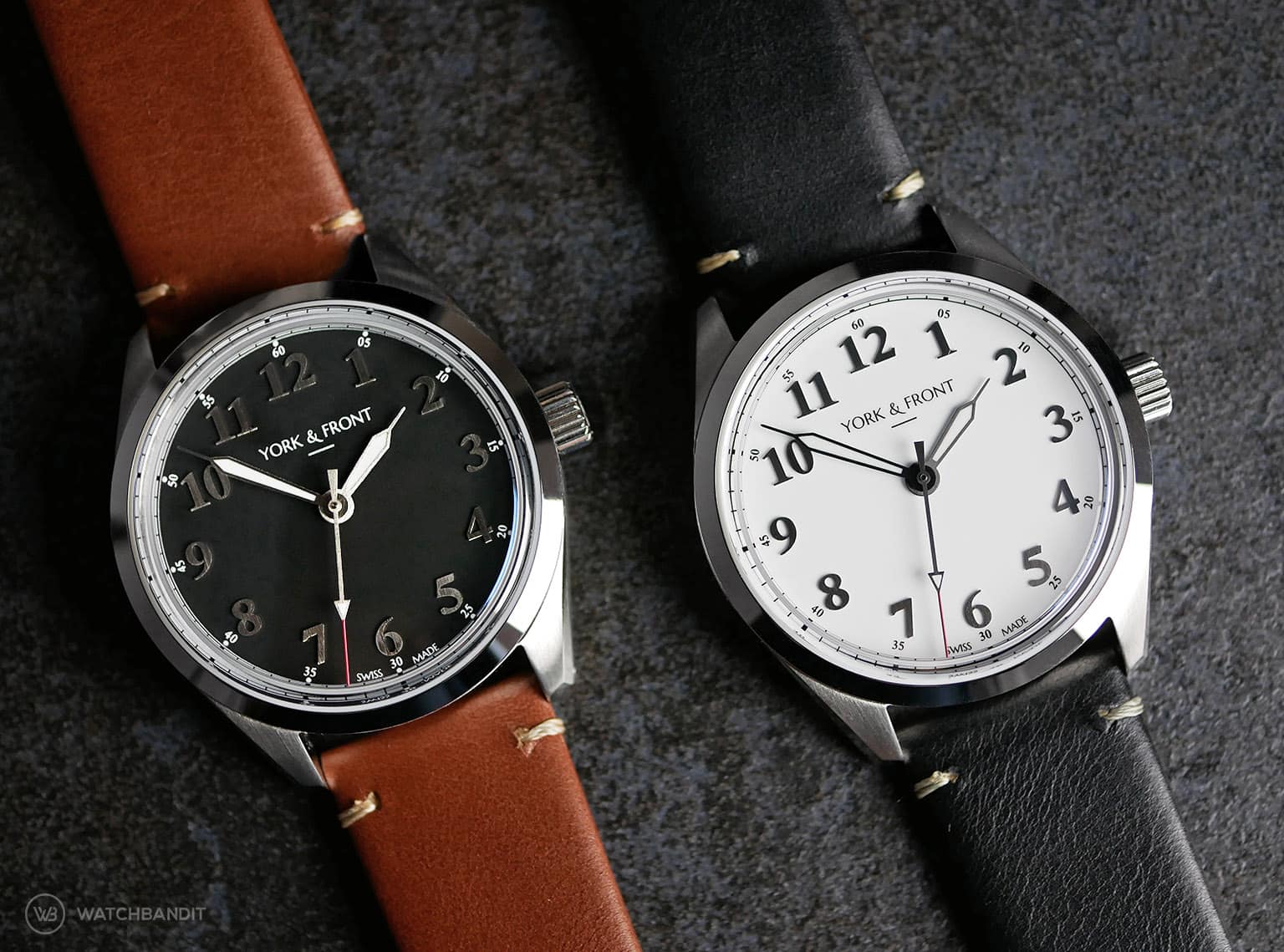 Mid-century modern sans fauxtina
Free of fauxtina, the white lume in the syringe hands matches the crisp rehaut with a pilot's-tool vibe. Mid-century clues are present in the clean-cut 38mm case with a polished bezel, and a signed big crown. With either the black or white dial, it feels genre-transcending, and that's a good thing. Why stay within the parameters of a military watch, or too Explorer-esque with a triangle at 12? The Burrard's slim case comes on a soft leather strap, and it'll look damn good on a NATO as well. This tough cookie will sit perfectly with anything from a parka to a tailored suit. With a self-winding Swiss STP 1-11 caliber and a 100m depth rating, the value is strong at $499.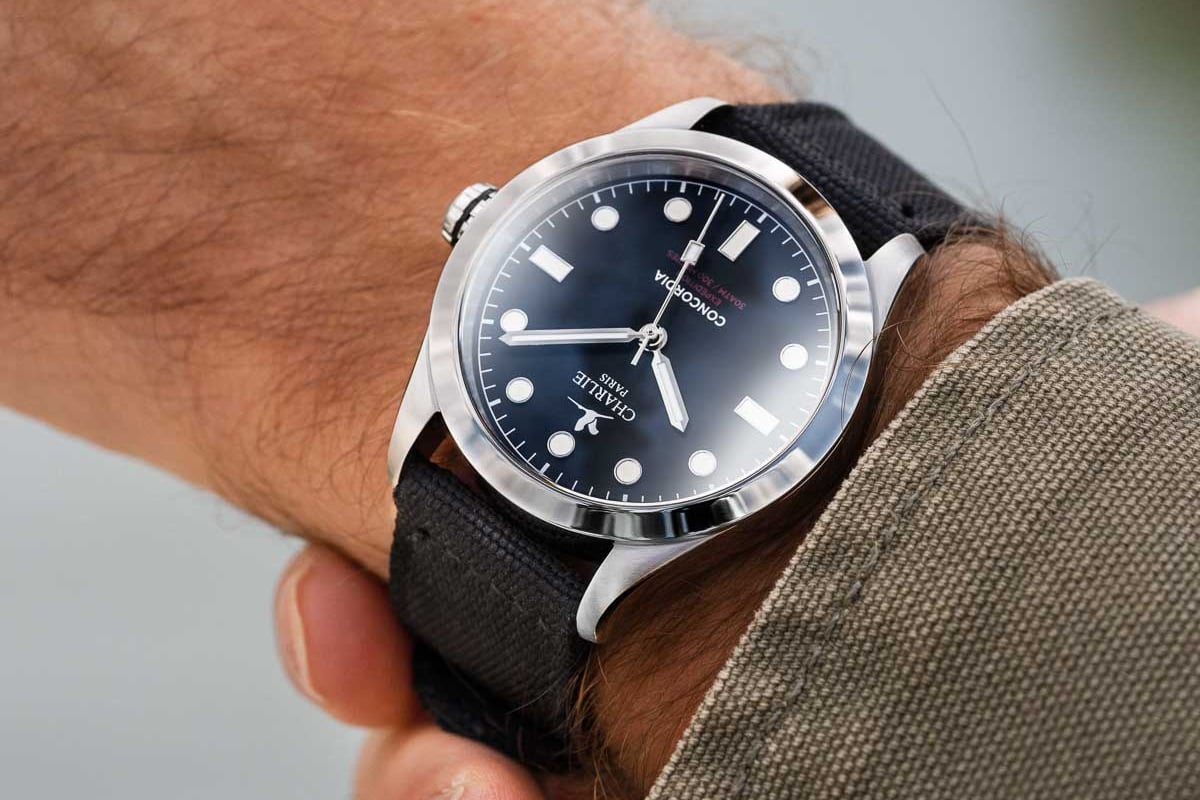 Charlie Paris Concordia 38
The established French brand Charlie Paris has nailed the everyday sports watch in the Concordia series. This represents proper value at €275. How do they do it with that sharp case and crisp dial?  The compromise is in the Seiko VH31 quartz caliber with a sweeping seconds hand. But so what? I'll put my hand on my heart and say I am a convert. There is simply nothing wrong with quartz. Have a look at how Grand Seiko has changed our perceptions, and know that this is the same family of Japanese in-house quality.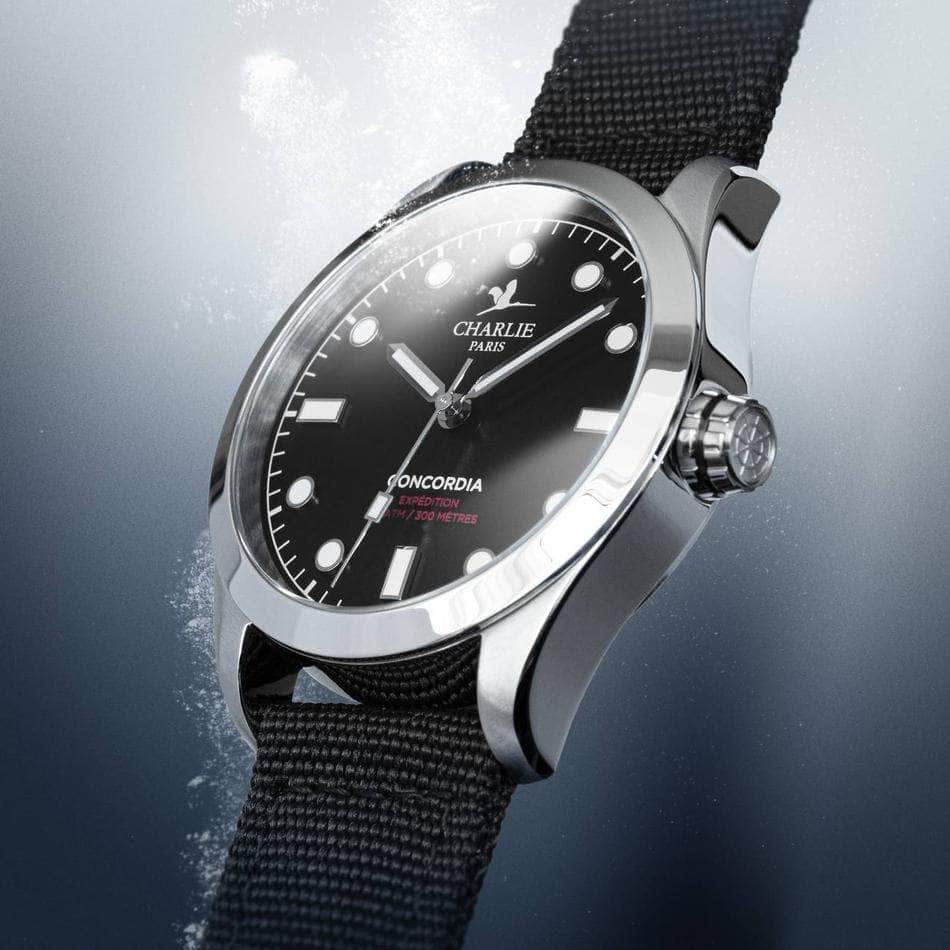 The French touch
With a slab-sided case that channels a certain Fifty-Eight, this 38mm piece of French wrist candy is hard to beat. How about a surprise at the end? Though 11mm slender, the Concordia has a 300m depth rating, making it a bullet-proof beater with consummate style and surprising diver's credentials. Click the dressy Milanese bracelet option at the Charlie Paris website and you'll only be charged an extra €10. That makes a grand total of €285 on a soft metal bracelet. And that's food for thought!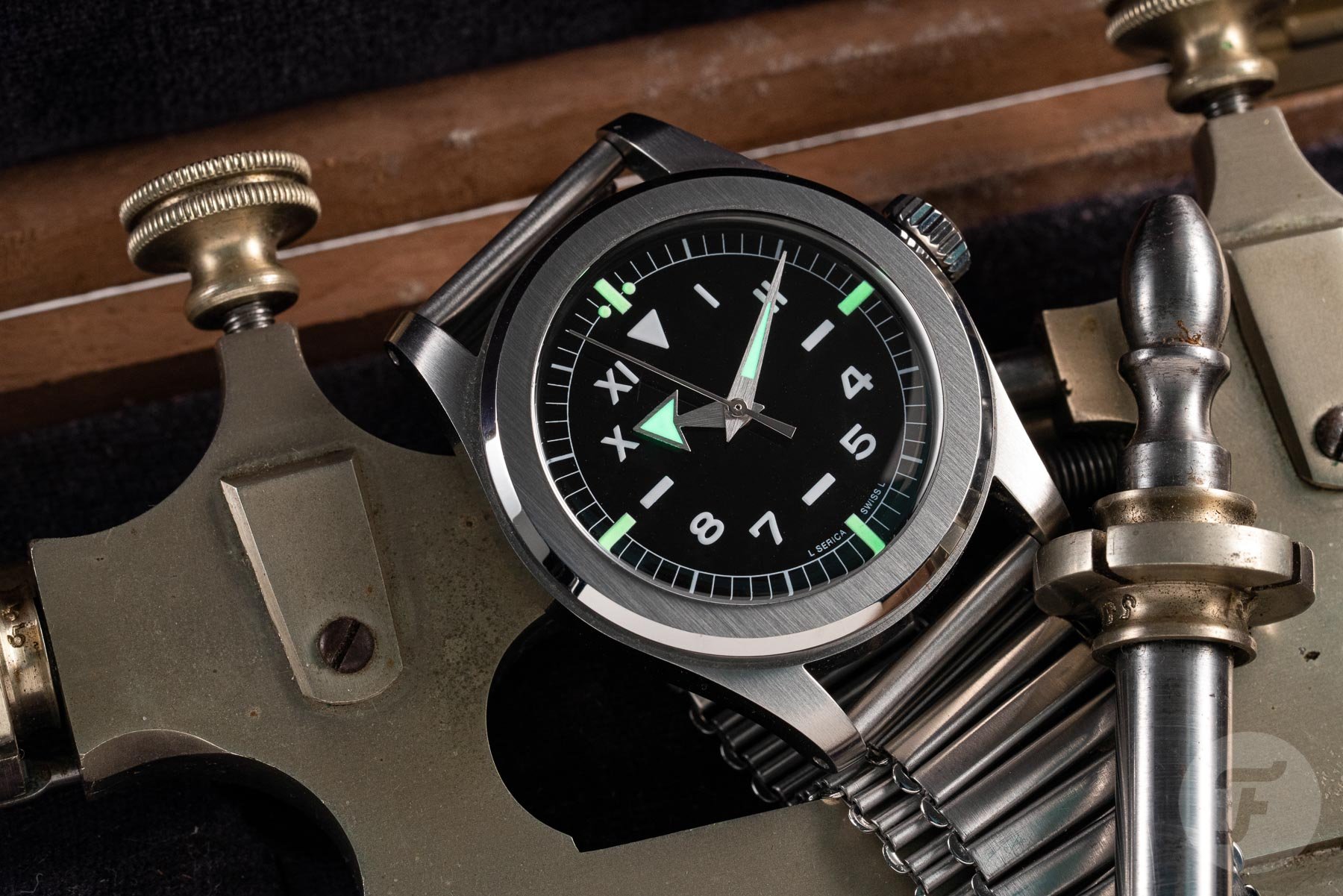 Serica 4512
On a slinky bracelet that looks more like a piece of jewelry, the Serica 4512 has what it takes — in spades. It might seem far from a Rolex, but forget about the military "inspo" for a minute and take in the exploration-ready specs. On the wrist, the 4512 is squat and muscular. With its 37.7mm case, it is pure, utter comfort. The case sides and lugs are as short as they are wide for the size, giving it the indestructible air of a tiny tank. A pure monochrome dial in three field-watch-esque variations has lume at the quadrants, enough to give it strong legibility at night.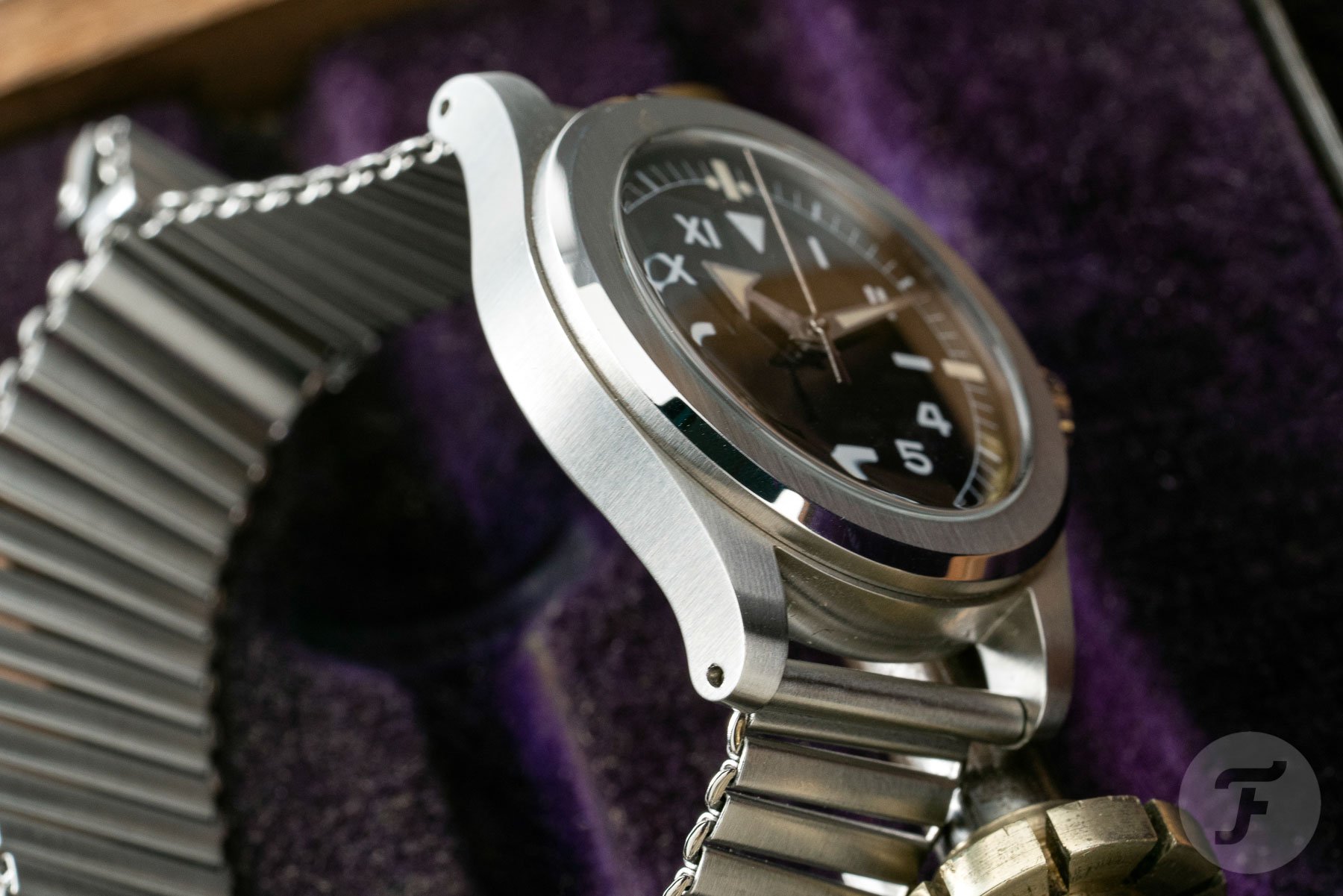 No logo needed
In the daytime, the pure white print is crisp, and for such a small dial, it's simply brilliant. With no logo, no applied indices, and no date window, it's just the essence of a good watch — a simple time teller. It has 200m of water resistance, and I don't have to tell you that this fat-lugged Frenchie is a bonafide strap monster too. The price is $650, so sign up for a notification on Serica's next re-stock if you're hooked. The 4512 got me good. I bought it and change straps almost every time I wear it. This week, it's on a beige suede, and it rocks.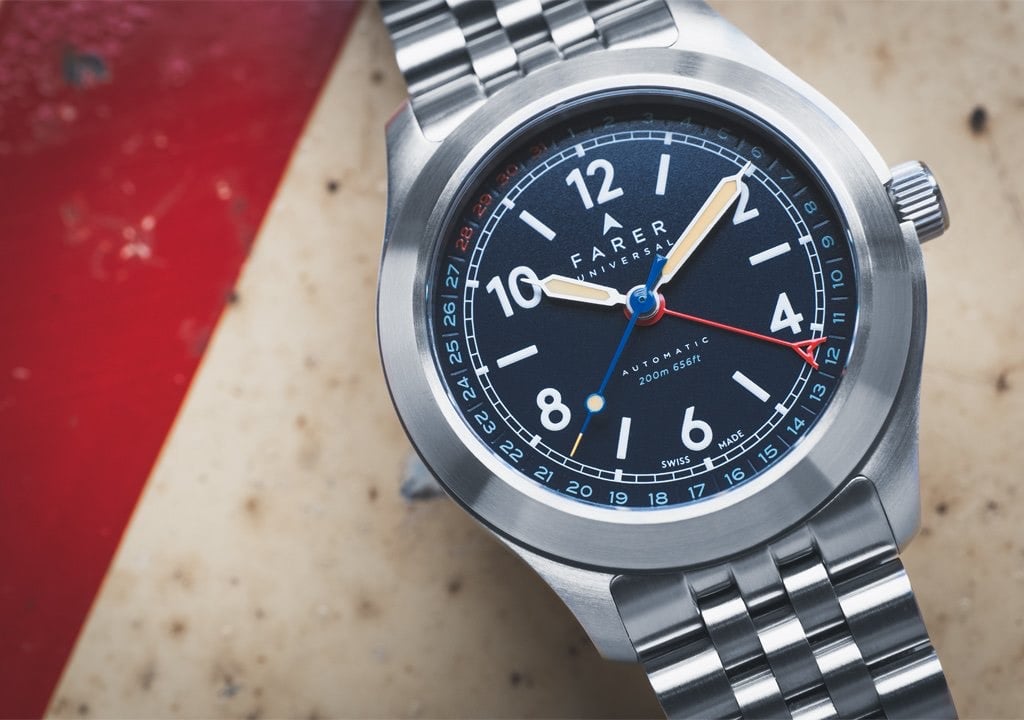 Farer Lomond
Yes, the Farer is a field watch. But like the Serica, it's all about the solid tool vibe of the Rolex Explorer, and possibly the bracelet. The Farer Lomond ticks both boxes and adds color. The case hits that sweet point at 38.5mm with a short 45mm lug-to-lug span. The dial is dark navy with crisp, light blue outer calendar numbers for the red pointer hand. The syringe hands have an almost apricot lume, and the seconds hand is bright blue.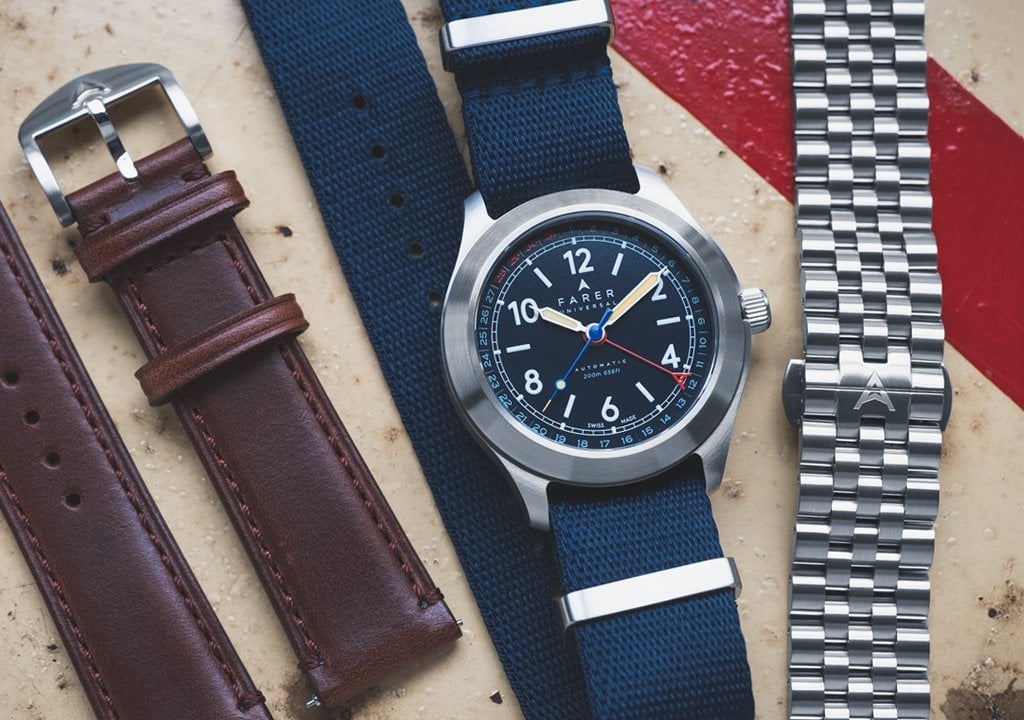 A comprehensive British package
Farer also caters to me and my fellow strap-a-holics with no less than three versatile straps included. There's an American Horween leather strap, a dark navy blue waterproof NATO strap, and a five-link steel bracelet with a tri-fold clasp, all with a quick-release to fit your rapidly changing moods. With a Swiss beating heart in the Sellita SW221-1 automatic, it's a very decent value at £875. And yet again, it kicks the original Explorer's behind with its 200m depth rating.
Worthy alternatives?
I bet you didn't think you could get all this for under $1000, but most of these come in under $500. Let us know what you think in the comments. Did I stray too far from the brief, or do some of you already have adventurous memories with one of these tough babies?
Follow me at:@thorsvaboe