The Omega Speedmaster On The Big Screen — Watch Spotting At The Movies
A never-finished list of movies that feature an Omega Speedmaster
This article has been on my mind for a long time now: The Omega Speedmaster in movies. We've covered the appearance of Speedmasters in movies and TV shows every now and then, but we never compiled a proper list of movies that featured Speedmaster watches.
I know Apollo 13 has been "the movie" when it comes to the Speedmaster, but I only saw that movie much later than its release date. Back in 2000, after one year of owning my Omega Speedmaster, I visited the cinema with my then-girlfriend to watch Frequency. In that movie, the main character John Sullivan (played by Jim Caviezel) communicates with his long-dead father Frank Sullivan (played by Dennis Quaid) via an old ham radio. I enjoyed the movie as such, but to my surprise, it got even better when Sullivan's Speedmaster popped up on the big screen.
The Omega Speedmaster on the big screen
I am not a movie buff, but I like to pick my movies wisely. So, whenever a Speedmaster makes the big screen, I am happy to watch it. I know there are many Speedmaster sightings in TV shows and documentaries as well, but I thought a list of movies is a good way to start. Interesting to know is that Omega doesn't sponsor a lot of movies (of course, there's James Bond since 1995, First Man, and Apollo 13), but often it is the actor or props department that picks what to wear on the wrist.
In this article, we list all the movies we know of that features an Omega Speedmaster.
The Deadly Affair (1967)
A movie about a British agent Charles Dobbs (played by James Mason), who's investigating a suicide case and discovers there's a lot more behind it. At some point, a straight-lug Speedmaster can be seen on the character of Dieter Frey (played by Maximilian Schell).
Marooned (1969)
In the 1969 American sci-fi movie "Marooned", Buzz Lloyd (played by Gene Hackman) wears an Omega Speedmaster Professional. One with an orange chronograph second hand, like the Ultraman.
The Right Stuff (1983)
I bet you have seen this movie, but just in case you've never heard of it, it is the story of the beginning of NASA's space program and the first seven Mercury astronauts. The movie is based on Tom Wolfe's book and starts with Yeager going through the sound barrier. US Airforce pilots are recruited for the space program and you'll see astronauts Shepard, Glenn, Cooper, Grissom, et cetera. And of course, you will see some Speedmaster watches on the wrists of the astronauts. Cooper is played by Dennis Quaid, who also featured in Frequency (2000) wearing his Speedmaster.
Apollo 13 (1995)
No introduction is necessary. A very good movie about what happened during the Apollo 13 mission. Last year, Charlie Duke (Apollo 16) confirmed how accurate this film was. Tom Hanks plays Jim Lovell, Bill Paxton plays Fred Haise and Kevin Bacon plays Jack Swigert. Of course, on their wrists the Omega Speedmaster Professional.
Event Horizon (1997)
This is a sci-fi horror movie about astronauts that investigate the disappeared spaceship "Event Horizon". The Omega Speedmaster Professional is still around in 2047 (of course it is!) and can be seen in the opening sequence of this movie.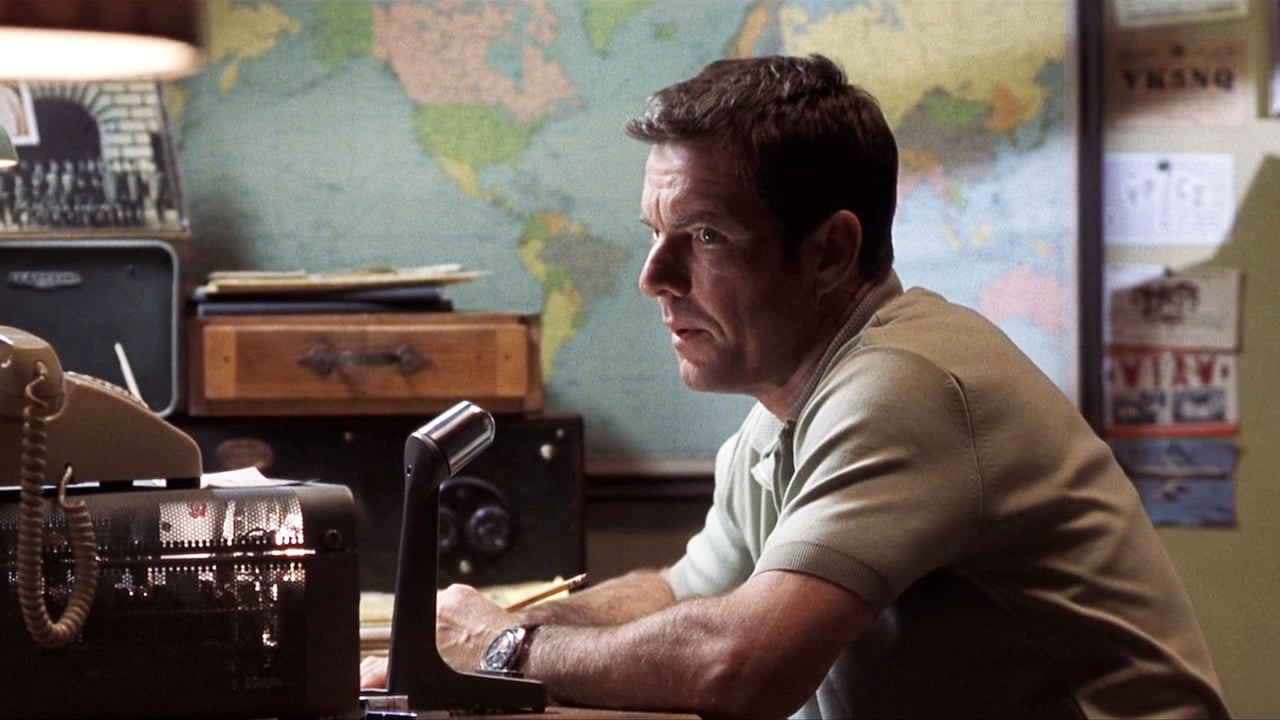 Frequency (2000)
In this movie, John Sullivan (Jim Caviezel) communicates with his father (played by Dennis Quaid) — who passed away long time ago — via an old ham radio. On his wrist, the Omega Speedmaster Professional.
State of Play (2009)
In this conspiracy movie, Russell Crowe (playing Cal McAffrey) is wearing an Omega Speedmaster Professional. Eagle-eyes might spot the little gold Seahorse logo on the dial, as it is the limited edition Speedmaster Professional 50th anniversary watch from 2007.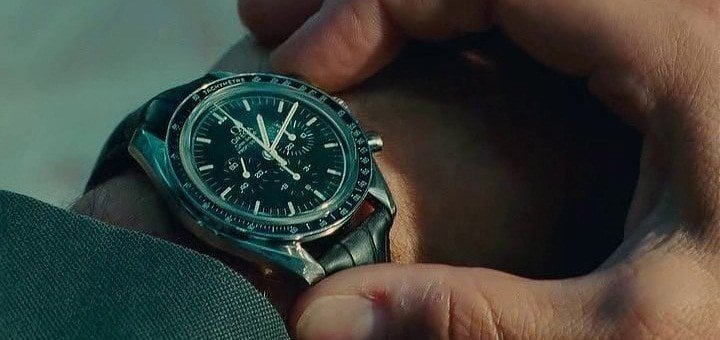 The American (2010)
In this movie, George Clooney plays the main role (Mr Butterfly) and wears an Omega Speedmaster Professional on a leather strap. Clooney is an Omega ambassador for quite some years and has been spotted wearing various different models on and off the screen.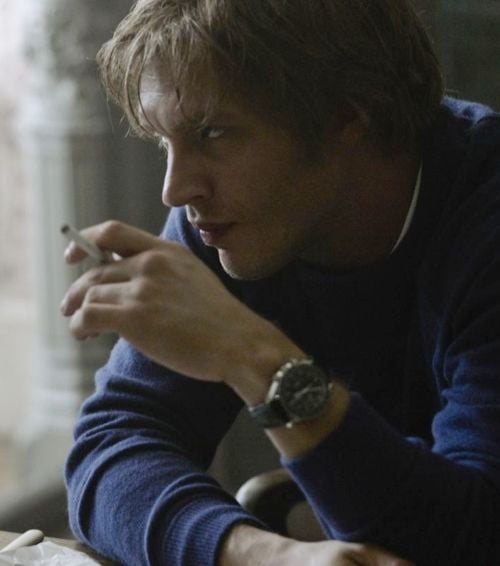 Tinker Tailor Soldier Spy (2011)
Cold War and espionage, that's what this movie is about. Ricki Tarr (played by Tom Hardy) is wearing an Omega Speedmaster Pro on a black leather strap.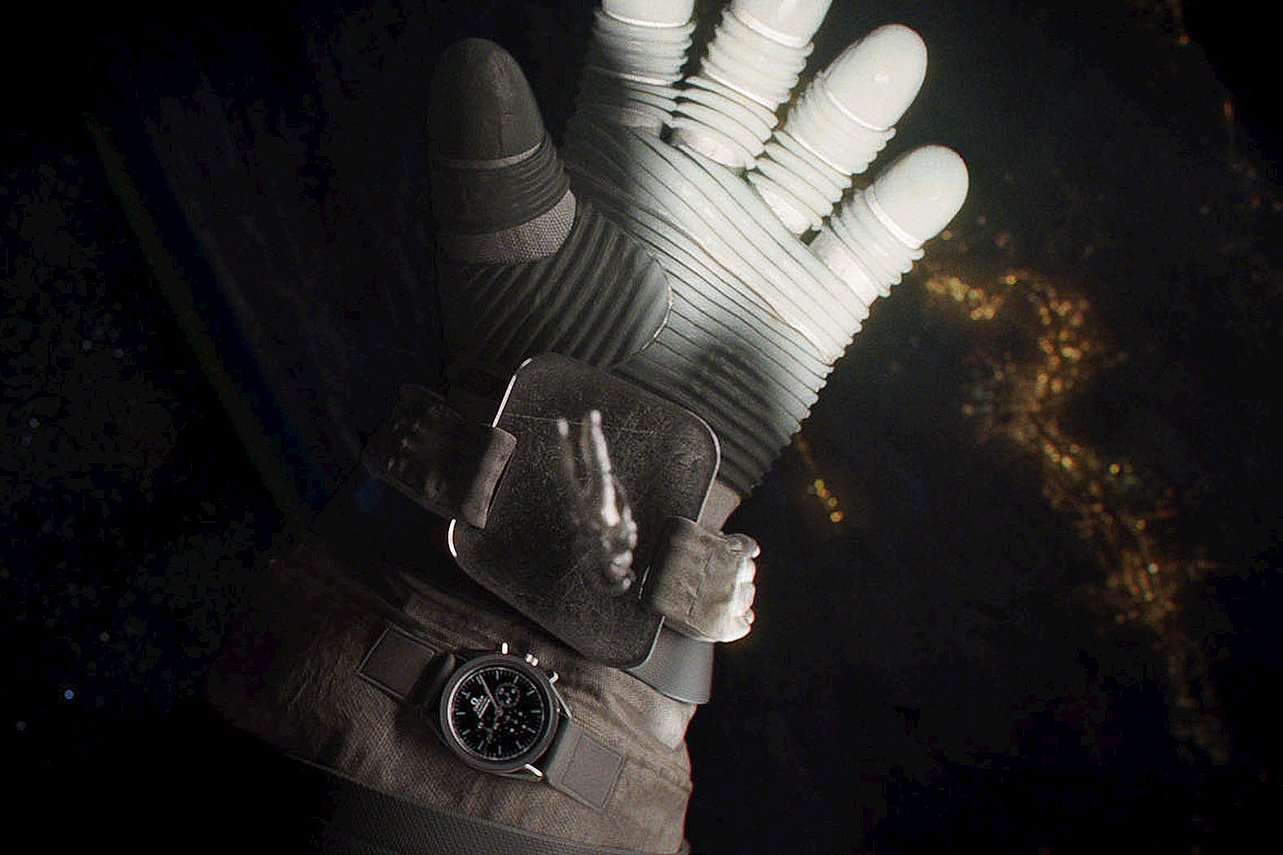 Gravity (2013)
George Clooney's character, Matt Kowalski, wears an Omega Speedmaster Professional in Gravity. Of course, as an Omega ambassador, there was only one watch of choice for Clooney. The Speedy is sewn into his spacesuit with only the watch head visible. Curiously, the watch in the film is also missing the tachymeter bezel. Whether this was a stylistic choice for the character or a decision made during production, it's noticeably absent and actually looks pretty cool.
The Gambler (2014)
Mark Wahlberg (playing Jim Bennett) is wearing an Omega Speedmaster in The Gambler. He even gives the watch a mention in this movie: "It's an Omega, it's worth more than six thousand brand new". Our guess is that it is a Co-Axial 44.25mm version of the Speedmaster. Click here for our article on The Gambler and the Speedmaster Co-Axial.
Before I go to sleep (2014)
Around the 25-minute marker, there's an emotional scene where Colin Firth (playing Ben) hugs Nicole Kidman (playing Christine) in the pouring rain and for a good few seconds, we have a nice frontal view of his Omega Speedmaster Professional. Click here for our article on "Before I go to sleep" and the Speedmaster.
Fifty Shades of Grey (2015)
In both the book and the movie there are Omega watches. The main character Christian Grey (played by Dave Sergeant Jamie Dor­nan) wears the 44.25mm Speedmaster Co-Axial in gold, with reference 311.63.44.51.01.001. Other Omegas in this movie are the Aqua Terra and the Aqua Terra Chronograph with a white dial.
The Nice Guys (2016)
Another movie with Russell Crowe (playing Jackson Healy) where he's wearing an Omega Speedmaster Professional. Crowe's Speedmaster seems to be on a Fix-o-Flex or similar type bracelet in The Nice Guys. Click here for more information on The Nice Guys.
Mechanic: Resurrection (2016)
A proper action movie starring Jason Statham (playing Arthur Bishop) and Jessica Alba (playing Gina) in Mechanic: Resurrection. Both Statham and Alba are wearing the same watch in the movie — an Omega Speedmaster Professional on a leather strap.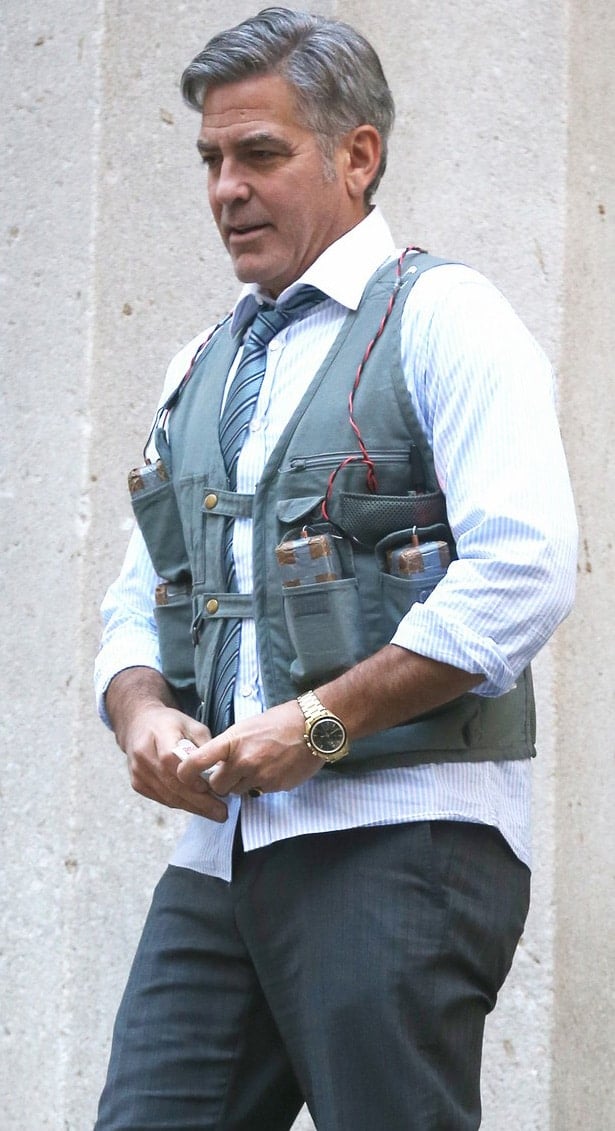 Money Monster (2016)
Playing the role of Lee Gates, a financial TV host, George Clooney is wearing a gold Omega Speedmaster Professional. In this flick, an angry investor who lost everything violently takes over the show. Millions of viewers bear witness as Lee is taken hostage. An interesting fact is that this watch was already discontinued (in 2012) when Clooney sourced it for the movie. Click here for our article on Money Monster and the gold Speedmaster.
First Man (2018)
A beautiful movie from 2018 about the first man on the moon: Neil Armstrong. Ryan Gossling, playing the role of Neil Armstrong, is wearing an Omega Speedmaster Professional. Omega created the watch especially for this movie, as it is a mock-up of the original 105.012 that Armstrong (and Aldrin) actually wore during the Apollo 11 mission. Click here for our article on the movie and the watches featured.
Lucy in the Sky (2019)
Natalie Portman (playing astronaut Lucy Cola) is wearing an Omega Speedmaster X-33 Skywalker in this movie. She's an astronaut that returns home from a mission and starts to lose touch with reality on Earth.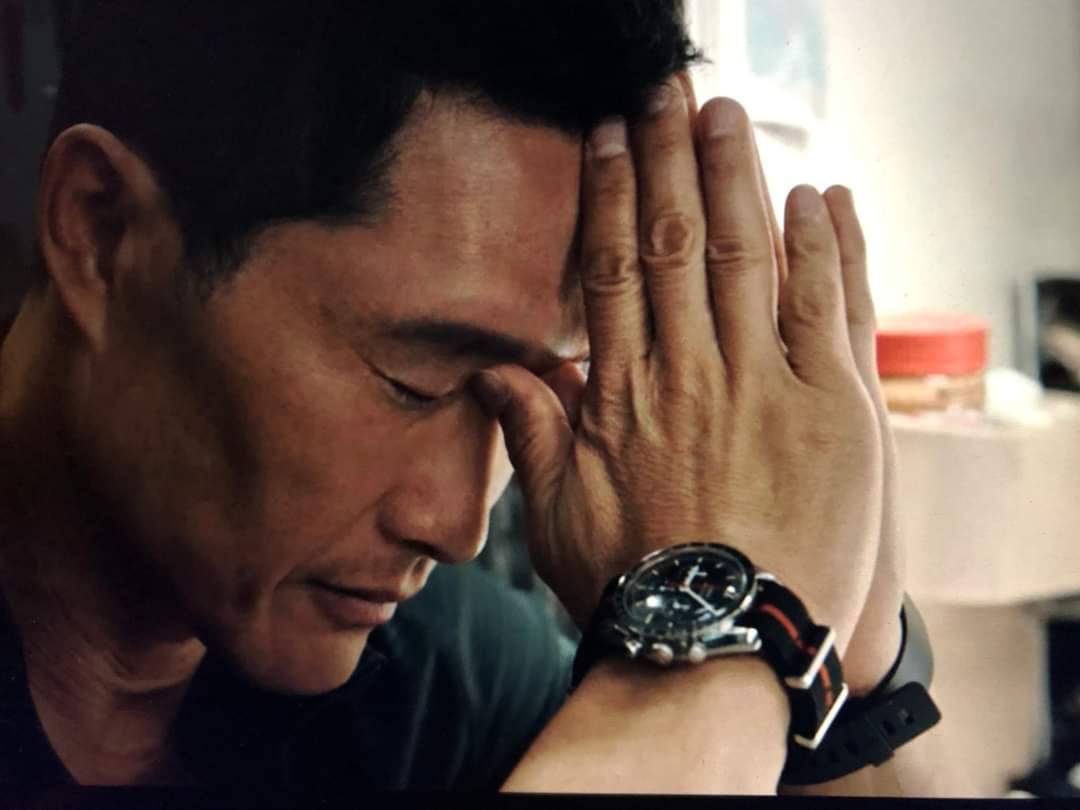 Stowaway (2021)
Daniel Dae Kim wears the Speedmaster #SpeedyTuesday II "Ultraman" in Stowaway that Omega produced in collaboration with Fratello Watches. Stowaway is a Netflix sci-fi movie about a small crew heading for Mars taking on an additional passenger by mistake. The story then becomes a tale of survival with the life support system failing with one extra life to support. Kim is a watch fanatic and owns both #SpeedyTuesday watches. The one he wears in the film was provided by Omega specifically for the production. His character is seen wearing the watch very prominently in a scene above with only a few glimpses in the rest of the film. Omega also supplied an extra-long NATO for the EVA scene where Kim's character is wearing the Speedy on his right wrist over his suit just as the Apollo astronauts did.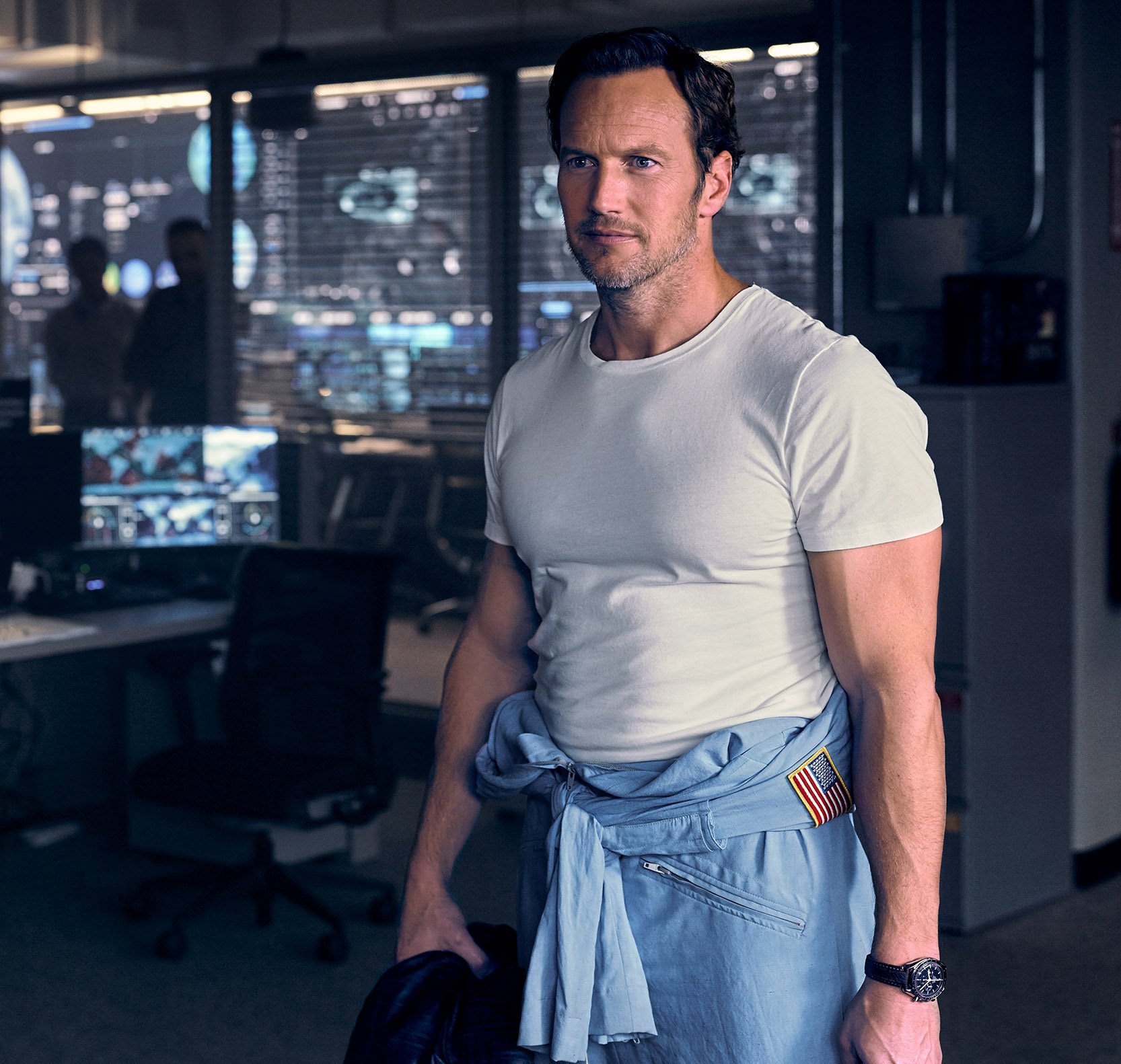 Moonfall (2022)
In Moonfall, the Earth is under attack. Not from aliens, or asteroids, but the moon itself. NASA have already debunked the premise of this movie. If anything, the moon is moving further away from the earth at a speed of 3cm (on average) per year. But I'll reserve judgement until I see the plot unfold in theaters when Moonfall releases in February. I first saw the Moonfall trailer during a screening of the latest Spider-Man film and it looks good fun, if a bit ridiculous. But now we understand that the venerable Omega Speedmaster with Master Chronometer certification will make an appearance on the wrist of Patrick Wilson. I've got my ticket booked so wait to see how the Speedmaster plays a part in the story.
More Speedmasters
We would like to know about other movies that featured a Speedmaster. If you know about Speedmasters in movies, leave it in the comments below and we're happy to add it to this list of movies. You can also reach out to us by email if you want to submit a screenshot as well.
Update May 2021: Gravity (2013), Fifty Shades of Grey (2015), and Stowaway (2021) were included in this list.