Sunday Morning Showdown: Doxa SUB 300 Carbon Vs. Tudor Black Bay Ceramic
A battle of exotic case materials and classic designs
Welcome, one and all, to this week's Sunday Morning Showdown! In this series, we take two watches that share some key features, or that at least exist in the same conceptual ballpark, and pit them against each other. This week, we have a fantastic showdown for you all. Two divers, both of which feature "exotic" materials for their cases, go head to head and battle it out for the win. It's also my (Nacho's) very first time stepping into the Sunday Morning Showdown arena. And who better to go up against than the old war dog that is our very own Balazs Ferenczi? But will this be like the tale of David and Goliath? Or will the more experienced fighter proceed to a masterful takedown? In the end, it's all in your hands, so make sure to vote for your winner at the end of the article. So, without further ado, let's introduce our contenders.
In the blue corner, weighing in at 107 grams, from Geneva, Switzerland, the Tudor Black Bay Ceramic. And in the red corner, weighing in at 87 grams, from Le Locle, Switzerland, the Doxa SUB 300 Carbon. It's carbon versus ceramic, Doxa versus Tudor, and Balazs versus Nacho in this showdown of two brilliant featherweight dive watches. Will it be the sleek, hypermodern, tough ceramic shell of this beloved Tudor model with a twist that gets the belt? Or will the underdog, reinvented, carbon-cased cult classic that is the Doxa float to the top, leaving its opponent in the murky depths? Round one is about to begin, and it's a gloves-off, street-rules kind of fight, so anything goes!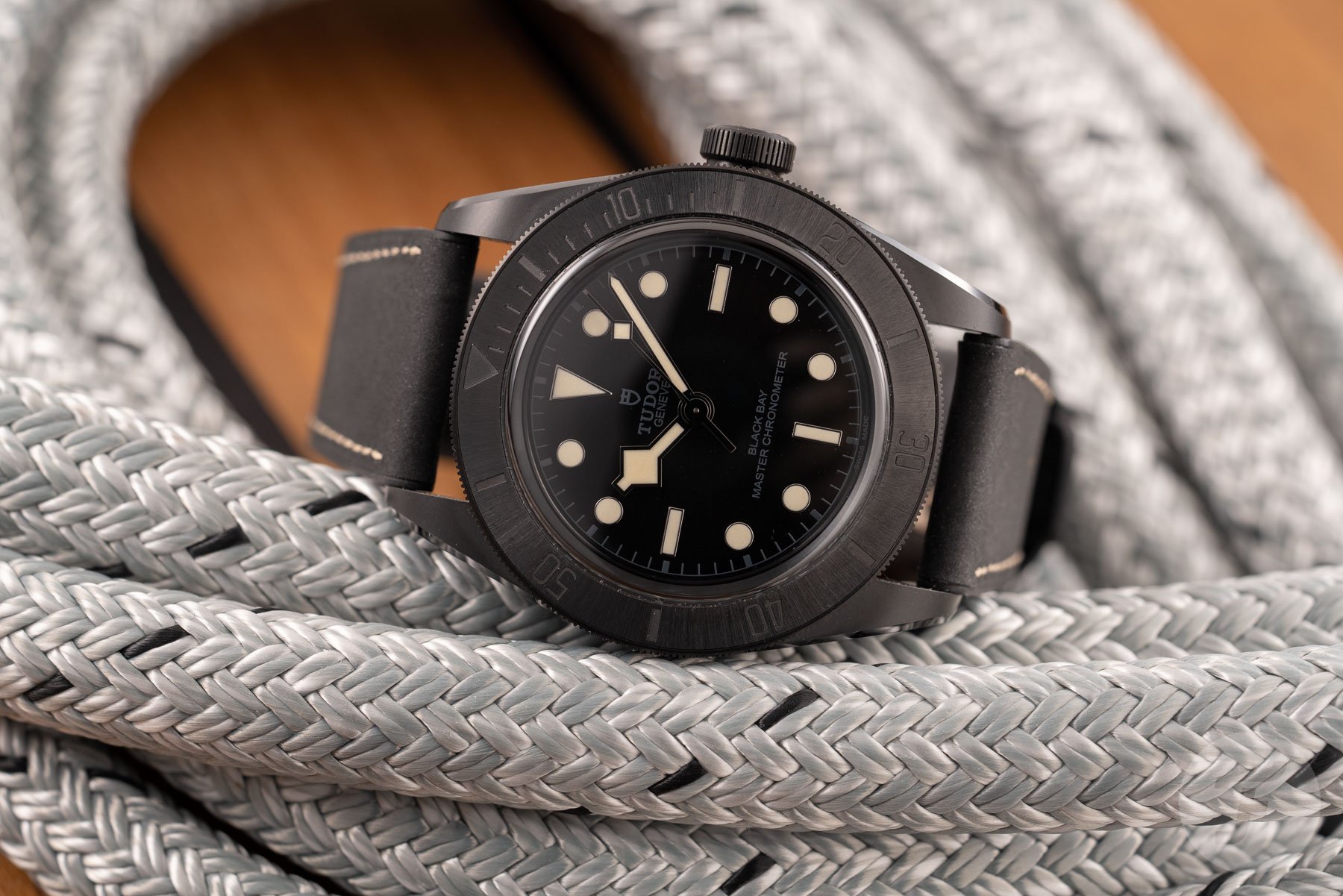 A tale of two divers
Today's showdown sees two contenders from what is likely the most popular category of watches going up against each other. There are many good reasons why the dive watch holds such a dear place in the hearts of us watch enthusiasts. Not only are divers absolutely over-specced for our daily lives, but the purpose-driven functionality of their design and aesthetics also inspire a sense of adventure. There's something reassuring about knowing what you could do with a dive watch on your wrist if you felt so inclined. But many refer to them as "desk divers", acknowledging that most people won't push them to the limits they are made to reach. What these two watches have in common (other than being dive watches) is also what sets them apart. I'm talking about the materials that make these watches unique.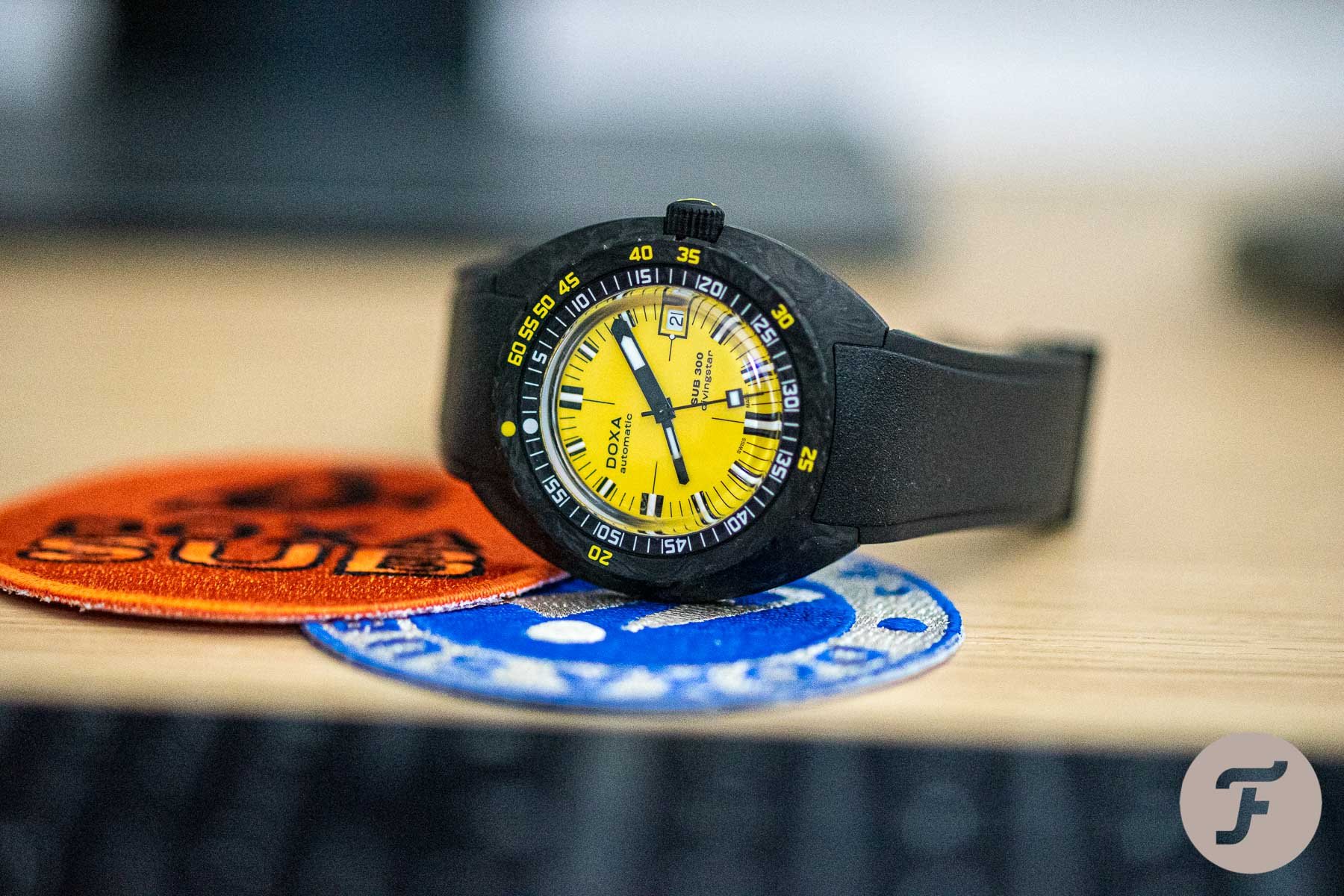 In the case of the Tudor, it follows a long tradition that began with IWC in 1986. Since then, ceramic has been widely adopted by many Swiss luxury watch brands. And though the Black Bay Ceramic is certainly not Tudor's first creation in the material, it's definitely the brand's best. It even won the "Petite Aiguille" prize in last year's GPHG. Doxa's carbon dive watch is also not the first carbon-cased watch out there, but to me, it was always one of the most interesting. That's partly because of the fantastic original limited-edition SUB 300 Aqua Lung US Divers and the impression it caused upon its release, followed shortly thereafter by the production model. That said, I will step up the plate first, batting for the Tudor. So, now that you know the contenders, let's get this showdown underway.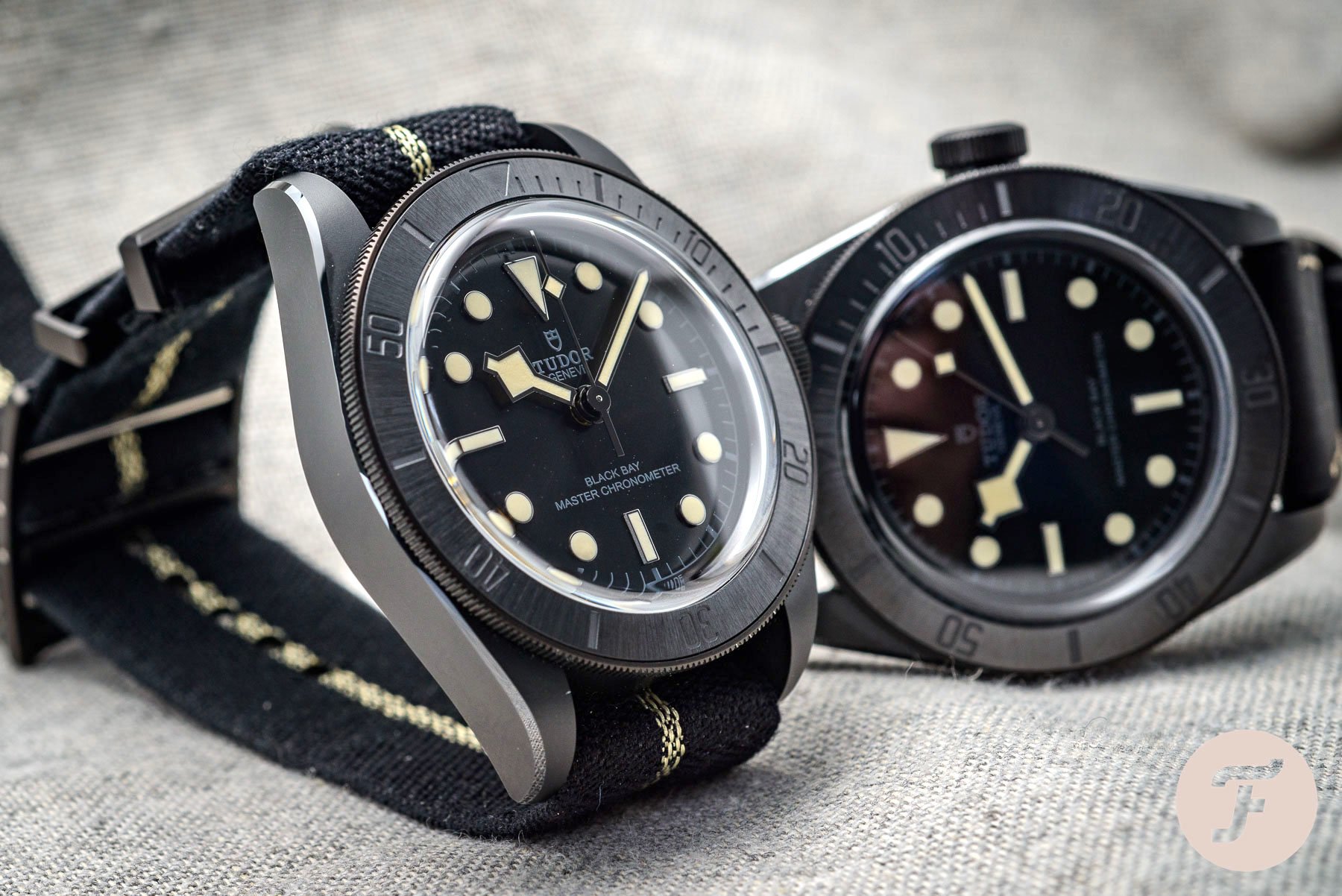 Nacho: Going all in for the Tudor Black Bay Ceramic
Full disclosure: I absolutely love the Doxa SUB 300 Carbon, so I'm approaching this as one would the roast of a dear friend. I'm going to get mean, but I hardly mean what I'm saying. With that out of the way, let me start by telling you some of the reasons why the Tudor Black Bay Ceramic is one of the most underrated watches in Tudor's collection and probably one of the best sub-€5,000 watches on the market today. And it's not just because it received a GPHG award for that very reason. This is something that the Doxa can only dream about, having been nominated plenty of times, but somehow always falling short of the win. I think that this fun fact speaks for itself.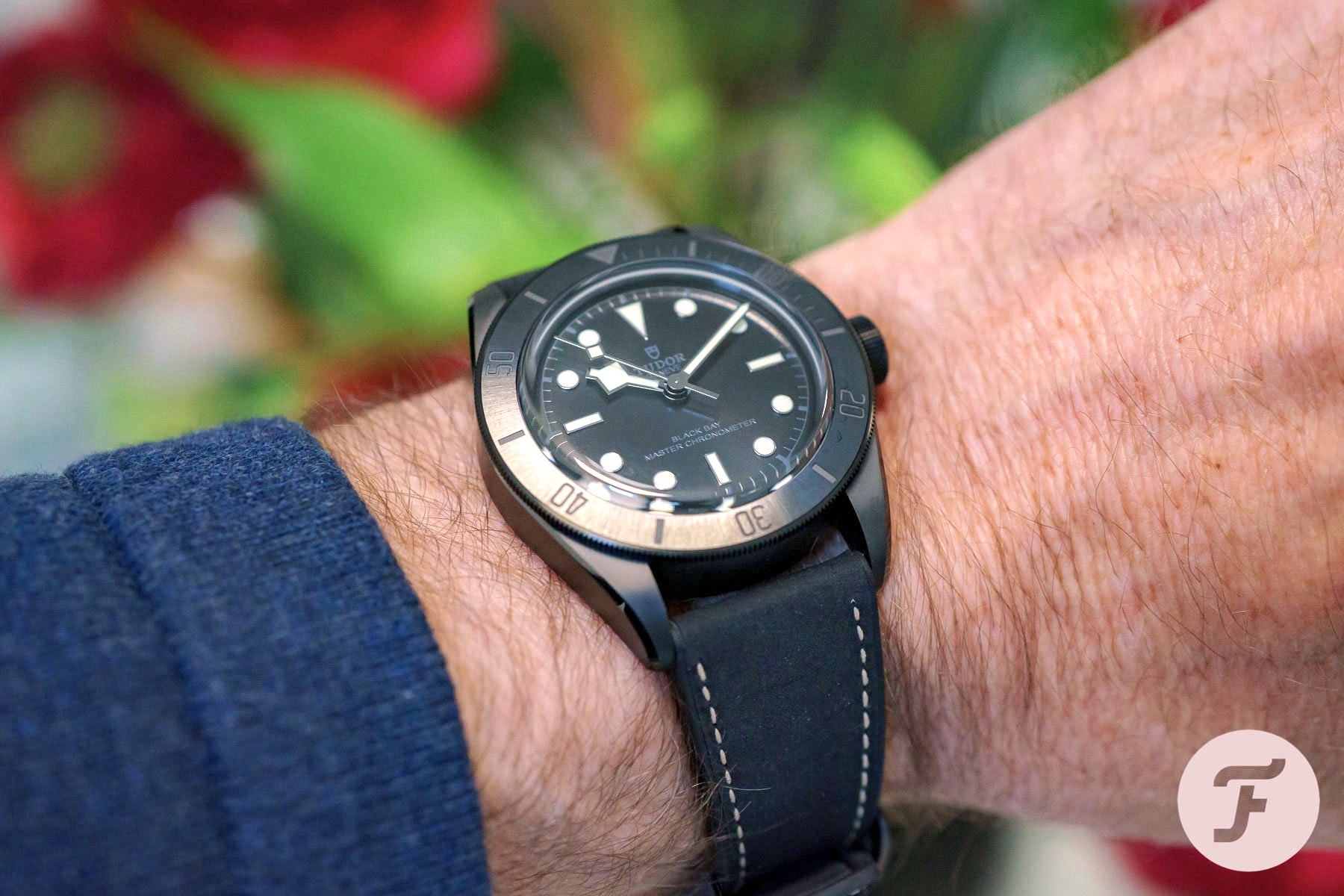 Other than that, just having a look at the Tudor Black Bay Ceramic tells you all there is to know. It has all the classic looks of the Black Bay diver — probably one of the most popular and best-selling luxury dive watches of the past decade — but with a thoroughly modern twist. Sure, the murdered-out look isn't for everyone, but neither is a bright orange dial. Whereas the Doxa would look great with a pair of swimming shorts, the Tudor will look at home both at the beach and in the office. It's a truly versatile watch. This diver looks just as good on the leather strap it comes with as it does on the complimentary fabric strap, which just so happens to be one of the best on the market today.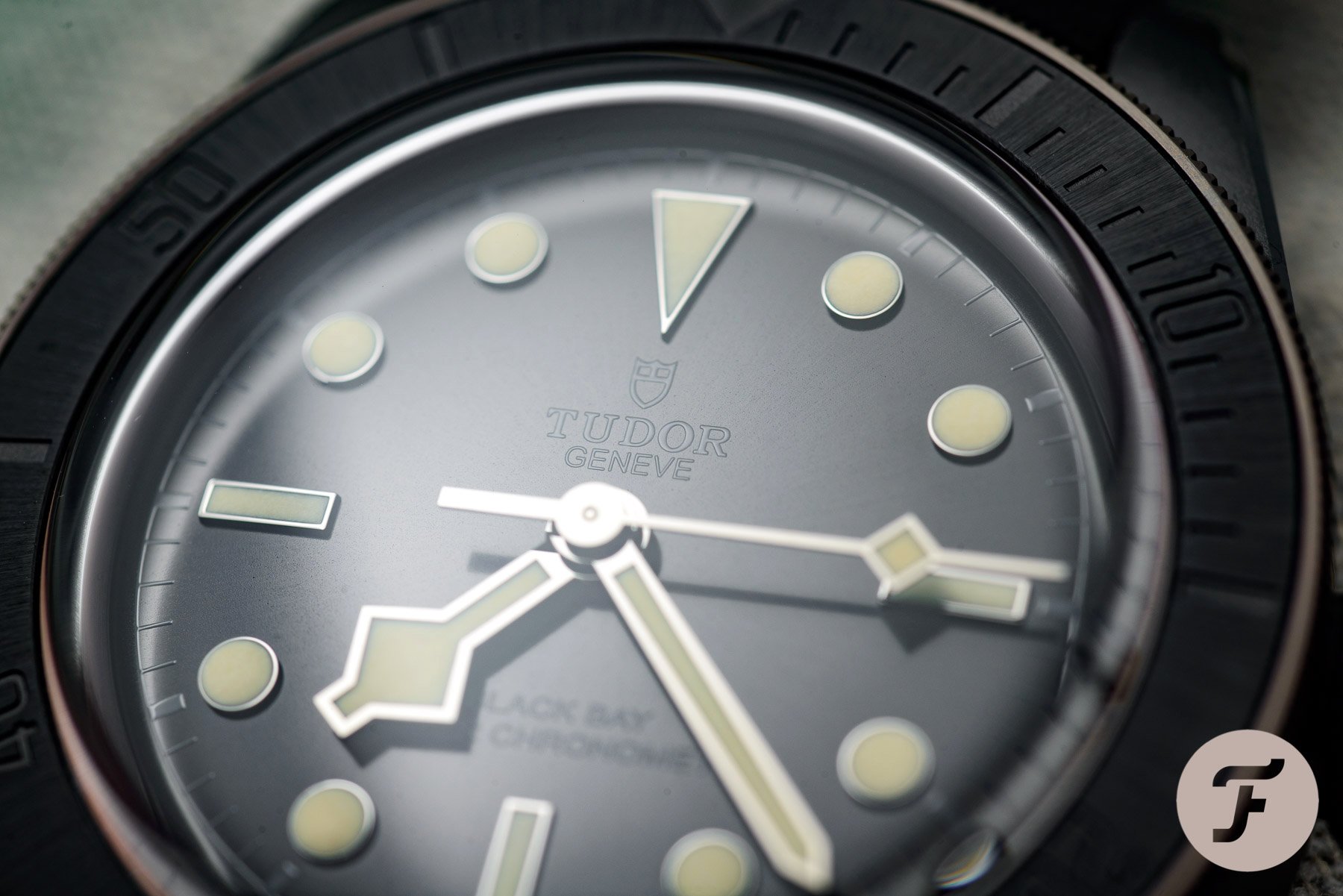 A true Doxa killer
I'm sure Balazs will have plenty to say about the ceramic case and how it's one fall onto a tiled floor away from shattering into a thousand pieces. But if a fall can (if you're very unlucky) kill this watch, imagine what any bump into a door frame, kitchen counter, or car door could do to the Doxa's carbon case. Admittedly, both materials should be as resistant to impacts, but when it comes to scratch resistance, there's not much out there that beats ceramic. So, whereas your Doxa will look like the front end of a '96 Fiat Panda used as a bumper car in just a few years of honest use, the Black Bay Ceramic will look as good as it did on day one. For a price difference of just €790, it's a no-brainer to go with the Tudor.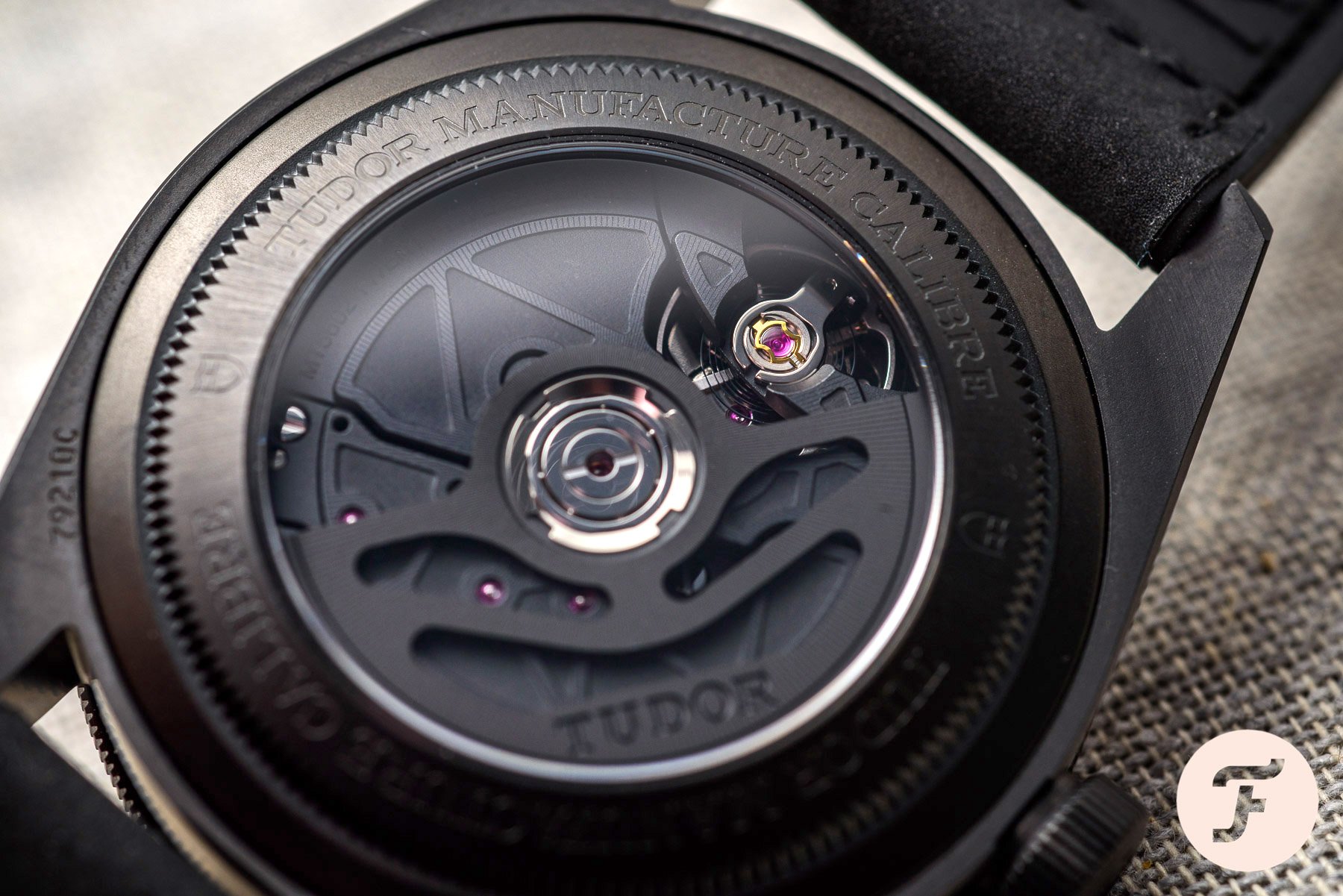 The final nail in the Doxa's coffin is the fact that we, as watch enthusiasts, enjoy wearing watches. But at just 87 grams, you'll struggle to even feel that you're wearing the carbon Doxa. In fact, you'd be forgiven for thinking that you're wearing a MoonSwatch but paying 15 times more. With the Tudor Black Bay Ceramic, you get the excellent ergonomics of a Black Bay, a classic design with a modern twist, and a METAS-certified proprietary caliber (MT5602-1U). Having visited the METAS department in the Tudor manufacture, I can tell you that these movements go through some serious testing — the kind you want for a watch of this level. On top of that, this Tudor movement will give you almost twice as much power reserve as the Doxa. So while the movement in the Doxa will be dead in less than two days off the wrist, this Tudor will keep on ticking!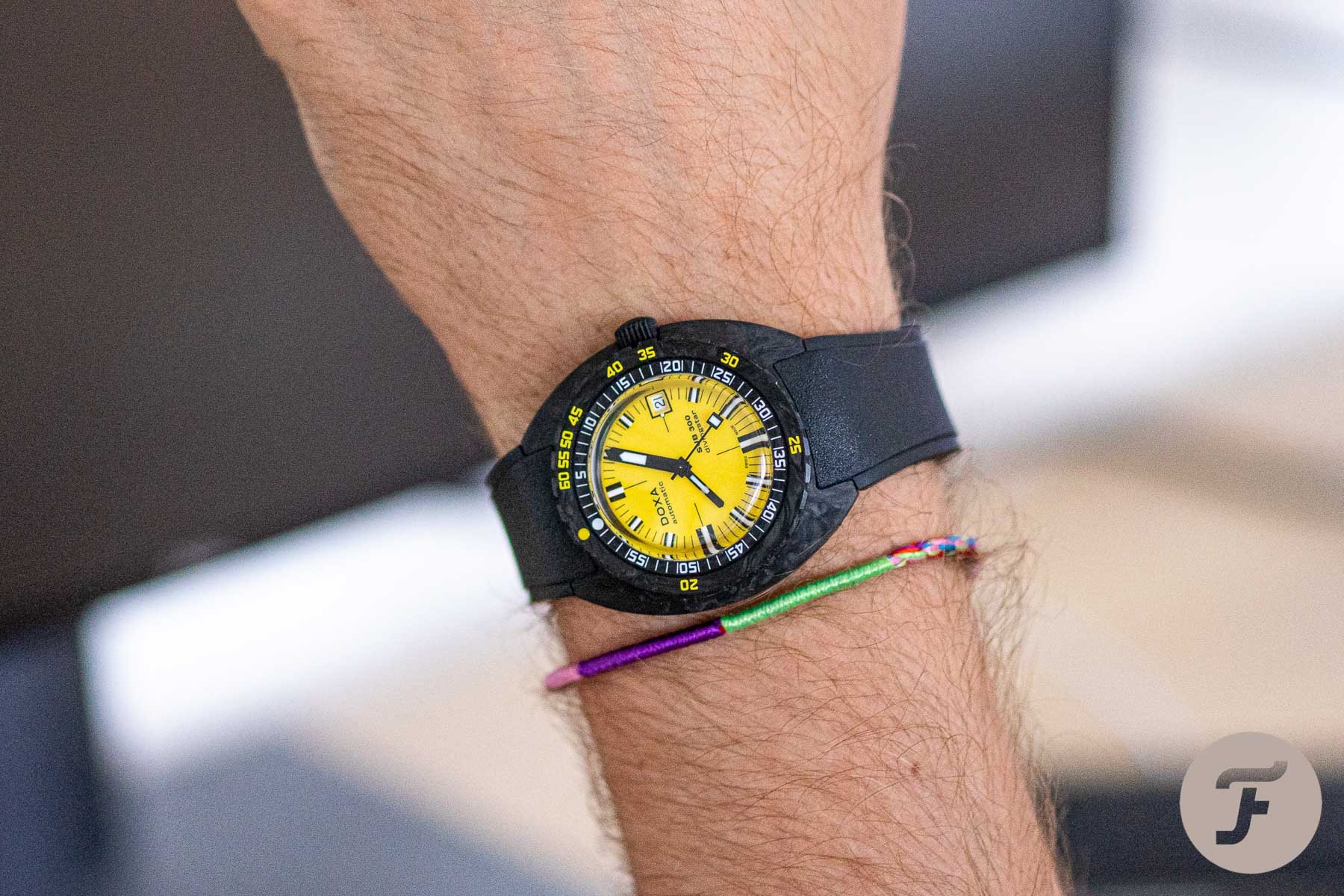 Balazs: Putting up a fight for the Doxa
Nacho is a truly nice guy, so I won't be too harsh on him. However, we need to see that there is no comparison between the Sub 300 in forged carbon and this black monstrosity by Tudor. I mean, I'm a fan of Tudor, I really am. I loved the Black Bay line, and the GMT was even a model that I contemplated buying. But comparing the BB Ceramic and the Sub 300 Carbon is like comparing apples and oranges. I feel that the materials are so different and the watches have such distinguished characteristics that you cannot simply draw a conclusion here. But, if we really have to, it's easy — the Doxa is in and the Tudor is out. At least, this is the verdict for me. My watch is awesome in looks, feel on the wrist, and price point. Sorry, Nacho, you are my guy, but there's no contest here. This, my friend, is a walk in the park.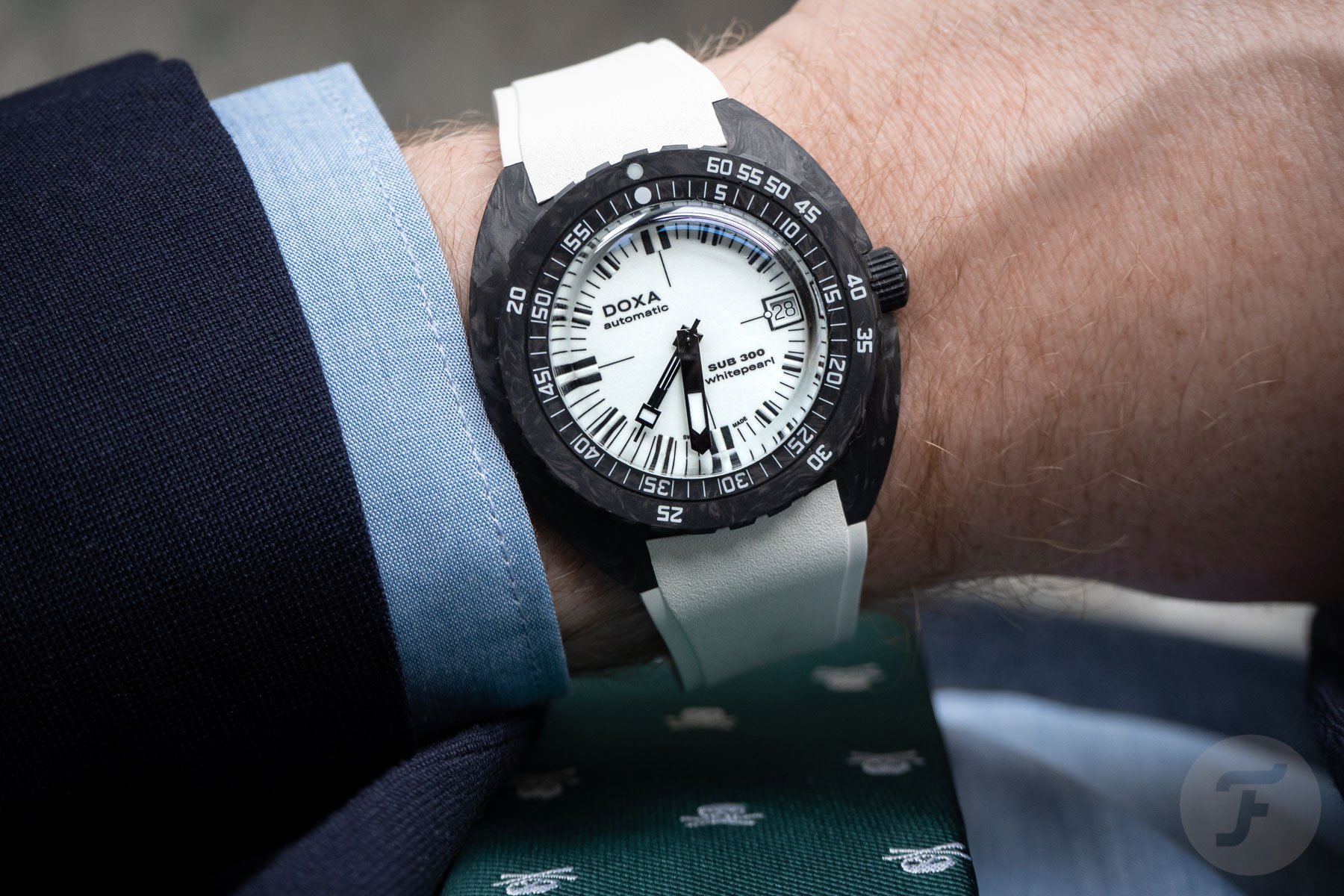 Doxa Sub 300 Carbon
First of all, the Doxa Sub 300 comes in a forged carbon case. Not carbon fiber, mind you, but forged carbon, which instantly gives the case an awesome marbled look. The very first Doxa Sub 300 in a forged carbon case was the Aqua Lung US Divers edition, which also had a carbon bezel and dial. Yes, it was light, but come on… Is that really an issue? The watch feels great on the wrist, and thanks to these 21st-century materials, the overall weight is astonishingly low. This does not affect its usability or wearability, though. That model came out almost two years ago now, and since then, I have seen pretty much all the variations. The next one was the Divingstar with the same carbon case but a yellow dial. Goodness gracious, what a watch that is. The black carbon and yellow are a match made in heaven, despite what others say.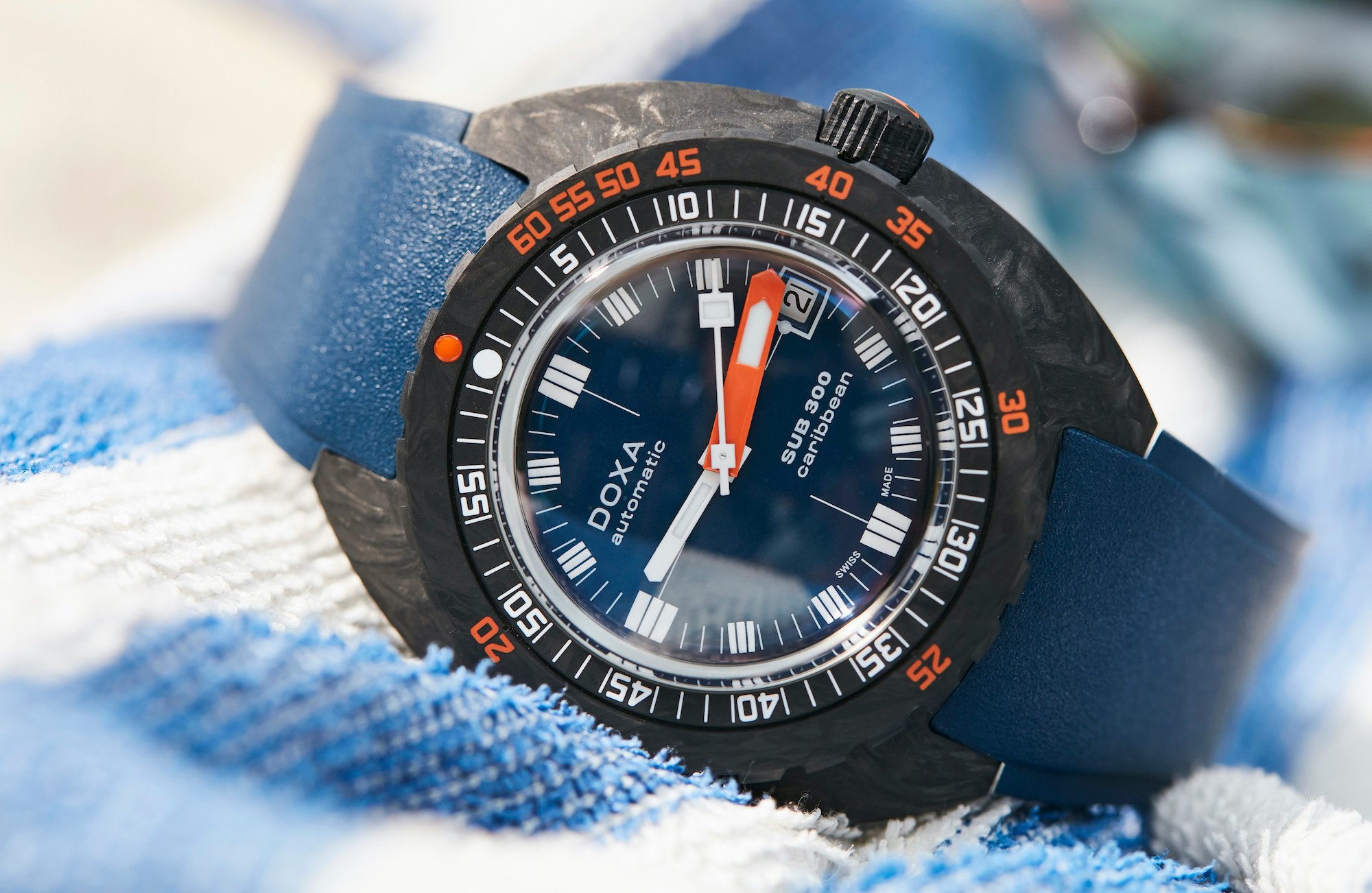 Carbon et al
Nowadays, if you fancy a Doxa Sub 300 with a forged carbon case, you can choose from a bunch of options. Virtually every Doxa dial color (seven in total) is available in a carbon case with a color-matched or a black rubber strap. I will not get into the comparison between the sturdiness of carbon versus ceramic. It really does not matter now, does it? What matters is looks, wearability, and — oh, I almost forgot — price.
At CHF 3,790, the Doxa is significantly cheaper than the CHF 4,600 Tudor, and the Sub 300 Carbon still has a COSC-certified movement. Yes, the mini-Rolex has an "in-house" caliber (maybe do some research on that) and won the GPHG in the past (and while you're at it, research the GPHG process as well), but this means nothing in my book. I respect the Tudor, I really do, but calling the ceramic BB a "Doxa killer" is a bit far-fetched, don't you think, Nacho?

Carbon or ceramic? How about both?
If you've read the recent news about Doxa, you might have seen the new Sub 300 Army that comes in — yes, you guessed it — a ceramic case. Doxa is not only pioneering the case-material game when it comes to forged carbon but also now dipping its beak into the ceramic game. Meanwhile, Tudor is releasing watches in silver cases — sorry, Mike. We can't even compare Doxa and Tudor in terms of resources. We all know who stands behind Nacho's darling brand, whereas Doxa has rather modest means when it comes to R&D. Yet, my beloved brand is kicking the butt of many other Swiss companies both within and beyond its pricing segment. So Nacho, I kindly ask you to reconsider your choice and rebrand yourself Doxa. You have until the end of today. I rest my case. Go Doxa!
It's in your hands now
You've heard Nacho drop his Doxa diss track, and Balazs write a ballad bashing the Tudor. So now the choice of which one of these two watches emerges victorious is in your hands. Make sure to vote for your favorite below, and may the best watch win!
Tune in next week for another installment of Sunday Morning Showdown!
Doxa SUB 300 Carbon Vs. Tudor Black Bay Ceramic