Sunday Morning Showdown: IWC Ingenieur Automatic 40 Vs. Zenith Defy Skyline
Which of these two modern sports watches will take the win in this heated battle?
For our Sunday Morning Showdown this week, we will feature another new release from Watches and Wonders 2023. IWC's big introduction for this year was the new Ingenieur. With the revamped version of this illustrious watch, the Schaffhausen brand brings back a fan favorite. Finally, the "Genta Ingenieur" returns to the modern sports watch arena. Will it be a hit? That remains to be seen, but Jorg is fighting for it this week.
In the other corner of the ring, Lex is backing the Zenith Defy Skyline that debuted last year. The watch has garnered its fair share of fans for its quality and design, but some people have criticized it for being "derivative" of Genta's icons. Does it stand a chance against the new Ingenieur? That's up to you all and your votes. After reading both writers' arguments, cast your ballot for the watch that you think should emerge victorious.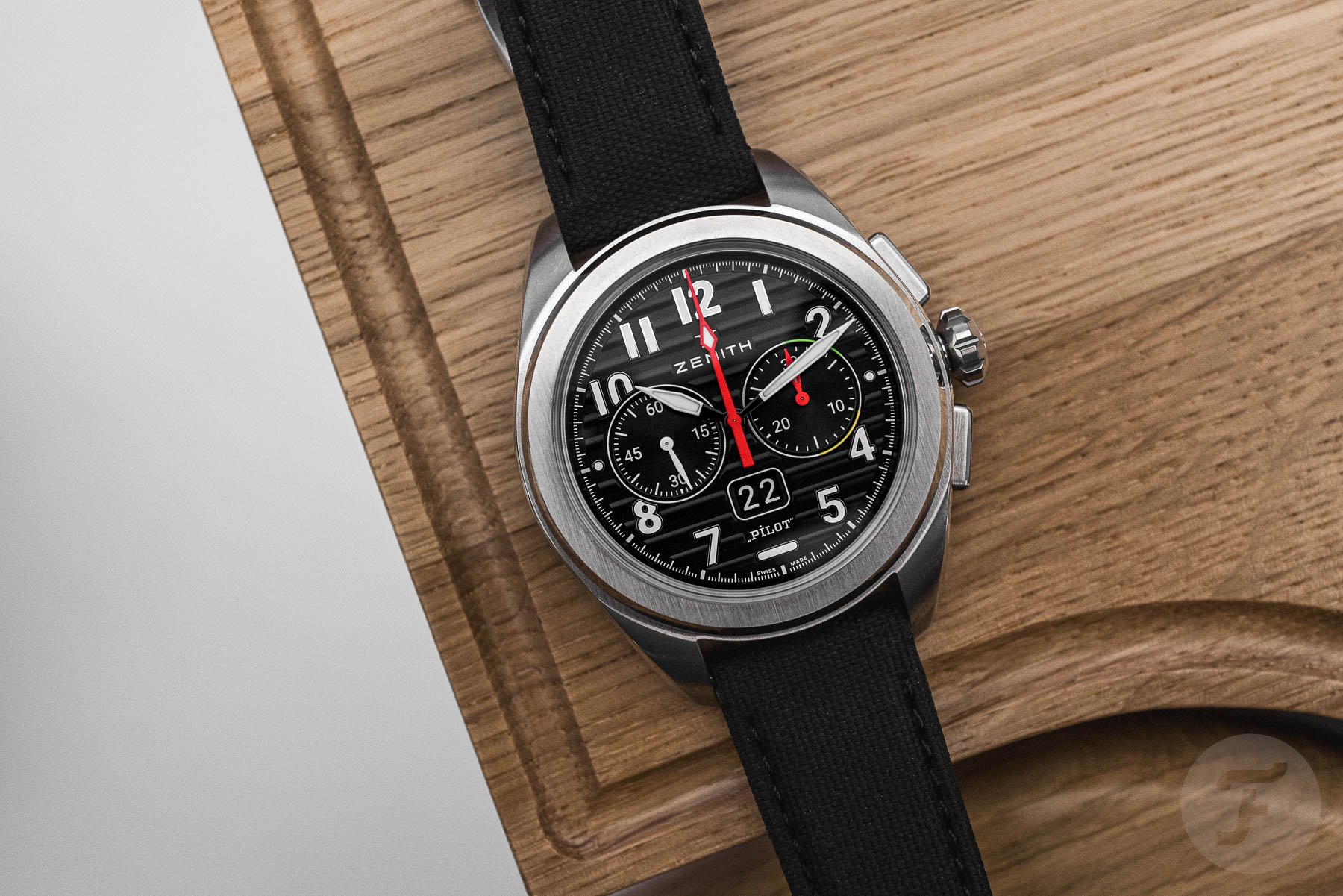 Last week on Sunday Morning Showdown…
But before we hand it over to Lex and Jorg, let's take a look at last week's showdown. It may not come as a big surprise, but the new Zenith Pilot Big Date Flyback beat the Chopard Mille Miglia Classic Chronograph by a mile. Zenith's new take on its famous Pilot series got a solid 77% of the votes, and the Chopard ended up with only 23%. Reading the comments, however, a couple of things stood out. The Zenith is definitely not a universally loved design, and the Chopard is getting criticized because of its price. This left several readers choosing between the lesser of two "evils" rather than voting in passionate support of one or the other. We have another Zenith in the battle this week, so can the brand make it two wins in a row? Over to Jorg and Lex.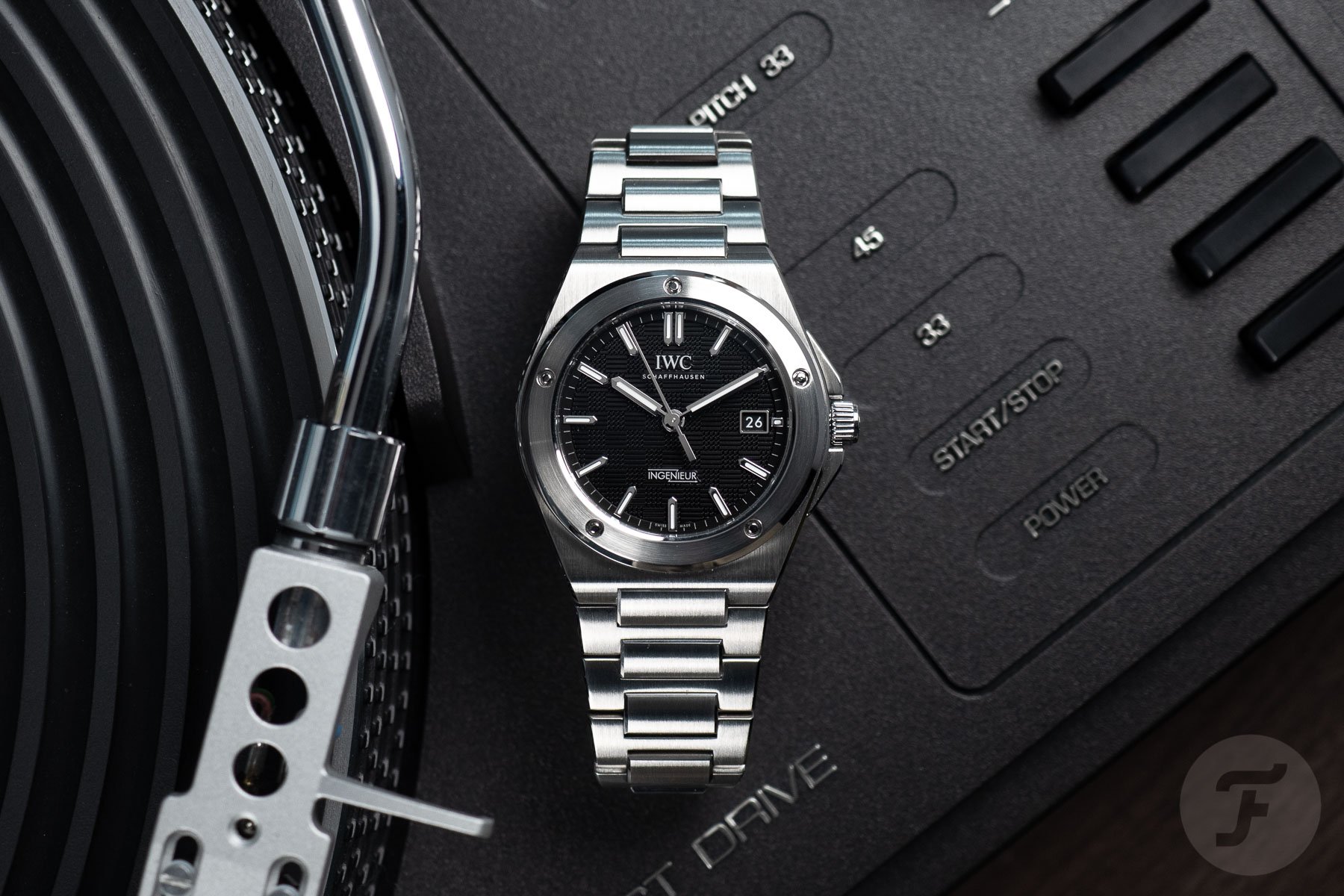 Jorg: IWC Ingenieur Automatic 40
This is a first, Lex! We've never faced off in this series before. But I guess there is no escaping the inevitable. It had to happen at some point, and with a watch that we both wrote about not too long ago. On top of that, it's a watch we both love in its previous iterations, so it only made sense that the IWC Ingenieur would be part of our first Sunday Morning Showdown. So let's dive right into it. I have expressed my love for the Genta-designed Ingenieur multiple times on Fratello. Among my articles was a plea to IWC to bring back the Ingenieur SL "Jumbo" ref. 1832 that Gérald Genta designed in the 1970s. And here we are, 14 months later, and it has become a reality.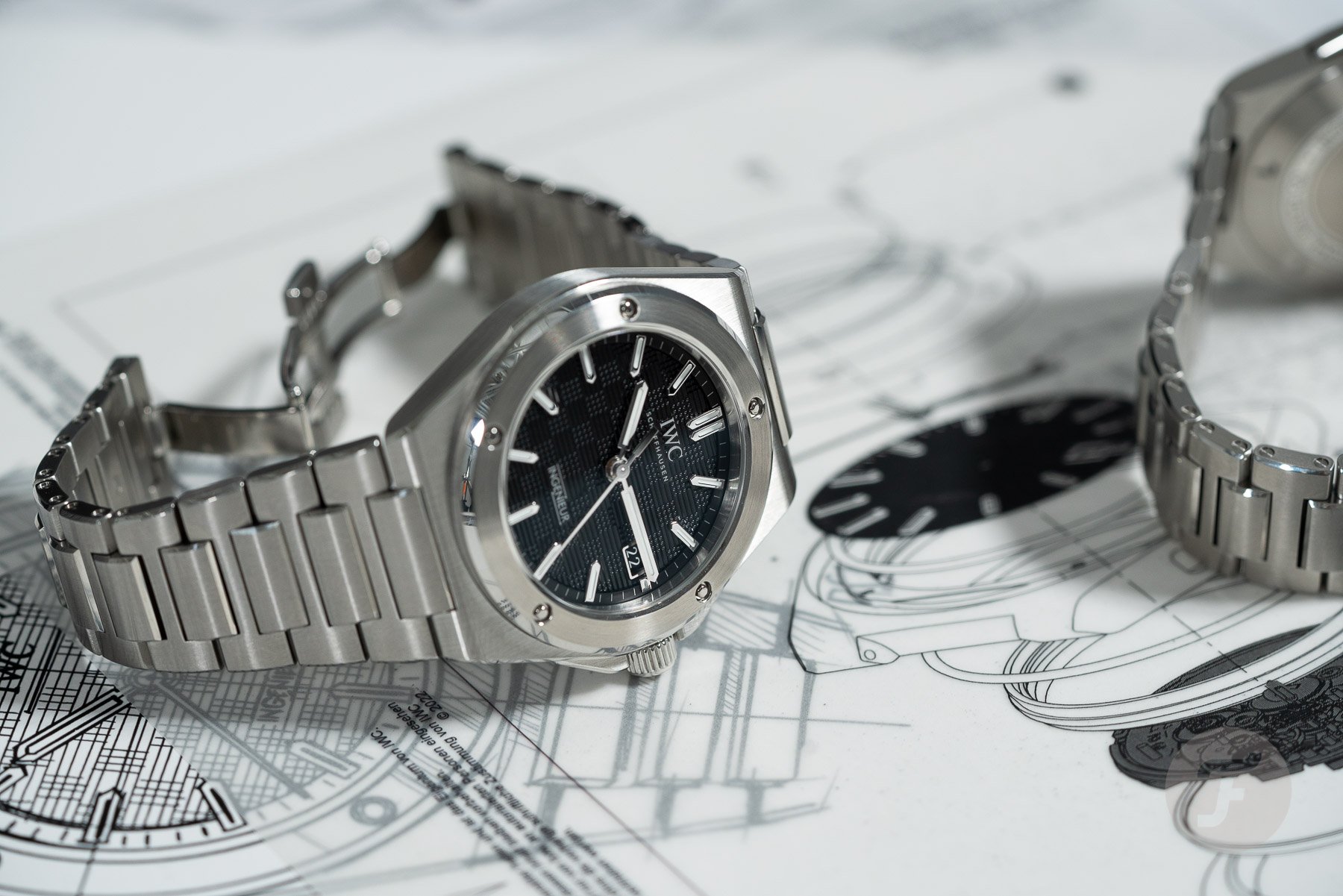 I have always had a special bond with the IWC Ingenieur since I first laid my eyes on the Genta-designed version. As I explained in the article I just referred to, I love that Ingenieur for a lot more than just being a stylish watch. It comes with a wide range of memories that remind me of my father. More specifically, they remind me of his work as an engineer in the oil and gas industry. He used to bring home rolls of graph paper to work on technical drawings late at night when my brother and I were in bed. If ever there were a watch besides the Omega Seamaster De Ville he owns that suited him, it was the Ingenieur SL Jumbo ref. 1832.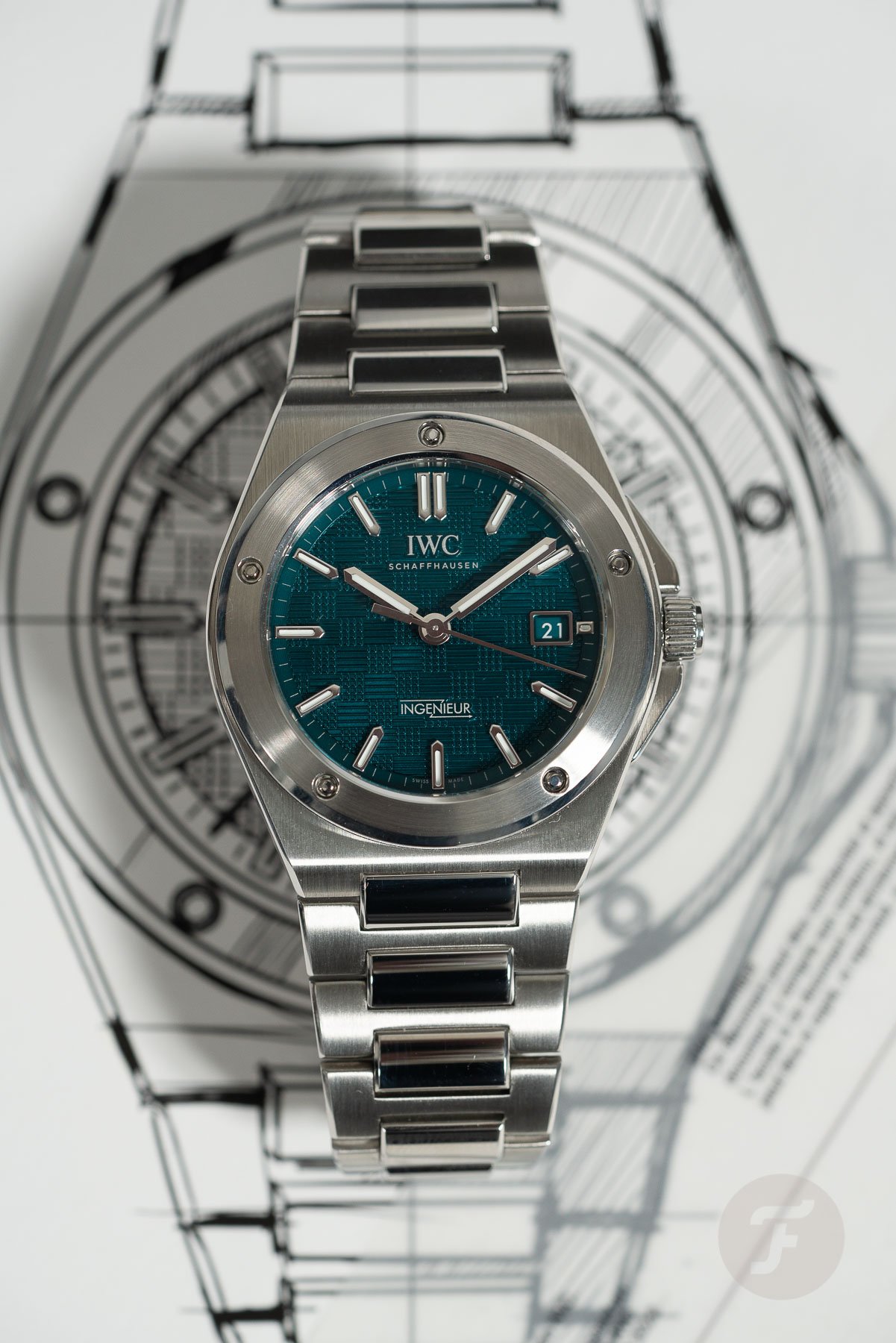 The new design brings back a lot of great memories
The name, the graph-paper-inspired dial pattern, the modern but functional design, and the antimagnetic properties were elements that made it so special for me. Because of these things, the Ingenieur fit my dad's professional life perfectly. And looking at the new Ingenieur, I see a lot of those elements return. So is it all that I could hope for? In many ways, it is. First of all, I like this new form a lot. I actually see the '70s design reflected in the new version. In my opinion, it captures the spirit of the Genta Ingenieur a lot better than the ref. 3227 from the mid-2000s and the ref. 3239 that came after. While they were designed in the spirit of Genta's piece, this new version is the actual modern successor.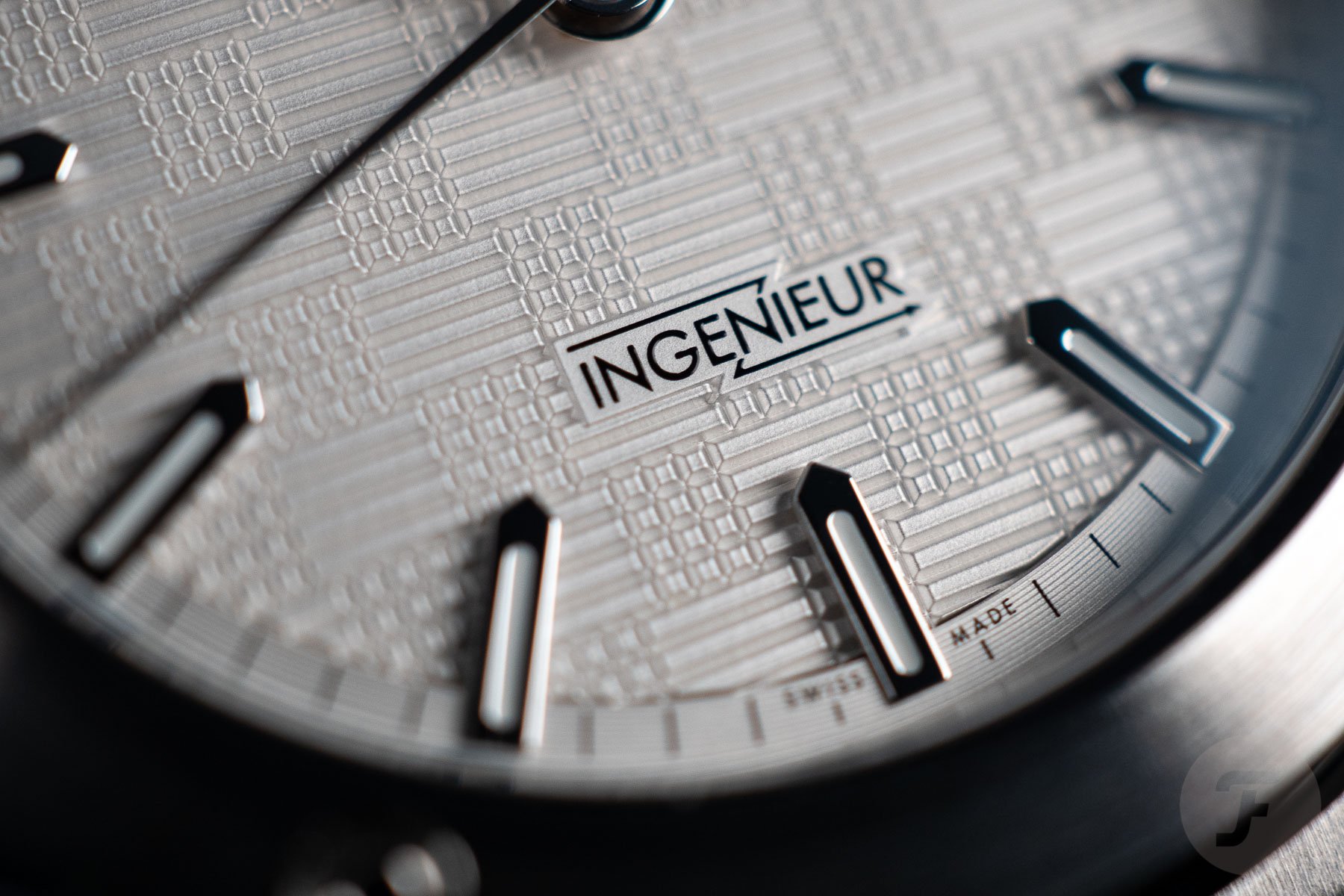 This nice 40mm case that is 10.8mm thick and 45.7mm from lug to lug links back nicely to the original watch. The new crown guards are welcome additions that offer practicality as well as provide a nice visual effect. This dial is a great mix between the old and the new. Genta's graph paper effect returns to the dial and gives it character and depth. The characteristic Ingenieur logo also makes me smile because it has the quirky vibe it needs with the zigzag arrow and the "Ingenieur" wording. Furthermore, the modern details become apparent when you look at the beefed-up hands and indices compared to the original. But as they are executed in the same style, they connect perfectly to the past.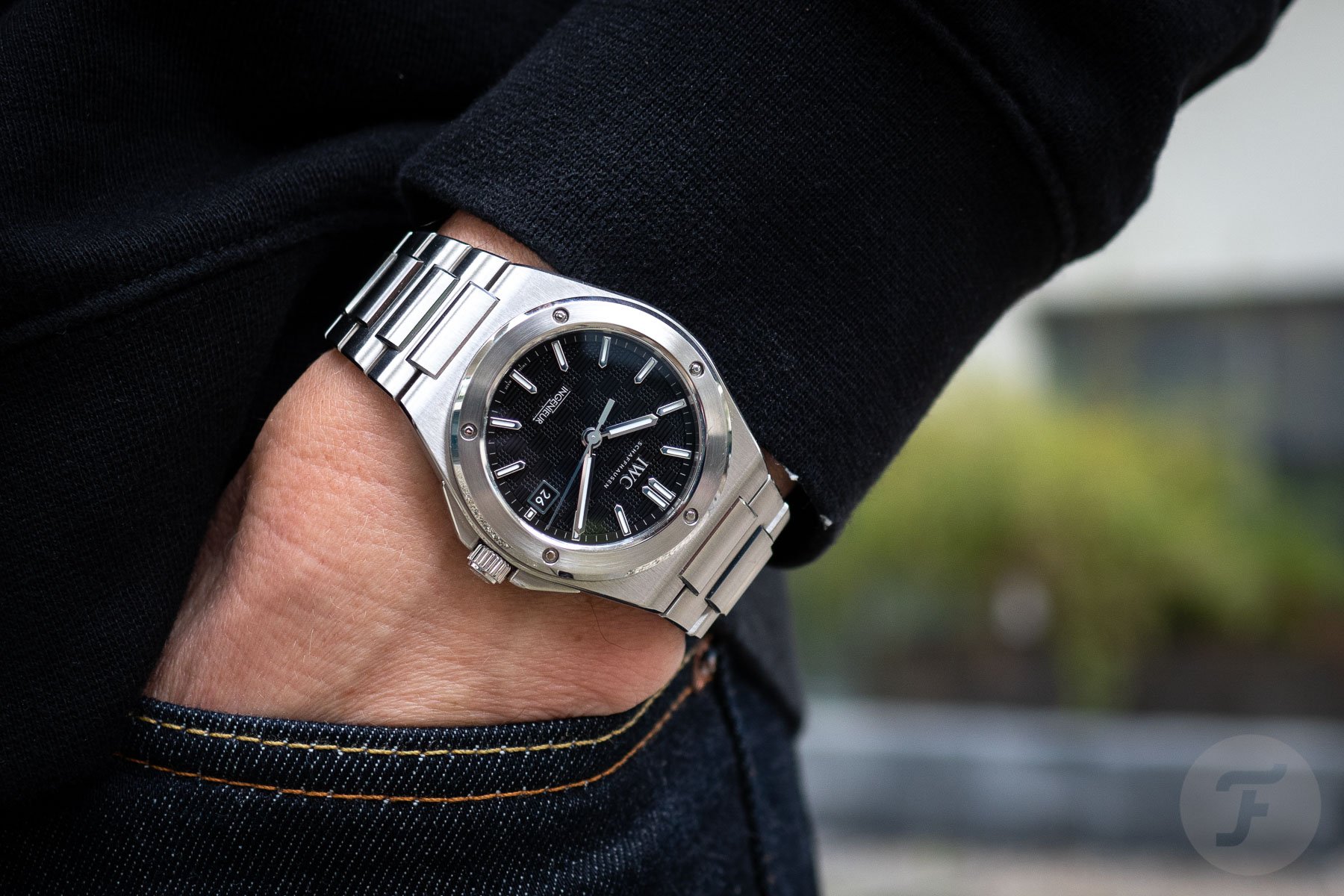 Still an engineer's watch at heart
The IWC caliber 32111 that powers the watch is housed in a soft iron cage to give the watch its antimagnetic properties. As Thomas explained in the introduction article, it is IWC's version of a Richemont group caliber with a 120-hour power reserve, 28,800vph beat rate, central seconds, and a date at 3 o'clock. It's a fitting movement that enables IWC to create a watch that is not as chunky as its predecessors and fits the 40mm case perfectly. So in many ways, this is a great modern version of the Genta classic.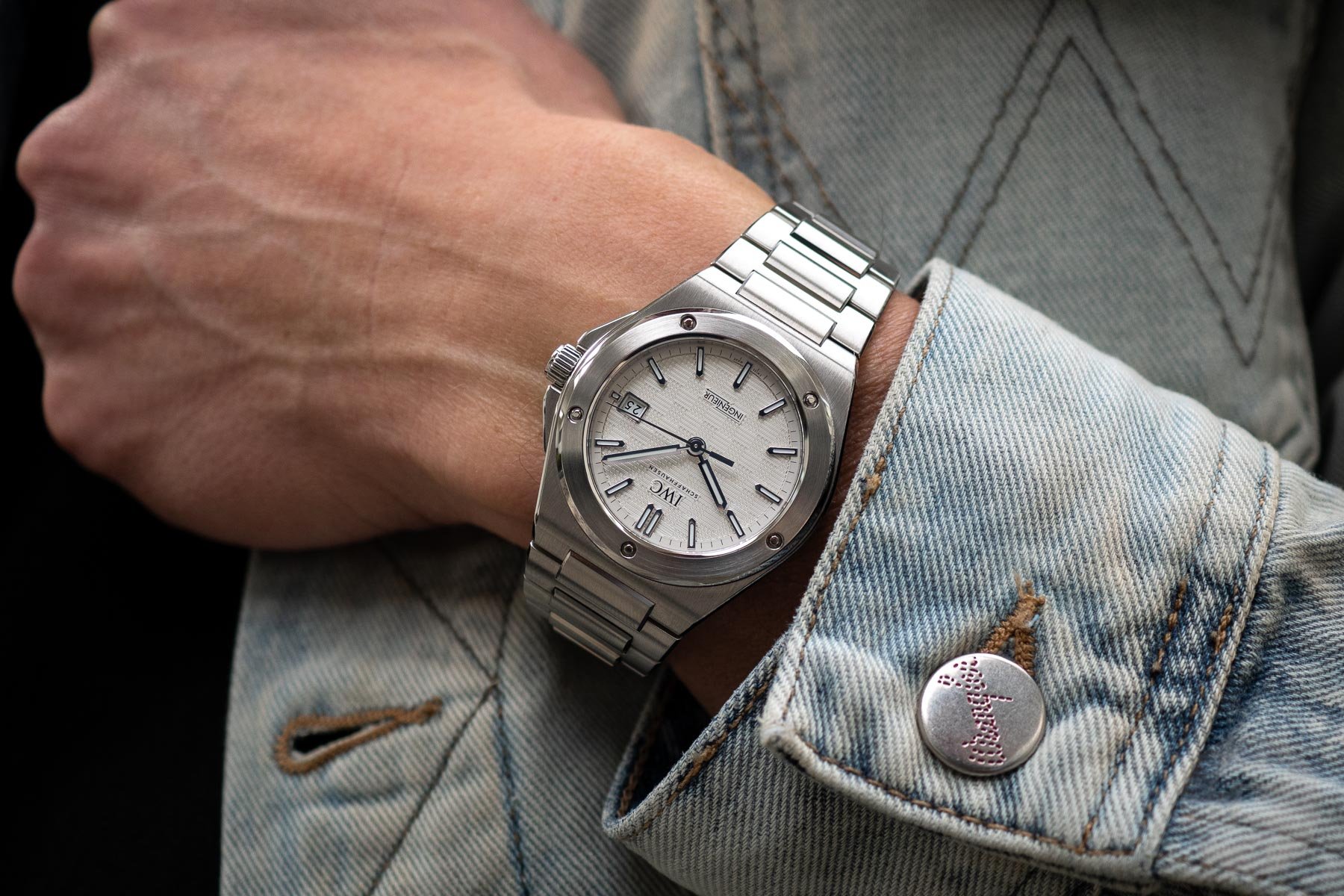 But is it a glorious return of the icon? Well, some elements do raise an eyebrow or two. As Thomas explained, the bracelet certainly has its downsides, especially in the price segment that this watch is in. It doesn't feel as sturdy as some of its competitors' bracelets, despite looking great. On top of that, it has no micro-adjustments, which is a miss in my opinion. And the overall finishing is decent but not spectacular. Put this in the context of its €12,900 price, and you have my main gripe with the new IWC Ingenieur. It's an expensive watch. Not only is it expensive within the IWC collection, but it's also simply a lot of money for what you are getting.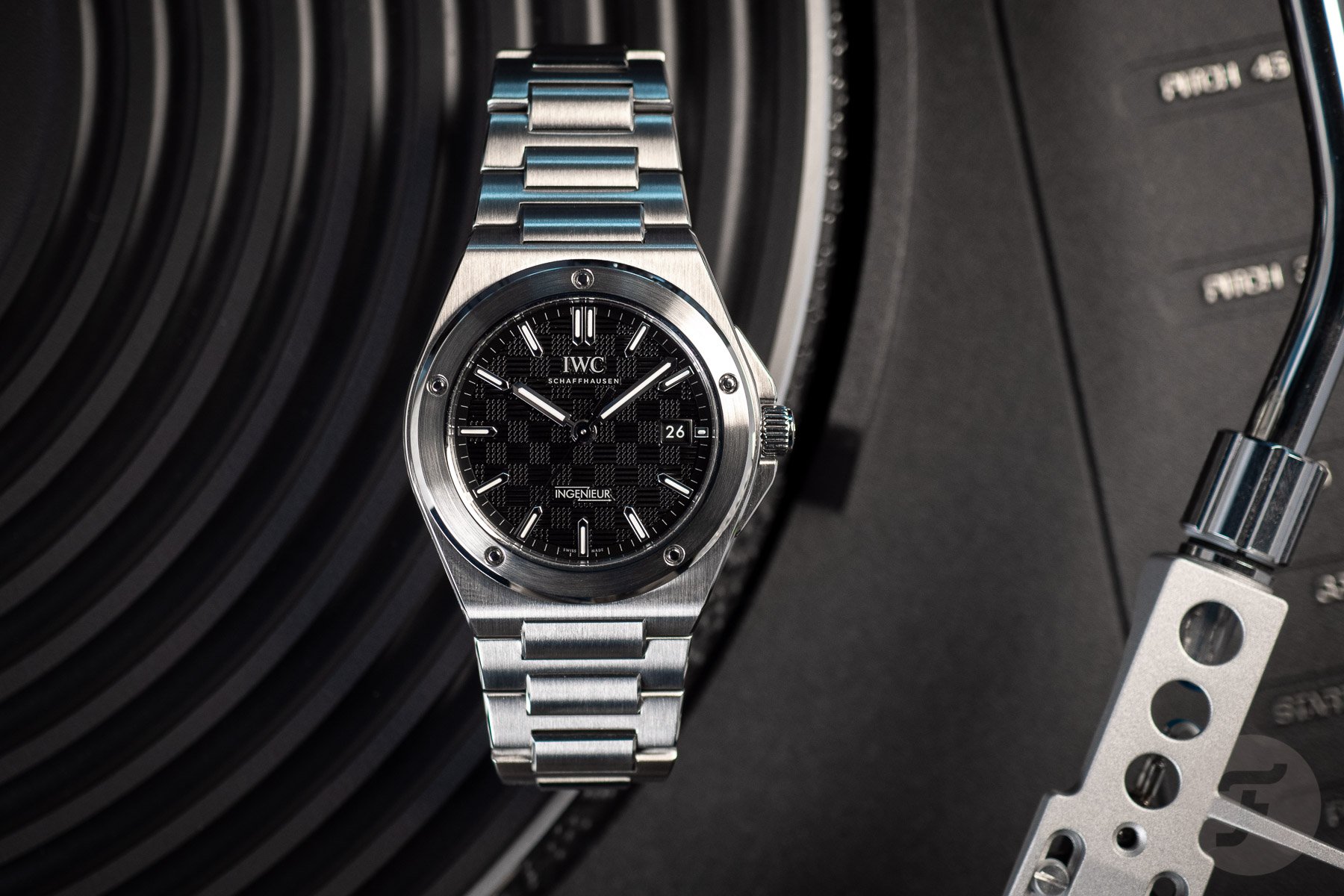 Sentiment goes a long way
For nearly €13K, I would expect IWC to knock it out of the park, first, because of the price you pay, and second, because the Ingenieur deserves it. Its legacy is far greater than most watches out there. But the legacy and my personal connection would also have me spending the €3.5K premium for the Ingenieur over the Zenith Defy Skyline without hesitation. IWC has designed a worthy successor to Gérald Genta's classic Ingenieur that does not cause me to question basic design issues. This is why I would pick it over the Zenith every day of the week, especially on Sunday. But do try to prove me wrong, Lex.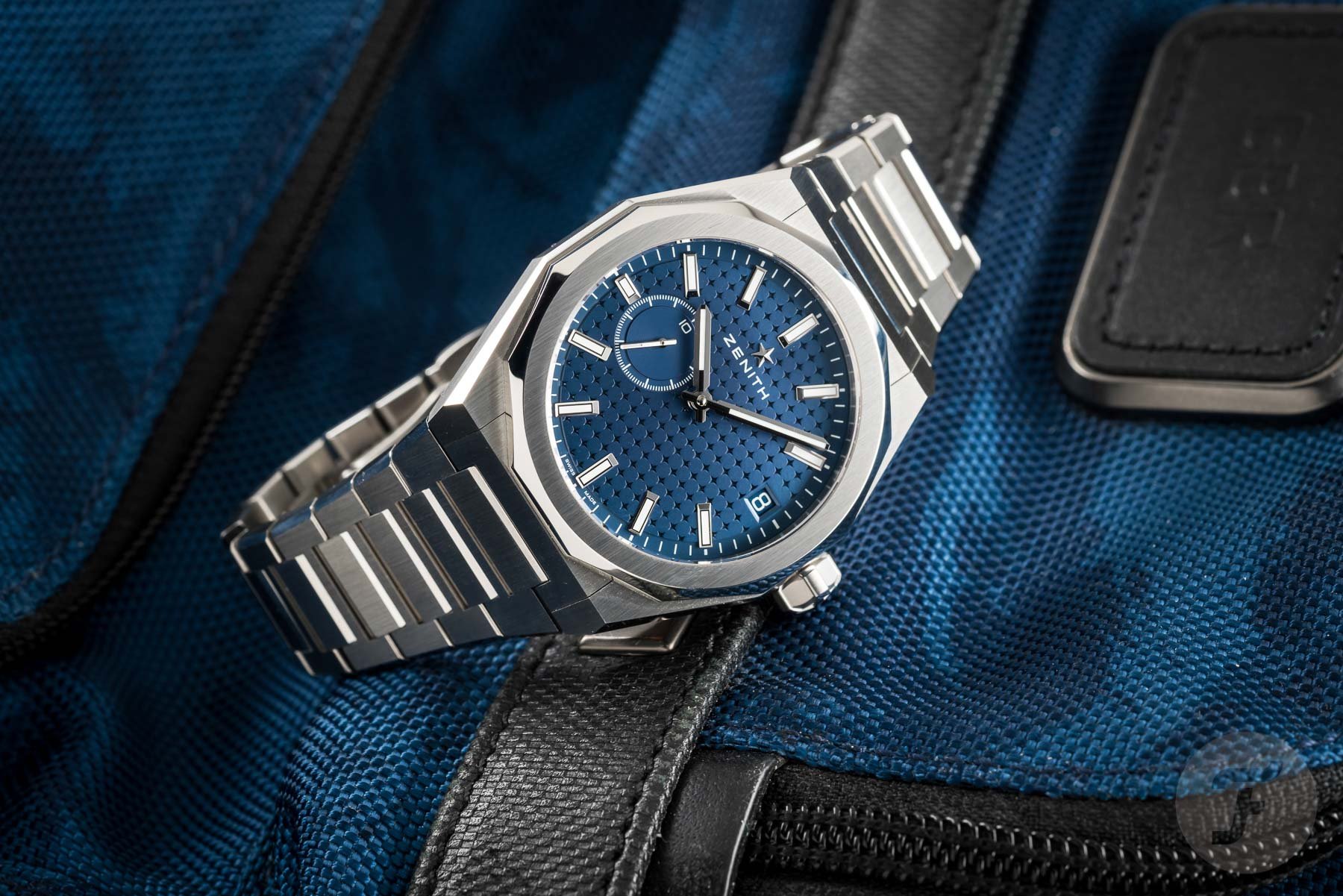 Lex: Zenith Defy Skyline
I just took a look at the IWC's price tag again, and then once more to make sure my eyes didn't deceive me. Okay, they didn't. The price tag read €12,900. When I look at the little card dangling from the bracelet of the Zenith Defy Skyline, I read €9,400. Okay, where do I start? Doesn't matter; this is going to be a bashing of biblical proportions. So, for €3,500 less — that's enough for a Tudor Ranger and a luxurious dinner for two — you get a whole lot more watch. Let's start inside the octagonal 41 × 12.5mm steel case, where you will find the in-house El Primero 3620 high-beat automatic caliber. This is a non-chronograph version with a neat trick up its sleeve. Whereas the IWC uses a very mundane 4Hz movement with central seconds, this 5Hz El Primero caliber displays a very dynamic and unique 1/10th-of-a-second register at 9 o'clock.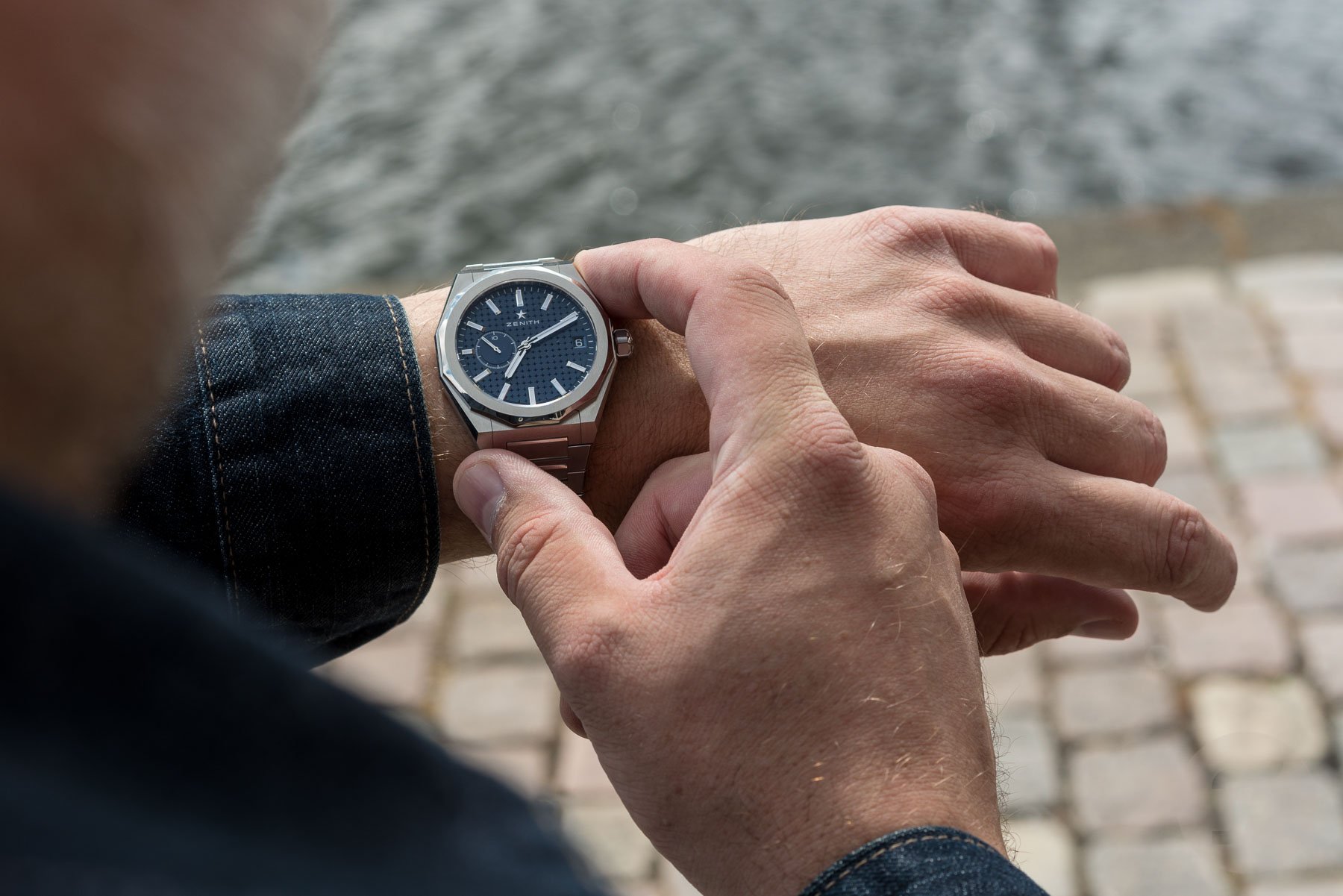 Quite a moving spectacle
The El Primero movement with its vigorous 36,000vph beat rate and 60-hour power reserve can be admired through a sapphire display case back. The IWC, on the other hand, chooses to hide its inner workings, and I'm guessing there's more than just a practical/antimagnetic reason behind that. Anyway, the Zenith's movement with its star-shaped rotor offers a wonderful horological spectacle.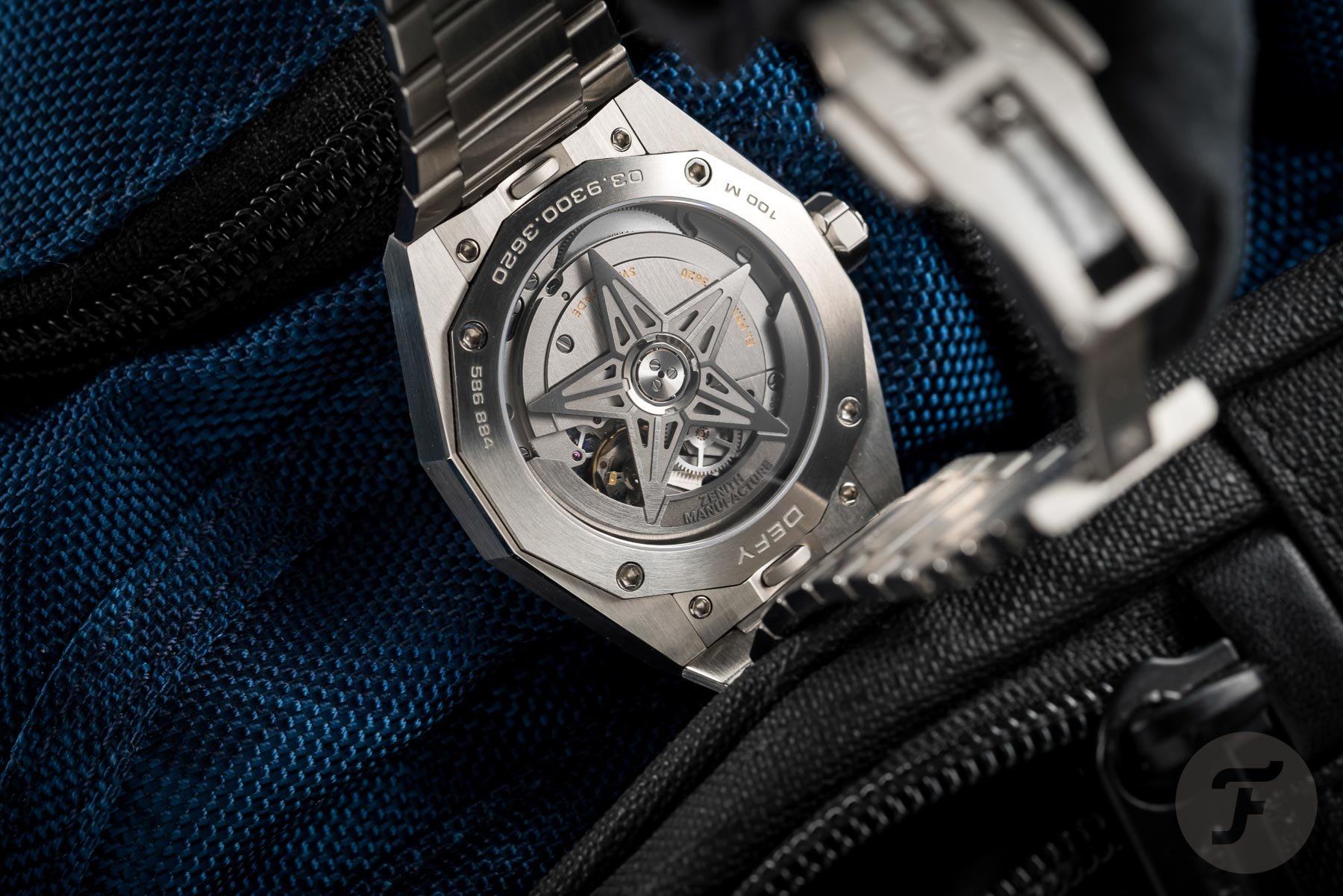 Other quite spectacular features of the Defy Skyline are the faceted bezel that adds heaps of character and the integrated H-link bracelet that does the same. The bracelet has faceted links that show pronounced brushing and also a bit of polishing for some much-needed reflection. This watch is every inch a luxury watch. And that is true not only for the way it's finished but also for how it wears. Indeed, the bracelet feels very solid and wears like a charm. In my humble opinion, this bracelet beats the IWC's hands down in terms of looks, finishing, and comfort.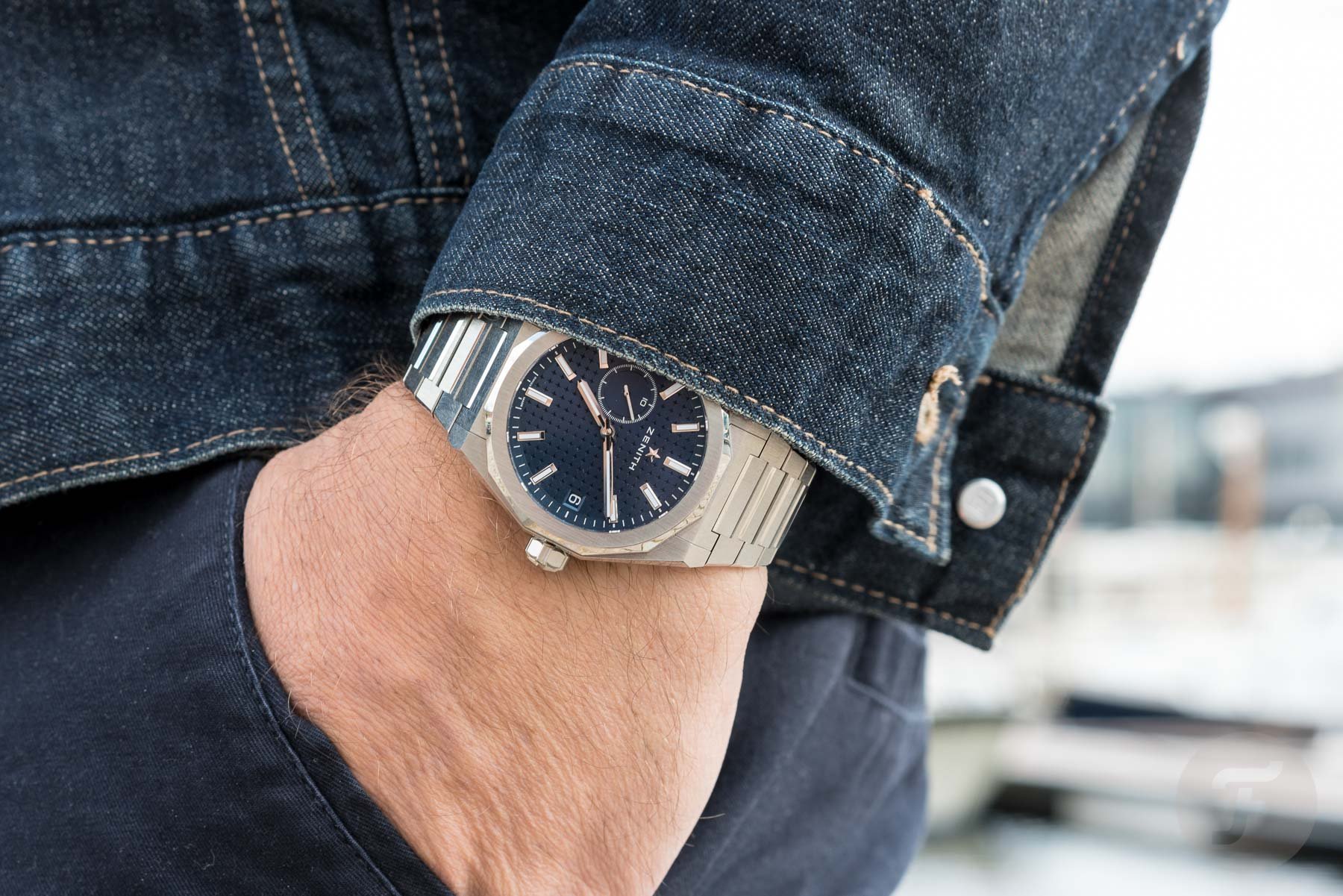 It doesn't look like a Louis Vuitton bag
The same goes for the dial. The IWC has me thinking I'm looking at a Louis Vuitton bag. Maybe LVMH will acquire IWC one day, but for now, it's the competition and owner of Zenith. And the Zenith doesn't have a dial pattern that makes you think of competing luxury brands. On the contrary, the blue dial of the Defy Skyline (03.9300.3620/51.I001) shows a blue-toned sunburst-patterned dial that plays with Zenith's old four-pointed star logo.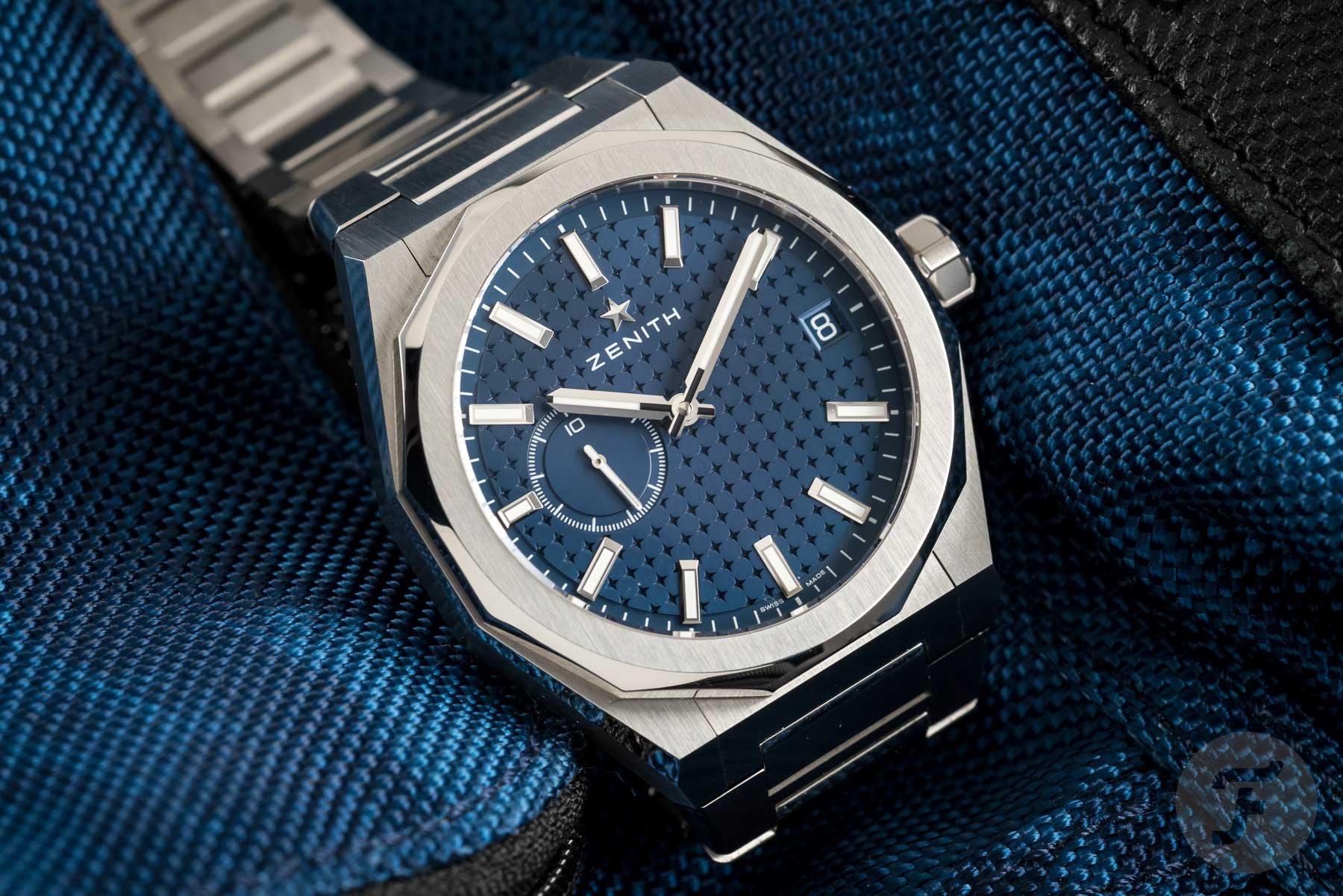 The Zenith Defy Skyline is an integrated-bracelet steel sports watch with heritage, an original design, and a unique in-house movement. Even better, it stays below the magic €10K mark. It has enough characteristics and design features that some of its iconic competitors also have. That includes today's opponent the IWC Ingenieur, a Genta design from the 1970s. The Zenith doesn't need that illustrious name to try to win the hearts and minds of watch aficionados. The Defy Skyline does so because of its fresher looks, originality, superior movement, better bracelet, and way more realistic price. It is simply much more watch for less money. Come on people, voting for the Defy Skyline is a no-brainer!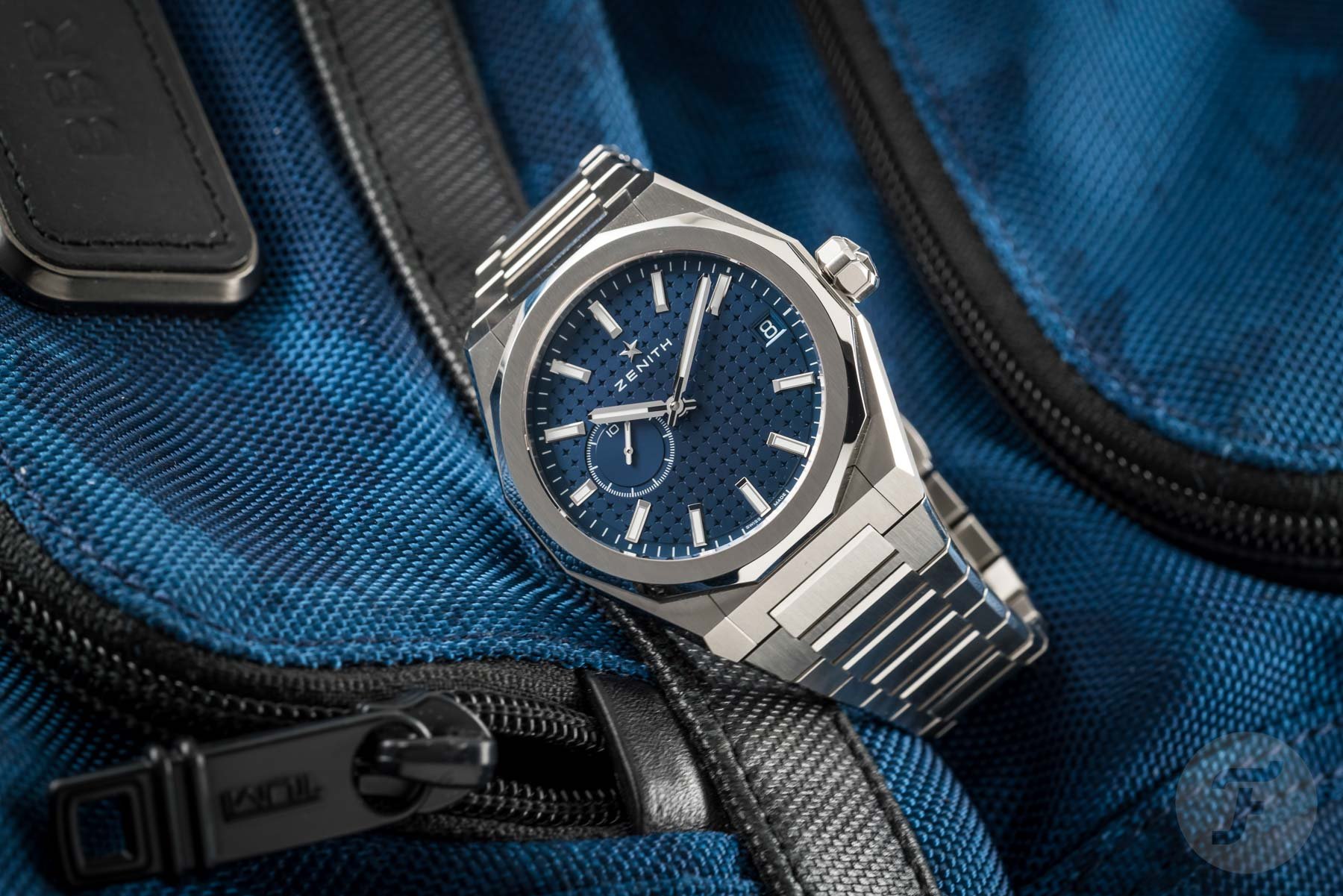 Time to vote!
There you have it, folks — another Sunday-morning battle with two modern sports watches going toe to toe for the win! Will it be the new Ingenieur that gets your vote? Or are you an uncompromising fan of the Zenith Defy Skyline? Make sure to vote for your choice below, and let us know why you picked it in the comments as well. See you next week for another installment of Sunday Morning Showdown!
IWC Ingenieur Automatic 40 Vs. Zenith Defy Skyline