#TBT A Forgotten Venus 211-Powered Avia De Luxe Big Date On Its Way To Bombay
Going deep into the safe to make a fellow collector and writer happy
It's not often that someone reaches out to me and says he would like to celebrate his 50th birthday with one of my watches — any quirky watch of my choice! Last Saturday, I got an intense workout with my friend while working on his garden project. At just about noon and feeling pretty tired, we returned home and put the kids to bed. I found an interesting message in my Instagram inbox at about that time. It read, "It's my 50th b'day today. I'd love to own a quirky piece belonging to Tomas Rosputinsky. Would you sell me any?"
The message came from a collector in Bombay named Aashdin Billimoria, who you might remember from a recent interview with RJ about his Omega Speedmaster Professional 145.022-76.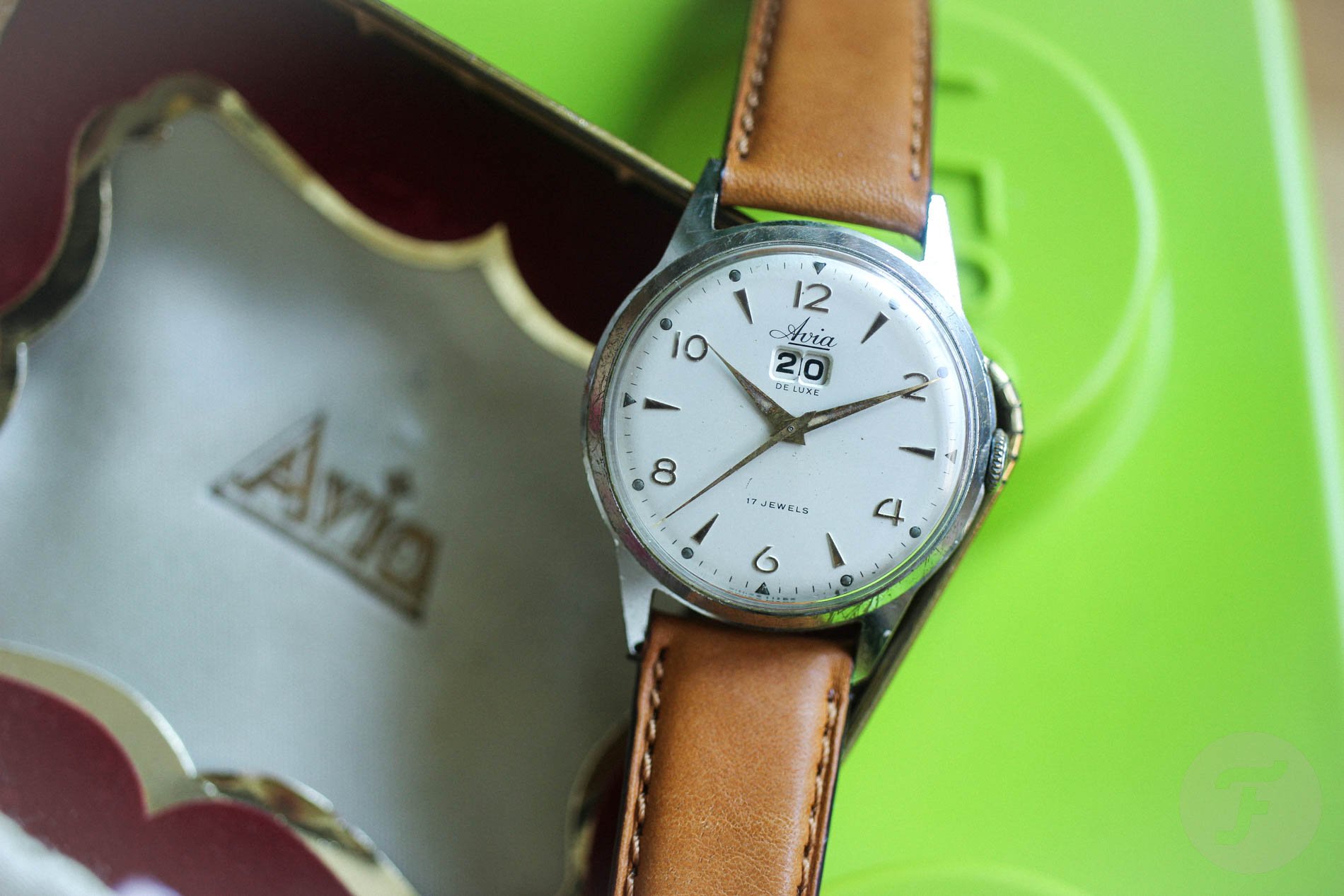 Aashdin got me in a proper mood
I have been familiar with Aashdin's collection for quite some time. I also know that he recently published a 100+ page book, Nivada Grenchen Antarctic – The History of a Legend. A part of my ego liked his request's straightforwardness and originality. As I wasn't up to much after an exhausting morning workout, I decided to look into my archive to see if there was anything quirky and affordable that I could easily part with.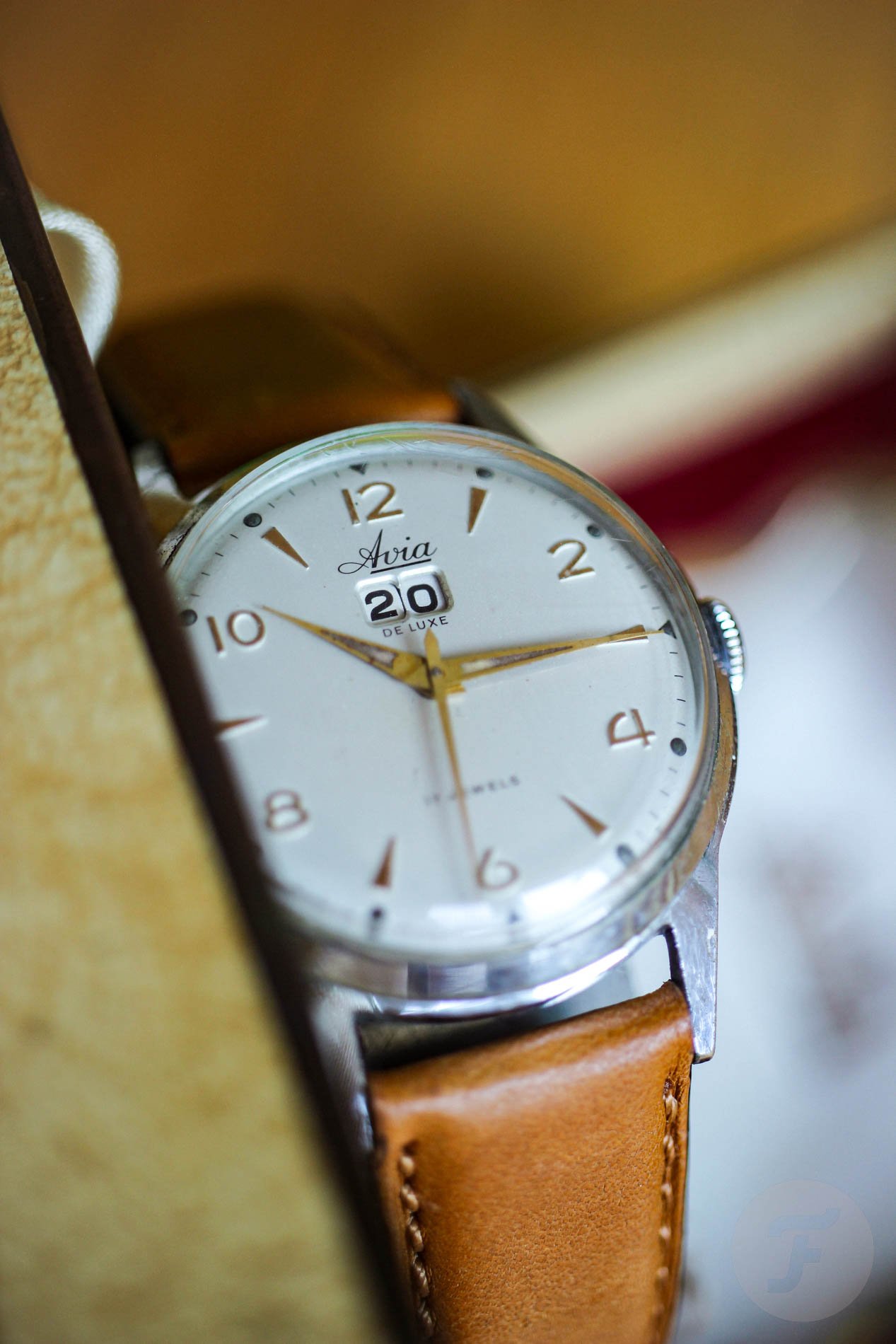 It didn't take long until my eyes fell upon an unusual big-date Avia that I'd bought in its original box. Funnily enough, I'd forgotten to remove the watch from the box before throwing it in there. The watch itself had never seen my safe from the inside, meaning the two of us had never met when I picked up a watch in the morning. Well, however awful it may sound, in the roughly three years that I've owned the Avia De Luxe Big Date, I have never worn it!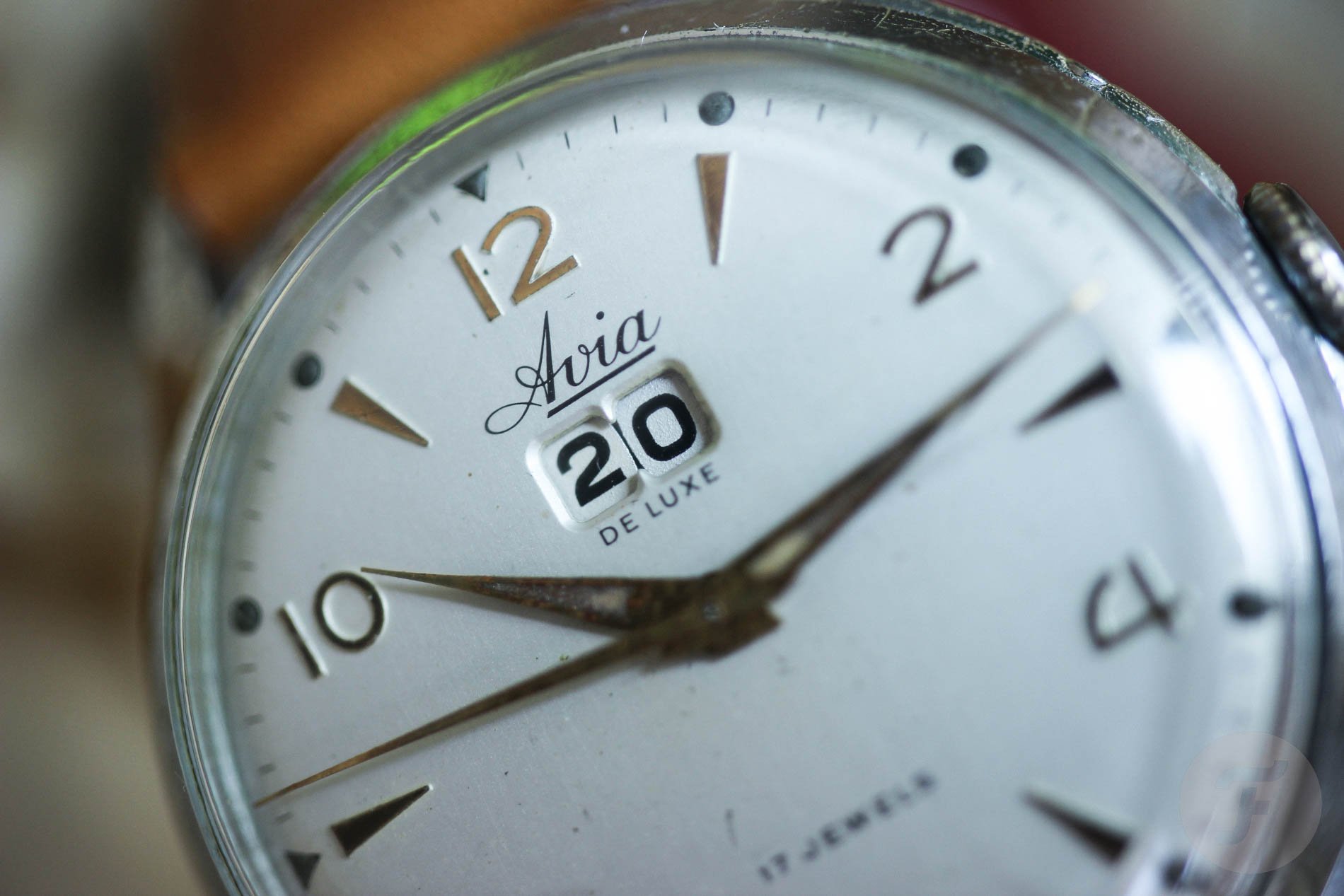 The scarce Venus 221
I knew this was the watch for Aashdin. And he loved it the moment I showed it to him. I do not wonder why. I have seen maybe about five Venus 221-powered big-date watches in the last five years, and I bought all of them. Or maybe I missed one… Anyway, this isn't a movement you bump into every day. You can read more about it in my first article here. Or you can read about the entire Venus Big Date family here.
Recap
Two numbered discs sit super close and rotate against each other. That's it. It is a perfect imperfection that will have you witness the date going from 31 to 32, then even up to 39. Aashdin, prepare your toothpicks, find the pin above the crown, and enjoy one of the most amusing experiences a vintage date-equipped watch can offer. And Fratelli, I hope you turned your sound on when watching the video above. The precision of the date switch and the clicking sound of the rotating discs is just priceless.
The other Avia
There is something I didn't tell Aashdin, and he will read it for the first time with you when reading this article. The reason why I bought this Avia goes beyond the big date. In Slovakia, formerly Czechoslovakia, Avia was a car manufacturer. The company manufactured an A31 truck, and my father got three of them. When he was about 50, he almost died in a car crash. After seeing the wreck of his Avia A31 cabin, no one knew how he could have survived it. Thankfully, my father recovered after months of treatment. And I will never forget his Avia A31 that he drove me to school in occasionally.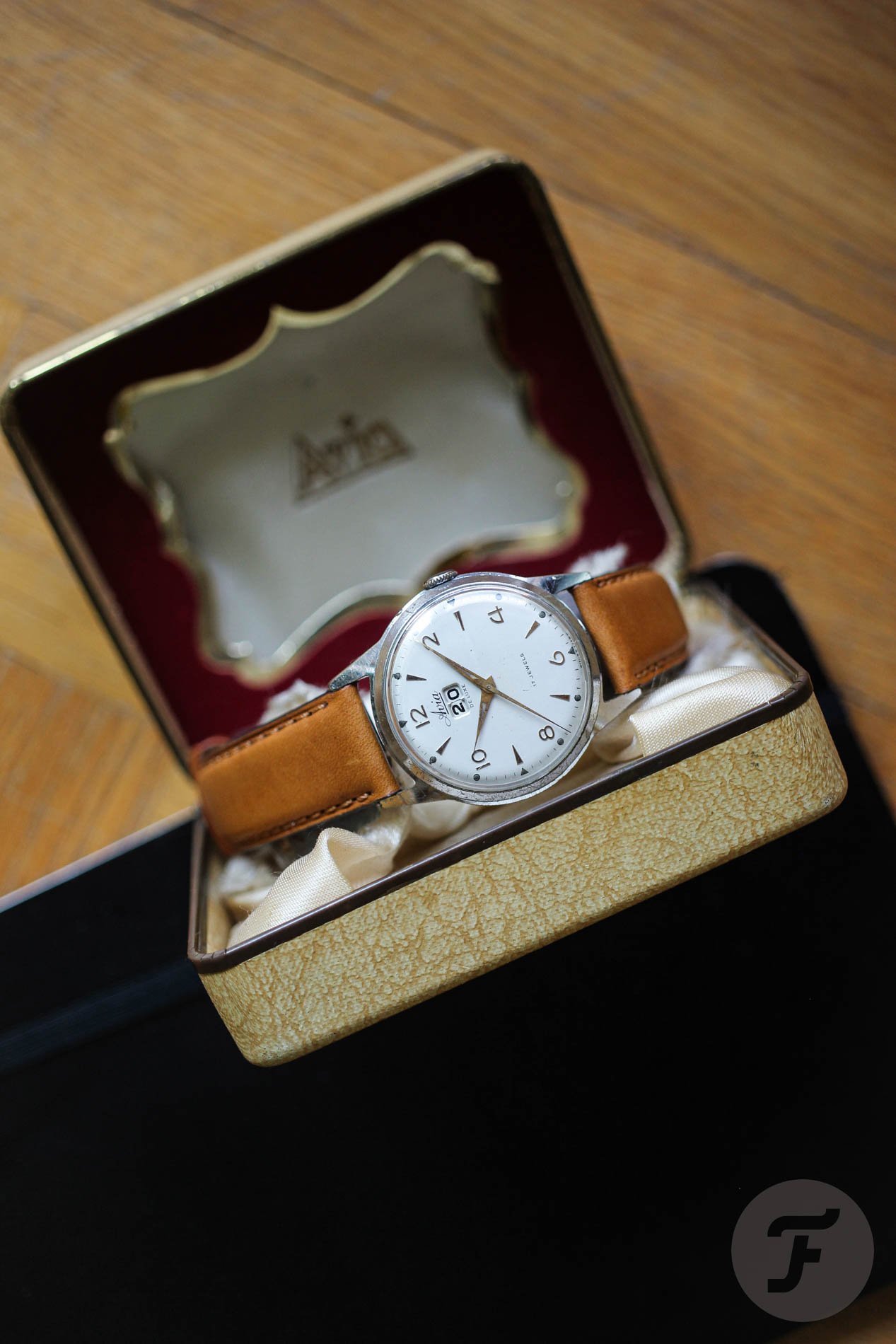 Back to Avia watches
According to Kathleen Pritchard's Swiss Timepiece Makers, 1775–1975, Avia was founded in 1887 as H. V. Degoumois. It was located in La Chaux-de-Fonds until 1933 when it moved to Neuchatel. The company was first co-listed as Avia in 1945. Avia had a strong presence in the UK in the late 1950s. You might want to look at the Avia Ajustor, an unusual watch with a micro-regulator for the balance on the outside of the case.
Avia De Luxe
The movement and complication are in line with the model name. We can't say that the case is De Luxe, though. This 34–35mm Avia De Luxe would be a spectacular watch if it were all steel. A bit of chrome flaking here and there isn't a deal breaker, but it's not what you like to see. A hint for watch hunters: set an eBay notification on new Avia De Luxe watch listings. Get ready. You will see a lot of watches you don't want to see, but you might get lucky too if you check your email box regularly.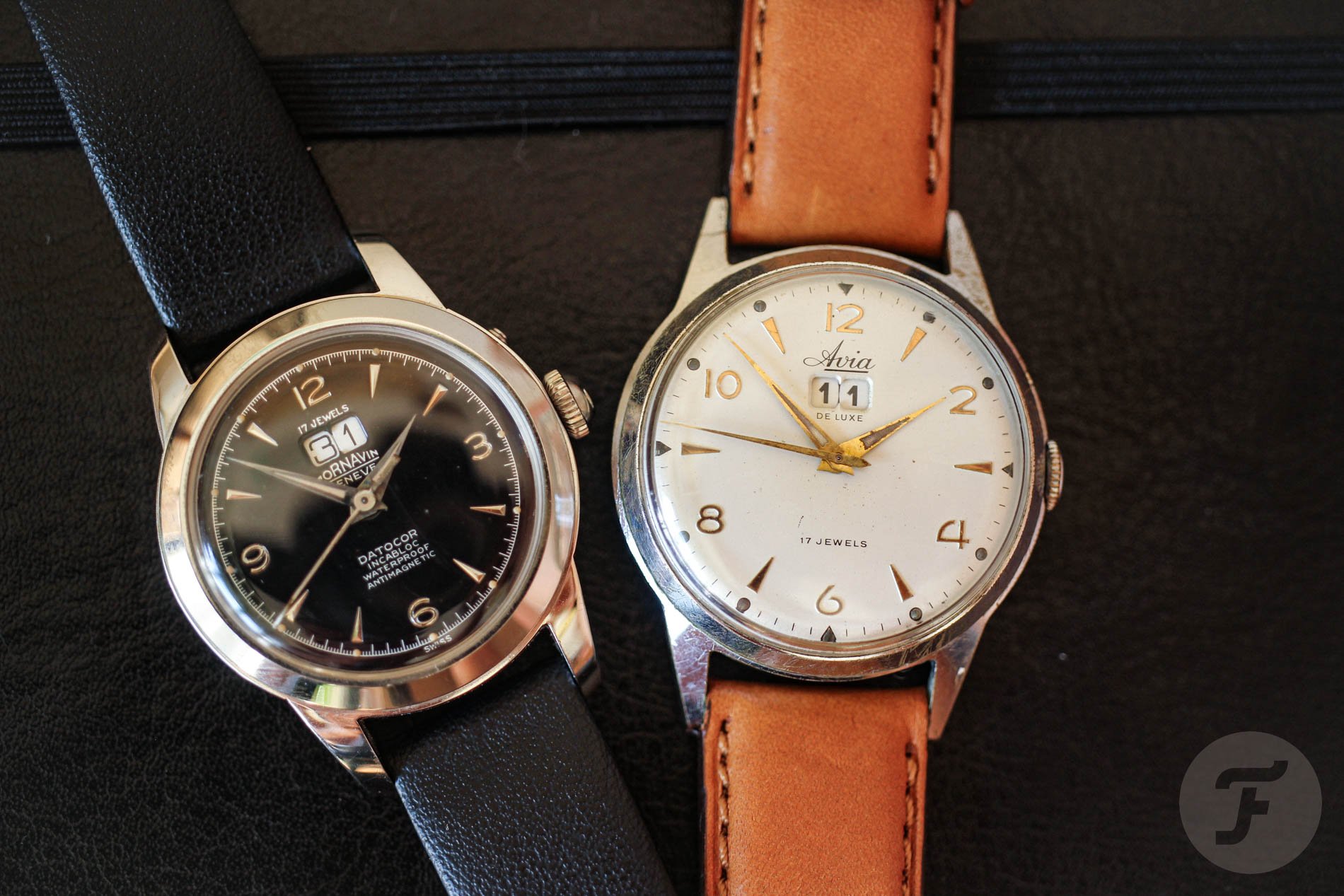 Cornavin Datocor vs. Avia De Luxe
In a direct comparison, the Datocor and its black dial look a bit more elegant, but the case is also a bit chunkier. The Avia De Luxe has a much thinner top case ring, so it looks more spacious and sportier. What puzzles me is the printing of the numbers on the date discs. I have no doubt that it's original, but notice the style and how thick the printing is on the Avia De Luxe.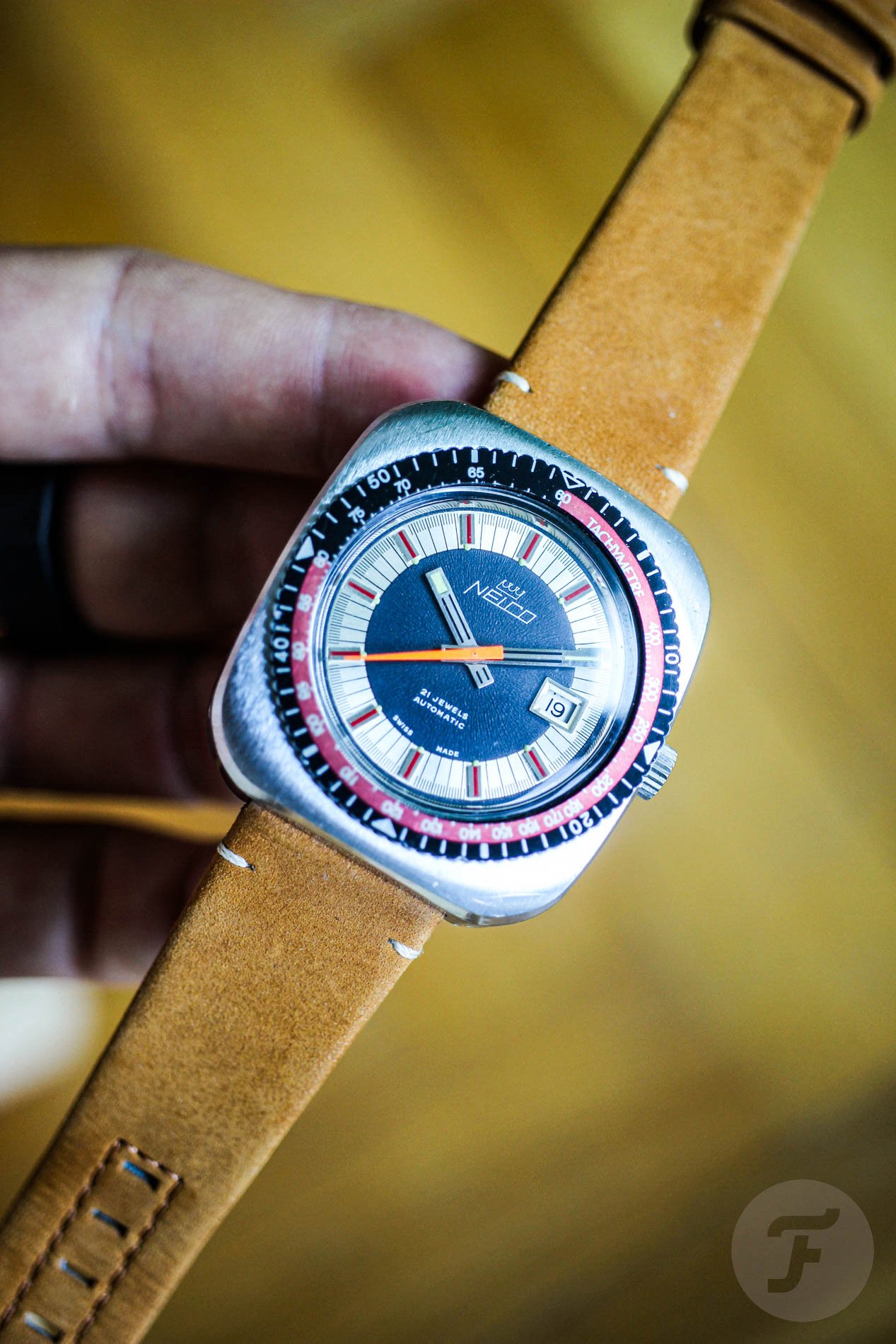 Last thoughts
I learned from Aashdin that he'll soon finish his new book about affordable vintage watches, including wrist alarms, jumping-hour watches, character watches, and skin divers. He wanted me to contribute with an unusual vintage diver, so I added a colorful Nelco that I bought years ago in Sweden. It has a plastic patented case back, a minute bezel combined with a tachymetric scale, and an unusual handset with two thin black lines. Stay tuned for Aashdin's new book; maybe you will find a word or three on both the Avia and the Nelco. Happy hunting!