#TBT How A Cosmic Crown Made Me Buy A Stellaris Watch
By the way, does that dial seem familiar to you too?
This watch could easily be nicknamed "the poor man's Omega Seamaster CK2913". It's a rather tiny watch with a likable dial, enigmatic branding, a "crippled" hour hand, juicy lume, and a cosmic treatment to the crown grip. This Stellaris is my kind of watch.
I think it came to me in one batch with the Lanco Baracuda. Well, before it came to me, I bid on it spontaneously. Judging by the insignificant name on the dial, my purchase couldn't have resulted from a long hunt. I didn't have the slightest clue that such a watch existed, and it was a rather impulsive purchase while yawning and waiting for Lanco to hit the auction block. And since I landed this Stellaris, I haven't seen another one. Well, I found the same dial and hands in a simple chromed case, but not in a steel case with modern and sporty twisted lugs.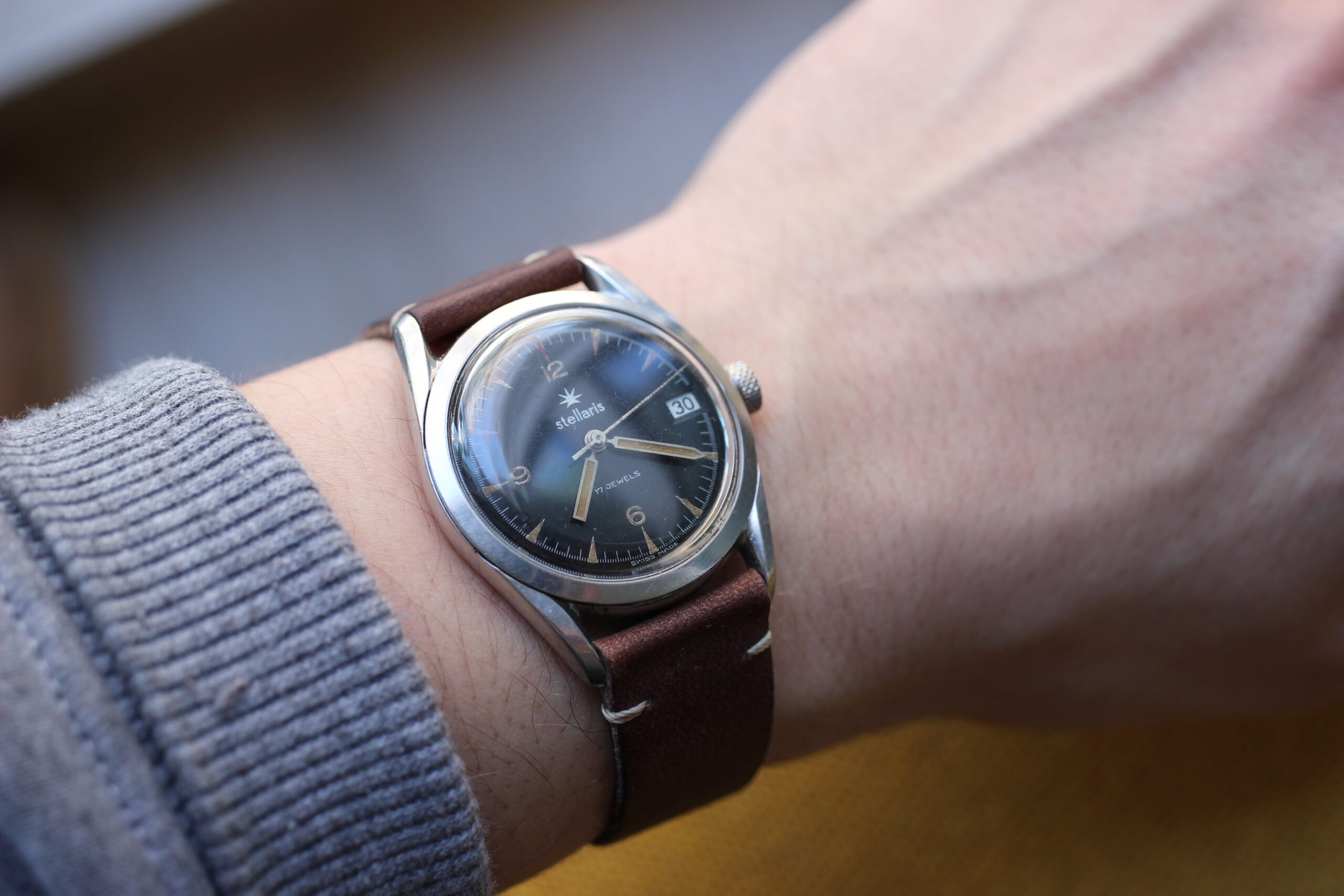 Love at first sight
What I remember is the first Stellaris auction shot I saw. It was a full-frontal high-resolution shot that was so suggestive I felt the radium burning my skin. One quality photo can do a lot; some auction houses have understood that already. My eyes were racing around the oversized pictured on my screen, not knowing which unusual detail to focus on. There were so many of them. But almost at the same time, I soaked up the complex portrait of the watch that shocked me with its super-strong resemblance to my Omega Seamaster CK2913-8.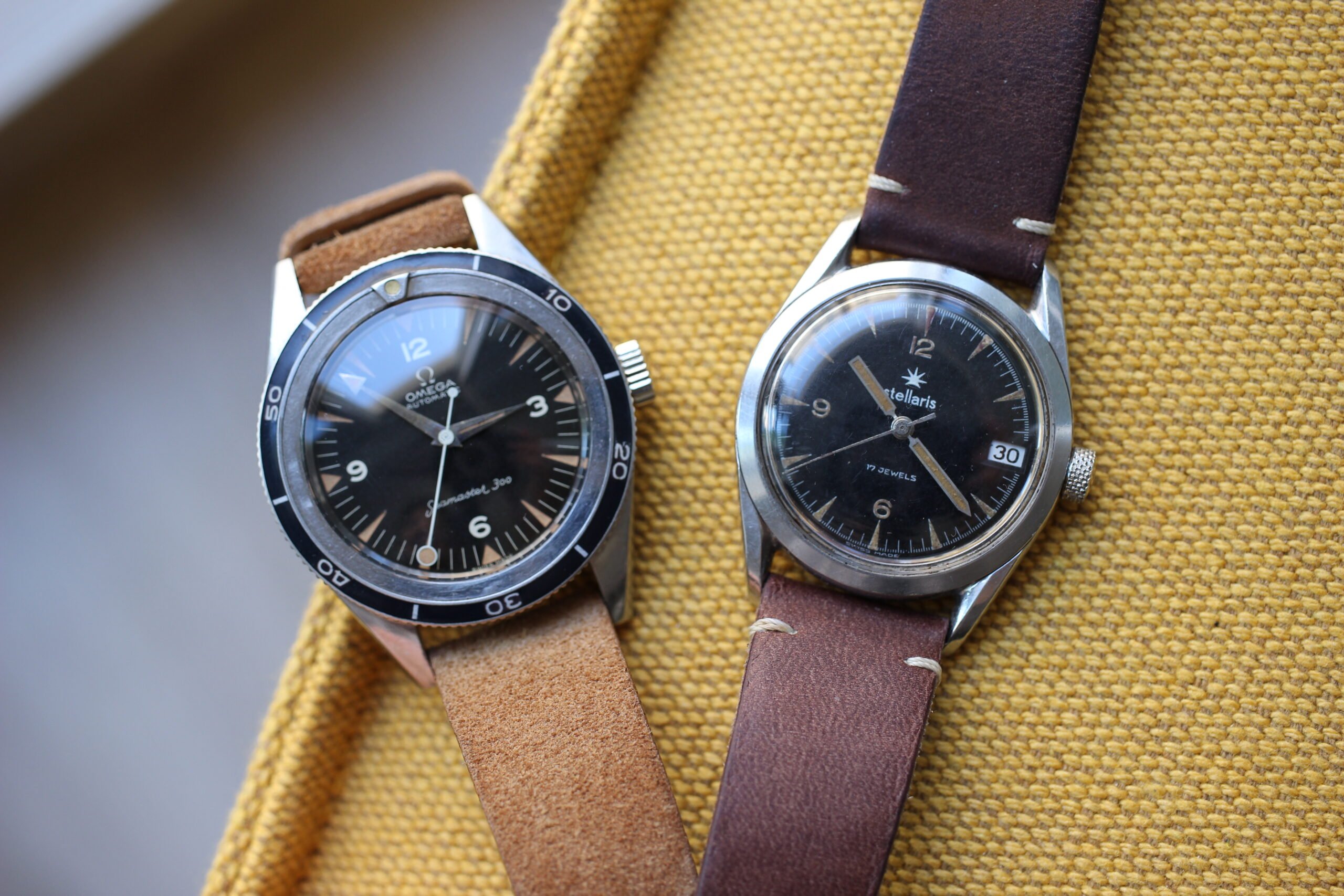 Not exactly a Seamaster
When you see a design element implemented or paraphrased in another watch, only then do you realize how strong the master design is. While many might turn their backs on the Stellaris in dissent, I find it rather amusing. Let me just remind you of the riddle of the Rodania Geometer and the mighty Omega Speedmaster, a nice example of the same but different watches. The Stellaris undoubtedly reminds me of my Seamaster, but at the same time, it has pretty strong individual charisma.
Where to start?
Patinaed lume on a matte black dial can be divine. But in order to fully enjoy the aged lume, a cardboard-like black dial needs to be perfectly preserved. A chewed-up dial kills all the contrasting tones that can develop over the triangular indexes. This Stellaris has aged gracefully. One of the numbers is consistently pumpkin, while another one has been bitten by brown, orange, or dark black whatever… probably time. That alone would be enough to make this a perfect low-budget vintage watch.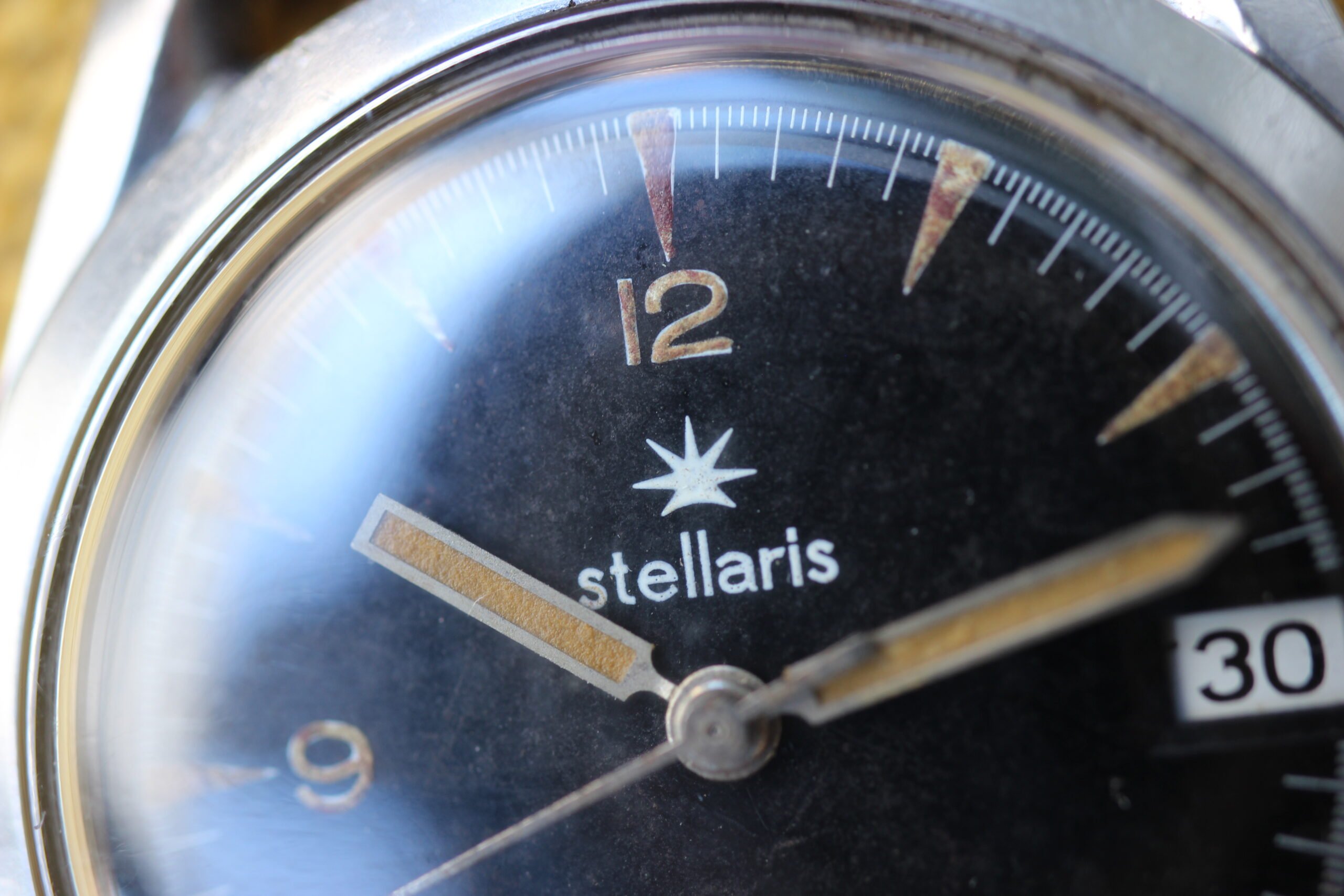 Let's spice the game up a bit
But this Stellaris has more than just some patina. Another unmissable detail lies in the hour hand. Or shall I call it a cricket stick? Baton hands aren't unusual, but only if they are longer and thinner and used for both the hours and minutes. This watch's sharp, knife-like minute hand with an arrow tip is a confusing contrast with the hour hand. The latter almost feels like it has been crippled on purpose. It looks like someone chopped off its tip, and it's amusingly bizarre.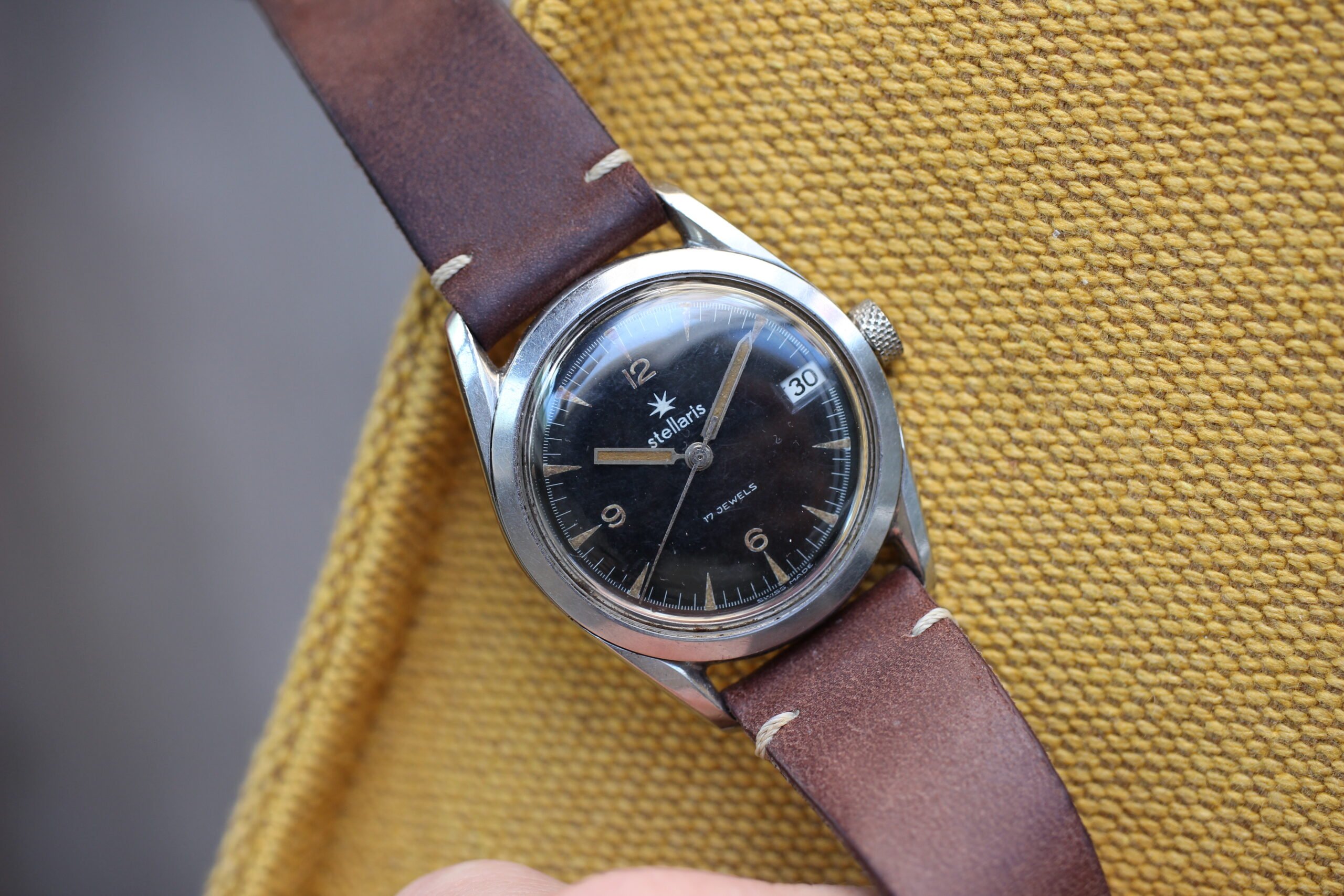 "God, no!" Or is it, "Thank you, God!"?
There's no lollipop and no broad arrow, yet I still can see a Seamaster in it. And that date window! I don't know how you feel about it, but it looks like a tomato slice on Nutella-covered toast. I like dates, I do. As much as I like tomatoes. But not on sweet toast. I was never so fierce in debates about how the date could ruin the dial. Not this time. The date on Stellaris made me want to go grab some black tape to cover it up. Over time, however, I've gotten used to it, and I guess I don't mind it today. I take it for what it is. It's a date watch.
Stellaris, Stellaris…
When I first read the brand name, it had a familiar sound, but I didn't recognize it right on the spot. And it remained that way until I dove deeper into the investigation about the brand for today's article. I took Pritchard's bible from the shelf and found that Stellaris was a brand name registered in 1963 by Mondia. Mondia isn't that well known, but the brand made some interesting watches. We featured the "Big Eye" Mondia chronograph and my beloved Mondia Top Second with a quirky complication — a flashing red dot that mimics a seconds hand.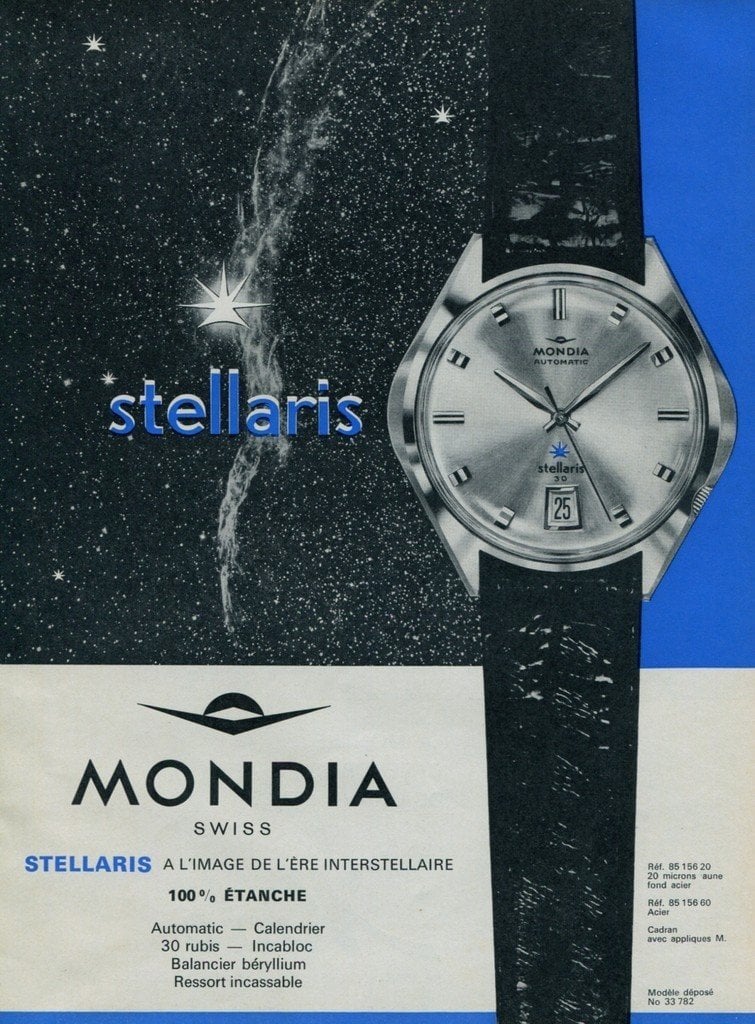 All became clear when I put Stellaris and Mondia into a Google search. Mondia had a watch model called Stellaris with an unusual fluid case. Back in the day, I was after one, specifically, a 30-jewel model with a Rolex Day-Date-like day indicator at 12 o'clock. There are multiple print ads of the Mondia Stellaris to be found online, so I guess that years ago, it got some media promotion.
A self-standing brand name?
How come Mondia and Stellaris got separated? Don't ask; I have only speculations to offer. The only rational explanation that I can come up with is that Mondia was used as support to make Stellaris trustworthy. Or, I suppose another possible scenario is that the Mondia Stellaris became so popular that Mondia decided to make it a separate brand featuring its own range of watches. And there were quite a few of them, mostly later Stellaris electronic models. The Stellaris font and symbol, however, didn't change from when they appeared on Mondia dials.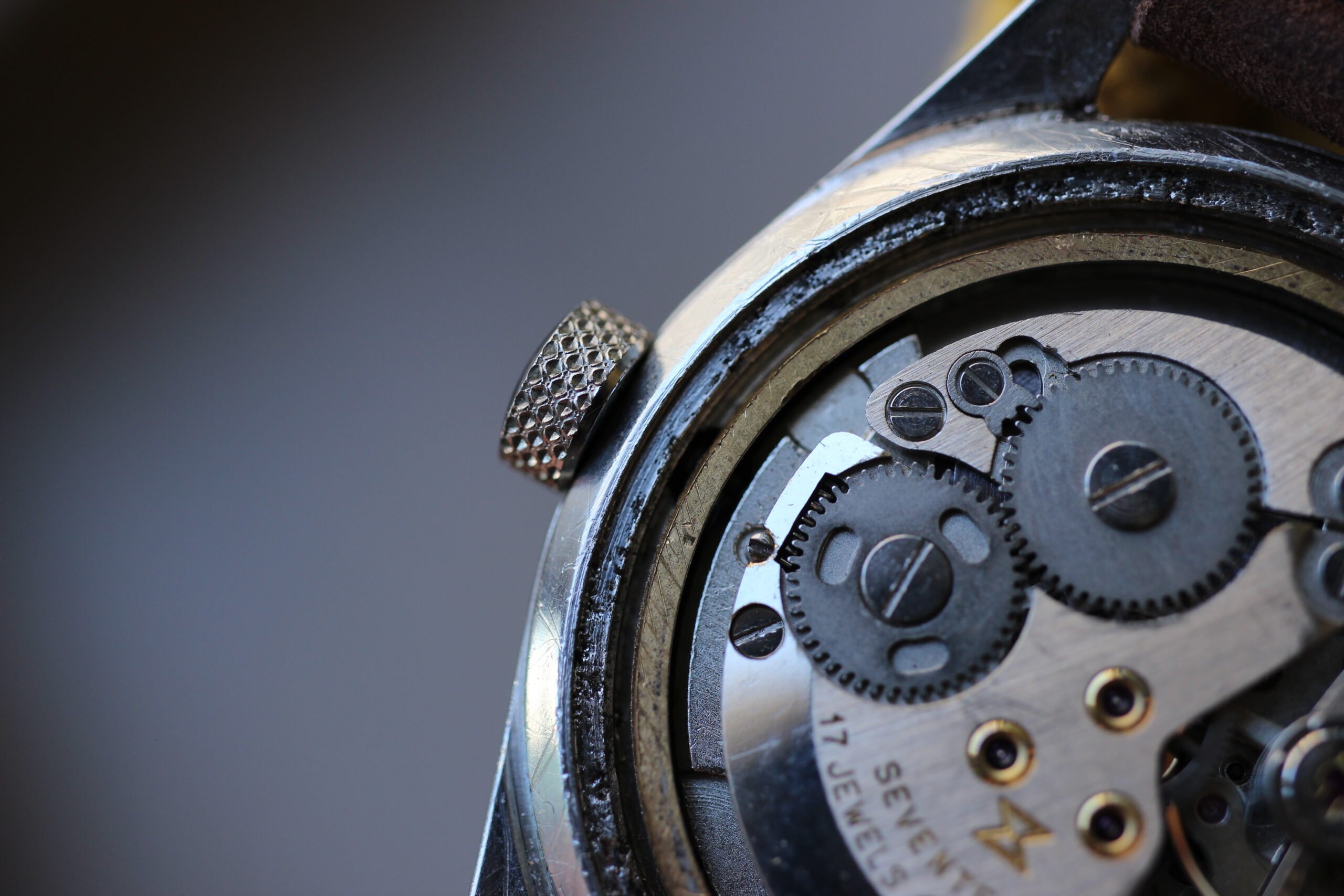 What a crown!
I left the best part for the very end — the crown. I could not believe what I saw. Honestly, I have no idea if it's original or not, but I liked it instantly. My watchmaker said it reminds him of a lighter's ignition wheel. But the truth is that the structure is pretty unique. Watch crowns usually have protruding patterns that can "dig" into your fingers. The Stellaris crown has the opposite structure. The pattern looks like it was heavily pressed or stamped into the flat surface. However it was made, it's an amazing detail that I had never seen on a watch crown before.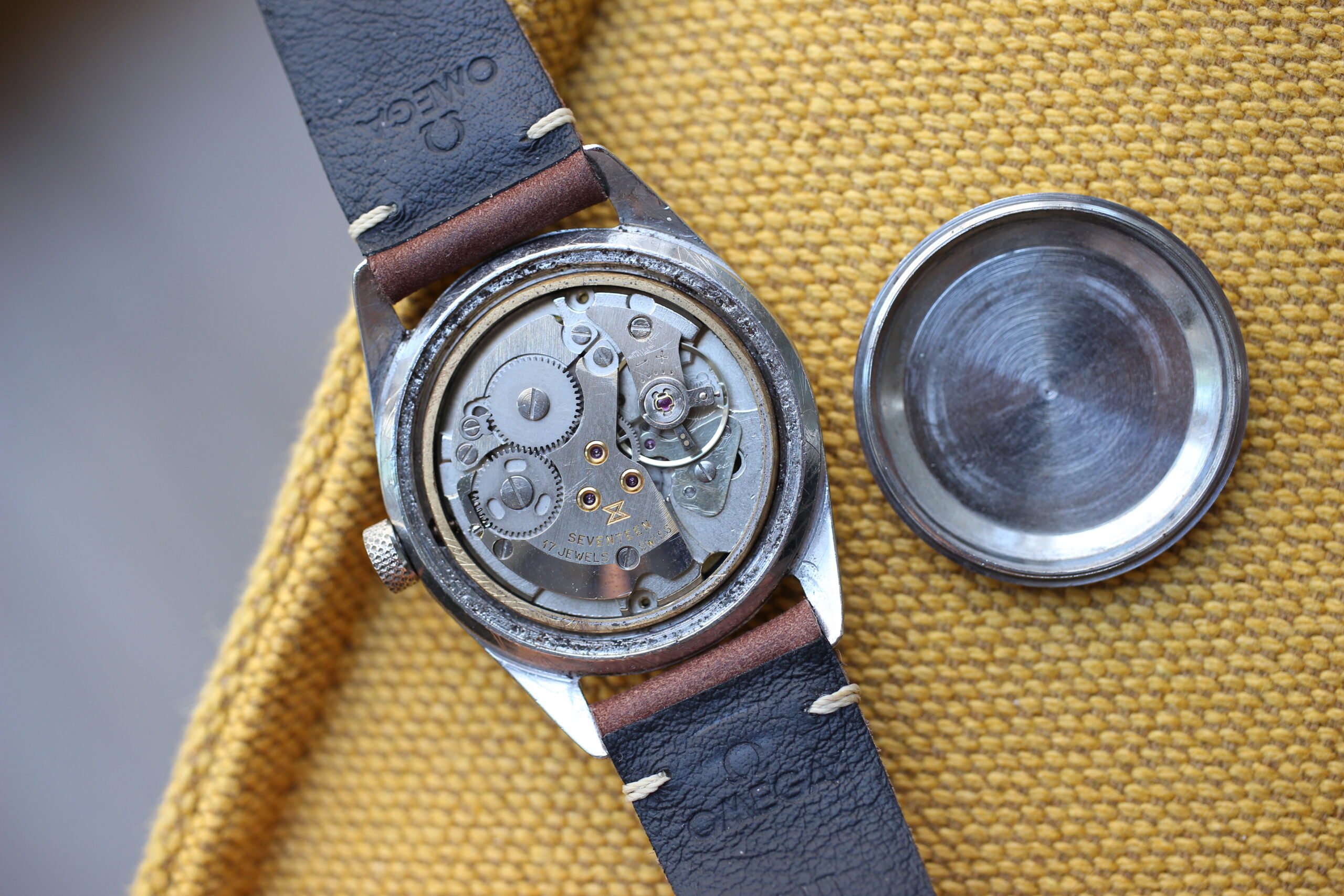 Last thoughts on the Stellaris
This Stellaris watch is powered by a 17-jewel AS/ST 1950/51 movement. It's nothing fancy, but it's reliable and easy to service. With a 35mm diameter, it's a decent watch, but the aesthetics don't allow it to disappear on the wrist.
For me, there is not much fun in exploring what has been explored thoroughly in the last 30 years. There are, however, still little wonders waiting to be unearthed. Stellaris is one of them for sure. Happy hunting!