#TBT A Farewell-Summer Song By The Orange Seiko 6458-600A Diver
Summer is dead! Long live autumn!
I just realized that it has been over a year since I last featured a Seiko watch on #TBT. I know, it's almost criminal not to feature any Seiko watch for such a long time. Let's fix that with a find that has been queuing on the #TBT list for some time now. Meet the orange-dialed fortress, the Seiko 6458-600A. Today, I will try to explain why I find it one of the most underrated quartz Seiko divers from the 1980s.
Last week, summer gave us a proper goodbye where I live. The temperature is dropping, coats are coming out, and the leaves are turning into warm autumn colors. When my eyes landed on the Seiko 6458-600A, I felt like this vibrant dial was the best equipment for a chilly day ahead.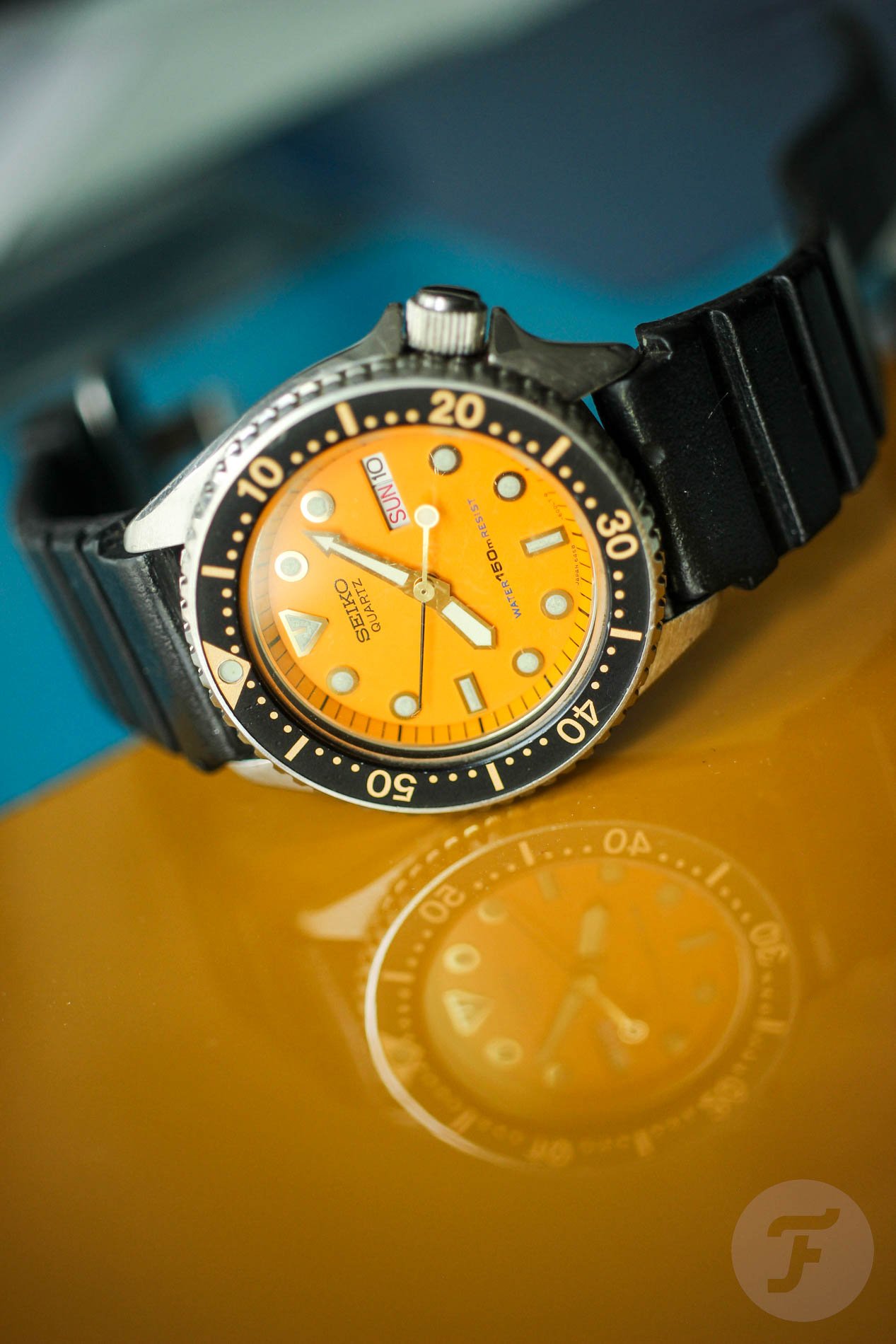 Three years and counting
I first spotted an orange Seiko 6458-600A for sale in Sweden. That's right; it's not always about Yahoo! Japan. I was browsing a local auction site in 2020 when this orange beauty punched me right in the face. I liked the slightly smaller case instantly. At the same time, I recognized that it was pretty robust and wouldn't get lost on my wrist. I did zero research on it and just bought it on a whim.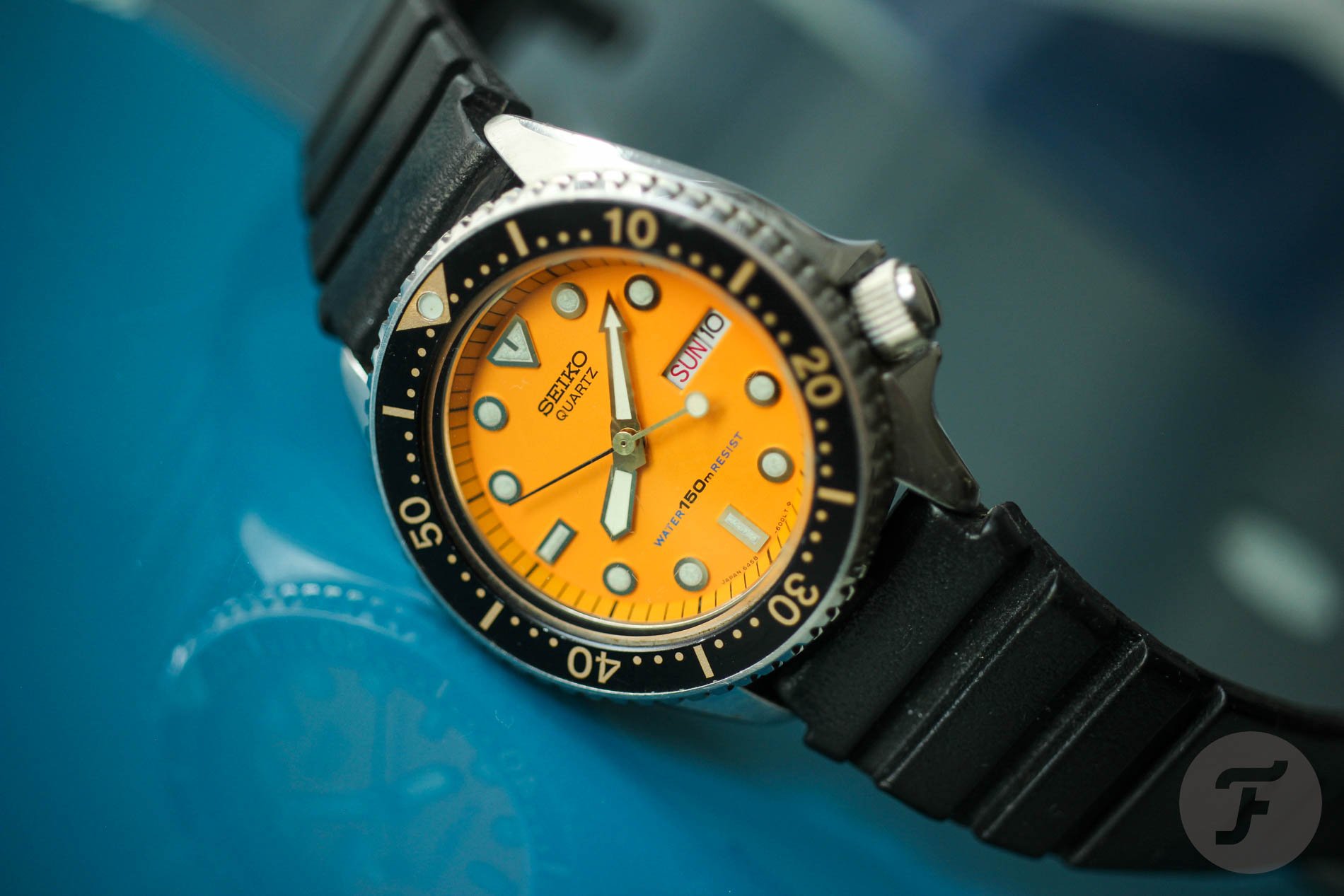 The 37mm dive-watch sweet spot
Here, I have to mention that it was not my first vintage Seiko diver. After I tried the Seiko 6139 Pogue, Seiko's first automatic chronograph that came out in 1969 alongside several other 6139 case variations, I knew the case was a bit too big for me. That's also the reason why I never got the urge to buy the Seiko 6105-8110 "Captain Willard." I was rightfully afraid that a 44mm diameter would make it unwearable for me. That's why I opted for the smaller 6309-7049, which is still, unfortunately, too big for my taste. By the way, that's another vintage Seiko vintage diver waiting on a list of #TBT candidates.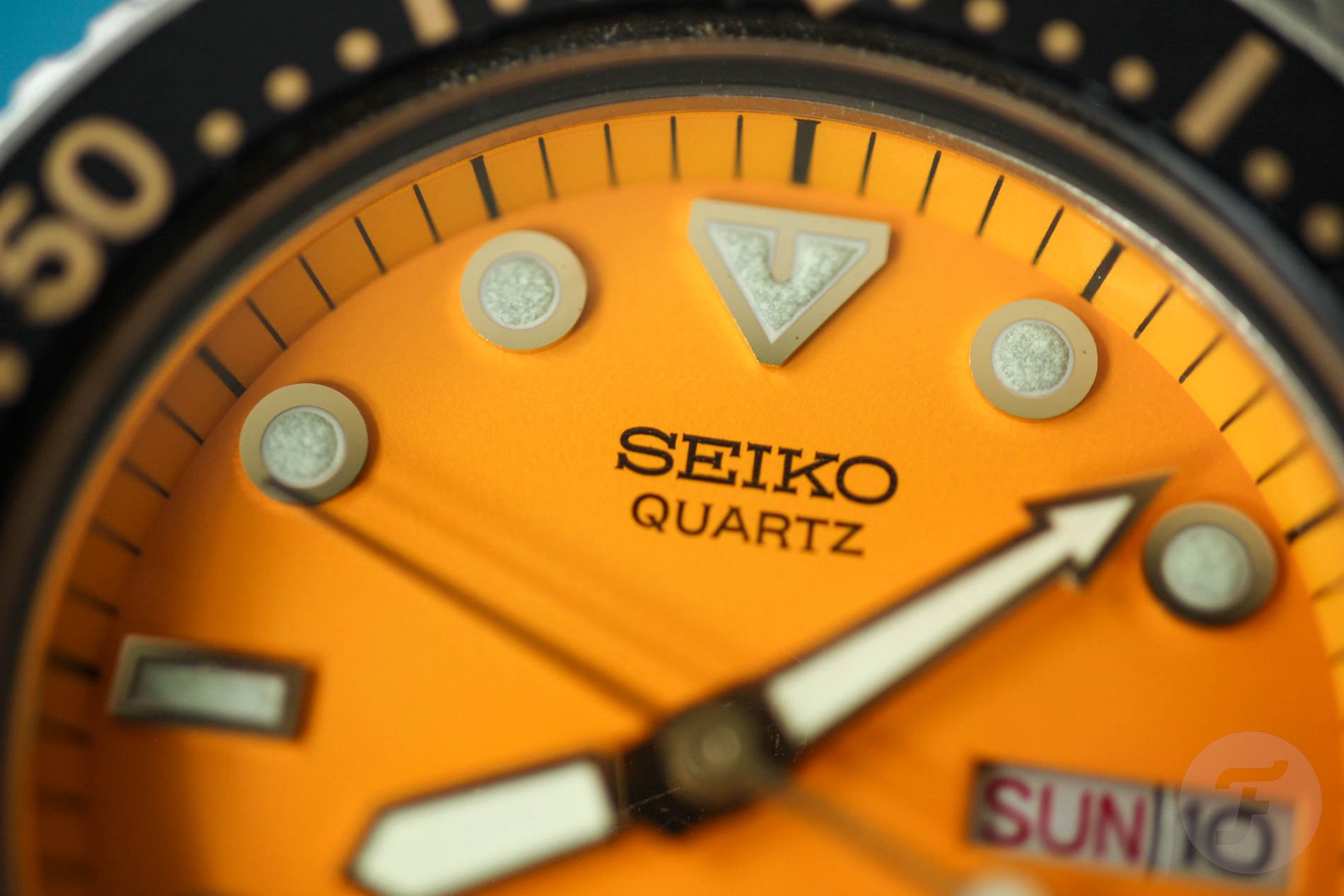 My expectations proved correct. The Seiko 6458-600A is 37mm in diameter, and even though it may look lady-ish when sitting next to previously mentioned models, it is big enough. It's actually perfectly sized if you prefer sub-40mm watches. It is incomparably more wearable to me. It is 37mm, but looks like 40mm.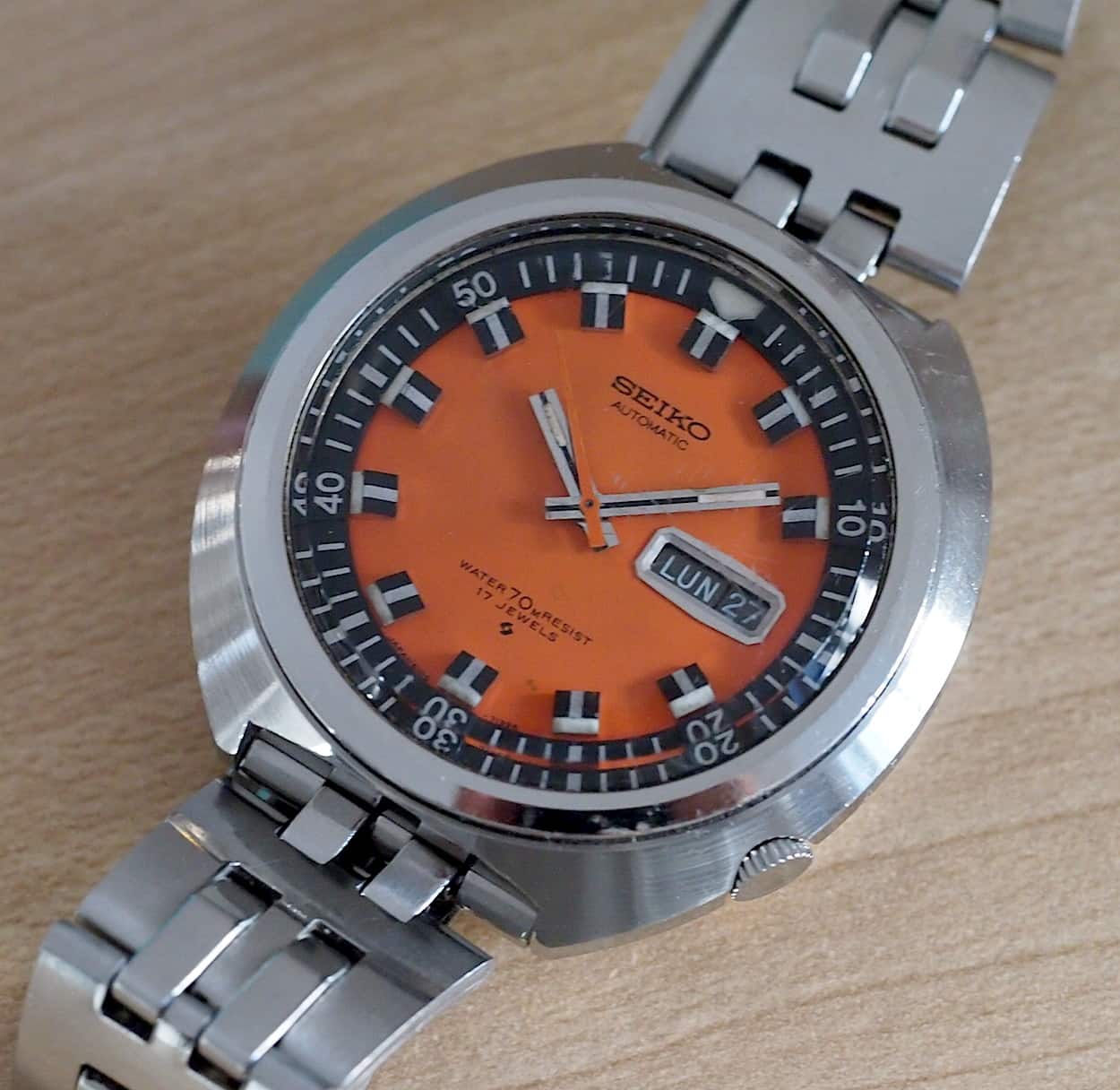 A history lesson from Mike
Do you find orange Seiko divers interesting, and are you thinking of diving deeper into the topic? The first orange-dialed watch from Seiko happened to be the 6106-7107, which was produced from 1969 through 1971. Mike knows it well since his favorite line of watches is the vintage Seiko Sport Divers. In his archive article, Mike explains that it features a UFO-like case and has an internal bezel that rotates via the time-setting crown. The Seiko 6106-7107 has a Hardlex mineral crystal instead of acrylic. Also, this is one Sports Diver that is usually found on its bracelet.
If you prefer the Seiko 6106-7107, the father of all orange Seiko divers, Mike suggests checking before the purchase that the internal bezel rotates smoothly for a full 360 degrees in both directions. The backside of the bezels contains plastic ridges or teeth that, when worn, no longer function, and replacements are difficult to come by.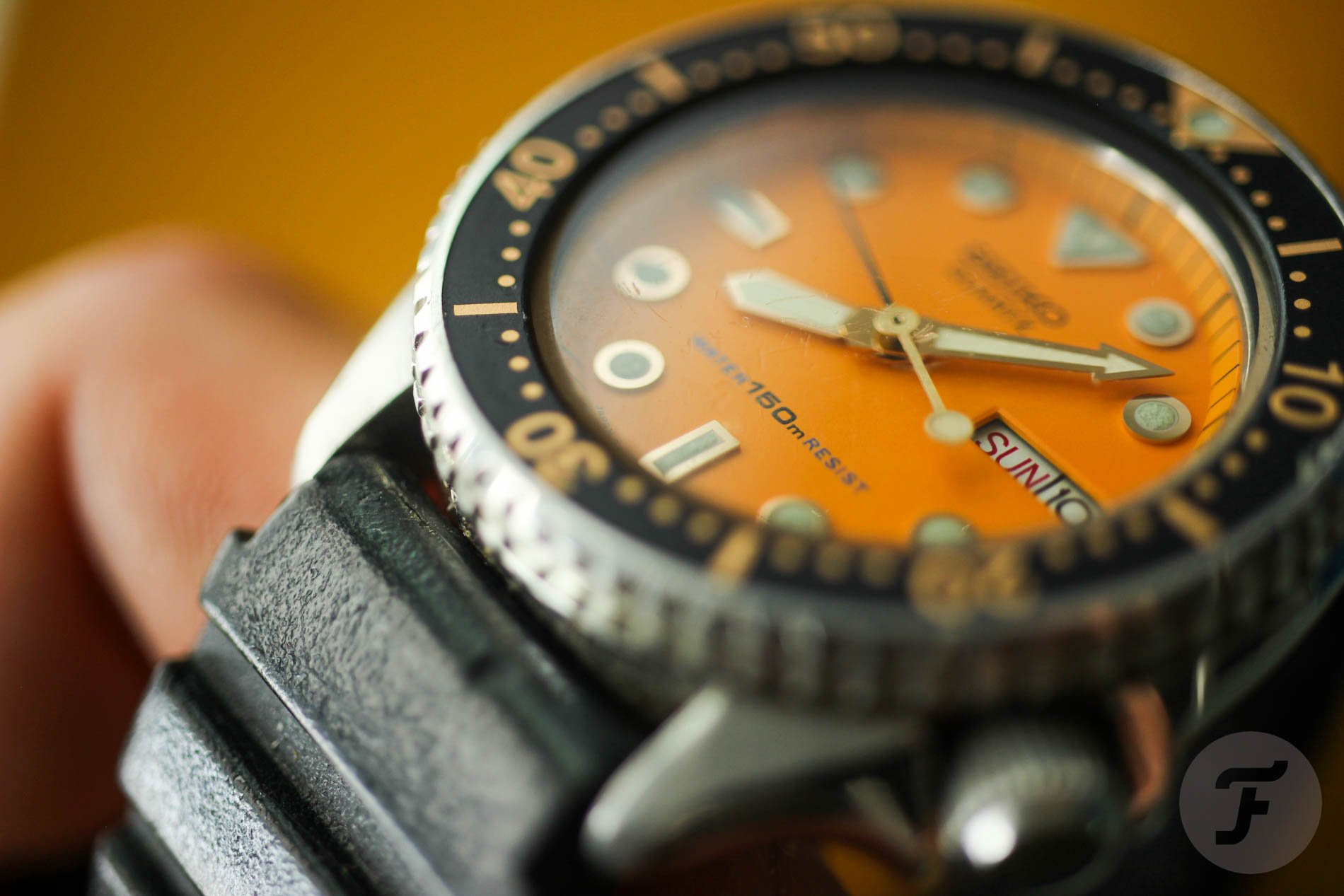 Details that I like
Compared to Seiko's first orange diver, the 6106-7107, I'd say that this "little" quartz wonder is more individualistic. It is not that dull at all, and it has several likable details. For example, I can't get enough of the "electricity symbol" minute hand and the short but wide sword hour hand that looks like it was just cut from a Japanese comic book. And did you notice the central seconds hand? Tell me which side is the actual tip and which is the counterbalance. Epic!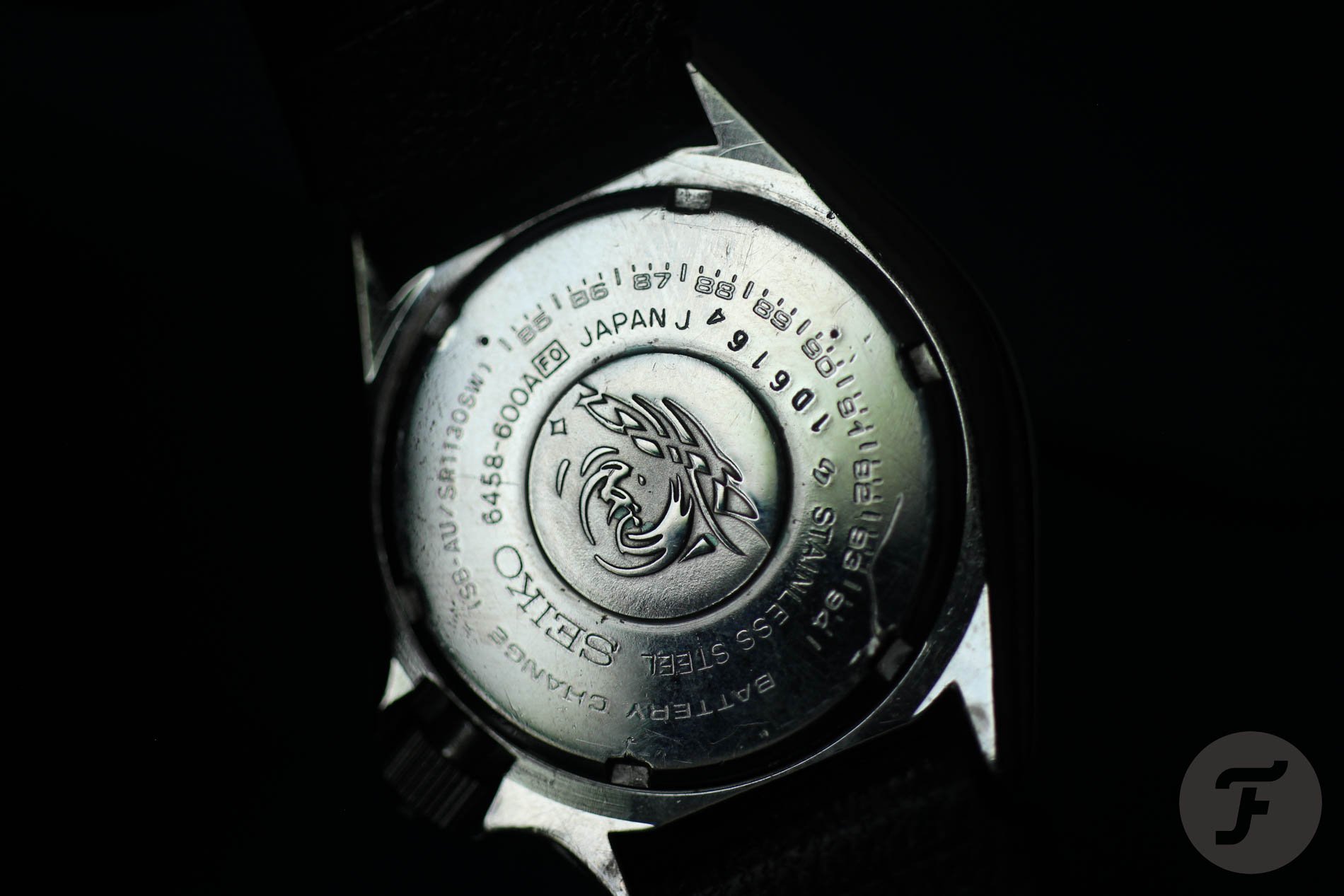 Is the Seiko 6458-600A your next dress watch?
I had a serious presentation with a bunch of consultants from one of the Big Four companies, the largest professional services networks in the world. I was dressed to impress, and I even ironed my shirt that morning. But instead of reaching for one of my Gallet chronographs, I strapped on my Seiko 6458-600A. The orange dial was shining far and wide, it but worked well with my blue cuffs. You see, I like to break stereotypes and challenge myself. To wear a watch you would typically not choose on a particular occasion is a perfect, effective, and low-effort way to get inspired to see things from a different perspective. And this watch did the job perfectly!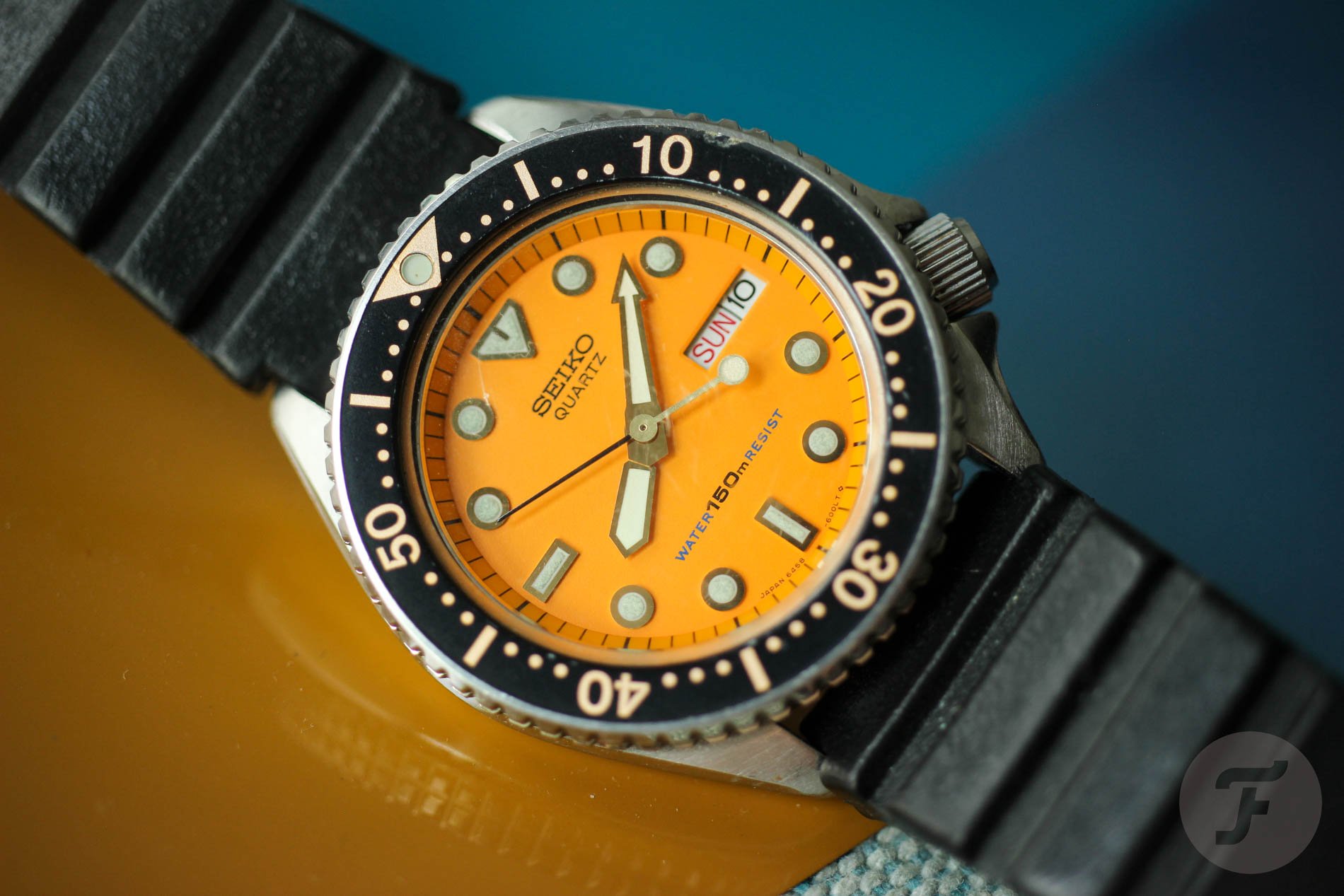 Shotgun notes
The Seiko 6458-600A is about a €200–300 watch. However, I urge you to find one with an undamaged crystal because they are not easy to source. Check the crown before purchasing one too. The Seiko 6458-600A originally came on a sturdy rubber strap, and I recommend finding an example with it. Not only does it look great, but it also wears nicely. Finally, I would also be picky when it comes to bezel inserts. They are often heavily beaten, but many chips ruin the overall experience. A soothing orange dial requires a clean bezel.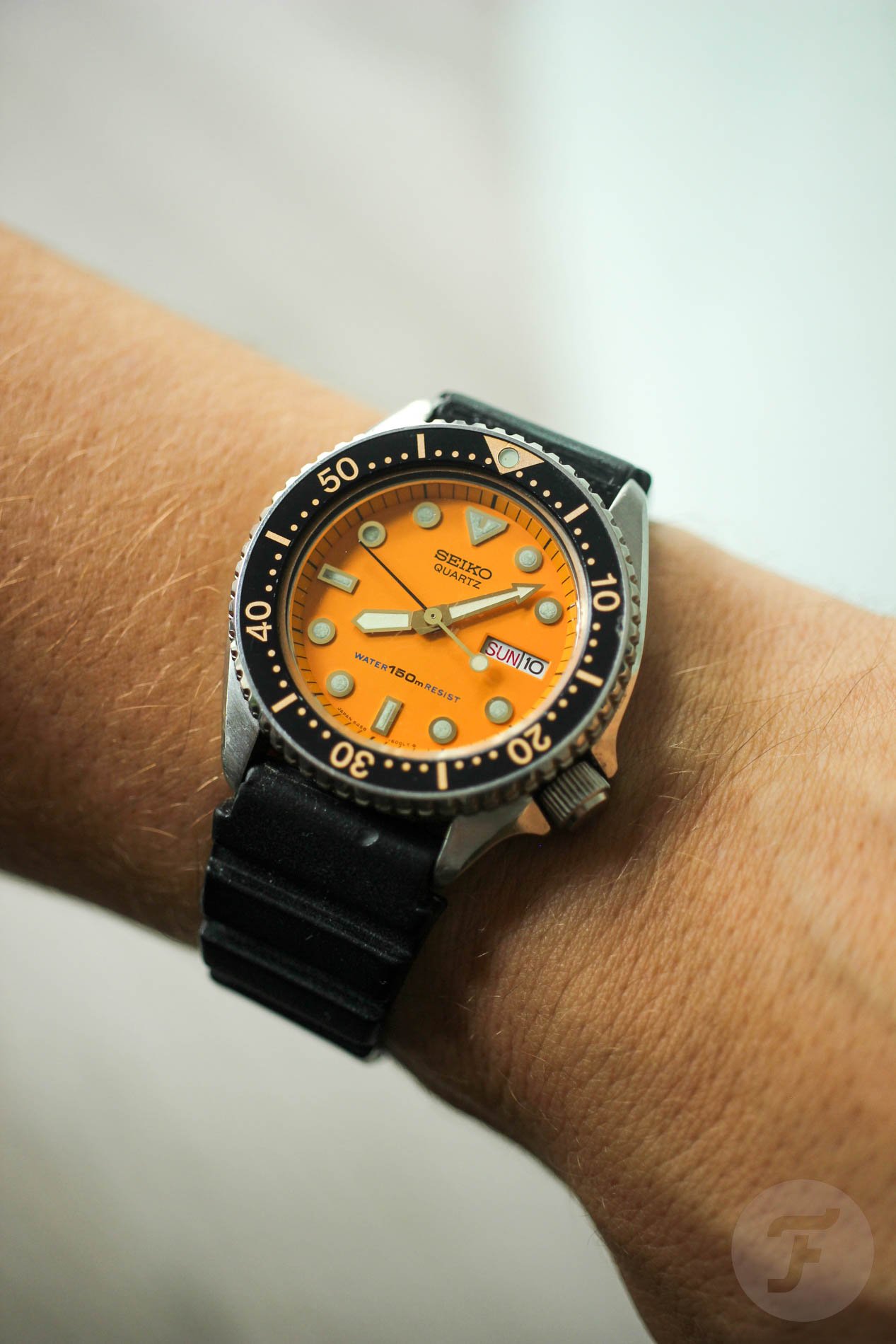 Last thoughts
I chose this orange Seiko to say, "Goodbye, summer!" Interestingly enough, there is another orange-dialed Seiko with a strong farewell story. Just a few months ago, Mike left Frankfurt after over 12 years and moved from Germany to the UK. His symbolic goodbye song to Germany was all about a 1972/1973 orange-dialed Seiko 7006-8030, which belongs to one of his best German friends. Mike helped his friend save the watch. If you're interested, you can read more about it here.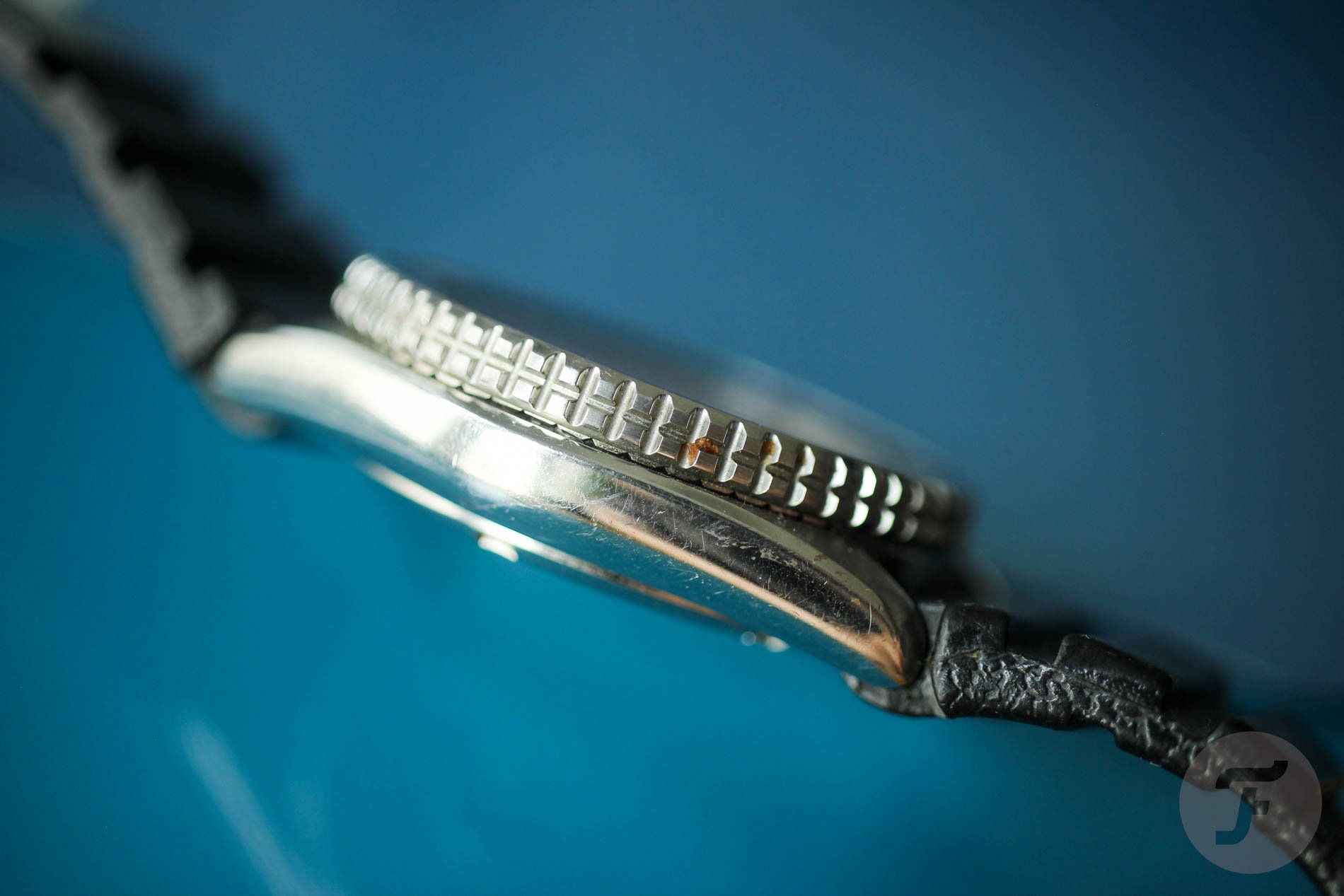 If we forget the fact that the Seiko 6458-600A is a quartz rather than an automatic watch, it is a clear winner to me. The case is robust enough. It doesn't feel like you have a baby-sized Seiko on your wrist, and the bidirectional bezel is almost as high as those of its bigger Seiko brothers. If you do not feel like spending €2,000 on your next watch and are looking for a versatile piece that you can wear in the garage or at a playground with your kids, the Seiko 6458-600A won't do you wrong. Happy hunting.