#TBT Rolex Stainless Steel Jubilee Bracelet 6251H/555 Restoration
Meet Michael Young and his bracelet magic
When it comes to nearly any vintage Rolex bracelet, you will hardly find a bigger professional to take care of yours. My mind is still processing the fact that there is a man out there who has had more than 50,000 bracelets pass through his hands.  
I first got in touch with Michael Young maybe four years ago. I was thinking about what to do with a spare Breitling bracelet that came with my Chrono-Matic ref. 2110. It was so heavily worn and so loose that I could push it up to my thigh.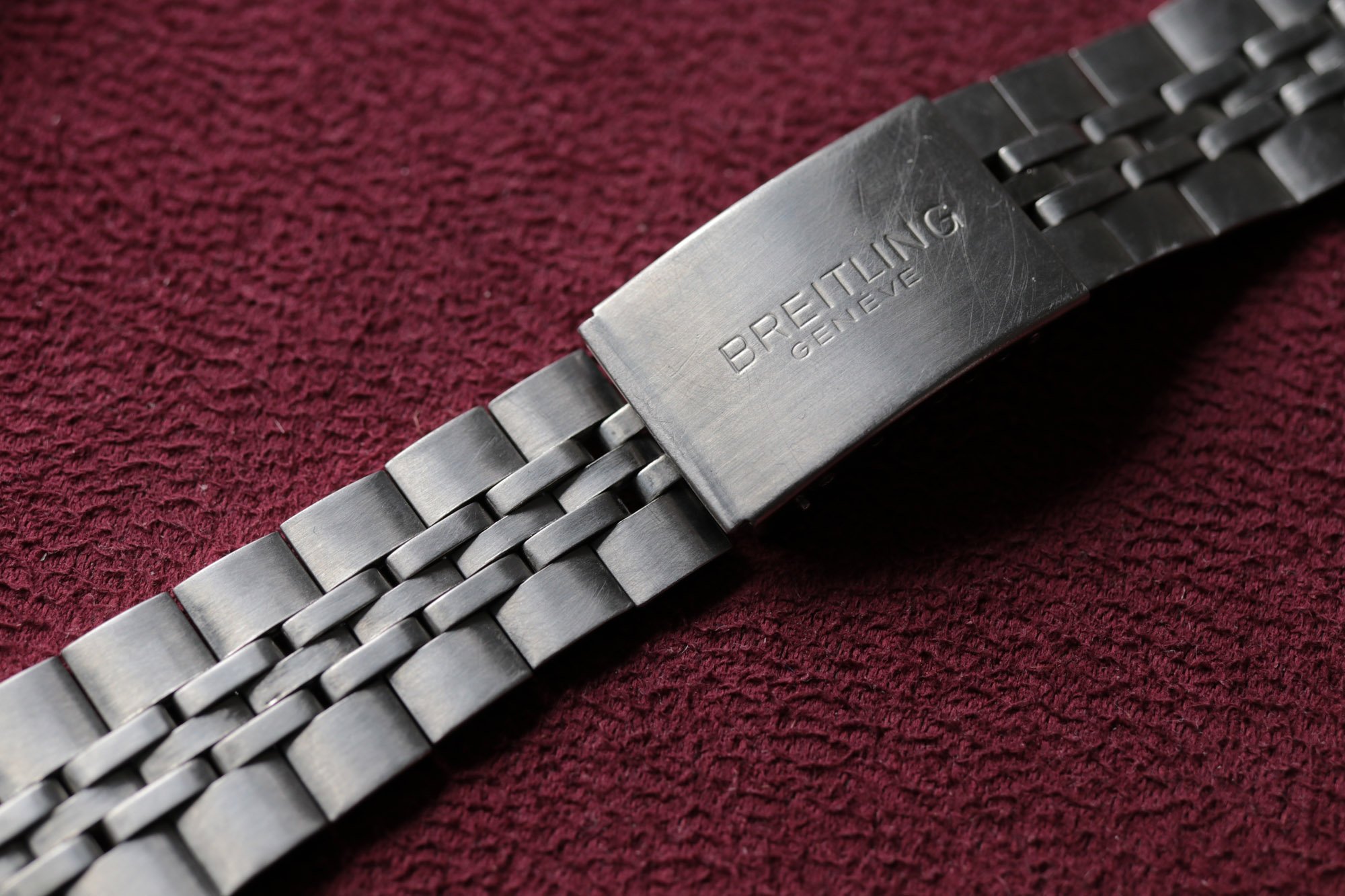 Breitling bracelet foreplay
Finding a Breitling watch fitted with an original bracelet is not very common, so I could not just throw it out. Especially when Breitling aficionado Fred Mandelbaum confirmed that this bracelet was perfectly correct, came from the era, and most probably even with the same watch. So I reached out to Michael Young from Classic Watch Repair, who said he would do it, despite the fact that he specializes in Rolex bracelets. I shipped my Breitling bracelet and Michael reviewed it. The restoration took three months, mostly because of the fact that Michael had to modify his tools for the Breitling bracelet.
For the next few years, I didn't have a special bracelet candidate fit for a restoration worth a couple of hundred Euros. That changed when I landed the late 1970s Rolex Datejust 16030. It was about the same time Mike landed his own 16030. While Mike acquired a black-dialed model, I opted for a long-wanted matte white dial. I always found silver dials on Datejusts too boring and a bit indistinct, despite them being an essential blueprint for the model.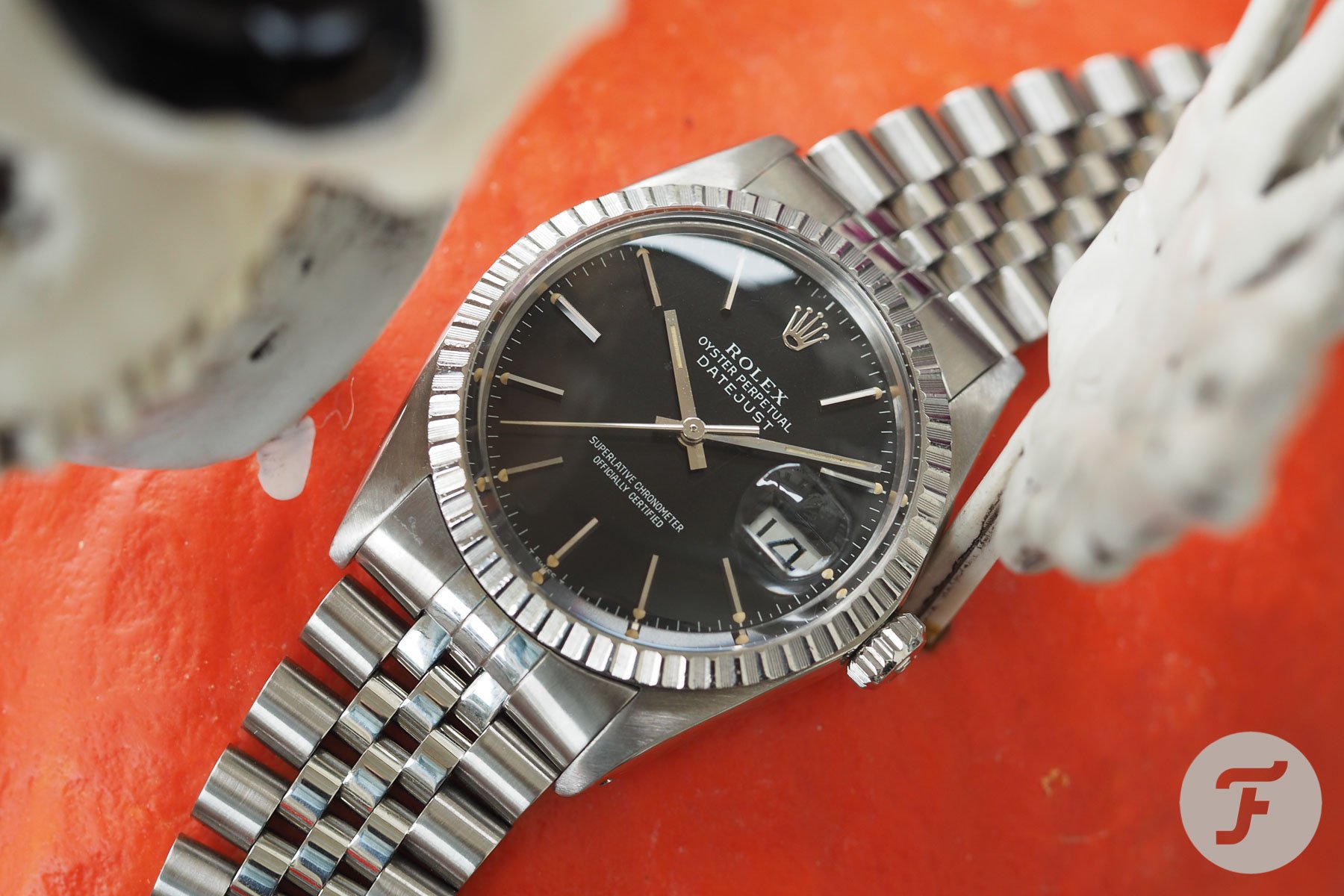 Why I went for the white 16030 on a bracelet
The black 16030 is more elegant and slightly mysterious. But it is the pure milk-white-like dial that always grabs my attention. Why? If there is one color that loves to age easily and markedly, it would be white. And that is what almost always shocks me when I look at my 16030. That white dial with intact creamy lume plots looks like it just came off the factory assembly. The contrast of the shiny dial and the vintage case has a hypnotizing effect on me. Well, and to have a truly full and accurate experience, it all had to come on a Jubilee bracelet.
Worn Jubilee bracelet
Wearing the white-dialed Rolex Datejust 16030 with an engine-turned bezel is just as satisfying as it is looking at it. At least, now it is. I will talk about it in detail maybe later this year on #TBT. But today, I will focus only on the bracelet, which ate at my mind since day one of ownership. It was just too stretched, and I often found myself feeling like I was wearing a necklace rather than a bracelet. The links were just too far apart from each other and undesirably slid from side to side, creating a drunk-like impression. I often looked down at the watch and the links looked like they were just spilled all over my wrist.
To do it or not to do it?
I have never allowed my watchmaker to touch any of my cases. Despite his intense persuasion that he will just fix that one long, deep scratch on the case back left by some butchery watchmaker, I've never budged. I love my watches in original condition. I don't mind any dings, dents, scratches, or scars on the case or lugs unless they start tearing my skin apart. But the bracelet is a different story. I admit, if I had a €50,000 Rolex, I would probably keep the bracelet in whatever condition it was in. But on a minty Datejust, it felt right to restore it to mint condition. So I took a few photos of the original condition, wrapped the bracelet into some bubble foil, and sent it to Hong Kong.
The story begins
Almost 20 years ago, trained engineer Michael Young had the same issue I faced with my Datejust bracelet. The small difference was that he didn't know anyone to whom he could send his Rolex bracelet for repair. "Rolex service centers could neither replace nor repair them. At that time, I was stuck at home waiting for the birth of my first child, so as an engineer, I had to figure out a way to get it done myself," Michael says as remembers the early days of his bracelet restoration journey. When I asked him how many bracelets he has restored over the last two decades, he left me speechless. "I will say more than 50,000 bands have gone through my hands. But it's just a guess as I've never had time to really calculate it."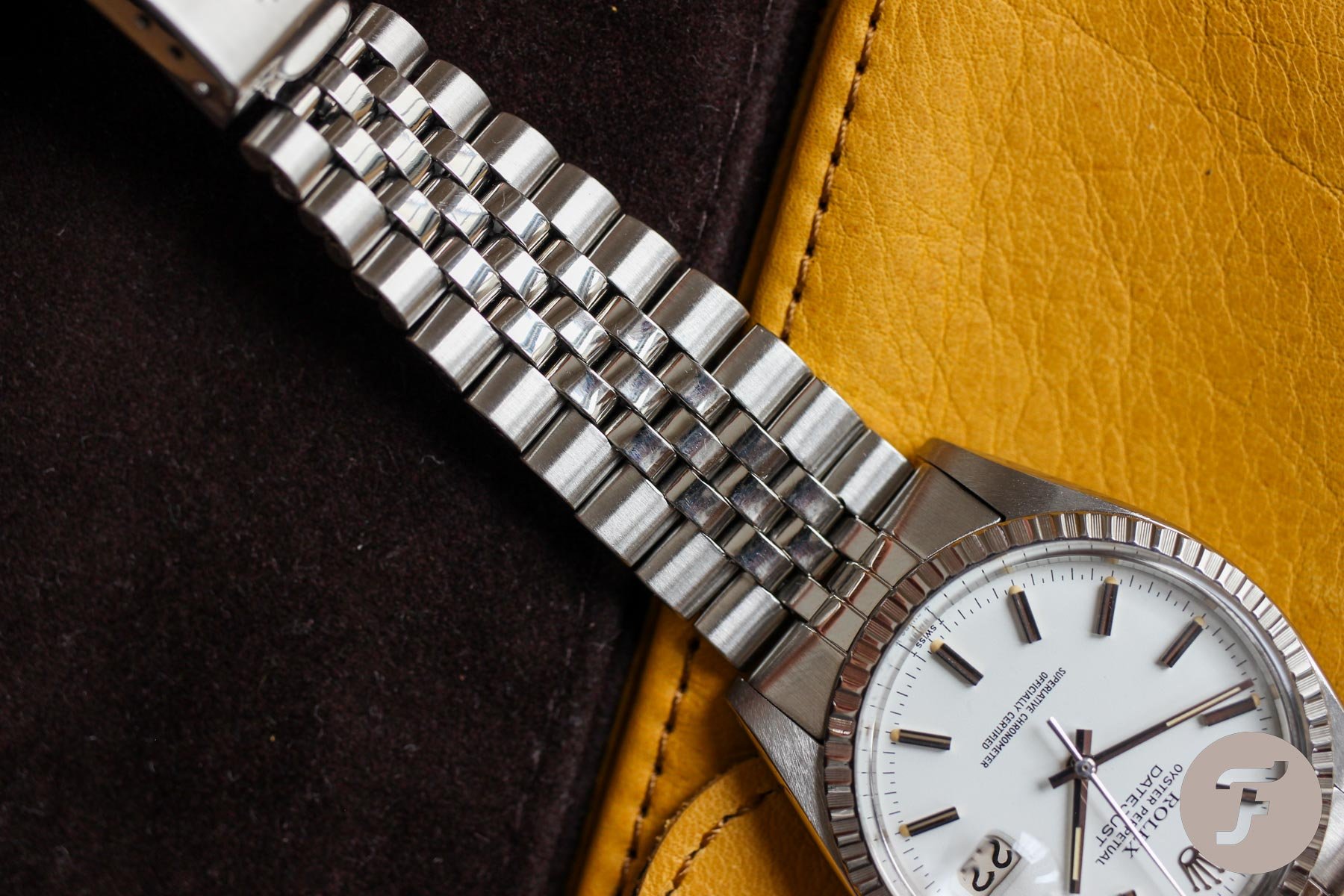 Every model of bracelet needs to have a specific set of tools to break it apart and to reassemble it correctly. Michael's workshop is tackling new models day in and day out. He and his staff can fix all Rolex bracelets, including the buckles. "We can use laser spot welding to repair any damaged areas and use hinges from other damaged buckles as a donor to weld and replace."
Rolex Jubilee bracelet on the workbench
To see a bit under the cover of some Rolex band restoration alchemy, I asked Michael if it would be possible to document the restoration of my Jubilee bracelet. I thought I wouldn't be the only one more curious about the process. Here are a few photos with comments from Michael Young, so you have some idea of what exactly your bracelet undergoes in such a procedure.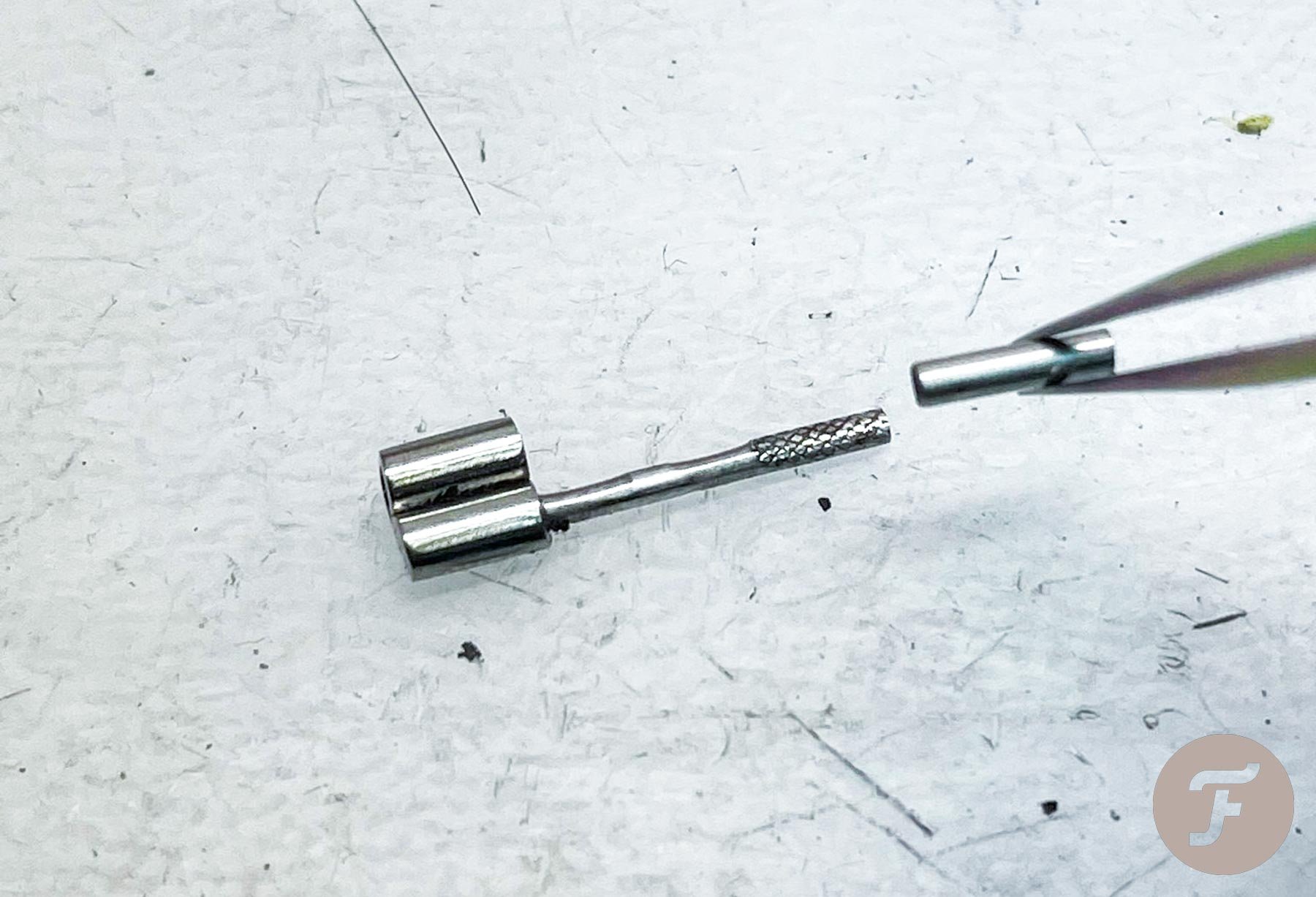 Above is the view of one folded Jubilee link after being dismantled. Below is a view of the band tool and the naked view of the links dismantled. The extra tube is inserted to reinforce the worn link pin and to compensate for the stretch on the link.
A specific machine with claws was designed to force open the links of the bracelet laterally. You can clearly see the center pins are worn due to age.
From gold to Oysterquartz
Gold Rolex bands are the most challenging to restore, as their components are not mechanically removable. To break the links apart on gold bracelets is a very delicate goldsmithing job that involves gas torches and metal casting. It takes somewhere between four to six hours to restore one bracelet. Well, that is if no other complications arise. I wanted to know which Rolex bracelet is the most complicated to restore, and the response surprised me a bit. "There is still one that we have not figured out, and that is the steel Oysterquartz band. It's just because of the high cost and low demand for it, so we have not spent enough time on it."
Final thoughts on Jubilee restoration
If you ever considered having your Rolex bracelet restored, I would only encourage you to do so. After I got it back, I happily unstrapped the provisional leather strap (although it looked good too) and reinstalled my Jubilee bracelet. No sliding sideways, no cheese holes. The Jubilee links hold together tightly and the bracelet looks way better.
I am no expert on vintage Rolex bracelets, but I haven't noticed any significant marks from tools that would indicate that the bracelet went through life-revitalizing surgery. The links are all consistent in shape and finishing and the Jubilee looks like it just left the factory. There had been no other mechanical damage to it other than the unappealing stretch. That was taken care of, and I enjoy the wrist experience much more now. If you are going to spend €5,000 to €15,000 on a watch, another €300 investment into a bracelet restoration sounds like a good deal to me. Feel free to share your thoughts on Rolex bracelet restorations in the comments section below.