#TBT Time Travel In A Car With The St. Blaise Alertic Key-Watch
Digging into a car-watch patent from the mid-1950s
Here we have another dubious but amusing and probably short-lived patented watch that I hadn't heard of before. The St. Blaise Alertic Key-Watch from 1955 can't be attached to thicker keys from the '70s on, but otherwise, it seems quite functional.
First of all, and most importantly, it's romantic. If I had a 1940s or 1950s classic car, I can vividly see myself using it. And I wouldn't be afraid that it could collect many scratches and eventually break. Sadly, my oldest cars are from the 1970s, and I can't attach the St. Blaise Alertic Key-Watch to any of their keys. Well, after holding the #TBT torch for about five years now, you can already suspect that it doesn't stop me from enjoying the concept, searching for original patents, and collecting other collaterals about it.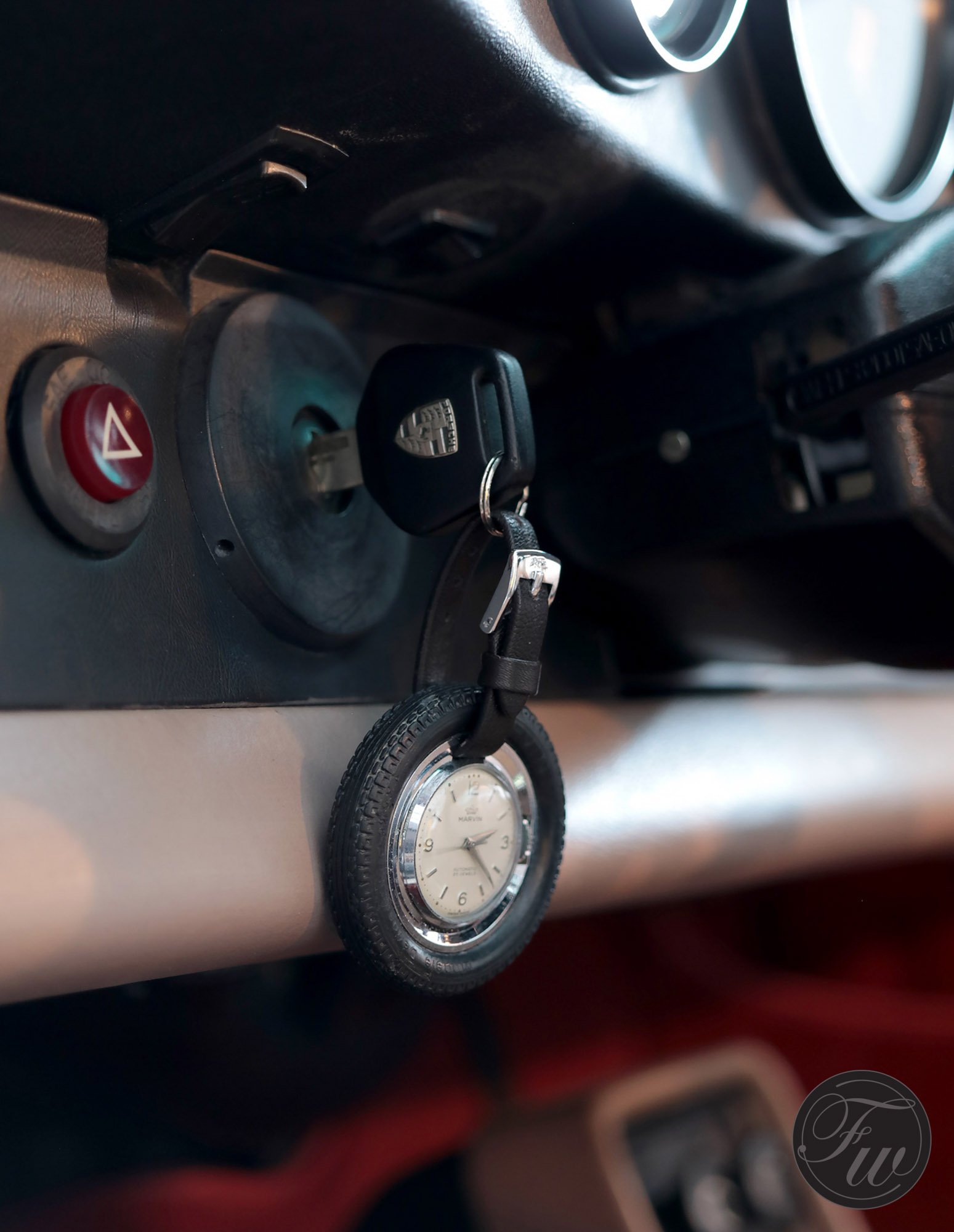 Marvin Tyre watch
As a warm-up, you should read my 2019 piece on the Marvin Tyre watch, which was basically a regular watch movement hidden behind Plexiglass planted into the rim of a small tire. With a thin strap, you can easily attach it to your car key and watch it wobble around your dashboard. The Marvin Tyre watch was created in the 1930s by René Didisheim, and it made quite a stir. Marvin quickly went from 500 pieces sold to 10,000, and the watch became a hot-selling article in multiple countries.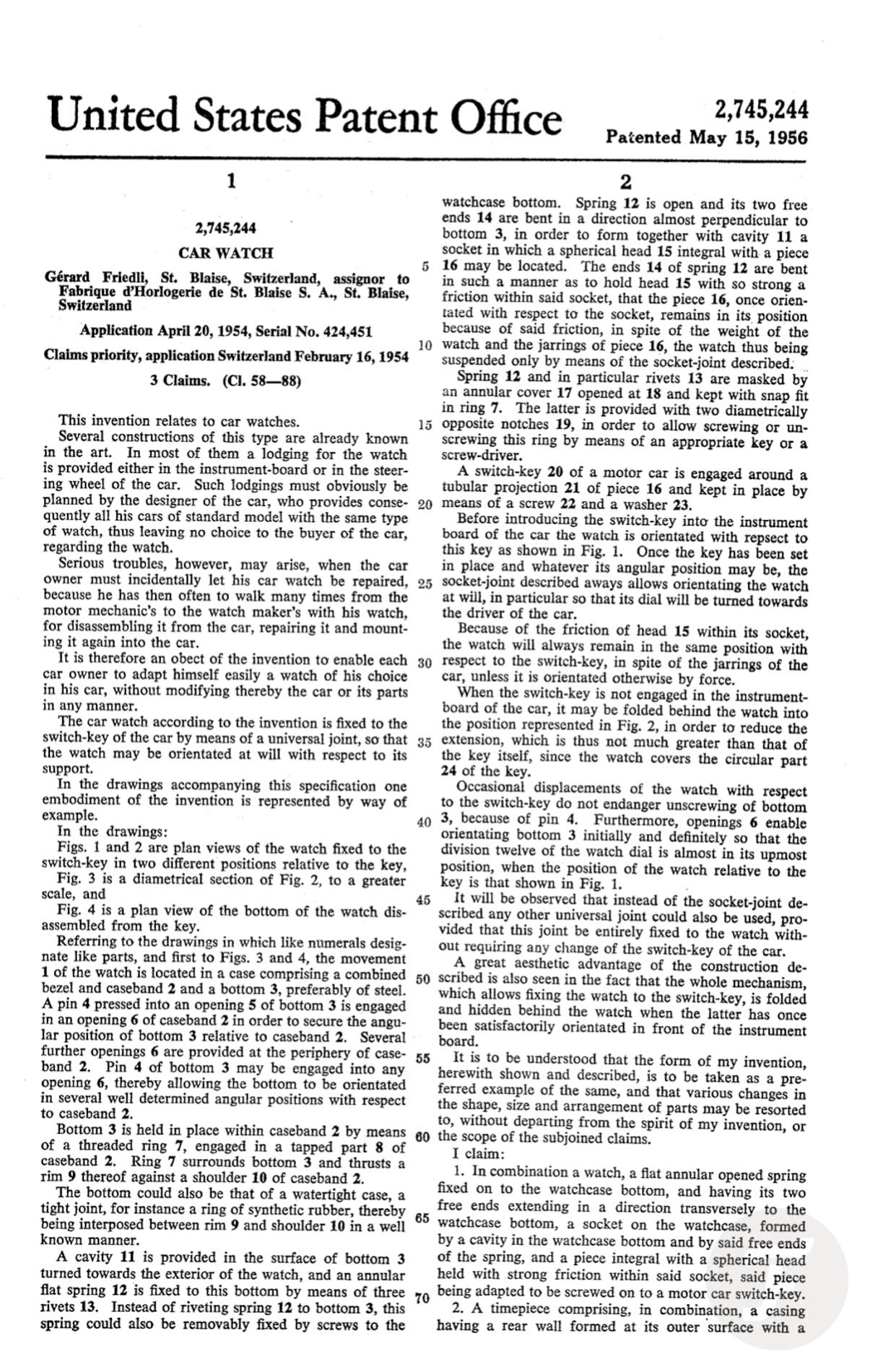 Patent-document poetry
"This invention relates to car watches," reads the first sentence in the US patent documentation, and that makes me smile. As a former copywriter, I always loved the simplicity of old text. Language in these documents is so different, so utilitarian, so practical, and so harmonious and sweet-sounding. "The car watch according to the invention is fixed to the switch-key of the car by means of a universal joint, so that the watch may be orientated at will with respect to its support." There you go…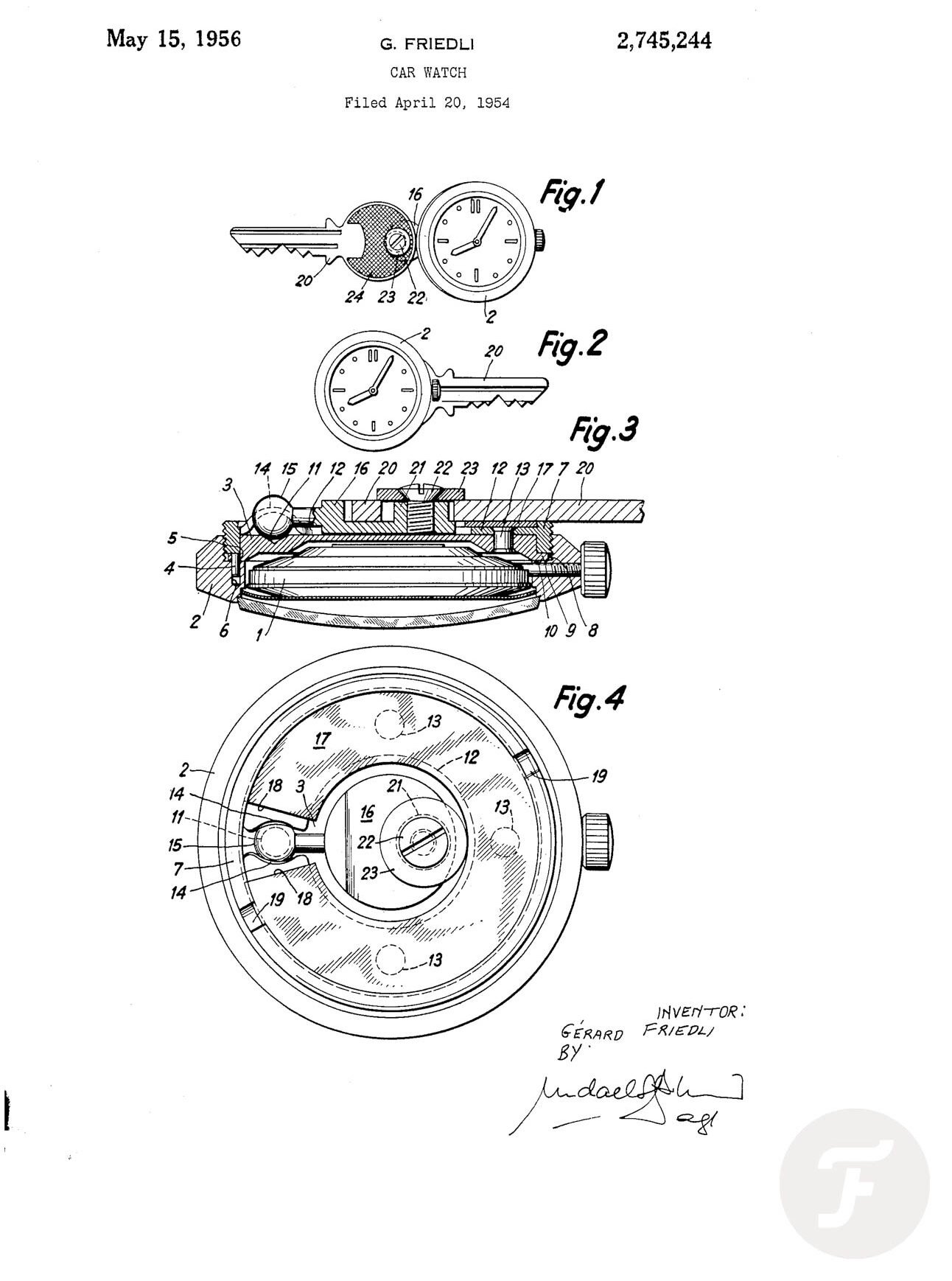 Theory
The drawings accompanying the patent documentation show the two basic positions of the Key-Watch. The first one shows a fully stretched "open" position, providing an easy grab. The joint is firm enough, so it makes a small car key easier to hold and navigate into its position in the ignition switch. The second picture shows the watch folded down in a resting position, ready to be slipped into an accompanying leather sleeve.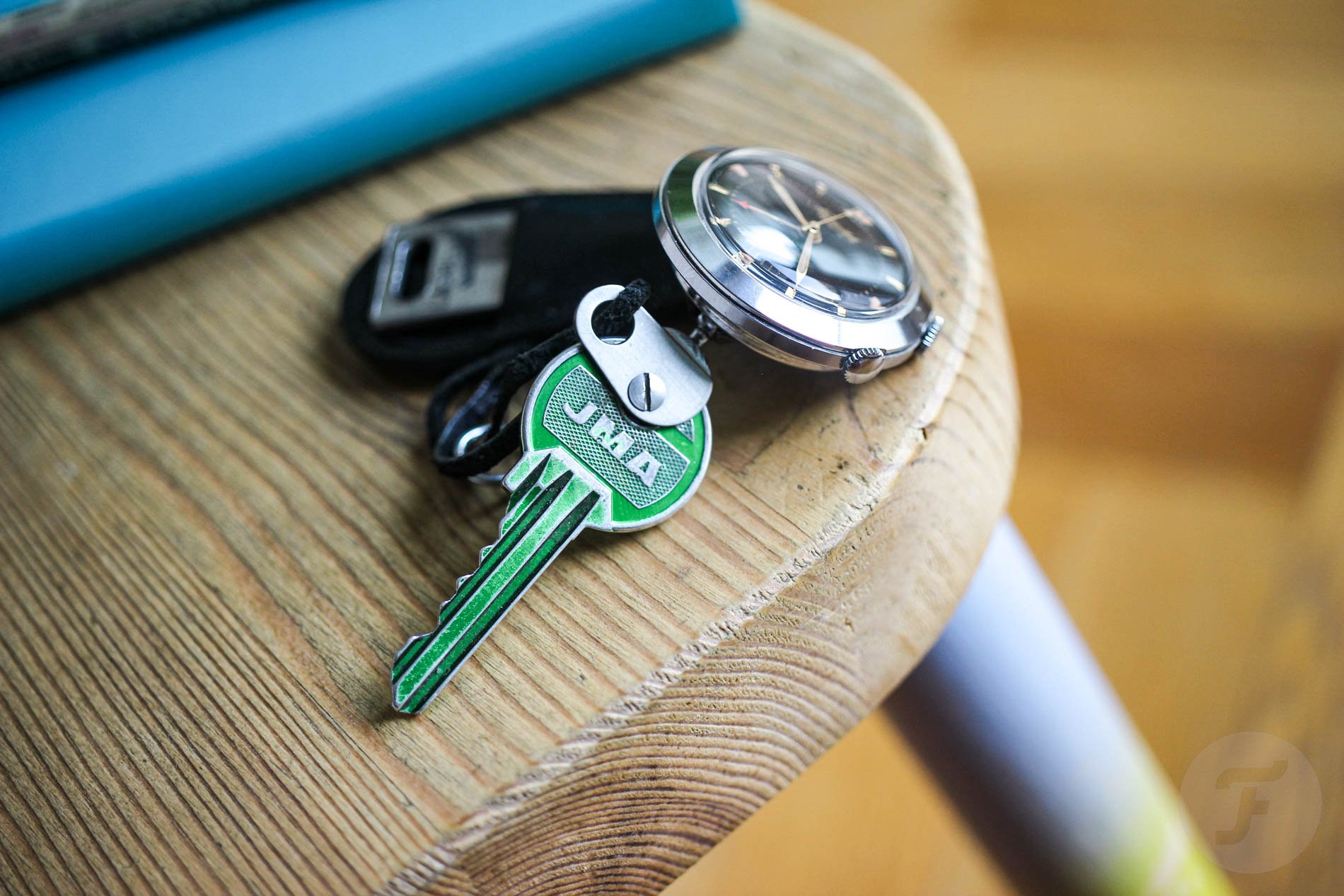 First trial
As I don't have a fitting car key, I attached my Key-Watch to another one of the keys I have. I won't go into technical details on how the case-back holder and joint are constructed. From a usability standpoint, I am surprised to see how well balanced the joint mechanism is. It doesn't rotate too easily. Instead, you need to train your fingers to be able to apply the proper force to fold or unfold it with one hand. The Key-Watch that I found was in NOS condition, so I can't yet comment on how durable the construction will be over time. But the watch holds its position perfectly, no matter how you put it, and the construction looks like it could last without much wear.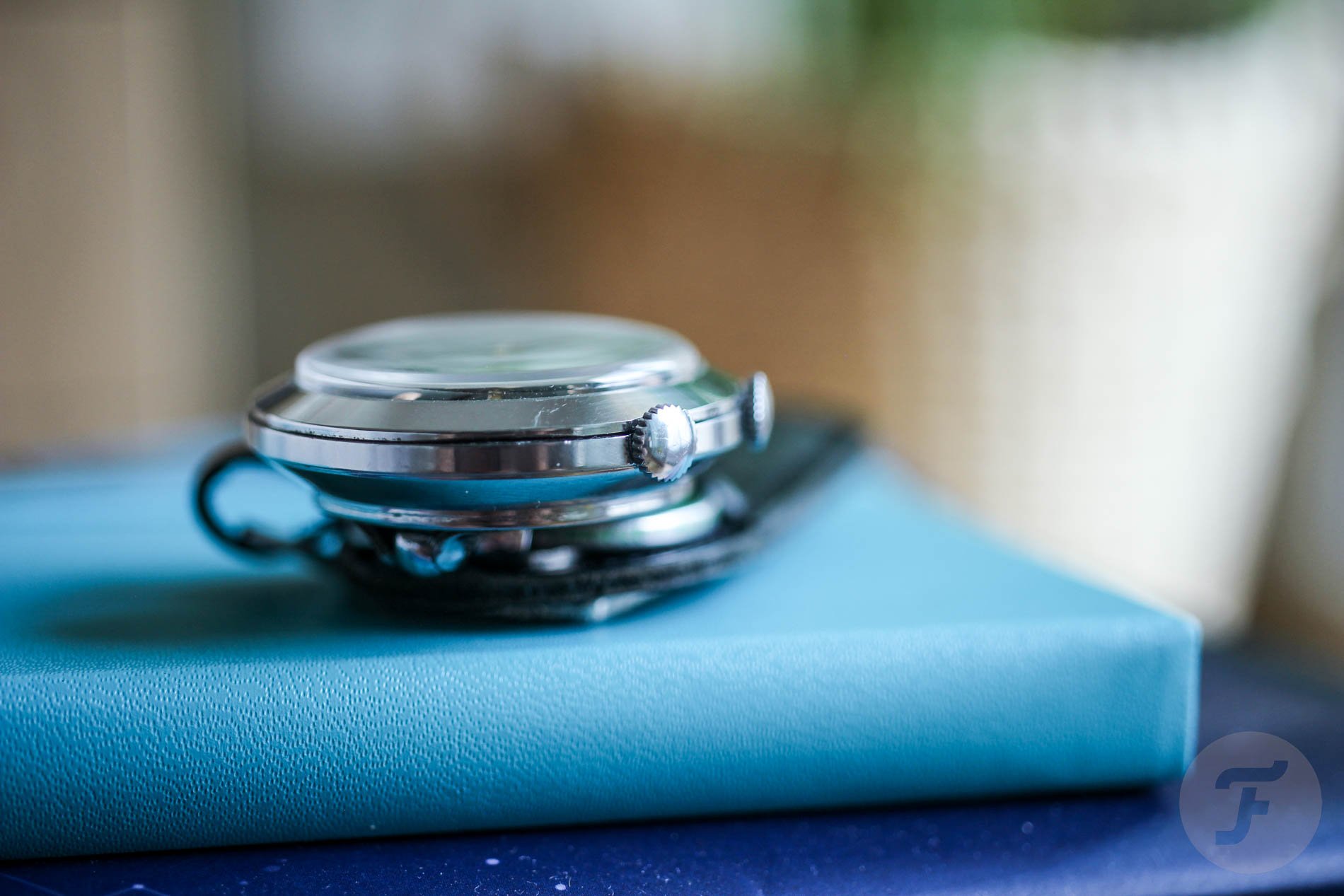 Putting the Key-Watch on a timeline
The first patent application came from Switzerland, filed on February 16th, 1954. The US patent was filed about two months later, on April 20th. Both patents came from Gérard Friedli, who was supposed to work as a watchmaker at the Fabrique d'Horlogerie de St. Blaise SA. The Swiss patent was granted after two years, on October 31st, 1956, under No. 316847. US patent No. 2,745,244 was granted a bit earlier, on May 25th, 1956.
Time-only version
There are two versions of the St. Blaise Key-Watch. I have no catalogs or any other documentation from the era, but I would guess that the time-only model you see above was the earlier one. I have to say, I really like the watch from a design perspective. The bezel amplifies the perfect radial design, and the exaggerated style of the hands is striking. Geometric shapes on steroids — who doesn't like those? After 70 years of sitting in drawers, many of these extravagant models developed big "shadows" on their dials due to huge radium plots in the hands.
Alertic
I managed to score a likely later version with two crowns, the bottom one for setting the time and the top one for the alarm. Back then, digital time wasn't jumping at everyone from iPhones, ovens, or laptop screens, so I guess an alarm in a Key-Watch was a practical feature to help avoid expired parking meters. The "Alertic" signature printed above 6 o'clock was a name registered by A. Schild, which is probably not an accident. The movement inside has an AS stamp. This is no highborn caliber, but it works as reliably as all other A. Schild movements.
Likeable details
I used my Key-Watch for a few days just for the fun of it. The joint gives the St. Blaise Alertic Key-Watch more freedom and flexibility than your neck gives to your head. Meaning, if you don't have a key car to pair it with, you can still use it as your desk clock. With a 37mm diameter, it's pretty usable. Applied and nicely sculpted indexes and the red triangle tip on the alarm hand are little but lovely details that will keep you engaged long enough.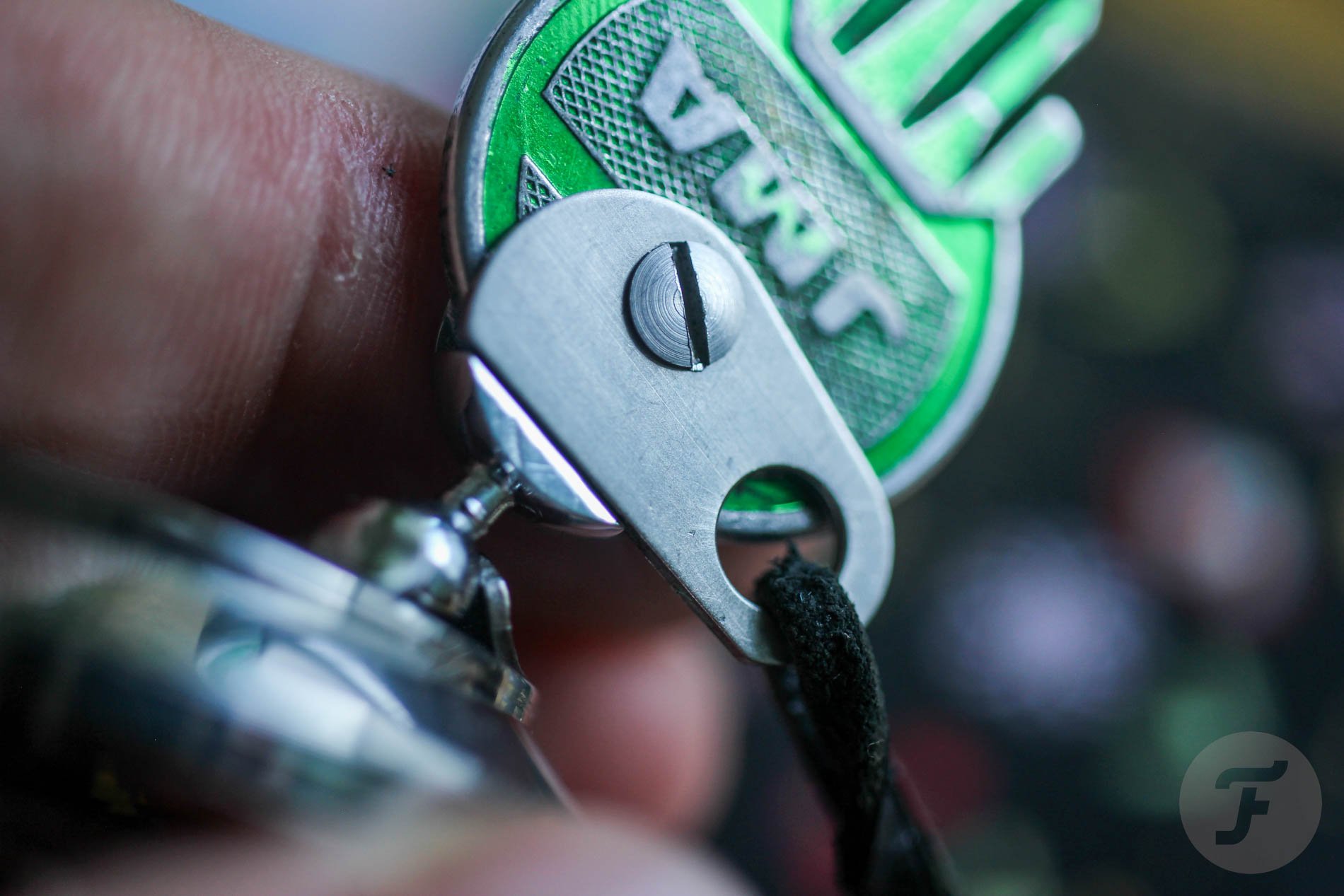 Easter eggs
The "U.S. Pat. Pend." stamp on the case back ring gives the watch a feel of uniqueness, quality, and style. If you keep searching long enough, you may even find some special bonuses. In my Google searches, I bumped into a case back with an Alfa Romeo engraving in the center. Maybe it resulted from an official mini-series with a local car dealer or was simply a creative addition by the original watch owner. We don't know the answer, but open questions like this are what keep us thinking and searching for years.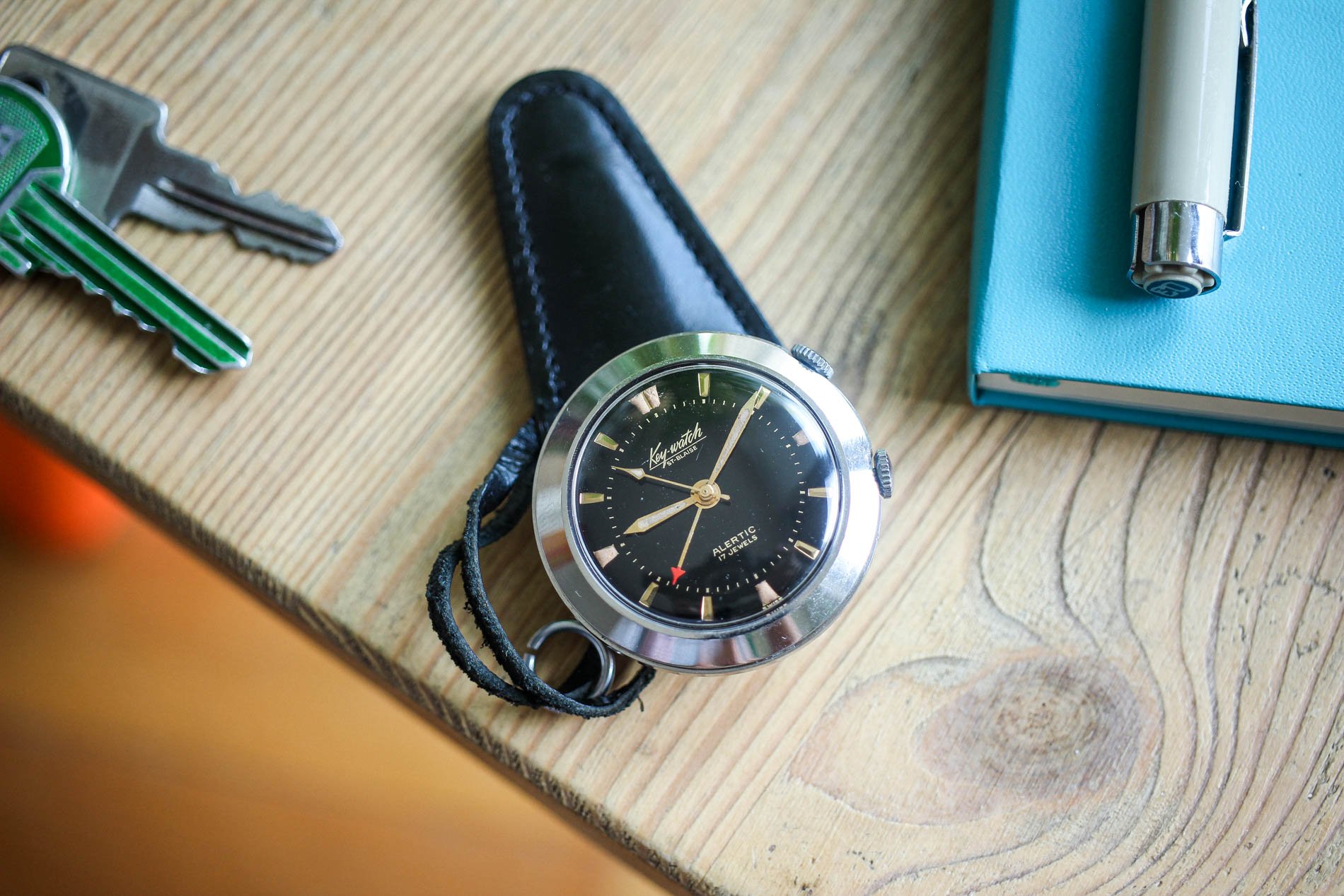 Last thoughts
The older I get, the slower I drive. I also dream a lot, but I do not have that uncontrollable urge to buy another old car. Honestly, though, if I were about to buy another classic car, it would have to be something unique. Something different. Something really old. I'm thinking perhaps a 1940s car with wire wheels, no roof, and a dashboard placed parallel to the ground. Something like an Alfa Romeo 8C Zagato. And that would be a car that I may finally use my St. Blaise Alertic Key-Watch with. Happy hunting!