The New Fears Brunswick Comes In Two Delightful Flavors Including A Purple Delight
Color your weekdays purple and keep the champagne for weekends
For me, the new Fears Brunswick exudes the archetypical Britishness that Fears has a historical claim to, and twice over. In a world of big, bold sports watches, its soft cushion shape warms my heart, especially as I'm part British by proxy. Look, I've already made it abundantly clear that while I live in Norway, I don't ski, and I'm not particularly fond of scrambling through the forests of this fair land. My dad, Norwegian as he is, has lived in Essex for 40 years and is forgetting his Norwegian, which is just fine. I might have even taken after him.
The Fears Watch Company has its quintessential Englishness down to a tee, as amply demonstrated in the collaboration with Garrick last month. I had the pleasure of interviewing my friend and brand owner Nicholas Bowman-Scargill for another Brunswick launch, the hand-finished Platinum version. And while that is pretty hard to beat, this week, we had another chat about a new and unexpected duo in Purple and Champagne. A perfect pair? Let's see.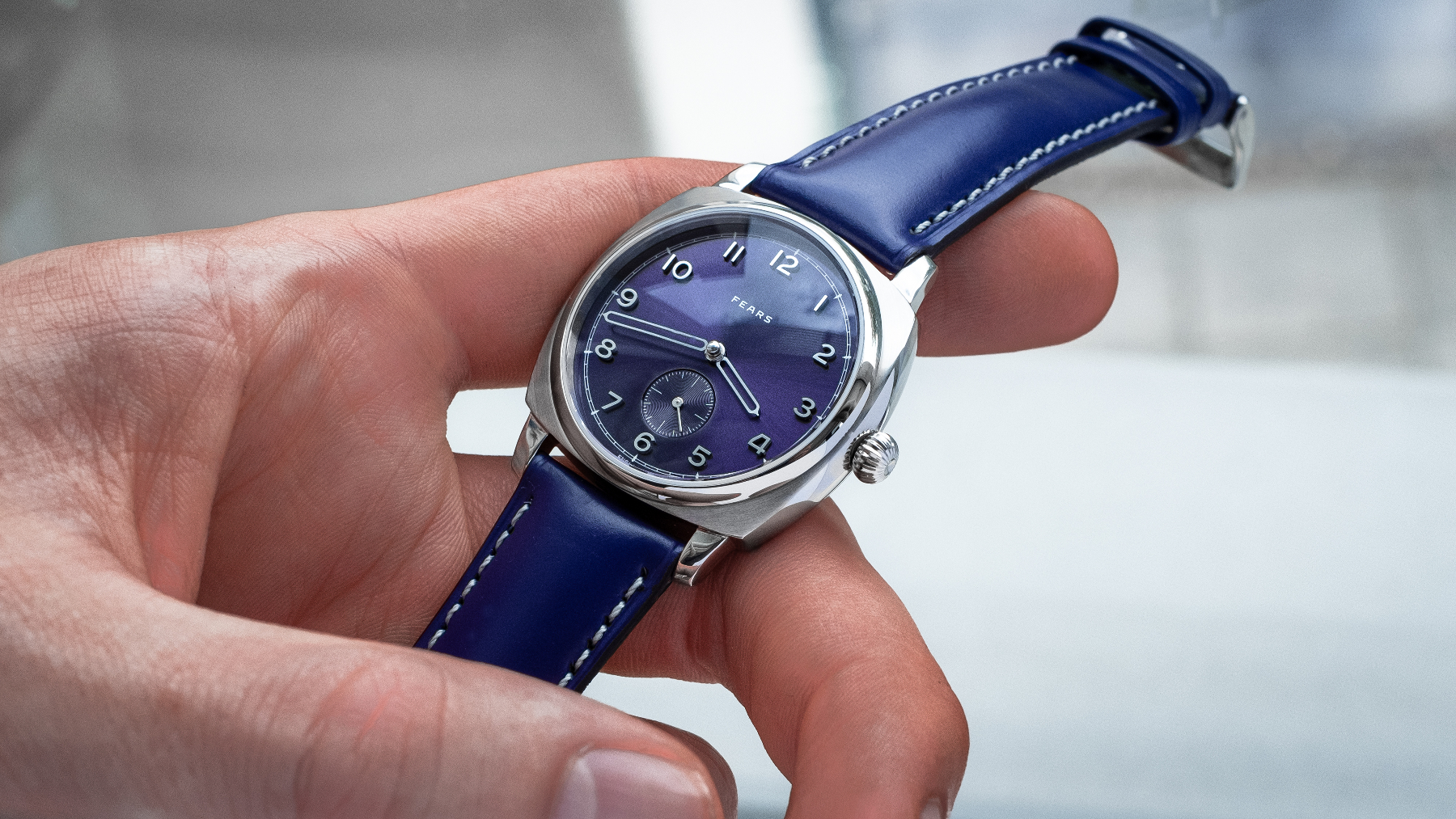 The backstory of the Royal Purple Brunswick
I had a chat with Managing Director Nicholas Bowman-Scargill to understand the inspiration behind these two new Brunswick references. He tells us, "The Jubilee edition was an idea that came during a conversation with two Fears owners about the Queen's Jubilee. This created the idea of a strap, but ended with me, a purple skeptic, creating an in-house project team for a special edition, project name 736. This was the hull number of the QE2 being built in the John Brown shipyard."
"There is a clear laquer on the sunburst dial with added pigments of purple, blue, and black, making it a changeling dial…"
"We ended up flying out to Germany to our dial maker, looking at twenty different shades of Royal Purple. It is, to this day, a complex color to reproduce," Nicholas tells us. "There is a clear lacquer on the sunburst dial with added pigments of purple, blue, and black, making it a changeling dial, going from very dark to almost black, then tilt the wrist and you'll get the vibrant purple shining through." At the launch, Nicholas tells us that he is very proud to release a watch to commemorate the Platinum Jubilee, an incredible achievement by Her Majesty The Queen.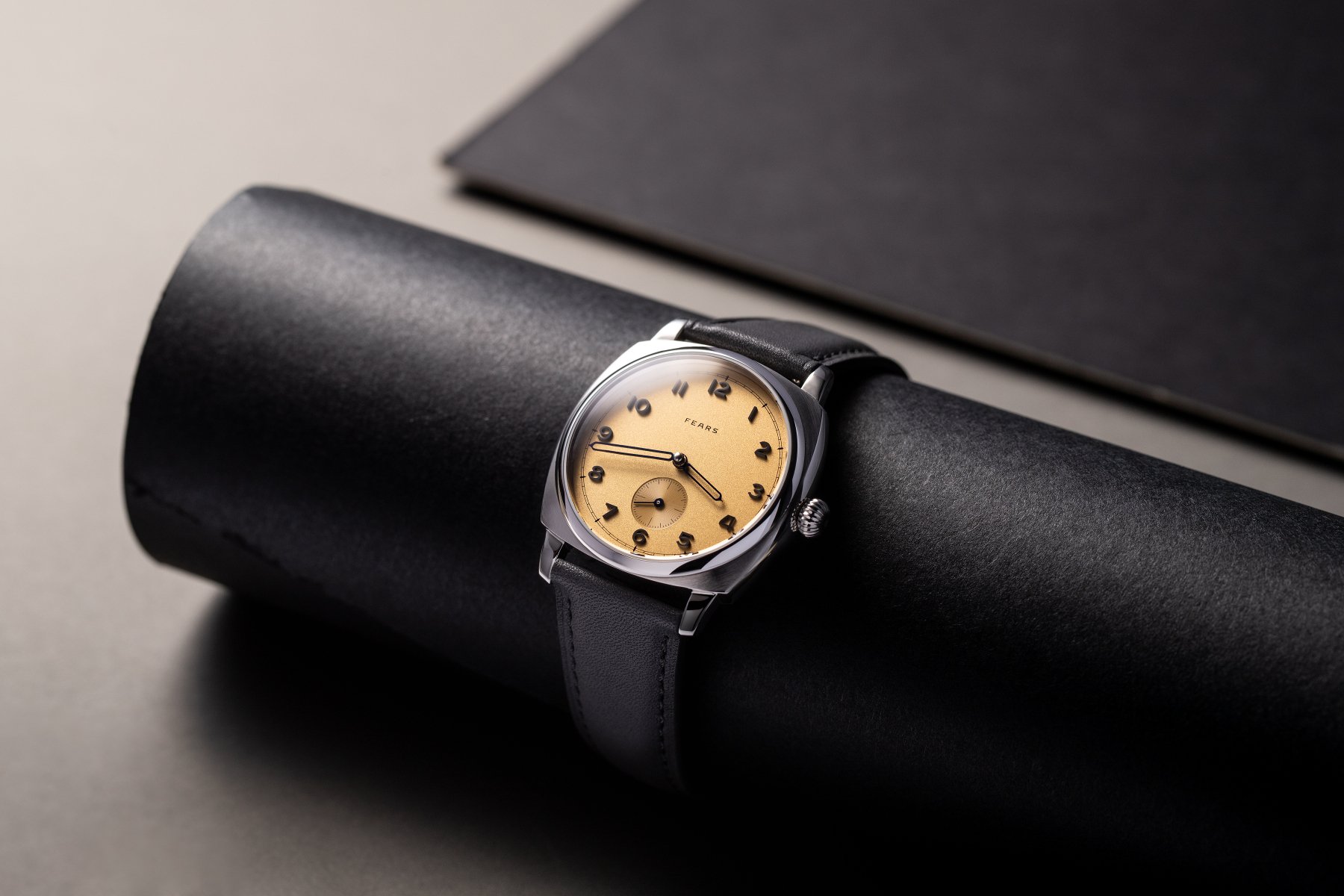 A flash of Champagne
The story of the Champagne is slightly different. It's based on an idea that Nicholas had back in 2021 of a champagne dial, but one that was relevant and contemporary. Nicholas tells us, "Champagne dials feel very seventies, even kitsch, and associated with Rolex. Could we do something playful with it, something relevant? True gold, for me, is yellow gold. Whereas pink gold is beautiful on a salmon dial, yellow gold is different."
He continues, "It is something you can't recreate as color without using actual gold. After trying many different finishes on the dial, we ended up with the glass-bead-blasted frosted finish with layers of 18ct gold." To me, it brings out a special sparkle to the surface and a rich warmth that only underlines the craftsmanship. To separate this design from the salmon dial, the Edwin numerals are diamond-polished and coated in black gold — juxtaposed perfection.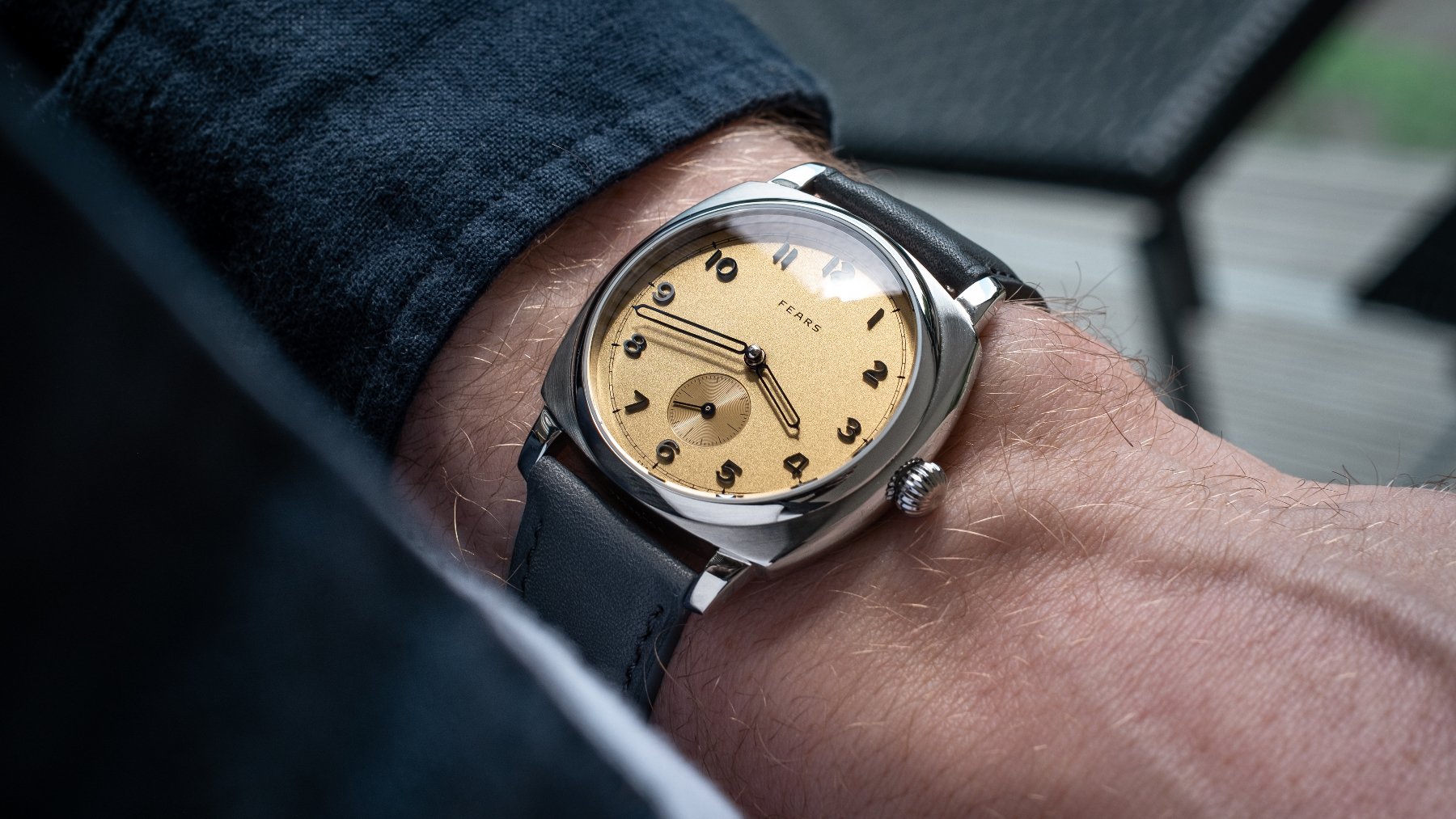 The Brunswick
For those unfamiliar with The Brunswick, here are my two cents worth. The word is yet again "Goldilocks". Sarcastic commenters, no, this is not because my wrists are puny. At about 17.5cm, they are medium, and a 38mm watch also wears great on an 18.5cm wrist. Get over your fear of sub-42mm chunks, and you too will reach enlightenment. This cushion-cased 38mm watch is a great example. Just like my Farer Stanhope II, it's British mid-century cool, or a rather elegant daily wearer if you enjoy dressing up. This absolutely includes Fears owner Nicholas Bowman-Scargill and infuses his wristwear with a clear feeling of mid-century panache. The soft lines of the Brunswick give it a quiet yet prominent wrist presence with a language of its own. I won't harp on about how sweet a sub-39mm watch wears, but you're no less of a man without that 44mm bruiser.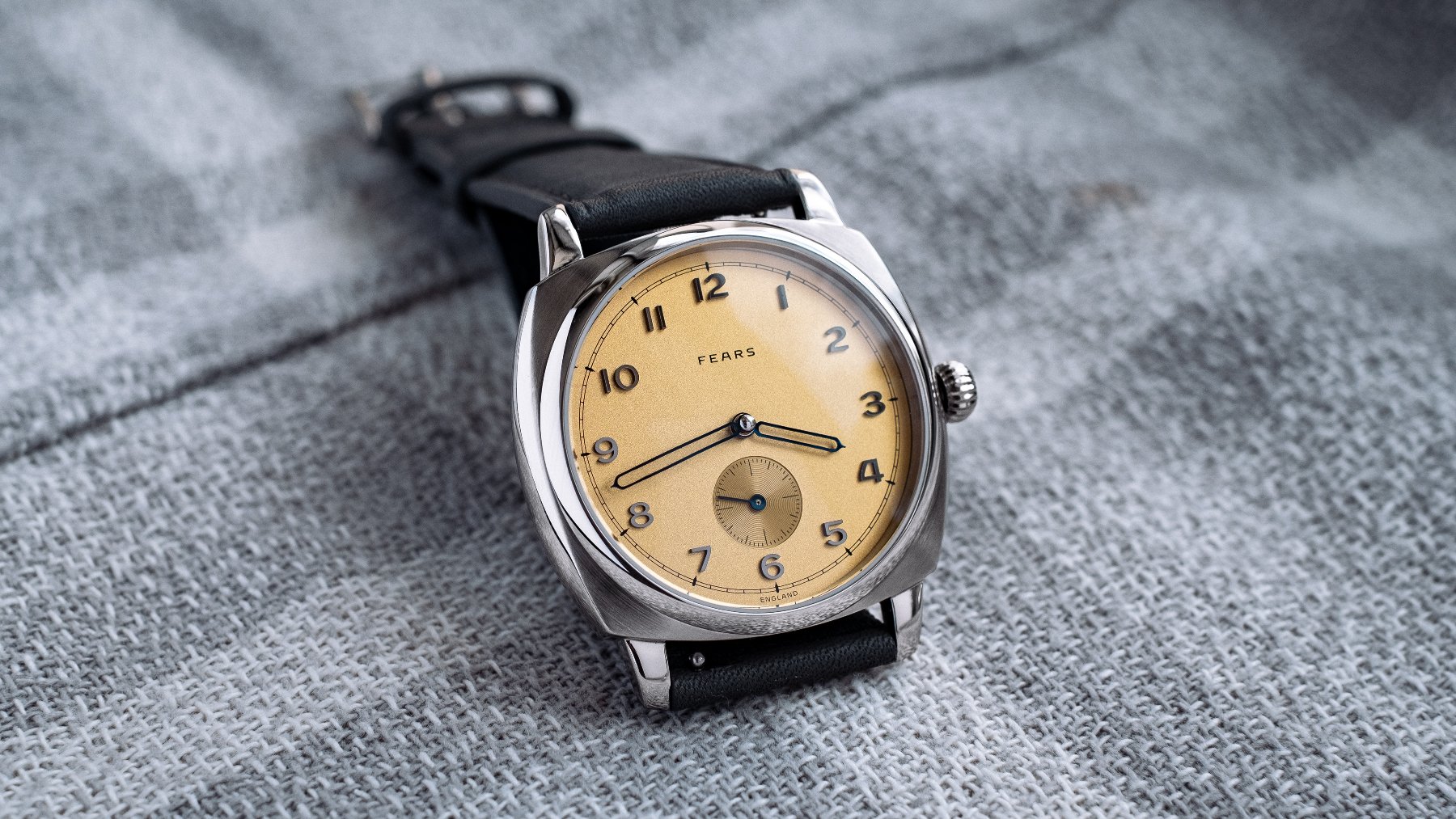 Two delights and one smooth-winding ETA caliber
The Brunswick is fairly slim at 11.8mm thick and is powered by an ETA 7001 caliber, also known as the Peseux 7001, a quite familiar choice. There is nothing new with the case itself, which is not a bad thing. The comfort and execution of the soft pebble-edged Brunswick are rather good for the price, and the hand-wound ETA movement has just the right vintage feel. It's a top-grade, smooth-winding caliber that provides you with a feeling of yesteryear. And it may sound contrived, but winding a watch has a calming effect on the busiest of days. I can attest to this, as I have this movement myself in a hand-wound Holthinrichs Ornament. The caliber is renowned for good reason.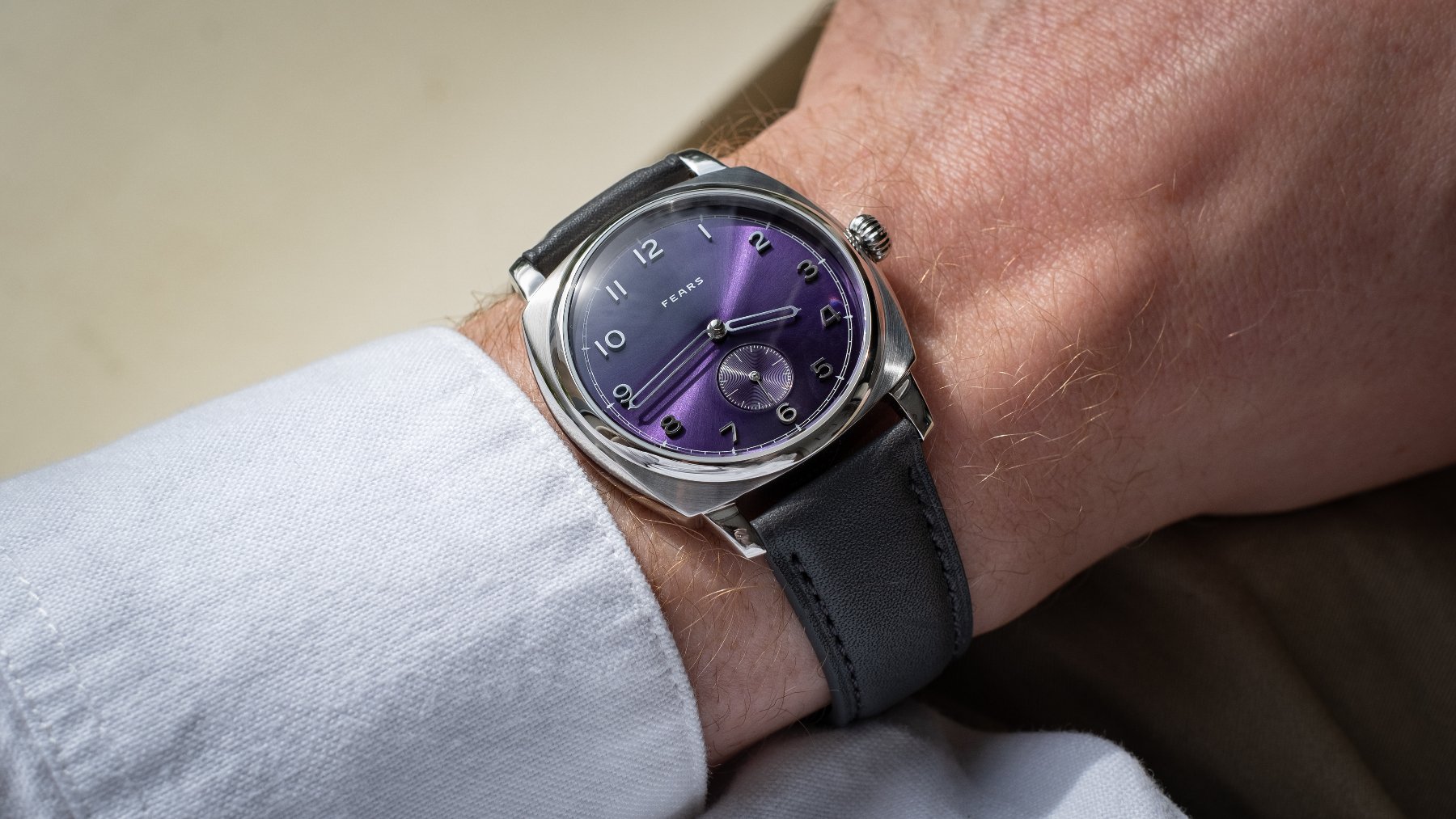 But which one would I choose?
Choices, choices, such difficult choices… There is a sense of elegance and occasion with the Brunswick Champagne, its rich dial made real through several layers of 18ct yellow gold after a glass-bead frosting of the surface. The purple Brunswick "Jubilee Edition" however has a vivid soul. And while it does come with two strap choices, I would eschew the gray option and go all-in on purple. Personally, I would find it difficult to choose, as I'm not one to go for safe choices, and I do love colors. The quirky yet classic elegance of the cushion case lends itself to the frosted gold dial, and the black gold tall numerals pay into the contrasting glimmer with ease. But to be honest, I'm playing "Purple Rain" cranked up to 10 while suiting up for a party.
These two new Brunswick models are available starting today, March 27th, 2022. For more information and pricing, visit the Fears website, and let us know which color you'd choose in the comments.
Find me and follow me at @thorsvaboe