The Seiko Flightmaster: A Speedmaster+Navitimer-Inspired Love Child
Why Omega should be wary of this quartz crisis
We all know and adore the Omega Speedmaster — the first watch on the Moon, official watch for NASA astronauts. The Breitling Navitimer has its own prestigious history and diehard fans as well. It is the embodiment of the quirky yet beloved slide rule bezel. These two watches are pinnacles of aviation horology. However, they aren't the best. Oh no, if anything, they are only thematic stepping stones to the true king of flight watches: the Seiko Flightmaster. It is the best of Speedmaster and Navitimer, with a few quirks and special features of its own.
First off, I'd like to apologize to RJ for this article. From the website that brought you Speedy Tuesday, I bring you an article about why not to get an Omega Speedmaster. Horological blasphemy, I know, but even RJ wrote an article on the same, more or less. We might call this "Un-Speedy Friday" or "Flighty Friday" in honor of the Seiko Flightmaster. In truth, the Omega Speedmaster is an excellent watch. It deserves every bit of praise and penny its prestige and price tag command (how's that, Wordsworth?). I longed for a FOIS Speedmaster for many years as a grail watch, but my thrifty style and a transition from valuing prestige to practicality eventually let the flame of my desire reduce to embers. I found I desired not a Speedmaster, but what I considered to be the ultimate tool watch. It turns out it isn't a Speedmaster.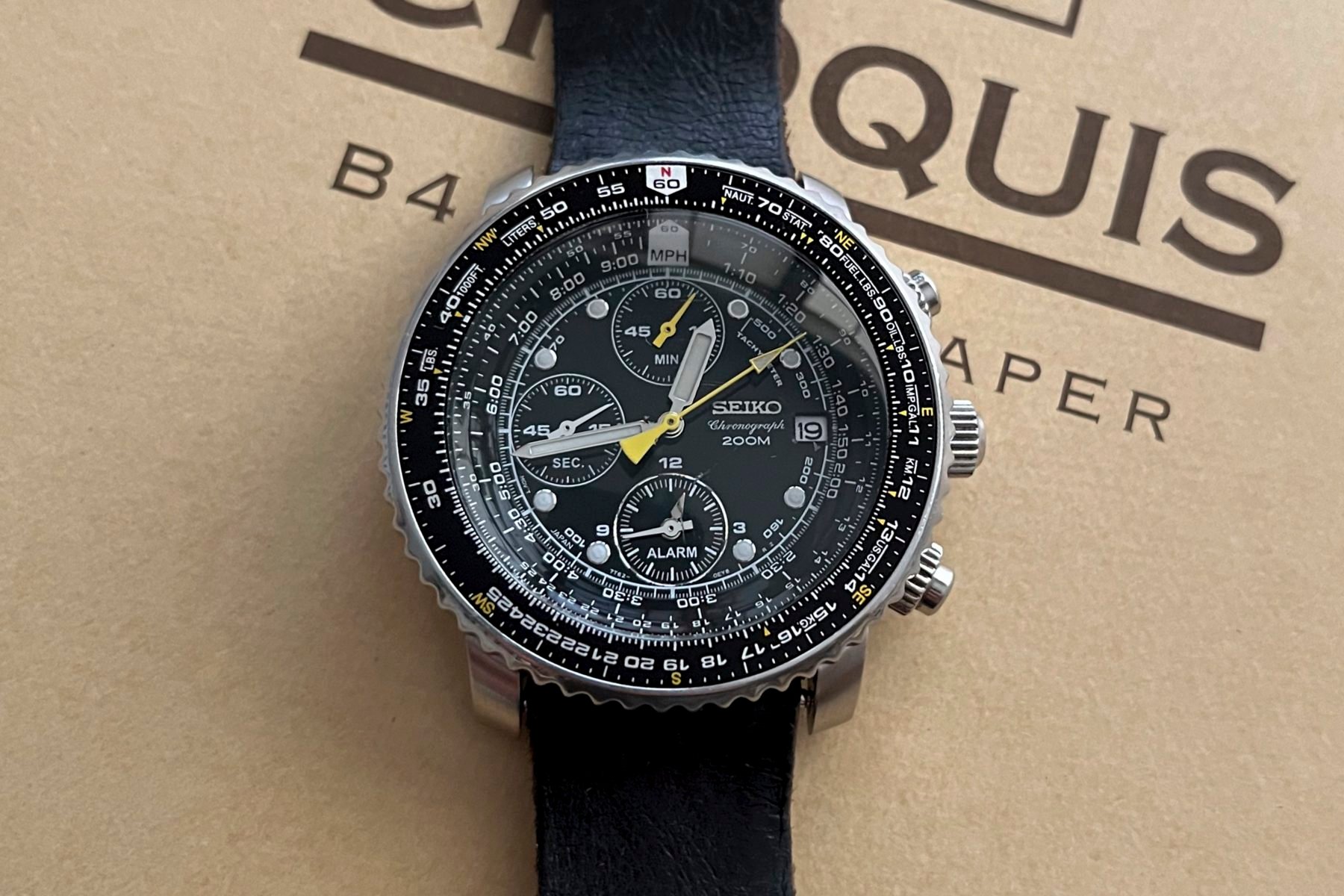 Seiko takes Flightmaster
The Seiko Flightmaster — ref. SNA411 as the black-dialed variant and my personal watch — is a hard-to-find, unpopular (as far as Seiko fanaticism goes) tool watch for the aviation-oriented and beyond. Unlike most aviation watches, holdovers from before the quartz crises, the Seiko Flightmaster is a quartz-powered piece.
…most watches that ride on the prestige of their histories depart from much of their practicality.
The Flightmaster has no express endorsements of any aviation organizations. It doesn't have a vivid history of battle or exploration. This may be reason enough for some to strike the Flightmaster from their list. I'm not bothered by the lack of historical significance or professional application. In fact, I've found most watches that ride on the prestige of their histories depart from much of their practicality. This is especially so in light of their prices inflating to reflect their "prestige". Anachronisms are fine for those that want to pay homage to the past. I'm not a curator, I am a worker, and I require timepieces that can accompany and assist me in my work and play alike.
Quartz is the Speedmaster killer
In this case, it is the abilities of the quartz movement, caliber 7T62, that make it a Speedmaster killer. The standard precision of quartz and end-of-life indicator for the 2+ year battery are present. The three sub-dials — arranged in a 12-6-9 layout with the date at 3'clock — at first glance portray a standard 12-hour chronograph, a la Valjoux 7750. Closer inspection of the 6 o'clock sub-dial, however, reveals a stark departure from the norm. Small letters beneath the two hands spell "ALARM", and that is exactly what it is, and more. A combination of crown position and lower chronograph pusher sets the alarm up to 12 hours into the future. Upon triggering, a subdued but surprisingly piercing chime sounds for 20 seconds or until a pusher is pressed to silence it.
Functions galore
At this point, the hands on the 6 o'clock sub-dial will continue to track the actual time. This is a seemingly useless quirk of the 7T62 movement until one realizes that, if an alarm is not needed, a different combination of crown position and chronograph pusher can set those hands to reflect a different timezone. With only a 12-hour indication, it's up to the user to know whether the alternate time is AM or PM. I consider it a worthwhile sacrifice for the double feature.
…the central chronograph seconds hand sweeps at five beats per second, very smooth for quartz.
This, of course, limits the Seiko Flightmaster to only 60 minutes of elapsed time measurement. It's a limitation on any security in actual flight navigation, but 60 minutes suits me fine, as I am no pilot. While the minute, alarm/dual time, and running seconds hands click over sharply on the minute and second respectively, the central chronograph seconds hand sweeps at five beats per second, very smooth for quartz. The hands reset with a pleasing rapid sweep through to the top position.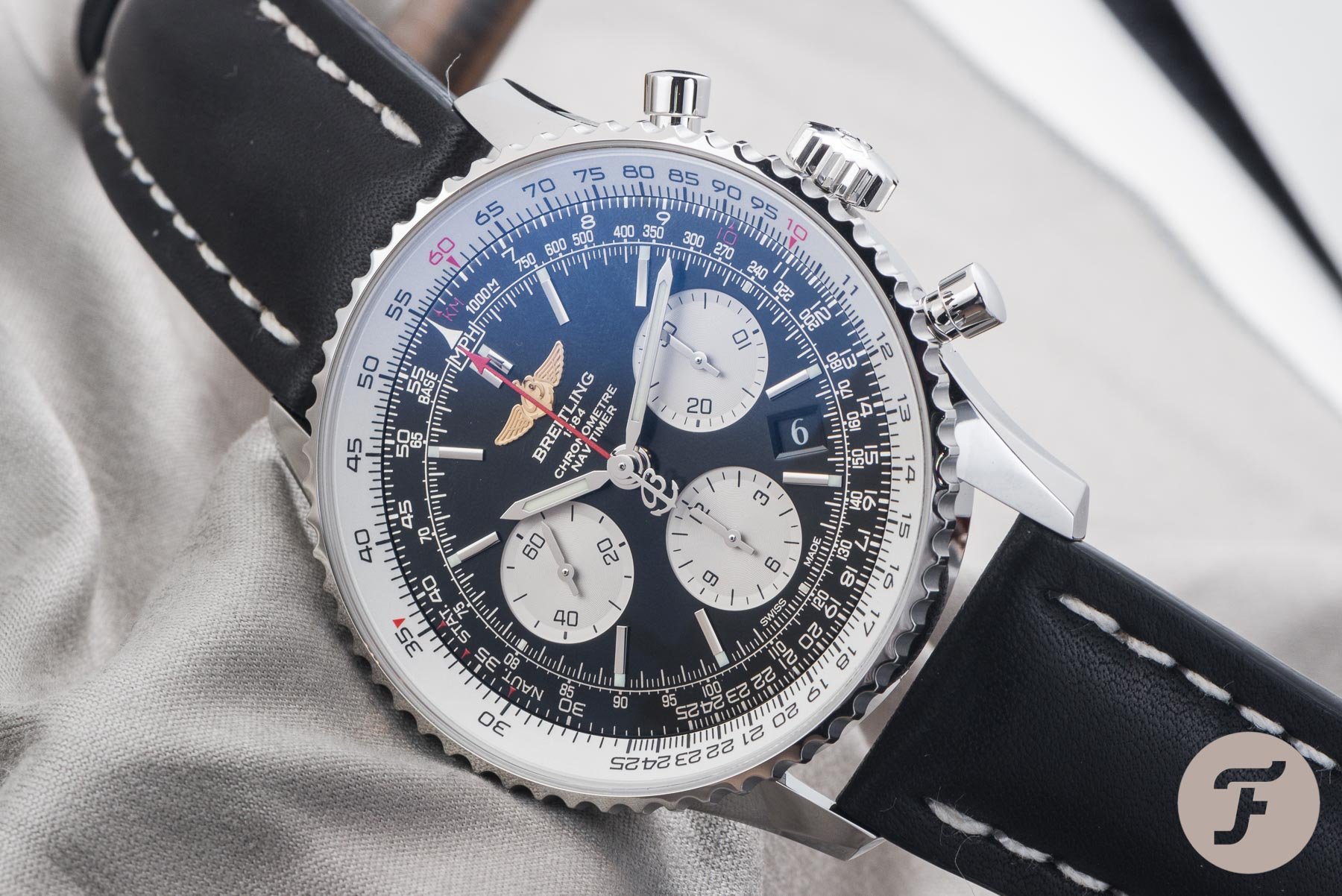 A slide rule bezel born from Breitling
The combination of functions already sets the Seiko Flightmaster apart from any Omega Speedmaster, but it's in the design of the dial, bezel, and watch overall that boosts it to another level. It is also where we meet its other parent, the Breitling Navitimer. The Navitimer is fairly unique for the incorporation of a slide rule as its bezel. A slide rule bezel might seem anachronistic in and of itself, but I assure you it's not obsolete, quirkiness aside. I own a couple of old Soviet-era pocket slide rules that I use (play with). Though I'm no pro, I get the basics well enough to be proficient in performing calculations.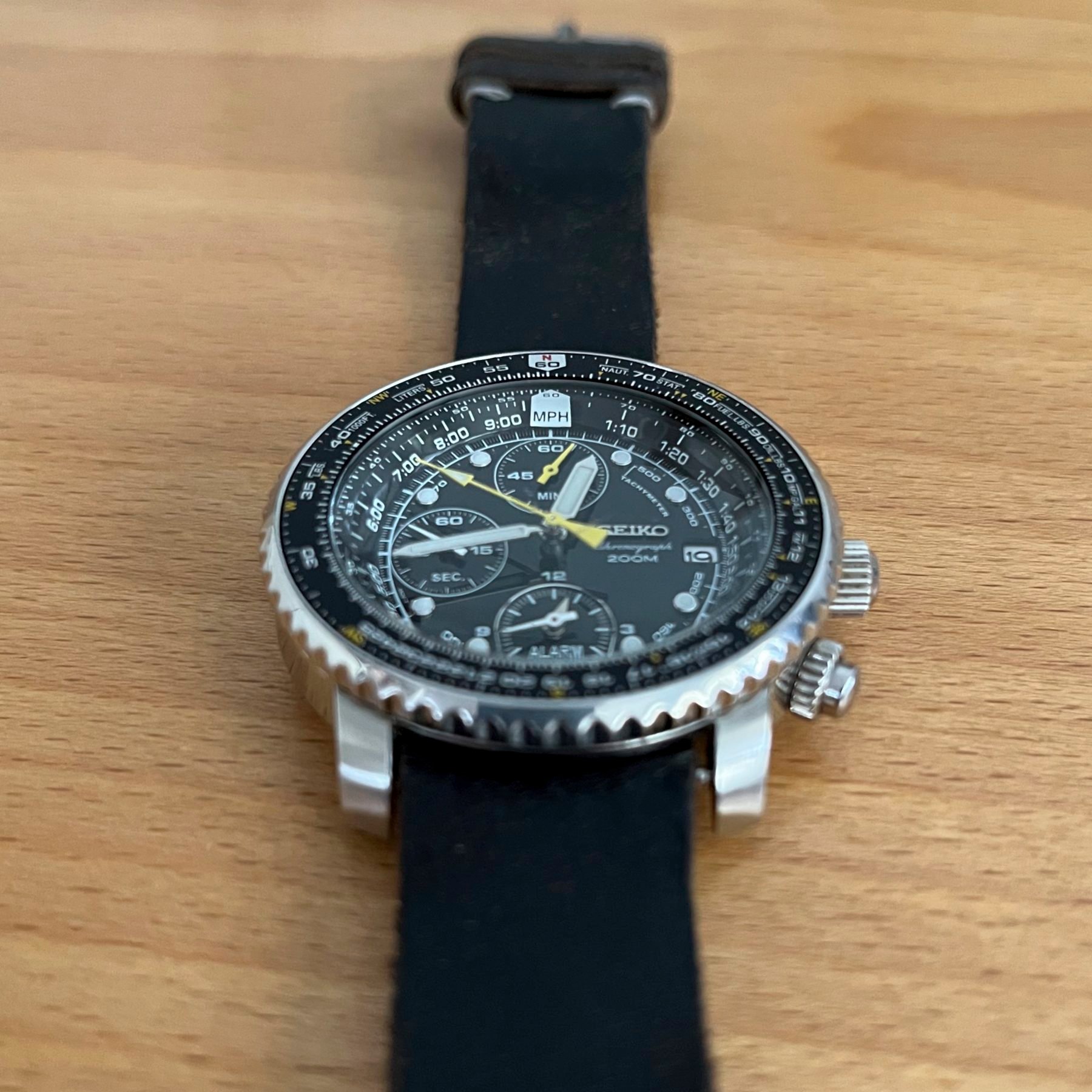 There's a lot of information on the bezel and dial that comprises the slide rule of the Flightmaster, which closely follows the markings on the standard-issue aviation E6B slide rule. Quick conversions for feet to meters, gallons to liters to imperial gallons, and more are minutely indicated on the bezel among the rest of the information. Standard slide rule increments are marked as legibly as they could be in such a small presentation. The bezel and the marks on the chapter ring line up close enough to be useful. There are other slide rule watches in the same price range that can't claim that.
How to rule the slide rule bezel
For those unfamiliar, a slide rule uses logarithmic calculation to quickly perform multiplication, division, and conversions. I have heard of some "old-school" engineers who were faster with a slide rule than most are with a calculator. I believe it too. After learning the basics, the slide rule has an intuitive nature to it, and the user can only improve with practice. Engineers in the USSR (and old holdouts in universities around the globe) professionally used slide rules long after the electronic calculator was in common use. Here's an excellent tutorial for how to use an E6B, the circular slide rule the pilot's bezel was based on.
A slide rule is an important tool for aviation because it allows for rapid calculations "off the cuff". Fuel efficiency, unit conversions, and more are important to know when trying to determine, say, how far you can go with what you've got in the tank, especially when a mile up in the sky. Oh, and miles to kilometers? The slide rule does that easily.
Pilot's watches for the people
Any contemporary watch with a slide rule bezel inevitably harkens to the Breitling Navitimer. Its existence as the luxury slide-rule-bezel watch, with it being such a rare feature, assigns it as the pseudo-Platonic ideal of the concept. There are actually plenty of slide rule watches in production today (even more vintage), ranging from affordable through mid-range and up to Breitling. Pilots still purchase them, though their professional use has dwindled to a similar extent as dive watches have for divers. Likewise, their appreciation and wear have spread into the general population. Sinn purchased designs from Breitling in a moment of hardship downsizing and began producing its own watches with slide rule bezels. The Sinn 903 is an excellent model for straddling prestige and practicality and has a design with true aviation provenance.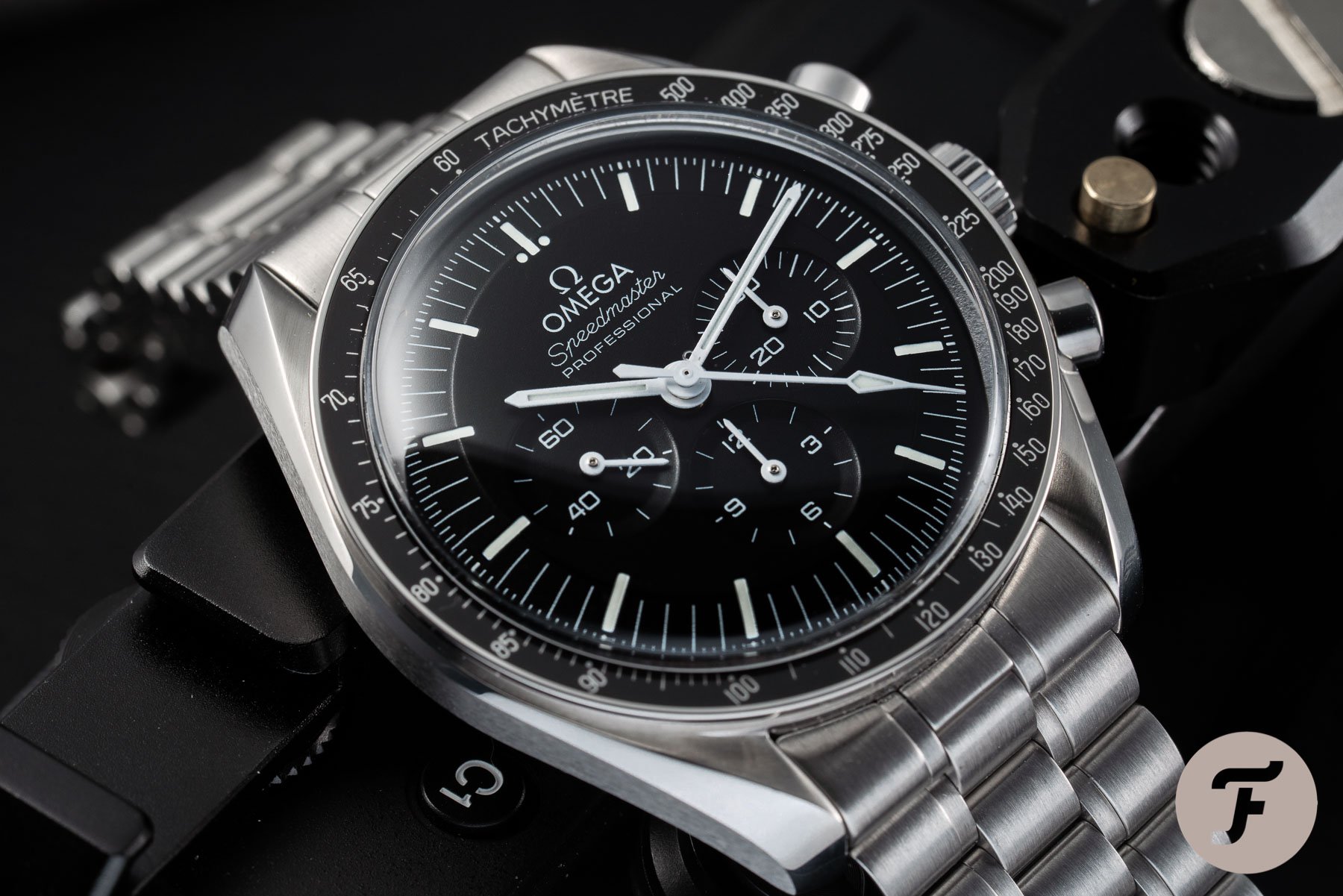 Flightmaster is the Speedmaster's less pretty sibling
But the obvious connection of the slide rule to the Navitimer aside, the SNA411 in black livery is all Speedmaster Professional. The hour and minute hands and arrow for chronograph seconds are millimeters away from a copyright infringement lawsuit (maybe an exaggeration). Seiko's combination of metal brand applique with "Chronograph" script and sans-serif "200M" next to the date are undoubtedly a nod (or snub) to Omega. The similarity to the Moonwatch's text layout is uncanny. Even the Flightmaster name is an obvious nod to another of the Speedmaster's less popular brothers.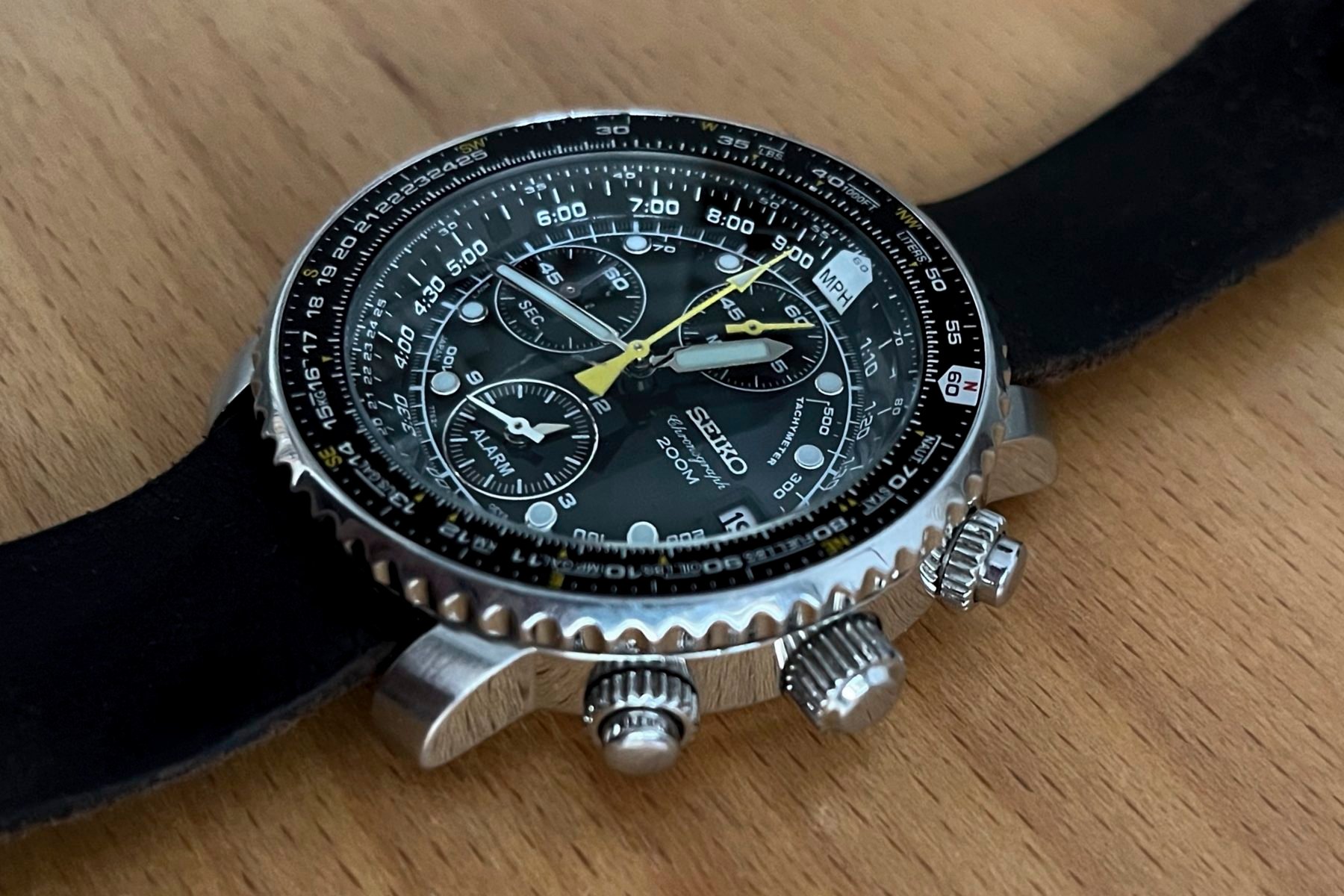 The black dial, printed steel bezel chock-full of information, and chronograph all point to Seiko saying, "This is how we Speedmaster." True, the bezel on the Speedmaster is a tachymeter. However, impossible as it may seem, the Seiko Flightmaster also packs in a tachymeter in line with the hour markers. But it's so broken up by hour indices and sub-dials that it is, unfortunately, the only function that seems to exist for show only… or spite.
…and not just a pissing contest of which watch flew further, the Flightmaster is the more capable watch.
But really, though there are similarities in design elements, the Speedmaster and the Flightmaster are two very different watches. Seiko knows people who want a Speedmaster Professional won't buy a sub-$300 Japanese quartz. Omega has its own clientele for what is an excellent watch rich with history. The brand, however, knows there's just no comparison — the Seiko Flightmaster is better. But seriously, folks, practicality for practicality's sake, and not just a pissing contest of which watch flew further, the Flightmaster is the more capable watch.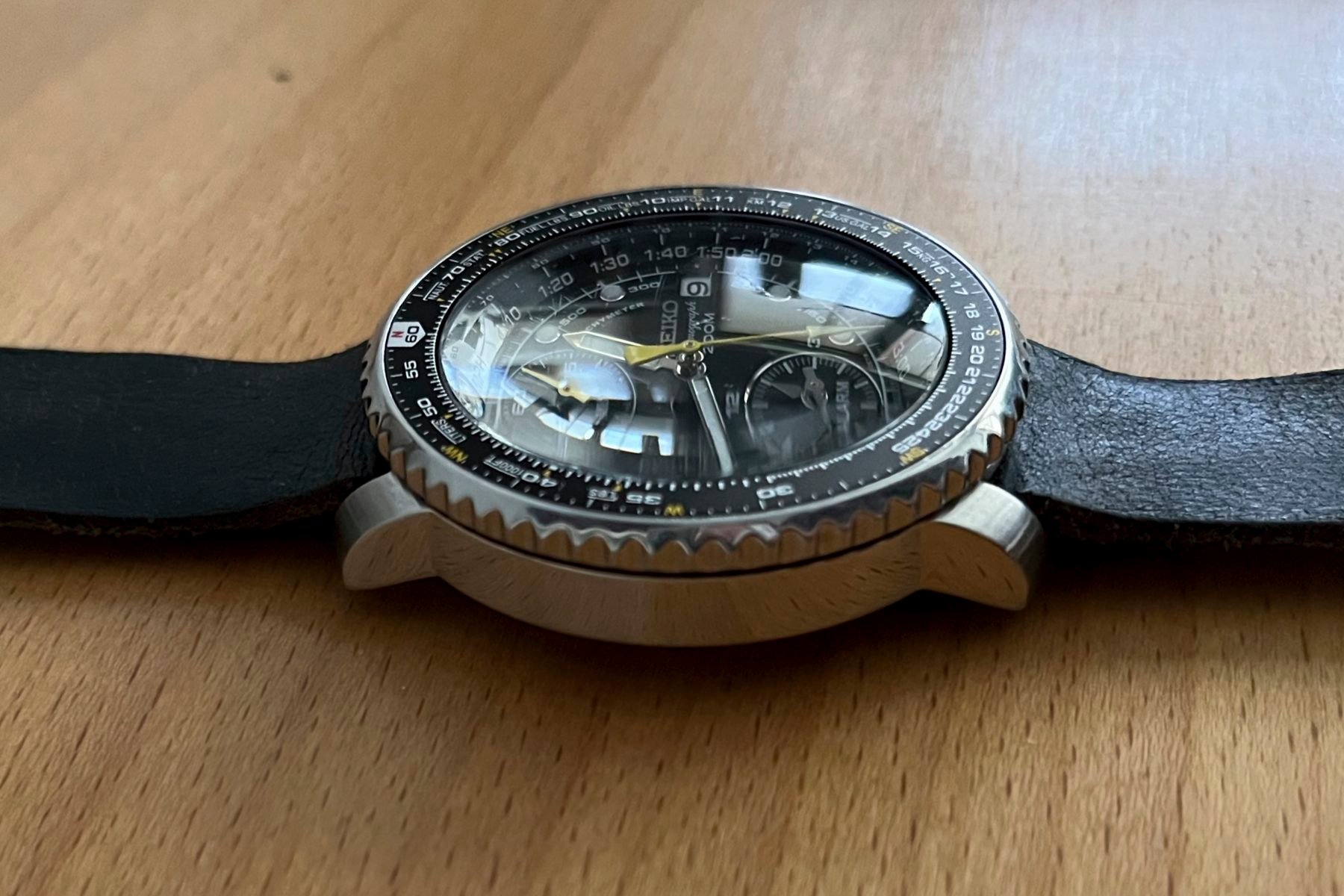 But can your Speedy do this?
The Seiko Flightmaster has a 60-minute chronograph, an alarm or 12-hour dual-time function, a fully functional slide-rule bezel, a (useless) tachymeter, and a date. I guess astronauts don't need to know the date in space, and they likely don't need an alarm either (or is that why they wear a G-Shock on the other wrist?). It has a water resistance of 200 meters, made possible with the screw-down crown and pushers. Lume marks the minute, hour, and chronograph second hands, with elegant, circular lumed indices everywhere there isn't a sub-dial or date aperture. A domed Hardlex crystal adorns the top, with a solid stainless steel back to hide away the "gorgeous" quartz 7T62. While the angular distortion of Hardlex reduces the visibility of all the information packed into the dial, the acrylic-esque charm of it is something even the diehard Speedy fans can appreciate.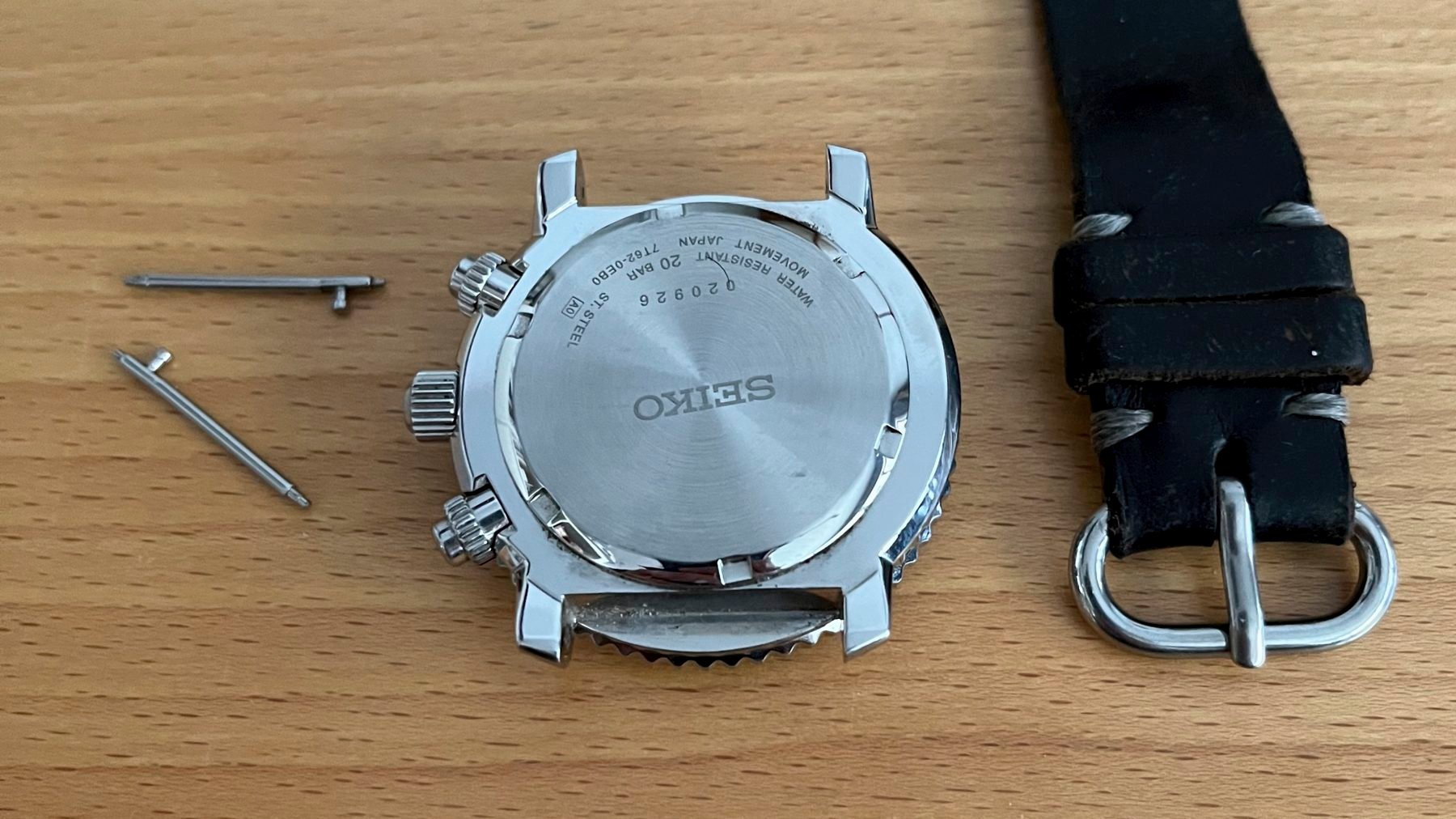 Flightmaster fits all wrists
With stubby 21mm lugs and a 42mm diameter, this watch wears perfectly on my slim wrist. The compact size (for its feature set) adds a retro appeal. At 13mm thick, it isn't going to slide smoothly under a cuff, but it's not the most egregious, again, considering its feature set and tool-ish nature. I immediately took mine off the factory bracelet, which is nothing worth mentioning with its folded metal links. It's been on a handmade Horween leather 3-ring pass-through strap longer than anything else. The untrimmed simple black leather is yet another push towards the 1950s. The spring-bar holes are nestled up closer to the case than one would think, so it's limited when it comes to the thickness of straps.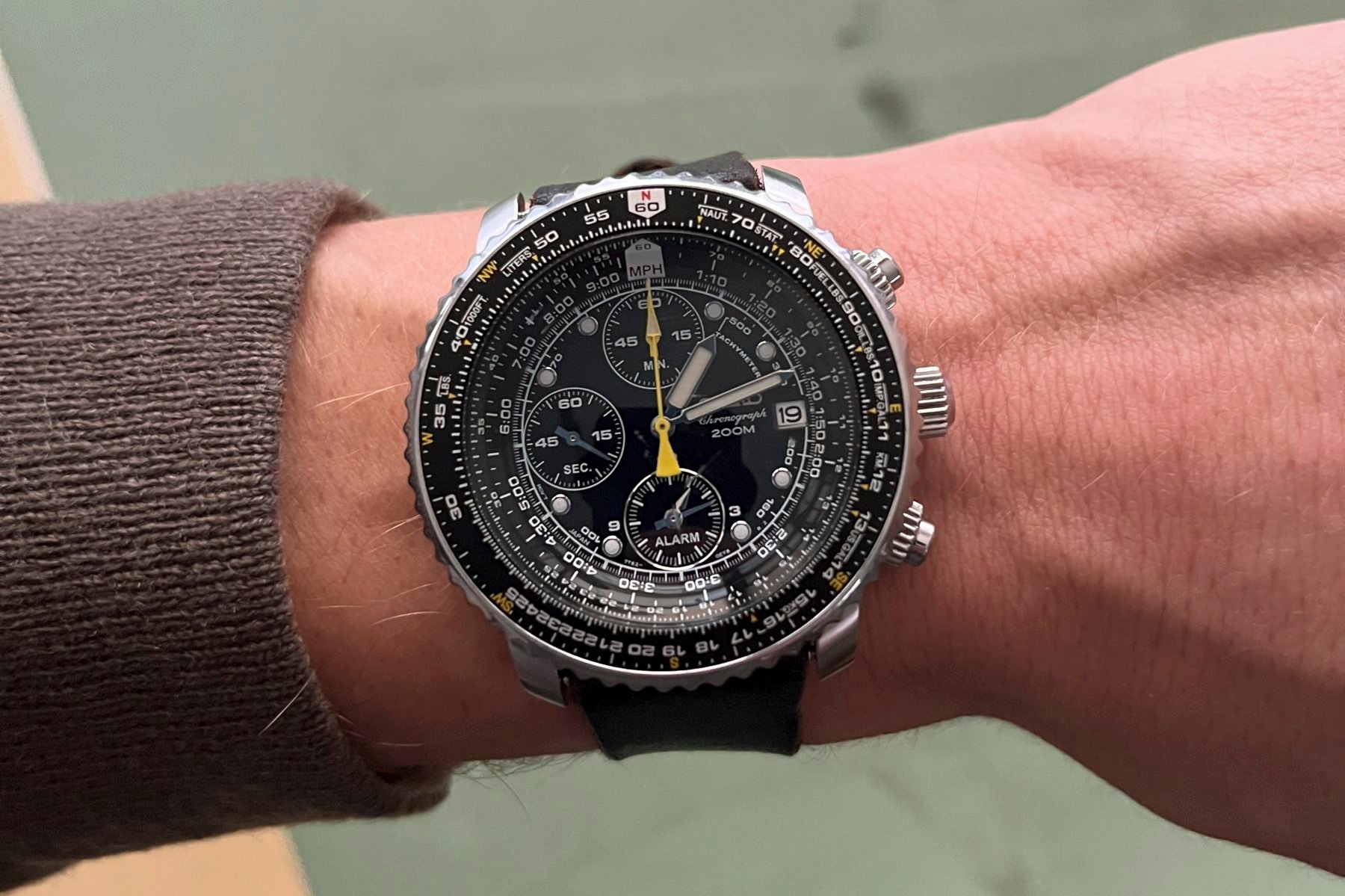 Chunky and funky
This watch is a lot, I know. I think for most of us playing the GADA game (Go Anywhere, Do Anything), we work to reduce the functions we need in a watch to find one that plays well in all realms. Others are content having many different task-specific watches. If there is an elegant antithesis to the minimalist GADA, it's the Seiko SNA411; it does just about everything. In fact, I believe its complete combination of features is unique to only itself and its differently colored brethren (because if the black doesn't do it for you, it comes in a white-and-blue combo).
A different kind of calculator watch
I bought it as my "math watch", whatever that means. I intended it to be the watch I wear when speccing out and designing my tiny-home builds, or even performing organic chemistry in my fantasy (for now) home laboratory. My mental addition and subtraction skills are excellent, and I'm fast at longhand, but with the Flightmaster on my wrist, I'm an unstoppable math whiz. I've only actually needed the slide rule a handful of times, but I can't express how pleased I was to use it.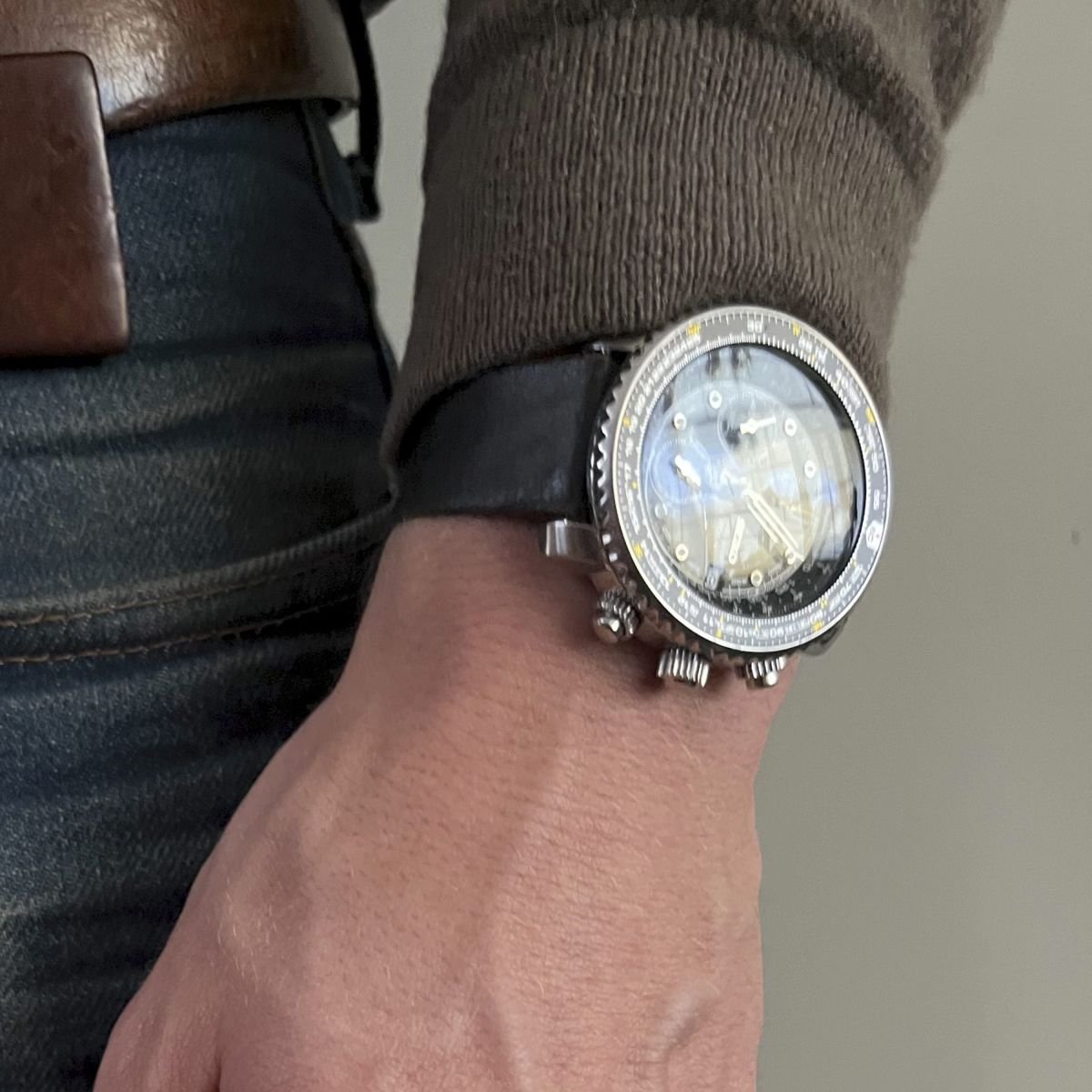 Seiko Flightmaster: the best watch on Earth?
Beyond being relegated to "math time", this watch has, in fact, become my shadow-side GADA. I wear it often, as much as I wear my typical GADA. I find that I do use the alarm, I use the chronograph (curse those screw-down pushers), and I unabashedly use the main indicator on the bezel in dive-bezel fashion. This watch has duly earned its few scratches, and I intend to wear it to smithereens.
To fully cement it in my core collection of daily wearers and even adventure companions, I went on and ordered the replacement battery, a replacement gasket for the case back, and Seiko-brand silicone gasket grease. Some dollars and a pocket in my bag mean my Seiko Flightmaster is ready for travel anywhere, except perhaps space. But I'm not rated for space travel either (as I'm fond of saying), and the cardinal directions incorporated into the bezel for solar navigation(!) makes it a true terra firma GADA, no roads necessary. The Speedmaster Professional and Breitling Navitimer can have fun hanging out up in the clouds or whatever. I'll be doing math, taking naps, and swimming.