The Top 10 Vintage Watches From #TBT 2019
Divers, chronographs and quirky complication watches
We choose our 10 favorite vintage pieces from this year's #TBT feature.
Scrolling through the articles from this years #TBT brings me a satisfying smile. Here and there I stop for a while and recollect the memories connected to the shooting or research. Well, all watches and their stories rightly deserved to be featured, but we can shortlist just a few of them. We welcome you to see our selection of best pieces and reasons, why we picked it up. If some of them slipped your attention during the year, here is your chance to catch up on the best vintage pieces published in 2019.
Top 10 Vintage Watches From #TBT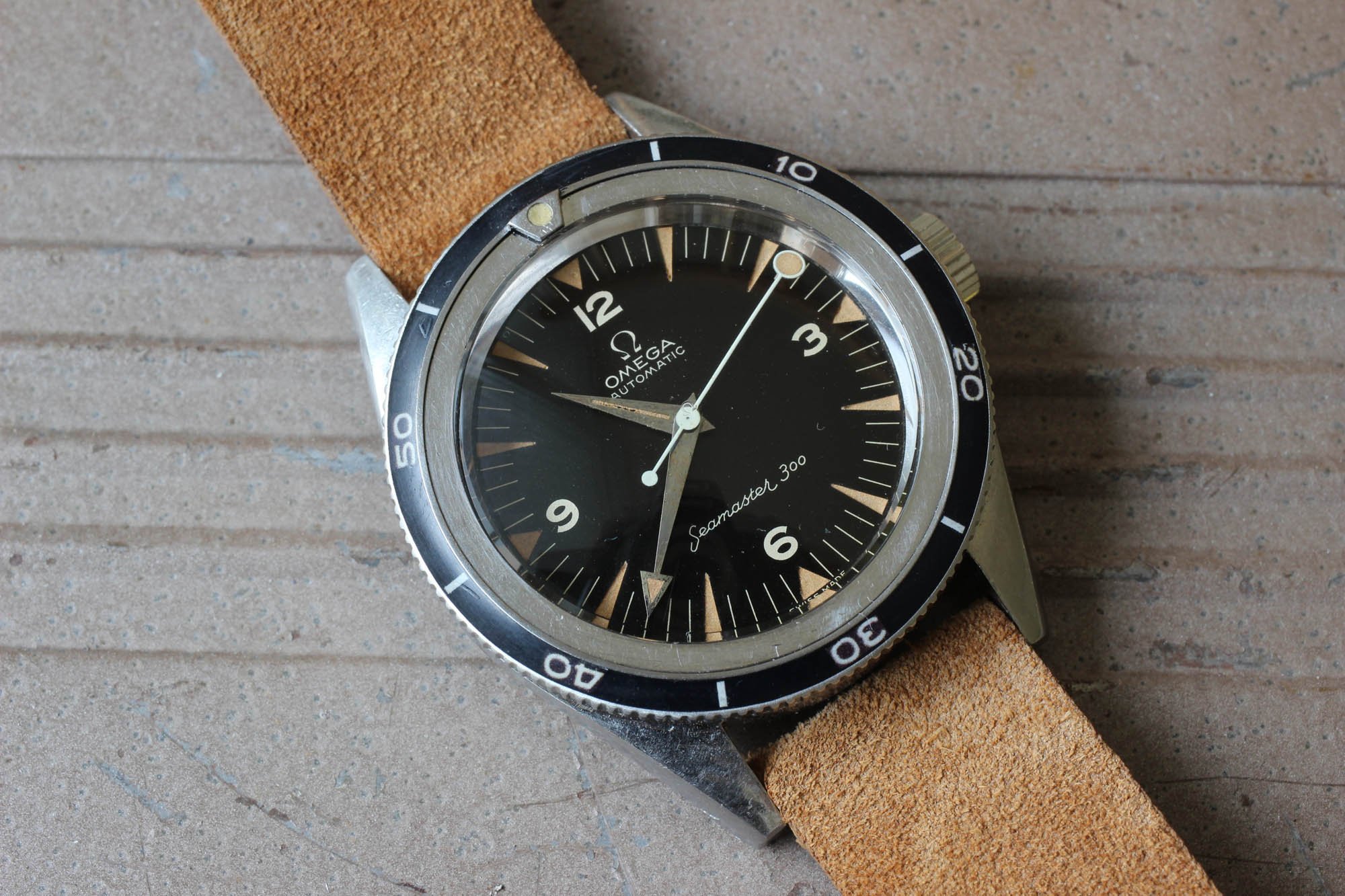 Omega Seamaster 300 CK2913
It doesn't happen often such a grail watch re-surface in such a peculiar way. A random person brought it to the local pub. I was happy enough to get this information and find myself buying this original Seamaster ref 2913-8 that came with highly beaten original crystal and torso bracelet. It took me few months to source the missing parts, but I made it. I also kept image documentation during the process, so you can see all the before and after pictures. In this article, you can read more on parts sourcing or bezel restoration or just enjoy the story.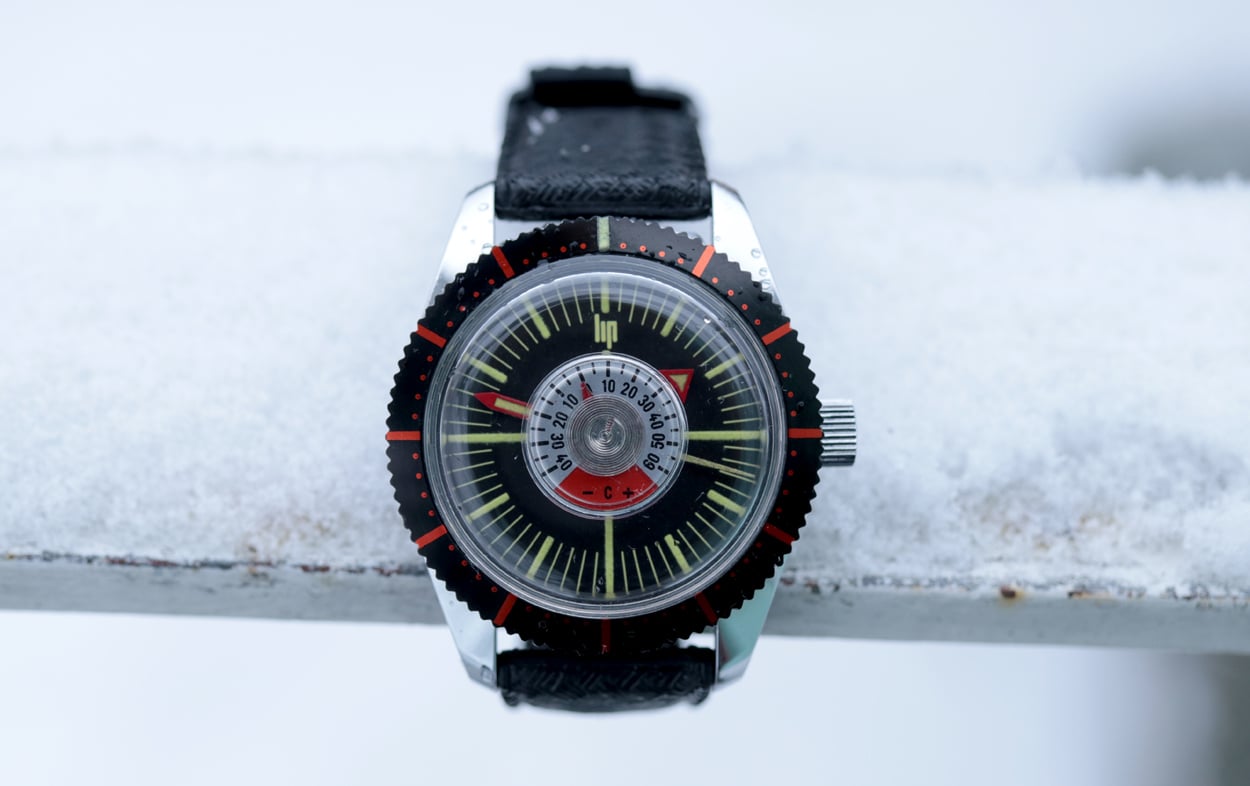 Lip Thermometer
In freezing January we introduced to you the surrealistic LIP Thermometer from 1970. The magic is just a simple tiny bi-metallic spring that expands and stretches according to the temperature changes, but it is surrealistic, obscure, funky, and unorthodox for sure. And it is French. Very French. Think of it as the Citroen DS of watchmaking, meaning we don't give a damn about what the rest of the world (or Switzerland in this case) is doing, we are going to make this. And by this I mean a punch-you-in-the-face style Thermometer being set in the very center of the dial and non-traditional bezel styling. Make sure you didn't miss detailed pictures of the case, movement or how it went when testing thermometer accuracy.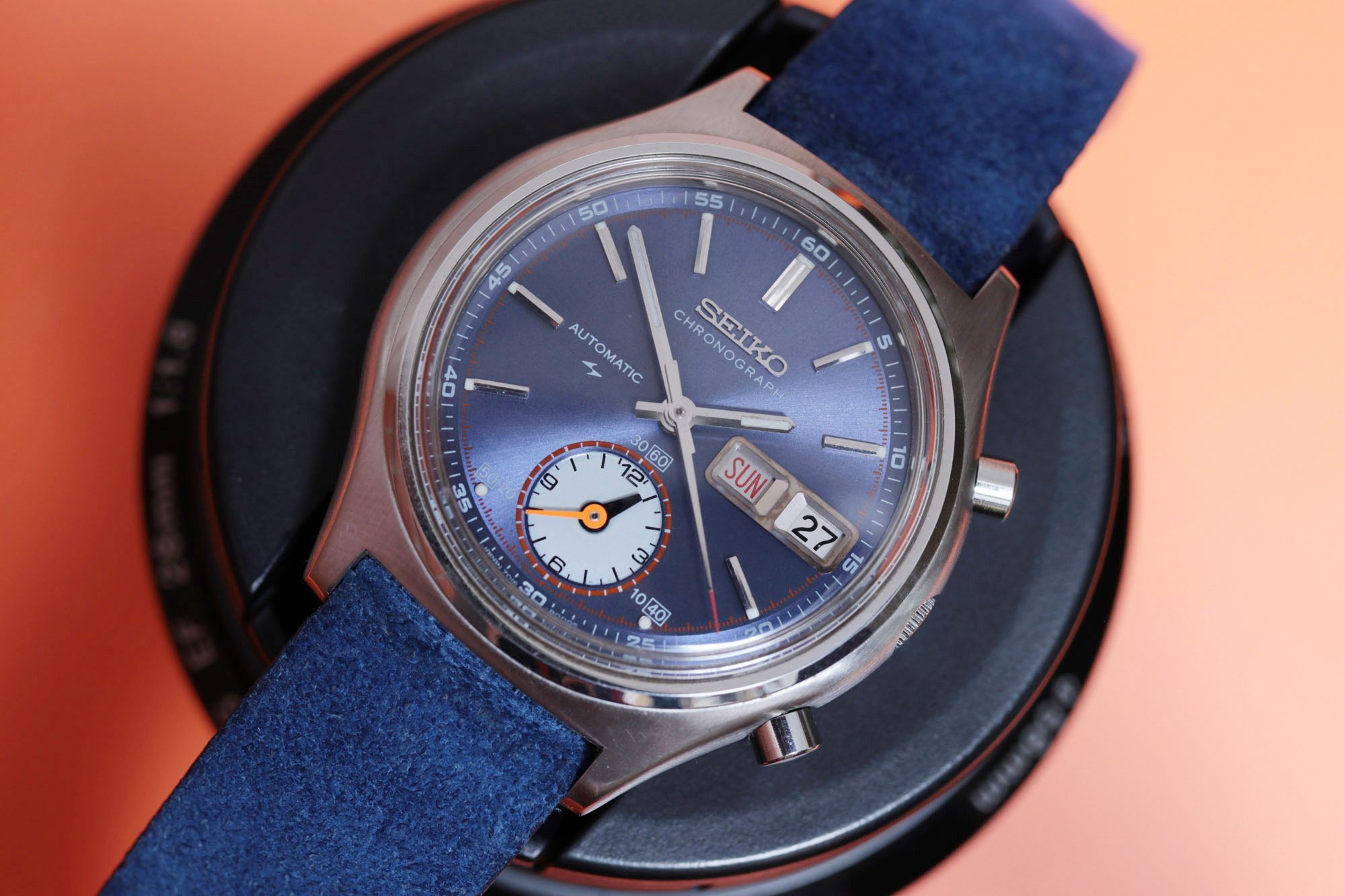 Seiko 7016-8000 Automatic Flyback Chronograph
There was a lot written about the legendary Seiko Tuna, while this smaller chronograph always stayed under the radar. Most of the people I told about it were pretty surprised and amused. The 7016A combines watchmaking originality and fine engineering from the Daini factory. Not only does it come with a 12-hour recorder but look at the sub-register. It is easy to overlook and mistake it for some simple 30-minutes chronograph. But if you look at sub-dial at the 6 o'clock mark closer, you will see two concentrically rotating hands. The bright orange one counting 30 or 60 elapsed minutes, the black one below counting hours up to 12. Another detail I particularly like is that the sub-register hand doesn't jump from minute to minute but moves constantly. Are you hooked already? Don't miss the whole story here.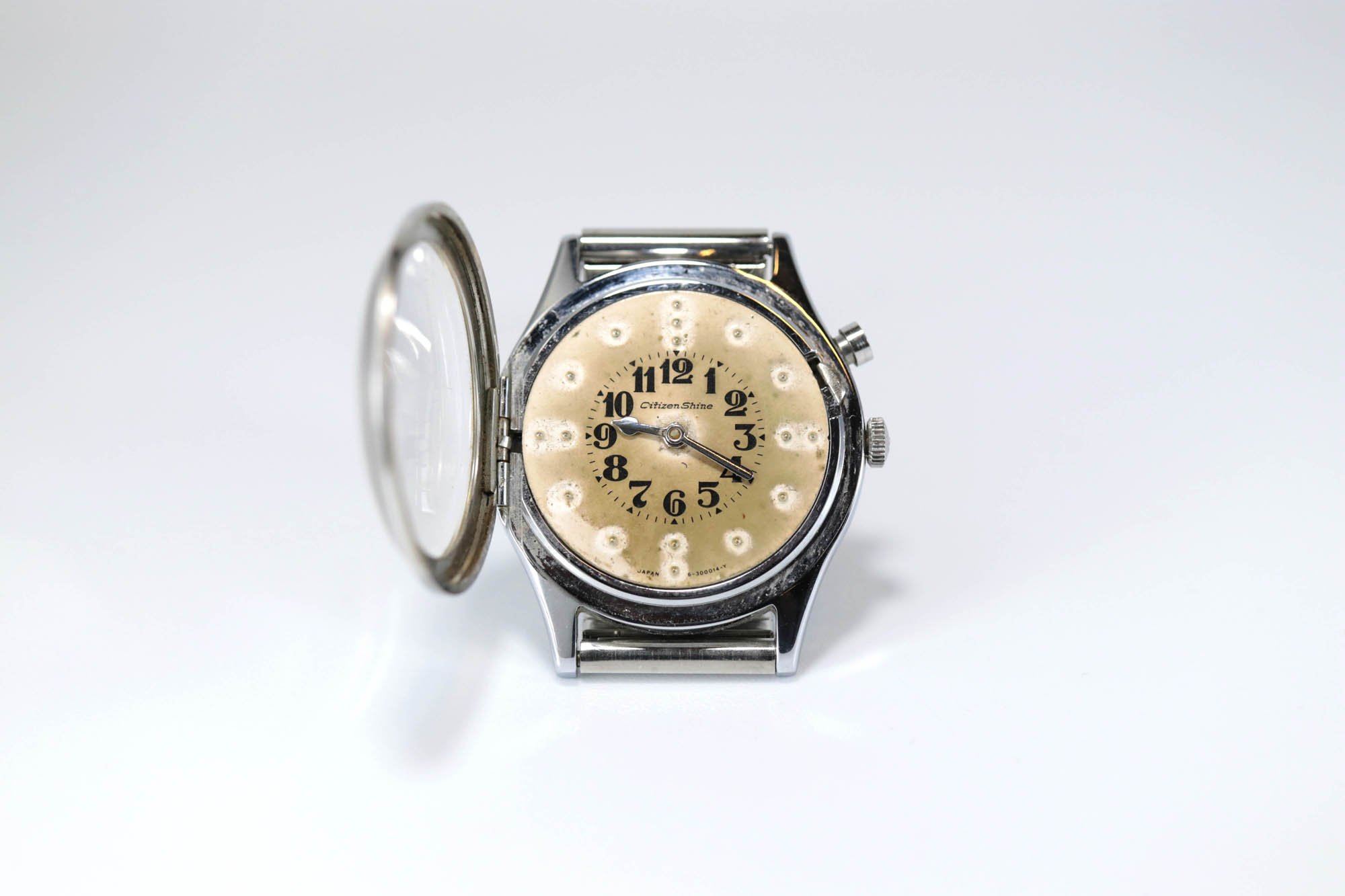 Braille Watch Citizen Shine
We, watch collectors, are so blessed that we can enjoy the beauty of watches with our healthy eyes. The father of my friend and business partner nearly lost his sight. During research on watches for visually impaired, I found this Citizen Shine, Japan's first wristwatch for visually impaired wearers. Citizen Shine was first introduced in 1960. In 1967 a number of 215 watches were donated to 29 different countries to help the blinds, as an effort to support the United Nation program of promoting friendship and world peace. In 1975, 45 years after the first-ever Citizen was produced, the company donated 5,000 of these watches to all 10th to 12th graders visually impaired students in Japan.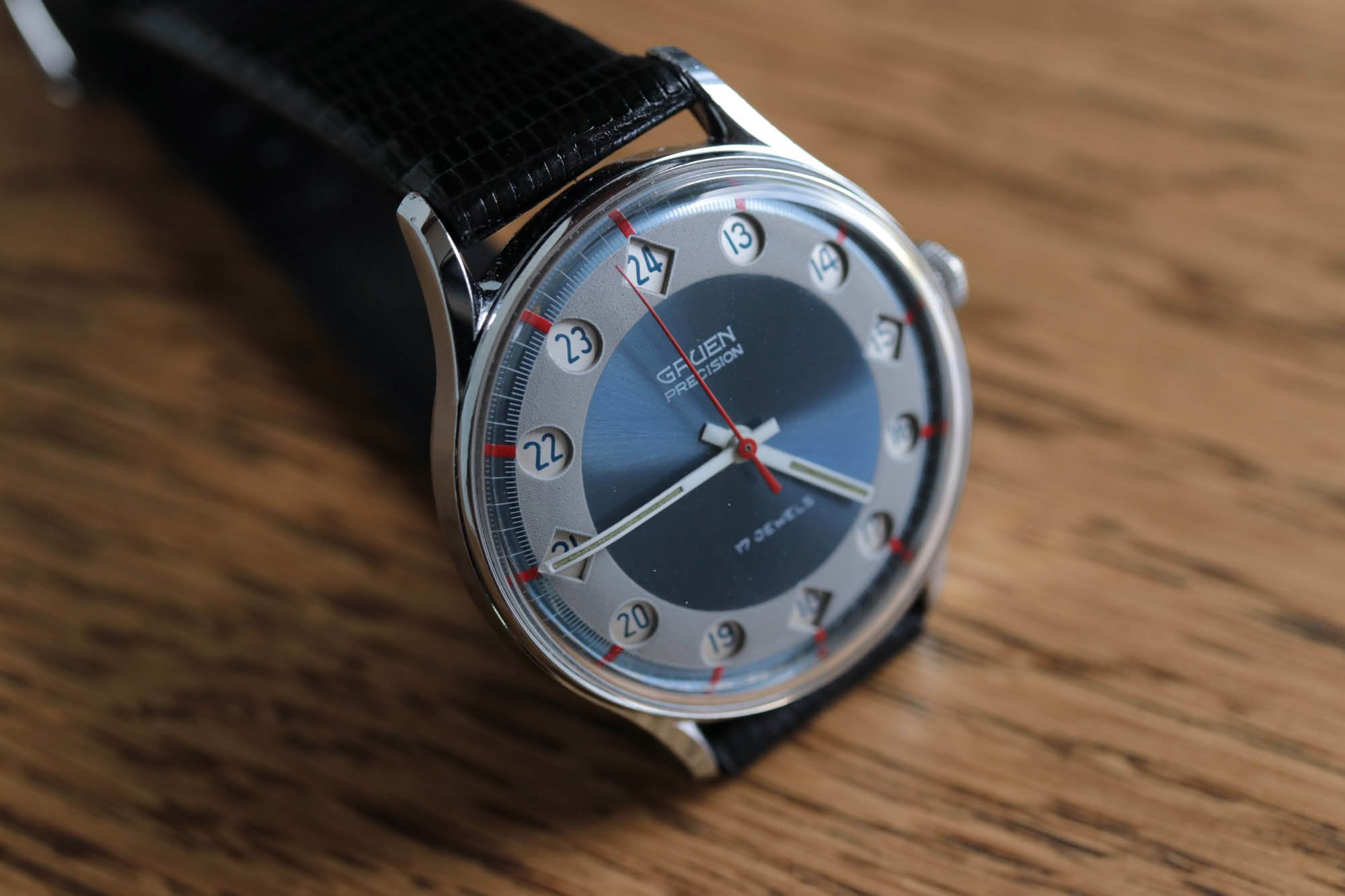 The Gruen Airflight
A vintage watch proving that under 1000 dollars you can still find pretty daring, creative and surprising pieces. The Gruen Airflight has twelve see-through apertures in the dial. At 1 pm, thin under-the-dial plate shifts automatically to expose the numerals 13 through 24. This particular example was found on an Austrian fleamarket and grabs everybody's attention thanks to unique dial color combination. Like multiple times this year, we took extra effort and disassembled the watch to uncover how mechanism work under the macro lens. Full story with videos you can find here.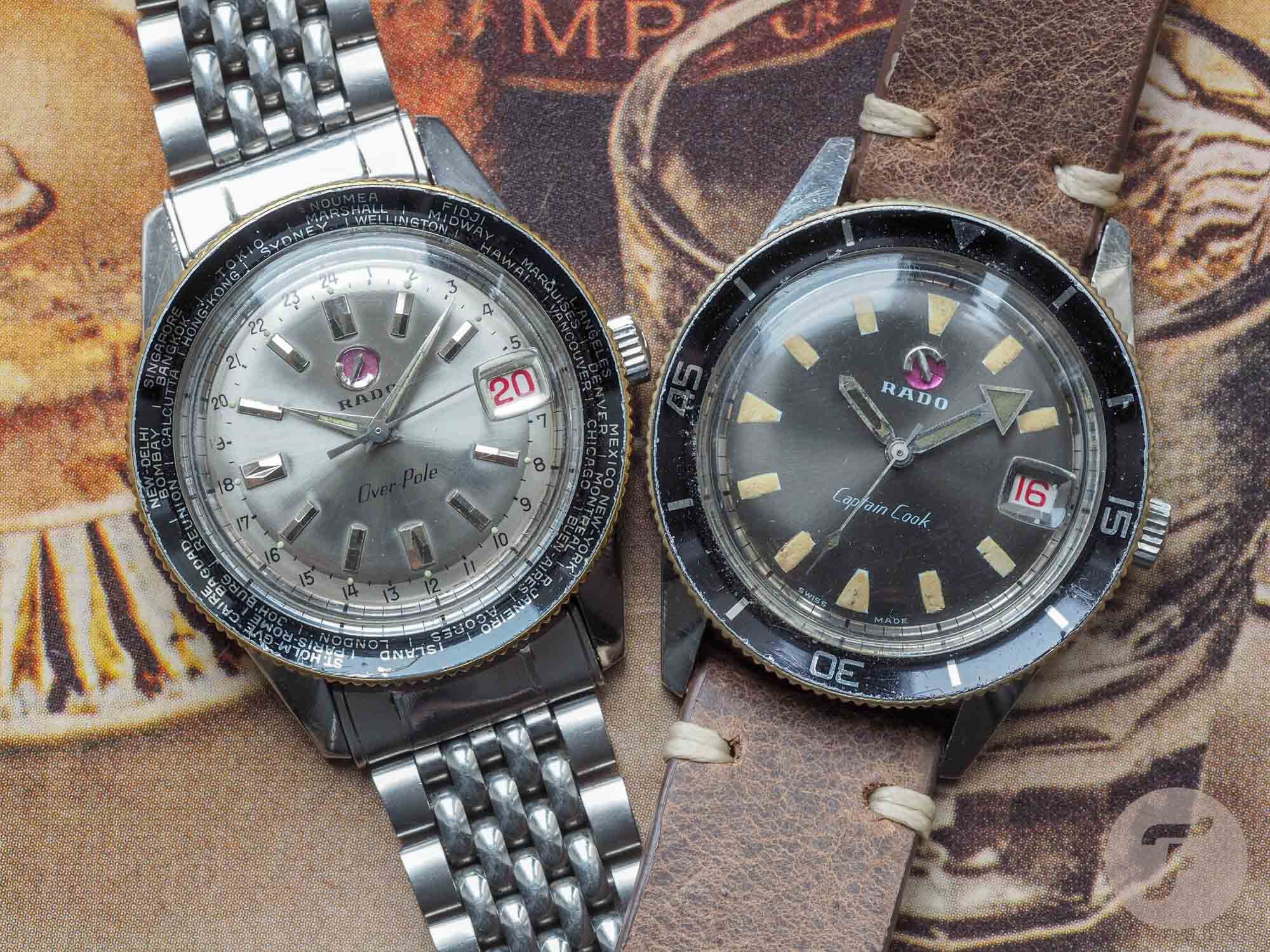 Rado Over Pole
One of Mike's precious additions to #TBT. Rado Over Pole Worldtimer shares the same case, case back, and inverted bezel as another fan favorite, the Rado Captain Cook diver, that we also reviewed. You have to admit that especially together they look irresistible. Mike found it in Japan, added also multiple scans from German and Argentinian catalogs he sourced with the help of Rado of Switzerland. Enjoy it here.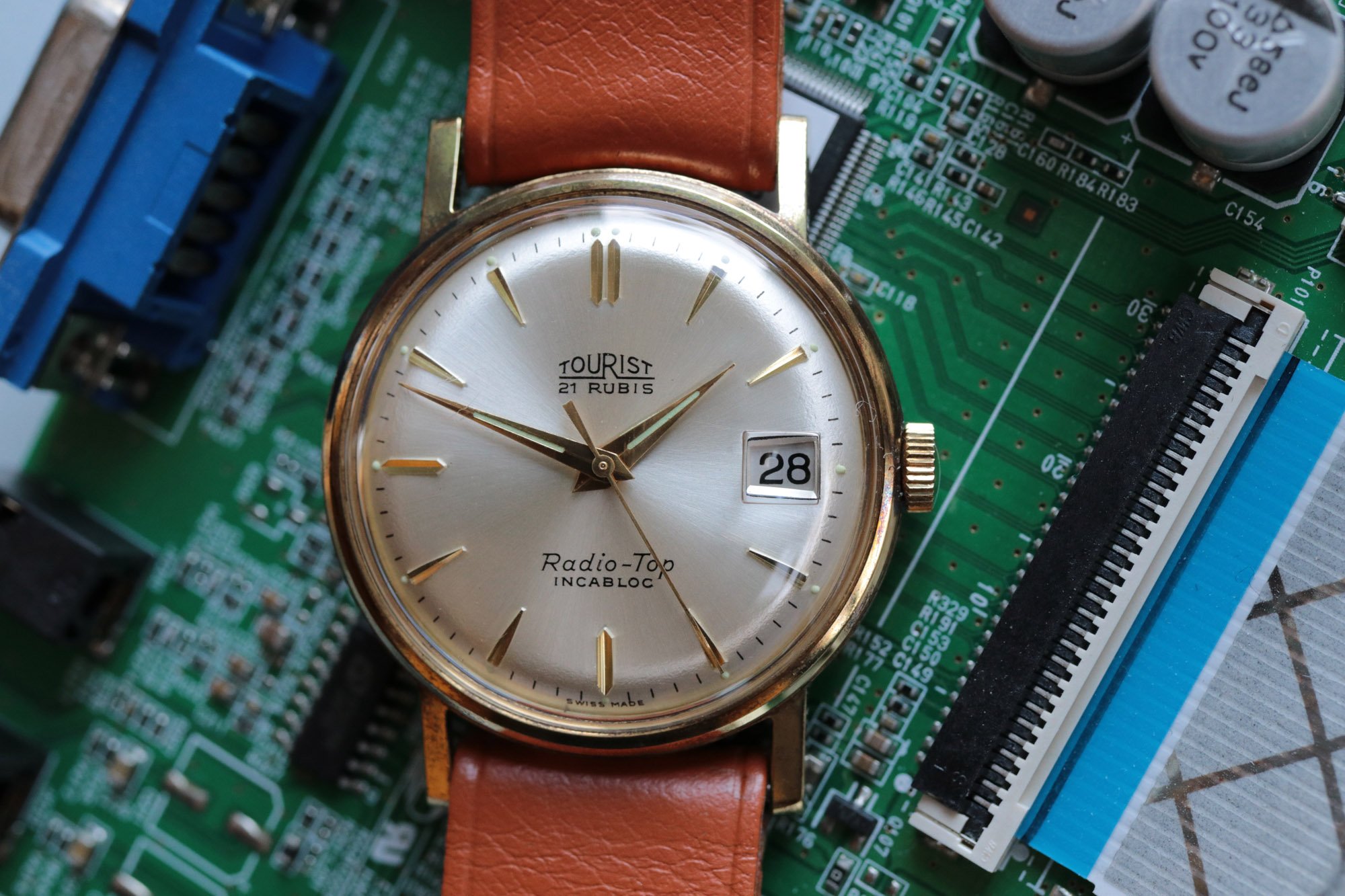 Tourist Radio-Top Jumping Second
Some people put it on their list of the most useless watch complications of all time. The dead beat seconds aka 'seconde morte' or also known as jumping seconds aka 'seconde sautante'. Some collectors get a headache when you excitedly explain how genius is to have a mechanical piece pretending to be a quartz watch. Believe it or not, horological history doesn't only revolve around divers or chronographs. Digging such genuine pieces with truly forgotten or often overlooked complications is part of our #TBT mission, well at least since I took the reins. So without any further due, if you want to see the Chézard 7402 in action, go for it here.
Breitling Superocean ref. 2005
After a Navitimer 806 Re-edition, what would be the next big move of George Kern, who is on fire, partly thanks to the fascinating vintage watch collection of Fred Mandelbaum? Until the next big thing from Kern, you can have a look at Breitling SuperOcean ref. 2005 that came in 1964 with a fat load of innovations, both constructional and functional.No sublime lines or playing the under the cuff watch, Breitling threw in some newly thought-through machinery for a growing community of dive watch fans. They killed all the redundant bs such as the second hand and replaced it with a single minute hand to measure time under the water. A surprisingly genius move. Read more about it here.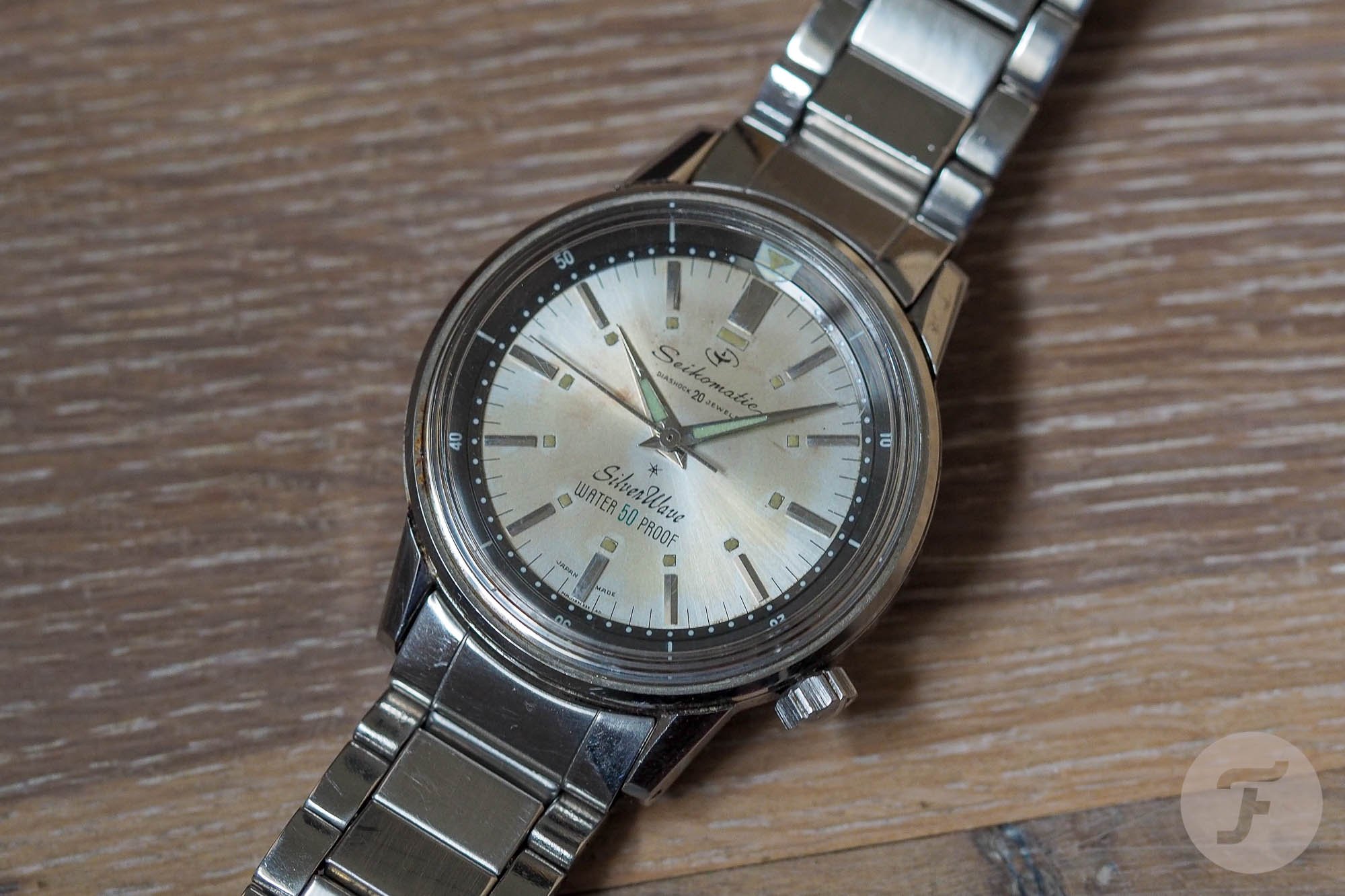 Seiko SilverWave J12082
As Mike wrote, the Seiko SilverWave J12082, unequivocally, is the brand's first attempt at a dive watch. For a brand that's arguably better known for its divers than any other class of watches, that makes this reference significant. On top, the Seiko SilverWave J12082 was the first dive-intended piece with a rotating bezel. Throughout its relatively brief production run from 1961 to 1964, the original SilverWave was offered with a variety of dials.  Black dials, white/silver dials, dials with a unique set of sunburst lines (referred to as Mark 1's), and font changes highlight some of the changes that occurred. The full story waits for you here.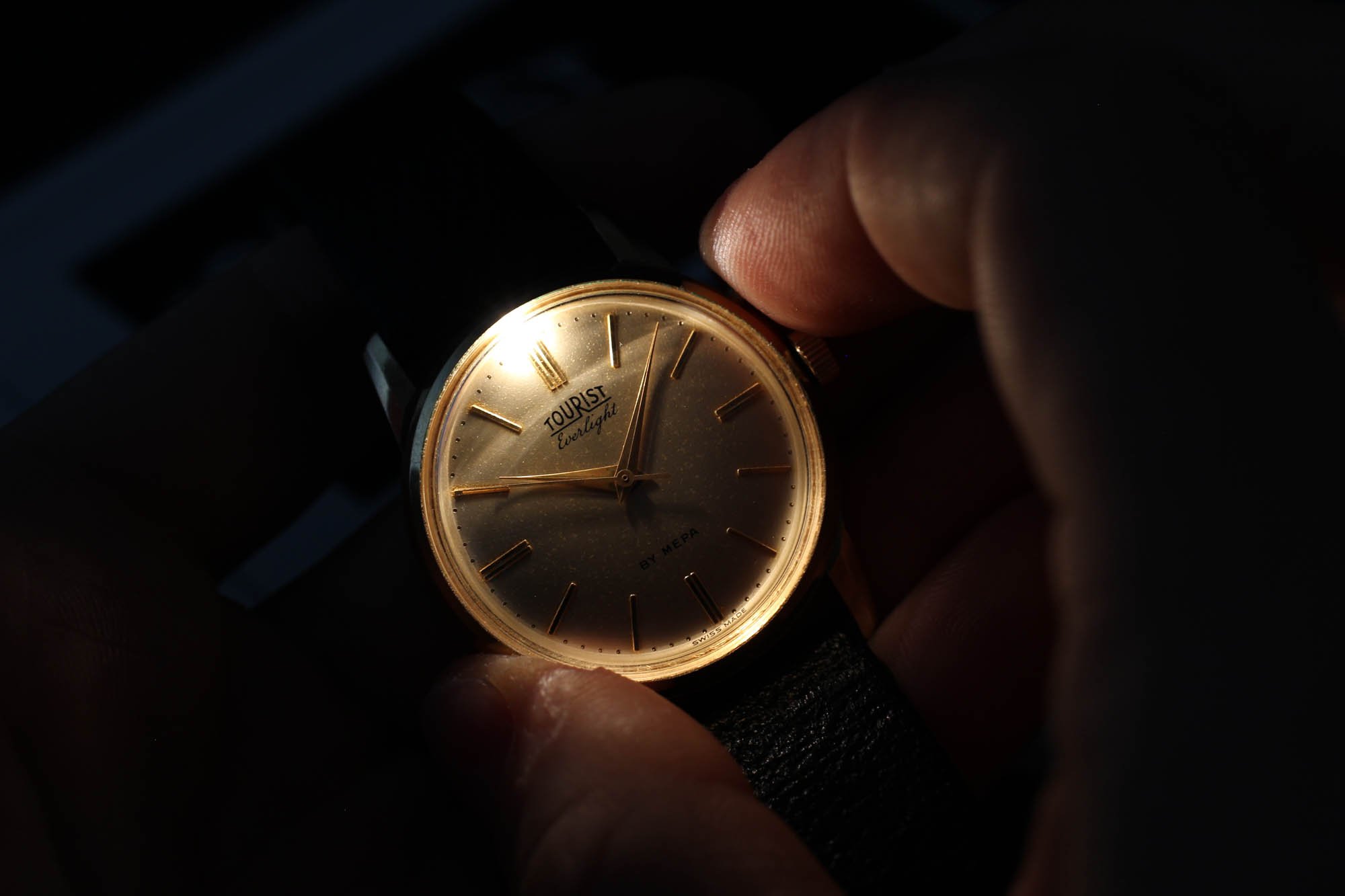 Tourist Everlight Saga
I wrote a saga on purpose. As it was the most elaborative project that I took in 2019, in terms of research, sourcing or repairing. The Tourist was the first brand to market a mechanical watch with a light function. All Everlight watches, first introduced in 1957 at Basel exhibition, were illuminated by a small 1.2mm bulb sticking through a tiny hole above the 12. The battery was integrated into the case back. Unfortunately, many of the watch batteries suffered issues with batteries leaking, and a large chunk of the sold production estimated around 100.000 pieces was taken back due to warranty claims. Whatever sad the story is, saving this watch and making it light again made my collectors heart skipping a beat. If you want to get a bit emotional during your Christmas holiday, here and here are both parts of the Everlight story.
We hope you enjoyed our vintage picks through all this year. And obviously, look forward to next year, as we have some hot stuff lined up for 2020 #TBT already.