The Watches I Took On My Summer Holidays — Mike's Picks From Breitling, Doxa, And Citizen
A fistful of divers for my dive-free adventures
Travel has returned and was in complete form during the summer of 2022. In addition to all those casual clothes that I pack, travel also means choosing a watch or two. So what did I decide to bring with me on my summer vacation?
Ah yes, when it comes to packing my luggage, I still make a list. Even though I've traveled extensively for years, I either make a list on my phone or with a pen and paper, the old-fashioned way. It's silly, but it makes me feel better, and despite having a busy schedule, lists have saved me 99% of the time from forgetting something. What's even funnier, though, is that "watches" always end up on the list. It's ridiculous because I forget to wear a watch roughly once every three to four years. But, hey, what if that day came about during a mad rush to the airport at 4:30 AM? This year, the summer holidays, especially in Europe, were marked by serious airport congestion, snarls, and stress. Thankfully, I never forgot to strap on a watch during all the craziness.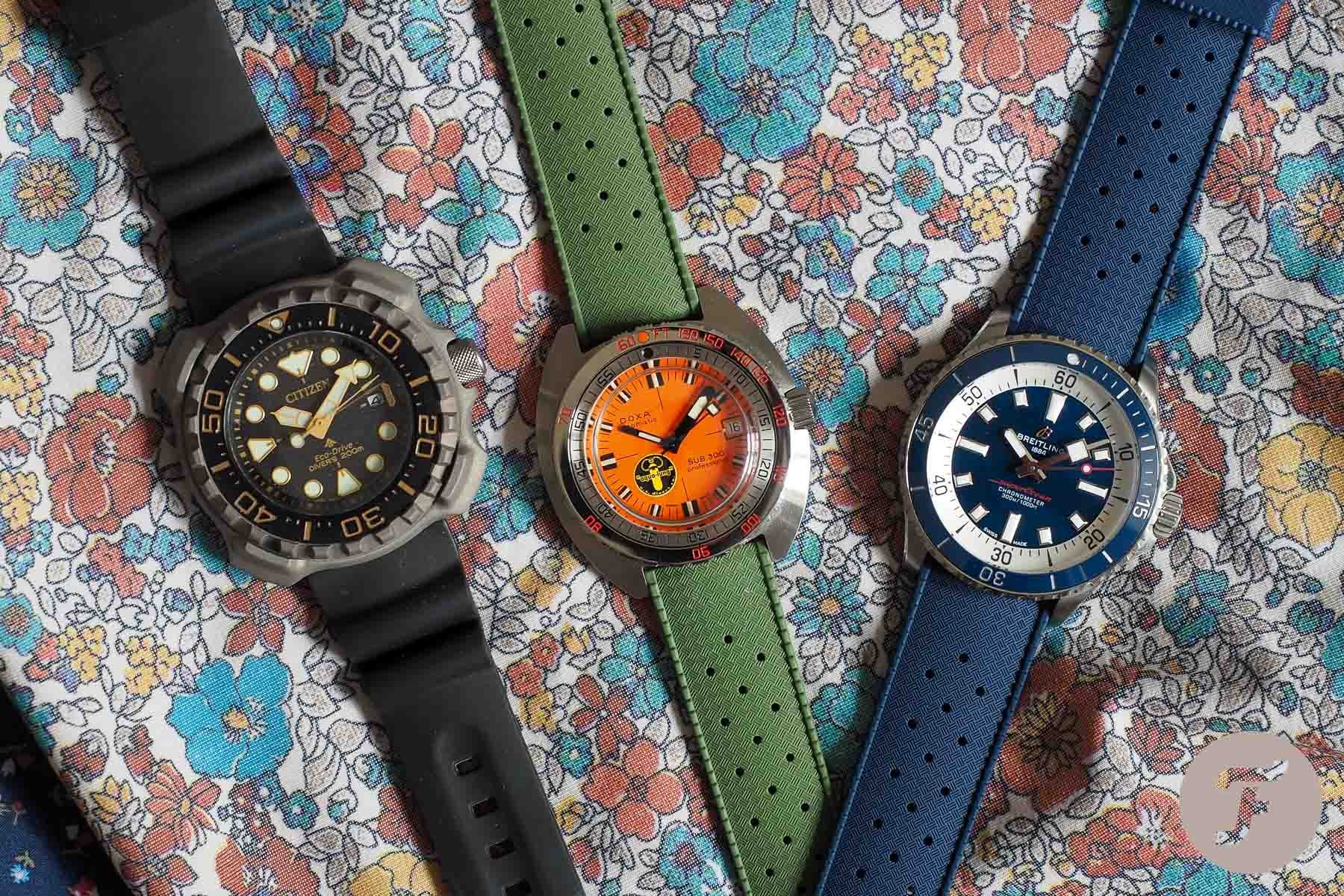 Some rationale behind my choices
I'll give a short overview of the three watches I wore during my summer travels, but I thought I'd provide a bit more background as to what was running through my head while considering what to bring. First, the two main trips that I took this summer were different than those of any other year in one respect: I only brought carry-on luggage. As I said, the airports — and Frankfurt was vying for the worst ranking — were brutal with checked bags this summer. Therefore, my mindset was all about being lean and mean, and it's funny how that can sway one into bringing a more tactical type of watch even if the vacation is relatively luxurious. Second, I guess it's an overreaction, but I had zero desire to bring something overly recognizable. Vacation is about relaxation, and therefore, I stayed away from anything blingy. My family and I ventured to four places this summer. Let's see what made the trips.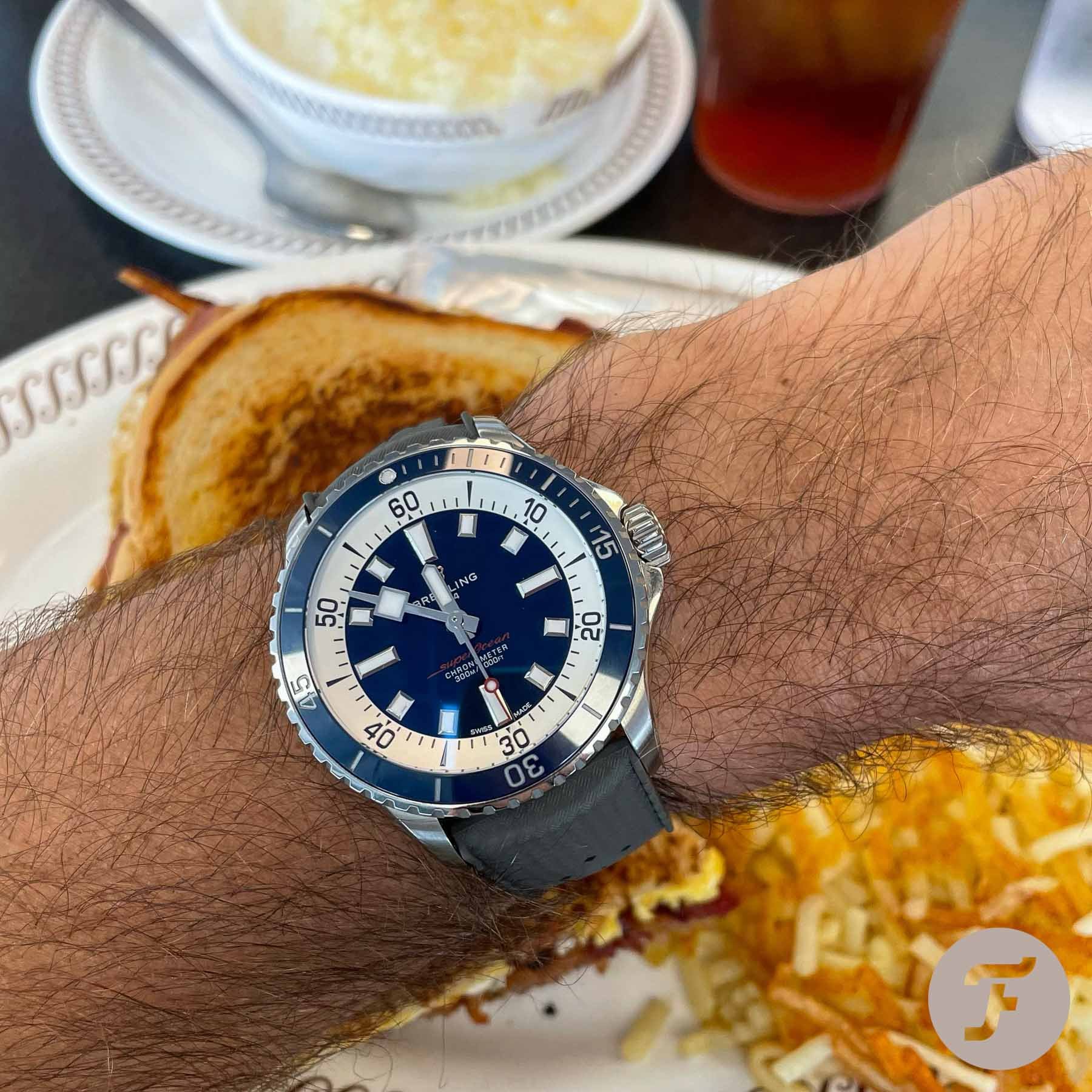 Trip 1: SoFla and Hotlanta
You're probably aware that I hail from South Florida. Most think of Miami, but I'm actually from about an hour north of the big city. It's a place that I had grown apart from since leaving after high school, but it has reentered my life in a big way since the pandemic. You see, it was a lucky outlet for us that allowed us to escape the all-encompassing lockdowns that we had in Germany. The bottom line is that Florida is weird. Still, I love it and plan to always have one foot in the state. So, what is a summer vacation like in Florida? In a word, hot. Actually, it's fantastic because it's relatively quiet.
Nevertheless, our activities were heavy on pool time, exercising (cycling for me every morning), a visit to the beach, and stops at restaurants. On the latter topic, we love our seafood dive bars, but we do the occasional decent spot as well. Thankfully for my carry-on luggage, Florida is pretty much a "come as you are, but bring your wallet," type of place. We also hit Atlanta in the middle of the trip to see family. Despite being 12 hours north by car, it's hotter than Hades there too. Our activities were similar, but on the food front, we did it all from Waffle House to Marcel.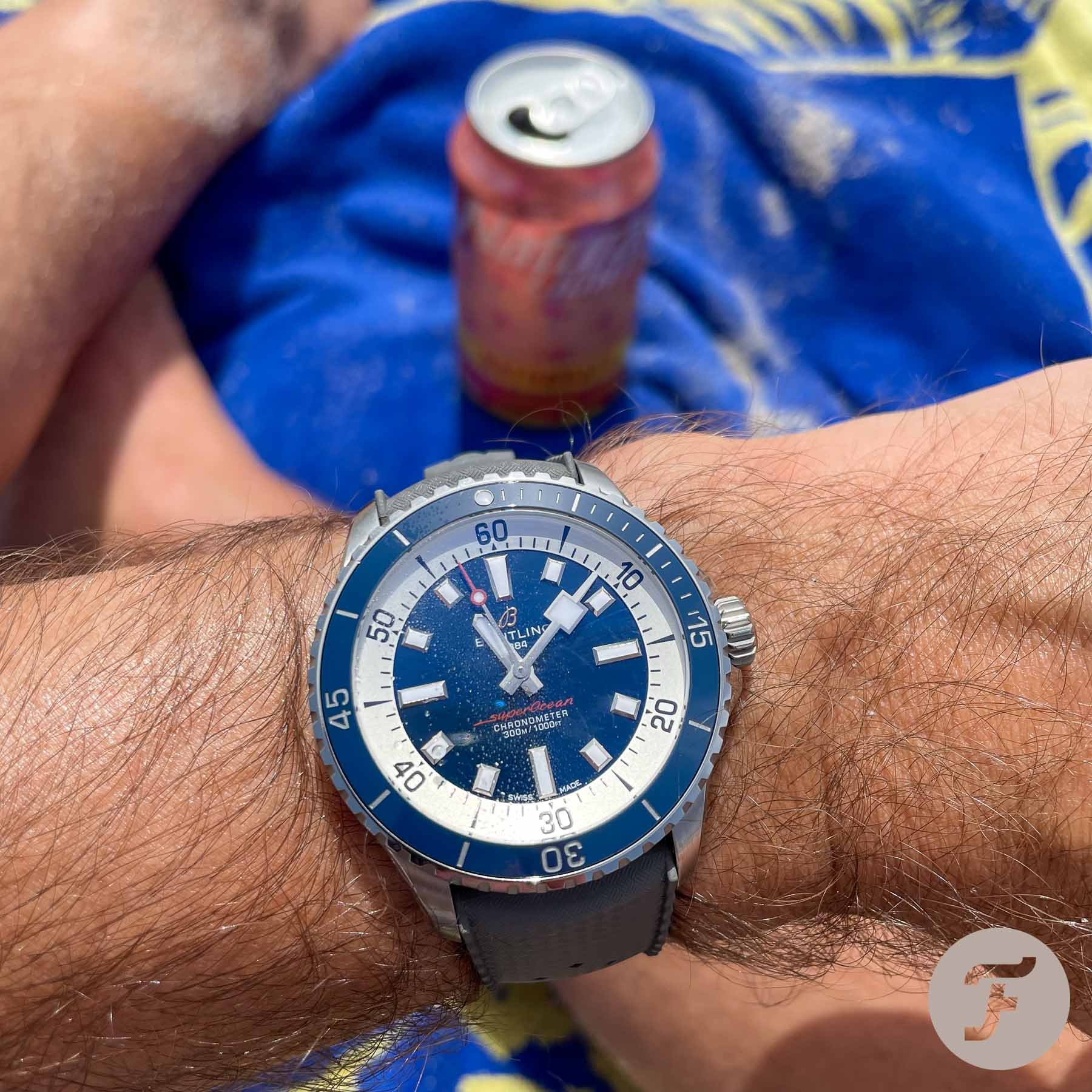 Watch 1: Breitling SuperOcean 42
I brought a total of two watches with me on our trip to South Florida. The first one was the brand-new Breitling SuperOcean 42. In fact, it was so spanking new that it arrived a couple of days before my flight. Talk about the nick of time! I was really excited to get this one, and I chose the dark blue model on a bracelet. I was able to size it quickly and have been really impressed with the quality of the clasp and the overall fit. However, this has been a hot summer, so I chose to swap the bracelet for a lightweight 22mm gray Tropic strap. I packed the bracelet and a couple of other strap options, but I never strayed from the Tropic.
Aside from this SuperOcean being the new kid on the block, I actually chose it for other reasons. I wanted a watch that could handle all the activities I mentioned above, and it ended up being perfect. Breitling is a high-end brand with beautiful finishing, but it doesn't shout like a Rolex. The 300m diver can handle all the water activities with aplomb and then function at a nice restaurant. Plus, with its slim case, it wears like a dream and feels great in the hot weather. People moan endlessly about the lack of an in-house movement for €4,600, but I'll take the Sellita and its contribution to a thin case. Furthermore, the timekeeping on this watch was always spot on with my iPhone, and I wore it religiously for nearly three weeks. This was a really classy choice that I ended up liking more and more with each passing day.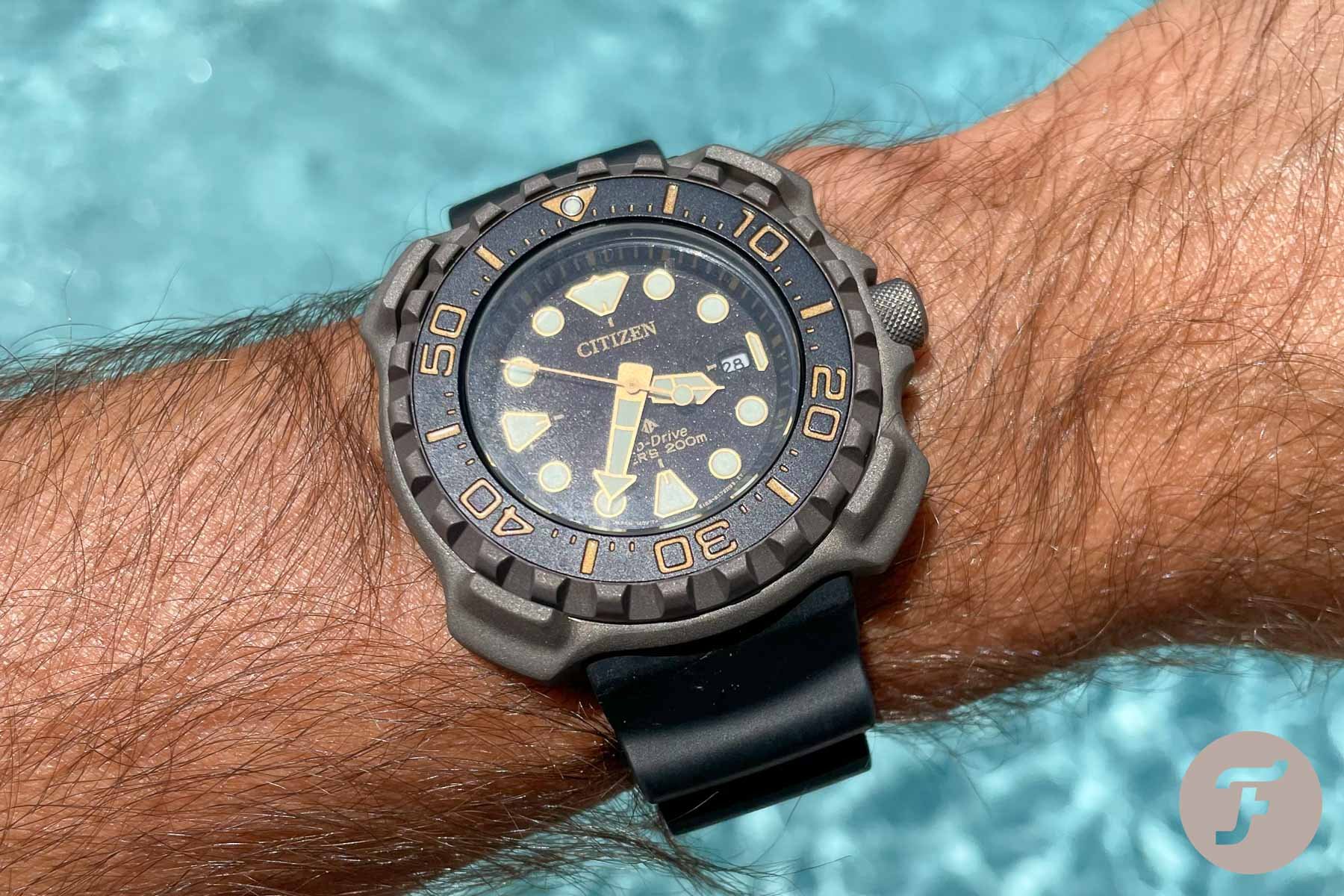 Watch 2: Citizen Promaster BN0220
I almost always throw a relatively inexpensive watch into my backpack when I travel. This summer trip was no different. I may love Seiko, but for whatever reason, I prefer Citizen's tough Eco-Drive models as affordable beaters. I toggle between my Promaster Tough "Ray Mears" and the €330 Promaster BN0220 diver. On this trip, the BN0220 made the cut, and I couldn't have been happier. This titanium watch looks big, but it really isn't at 45.8mm square. It's light, comfortable, doesn't care if it's coated in sunblock, and punches way above its weight in terms of the overall finish. Watches like this are what keep me from going to G-Shocks.
Every day, I would wake up, make a coffee, and eat a yogurt. Then, after a while, I'd change into my cycling gear and ready myself for a brief, spirited encounter with 90° heat and 90% humidity. I'd always strap on the Citizen even though I use a bike computer. I find myself looking at a watch while cycling because it's easy and familiar. Plus, the Citizen, regardless of the size, feels like wearing nothing at all, and the rubber strap is perfect. After riding, the watch would accompany me to the pool and on local errands. I love this watch because getting one is a deliberate choice, and it's so much different from the other "blah" that most people wear on a daily basis. It just feels like a ton of content for minimal money. People seem to be discovering this watch a year after its release, and I think that it's a great option for the price.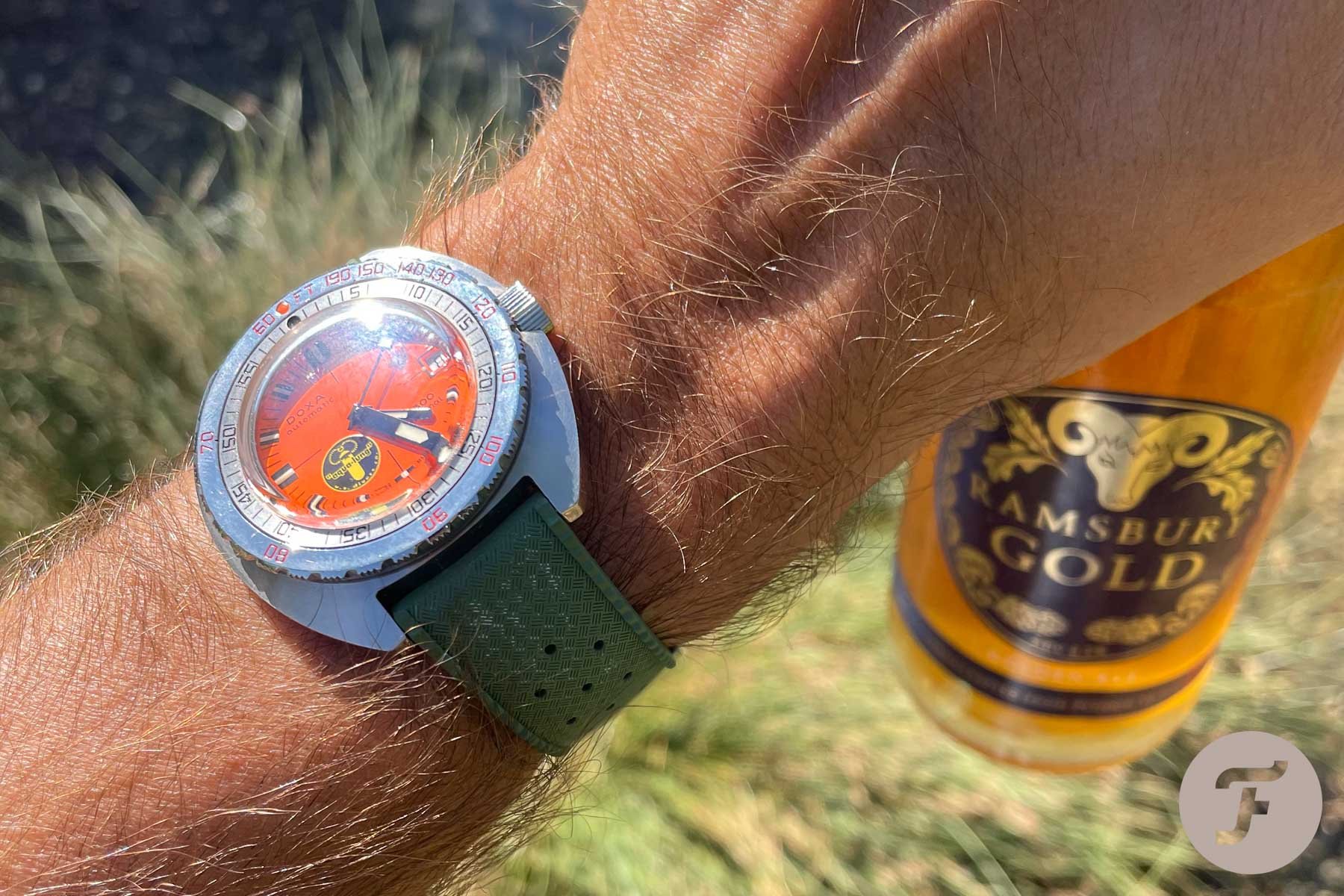 Trip 2: The Cotswolds and Slovakia
We arrived back from the USA on a Sunday only to leave very early the next morning for the UK. My daughter was still off from school on summer break, but my wife and I needed to go back to work. Rather than staying in sweltering Germany, I decided to take my daughter to our friend's house in the Cotswolds. I worked during the day from the house while my daughter was busy with all sorts of activities with our friends. Based on those details alone, any watch would suffice… Or would it?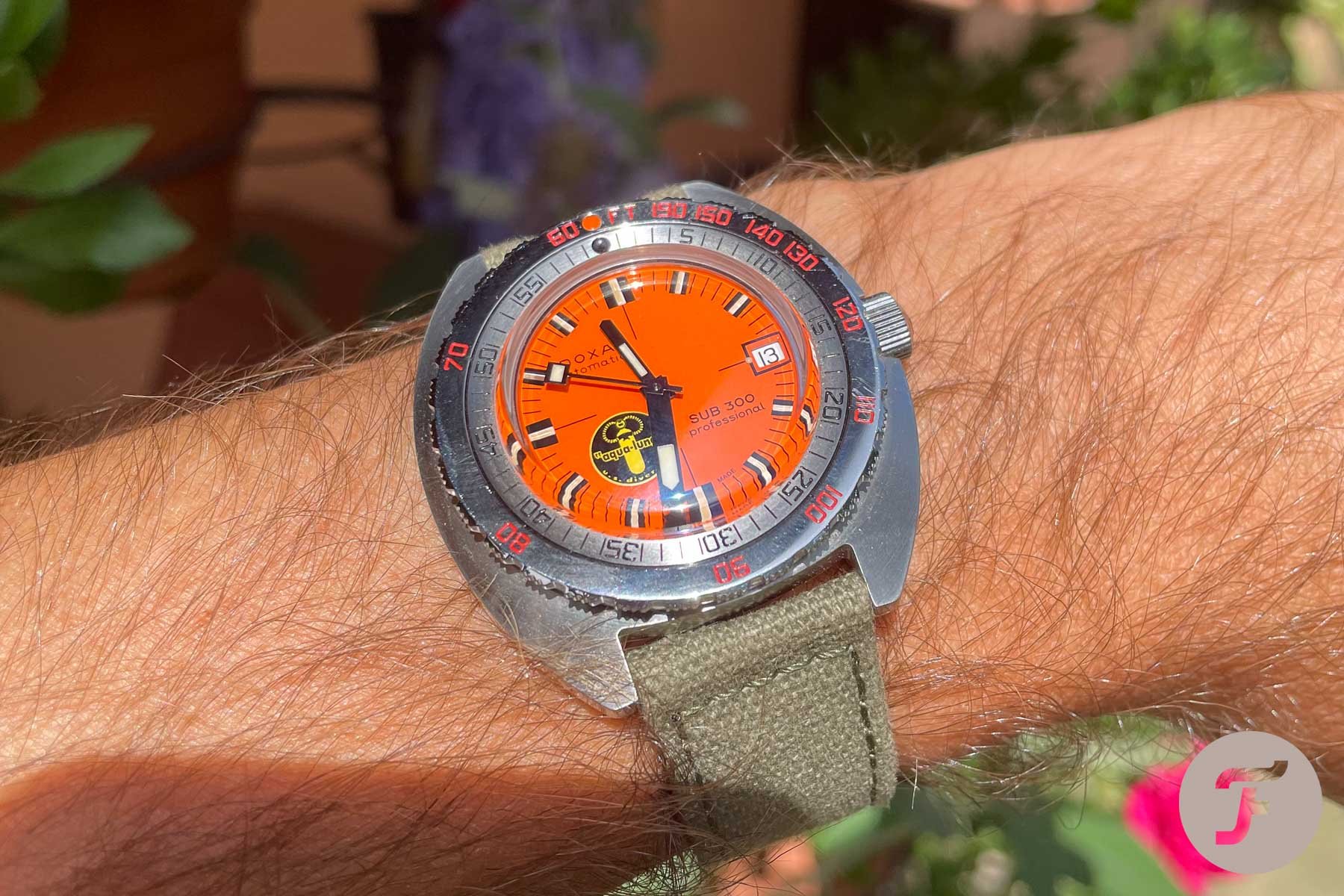 Only watch: Doxa SUB 300 "Black Lung"
One great thing (among many others) about the Cotswolds is nature. There are loads of walking trails and lakes. It was seriously warm there, so we decided to grab a couple of bottles of ale and head to the lakes every evening after work. My weapon of choice for the whole week was the Doxa SUB 300 "Black Lung" reissue. I am on the record for saying that this watch is still one of the best reissues over the past decade, and I truly believe it. These watchers are real lookers, but they're also comfortable and capable. Clearly, swimming is no problem. Plus, it's a good pub watch because it's not so flashy even with its bright dial. I paired this watch with a green FKM Tropic-style strap or an olive canvas model, and both looked great.
After the Cotswolds, we returned to Frankfurt for about 10 hours before departing again (with the full family this time) to Slovakia. My wife is from a relatively remote village in the foothills of the Tatras. Just like the Cotswolds, the area is full of hiking spots and has a few swimming lakes. Once again, the Doxa saw duty and performed admirably.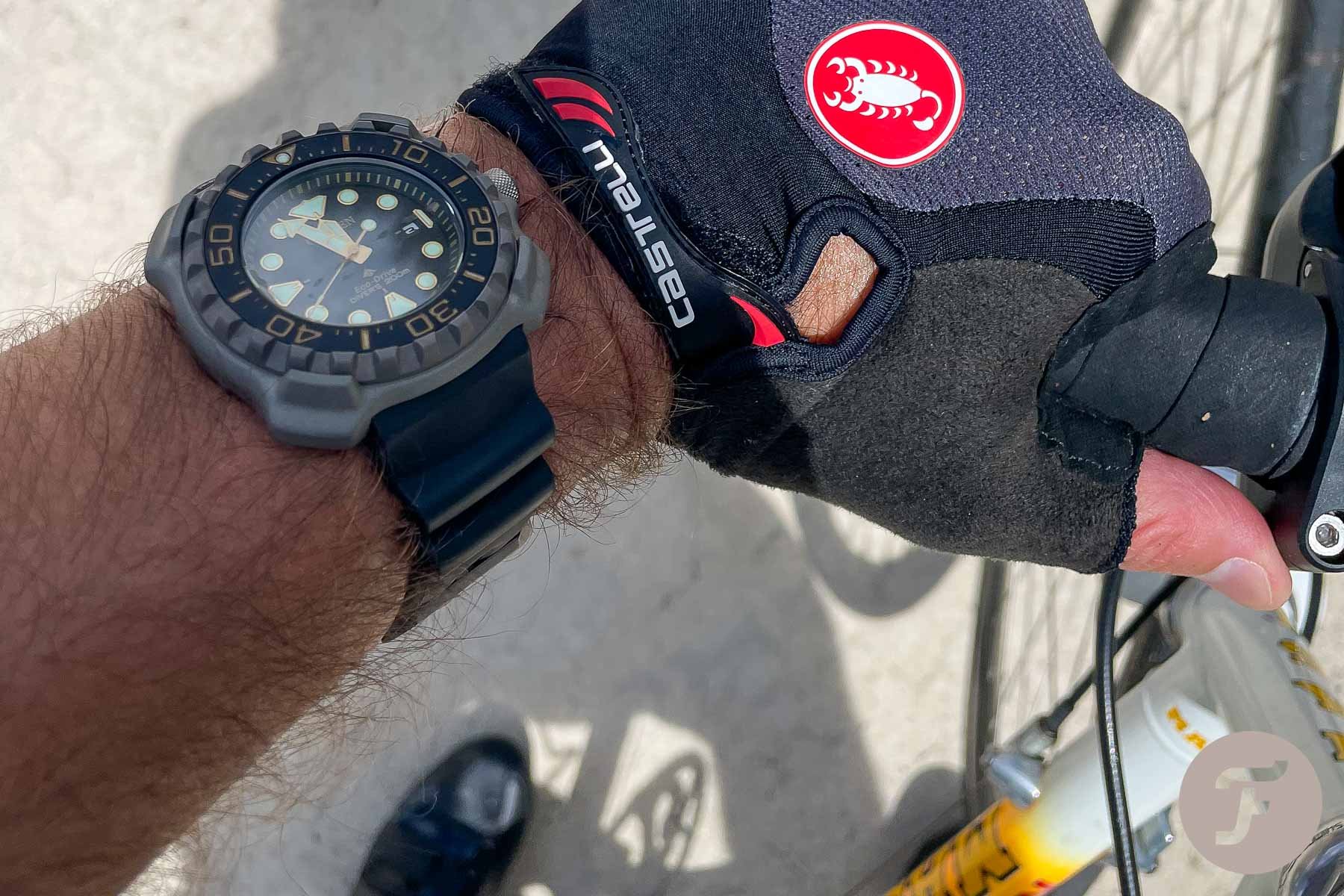 Final thoughts
I suppose that it's easy to choose dive watches for summer adventures. After all, they're rugged and casual, and they can bring some bright-colored fun to the mix. You'll notice that I wore rubber and canvas straps exclusively. I found them to be perfect for the weather, and that included whether I was in the pool or at the dining table. Yes, I was in strap mode this summer. Here's to autumn, though, because, honestly, I'm tired of the heat!