Three German Watches To Start Your Collection
Everyday watches made in Germany
I am quite obsessed with German watchmaking at the moment. It may be the prideful insistence to refer to the movement plates as "German silver" at every given opportunity. Or the considered yet reserved dials hiding the wackiness beneath the surface. Whether that be crazy complications or impeccable movement finishing, German watchmaking sets itself lofty goals. But at any price point, watches from Germany have a lot to offer to budding collectors. This list selects three German "uhren" to start your collection.
For many, Glashütte is the center of excellence in horology, even over Geneva. Indeed, "them's fightin' words", but can you blame those who consider this? Just by looking at an A. Lange & Söhne movement one could believe ALS has developed a living micro-ecosystem beneath the crystal. Or Moritz Grossmann's delicately thin hands with a difficult to achieve brown/violet hue.
Today I am not talking about high-end German tickers. Instead, I am pulling that slider back to watches that foster similar ambitions but are far more attainable.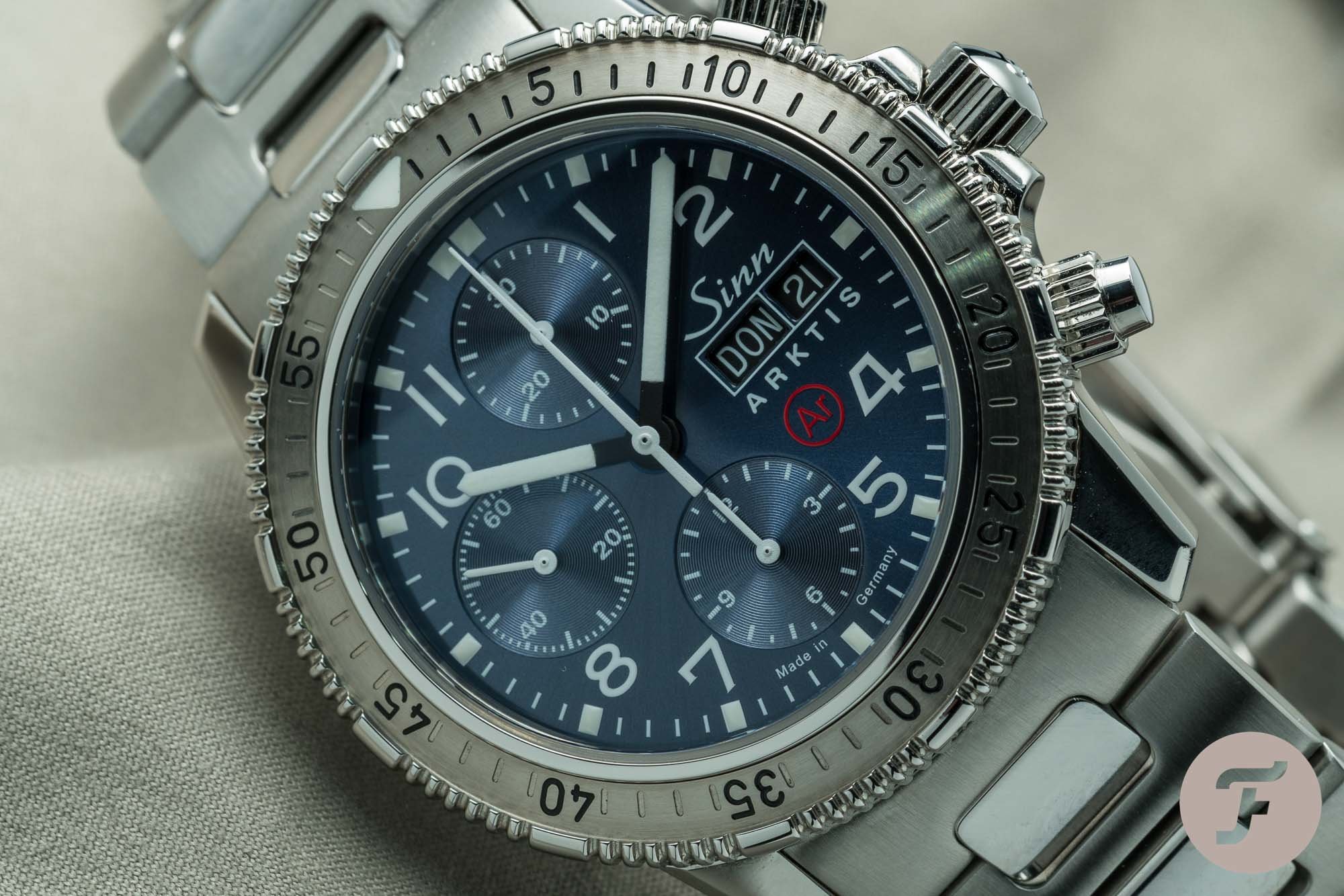 Sinn 206 ARKTIS II
The German brand Sinn is well-renowned for its tool watch ingenuity. From oil-filled divers for the armed forces to clinical watches for paramedics. Many Sinns serve a professional function. In 2019, Sinn celebrated twenty years of the Arktis. The 206 Arktis II was beefed-up to 43mm from the original 41mm black dial version. Just like the original's essential characteristic, this diving chronograph has a temperature tolerance of -45°C to +80°C — just as Andreas stated in his list of alternatives to Rolex and Patek.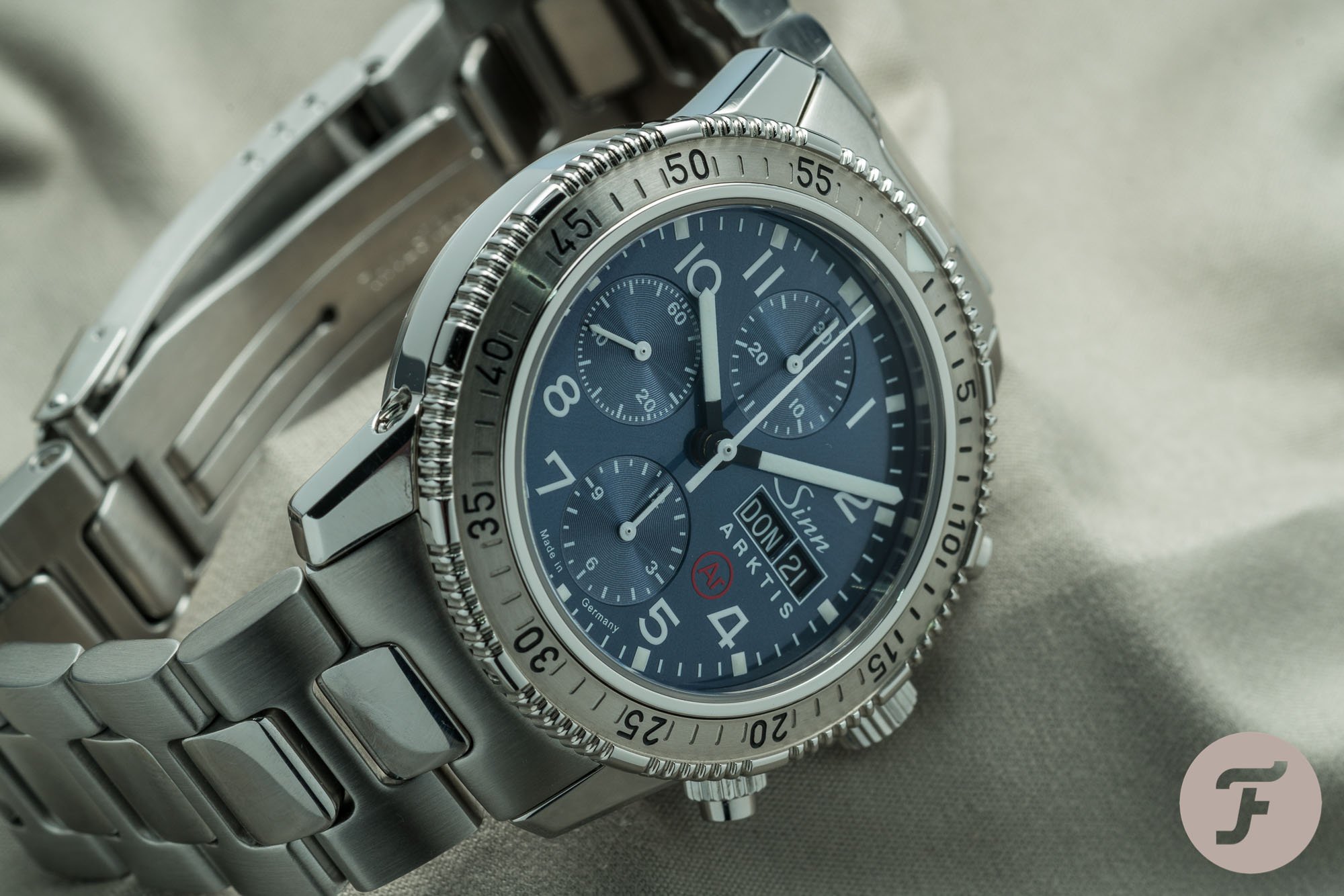 Party like its 1999
While the pushers may look like they screw-down as per the 1999 model, it's just for design. Never mind though as activating the chronograph underwater does not compromise resistance down to 300 meters. Very impressive.
There is also a hint of Patek with a steel bracelet with Nautilus-style centre links.
The dial and sub-dials feature a matching icy cool blue sunburst finish. But condensation in extreme environments is not a factor thanks to the dehumidifying technology implemented between the dial and sapphire crystal. The 60-minute scale on the bezel offers useful diver information, and the Valjoux 7750 based movement is the beating heart viewable through the sapphire case-back. There is also a hint of Patek with a steel bracelet with Nautilus-style center links. While the Nautilus may be out of contention, the Sinn is happily obtainable at €3,690.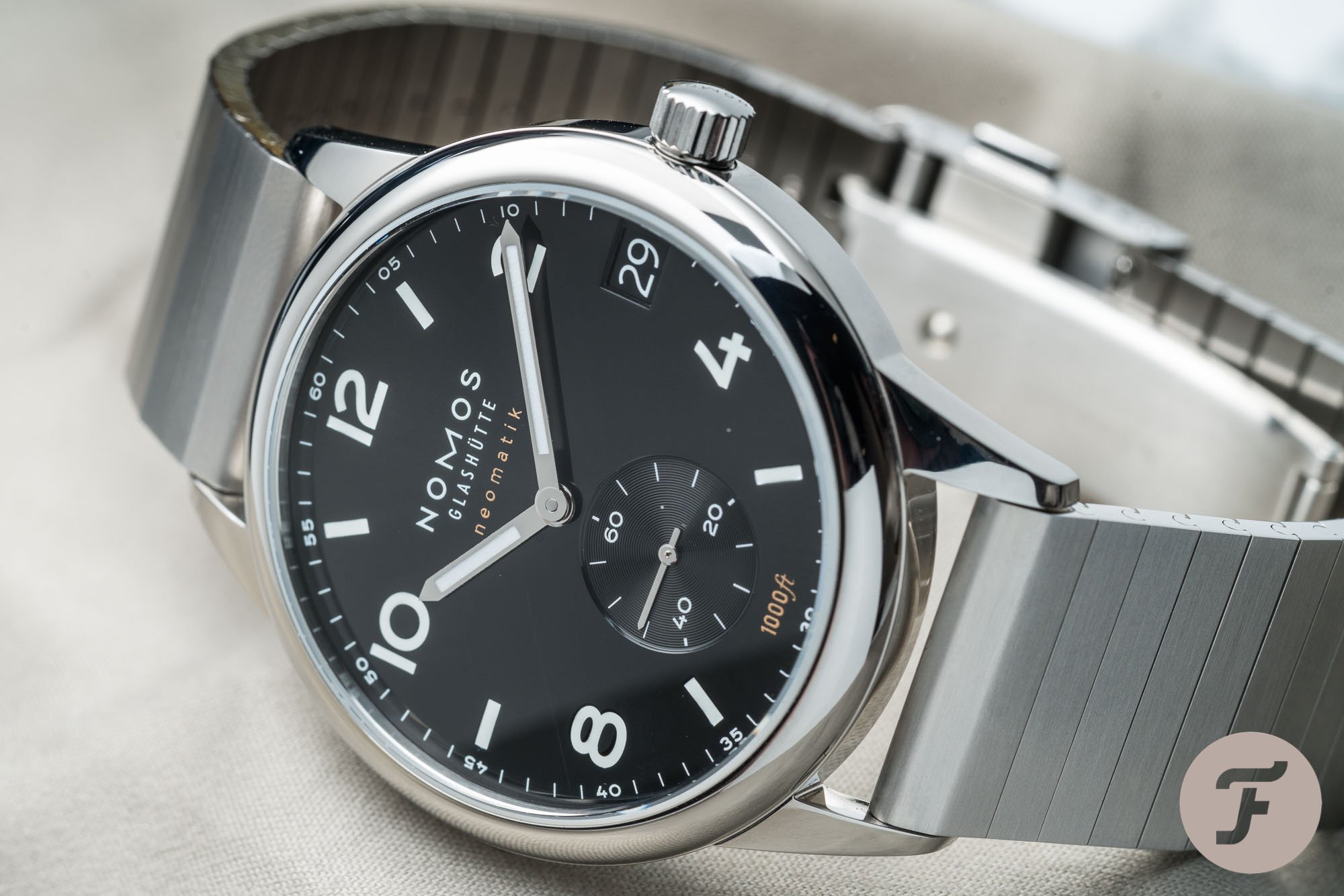 NOMOS Glashütte Club Sport Neomatik 42
NOMOS may have crept past the point of affordability over the years, but Glashütte's plucky oddball still offers excellent value. Mostly due to the features packed into recent offerings. Typically, NOMOS timepieces often come with Horween shell cordovan straps. Sometimes, NOMOS dips its toe in the ocean of textile straps for its aquatic-themed Ahoi watches. But we had to wait a while to get a proper metal bracelet from the brand. Last year, it finally arrived.

Swiss fold-over clasp for a German watch
In January 2019, NOMOS introduced a single-link bracelet. At first, it was only available on Club models, but soon the Tangente got the same treatment. The fold-over clasp may be in the traditional Swiss-style that NOMOS tends to eschew. But it's hard to argue with what works, and this style is both usable and secure. A single-link structure is unusual, though, and lends a slick style. With its sturdy lugs and sporty feel, the Nomos Club goes hand-in-hand with its steel bracelet. Included with the Club is a link replacing tool for the underside rather than the around the lugs. Perfect for new watch owners keen to adjust watch bracelets themselves without the risk of causing visible damage.
The dial is inscribed with "1,000ft" rather than 300m
The Club Sport has a 42mm case with an in-house Neomatik movement and a power reserve of 42 hours. The galvanized black dial has a matching date wheel. The water resistance is an impressive 300 meters. But strangely, from a metric-loving country such as Germany, the dial is inscribed with "1,000ft" rather than 300m. The screw-down crown offers extra water tightness, and there is a red anodized ring visible when unscrewed to remind you to screw in the crown before aquatic activities.
With blown-up Super-LumiNova numerals, the watch is fit for water excursions as well as casual legibility for urban environments. A great all-rounder for €3,138.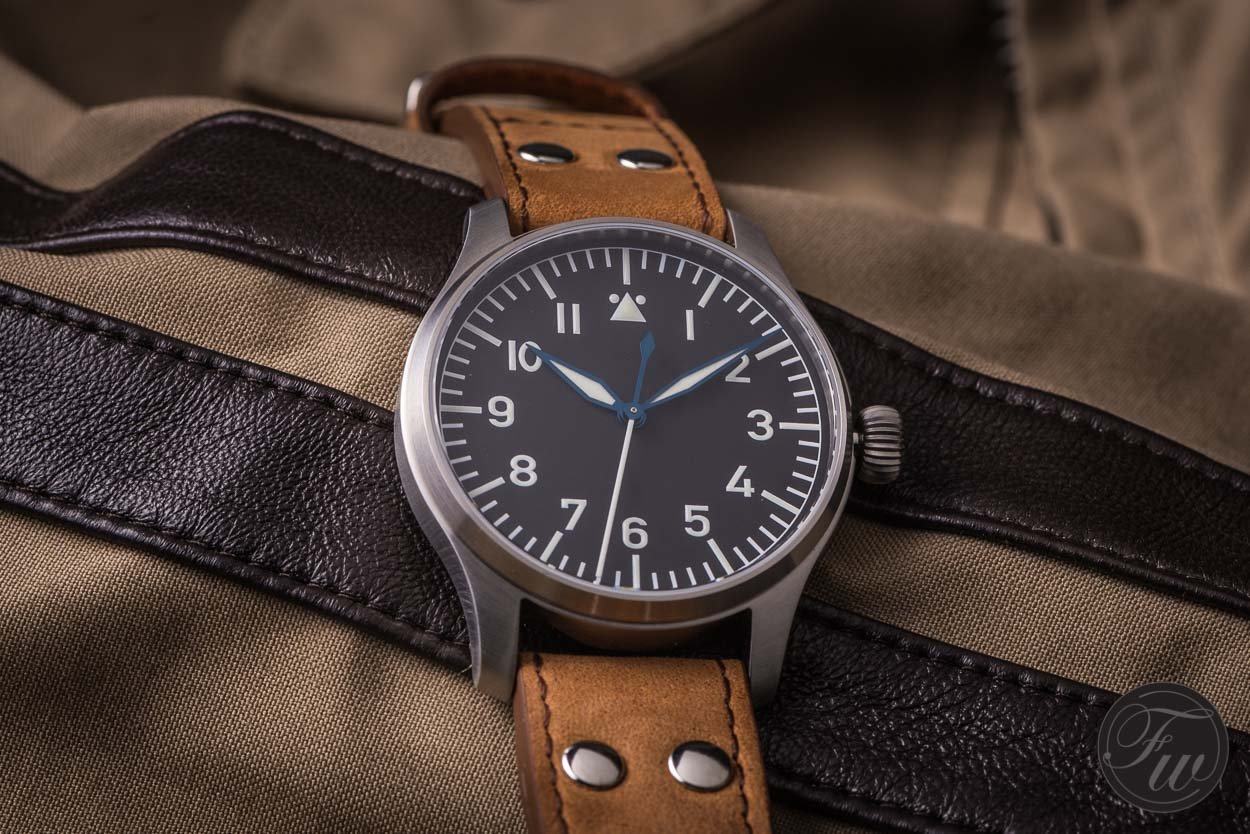 Stowa Flieger Klassik 40
Last up is a classic pilot watch from one of the few manufacturers who made this particular Flieger layout in the '40s. Stowa takes it even one step further and foregoes the logo, just like the early pilot's watches did. There seems to be 101 ways to make reimagine the Flieger concept — take a look at the new Fortis Flieger F-43, for example — but Stowa opts to keep things classical. And what a good choice it was. The biggest difference between the original article and this modern iteration is certainly the size. It scales back the diameter from the 55mm intended initially for wearing over a jacket sleeve. The 40mm steel case is much more wearable, however.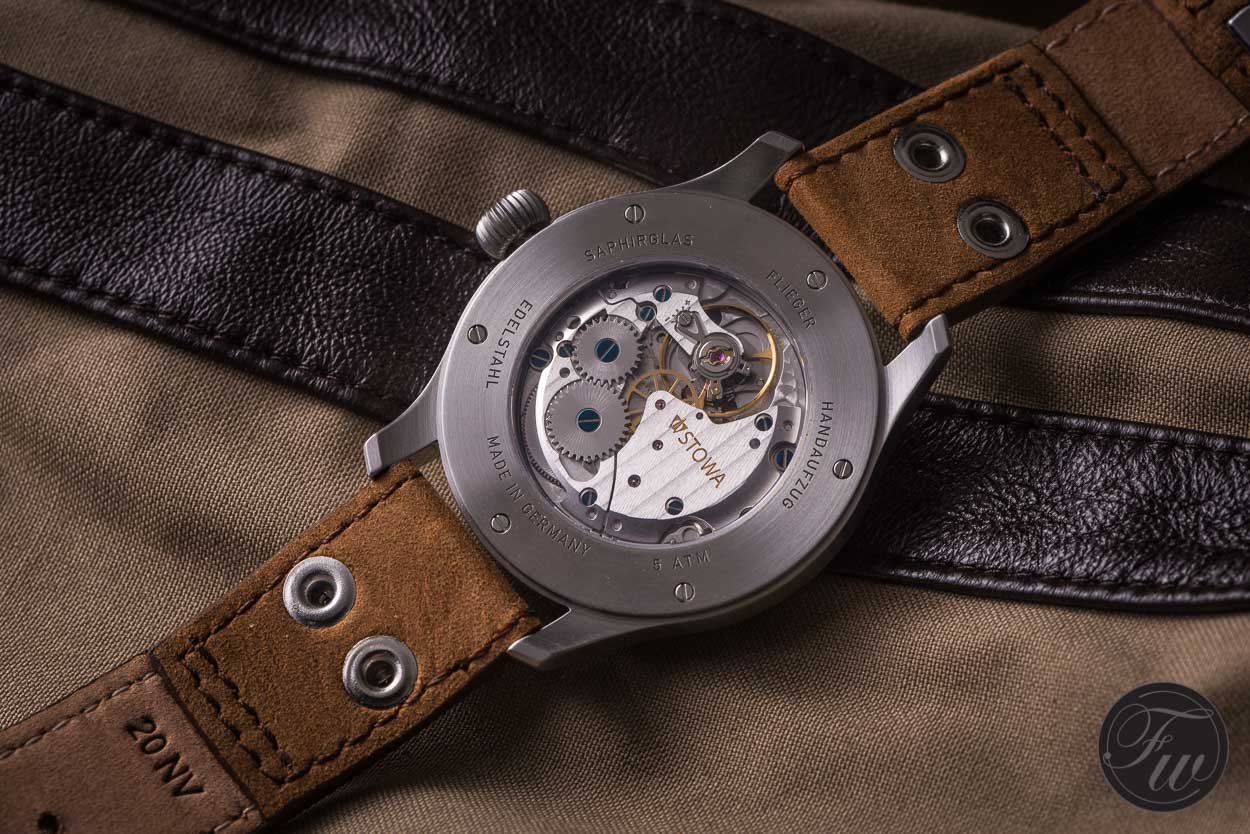 German precision
For under €1,000, the Stowa is a great way to own this design from a genuine manufacture from the past. The equivalent from IWC costs an outstanding €12,600. So for those, still finding their feet in the world of watch collecting, Stowa offers the design along with the prestige. The Flieger line of watches from Stowa also provides many variations. But for me, the Flieger Klassik in 40mm without the logo or sub-seconds is the purest iteration. A bonus is the manual winding movement from ETA all for €950.
These are my choices for great German watches that won't break the bank. Do you have any suggestions? Drop them in the comments below.