The Tissot 1853 Le Locle L164/264: An Underrated Every-Day Watch
Because sometimes understated and versatile is the way to go
Have you ever heard of the Tissot 1853 Le Locle? If you've ever found yourself looking for a sub-€1000 modern Swiss watch you might have come across it before. Otherwise, it probably has escaped your radar altogether. In general, the Tissot catalog is so extensive that it's typically hard to keep up. We all know the PRX, sure, but aside from some of the heritage models, other watches in the lineup don't get as much love as they deserve. I'm here to say, that it's OK. We can't all know about every single watch out there. But I also want to bring this one to your attention, as it's a perfect horological gem from the not-too-distant past.
I know, it's probably getting old by now, the story of how I bought most of my watches on a non-existing budget as a student or in the early days of my just-over-minimum-wage work life. Unfortunately, that's just how the majority of my collection came to be, with really only my Cartier Tank Solo and my Speedmaster as the two luxury watches in my collection. And of those two, I only actually bought the Speedy; the Tank I won in an Instagram watch photography competition. You can read more about my Speedy here, and about my Tank here. So, this being the case, how and why did the Tissot Le Locle come to be in my collection?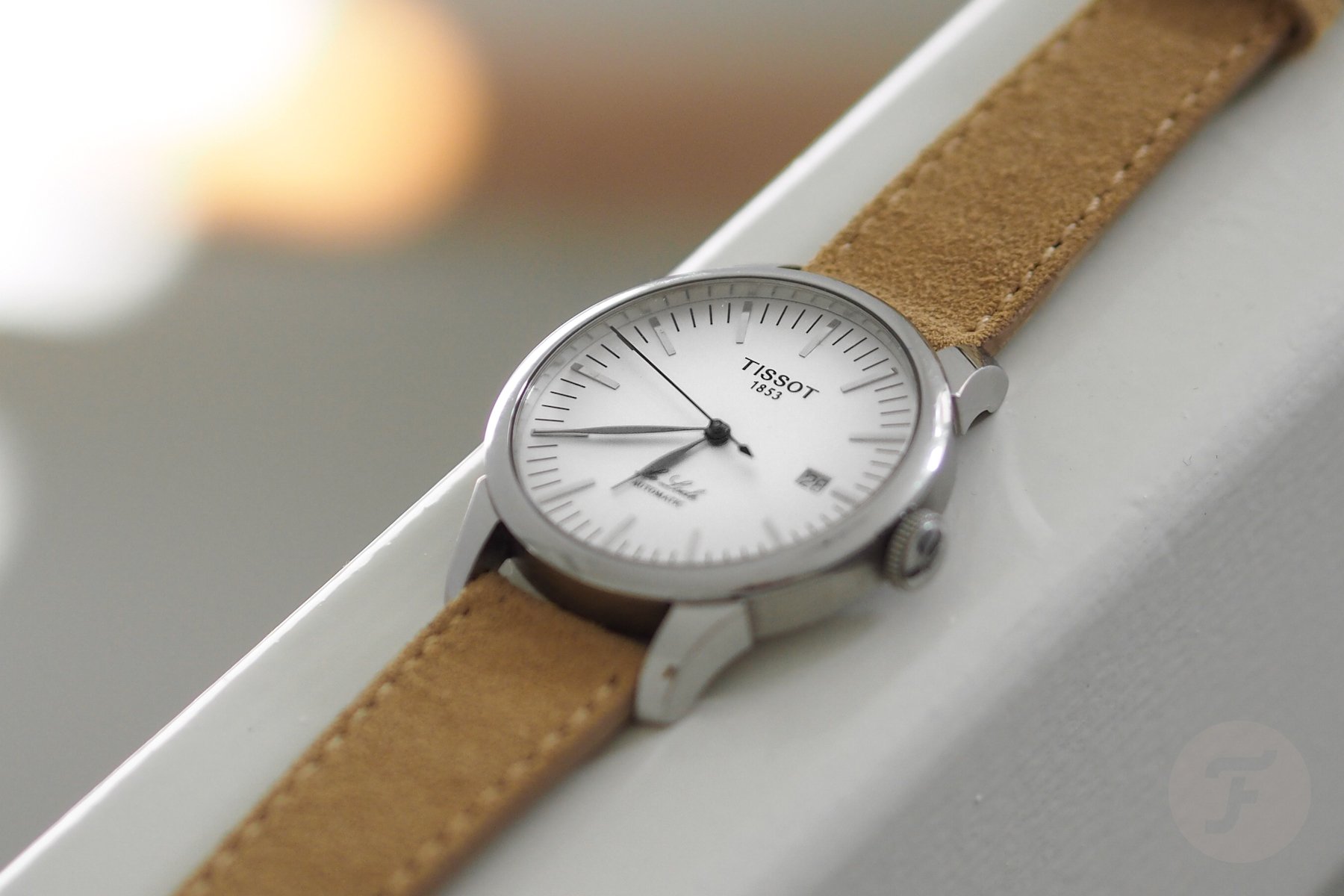 The tale of my Le Locle
We have to go back to the end of 2018. I had owned my fair share of affordable vintage watches by this point, but the appeal and reliability of modern watches was taking over. As much fun as it was to roll the dice on a €30–€70 vintage piece that might or might not even work properly, change was in the air. Back then, one of the brands that appealed to me the most was NOMOS. Living in Germany, you could see a decent spread of models in the window of any local AD. There was something to the simple yet bold design which threads the needle between dressy and sporty that I couldn't get out of my head.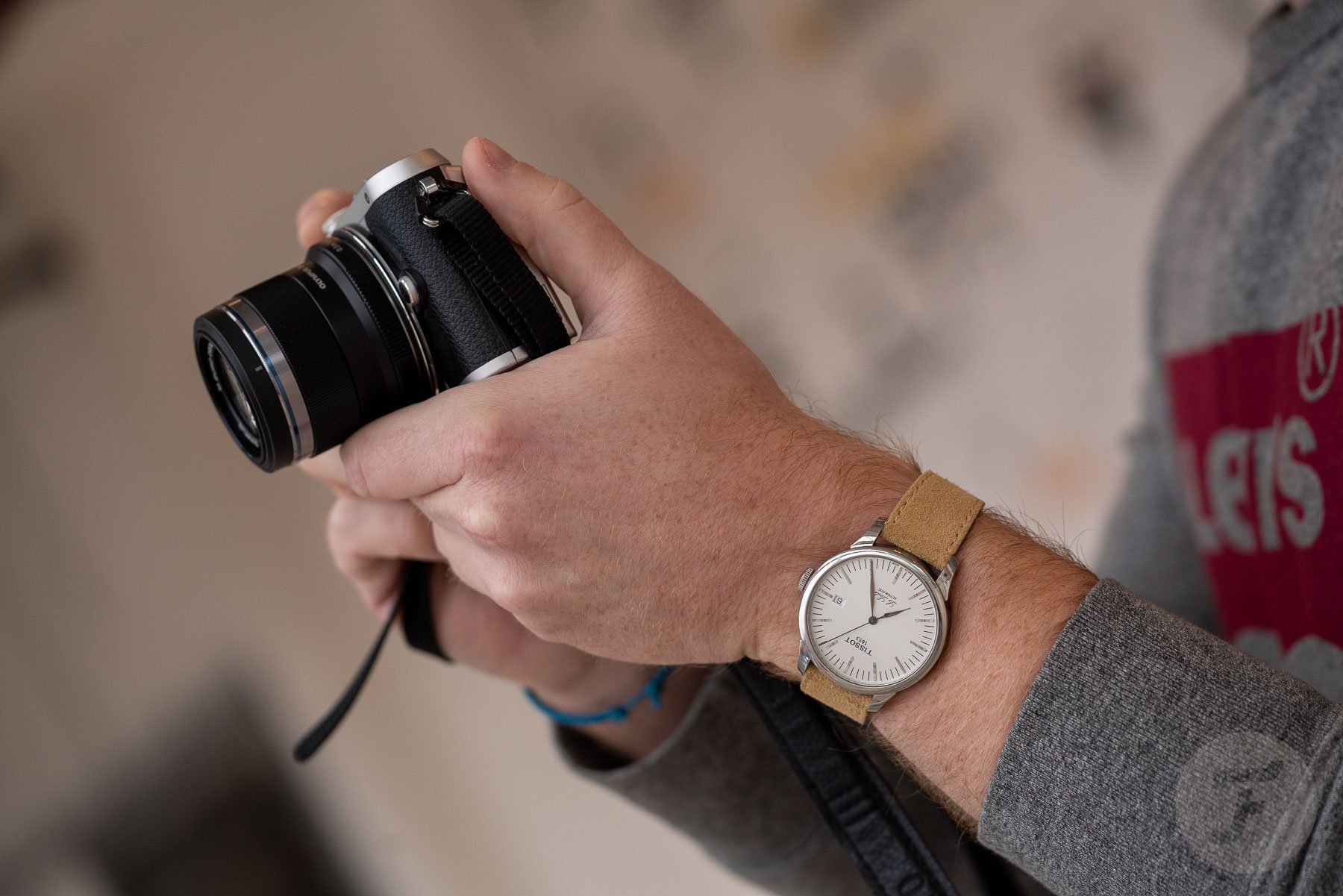 Having a couple of automatic dive watches already at this point, the door was wide open for something a little dressier. But unfortunately, due to NOMOS being way out of my humble budget, I started looking for alternatives. A few months later, by pure chance, I came across the Tissot Le Locle line. Looking deeper into the selection, I found a model that even then was already discontinued. Whereas the current models had applied Roman numerals and a guilloché pattern on the center of the dial, this one was different. Paired back, minimalistic, and with a healthy dose of that NOMOS Bauhaus appeal.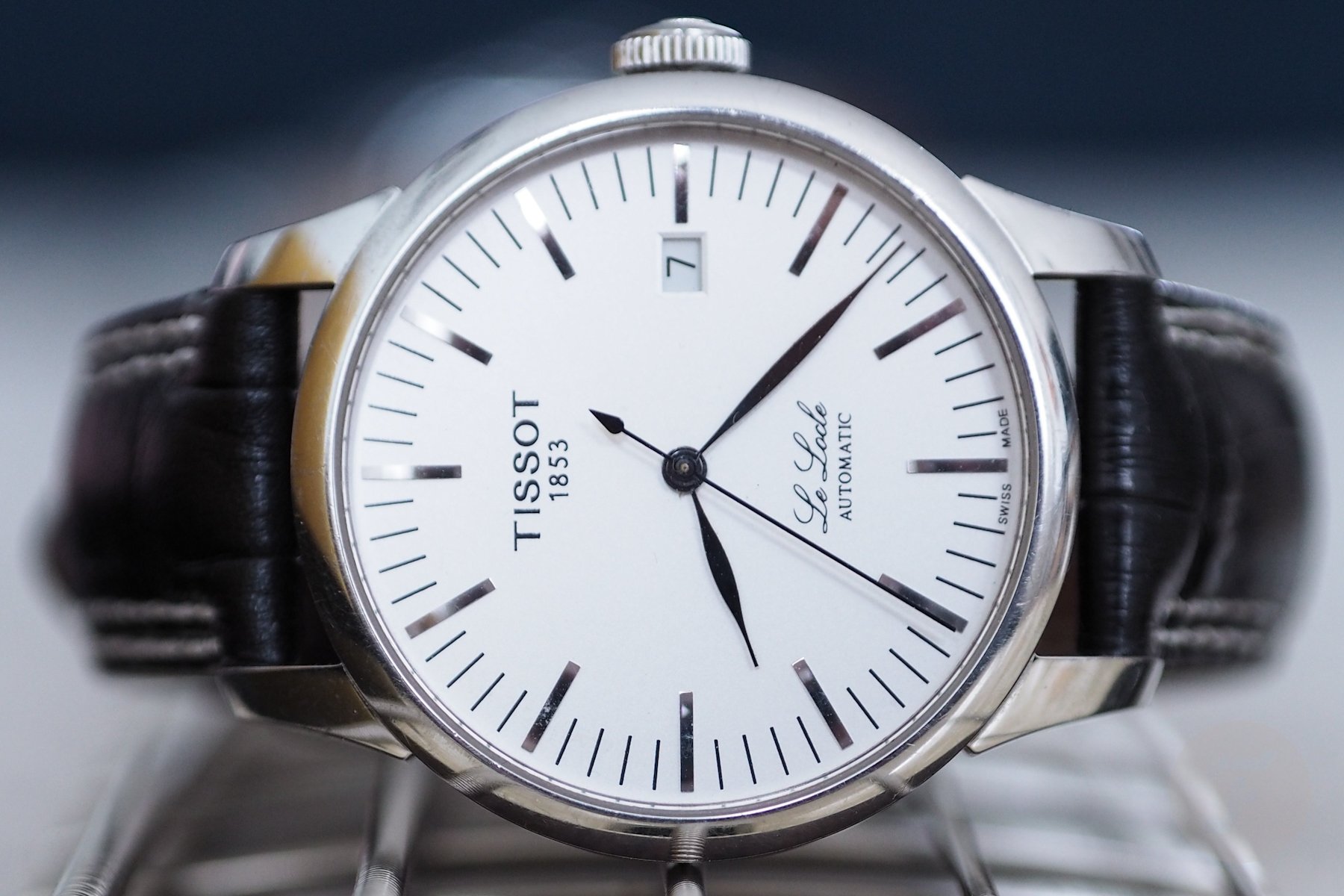 The Tissot 1853 Le Locle L164/264
As you've already seen in the pictures of the watch so far, the approach taken here by Tissot is one of "less is more". I find this to be a good thing. The dial of the newer version feels too busy, and the Roman numerals are a bit too much in my opinion. Especially considering that this is a 39mm steel-cased watch. Perhaps going back a few years, a watch of this size could be considered dressy, but today, it would be difficult to make the argument. As sports watches have come down in size, the perception of this piece would certainly trend more towards the sporty side of things. Like a NOMOS Club, it's not too dressy, not overly sporty, but just right. The shape of the lugs, the brushed sides, and the large signed crown make for a perfect, timeless look.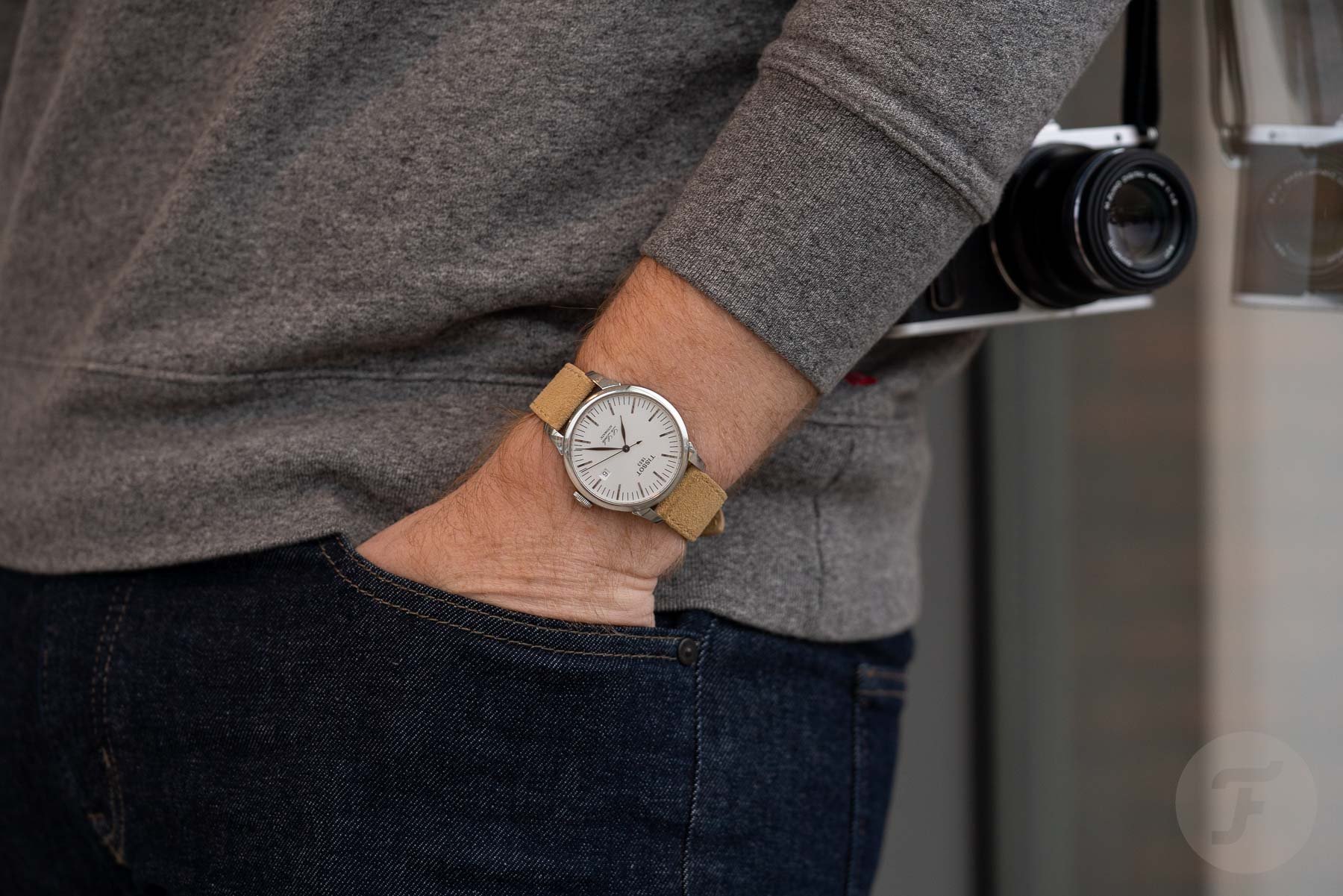 The matte silver dial holds 12 arched silver hour markers around its outer edge. Four black dashes between them serve as a minute track. Text on the dial is pretty minimal, with only "Tissot 1853" at 12 o'clock, and "Le Locle Automatic" at 6 o'clock. The nice, swoopy italic font used for Le Locle is quite a nice touch and gives an otherwise simple and minimalistic watch a bit of charm. A small date window at 3 o'clock is decently executed for a watch of the price point and remains fairly unobtrusive. All three of the hands have a dark grey polished finish and look black in most light. The hour and minute hands have a nice elegant leaf shape, and the seconds hand is slim as can be, with a small arrow counterpoise.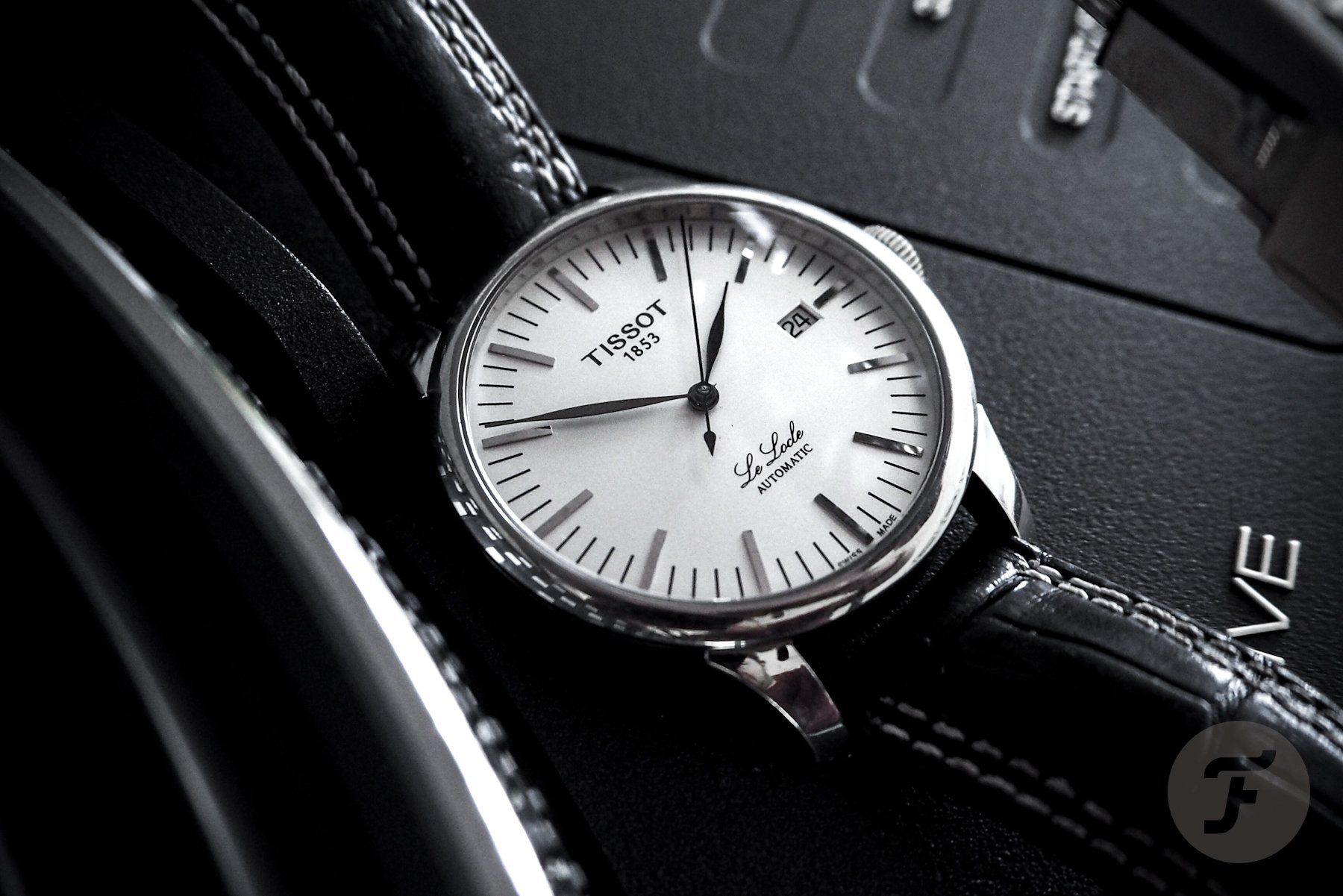 The good and the bad
Now, it's not all sunshine and rainbows with the Tissot Le Locle. There are one or two things that I wish were different. But let's first look at the things I like. Other than the looks, the watch offers plenty of modern conveniences. Among these are the scratch-resistant sapphire crystal and ETA caliber 2824-2, which hacks and hand-winds, and provides a 38-hour power reserve. I have no idea when this watch was last serviced, but it wouldn't surprise me if it was simply never happened. At this stage, it must be over 10 years old, and it keeps near-perfect time. That being said, the newer models definitely have an edge, as they feature the superior Powermatic 80 movement.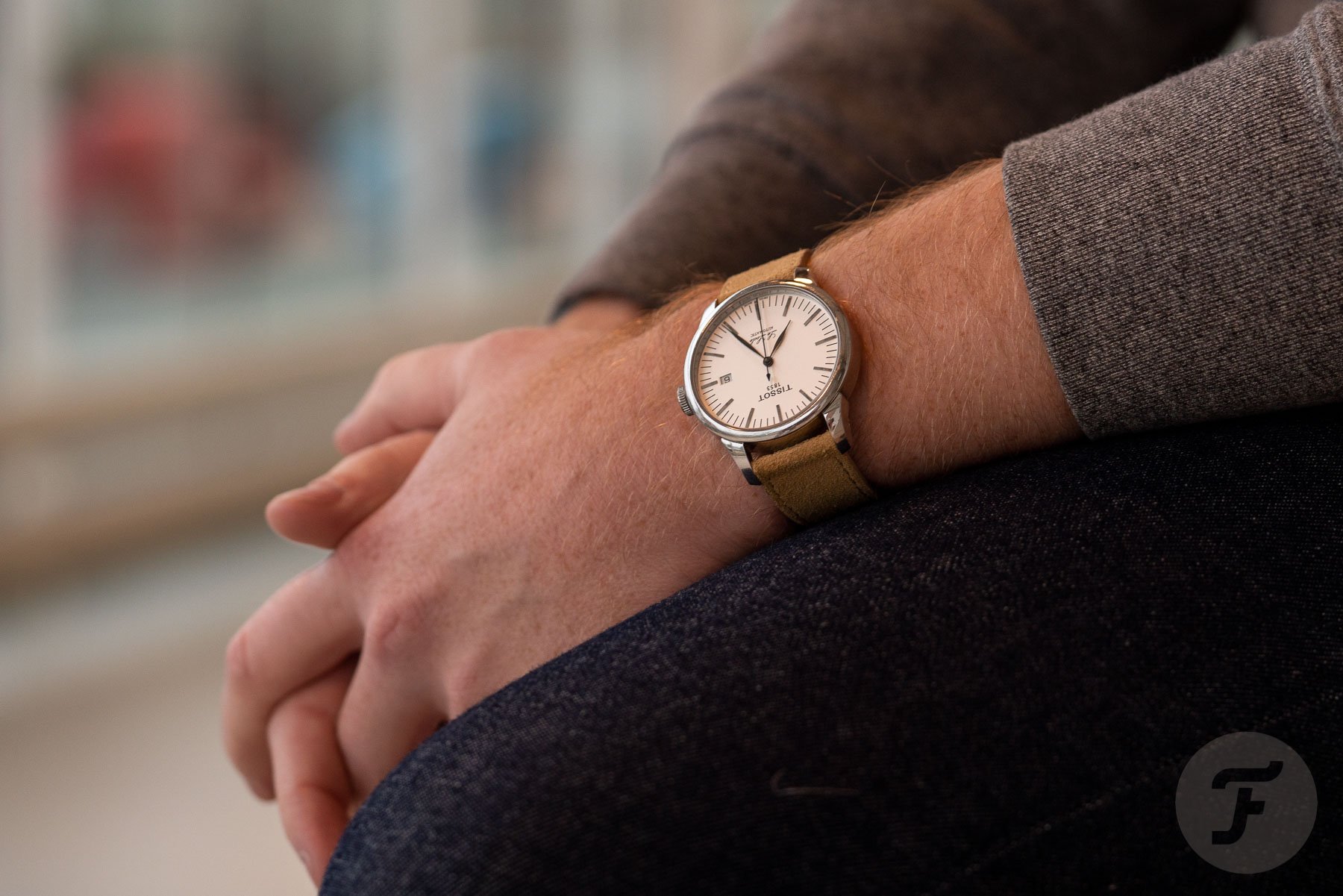 As I said before, not all that glitters is gold, and there are certainly a couple of "issues" with this watch. The first of which is the 19mm lug width. This means that you won't be able to use your 18 and 20mm straps for this watch. As you can see, I mostly wore it on a 20mm black faux-alligator strap that was lying around from another watch, which happened to fit the lugs. Later, I fitted it with a tan suede 20mm strap. The watch originally comes on a bracelet, and this is another bad point. It's not a terrible bracelet, but it's almost impossible to accurately size, it's a pain to remove, and it's extremely shiny. The last weak point is the mineral crystal exhibition case back, which is pretty scuffed up. I assume this was due to the previous owner setting it down onto the bracelet.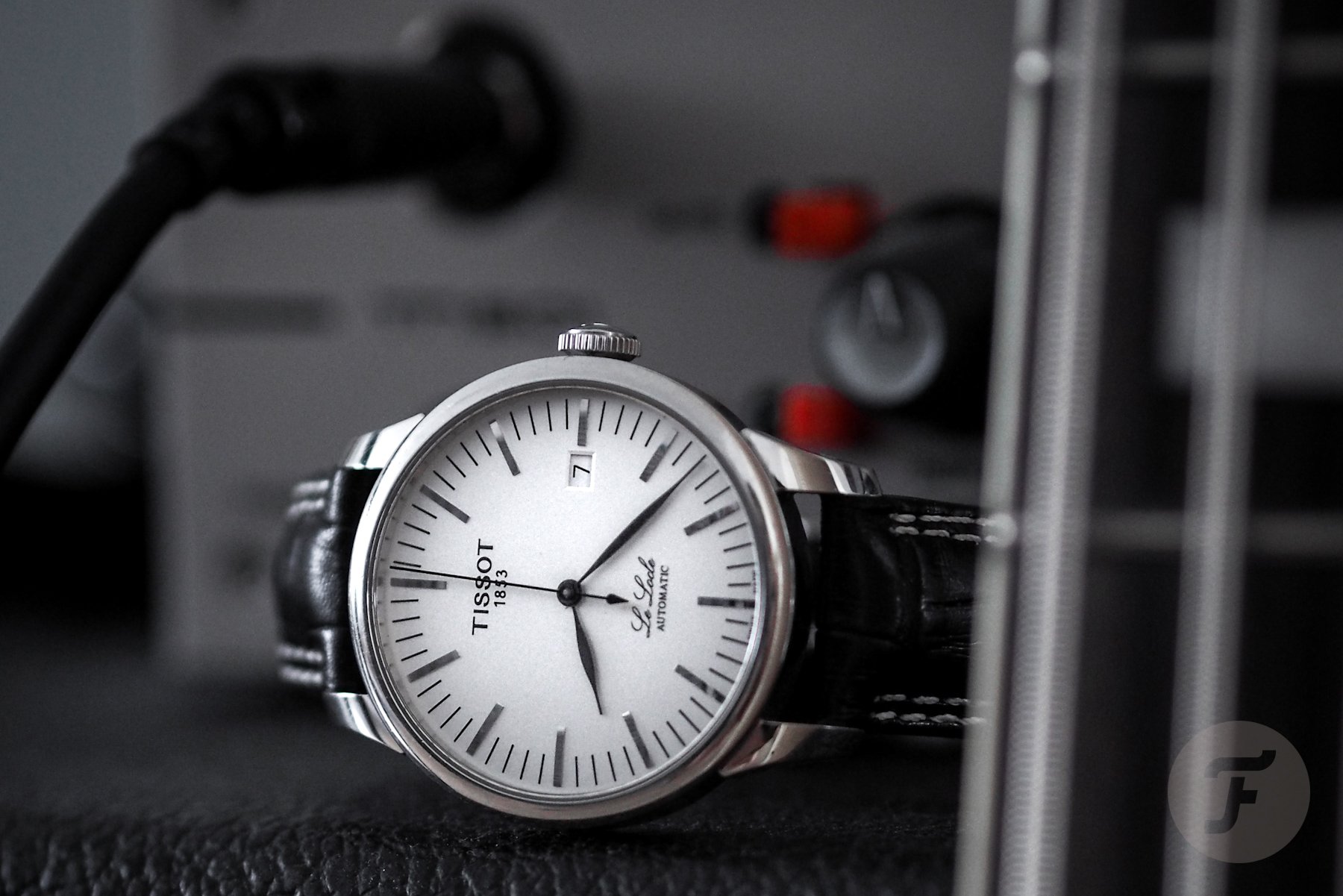 Final thoughts
Ultimately, the "bad" aspects of the watch are just a few, and some that I can live with or, in the case of the bracelet, remove altogether. But should you buy this watch? Probably not, unless you find yourself in a similar situation to mine when I bought it, or you just really dig it and don't want to head into NOMOS territory. You'll have to buy used, as this particular model is no longer in production. According to Chrono24, you can find these for €172 to €190, which is about what I paid for mine. Not bad, considering that a new one will set you back around €500.
Did this watch keep me from buying a NOMOS? Actually, yes! I didn't expect this to be the case when I first got it and generally would say it's a bad idea to buy something as a placeholder for something else. However, this Tissot was probably my most worn watch in 2019. It was just so versatile and comfortable, that it was a clear choice to go with every day. And that's the sweet spot. If you want a sub-€200, versatile, everyday watch, don't underestimate the Tissot Le Locle.
I'd love to hear your thoughts on this Tissot. Have you owned one before? Do you love it? Do you hate it? Let me know your thoughts in the comments below.
Follow me on Instagram @ncgwatches