Top 10 Chronographs Under 5,000 Euros
What's out there in this ever more expensive becoming hobby
A chronograph is one of the most sought-after complications. Not only do I use mine to time a journey, task, or during cooking, it also makes you really interact with your mechanical watch. You visibly set a mechanism in motion when pushing the start button. When the watch has a transparent case back, it is even more fun to watch the parts respond to your command.
Omega was one of the remaining big names that had something to offer in this category, but with the introduction of the new Moonwatch Master Chronometer, this belongs to the past as well. With the Moonwatch moving out of this league, I wondered what chronograph under €5,000 (or $5,000) I would buy.
I am aware I should know better but I was a bit in shock to find out that the brands like Breitling, Zenith, IWC, etc. moved away from offering mechanical chronographs under €5,000. It is still possible, of course, including the famous Moonwatch, but then you need to be fine with buying a pre-owned watch. Not everyone is, so I limit myself to new watches only for this overview of 10 chronographs under €5,000.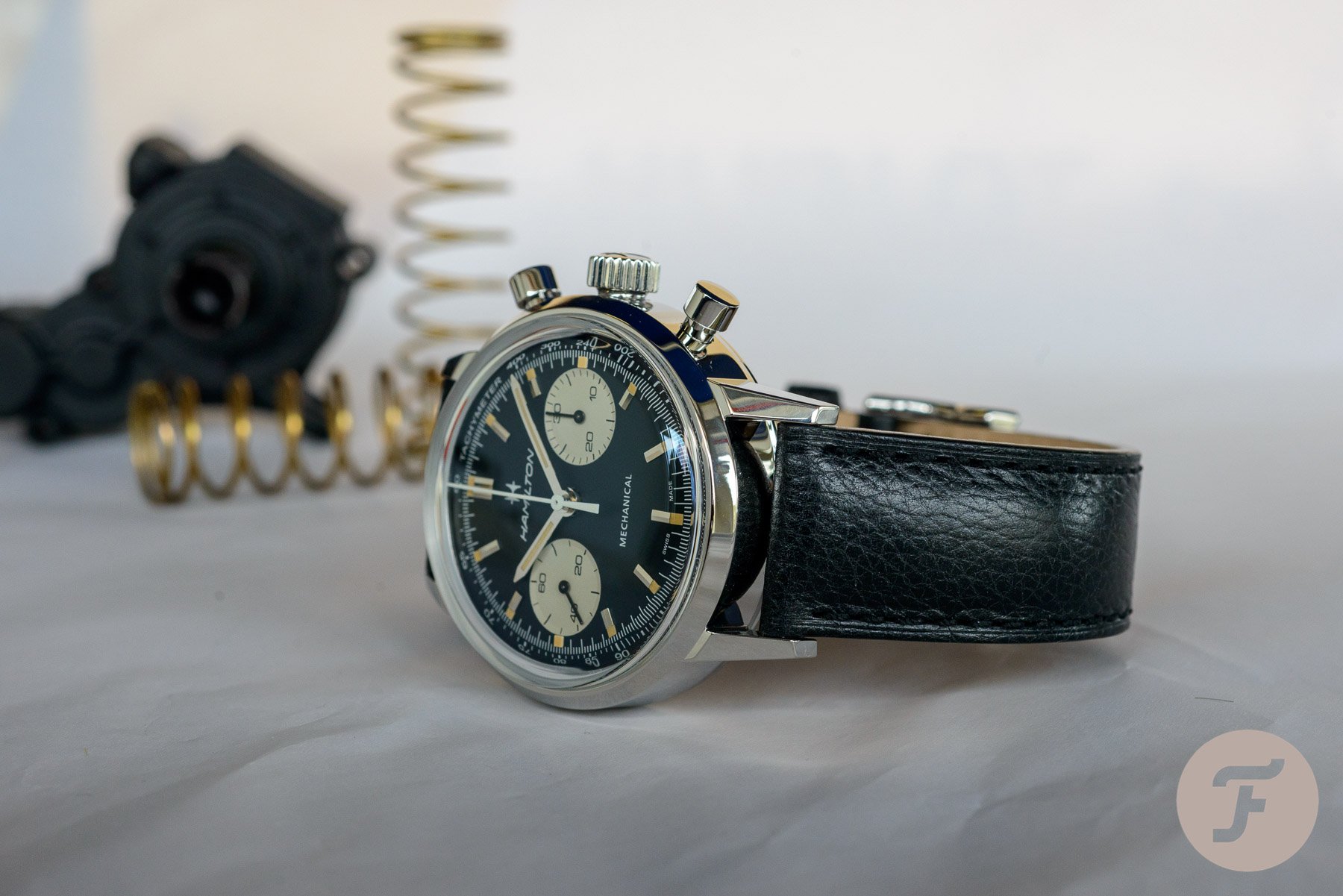 Top 10 Chronographs Under €5,000
I gave myself an imaginary budget of €5,000 (or $5,000) to purchase a new mechanical chronograph. I don't need to spend it all, but I do want to stay under this amount for sure. €5,000 for a watch is often this mental limit to many people, so I decided to use this as a guideline.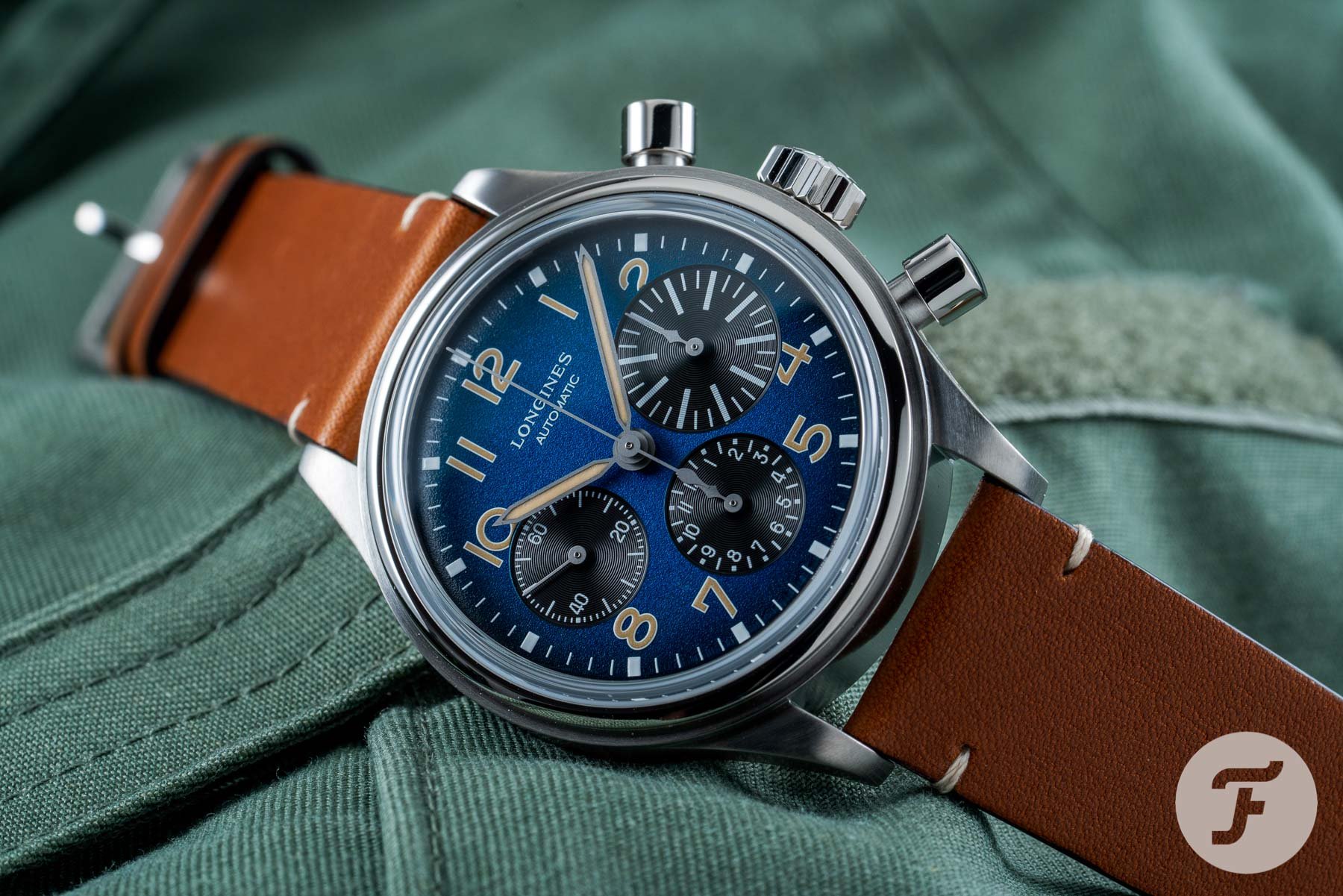 Longines Avigation BigEye Chronograph
A watch that definitely belongs in this top 10 chronographs under €5,000 overview. And you will get to keep quite a bit of change as well. Dave wrote "The watch we didn't know we needed!" in his hands-on review of the Longines Avigation BigEye chronograph. It perfectly summarizes this beautiful chronograph in titanium with a retail price of €3,230. This 41mm diameter vintage-inspired chronograph is made of titanium and has an ETA-based movement equipped with a silicon balance spring. Longines is a brand that can't be overlooked in this price range, that's why you'll find another one in this top 10 chronographs overview later on.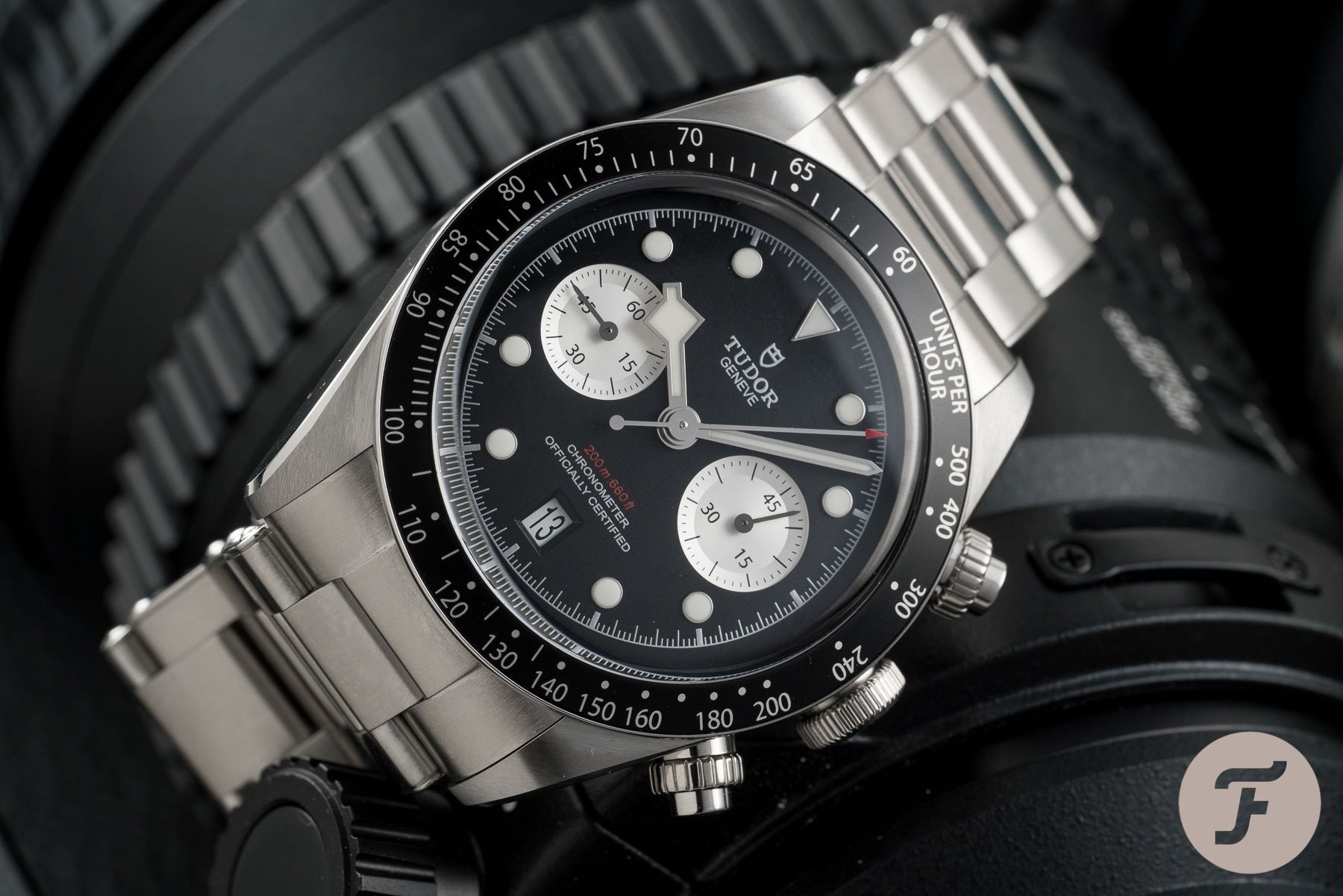 Tudor Black Bay Chrono
I just reviewed the Tudor Black Bay Chrono M79360N this week (go read it here, or watch our video) and it just fits our budget. Especially in Euro currency, the price in USD is $5,225 for the version on steel. Although I had a few comments on this watch, Tudor does offer a lot of value. My critical notes on the faux-rivet bracelet and screw-down pushers are overshadowed by the great design of the dial, and the use of the manufacture movement. Not by Tudor, but by Breitling and Tudor made some smart adjustments to it, such as a silicon balance spring.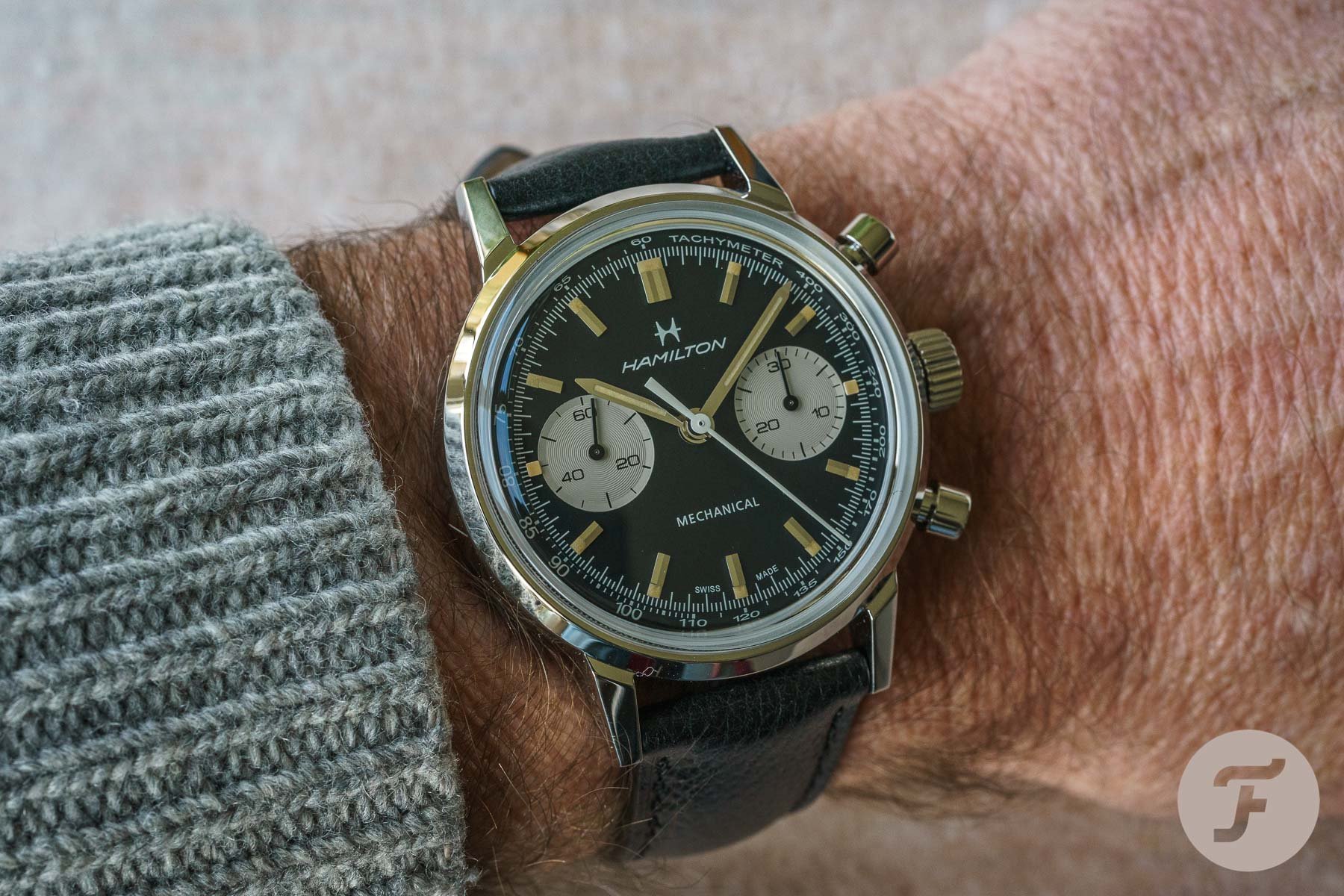 Hamilton Intra-Matic Chronograph H
Purchase the Longines above and you almost have enough to spend on another watch from this top 10 chronograph overview. The Hamilton Intra-Matic Chronograph H is a recent addition to the Intra-Matic collection, this time with a hand-wound movement. With a 40mm case diameter, the Hamilton Intra-Matic Chronograph H is one of the smaller watches in this overview, but to many, it hits the sweet spot. Inside is caliber H-51, with a power reserve of 60 hours. What the "Matic" stands for in "Intra-Matic" as it's a manual wound watch, I don't know. What I do know, is that the black dial version on a leather strap is awesome and sets you back €1,895.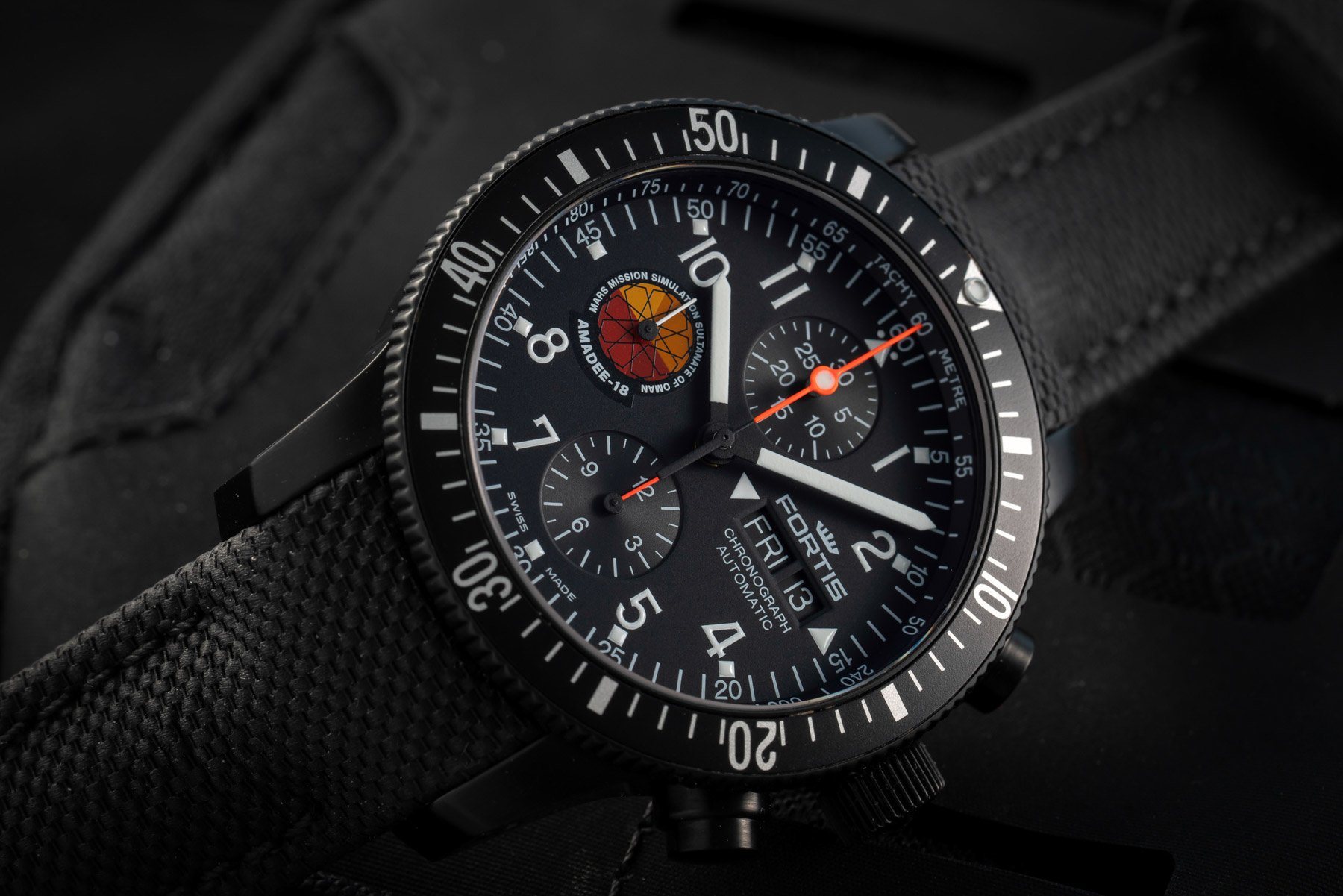 Fortis Official Cosmonauts Amadee-18
I had a long debate with myself whether I would pick the Fortis F-43 Bicompax or this Official Cosmonauts Amadee-18 limited edition. I had both in my hands and on the wrist, and the Official Cosmonauts Amadee-18 is my pick. Although I love a good bi-compax dial layout, the Official Cosmonauts designs suit me better. There's also a version in steel, instead of this black PVDed model, but I prefer the black one for a change. With a 42mm case size, this watch is very wearable and it is powered by the famous ETA7750 movement. The retail price of this watch is €3,300.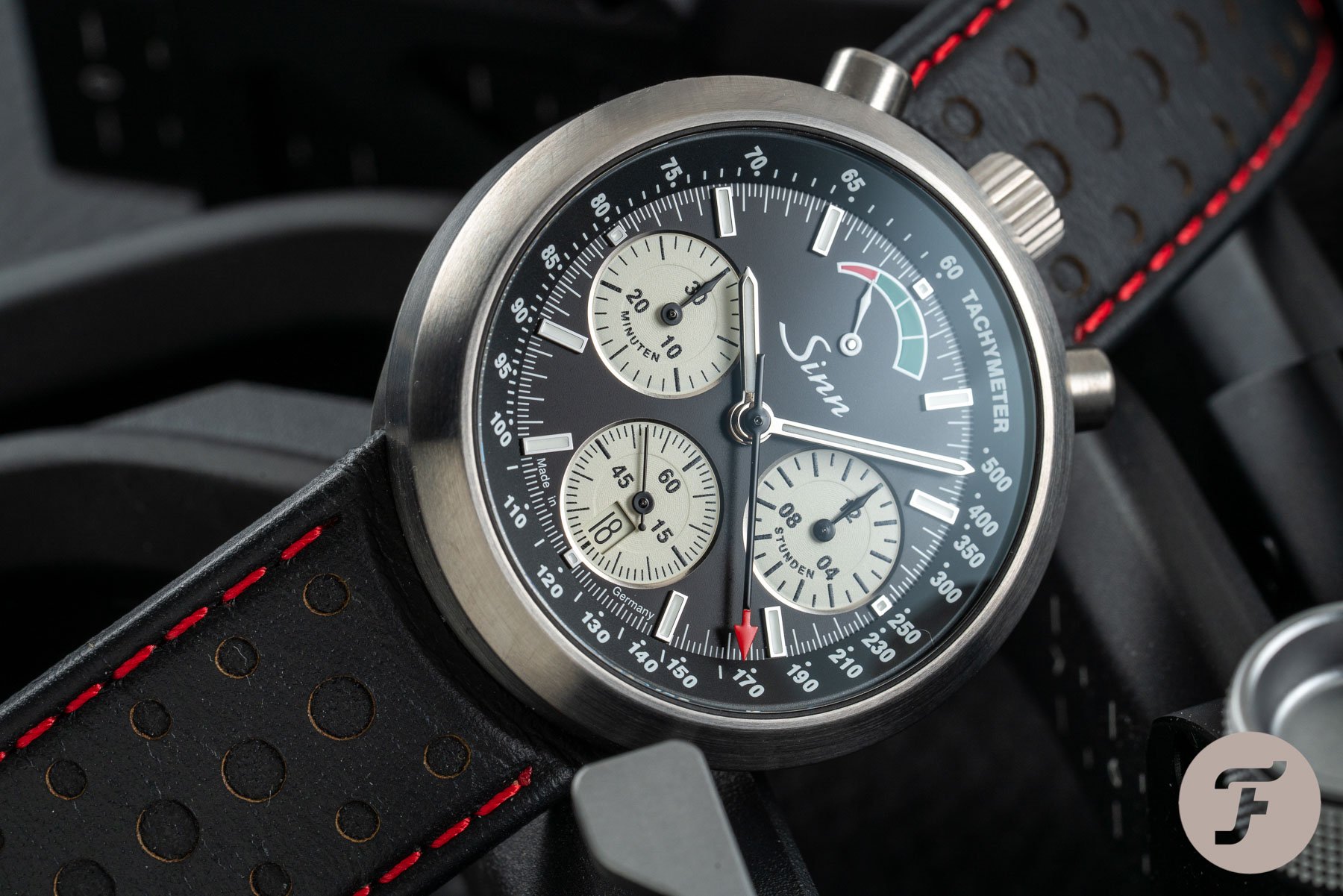 Sinn R500
A modern titanium bullhead chronograph from my favorite brand from Frankfurt: Sinn SpezialUhren. An impressive watch with the pushers and crown located at 12 o'clock, and a case diameter of 42mm. Inside, an ETA7750 movement, just like some of the other watches in this top 10 chronographs overview. The cool thing I find about this R500 is that due to the bullhead construction, the layout of the dial suddenly changes to the more traditional 3-6-9. And on top, Sinn adds a power reserve indicator at 12 o'clock. This watch is limited to 300 pieces only and retails for €3,950.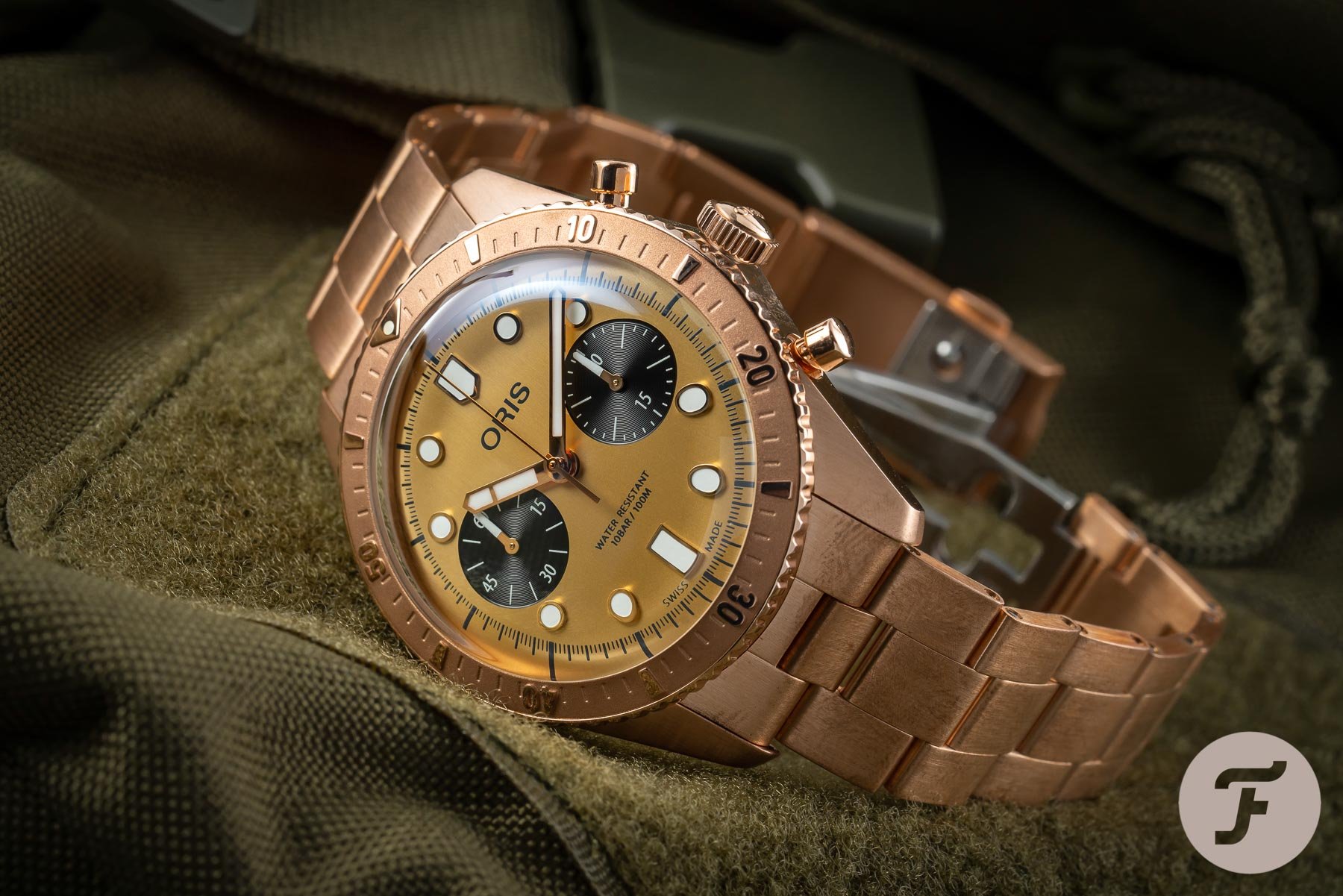 Oris Divers Hölstein Edition
Another limited edition, I know, but what a great one! Oris is strong in bronze, and you seem to love it! Our limited edition "Fratelloris" of 300 pieces sold out quite fast. The Hölstein Edition might already be sold out, but it might be worth checking with your local Oris dealer or boutique if they still have one. This 43mm diameter chronograph, powered by Sellita SW510 based Oris 771 movement, has a bi-compax layout on the gold color dial. Due to the bronze bracelet, the entire watch just looks brutal! The retail price for this Oris Hölstein Edition is €4,600. It will rapidly develop some nice patina on the case and bracelet. If it gets too much, it is easy to clean it up again (I just did that with my bronze Oris, it takes 20 minutes).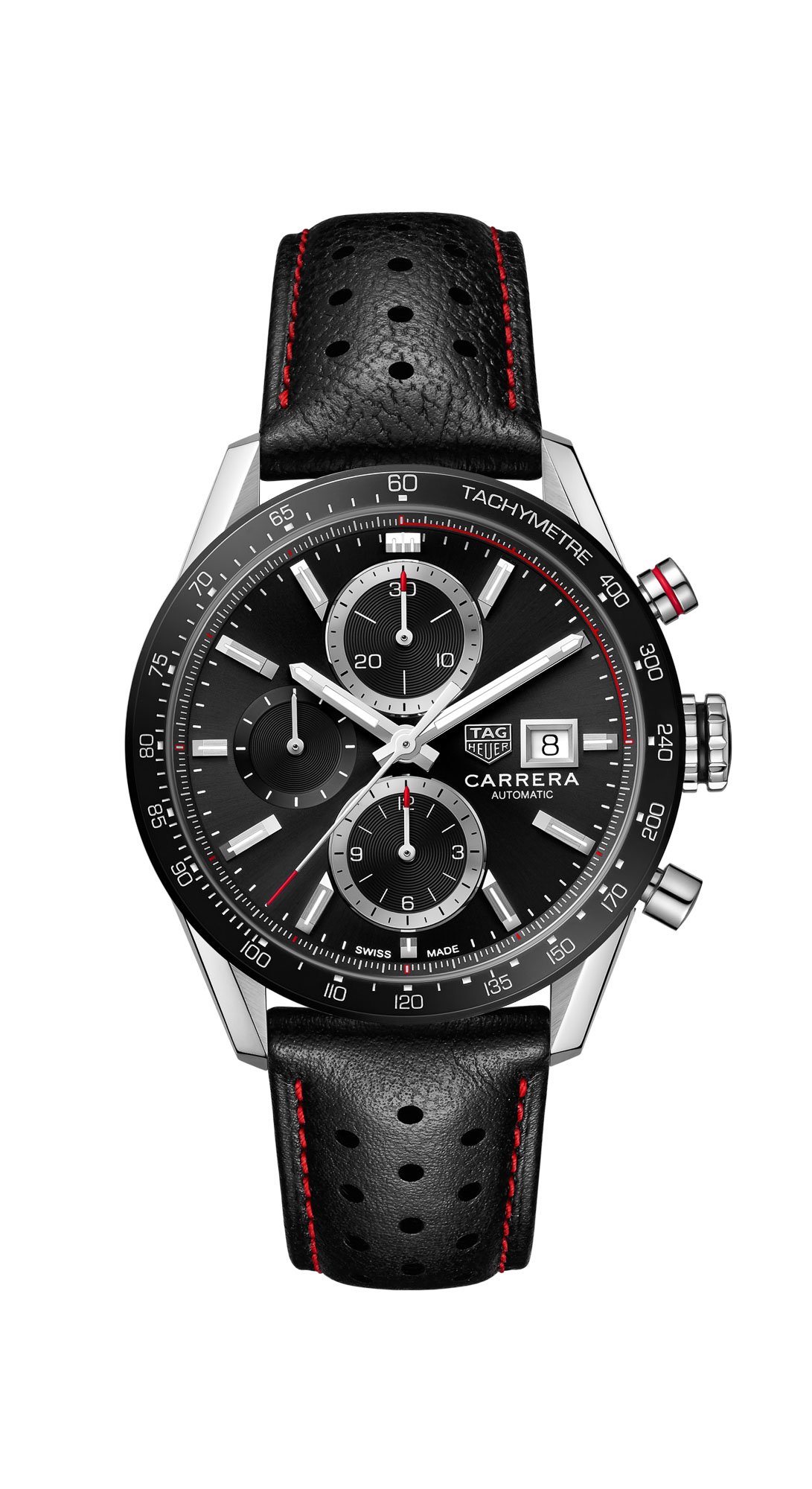 TAG Heuer Carrera Calibre 16
You say chronograph and I will say TAG Heuer. It is the chronograph brand and therefore deserves a spot in this top 10 chronographs overview. But wait, it is getting quite thin in the < €5,000 category on their website. That is if you want something mechanical. TAG Heuer's in-house developed caliber 02 is housed in some very pretty Carrera's, but unfortunately not available for our budget. So I chose the TAG Heuer Carrera Caliber 16, based on the ETA7750. This version has a case diameter of 41mm and a water resistance of 100 meters. The retail price is €4,000.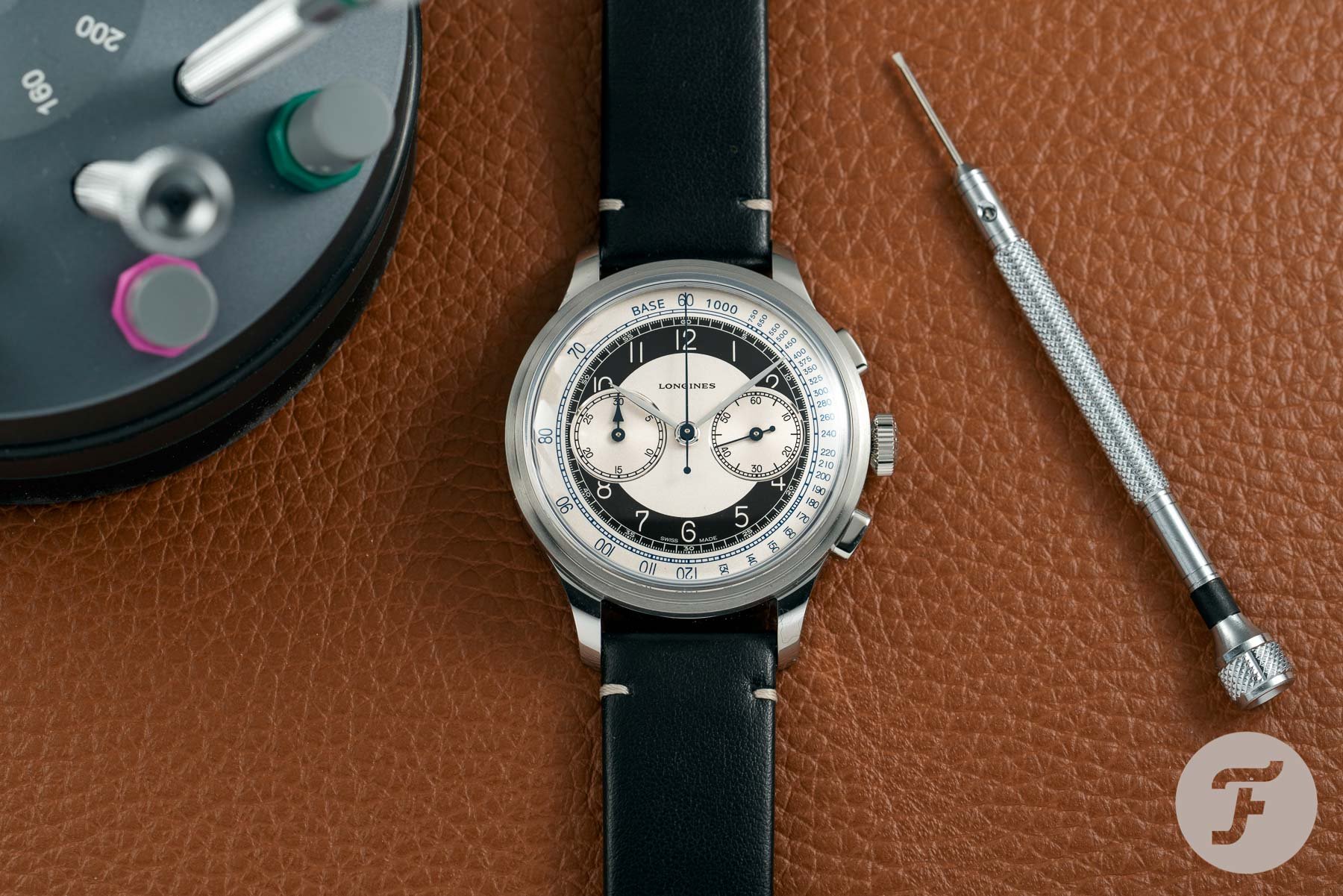 Longines Heritage Classic Chronograph
I really looked forward to reviewing this watch. I'd seen the Longines Heritage Classic chronograph under embargo and it left a very positive impression and I remember I kept bothering Longines about sending us one for review. The retail price of this 40mm chronograph is €2,900 and it is powered by caliber L895, an ETA-based movement for Longines. The bi-compax dial is simply stunning and is the highlight of this watch. Longines has a wonderful heritage of chronographs and the dial of this 1940s looking model is just brilliant. There's also a but in this story, as I was a bit disappointed by the thickness of its case (13,6mm). Nevertheless, it deserves a spot in this top 10 chronographs overview. You can read the review here and decide for yourself.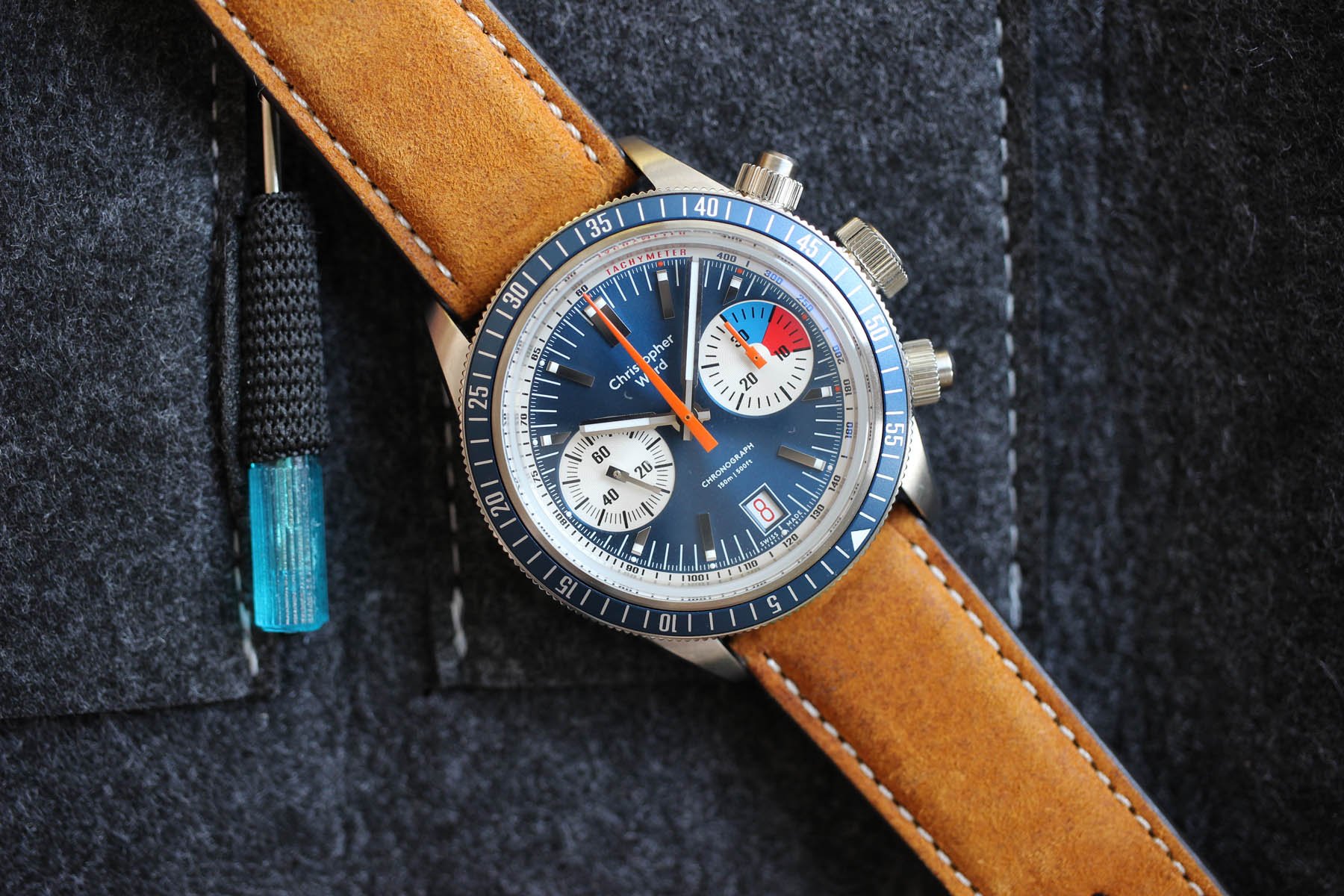 Christopher Ward C65 Chronograph
Tomas did a hands-on review of this Christopher Ward C65 chronograph. I can see why, because Tomas (almost) only loves vintage watches, and this C65 chronograph can easily be mistaken for a nice 1970s colorful chrono. This 41mm diameter chronograph is indeed yet another vintage-inspired watch, but is that bad? Aren't we into watches for nostalgic reasons anyway? Sometimes I get the feeling that people respond to "limited edition" or "vintage-inspired" just for the sake of responding. You can also ask yourself if you just like what you're seeing. Admittedly, some brands do a better job in re-creating than others, but if it is done well, I don't see any reason to be negative about it. Powered by the Sellita SW510, this C65 chronograph retails for €2,030.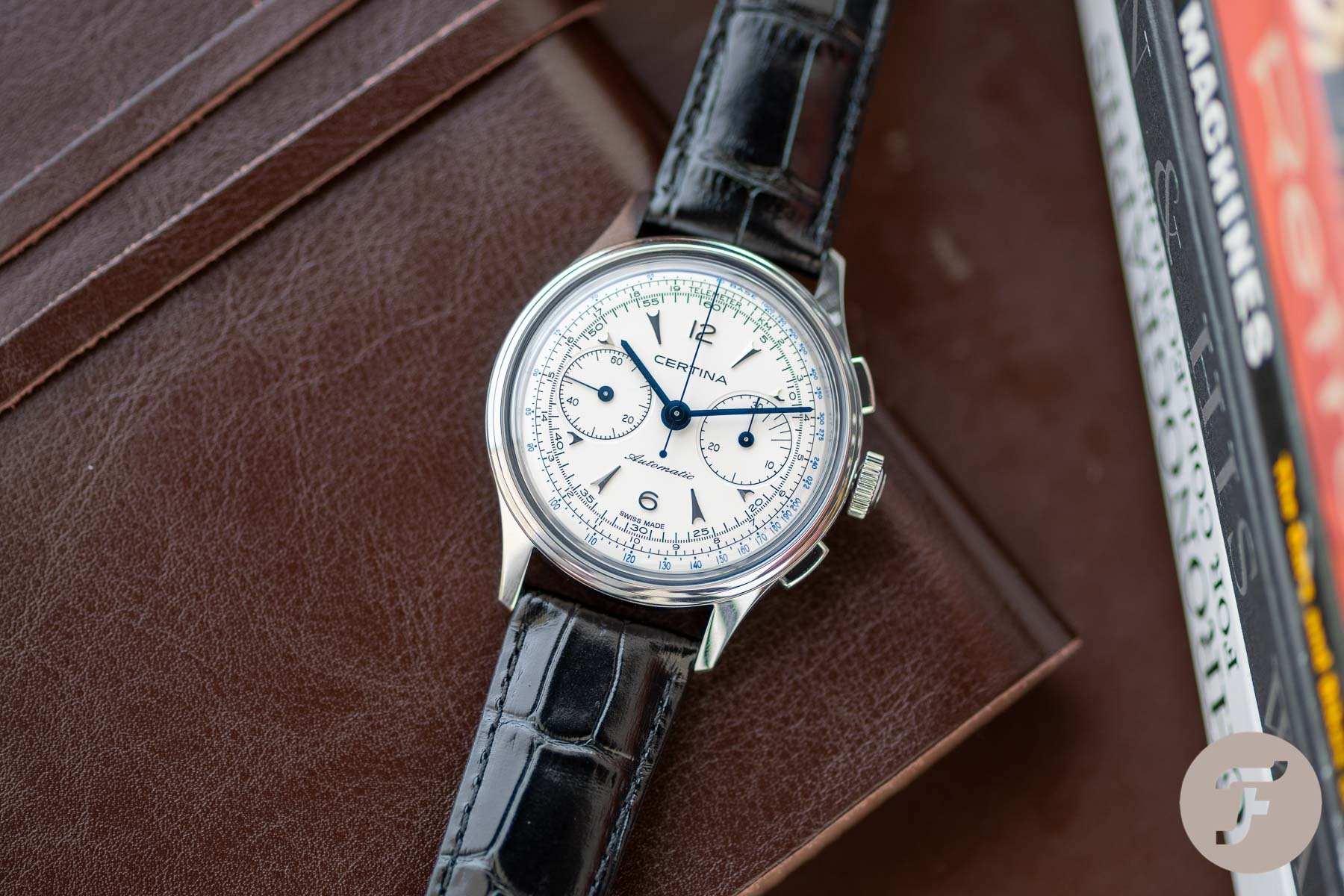 Certina DS Chronograph Automatic
This is such a nice-looking 1950s chronograph. Balazs agrees with me in his initial review, the only criticism he had was about the strap. But that's very easy to solve! The Certina DS Chronograph automatic is powered by caliber A05.H31 and has a silicon balance spring. 6 out of 10 chronographs in this article have a bi-compax dial, and this Certina is just one of them. It seems I love these. What I also love about this watch is the price tag of €1,825 for this modern-sized (42mm) chronograph.
Pre-owned chronographs under €5,000
€5,000 is a lot of money, and even though some of the watches in the top 10 chronographs overview are under €2,000, you want to make sure you'll buy what you love best. The pre-owned market is immensely big, and it offers you the possibility to buy a watch that retailed for way more than your budget. Or, it allows you to buy that childhood dream watch that is long discontinued. €5,000 will buy you a full gold Ebel 1911 chronograph with El Primero movement, for example. But also definitely a hand-wound Moonwatch, vintage or modern. It will make a great future article.
Meanwhile, let me know what your favorite chronograph watch is in the comments below.