Top 5 Watch Case Materials That Will Blow Your Mind
When steel is too common and gold is not your thing anymore.
The watch industry, like many, is known for pushing the envelope when it comes to materials used in its products. Just think of silicon balance springs or dials decorated with flower petals, cigar leaves, or crystallized gold. And what about, well, Swiss cheese? All jokes aside, we felt that it would be fun if we took a closer look at watch cases and the astonishing materials they come in these days. So, I collected the Top 5 watch case materials that will blow your mind. 
Needless to say, watch cases are not the only components with which brands like to experiment. You will find surprising materials all over watches! Still, this is the most prominent or visible part of a timepiece. Venturing beyond the usual suspects like steel/precious metal is not a new thing. Brands have been getting creative here for quite some time now. As such, my list has some new but also a few vintage models too.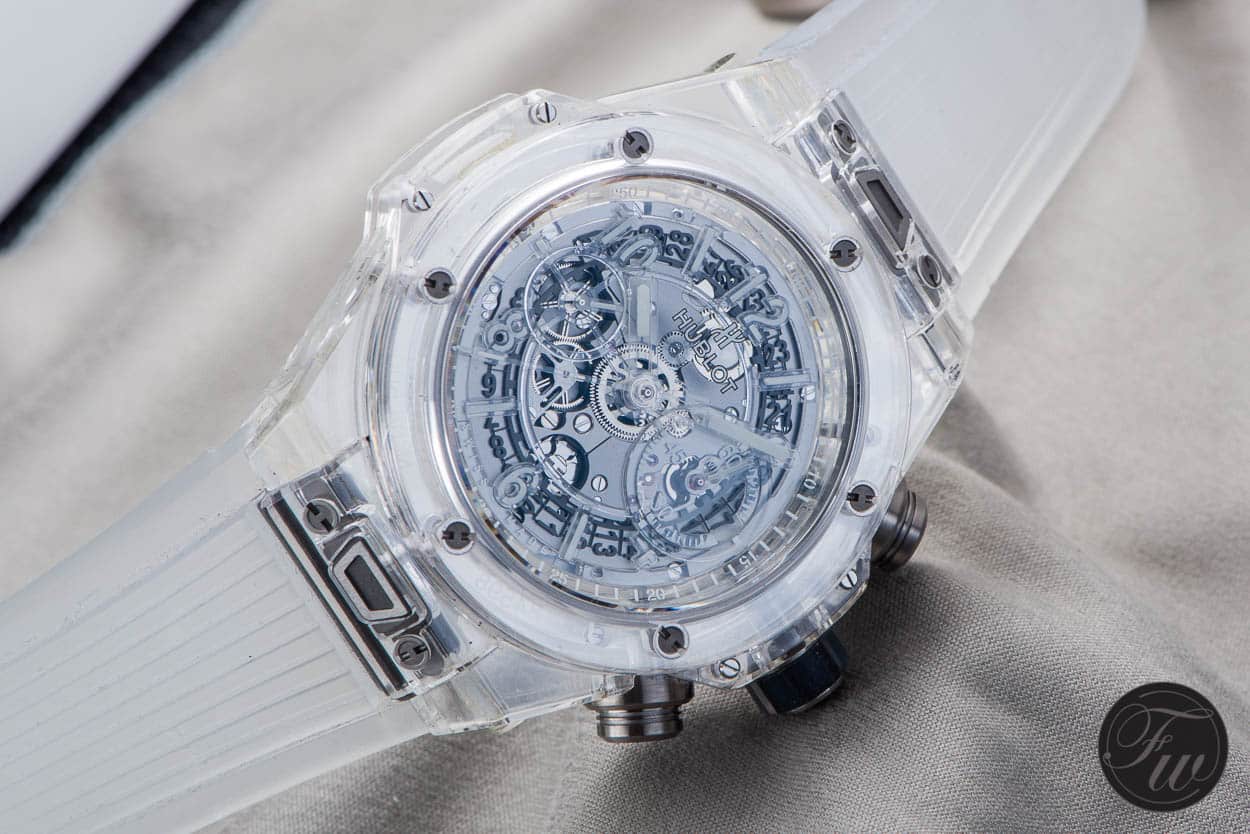 Sapphire
Sapphire crystal is not new to watches. The industry has been using it for glasses and display case backs for quite some time now. Due to its scratch resistance and durability, it is not only recommended but preferred by most manufacturers these days. Yet, creating entire watch cases out of sapphire is uncommon, to say the least, even today. In recent years we have seen several brands releasing unique models in sapphire cases. Due to the complexity in creating them, however, it makes them extremely pricey. A such, these models are, more often than not, scarce timepieces.
Interestingly enough, we see sapphire case watches both by Haute Horlogerie and "regular" brands. Another fun fact about sapphire is that manufacturers can color it. This means that one can create blue, green, or red sapphire glass cases aside from plain old translucent. Pretty rad, if you ask me. 
When we think of sapphire, we think of Hublot, MB&F, Bell & Ross, Greubel Forsey, Richard Mille.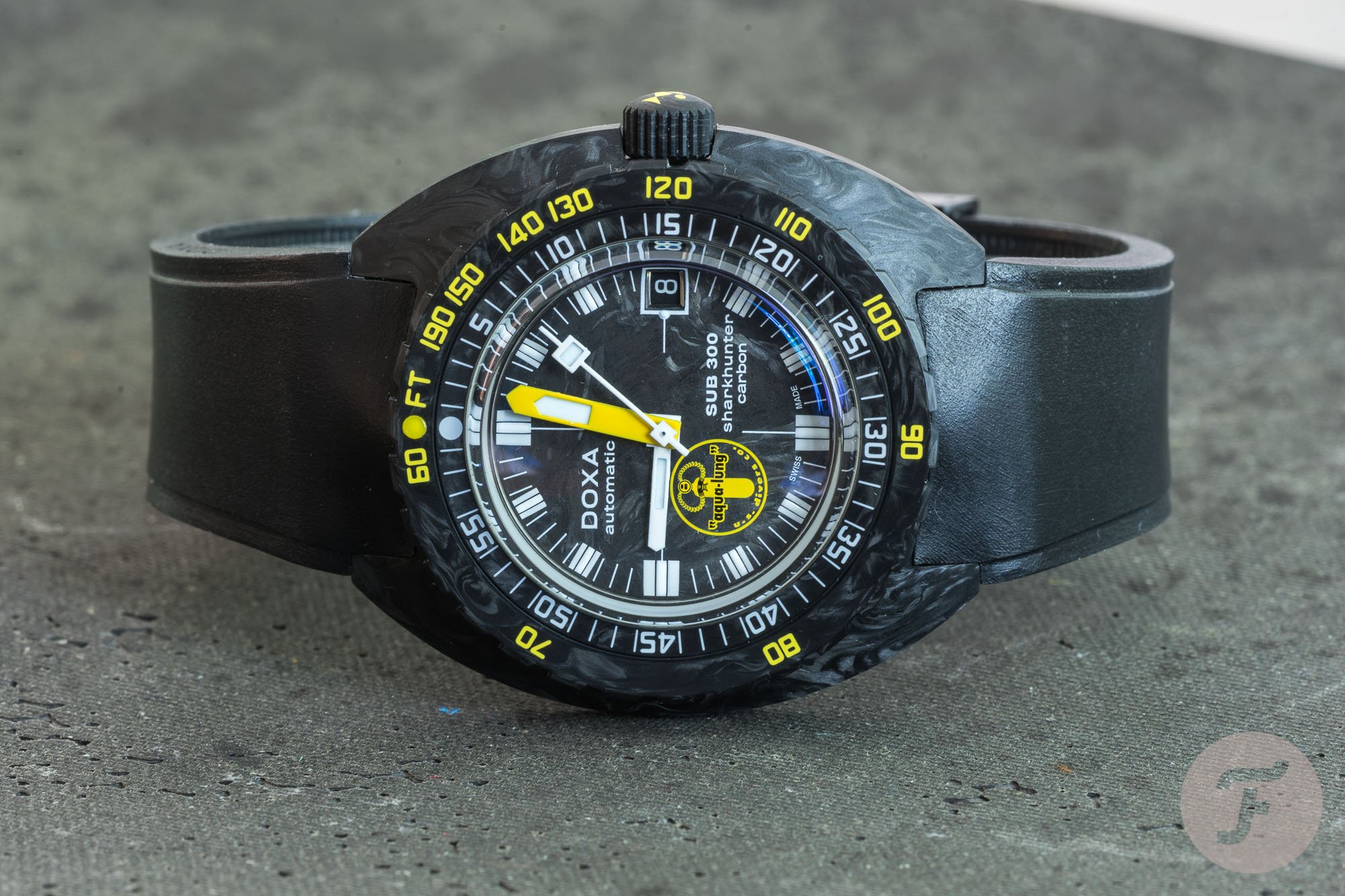 Carbon
I know I should not say it, but there is something about carbon cases that catches my attention. I'm not sure if it's the surface's incredible texture or the extreme durability. Still, when I think of cutting-edge sports watches, I often think of carbon. But did you know that the first carbon fiber saw the light of day as early as 1860? There is a difference between forged carbon and carbon fiber, though. While the latter is a century-old material, forged carbon only came to the market in 2010. The watch industry uses both materials.
As is often the case, forged carbon made its way to watches from another industry. Lamborghini created it in partnership with Callaway Golf Company. Whereas carbon fiber has a "woven" appearance, forged carbon has a somewhat marble-like pattern. The unique look is one reason brands love it so much, as each piece is different. Some timepieces might have carbon parts (bezel, dial) or, in our case (no pun intended), entire watch cases.
When we think of carbon we think of: Doxa, TAG Heuer, AP, Panerai, Urwerk, Linde Werdelin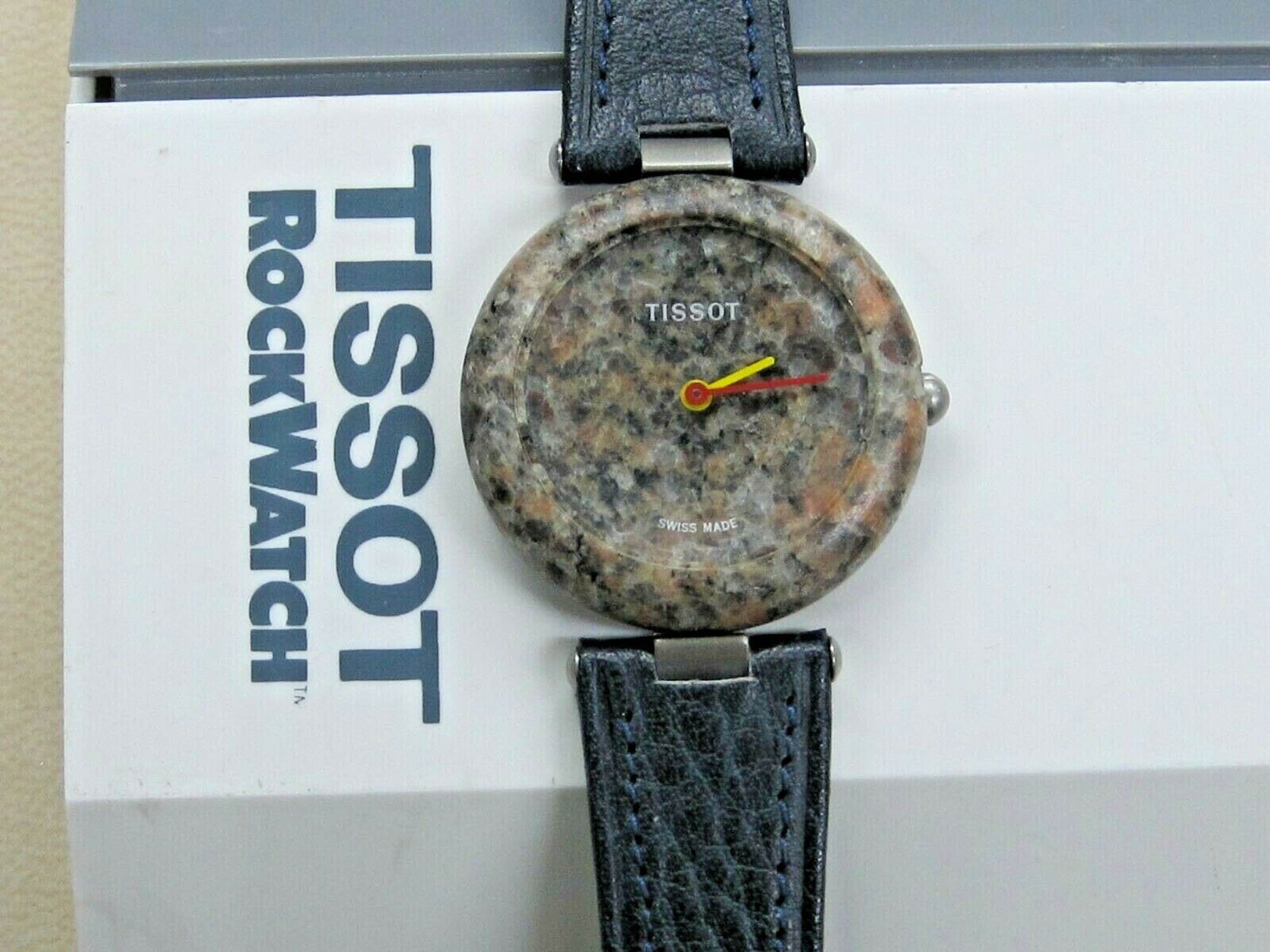 Rock
While it's a natural material and readily available, creating watch cases out of rock is more complicated than it sounds. When Tissot started developing the now-iconic, Rock Watch, the bill was enormous. The company invested seven million Swiss francs, most of which created the machinery capable of milling such small stone pieces. Needless to say, the effort was well worth it as the Tissot Rock Watch became an instant success. The Rock Watch was not the only Tissot from this era that used an exciting case material. As an honorable mention, we need to put the Tissot Wood Watch on the list too. Truth be told, you don't see rock watch cases these days, but there are plenty of wood watches on the market. The reason behind this is that working with stone is still not easy. Perhaps the momentum for a rock watch is past now. I always find them fascinating and a cool piece of Tissot's massive history. 
When we think of rock, we think of: Tissot.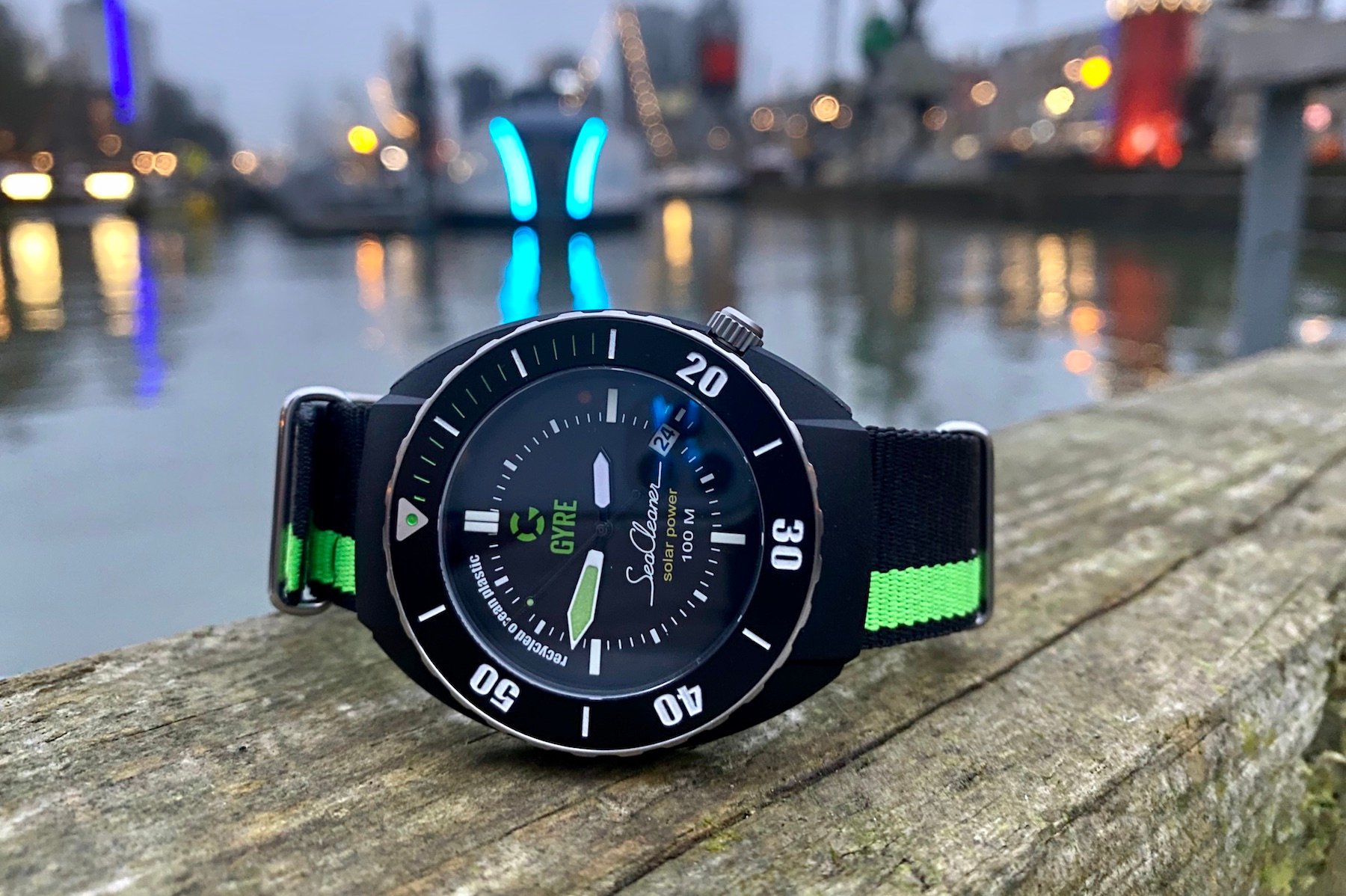 Recycled ocean waste
Environmental consciousness, ecological footprint, sustainability — just a few phrases often pop up in our newsfeed these days. Aside from the fact that it's cool to be environmentally conscious, it is also something we need to implement in our everyday life. This goes for us consumers on a smaller and watches companies on a larger scale. One way to do it is by recycling plastic however way we can. The first step would be to start using recycled waste to create boxes, straps, or even watch cases. Luckily, there are quite a few brands raising awareness by doing just that. The best example is companies that take old fishing nets and other ocean waste and buy them from local fishermen. The plastic is then turned into pellets and molded into watchcases. These timepieces are usually inexpensive, fun, and serve a great purpose. 
When we think of recycled ocean waste, we think of: Alpina, Triwa, Gyre.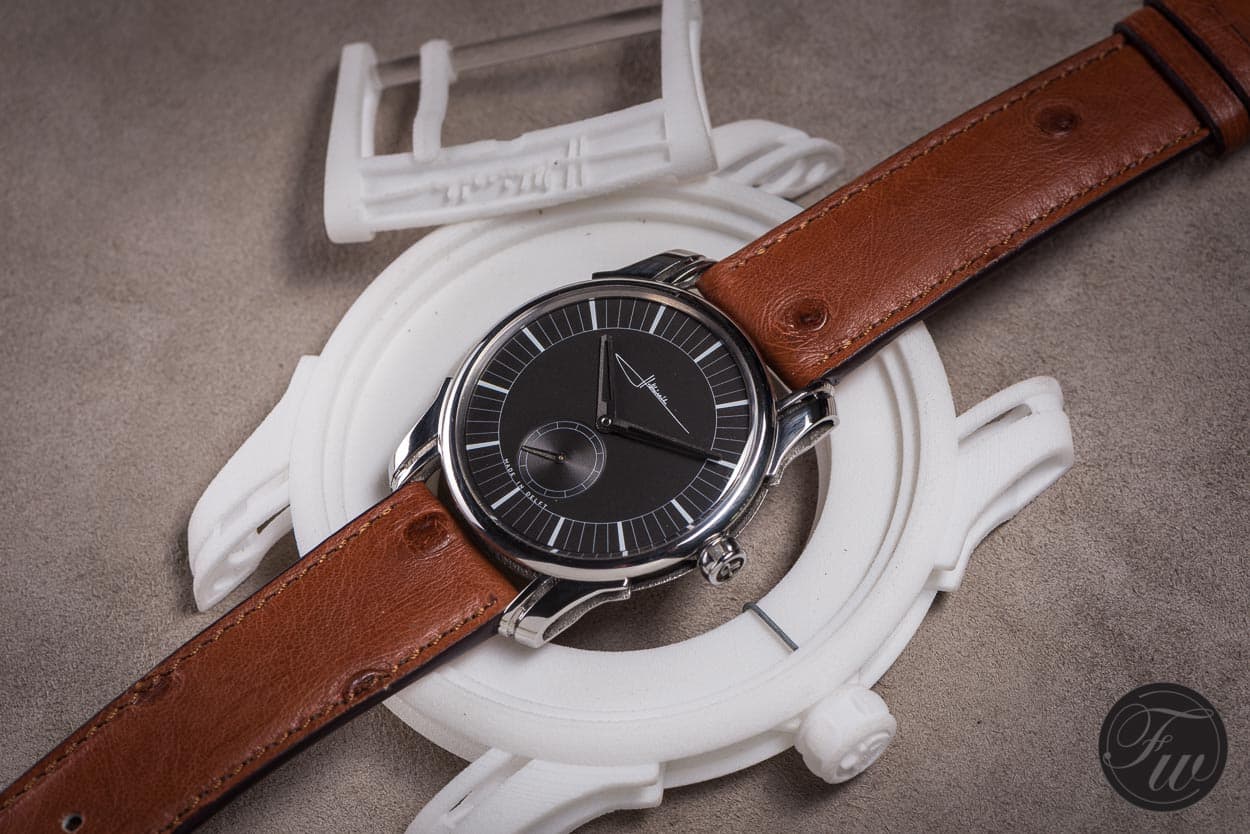 3D printed metal
Ok, this is a bit of a stretch. 3D metal printing is not a material but a process. If you know how 3D printing works in general, you get the idea behind this method. The main difference between standard 3D printing and metal printing is that these highly complex DMLS (Direct Metal Laser Sintering) machines do not require plastic to "print" objects but very fine metal dust.
Here's how it works: the system uses CAD data of the watch case, then transferred to the DMLS equipment. A uniform layer of metal powder is spread on the baseplate. The laser then draws a 2D shape of the object, gradually fusing the metal powder, creating its layer. Once done, another layer of metal powder is sprayed on top. The laser draws the next layer into the dust molding the previous layer together with the new one. This process is repeated layer after layer until the watch case is finally done. It's such an ingenious method; I can't wait to see it used on more timepieces. 
When we think of 3D printed metal, we think of: Holthinrichs, Panerai.