Watch Dating Profiles: France Part II — Yema, Baltic, And Some Serious Young Talent
Back by popular demand
And we're back! French watches are very popular, apparently. After my original article featuring a spread of French watchmaking was published, the Fratelli clamored that I had overlooked some of the best. Well, we listened, and now I'm back with Part II, looking at the two brands people mentioned most. Also in this article are some young independent watchmakers who are making waves in the hand-crafted realms of horology. Without further ado, let's see why Baltic and Yema are fan favorites and what watchmakers Theo Auffret and Cyril Brivet-Naudot bring to the table.
French watchmaking is undergoing a second renaissance. It's no wonder, considering France's long history with horology. A border shared with Switzerland doesn't hurt either. In fact, many French watchmakers commute to Switzerland for work every day! Think about that next time you see "Swiss Made" on a dial. What France lacks in modern-day horology is the scale of industry that Switzerland has and the public concept of prestige enjoyed by Swiss watch brands. But French watch companies like Yema are making concerted efforts to side-step the looming Swiss shadow with non-Swiss in-house movements. In addition, talented watchmakers like Theo Auffret and Cyril Brivet-Naudot are demonstrating how French watches can be the epitome of prestige.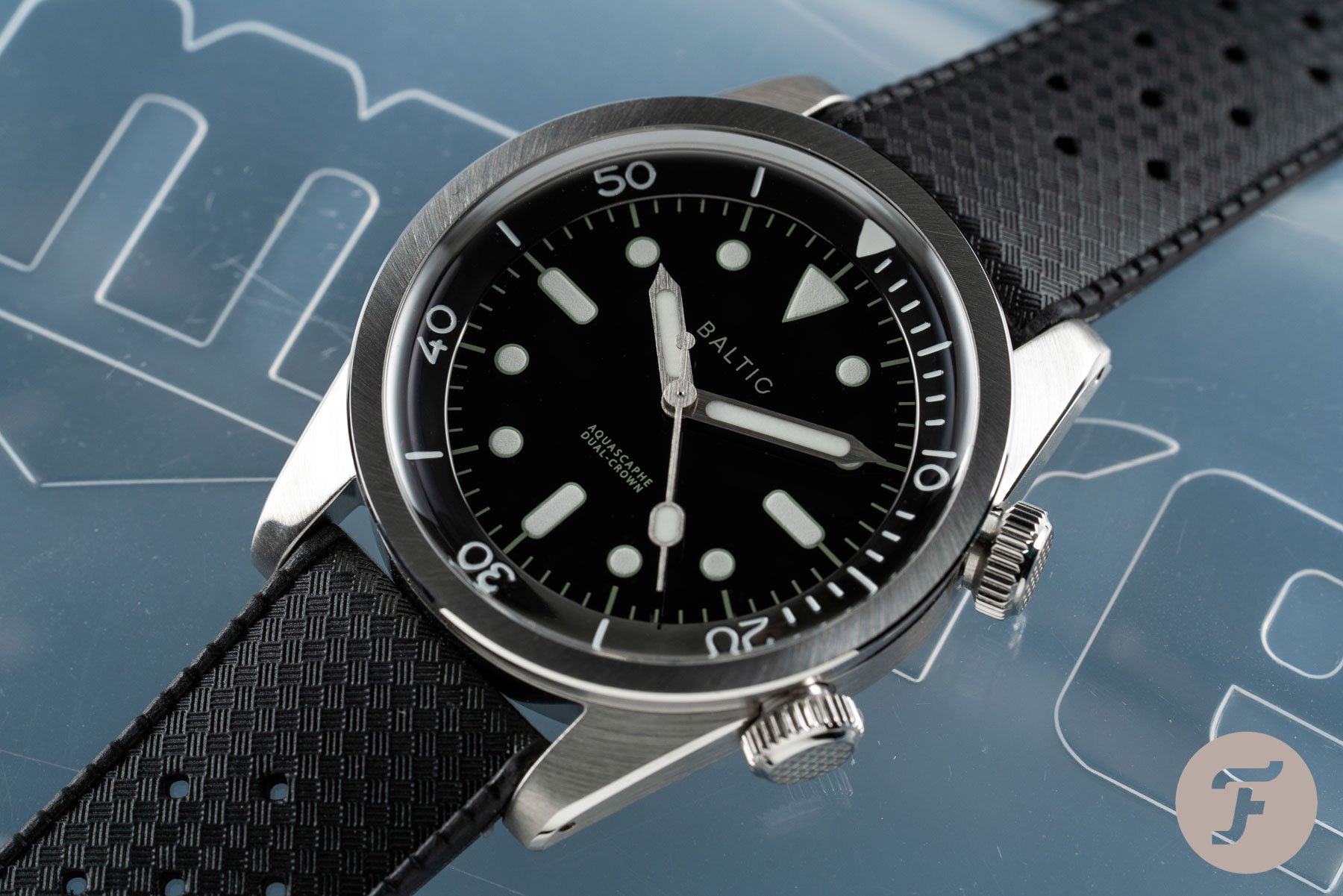 Baltic Aquascaphe Dual-Crown
Baltic is such an obvious choice for French watchmaking that I intentionally left the brand out of the first edition. A fan favorite with retro design cues and excellent value, Baltic survived the initial microbrand fervor and continued to grow into a full-fledged independent. Featured today is one of the newer editions (no, not the new titanium Aquascaphe released recently). For the sake of variety, I chose the Aquascaphe Dual-Crown.
Compressor-style cases are near and dear to my heart. Any watch with extra knobs and buttons (within reason) is usually a plus for me. The Aquascaphe Dual-Crown does not disappoint. With a black dial and a matching black Tropic-style rubber strap, it's an ensemble that looks as good as it performs. It has a water resistance of 200 meters, and Baltic's press materials lean quite heavily into its water worthiness. A screw-down crown, stainless steel case, and sapphire crystal round out this robust package.
Thankfully, the dimensions are quite wearable — 39mm in diameter and 11.9mm in height. This sizing supports the pared-back design and versatility as a "desk diver". The lug width is 20mm, and as such, it seems like a natural strap monster.
Powering the Aquascaphe Dual-Crown is an automatic Miyota 9039. The Japanese movement helps Baltic keep its costs low while still providing an industry-standard 42-hour power reserve. One crown on the case adjusts the time. The other adjusts the internal bezel.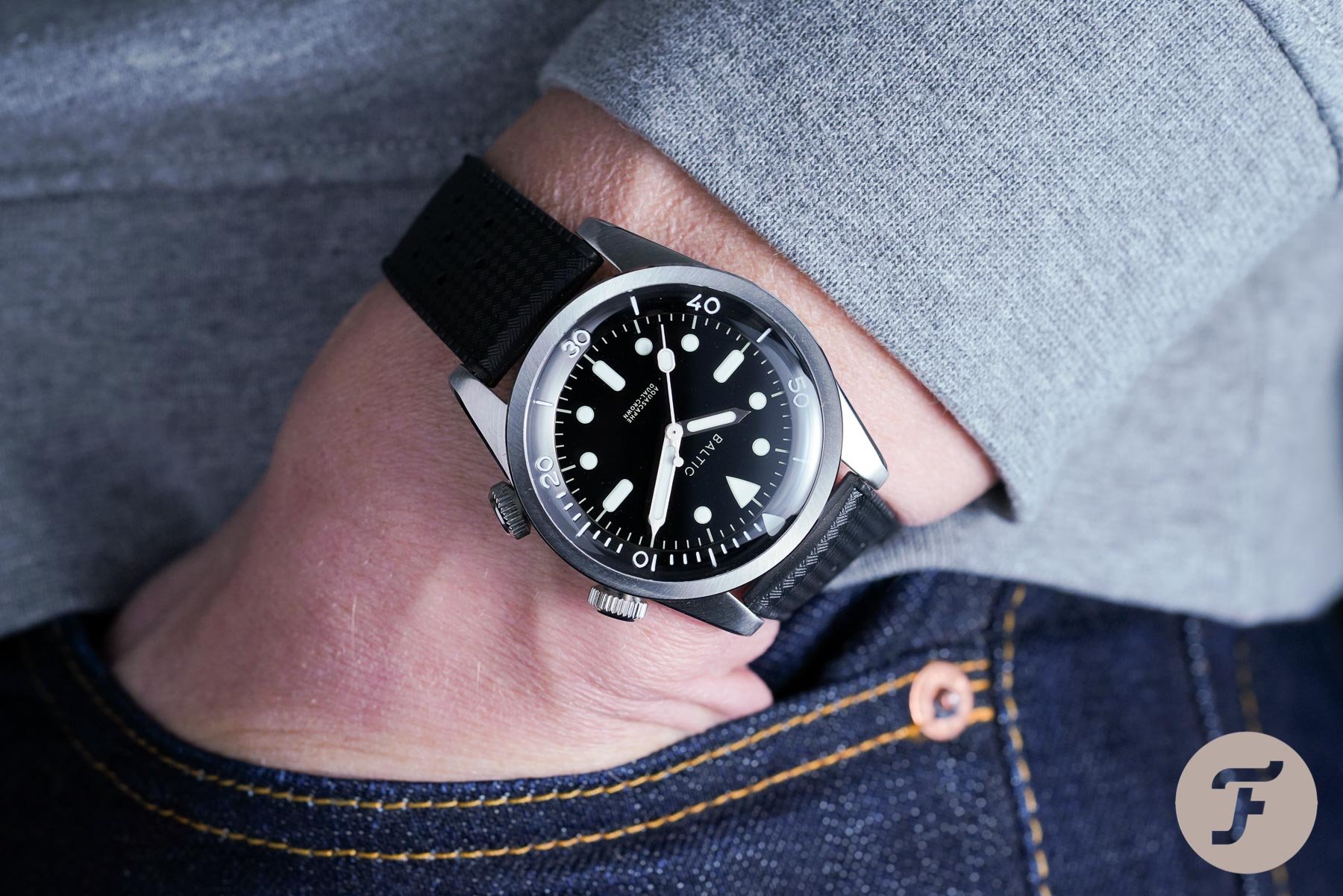 A cross-section of capability and class
The Baltic Aquascaphe Dual-Crown does quite a bit with very little. At €650 on a rubber strap, the Aquascaphe Dual-Crown sits firmly in bang-for-buck territory. But with capable specs and materials along with a strong design and subtle touches (like that radial brushing on the bezel), the watch punches above its weight.
The Aquascaphe Dual-Crown is for someone that wants a well-built, good-looking independent watch that can keep up in the field and in the city. I don't want to call it a Seiko Alpinist killer per se, but the similarities and the price point make them natural competitors. Baltic has that extra je ne sais quoi that Seiko's design language doesn't quite capture. That's French watches for you. If it's still too pretty (or not French enough) for your tastes, there's always the Yema Flygraf.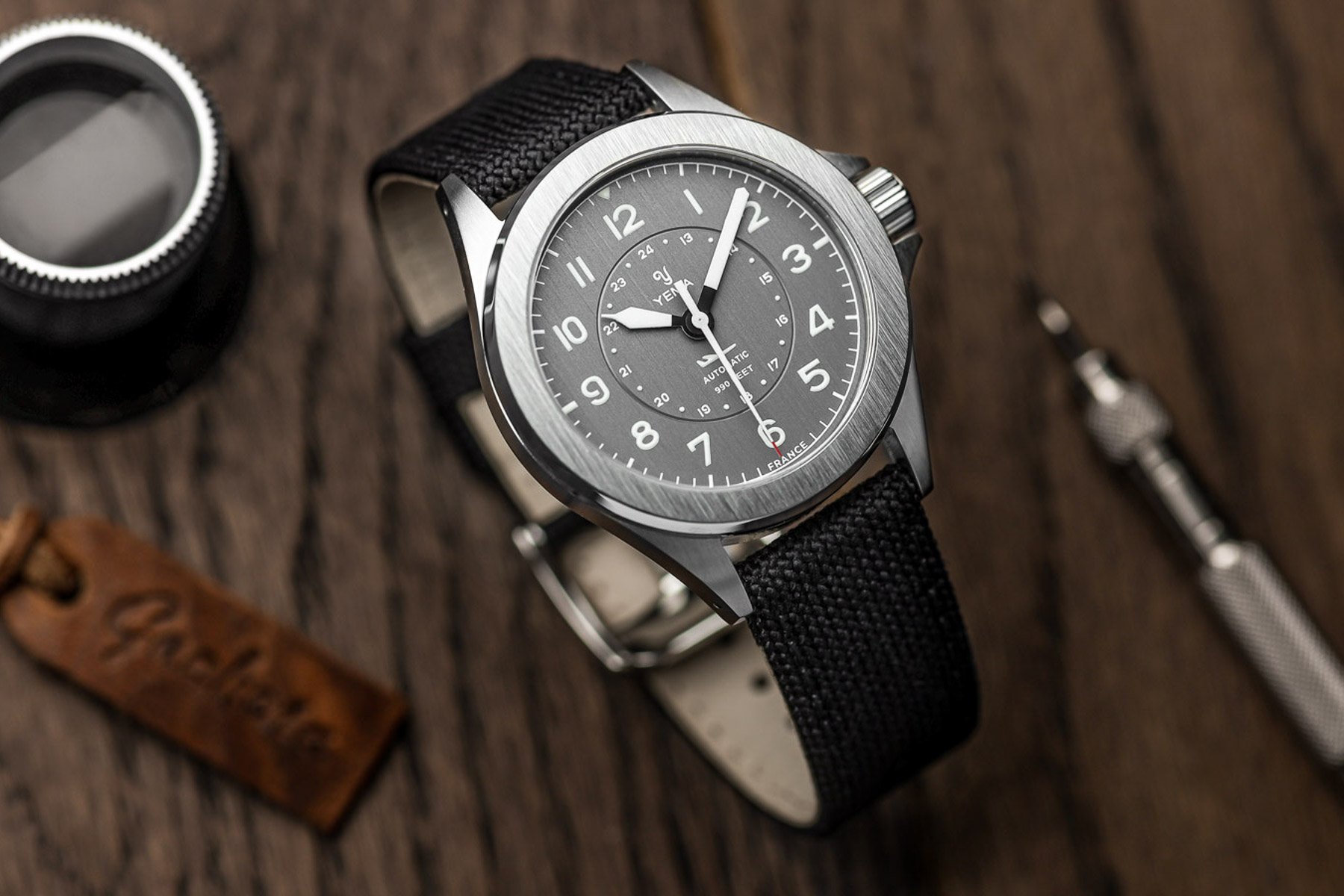 Yema Flygraf Pilot M1
Yema is the "watch fam's" other darling of French watchmaking. What's notable about Yema is its extensive use of proprietary calibers. Developing a new caliber costs a lot of money (over three million euros, in Yema's case) and therefore is not worth it for many independent brands. Interestingly, not only has Yema succeeded in bringing a few calibers to market over the past decade, but it has managed to keep its watch prices relatively low considering the proprietary nature. This is achieved by utilizing extensive third-party manufacturing with design and assembly occurring in France.
Inside the Flygraf Pilot M1 is one such proprietary movement — the YEMA2000. This is a time-and-date-only automatic movement with 42 hours of power reserve. It compares solidly against other standard workhorses with a 28,800vph frequency and bi-directional winding. The daily rate of accuracy is listed at ±10 seconds per day with maximum variation at ±25 seconds. This is in line with other standard alternatives.
The watch itself — though sold as a pilot's watch — embodies as much the qualities of a field watch as it does a Flieger. The dial has 12 large numerals for standard time telling and a smaller scale for 24-hour time. Both the gray dial and flat stainless steel bezel are vertically brushed. This imparts a clean, technical quality. In fact, most of the watch's surfaces are brushed, adding to the tool-ish nature. Regardless of whether it's a pilot's or field watch, the Flygraf Pilot M1 is certainly capable, featuring water resistance of 300 meters.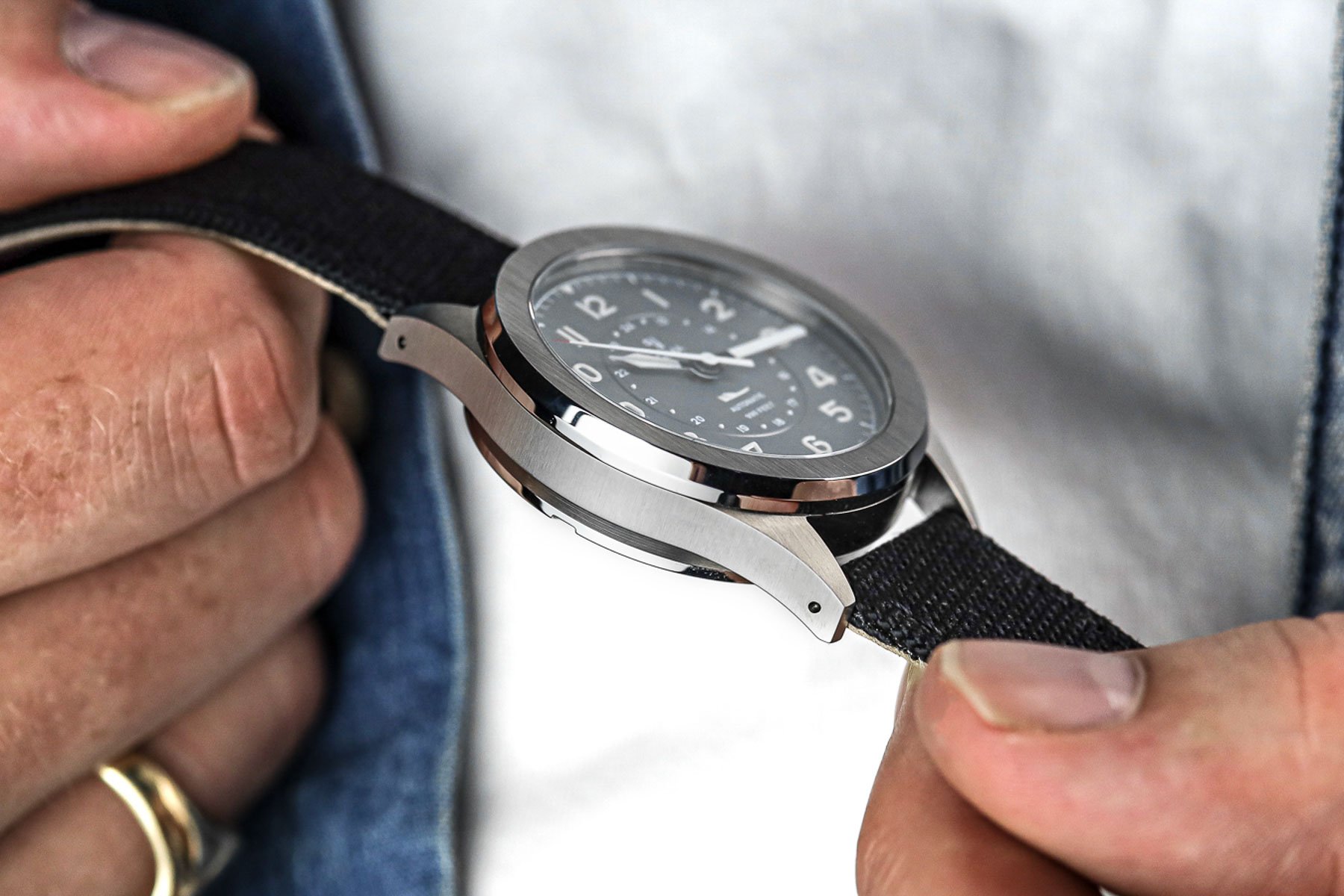 Flat-bezeled bully
Crown guards, serious water resistance, and brushed surfaces almost all around set the Flygraf Pilot M1 up for happily enduring rough action. The size is a medium 39mm in diameter, but the 13mm thickness adds some bulk. Throw the Flygraf on a NATO (19mm lug width) to beef up the presence further.
Yema makes tool watches. Full Stop. As good as they look, Yema is in the business of delivering adequately (or overly) capable, functional watches at a value that reflects efficiency. The Flygraf Pilot M1 is another value-oriented offering at €749 on a bracelet. If its functionality or gray dial is too sparse for you, Yema has a limited-edition GMT variant in blue. The Flygraf French Air & Space Force GMT Steel goes for €1,099 on the bracelet, which is still a deal considering the YEMA3000 proprietary movement. It also comes with a special Velcro strap and the red, white, and blue target insignia of the French Air & Space Force on the crown.
Some truly independent watchmakers
France is also home to some independent watchmakers in a very traditional sense. Theo Auffret and Cyril Brivet-Naudot are two such fellows who are reviving the traditional craft of single-person watchmaking. Auffret won a "Young Talent Award" in 2018 from F.P. Journe for his Tourbillon à Paris. This watch is available only by order from Auffret, with plenty of options for customization. Brivet-Naudot was officially nominated for an award from the Grand Prix d'Horlogerie de Genève in 2020. His Eccentricity is made traditionally without CNC machines and is notable for its lack of a crown. It uses a key for both winding and setting the time, pointing to Brivet-Naudot's past as a restorer of clocks.
These watches are for true enthusiasts of French horology only. Auffret's Tourbillon à Paris costs an eye-watering €108,000. Brivet-Naudot's Eccentricity Réserve De Marche costs €120,000. That's the price you pay for true handcraft. If you're interested in enjoying them more from a distance, there are some excellent reviews of both Theo Auffret and Cyril Brivet-Naudot and their watches over at Quill & Pad.
So many French watches…
I know we haven't covered every French watch brand. French watchmaking, however, is now thoroughly represented in both parts one and two of these Watch Dating Profiles articles. Which of these watches would you choose? And, after everything we've looked at, what French watch brands have I missed that we should know about? Let us know in the comments.
More information about Baltic, Yema, Theo Auffret, and Cyril Brivet-Naudot can be found on their official websites. Au revoir!