Watch Strap Review 69 — HasNoBounds From Hong Kong
Friendship first, business second
Watch Strap Review is back with another banger. From Hong Kong, we have the pleasure of introducing HasNoBounds to you all. HNB — as Kristine, the name behind the brand, refers to it — is a company that bloomed out of friendship. While HNB is only one and a half years old, it already has a rather exciting strap selection. Furthermore, the company is offering watch cases to its audience. Today, we are going to focus on HNB's strap game, though.
We skipped the first two months of the summer only to return before the good weather was gone. While summer might not be the best time to wear a leather strap, any time is a good time to stash up your strap collection, period.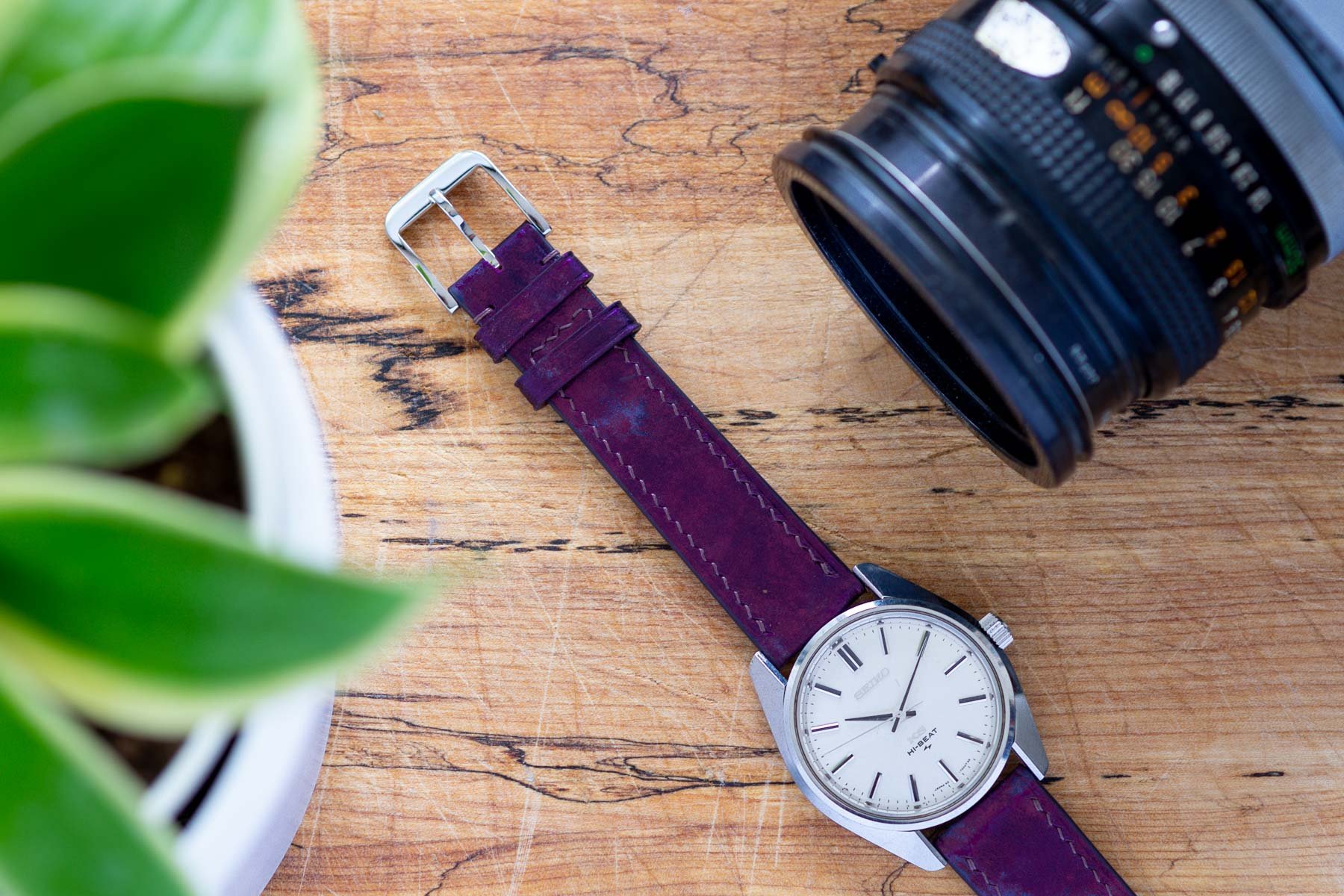 HasNoBounds
HasNoBounds is a fruit of a friendship between Kristina and Gordon, who both hail from Hong Kong. They have a background in interior design and an eye for fine things and craftsmanship. The idea for HNB came when Leo, Kristine's husband, had trouble finding good-quality leather straps for his watch microbrand. The initial line was the Museum Calf, which soon expanded, and HasNoBounds now offers ready-made and bespoke straps to serve a wide range of customers. Due to his main job, Gordon eventually left Hong Kong and became a silent partner. Today, Kristine runs HNB, and she was accommodating when I was collecting information for this article. We have four straps from HasNoBounds, some traditional and others funkier. It's a great selection and represents what the brand can offer. Let's have a closer look at them one by one.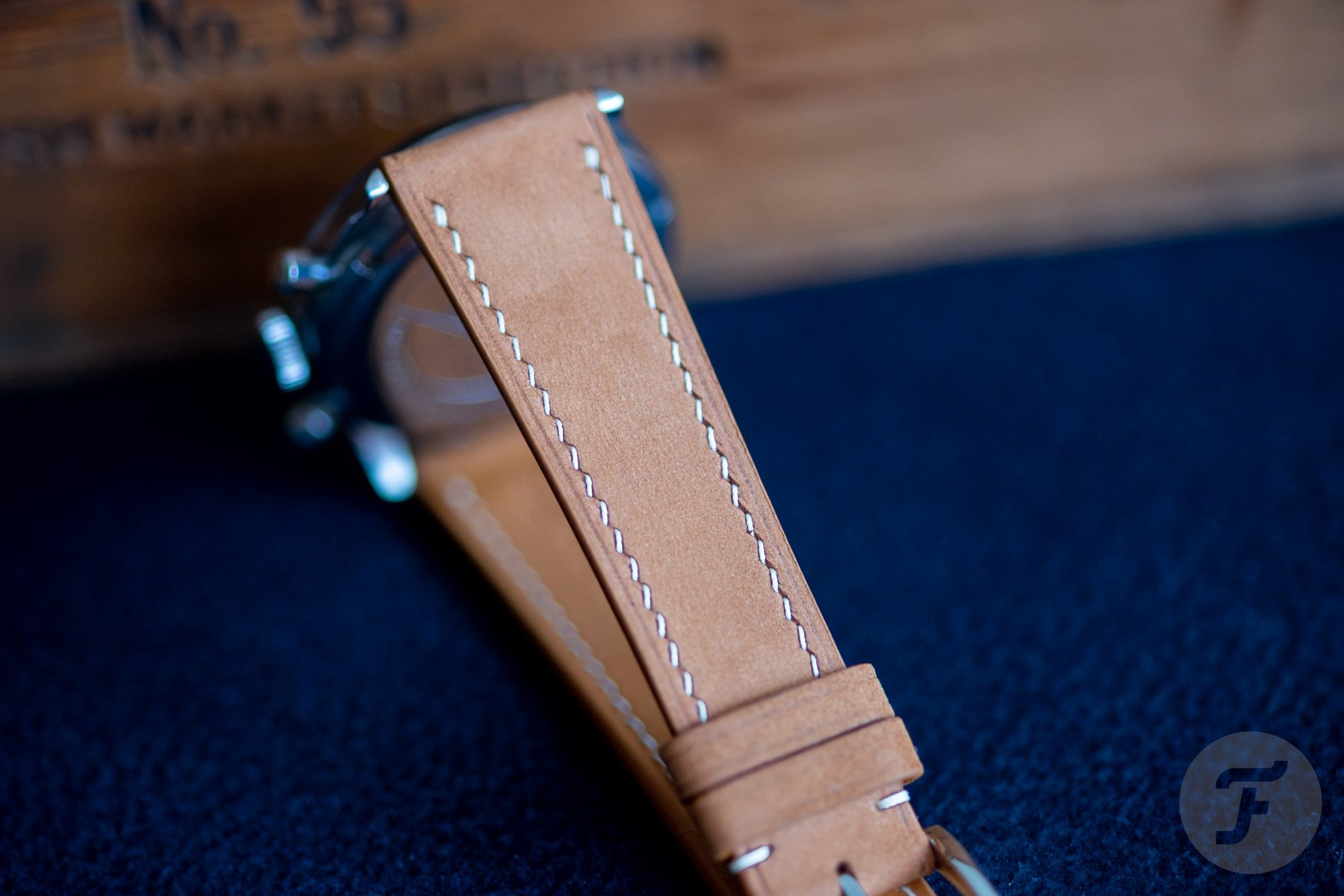 Nubuck
The first one of the HNB batch was the Lagoon Nubuck strap. It has a Cinnamon color, offering a light caramel, very even, and beautiful tone. The thickness is 2.5mm, the strap is flexible, and the on-tone lining is excellent. Regarding sizes, mine is regular at 20/16mm width and 115/75mm length. A useful little feature is that the size and length are both on the lining. HasNoBounds offers this strap in every size from 18mm up to 22mm. It also comes in three lengths, mine being the Medium. The short is 105/65mm, and funnily enough, there is a second Medium, 120/70mm. I have never seen a strap maker producing the same overall length of straps but in two alterations, but I like it. The Lagoon comes with color-matching painted edges and off-white hand stitching.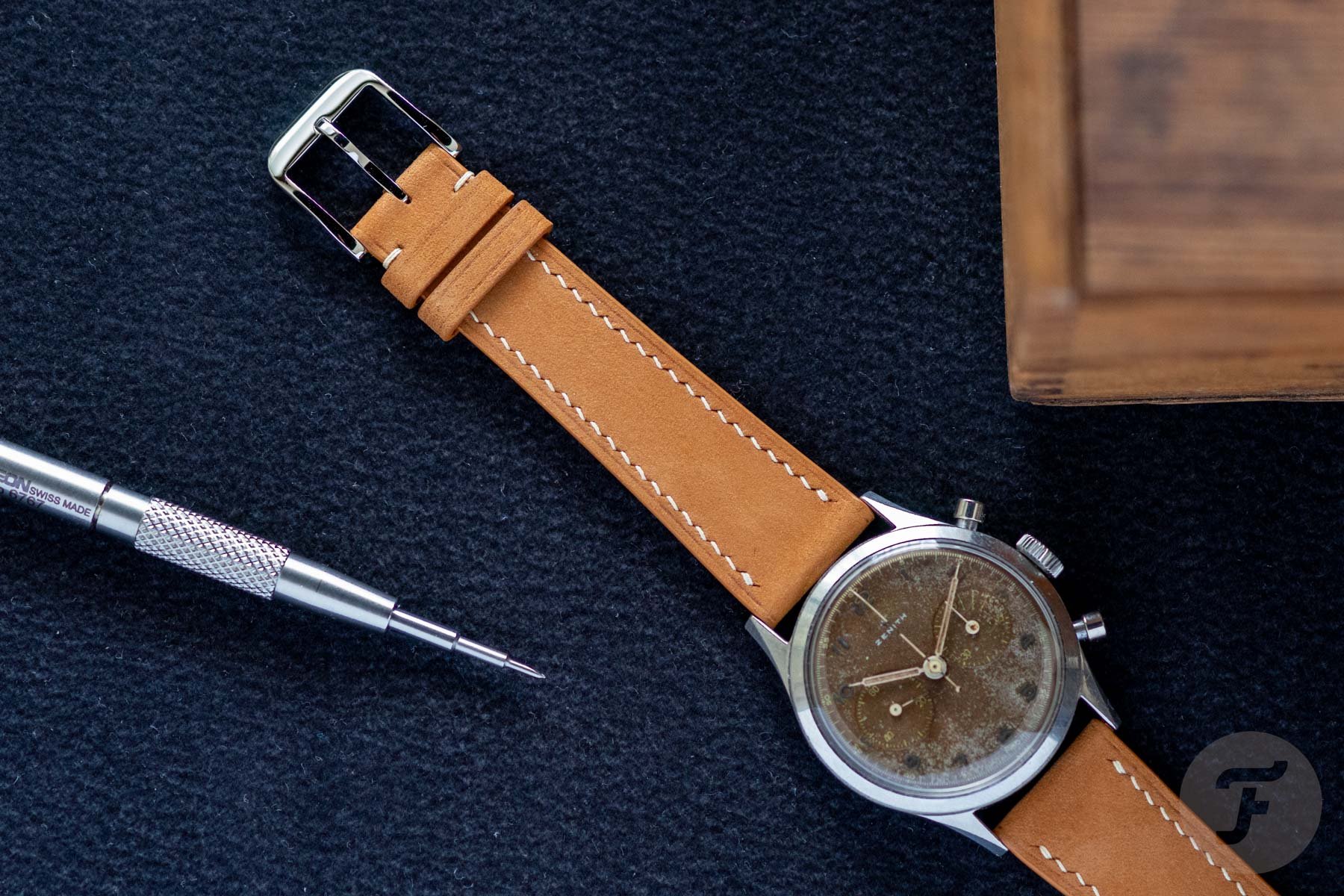 All the HNB straps come with quick-release spring bars. I'm used to these spring bars now and would love to consider them standard for strap ateliers. While I love messing around with my straps and tools, quick release is often incredibly convenient. Regarding other hardware, we need to talk about the buckle. The design is simple and classic with no visible logo on the upper side. The brand name is engraved on the underside of the buckle. It is different from what we are used to, but I love the subtleness of it. For the Lagoon, one has to pay US$69, which is a fair price for what you are getting.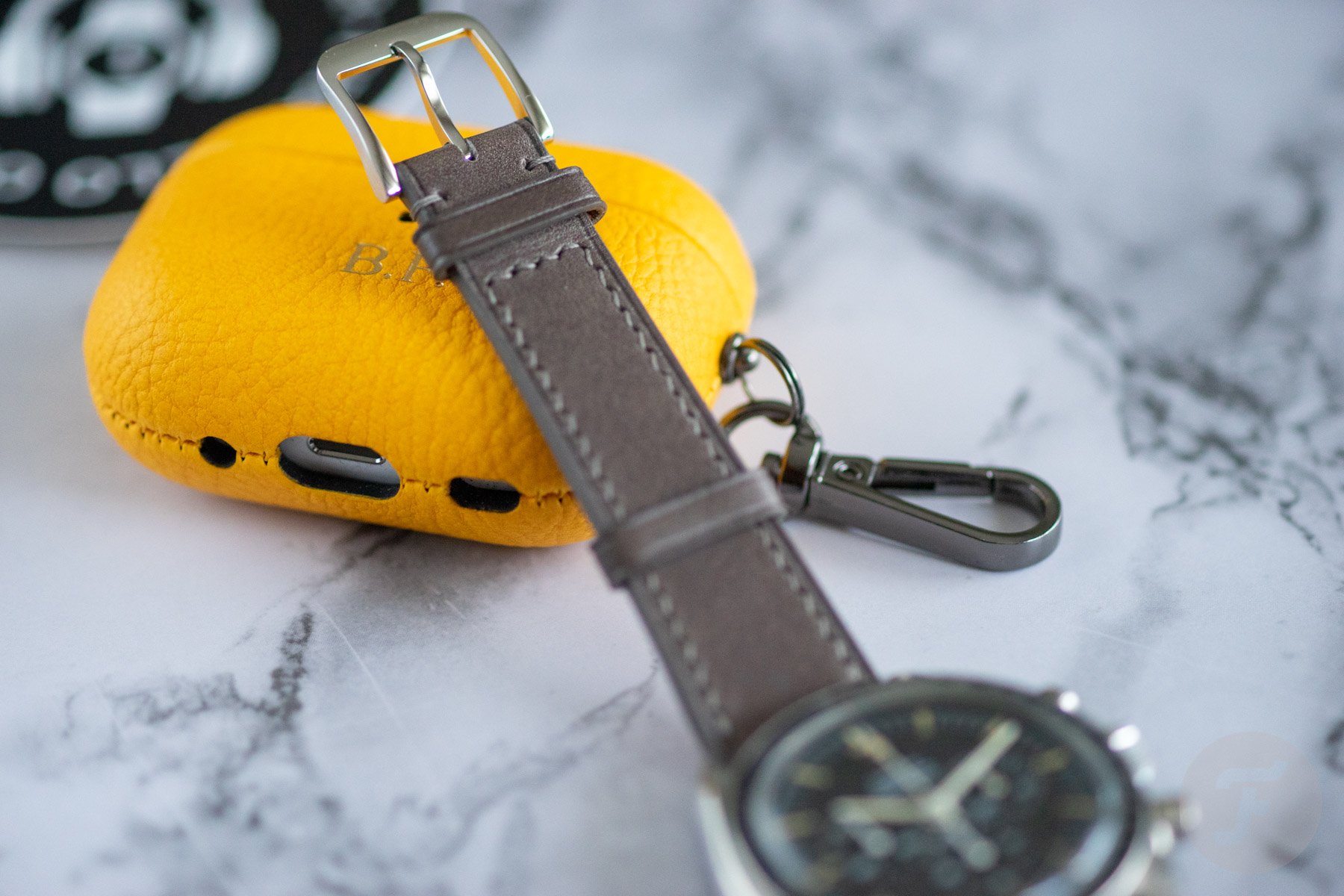 Italico
Like the rest, the batch's second strap comes from HNB's Lagoon line. Italico is the name, and the color is gray. Size-wise, we have the same as before. Although currently, the Italico strap is only available in two sizes, S and M (115/75), I received the latter. While to some, gray is a dull color, I look at it differently. For instance, it is just as generic as light brown and is an excellent option for many timepieces. I thought pairing it up with my vintage Speedy would be a fitting choice, and I was not wrong.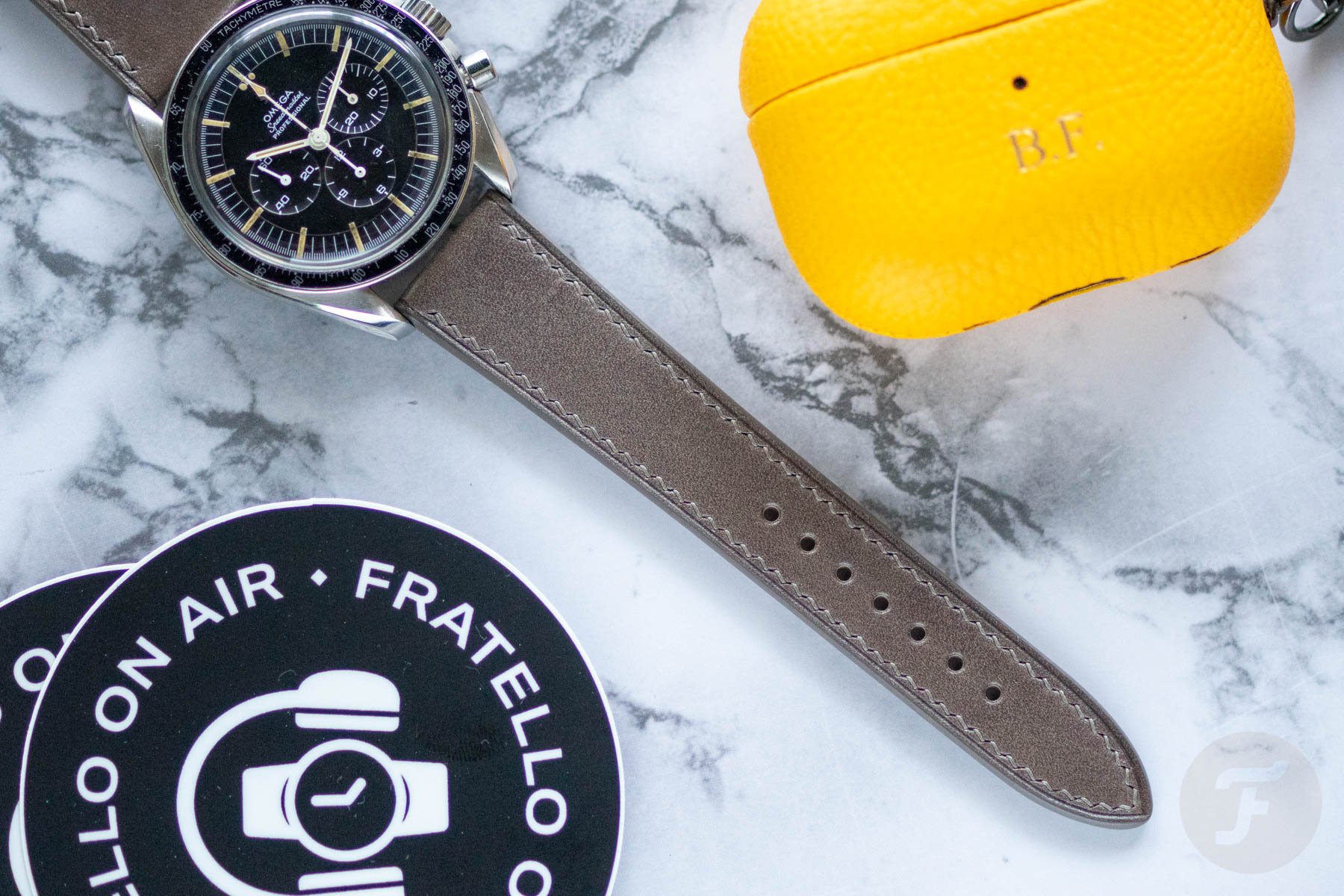 The leather that HasNoBounds uses for the Italico comes from Italy — where else? In one of our previous articles, we already featured the tannery. Conceria Puccini Attilio in Italy offers a wide range of vegetable-tanned leather with natural grain, just like the one the Italico strap is made of. HNB calls flat-profile straps Lagoons. Hence, all the ones I received come from this line. All four of them have Zermatt leather lining and quick-release spring bars. On-tone stitching makes the strap look classy and elegant. I prefer it with vintage watches as this strap style reminds me of older leather bands.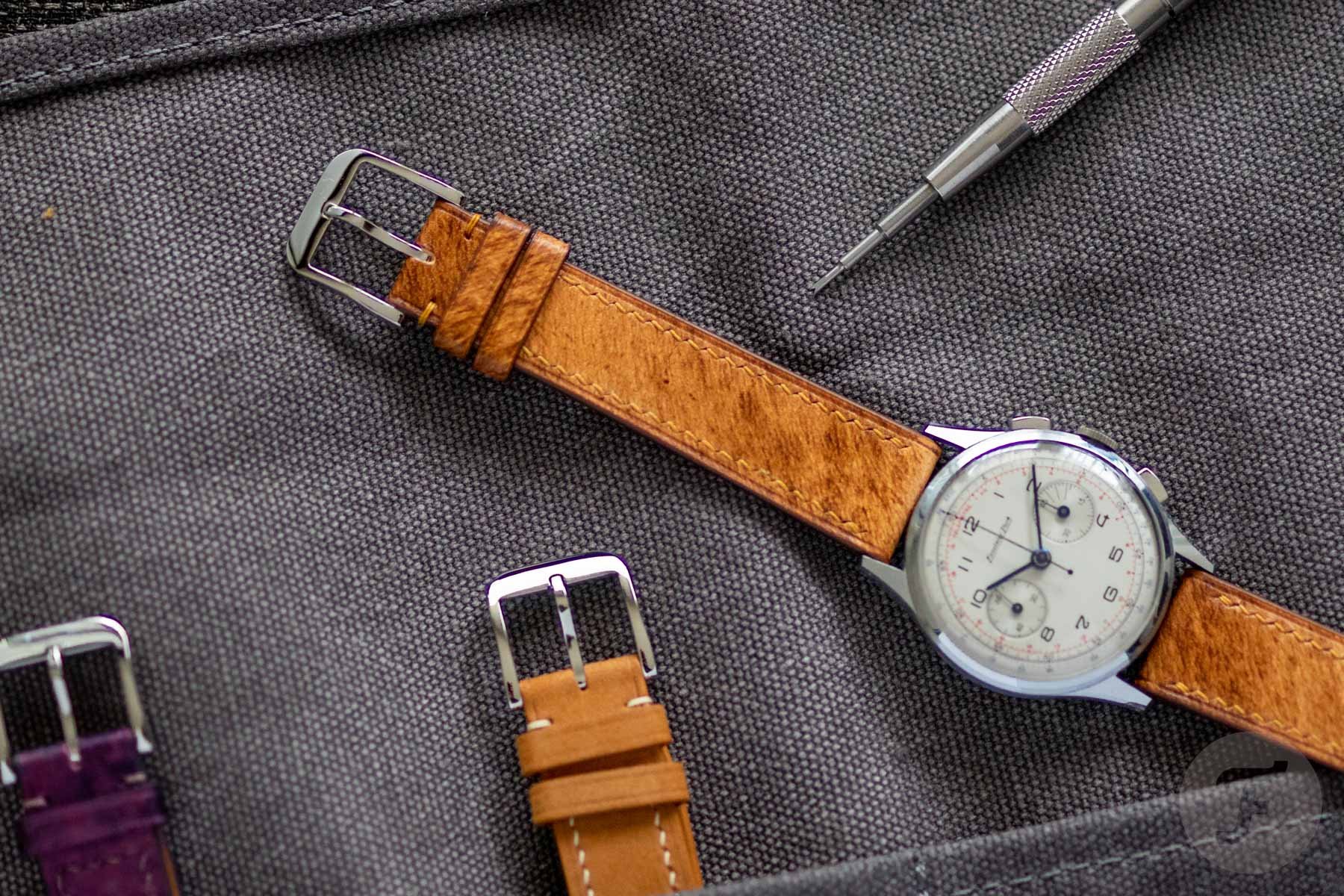 Appaloosa
Horse leather is not something we usually come across these days. I am trying to remember the last time I had a strap made of this type of leather. The Appaloosa Horseskin HNB strap is a limited product. You can go on the site and pick the exact strap (pattern and size) you want. Other than 21mm, every size is available in length S or M (115/75mm). HNB offers three types of patterns for the Appaloosa. Once you select the pattern you like, pick a length and a size, and you are ready.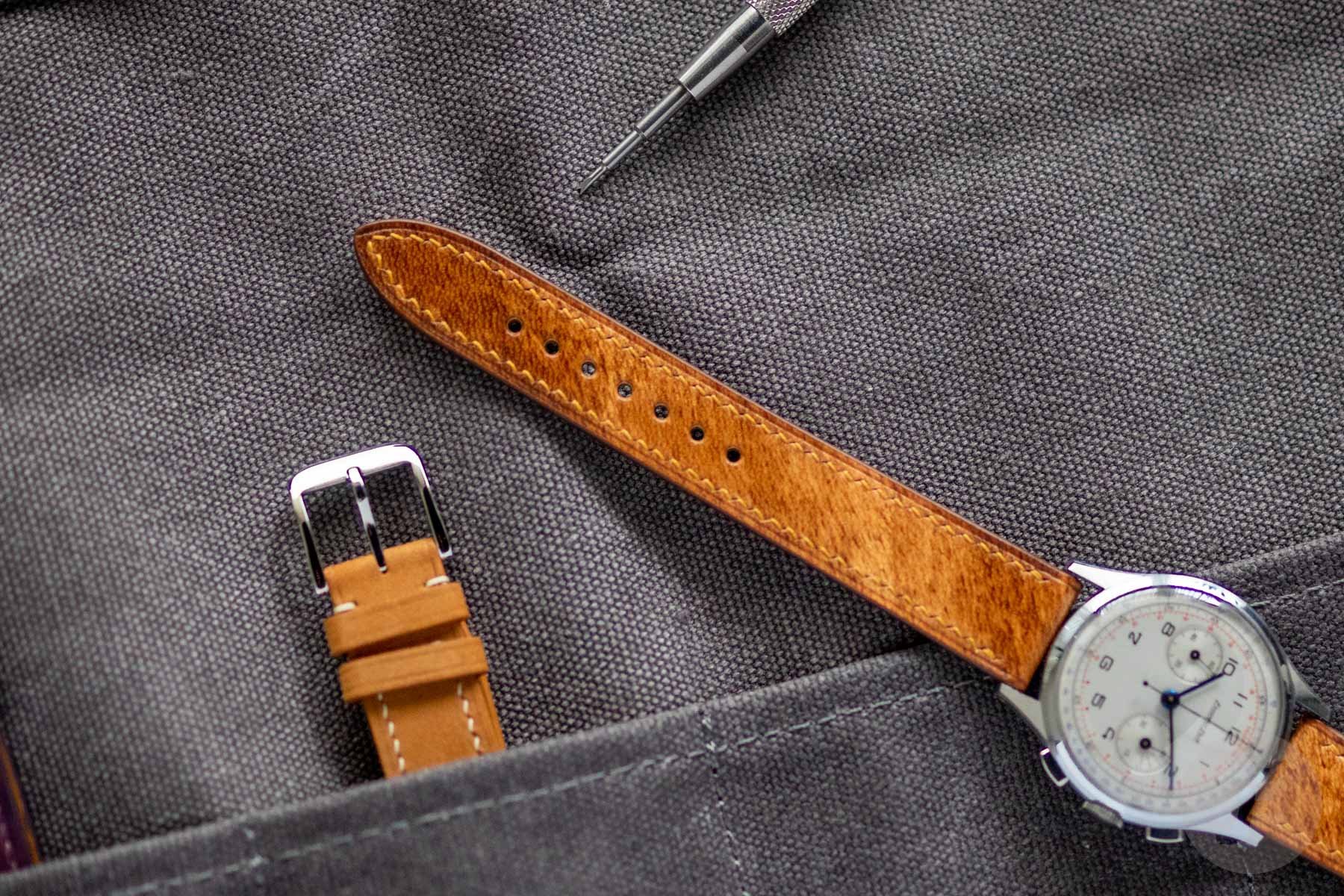 As far as the material, it is vegetable-tanned horse leather that is durable with a rich texture. Each strap is dyed by hand, using a unique method. Like the previous strap, the leather comes from Italy. HasNoBounds went one step further and did not only use this specific leather but also stitching that matches each pattern. This is the perfect look for the Appaloosa straps. While every other strap in this review is US$69, the one, due to its limited numbers, is US$80. This is still not a hefty price tag for what you are getting, which is a beautifully made, thin strap with painted edges and a ton of character.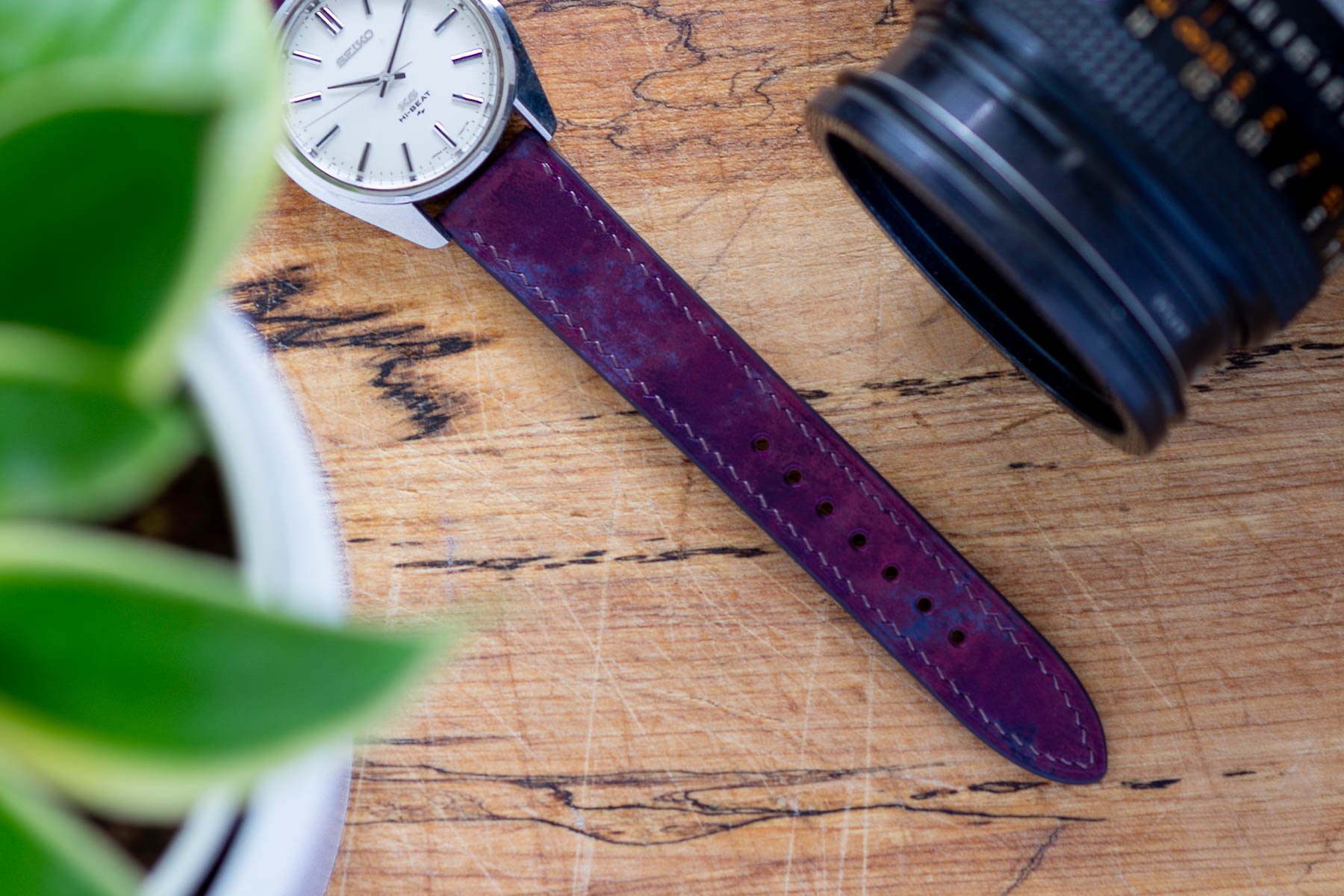 Bisanzio
I saved the best for last. Over the years, I have seen many straps, some highly funky colors and materials. The Bisanzio is the most remarkable, extraordinary strap I've seen yet. It looks a bit much, but it fits well to the watch. On paper, the Amethyst (or light purple) color is not my thing. But throw it on a white-dial watch, and the combo works. According to HNB, the inspiration for this strap comes from Byzantine art, and once you know it, you cannot unsee that.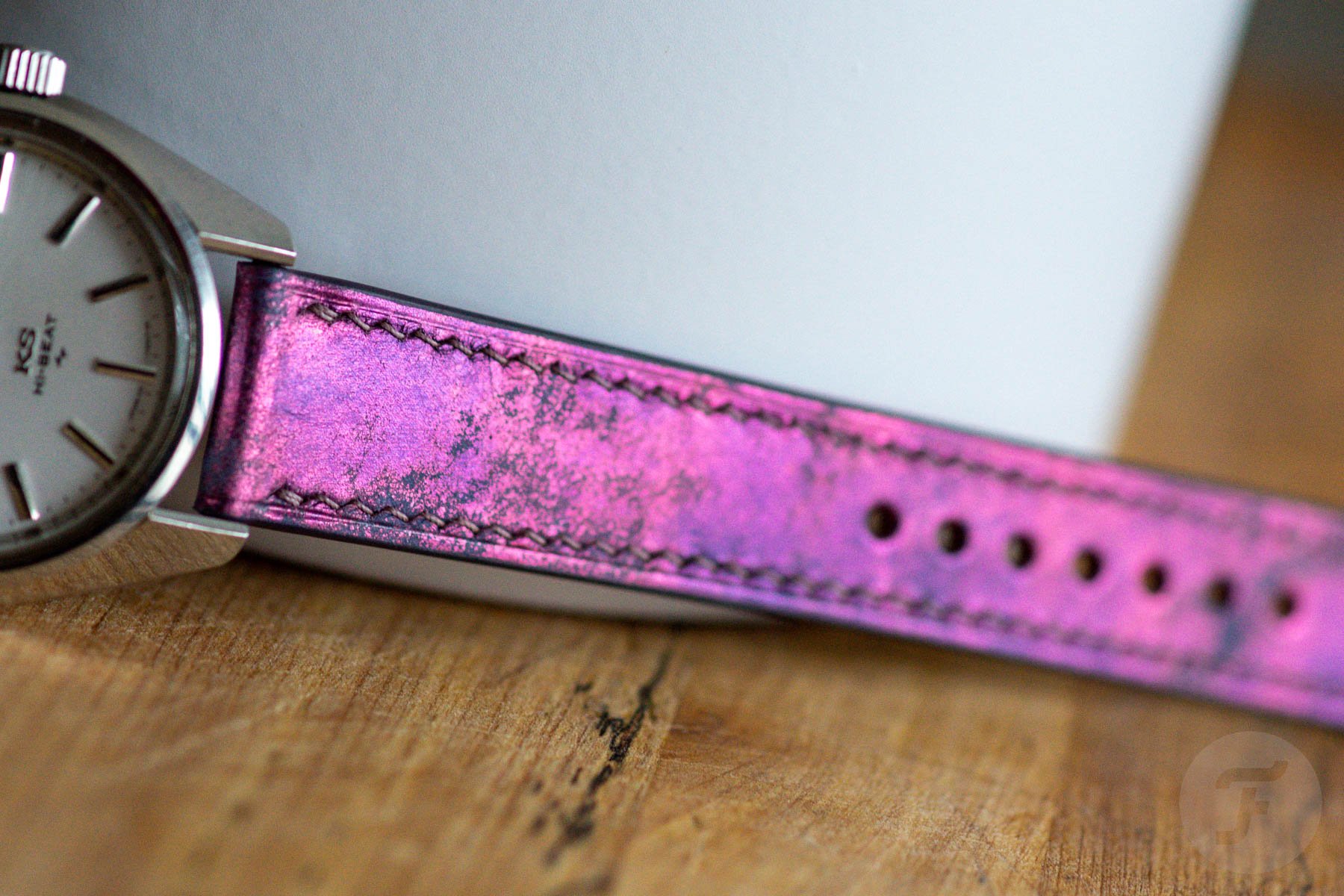 You can choose from a ton of colors, including Sapphire (blue), Emerald (green), and Copper (brown) to name but a few. Usually, the strap looks dark purple with a dark, cloudy pattern. Let the sunlight hit it, though, and the strap comes to life. The size, length, hardware, spring bars, and even price are the same as the Italico or Nubuck Lagoon straps. Yet, if those looked fantastic, the HasNoBounds Bisanzio Amethyst seems brilliant.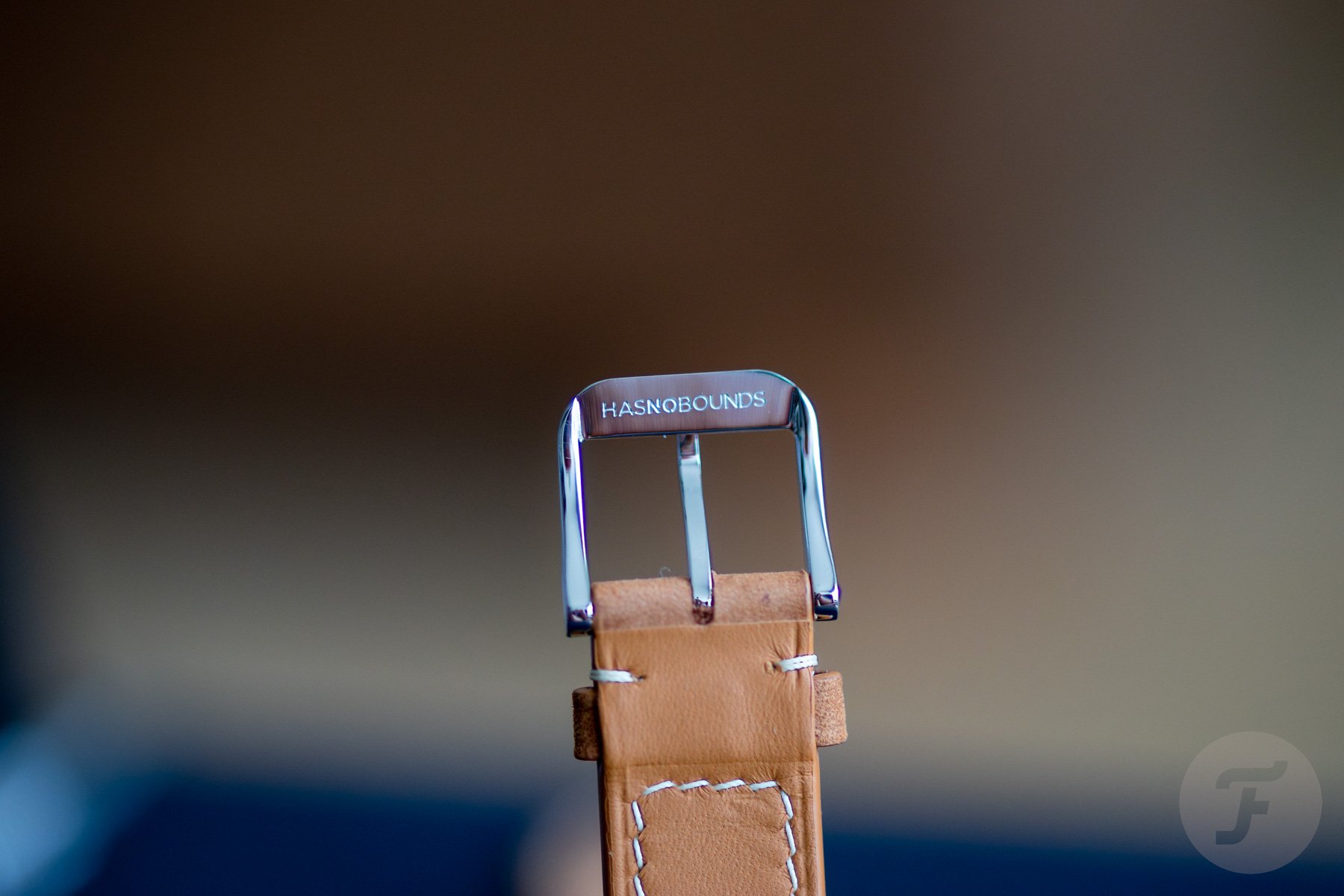 Final words
There you have it, folks — another Watch Strap Review out. HasNoBounds might not have a crazy-huge collection, but what the brand offers is pure class. I love the attention to detail, the quick-release spring bars, the subtle branding on the buckle, and the prices. The straps you get are top-notch and span from everyday to extravagant. I won't pick my favorite because I liked them for different reasons. It took me a while to pair them with my watches. I'm happy with the result. Finding a match to the Bisanzio seemed the hardest, but it wasn't. And what does that tell you? Being bold but classy is more accessible than we think. HasNoBounds knows that very well.
Visit the HasNoBounds website here, and remember to check out our previous installment of Watch Strap Review here.