Watch Strap Review Part 34. – Difues Leather 2.0
A closer look of a Watch Strap Review alumni's new product
In August, we introduced FinWatchStraps to you. A company from Finland with a rather large variety of straps. If you missed that article, please click here. For September, I had a few things lined up, but thanks to the ever so active German customs those projects fell through.
Don't worry; I'll keep fighting with the system. In the meantime, an old friend got in touch with us. Max from Difues Leather is a Watch Strap Review alumni, as I introduced his work to you guys in the 12th installment back in 2015. To bring you up to speed regarding Difues Leather and Max, here are a few facts about him; Max is based in Belarus, he sells through Etsy, Difues Leather also has an IG account, and he sent us three awesome straps.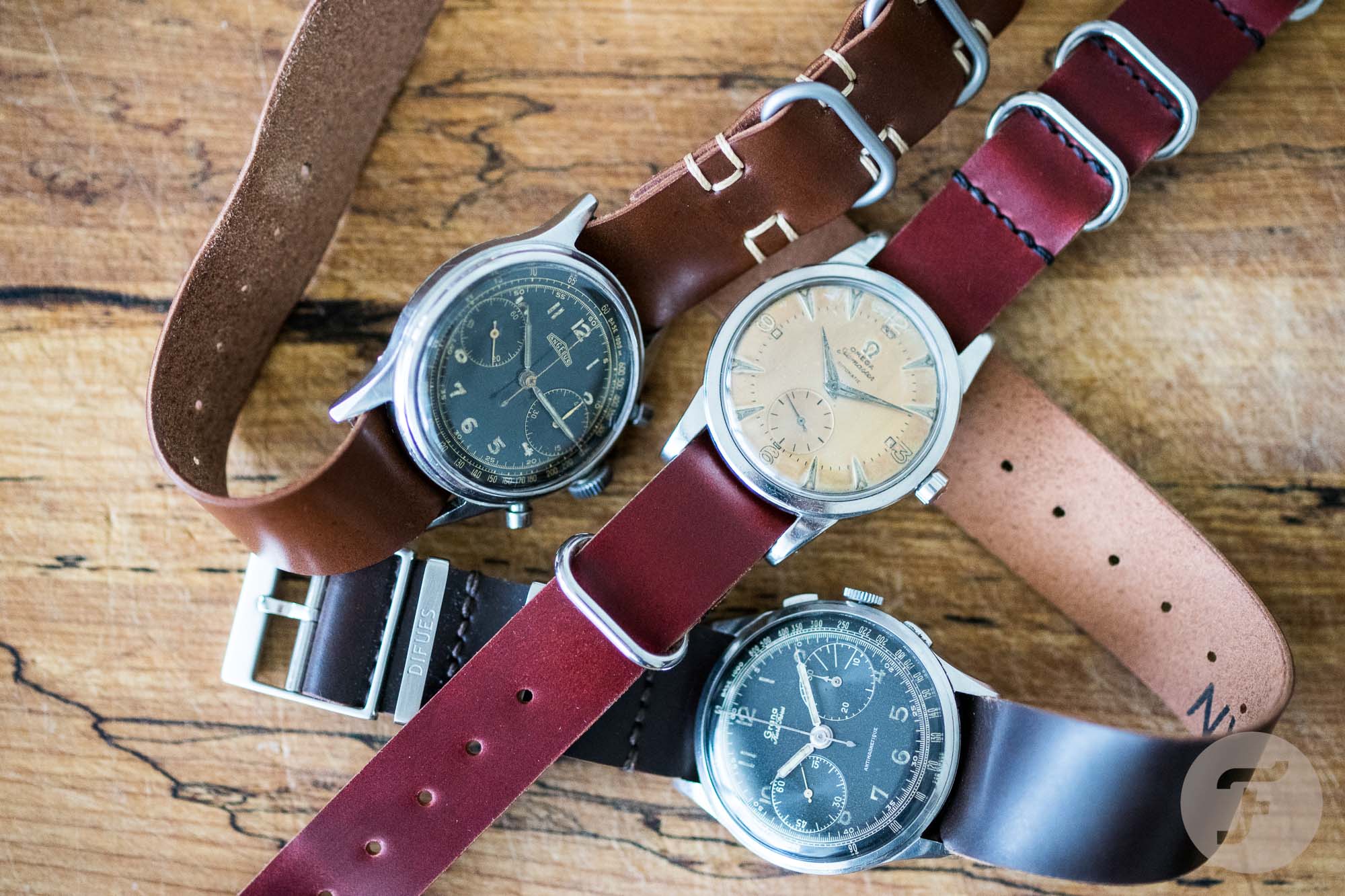 Difues Leather 2.0
Since we last spoke with Max (four years ago), a lot has changed with him and the company. First and foremost, he is still in business, which is excellent news. Not sure what the life expectancy of a strap maker is, but four years is fantastic. Especially if you fathom in the fierce competition. Yet, Difues Leather is well, and business is excellent. However, there are a few new changes with the company. As Max explained to me, he stopped making ordinary straps and shifted his focus towards NATO straps almost exclusively. You can still find a few traditional products like bund straps (which looks incredible), but 99% of his goods are NATOs and ZULUs. Not just any, though, Max uses Shell Cordovan. He sources the leather from the Italian leather company Rocado. They are from Tuscany and offer beautiful premium leather with vegetable tanning.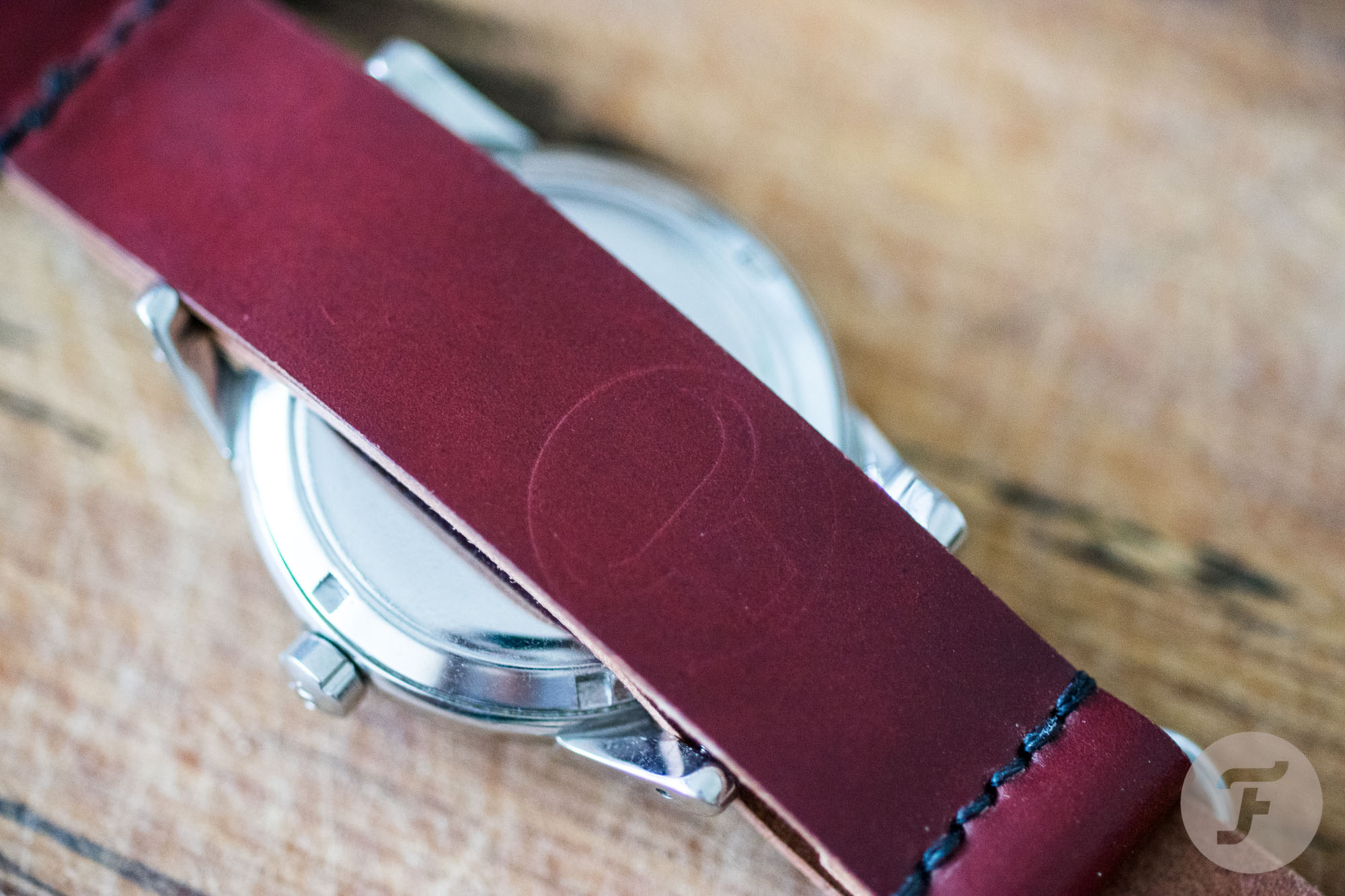 As he explained to me, he loves Shell Cordovan as "it is very strong and durable, aging with a beautiful, noble patina. Personally, I think. Shell Cordovan is an ideal material for NATO and ZULU straps, as they are made from one layer of material." So, the straps he sent me were all either ZULUs or NATOs in various sizes and colors but from Shell Cordovan. If you wonder why Difues Leather only offers these types of straps these days, Max has an answer to that too; "I now mainly do NATO and ZULU straps, because I find them very comfortable and I really like to wear such straps." Fair enough. I also appreciate a nice NATO (or ZULU) from time to time, especially if it's made of leather. Shell Cordovan is a popular leather type for many years now and for a reason.
Strap 1
I received three different straps in two styles and three sizes. The first one is an 18mm ZULU made of red Shell Cordovan. As you'd have with most strap makers, including Difues Leather, basically every strap is customizable to a certain extent. Max allows you to pick your width from 14mm all the way up to 24mm. The design is a combination of ZULU and NATO, albeit Max calls it a ZULU strap. However, it has the extra flap that usually only NATO straps have. But indeed, the three-ring style is something that is a design characteristic of ZULU straps. It's a beautiful light burgundy/maroon red leather with black stitching. Looks fantastic on a vintage chronograph or even a smaller time-only watch that requires 18mm straps. As you'd have it with Cordovan leather strap, it is comfortable and sifts, not itchy at all. It feels great on the wrist.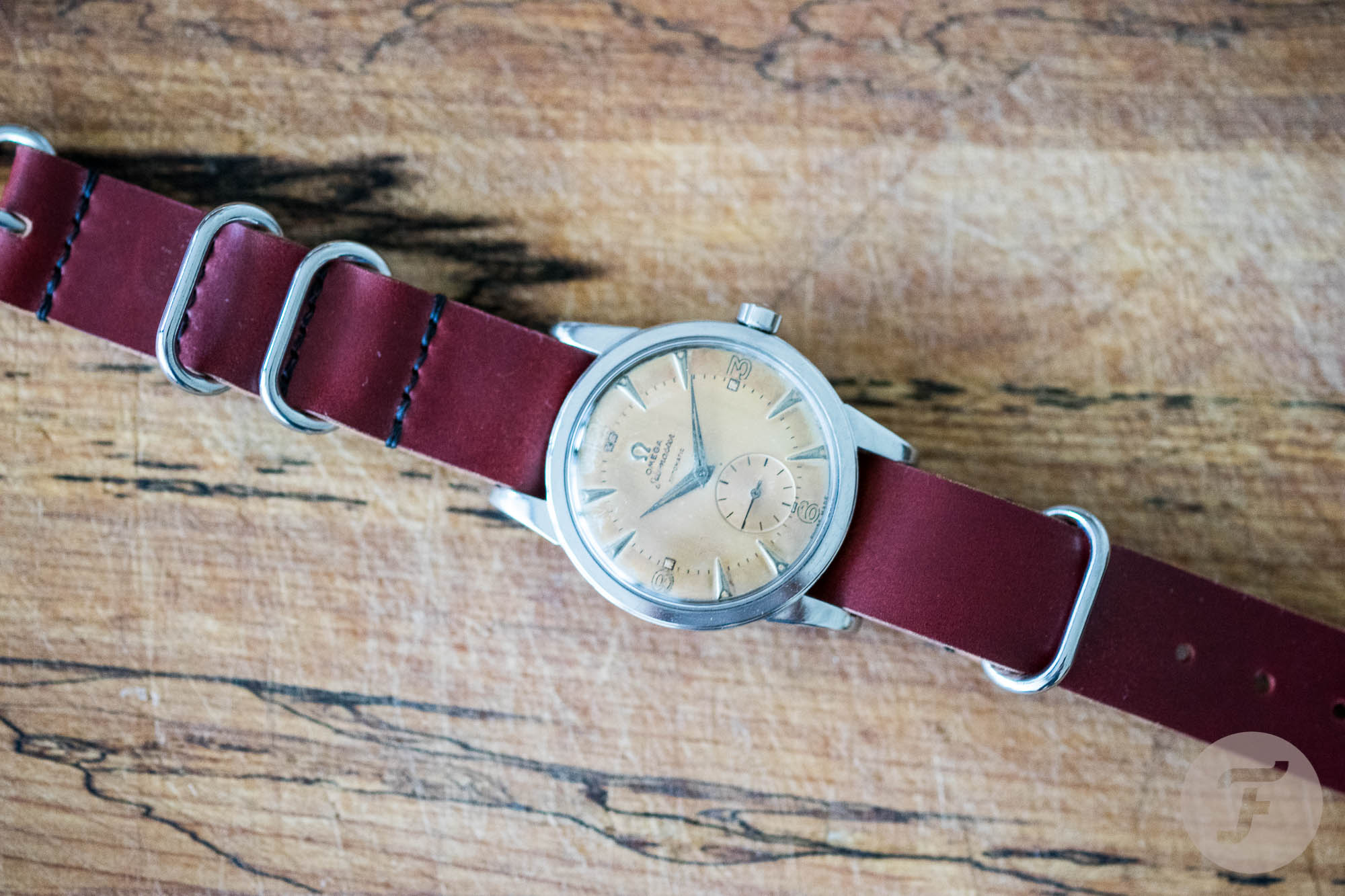 Strap 2
Moving on from 18mm, the second strap is a 20mm cognac-colored Shell Cordovan. Just like its 18mm counterpart, it is a ZULU too, but this time without the extra flap. Again, you have the 3 round brushed keepers (and the buckle) you'd typically find on these types of straps. While the 18mm strap has a pointy end, this is round, which has no significance as far as the usage is concerned. It's just a different look. The boxed stitching is beige with waxed ends to prevent fraying and raveling. According to Difues Leather, it's unique stitching. You can order this type of gear in sizes varying from 14mm up to 26mm. Out of the three straps we are reviewing today, this has possibly the most neutral color. This cognac works with anything. Over time the color will darken and gain a beautiful patina too.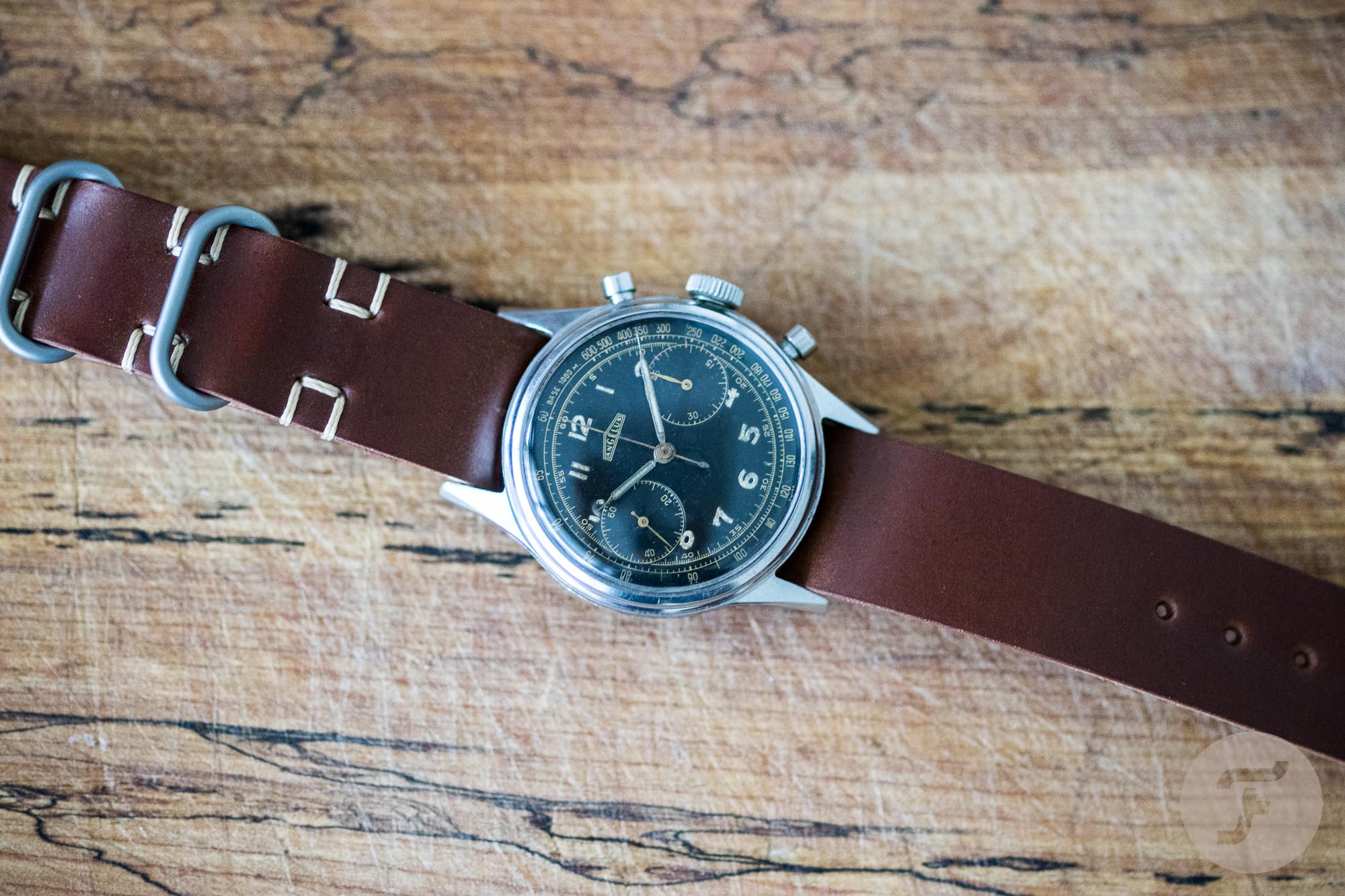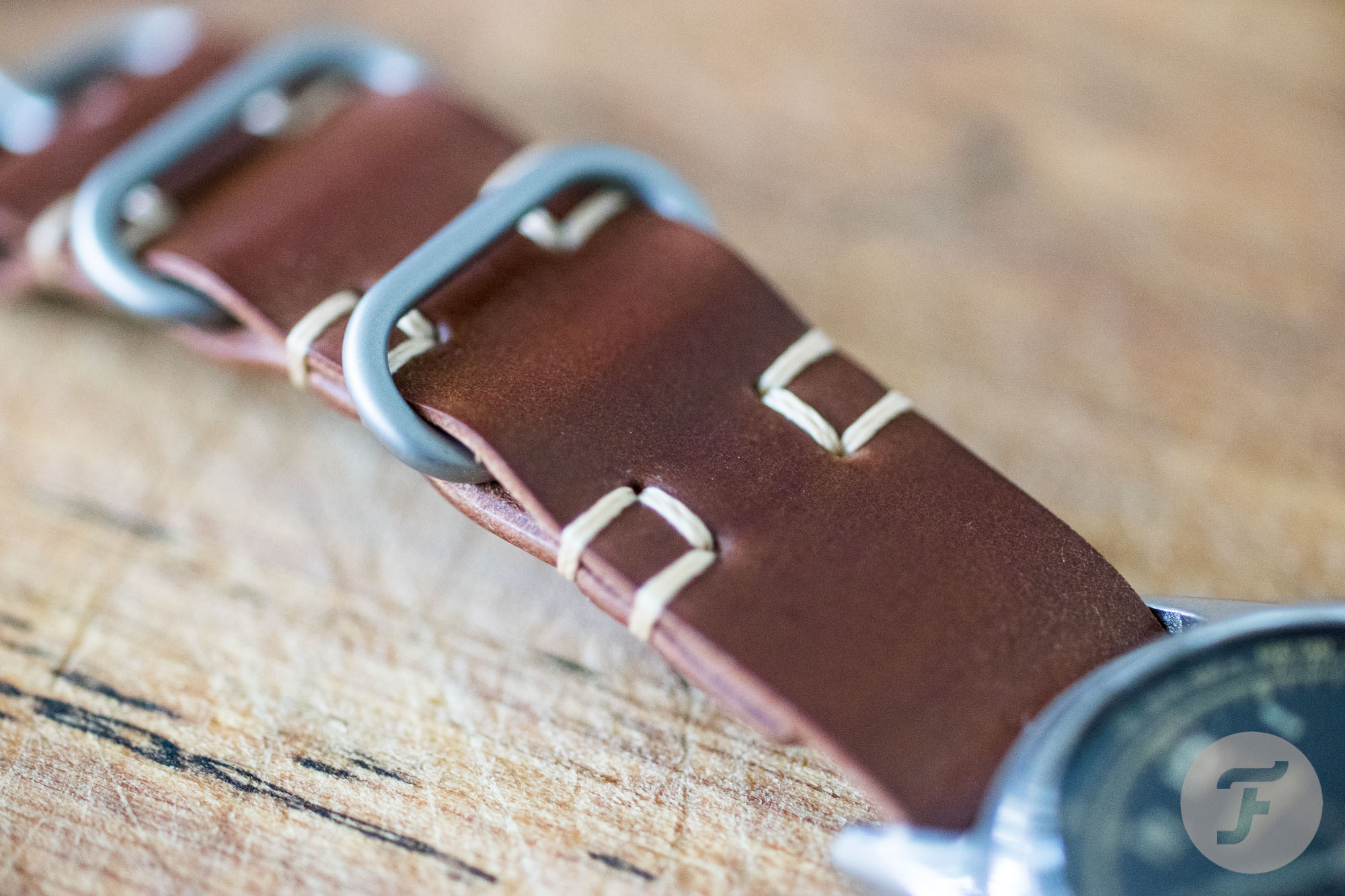 ZULUs are one long single piece of material (leather, nylon, etc.) with the aforementioned 3-rings (even though there are 5-ring versions too). NATOs have an extra flap and an extra metal keeper.
Strap 3
Before I talk about the last piece, let's pause for a moment. Perhaps it makes sense to point out the main difference between ZULU and NATO straps for some of you might not be familiar with them. ZULUs are one long single piece of material (leather, nylon, etc.) with the aforementioned 3-rings (even though there are 5-ring versions too). NATOs have an extra flap and an additional metal keeper. You lace the strap through this keeper once the watch is already on the strap. However, these days, the lines are a bit blurred between the two. Just like this third strap I received from Difues Leather. It is a 22mm brown Shell Cordovan leather strap. You can get it in 19, 20, 21, and 22mm. The strap has a unique design while it is a single piece of leather; it is not a ZULU.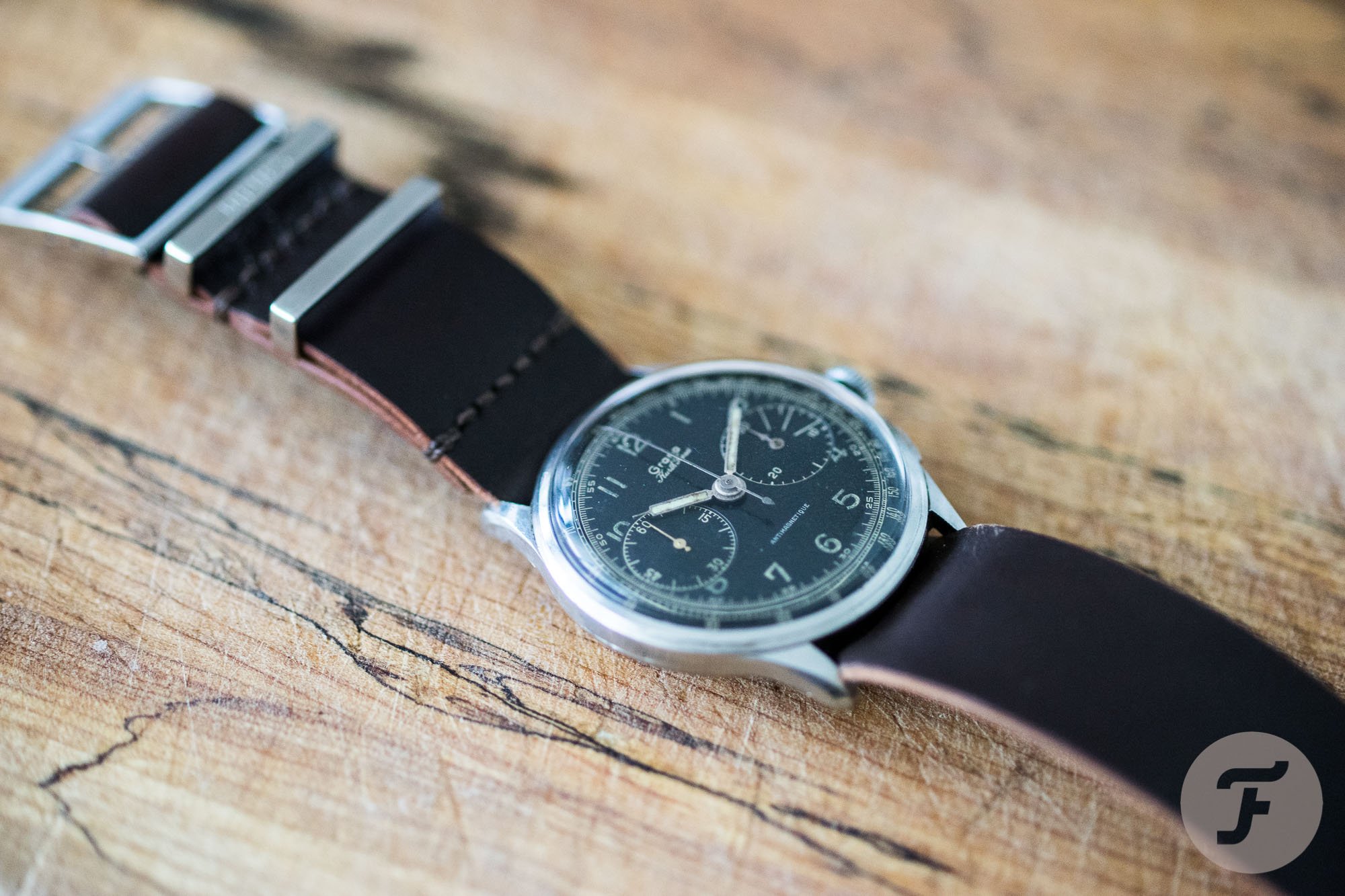 The Difues keepers are rectangular and thick, just like the buckle. The crisp detail aside from the keepers is the underside of the strap. You can see the leather's brand (Shell Cordovan), as well as parts of the country and region it comes from (Tuscany, Italy), stamped on the back of the leather. Nice little detail. The dark brown color is pretty elegant, although I would generally not associate NATO straps with elegance. They are more on the sporty side, and for many watches putting on a NATO is a big No-No. Even if the strap is leather and not nylon, that's just me, though. But please, never put your Lange 1 on a NATO strap. That's all I'm saying.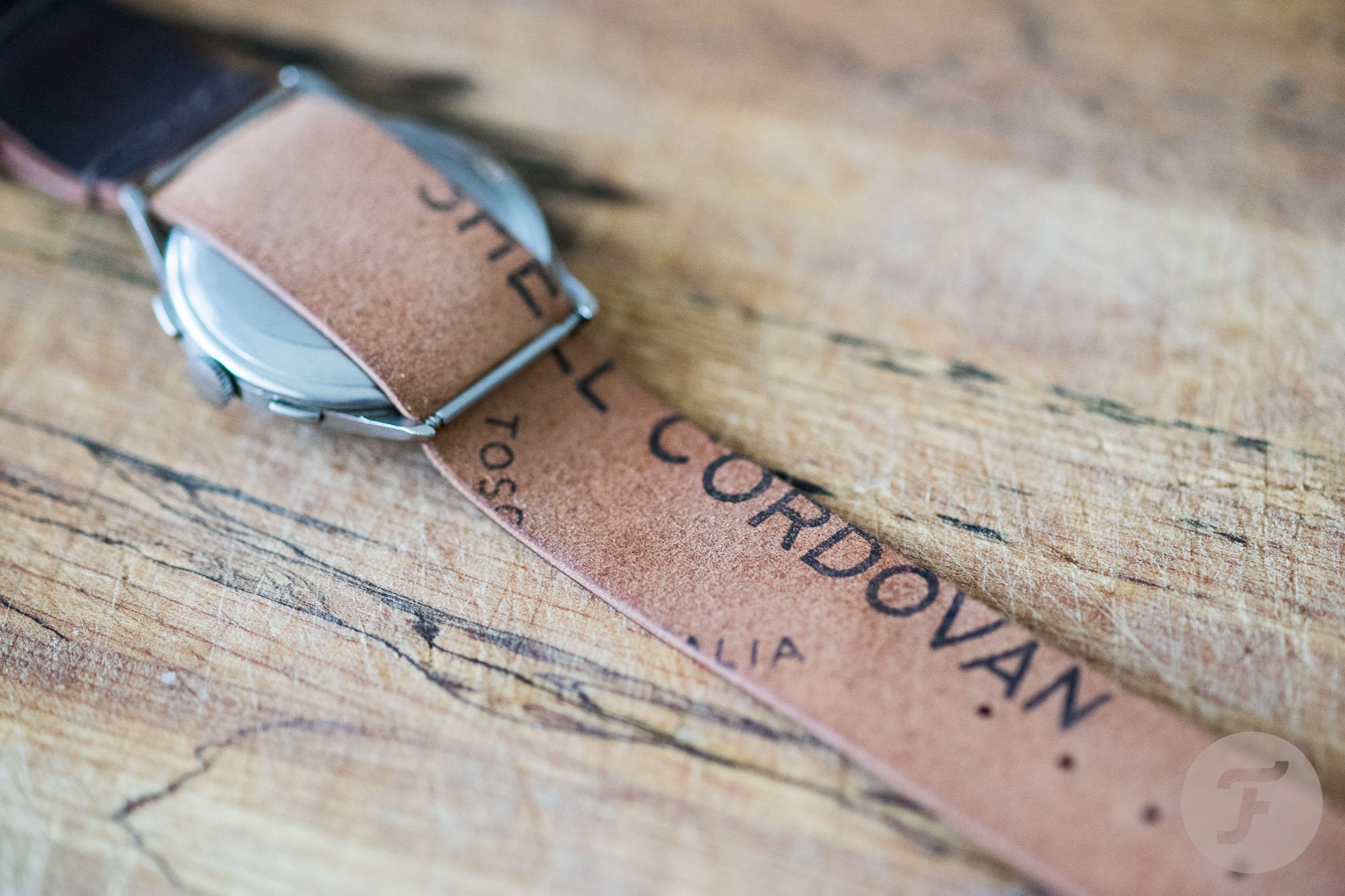 What's left to say?
Well, we have not talked about one important factor; the price. Difues Leather straps vary in prices. The cheapest ones are around €35, with the most expensive ones being around €90, not counting the bund traps. Those are well over €100, but that's a given, granted the amount of leather Max needs to work on. The average price is around €60; you can pick a nice one up for this amount. As I said in the beginning, the way to get one is to visit Max's Etsy shop and put an order through there. If you require individual measurements, send him an email or DM on Instagram. It was great revisiting a company from years ago. I hope to be able to do the same in another four years. Last but not least; thanks a lot Max for being an excellent sport.