Watch Strap Review Part 4. – Introducing: HeuerTime Corfam Straps
We love our watches, there's no doubt about that. That's why you're here, right? There are all those other things surrounding them though; watch winders, watch rolls, tools perhaps but most importantly straps. No decent watch site can function without a strap review. That was in my head when I came up with this idea and presented it to the team.
Nevertheless we gave it a twist. We would like to introduce some of the lesser known craftsmen to the wider audience. People whose work we find interesting or out of the ordinary. Who – most of the time – create their products at home by hand, educate themselves and improve their skill all the time. When you put one of these hand-made straps on your wrist, you can feel the satisfaction and pride of the artisan who made them.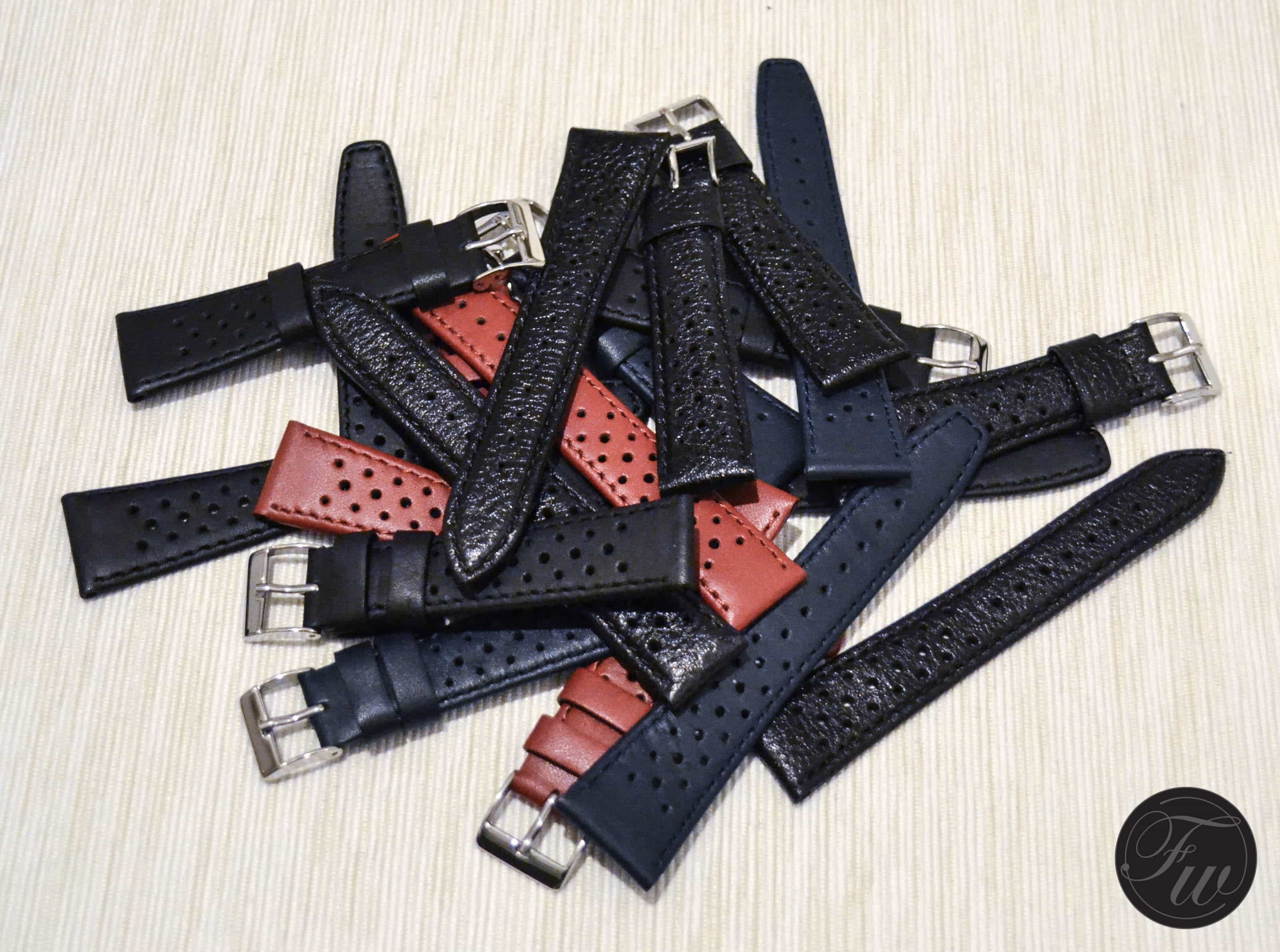 After a much deserved winter break we are back with our new edition of strap review. This month however, we will bring you something out of the ordinary. You might remember that each month we are introducing you a strap maker from around the world who's skills and craftsmanship we find worth the introduction on Fratello Watches. This episode we will show you a strap that delights the hearts of vintage watch enthusiasts but also capable of give modern watches a new look. Meet HeuerTime and its replica corfam strap from Belgium. Waffles anyone?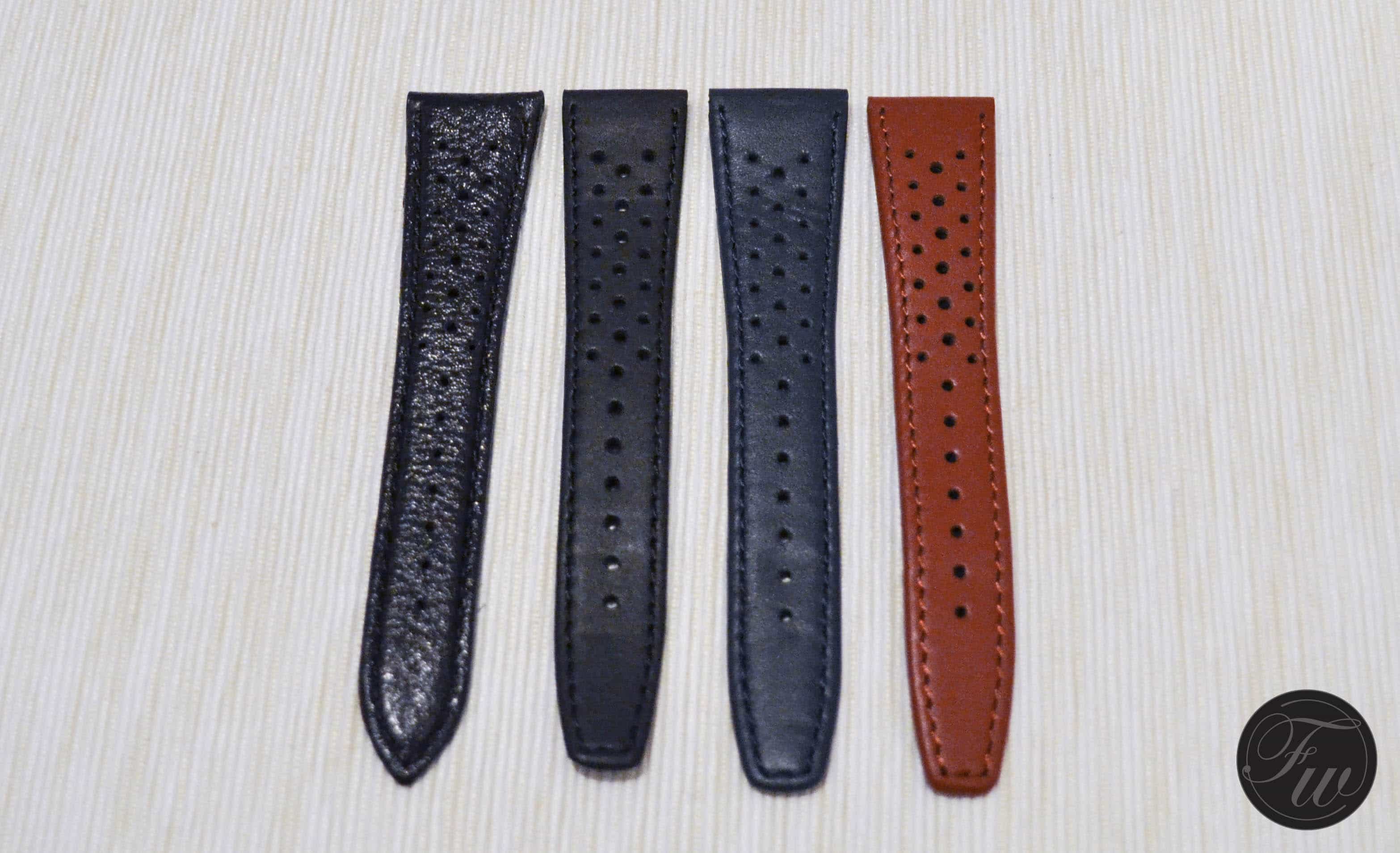 Corfam was synthetic leather originally produced by DuPont to substitute real leather back in the 1960s. The main goal was to produce shoes and other leather god for much lower rice to a wider audience. Not too long after the first corfam items hit the market the watch industry, nothing even similar to the huge conglomerates you see today, realized there is money to be saved by using corfam as the material for straps. They were cheap to produce, fairly strong to survive harsh condition and gave a strap alternative for a sportier look on many models. NOS examples fetch crazy money these days so the need for a cheaper yet identical alternative was just what the vintage watch market needed.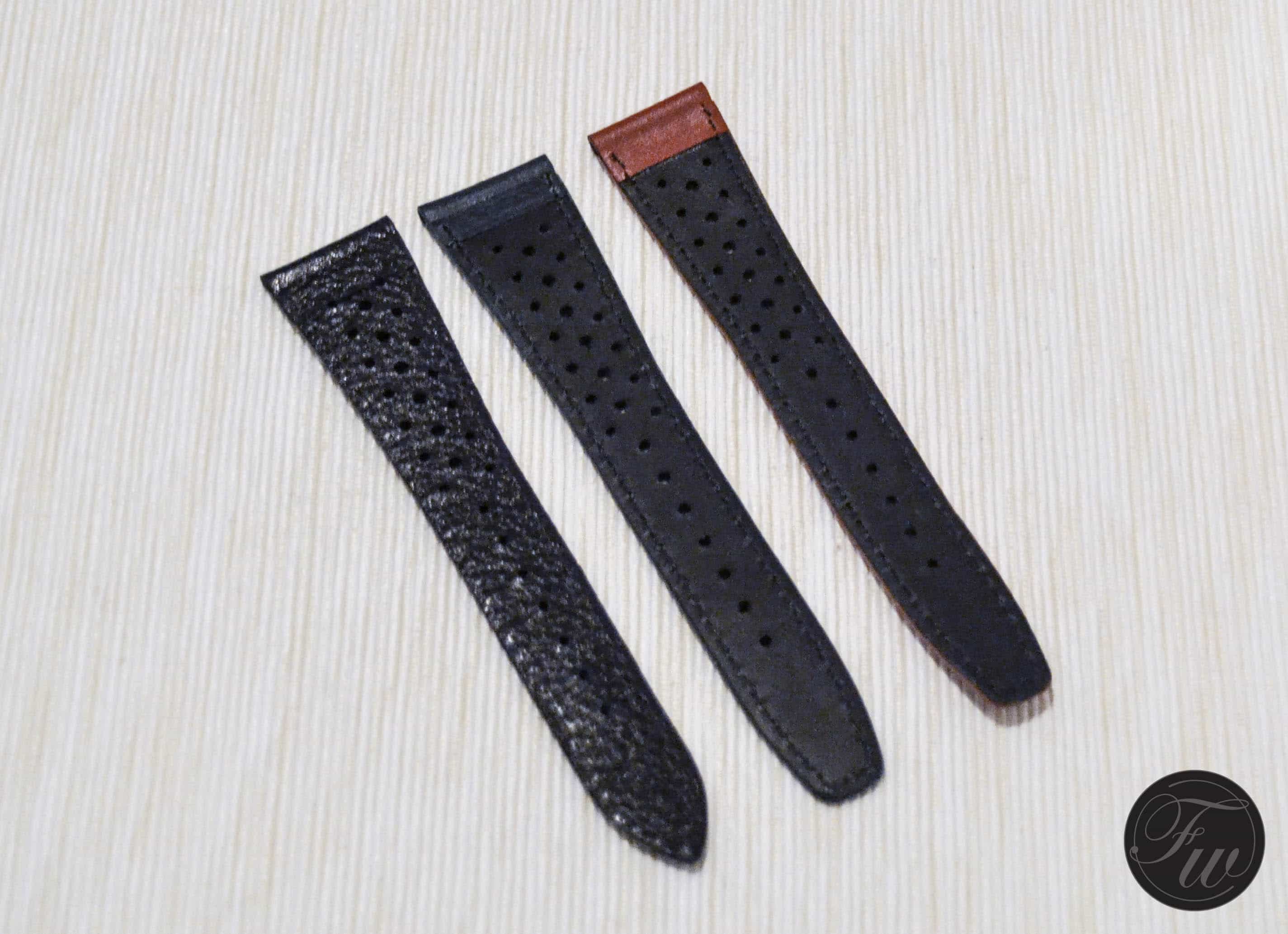 Abel, owner of HeuerTime, a watchmaker by trade is an avid vintage Heuer collector, as you would guess by his company's name. Among many brands in those days Heuer used corfam straps intensively on many – if not all – of their sports models, mostly chronographs. There is something in this watch/strap combo that makes every vintage watch lover's heart skip a beat. But corfam is not only suitable for vintage watches, due to its timeless design the strap can fresh up the look of any watch.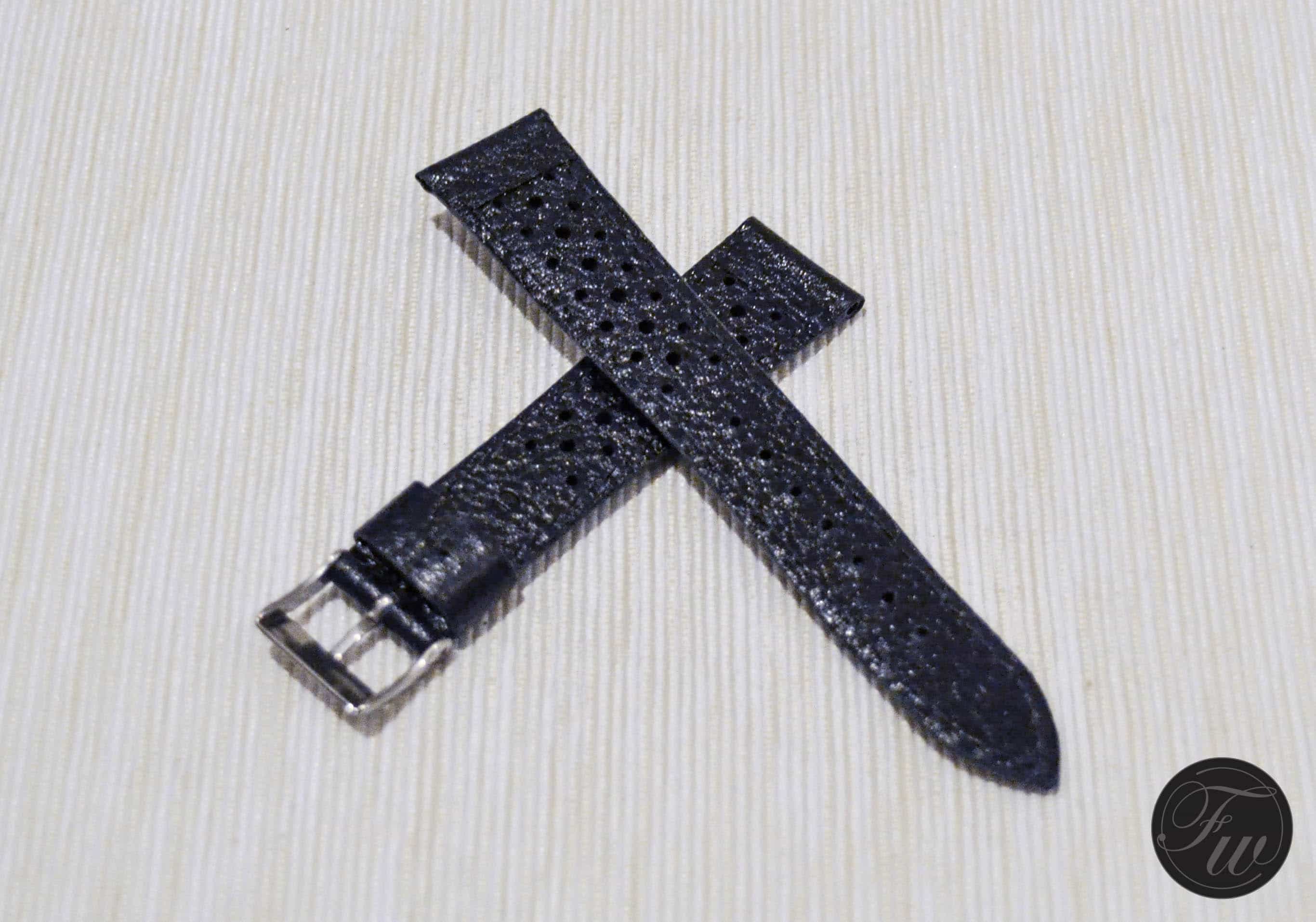 The straps come in a handful of different colors so I'm sure there is one for almost every watch. Other than the replica corfam rally leather black (which is available in 18, 19, 20 and 22mm) you can choose from brown, blue or plain black. The major difference between the original and these replica straps is that the HeuerTime straps are made of real leather. I wore mine on a Omega Speedmaster Pro (as usual) and I have to say they are amazing. These straps are thinner than your average watch straps, even the ones we have reviewed before (here, here and here) very soft and easy to bend. To my satisfaction they easily accommodate a deployant buckle. The price is a very friendly €43 (about $49) which in my book is nothing for the quality and character you receive. Abel does not produce the straps personally but outsource them from a different company also located in Belgium. He has exclusivity over them though.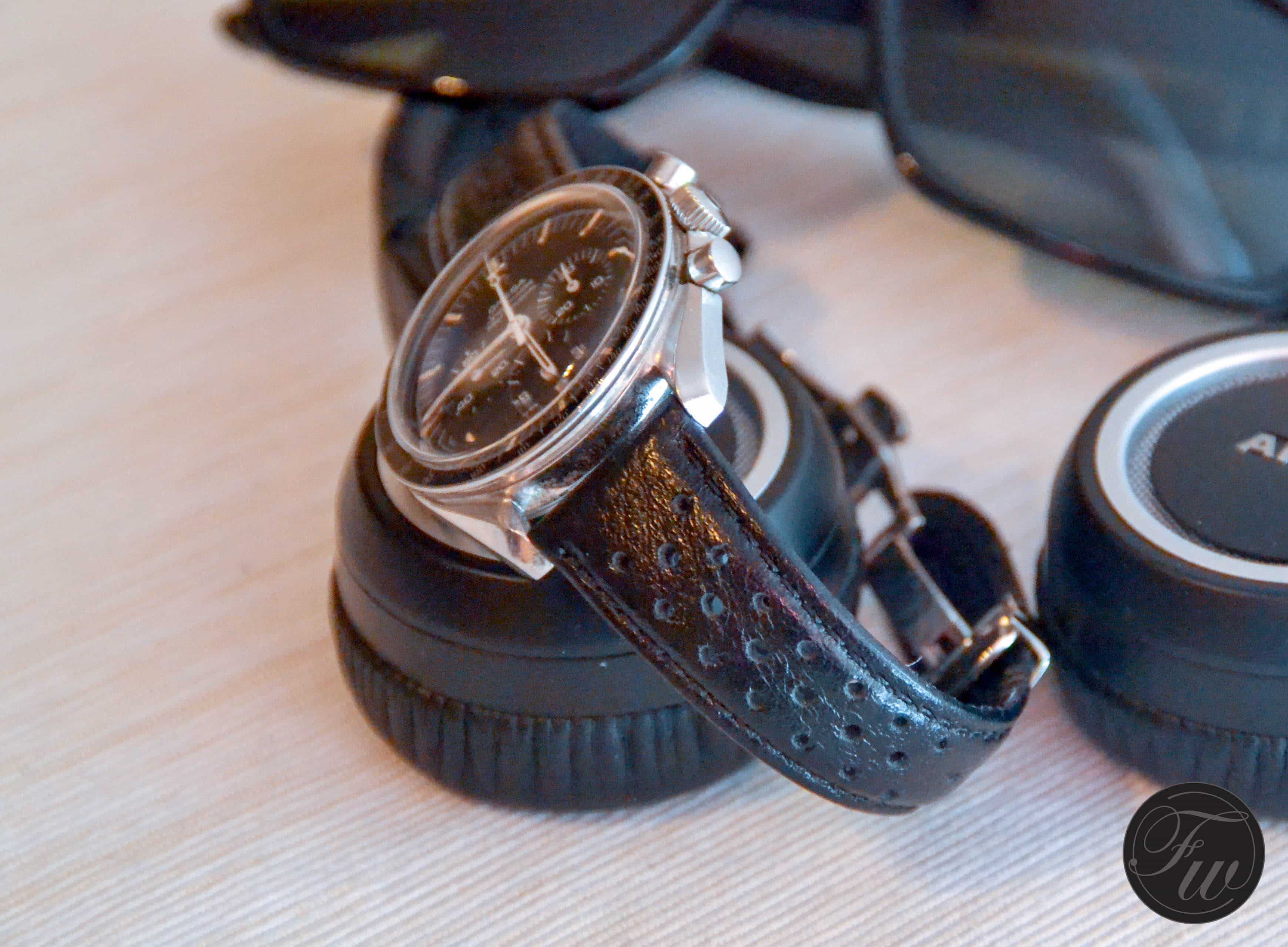 If you own at least one sports watch form the 1960s or 1970s this strap is a must-have for you. If you only own modern timepieces you'd be surprised to see how it would transform them. Last but not least, a big Thank You to Abel for his support, he's a cool guy and his straps are a gem in the watch world! Also kudos to Mr Heuer Loon for bringing the strap to my attention on a misty November evening in a pub in London!
As the winter break was kind of long we have decided to provide you with not 1 but 2 strap reviews this month. Please stay tuned for some more coming from the land of pasta, super sportscars and fashion. Guess where we're going?