Watches & Wonders 2021: Dave's Fave New Watch Releases! Rolex, Tudor, Chopard, And Hermès
I even surprised myself with these choices — in a good way!
As I am writing this article about my favorite pieces from Watches And Wonders 2021, I find myself surprised at the list of watches I'm about to talk about. I know what I like when it comes to watches. I'll happily admit that I have an eclectic taste that is quite different from the rest of the team here at Fratello. Compared to the others, I'm certainly a little less traditional.
With that in mind, I thought I would give my take on the releases we've seen from Watches & Wonders 2021 so far. What are some of the more left-field releases that I loved? Which watches make my top five? I'm ready for the Fratelli to tell me I need new glasses or something similar, but let me assure you this; I was wearing my glasses when I made these picks! If you agree with my choices, let me know in the comments! If you think I'm stark-raving made, inbox me. Jokes.
Let me start with a caveat…
I absolutely adored the Jaeger-LeCoultre Reverso Hybris Mechanica Calibre 185. It's a horological masterpiece and one of the most outstanding watches of this century with its outrageous capabilities and audaciousness. That said, with a price of €1.3m, I'm going to exclude it from the list. I'm going to stick to the more "realistically priced" watches.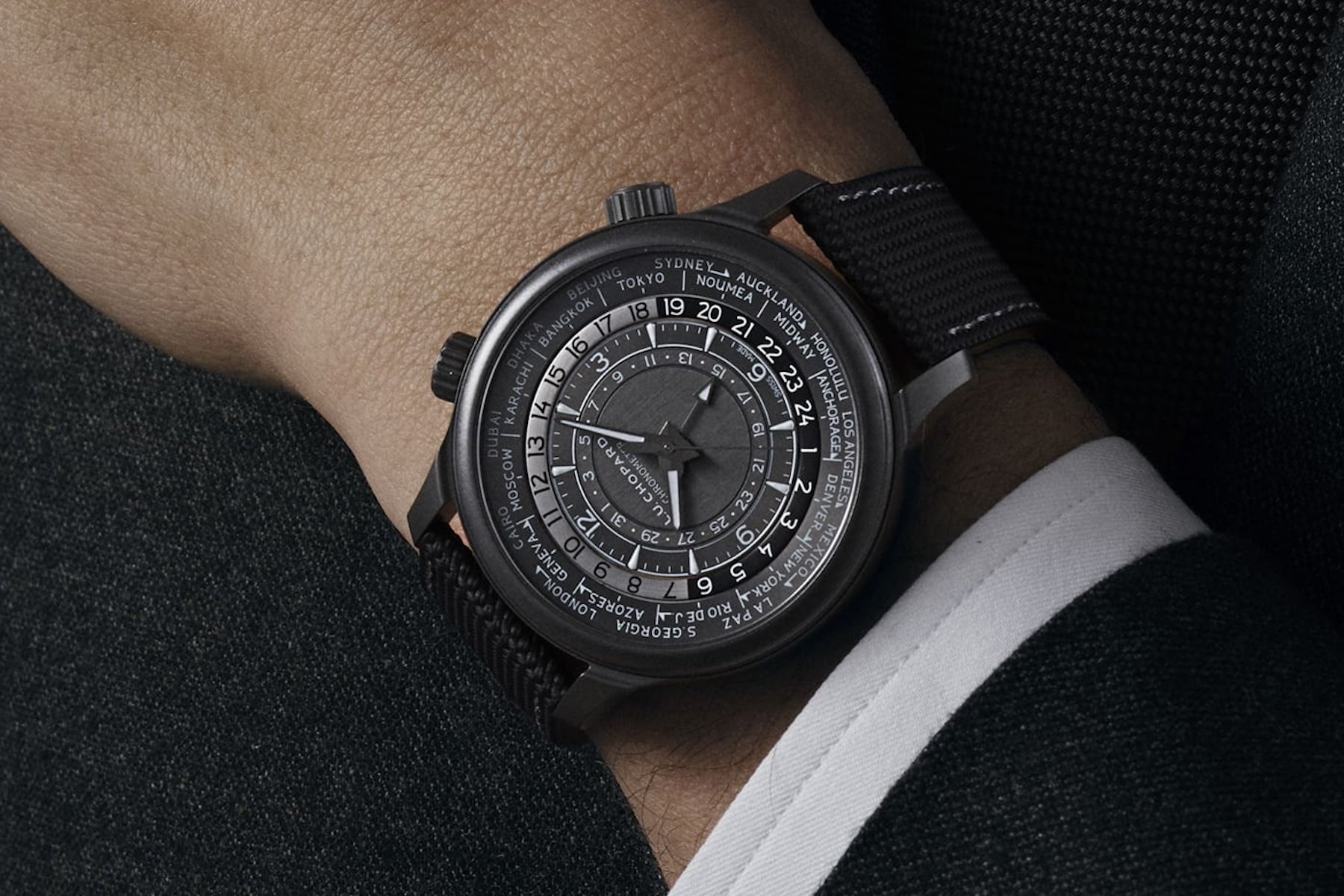 Chopard L.U.C Time Traveler One Black
Boom! What a watch to kick off my favorites from Watches & Wonders, eh? I didn't really see the Time Traveller One Black from Chopard L.U.C get much attention last week. It's as if it got lost among the slew of releases from other brands. That's a real shame because as soon as I saw the watch, I was smitten. I simply loved the incredibly busy dial. To some, it may appear chaotic, but I was immediately taken by the order in this chaos. There are four circular scales displayed in the dial. The mix of typography, colors, and information is oddly comforting to look at.
As the Time Traveller name suggests, this watch enables the wearer to track all 24 time zones simultaneously thanks to the world timer complication. The complication is operated by the second crown on the watch's Super Compressor-style case. In addition to the world timer, the dial contains a pointer date complication too. Having fallen in love with pointer-style date displays after adding the Fratello × Oris Big Crown Bronze Pointer Date to my collection, I'm thrilled to see it here too.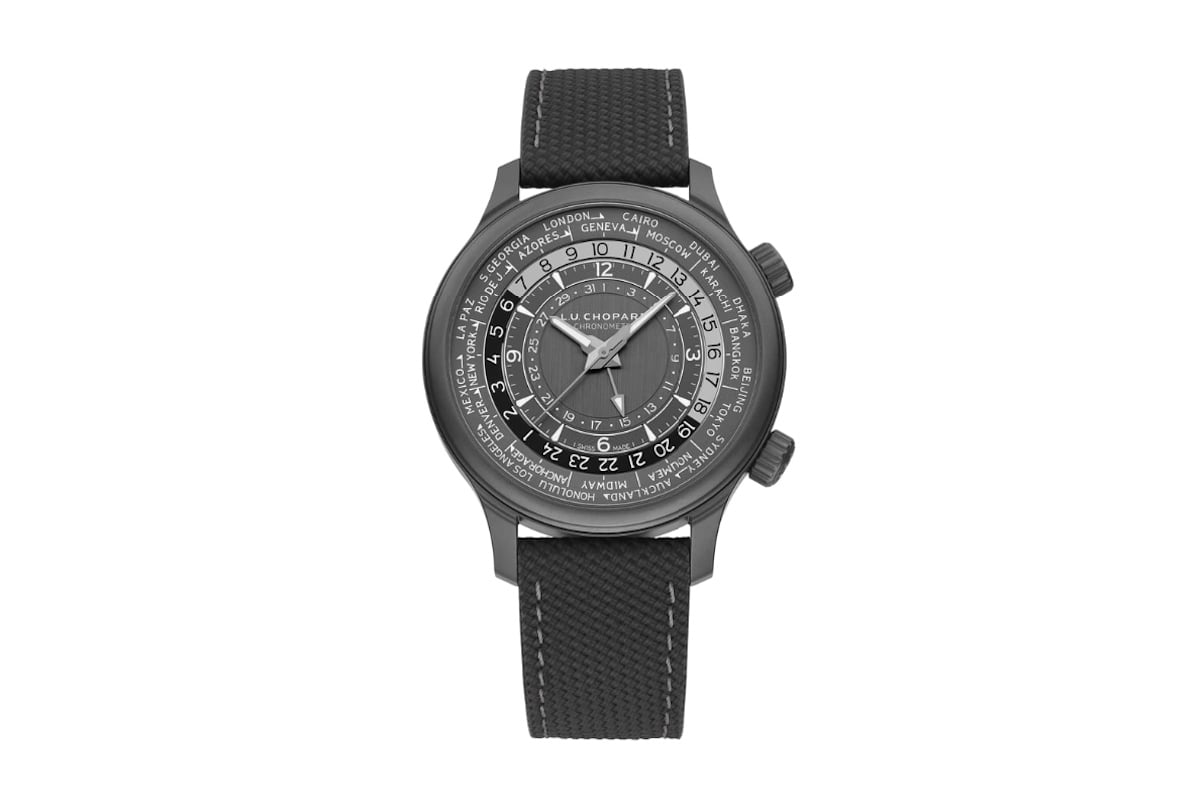 Black but not quite black
The 42mm case of the L.U.C Time Traveler One Black is made from solid ceramised grade-5 titanium. Renowned for its strength and lightness, titanium is a perfect choice of material for a sporty travel-inspired watch. The titanium is ceramised by oxidizing the metal's surface layers at extreme temperatures using electro-plasma technology. This process results in superior hardness of up to 700 Vickers and thus additional resistance to everyday wear and corrosion. Tangible benefits aside, the aesthetic is quite striking with the case's "black, but not quite black" vibe. I really like it!
L.U.C Time Traveler One Black can be yours for €15,500. I'm keen to hear your thoughts on this watch in the comments. What do you think of it? Did you see much of it over the last week? Find out more on the Chopard website.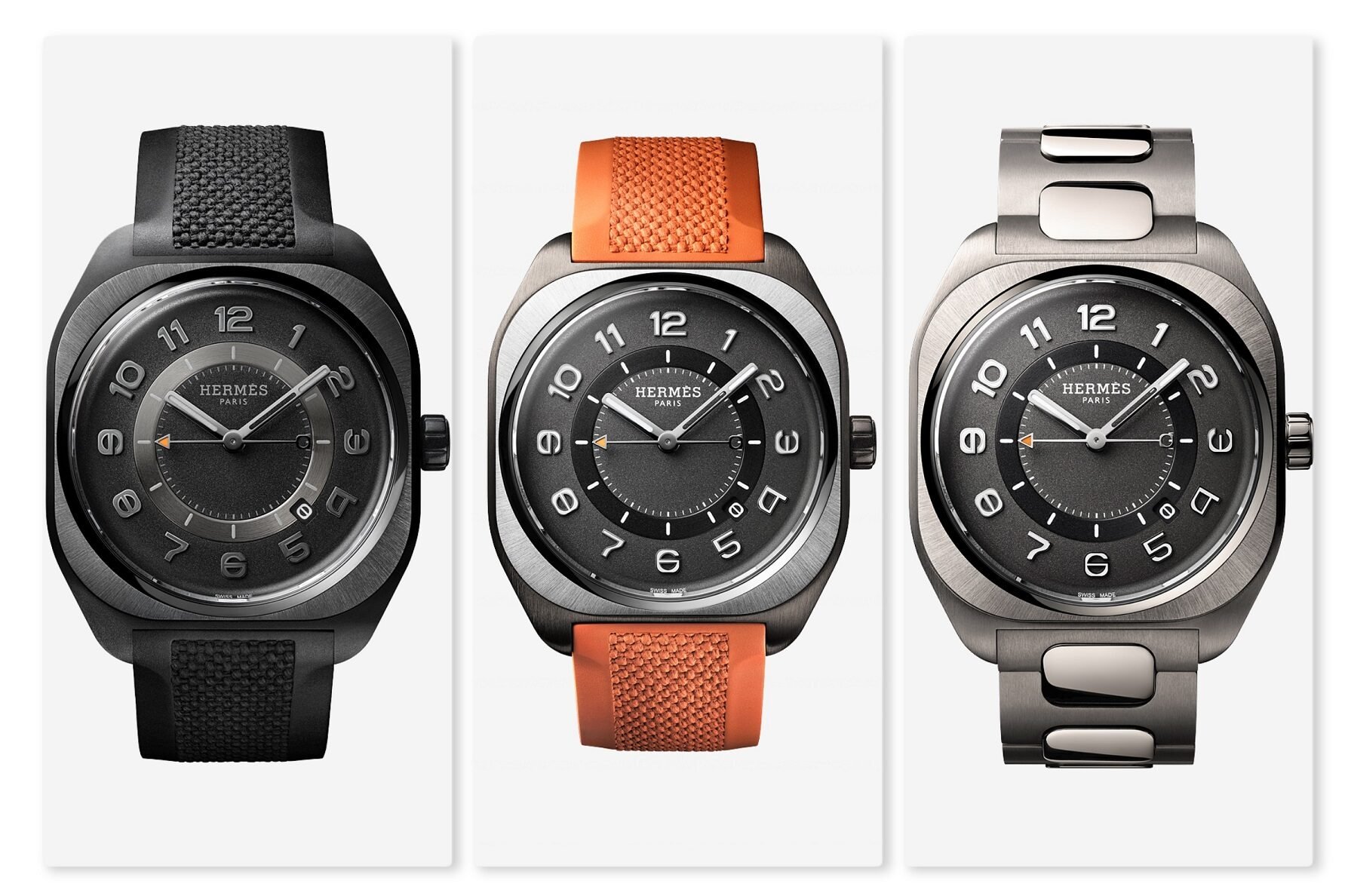 Hermès H08
Oh, man. This is definitely my favorite release of Watches And Wonders 2021. There I said it. The H08 from Hermès is my winner. Why? Well, in my opinion, this is a master class in excellent and sensible design. It's classy, it's sporty, and I want it. Oh, and I LOVE the font Hermès used on the dial and the fact that it's carried over to the date wheel too. Hermès uses a unique font here, as it does for every new watch. I think that the dial's visual impact would have been diluted had a different, non-matching font been used.
I've already emailed my local Hermès boutique…
The case of the new H08 is 39mm and is available in three versions. My pick of the bunch is the DLC coated model with the glorious orange rubber strap. I've always been a fan of black watches. And I am on the hunt for something new in that regard right now. I don't have a black watch; everything I own is plain steel. The Hermès H08 has just moved up fairly high on my ever-growing "wish list". Seriously! I've already emailed my local Hermès boutique to see when they're getting it in.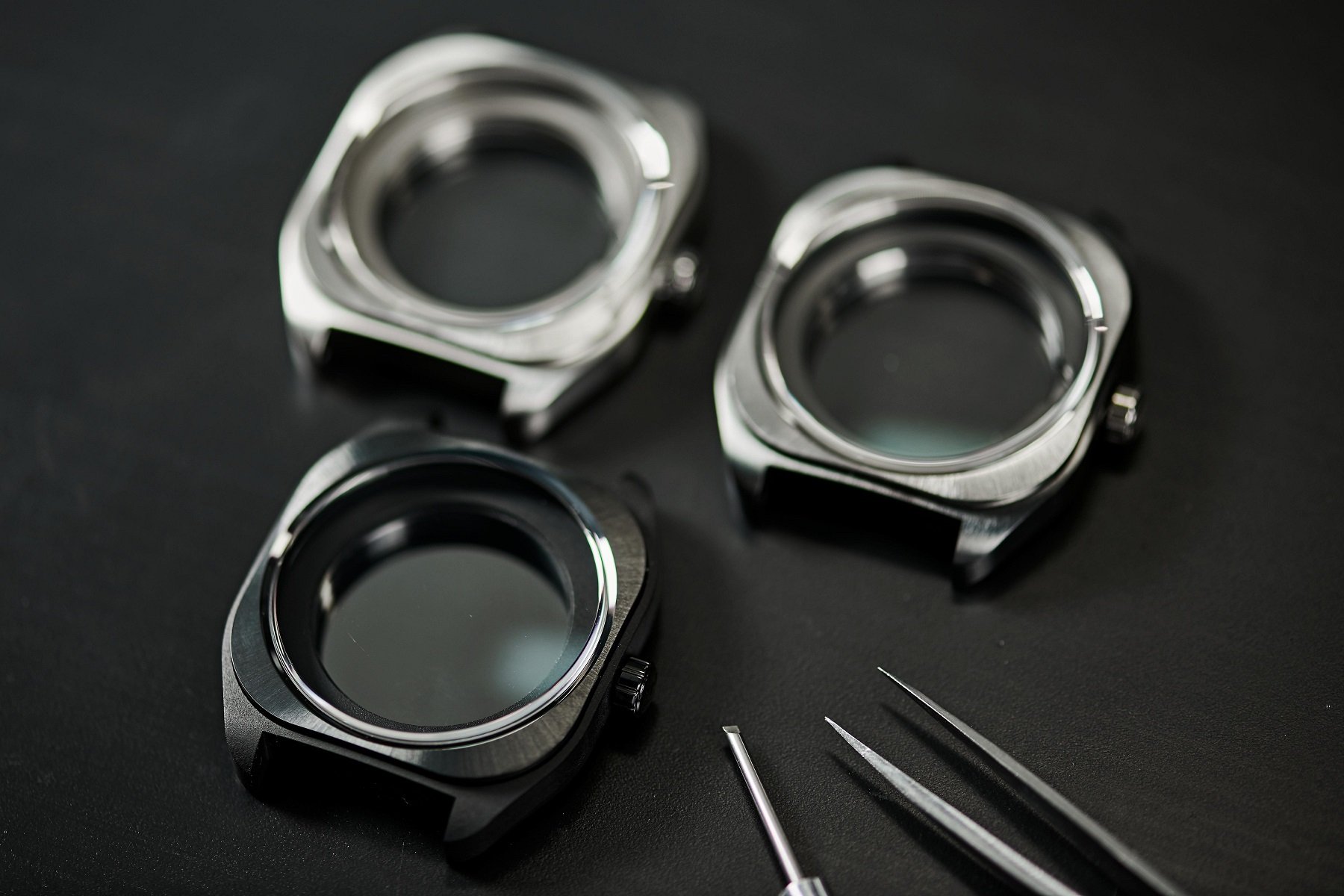 I want this watch!
The star of the show is the black nickel-coated dial with the applied Arabic numerals with white Super-LumiNova fill. The dial has this wonderful-looking fine granulated texture — I sincerely hope it matches up in hand with how good the images make it look. This really is a cohesive and harmonious piece watch from the French fashion house. Excellent work!
Prices start at £4,440 for the satin-brushed titanium model. You can read more about it on Fratello right here. Find out more from Hermès on the brand's website.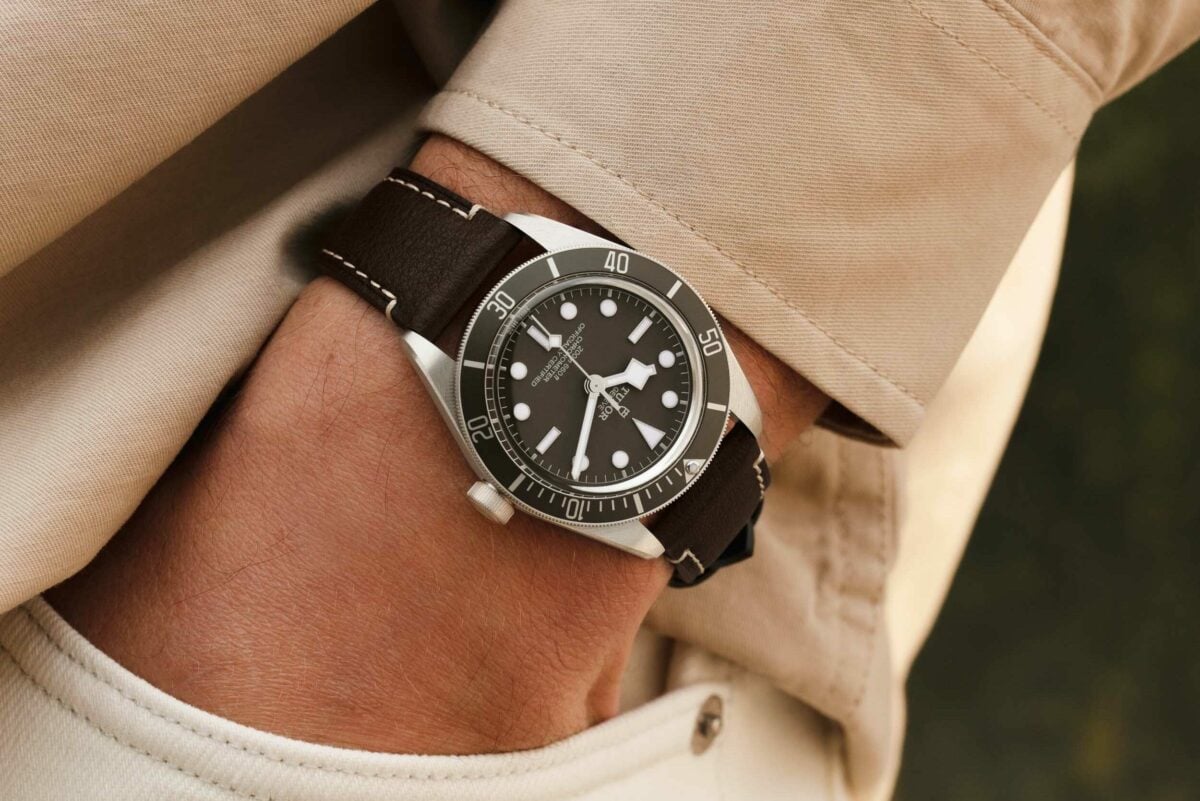 Tudor Black Bay Fifty-Eight 925
Well, well, well. This one was a shock to me. Is this finally a Tudor Black Bay Fifty-Eight that I like? Until today, the Shield did not have a production model that I wanted. That's not to say I explicitly disliked the watches in Tudor's collection, but none of them ever earned more than a second glance. They lacked a je ne sais quoi that appealed to me… Until the Black Bay Fifty-Eight 925 from Watches and Wonders 2021.
I am one of those sentimental fools who believe in forging an emotional attachment with their watches.
If you ask me why this model, I'm not totally sure what it is about this that I like so much. I genuinely can't say for sure. It could be the novelty that the case is made of silver. Alternative case materials are always quite interesting in my book. The use of the 925 silver here is very interesting. While Tudor says that the exact recipe of the silver alloy means that it will not tarnish or patina, this is a watch that will age and become well-tuned to the wearer's life. I quite like this. I am one of those sentimental fools who believe in forging an emotional attachment with their watches.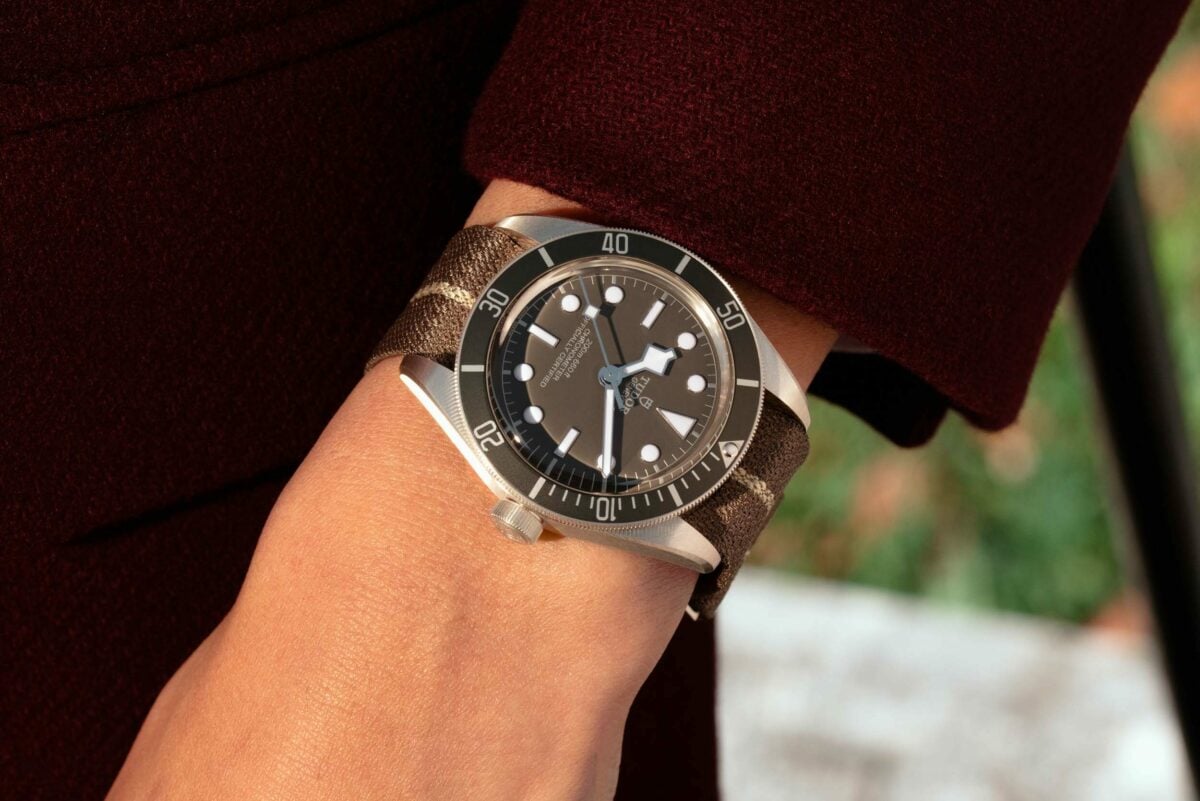 A sterling effort
I've always been quite vocal about my love for color on watches, and the Black Bay Fifty-Eight 925 goes against the grain for me. It's quite drab in a shade of taupe. How would I describe taupe? A kind of muddy grey/brown color. Not exactly an appealing thought, but it works. This is not a watch that is one for me on paper, but hey, I guess rules are there to be broken. Prices start at a very reasonable £3,230.
Read the Fratello coverage of this watch right here. Find out more on Tudor's website.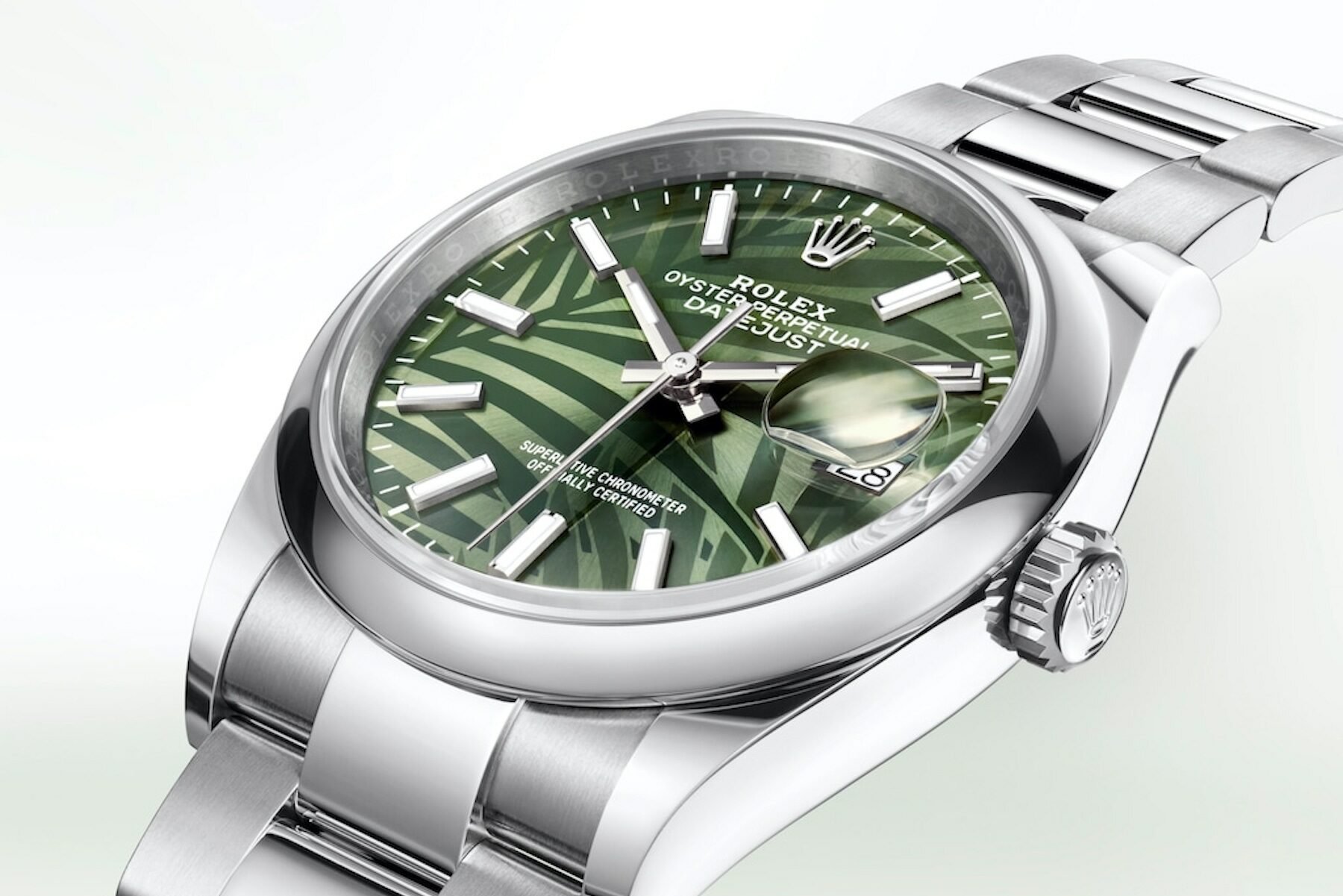 Special mention: Rolex Datejust 36 Unique Palm Dial
I wanted to give a special mention to the Rolex Datejust 36 Unique Palm Dial. Recently I have been imploring Rolex to do something a little bit different. I've long been fed up with the brand changing the bare minimum and passing it off as the Second Coming. I mean, look at the new Explorer II — it looks exactly the same! We have here something entirely different and out of the ordinary from the Crown, and I have to applaud it.
Rolex released two new dial designs for the Datejust 36 at Watches And Wonders 2021. The leafy Palm dial was, by far, my favorite, though. While I look forward to seeing Rolex pass this creativity on to some of the other models in the lineup, this is definitely a step in the right direction.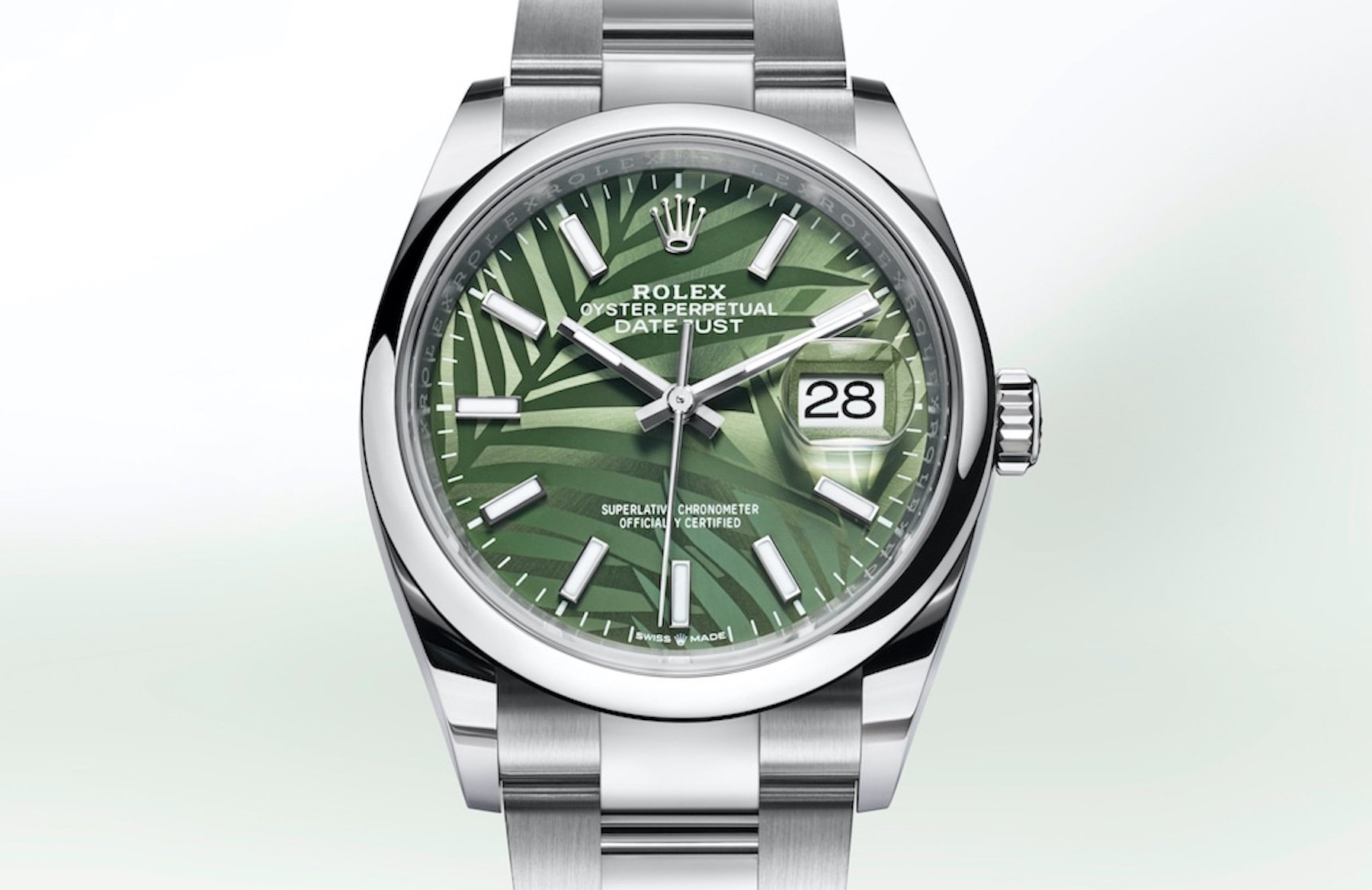 The Palm dial is definitely a grower, and every time I see it, I seem to like it more and more. That said, I still don't quite think I'd buy it. I think I'd prefer it in a slightly larger size. I have a 36mm watch in my collection already, and it doesn't get a massive amount of wrist time. 39mm would definitely be the sweet spot, for me. Alas, no such model exists. While that's a shame, this is definitely an encouraging sign from Rolex.
Read our coverage on the new Unique Dials for the Rolex Datejust 36 on Fratello right here. You can also play around with the Datejust 36 on the Rolex Configurator.
So there you have it — my winners from Watches and Wonders 2021. I don't expect everyone to agree with me, so if that's you, let me know! What were your winners? And, of course, what were your losers? 
Follow me on Instagram: @davesergeant