Which Is The Best Omega Speedmaster To Buy? A Collector's Opinion…
You can't go wrong with any Speedmaster, but still, here are some suggestions
A question that is often raised with us, is "which is the best Speedmaster to buy?" And don't think this question only comes from those who are new to watches. Even here in the office, this discussion often comes up. It is especially popular among team members that don't yet have a Speedy to call their own, I have to add.
In 1999, when I bought my first Omega Speedmaster, I somewhat did the wrong thing. I bought myself a vintage Speedmaster Professional 145.012 powered by the legendary caliber 321. Although it is difficult to believe that this was a bad decision, I honestly feel it was. At the time, things were totally different from today and there wasn't that much money involved in the world of vintage Speedmaster watches. Actually, I wanted to buy a modern Speedmaster Professional, pre-owned, but those were more expensive than this Speedmaster reference from 1968 with caliber 321.
Being a student, every Euro (or Guilder, at the time) mattered. Consequently, I was prone to choose with my wallet. In hindsight, I think it would have been better to go with a modern Speedmaster. I went to university, parties, clubs, and so on, wearing that vintage Speedmaster, and it shows. It would have been wiser to use a more modern watch for my daily pursuits. I could (and probably should) have waited to add a vintage Moonwatch to the collection.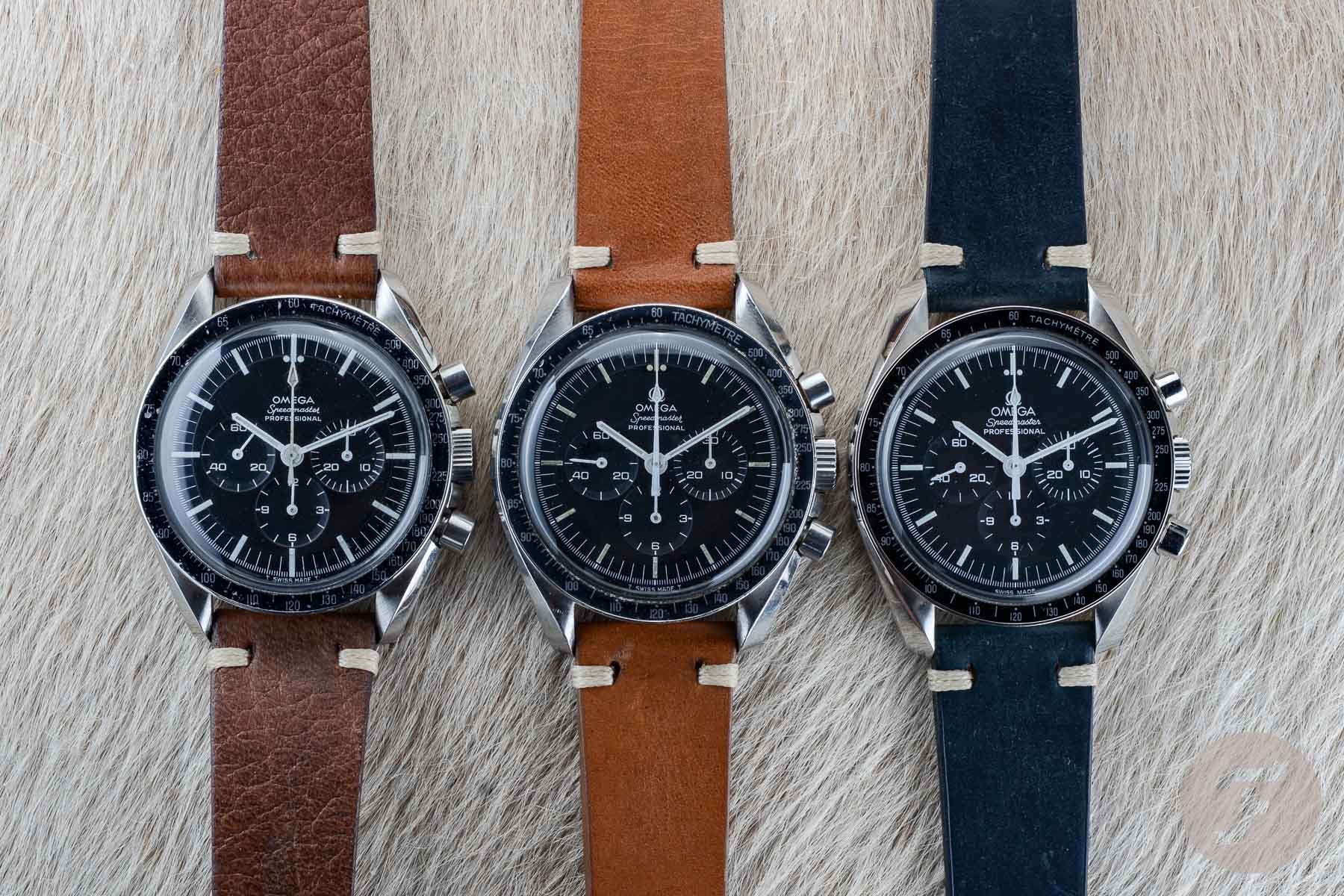 The best Speedmaster to buy
Recommending a watch to someone else is not easy, especially if you don't know this person very well. When someone has already narrowed it down to an Omega Speedmaster, it becomes a bit easier. When someone who has an interest in space exploration and cares for the first watch worn on the Moon story, one of the regular Speedmaster Moonwatch references might be the best pick. To others — those who just love having a great chronograph watch or a classic, well-thought-of design — Omega has a number of Speedmaster alternatives. There's the Speedmaster Dark Side of the Moon series and the Speedmaster'57 Co-Axial Chronometer series, for example.
If we stick to everything Moonwatch related, don't get fooled by the collection shown on the official Omega website. Some of the Speedmaster Moonwatch models they show, such as the Apollo 11 and Apollo 17 limited editions, have been sold out many moons ago. However, you will also find all the new Omega Speedmaster Professional Moonwatch Master Chronometer variations on there, including those in rose and white gold, as well as the Speedmaster models with caliber 321. These are all regular collection models, although the Speedmaster Calibre 321 is produced in limited quantities per year (but not numbered), as well as the Speedmaster Professional with caliber 321 in platinum.
Buying a vintage Omega Speedmaster
In the past, whenever I receive a question from someone looking for their first Speedmaster to buy, my answer was simple. I always went with the standard stainless steel Speedmaster Professional with steel case back and Hesalite crystal. Before 2021, I always recommended going with the standard Speedmaster Professional Moonwatch with caliber 1861, reference 311.30.42.30.01.005 (the successor of the 3570.50). For the price, there wasn't much out there that could beat this watch. However, not everyone was fond of the bracelet and some preferred to have the vintage Speedmaster models from the 1970s or earlier, because of the beautiful step dial. Depending on budget, but also on how someone would treat a watch like that, I have also suggested that some buy a nice 1970s Speedmaster Professional reference 145.022 or earlier.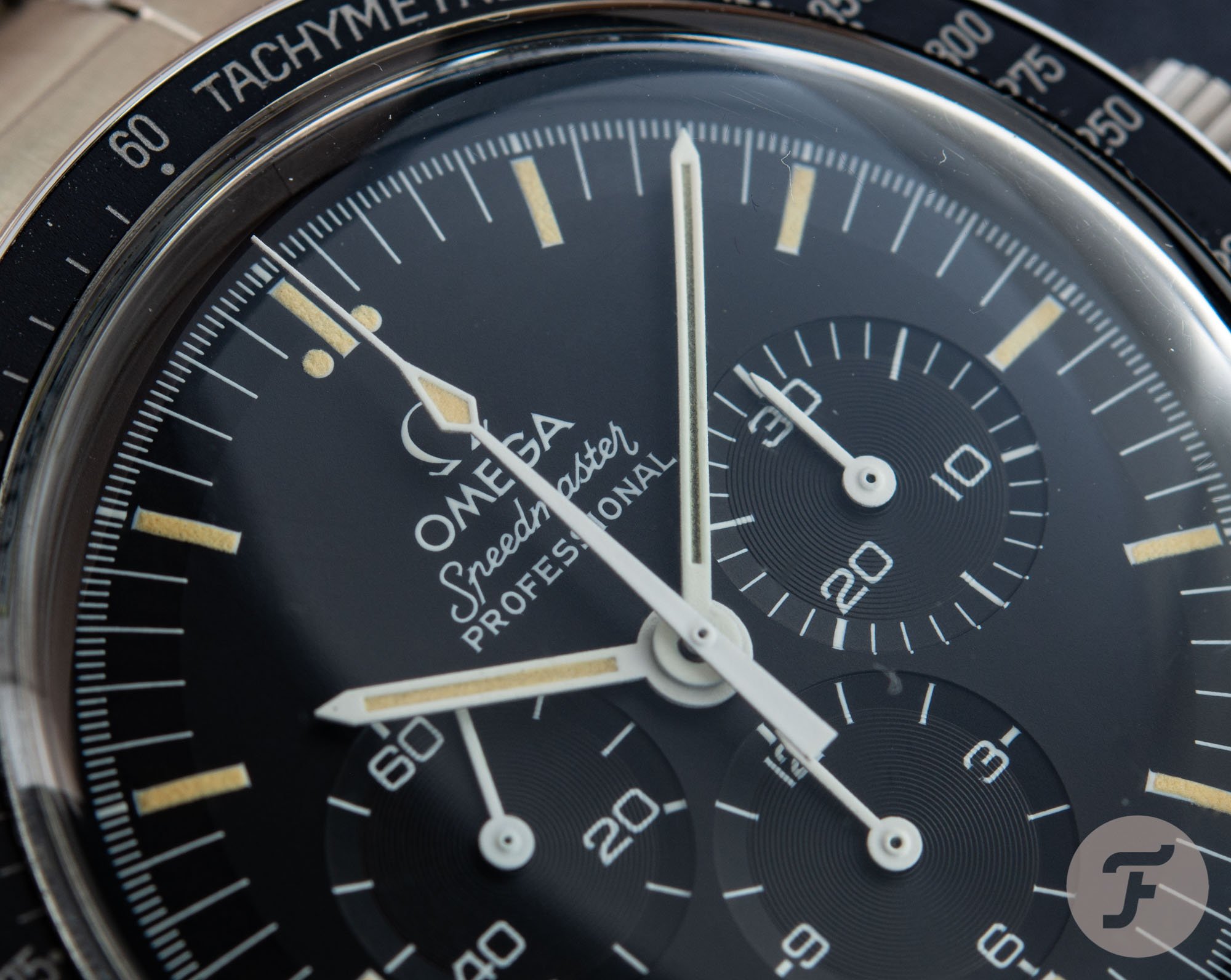 As said, it strongly depends on your character, lifestyle, and interests. All of those things affect a recommendation. I love a nice 145.022 or even 3950.50 (and those very early reference 3570.50s that still had tritium dials and hands) but buying a pre-owned or vintage watch isn't something everyone feels comfortable with. It requires a decent amount of homework, to avoid making (expensive) mistakes. And the earlier the Speedmaster reference, the more expensive the mistakes will be. Last but not least, the market for vintage Speedmaster watches in very good condition is getting thin. We wrote a number of Speedmaster buying guides, which might be of help when you're after a vintage Speedy.
For our managing editor Rob Nudds, the Speedmaster'57 3594.50 was the best Speedmaster to buy, for example. But for our editor Balazs, it's the original Speedmaster 105.003 "Ed White". Meanwhile, Mike Stockton loves the one that was on the wrist of Buzz Aldrin when he set foot on the Moon, the Speedmaster Professional 105.012. And you will find yet more answers from the rest of the team. But, if you'd ask them what the best one is to start with might be, their answers would probably change a bit.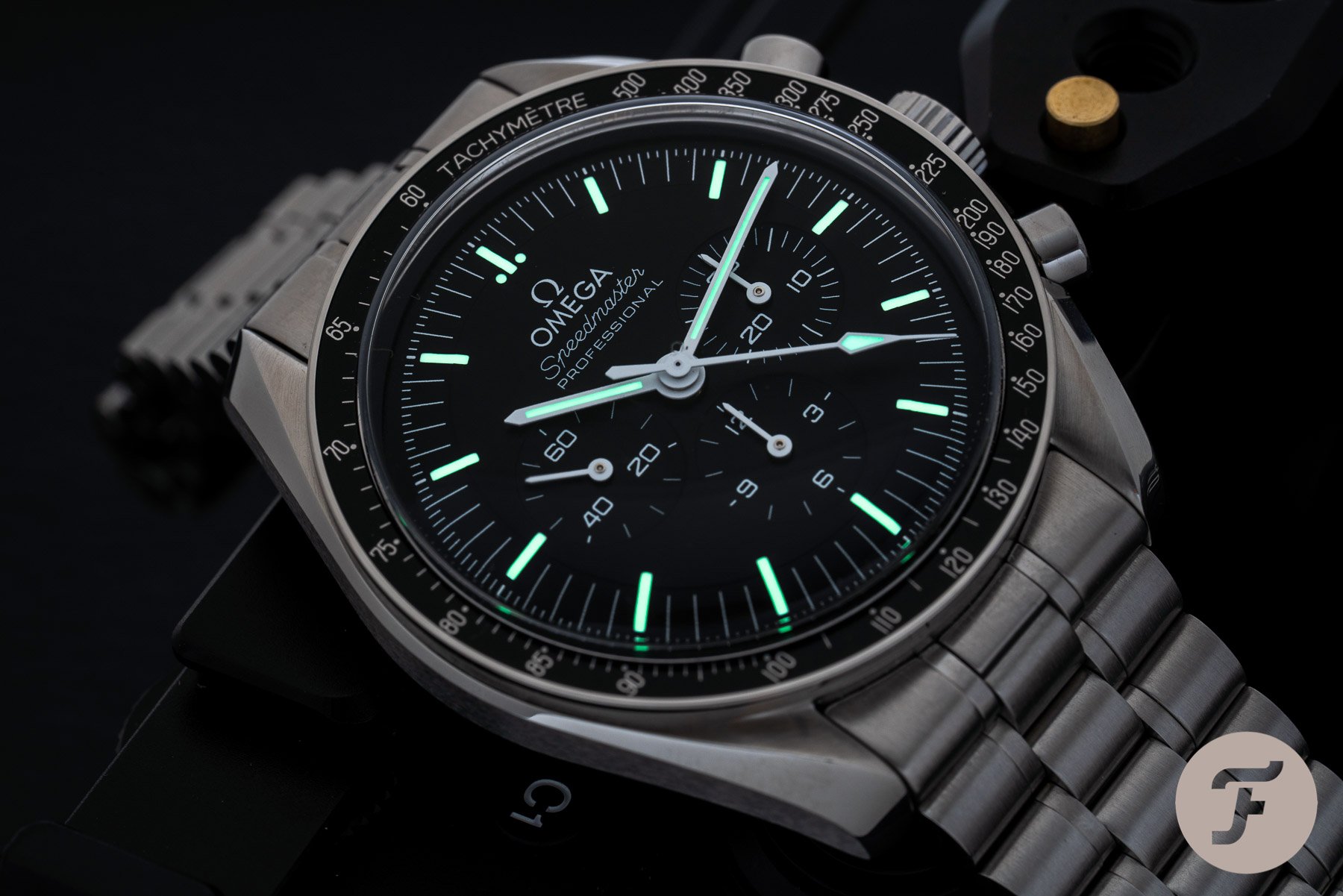 Buying a new Omega Speedmaster Professional
With the introduction of the new Omega Speedmaster Professional Master Chronometer in January 2021, it has all become a little bit easier, in my opinion. Omega reached back to the design of the earlier Speedmaster Professional models (of the 4th generation, to be precise). The 42mm case is inspired by the Speedmaster Professional 105.012. It is easily identified by the double bevel case back. There's also the dial and hands that have changed. Better still, the Speedmaster returns to its former glory, welcoming back the step dial, the Dot-Over-Ninety bezel, and drop-counterweight second hand. Omega's Speedmaster bracelet also received an update and is now closer to the much-praised reference 1479 (and older 1116, for example). In all fairness, today's build quality of the bracelet is much better than those former references.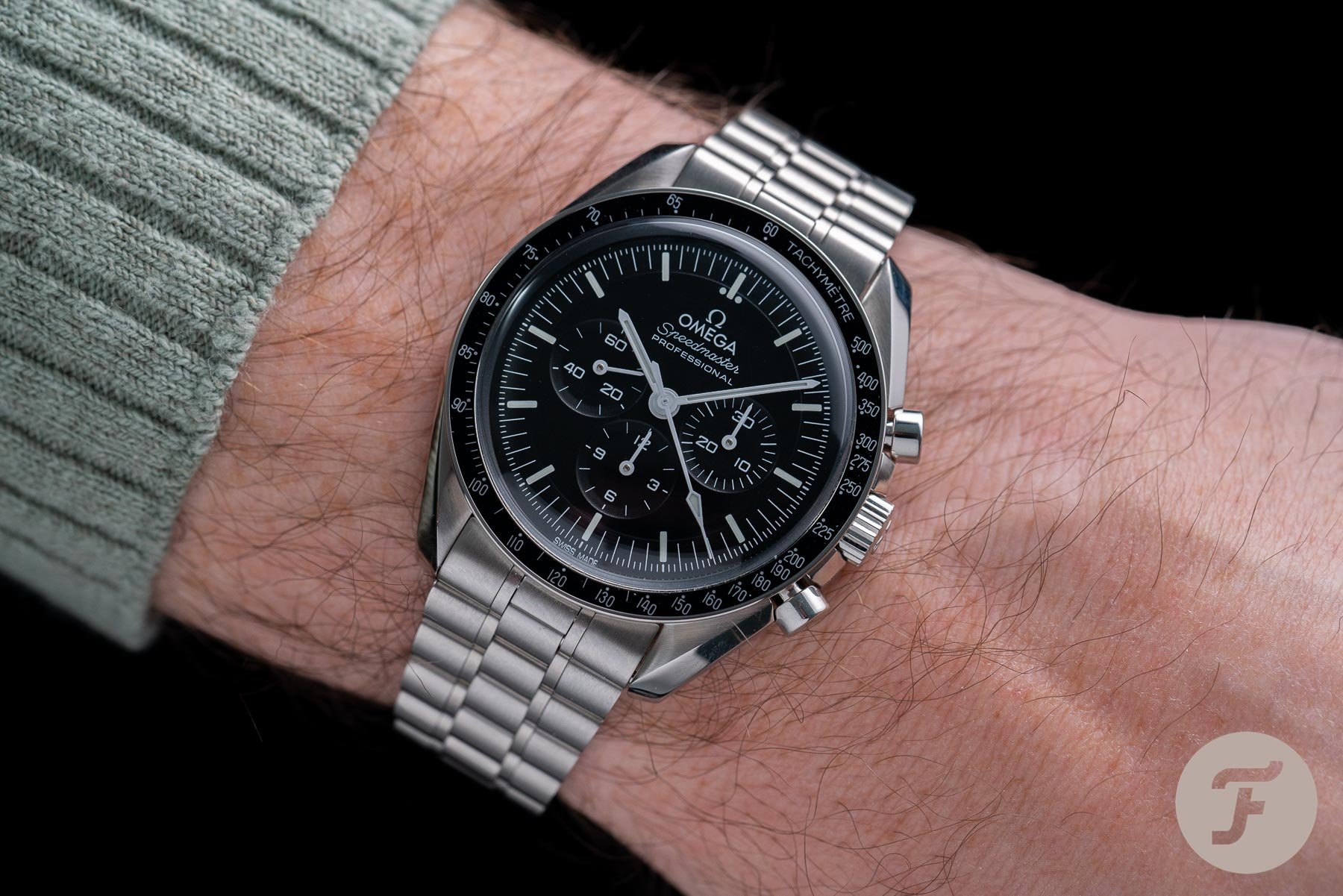 Aside from aesthetics, the movement also received an update. It can only be admired if you go for the sapphire crystal version of the new watch, which also comes with an applied Omega logo on the dial instead of the printed one. If you go for the Hesalite crystal version, the case back is stainless steel and has the engraving "Flight Qualified by NASA in 1965 for all manned space missions".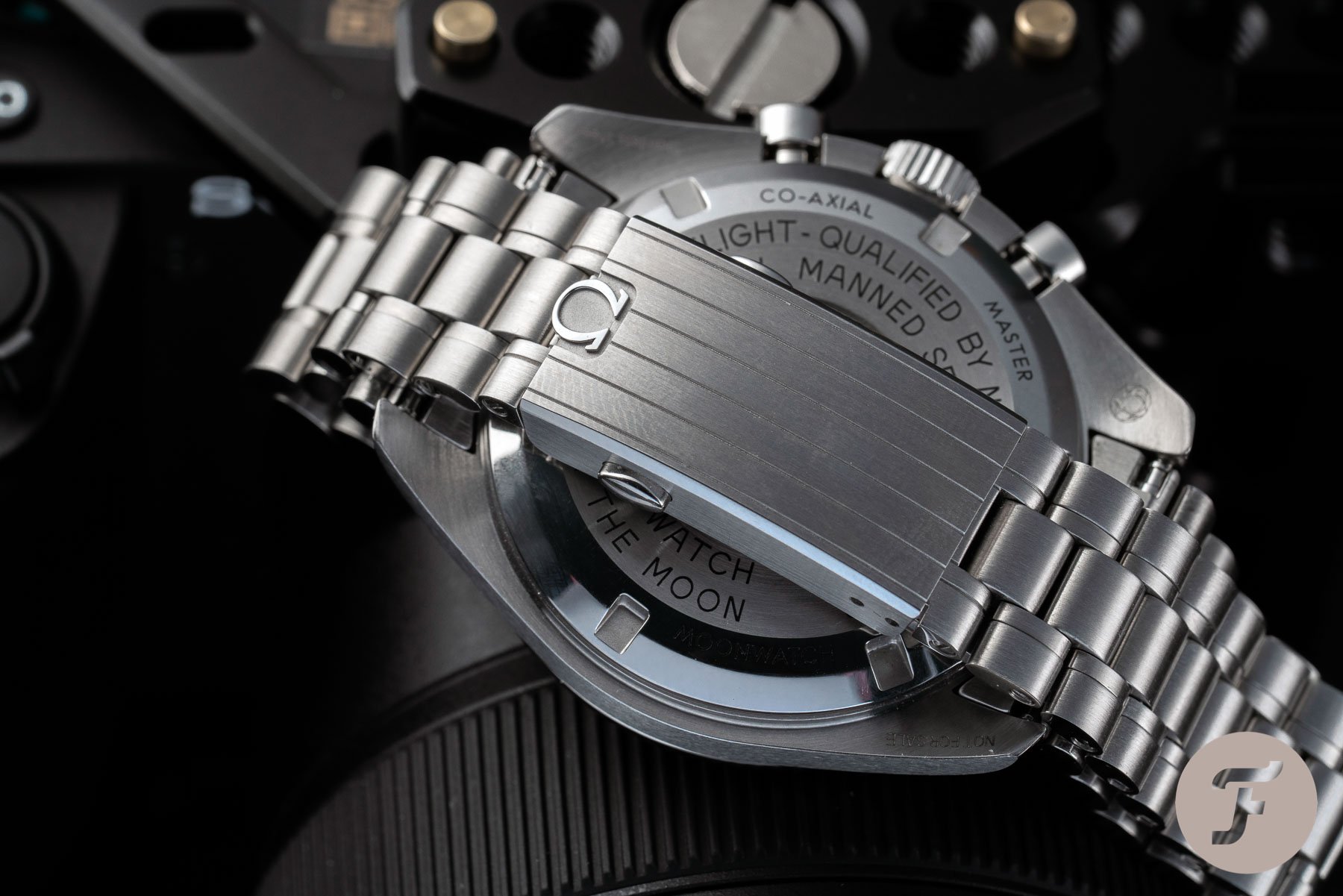 Whatever version you choose (including the two gold references), inside is caliber 3861. This movement could also be found on the Apollo XI 50th anniversary limited editions that Omega introduced in 2019, and in the Silver Snoopy Award 50th anniversary introduced in 2020. It is a Master Chronometer certified (by METAS) movement, meaning it is anti-magnetic to >15,000 gauss and has an accuracy of +5/0 seconds per day on average, and a Co-Axial escapement. You can read all of this back in this article.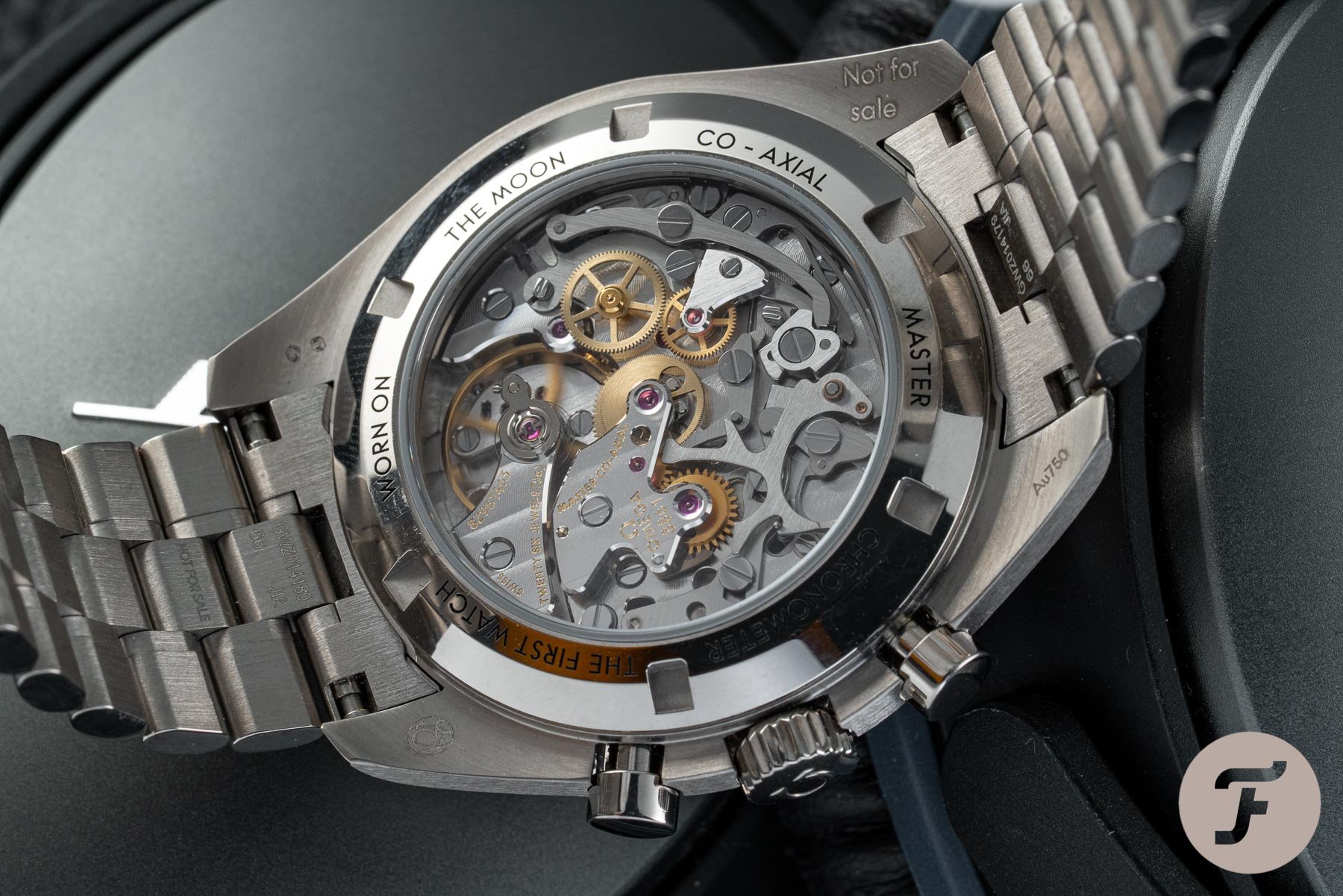 This new Speedmaster Professional Master Chronometer combines the latest technical innovations and standards by Omega with the aesthetics of some of its heritage models. There's not much out there, including outside the Omega catalog, that can beat it at this price level.
The new Speedmaster Professional Master Chronometer 42mm starts at €5,900 with a fabric strap (reference 310.32.42.50.01.001), but I always suggest going for the version with the stainless steel bracelet (reference 310.30.42.50.01.001) which retails for €6,200. If you want to see the movement, have a sapphire crystal, and applied Omega logo on the dial, prepare to spend €7,100.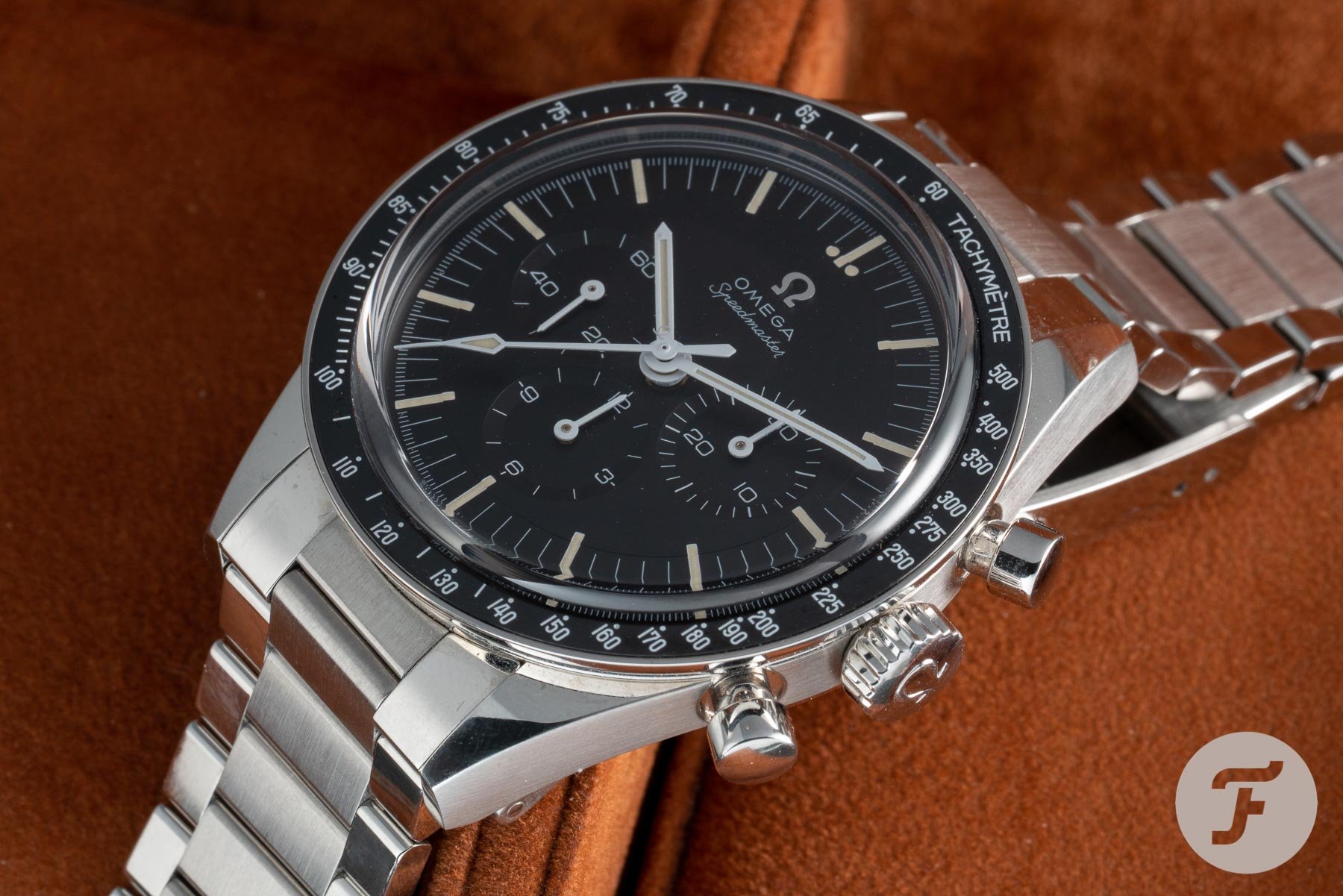 Buying the Omega Speedmaster Calibre 321
If the normal Omega Speedmaster Professional Moonwatch Master Chronometer is a bit too plain for you. There are a few alternatives out there. One of them is a watch that I keep in my unofficial rotation scheme when it comes to Speedmasters: the Speedmaster Calibre 321 reference 311.30.40.30.01.001. Well, there's only one reference to this watch, so you don't have to write it down or — God forbid — remember it.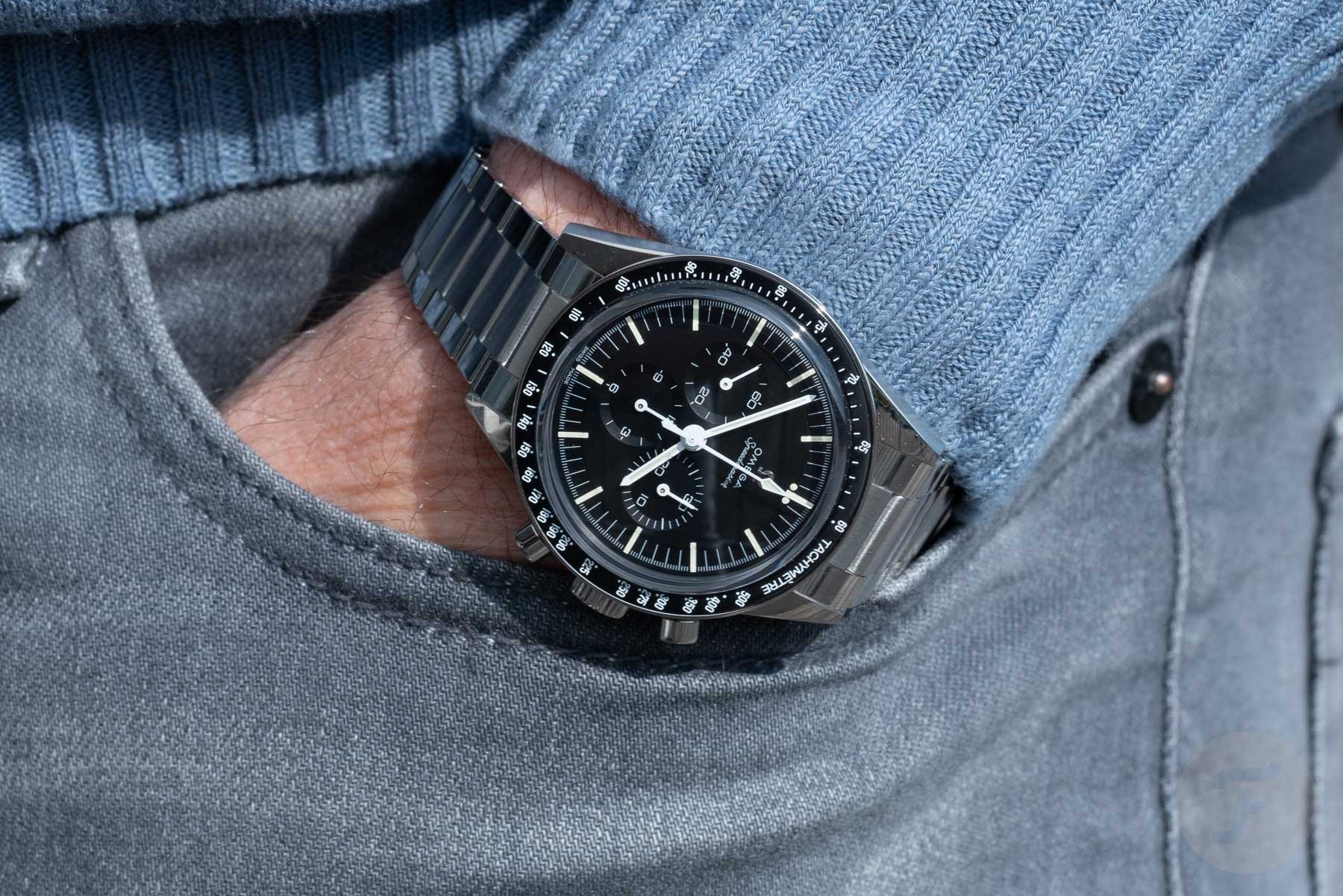 It's a 39.7mm case diameter Speedmaster, based on the third generation of the Speedmasters (reference 105.003). This model is also known as the "Ed White". White was the astronaut who wore it in space during his EVA (Extra Vehicular Activity) during the Gemini IV mission in 1965. He actually wore two of them, as you can read here.
The epitome of Moonwatch models?
This watch is very true to the original 105.003. Besides the re-creation of the iconic caliber 321 movement, it also has the same case dimensions and finishing, the same design for the dial and hands, and the same style bracelet. But, of course, with a modern twist. The Speedmaster Calibre 321 has a sapphire crystal, uses Super-LumiNova, and has a sapphire crystal case back to display the beautiful column-wheel chronograph movement. We covered this Speedmaster Calibre 321 quite extensively here on Fratello, including a long-term review. The price is €14,000.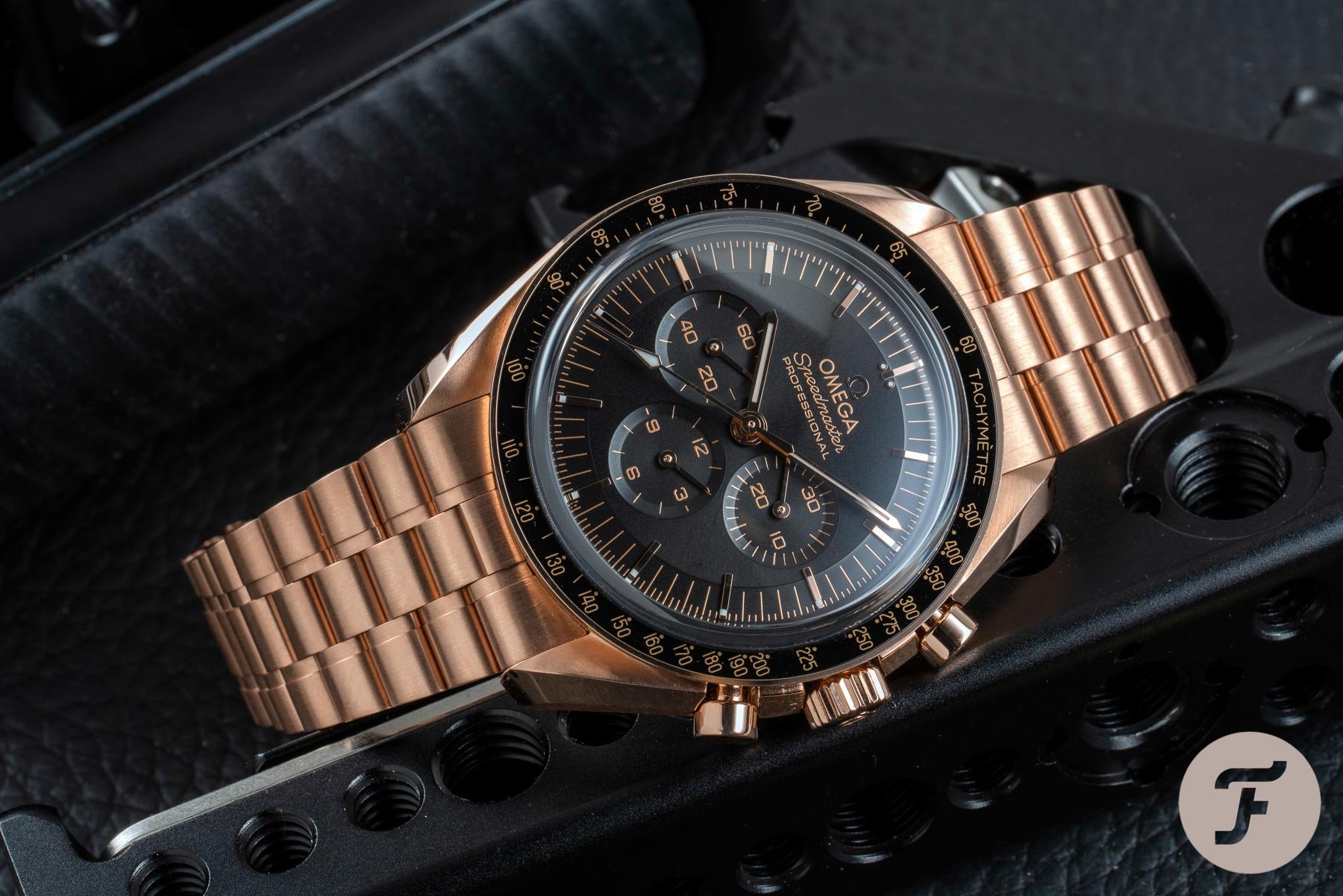 Buying a gold Omega Speedmaster Professional Moonwatch
Ever since I got my first Speedmaster Professional in 18ct gold in 2014, I am hooked. Although purists might be of the opinion that a sports watch (or tool watch) should never be in precious metal, I think it can also be seen as a homage to the Speedmaster. The first Speedmaster Professional to appear in gold was the reference BA145.022-69, with a red bezel. It was presented to members of the White House and some of the NASA astronauts in November 1969 during a banquet in Houston. Since then, Omega has created a number of gold Speedmasters, but mainly as limited or special editions.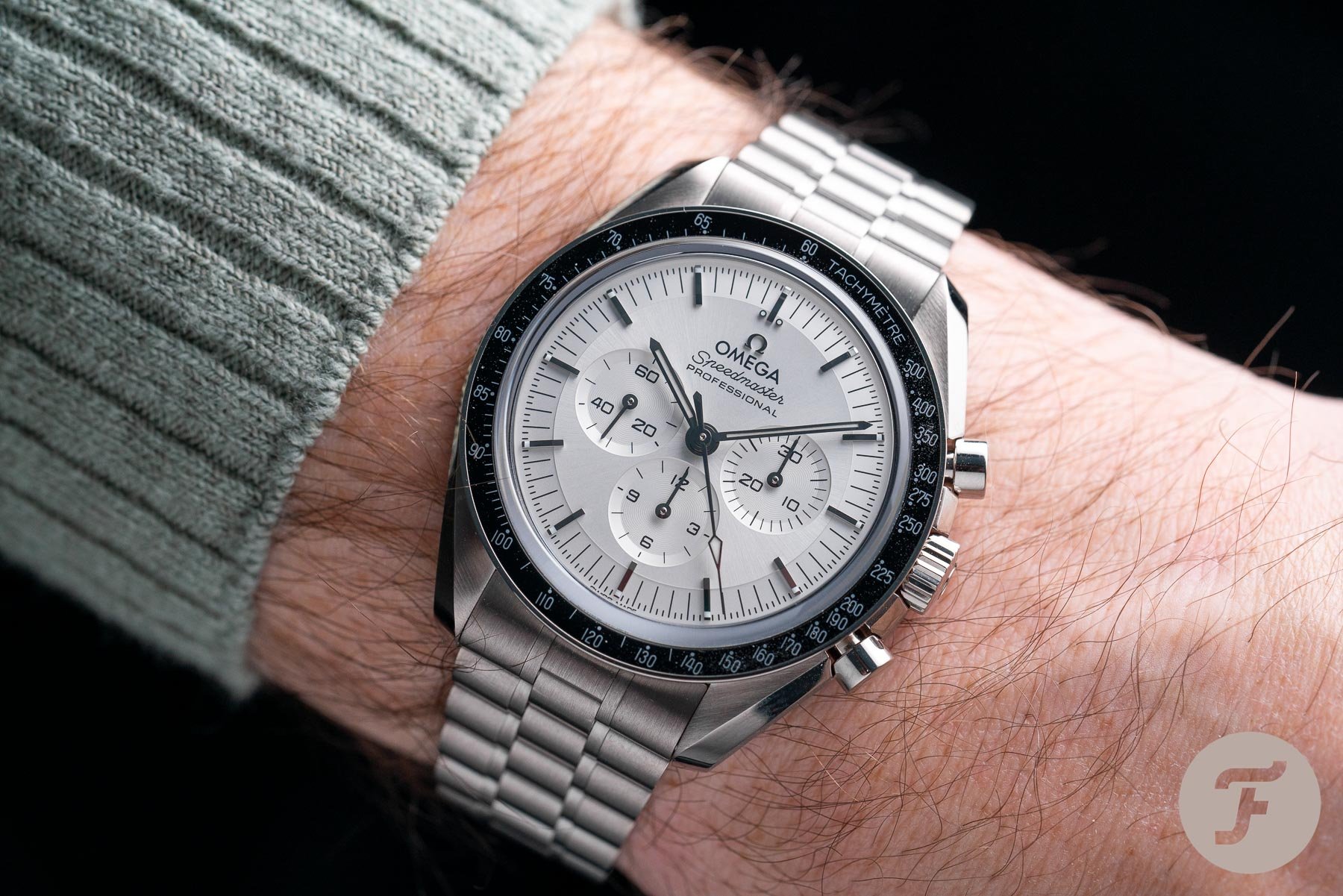 Sedna and Canopus gold
The standard Moonwatch in gold has been discontinued since 2012 but earlier this year, Omega introduced two new Speedmaster Professional watches in precious metal that will be in the regular collection. The Sedna (Omega's own rose gold alloy) gold 42mm Speedmaster Professional Master Chronometer with reference 310.60.42.50.01.001 is available for €34,600 (and €24,500 on leather strap, being reference 310.63.42.50.01.001). My favorite, however, is the white gold (Omega calls its white gold alloy "Canopus") version of the Speedmaster Professional Moonwatch, reference 310.60.42.50.02.001 that has a price tag of €45,100 (and €30,200 on a leather strap, reference 310.63.42.50.02.001).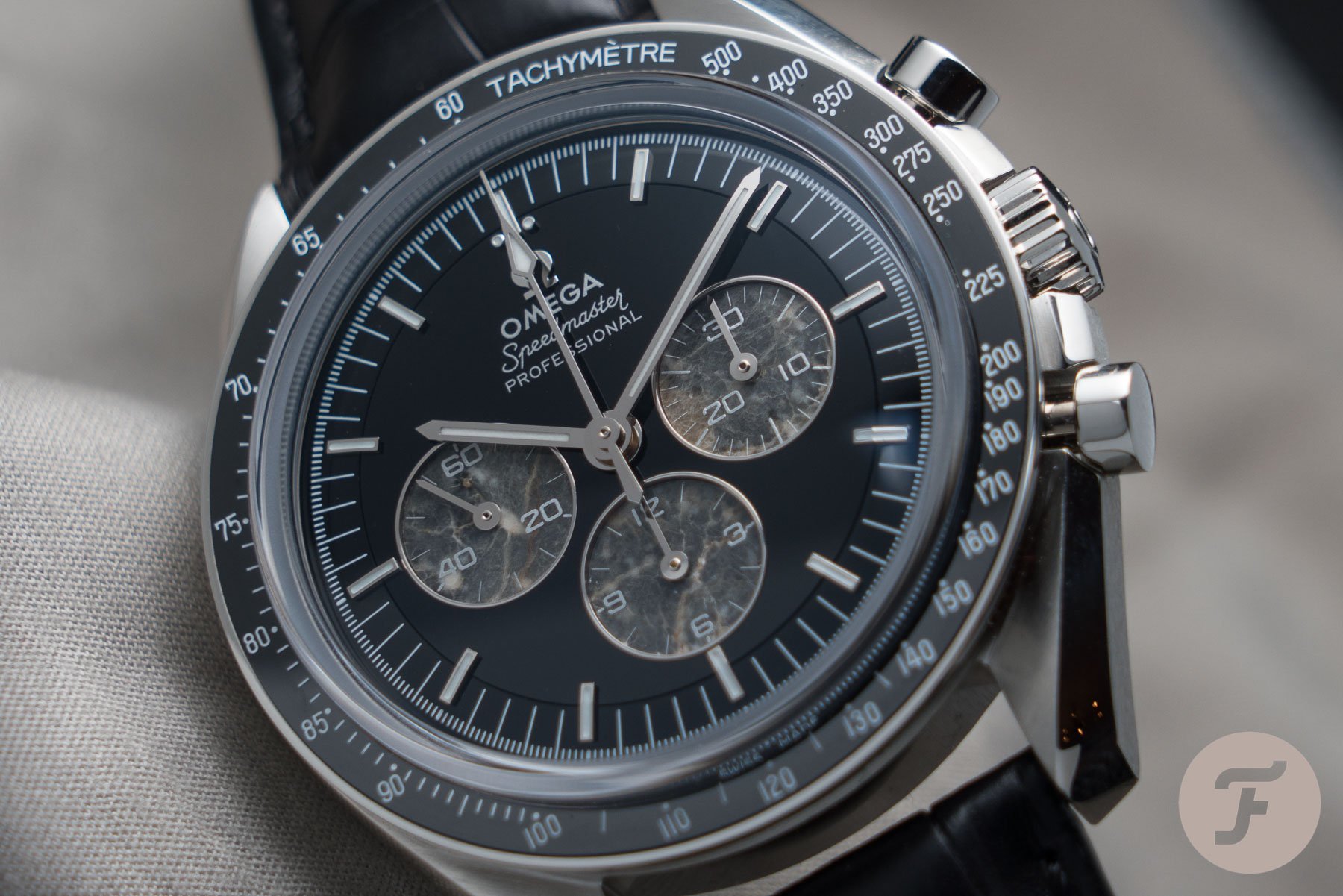 Buying a platinum Omega Speedmaster Professional
The cream of the crop is probably this platinum Speedmaster Professional with caliber 321 movement. It was the first Speedmaster to appear again with the iconic column-wheel chronograph movement back in 2019. To make sure it is something special, Omega housed it in a platinum 42mm Moonwatch case, with an onyx dial with meteorite sub-dials. For many Speedmaster enthusiasts, this is the grail watch.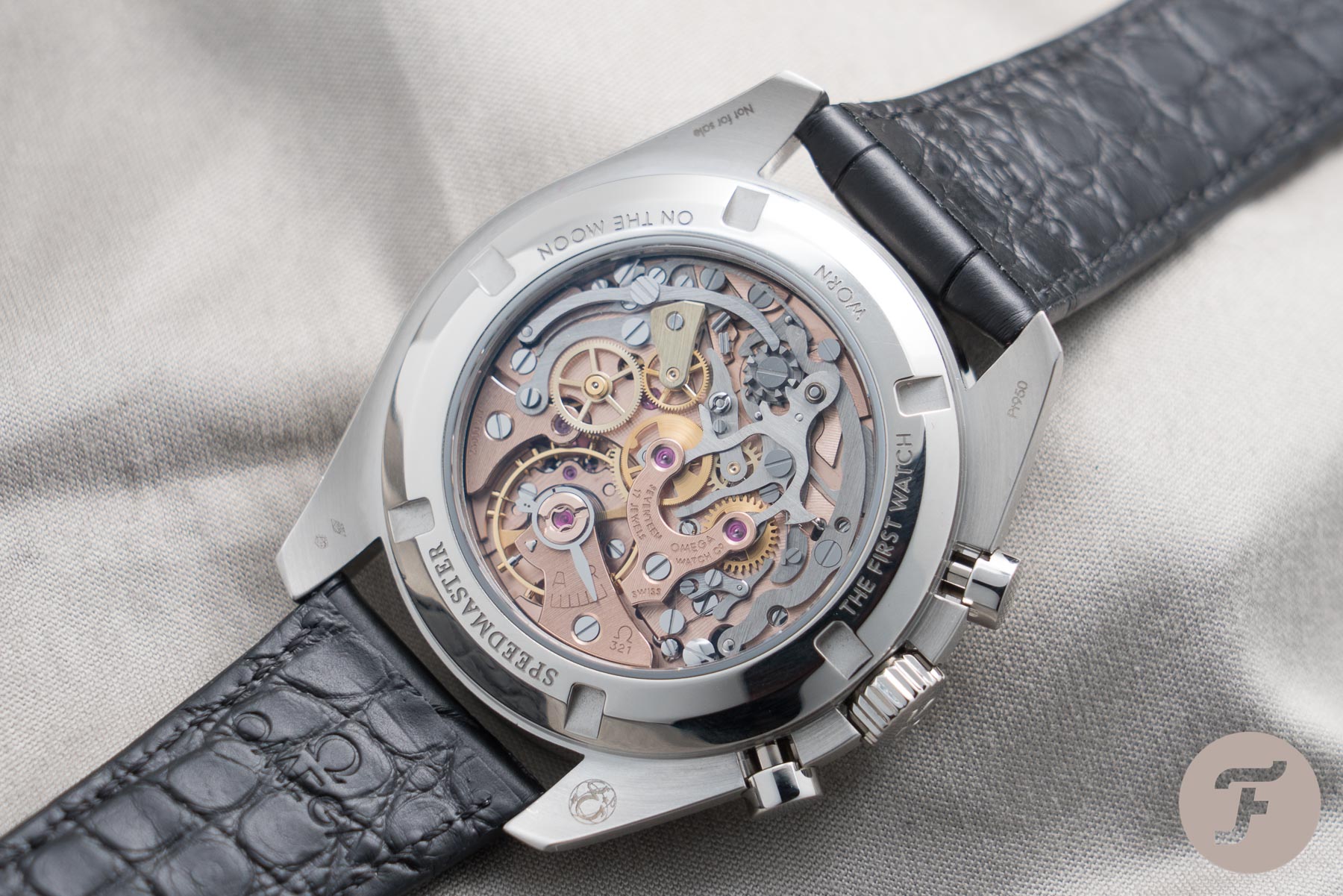 With a maximum production capacity of approximately 2,000 calibre 321 movements, only a few will end up in the platinum Speedmaster Professional reference 311.93.42.30.99.001 with a retail price of €59,200.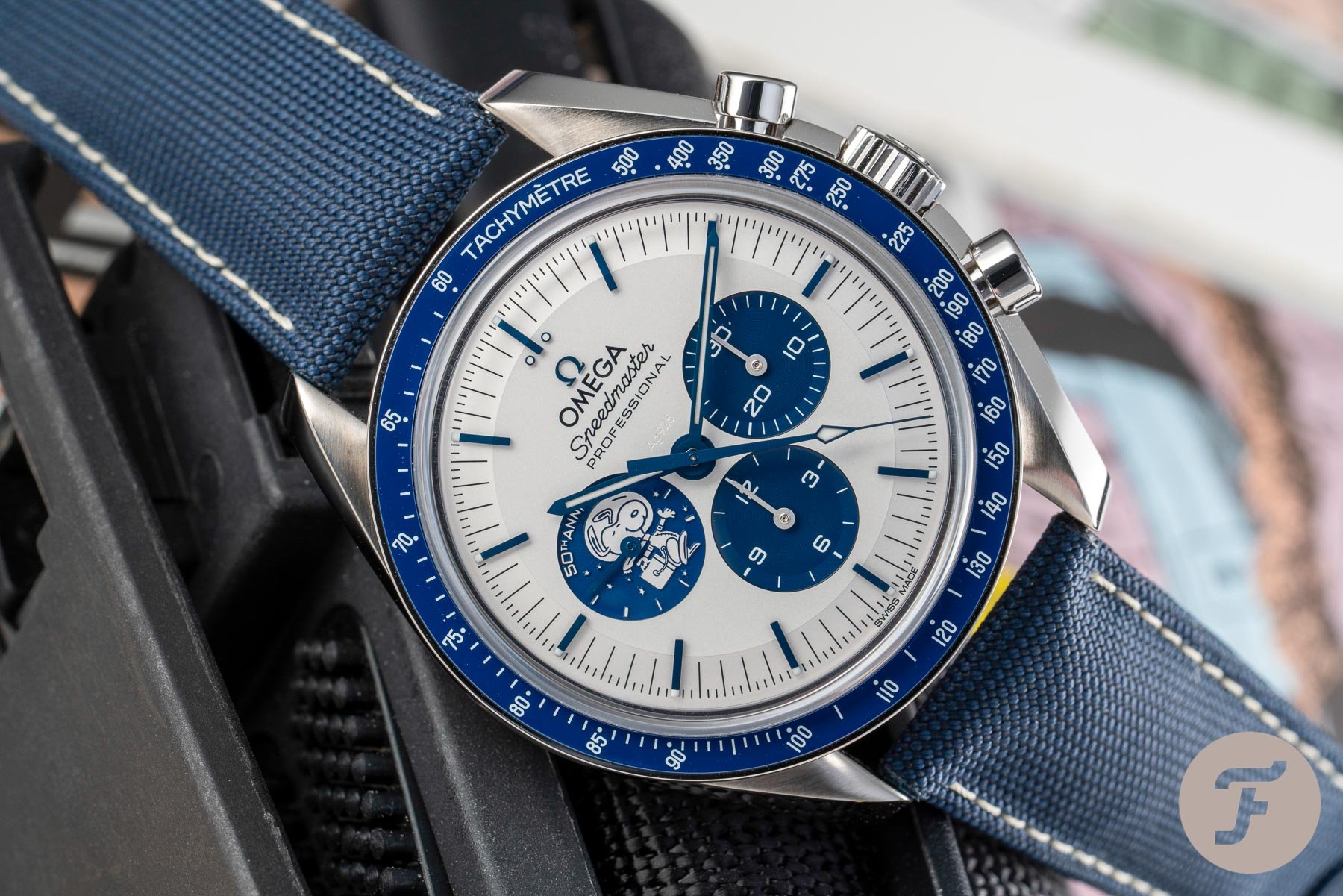 Buying the Omega Speedmaster Silver Snoopy Award 50th Anniversary
Instead of Speedmaster Limited Edition watches, Omega started to produce watches that will be produced in limited but unnumbered quantities. The Calibre 321 versions are an example of that strategy, but so is the Speedmaster Silver Snoopy Award 50th anniversary watch.
The 3rd Speedmaster Snoopy watch, and the 4th Apollo 13 related watch that Omega did since 1995. The Speedmaster Snoopy has always a bit somewhat polarizing, as not everyone is up to have a comic character on the dial of a luxury watch. Even when they are aware of the story (which you can find here) of Apollo 13 and the "Snoopy Award" being the highest award NASA gives to staff and contractors, they just don't want it.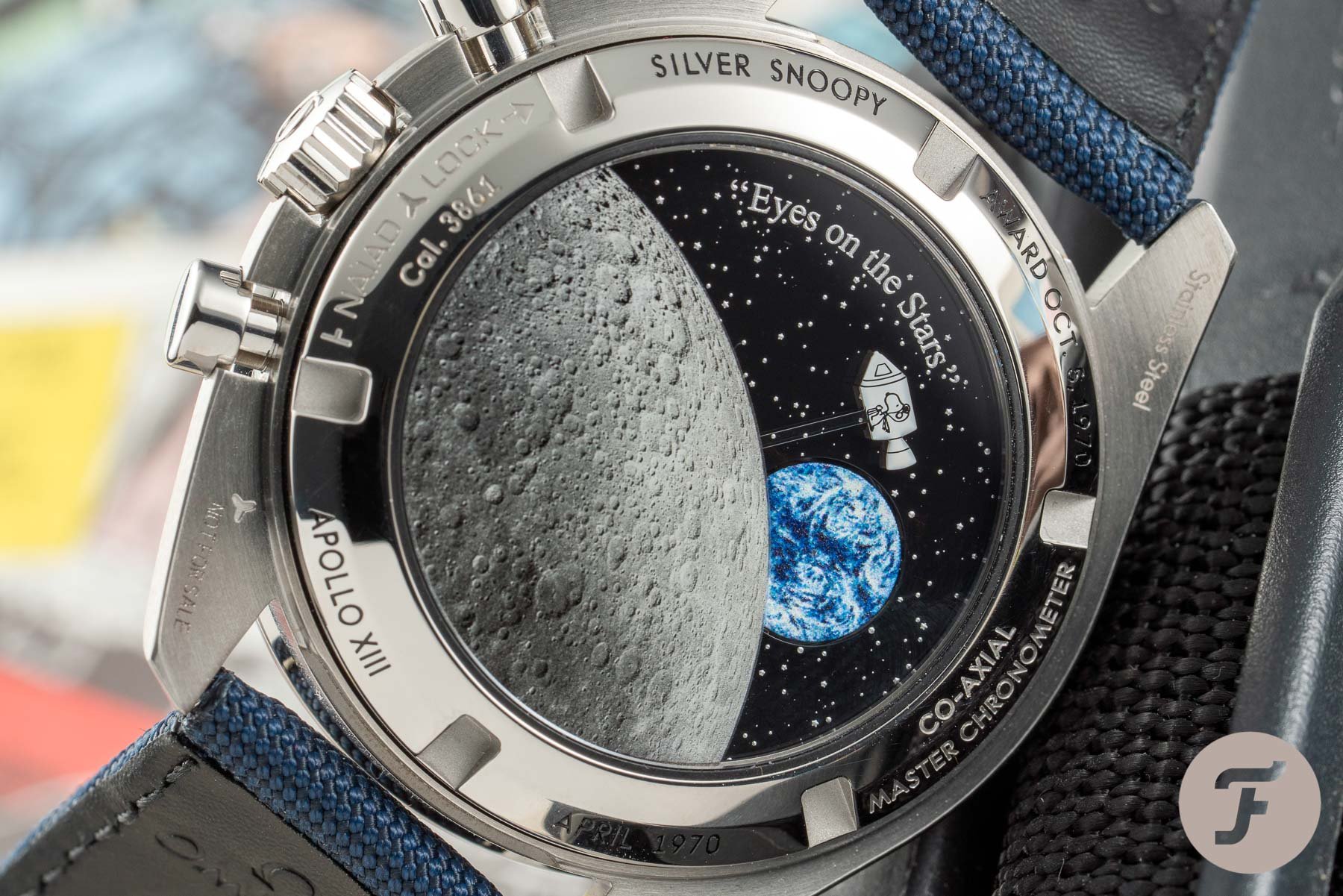 Non-limited edition waitlist
But there are enough that do, myself included. The Speedmaster Silver Snoopy Award 50th Anniversary was introduced last year, on October 5th (the exact day that Omega received NASA's award in 1970) and the watches are (slowly) being delivered to the markets. There's no official number or production period communicated, but it seems everyone who wants one is afraid Omega will stop production at some point.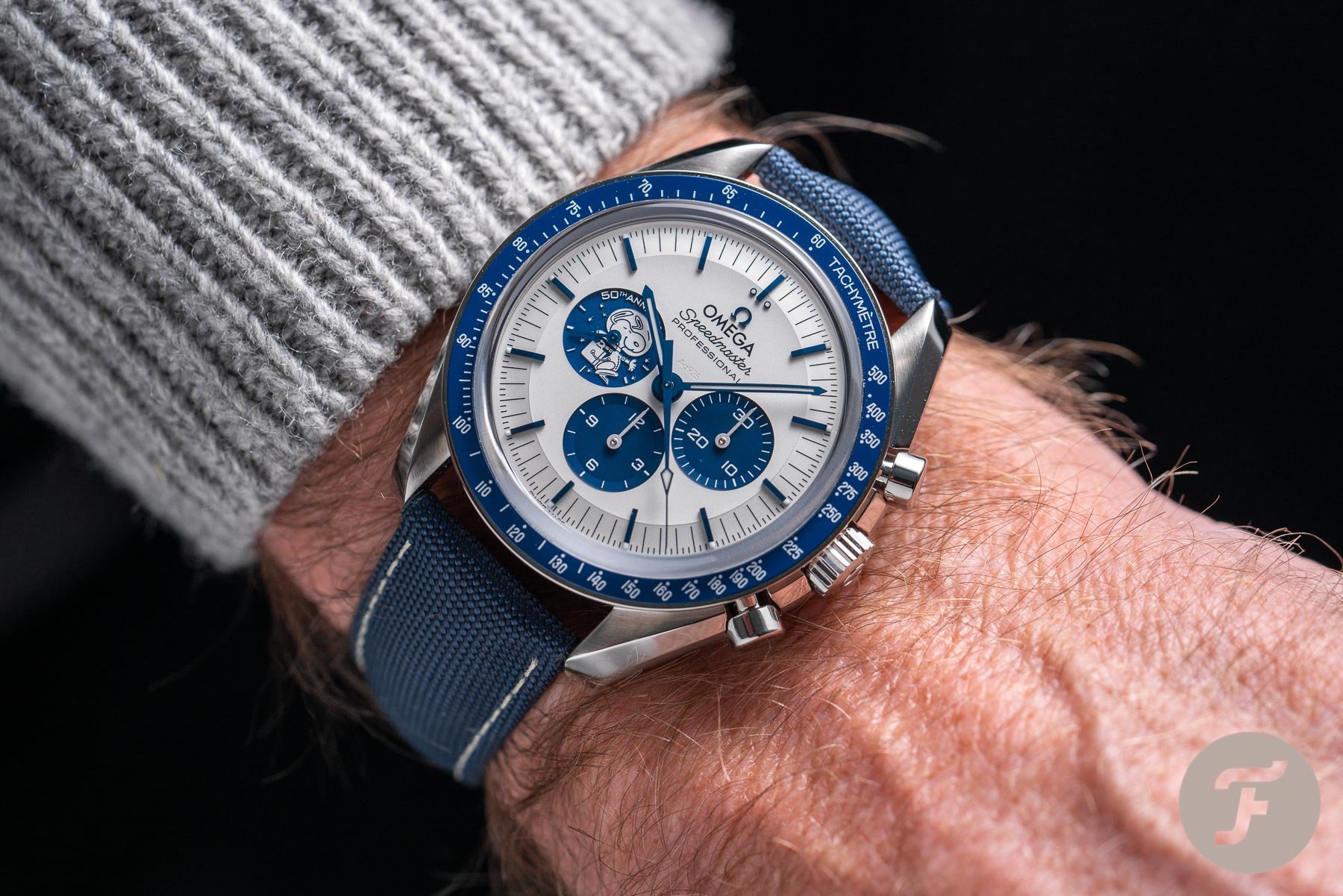 And they might be right. This Speedmaster Professional is powered by the aforementioned caliber 3861 and features a wonderful "automaton" on the case back. The price of the Speedmaster Silver Snoopy Award reference 310.32.42.50.02.001 is €9,600. Expect a proper waitlist period though.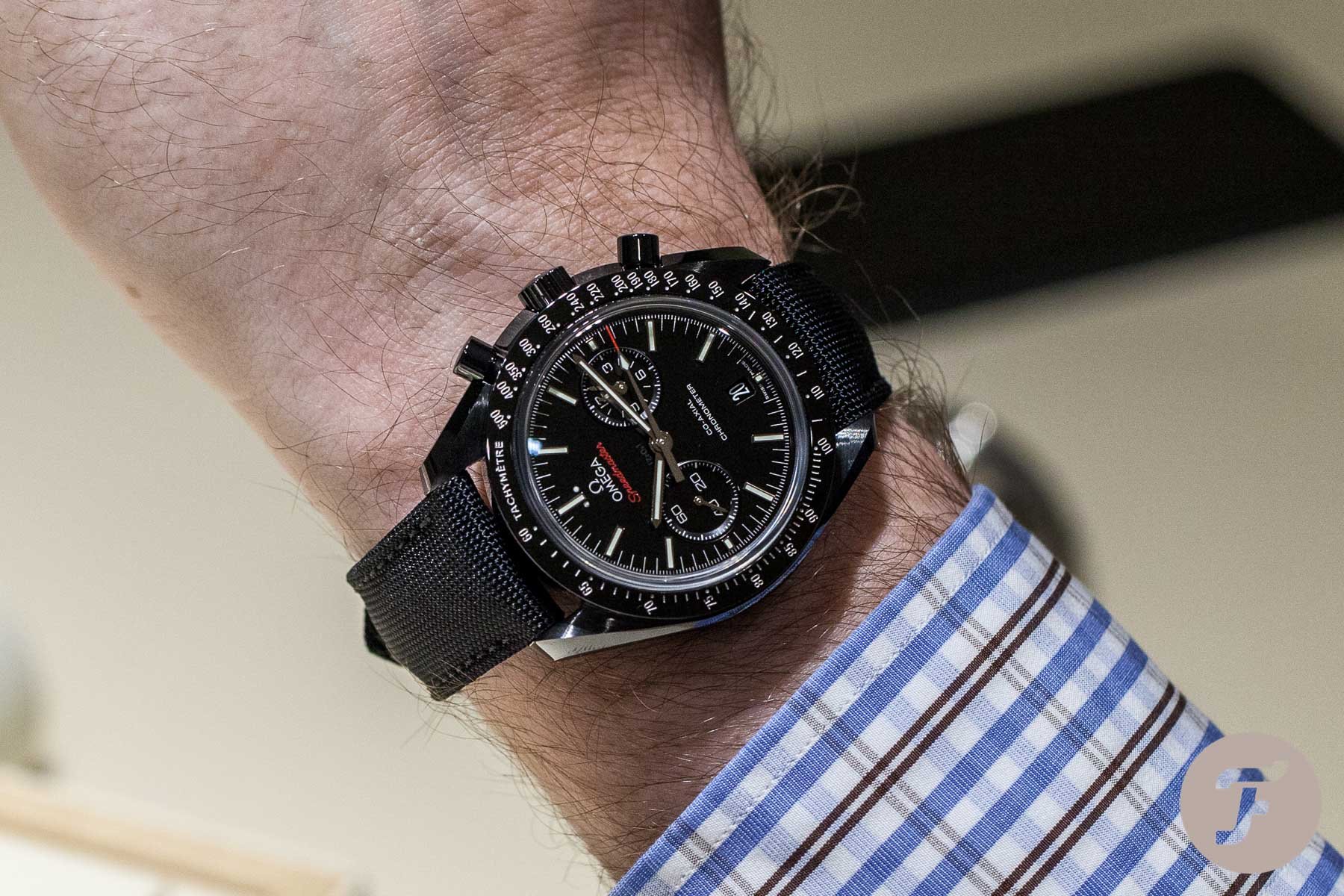 Some interesting alternatives from the Speedmaster collection
Aside from going vintage Speedmaster or perhaps chase one of the discontinued (limited edition) Speedmaster watches, Omega also has some other interesting new Speedmaster models to offer in its catalog. As I mentioned above, the 44.25mm Speedmaster Dark Side of the Moon is something I've enjoyed wearing a lot.
Speedmaster Dark Side series
I am still after one of the first Speedmaster Dark Side of the Moon watches (I wrote about it here), as it was introduced in 2013. I also like the Apollo 8 and Grey Side of the Moon variations a lot, but if those aren't for you, there are the "Pitch Black", "Black Black", "Vintage Black", "Sedna Black", "Alinghi", "Meteorite" and "White Side of the Moon" editions that you might enjoy more than I do. All fantastic watches, it is just a matter of taste. The standard Speedmaster Dark Side of the Moon is reference 311.92.44.51.01.003 and has a retail price of €10,800. Inside these models is Omega's caliber 9300 movement. Except for the Apollo 8 version, which has a specially decorated version of the famous caliber 1861 (dubbed caliber 1869).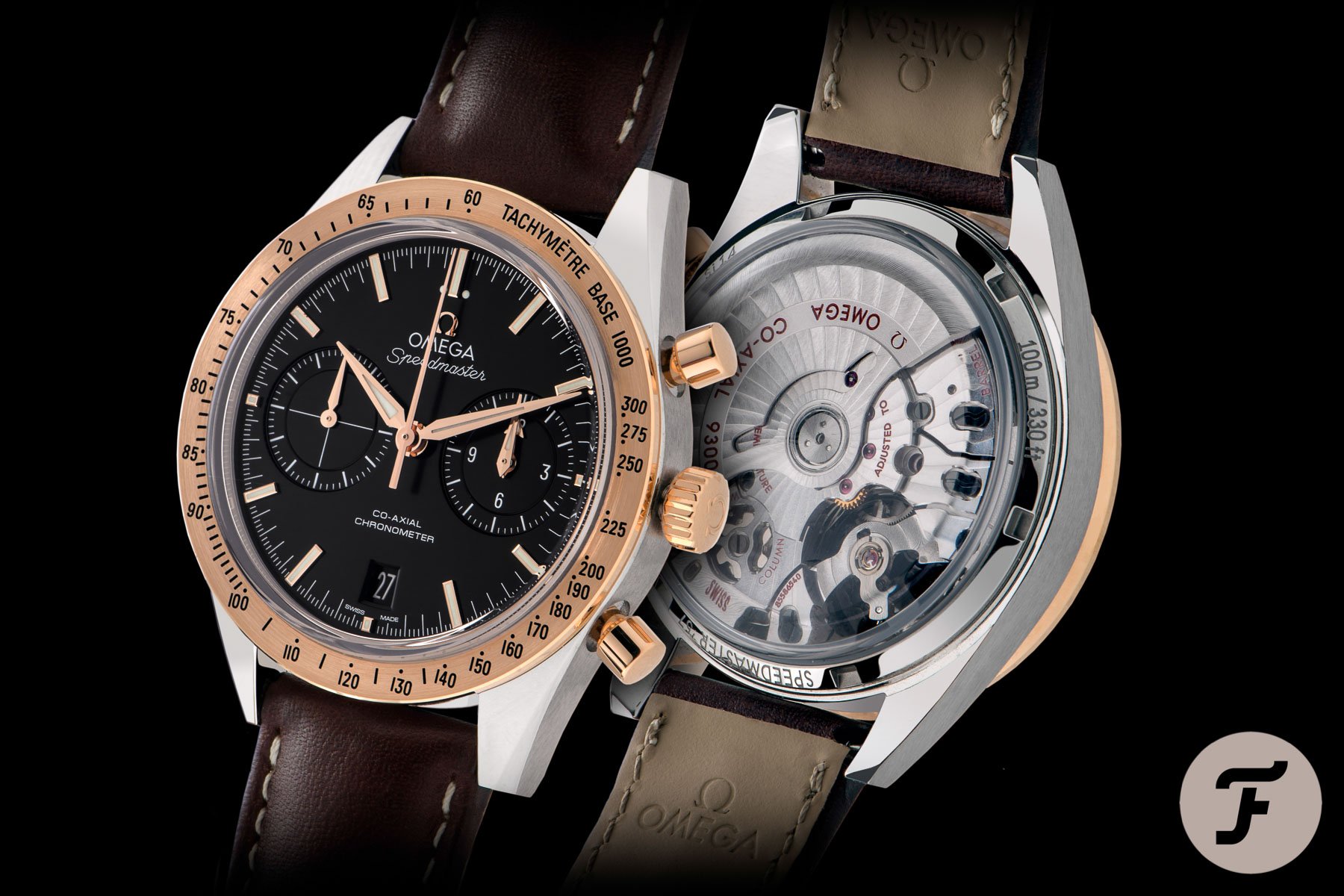 Speedmaster '57
Another collection using the self-winding caliber 9300 Co-Axial movement is the 41.5mm Speedmaster '57 Co-Axial collection. Inspired by the first Speedmaster CK2915 with its broad arrow hands, but using modern technology.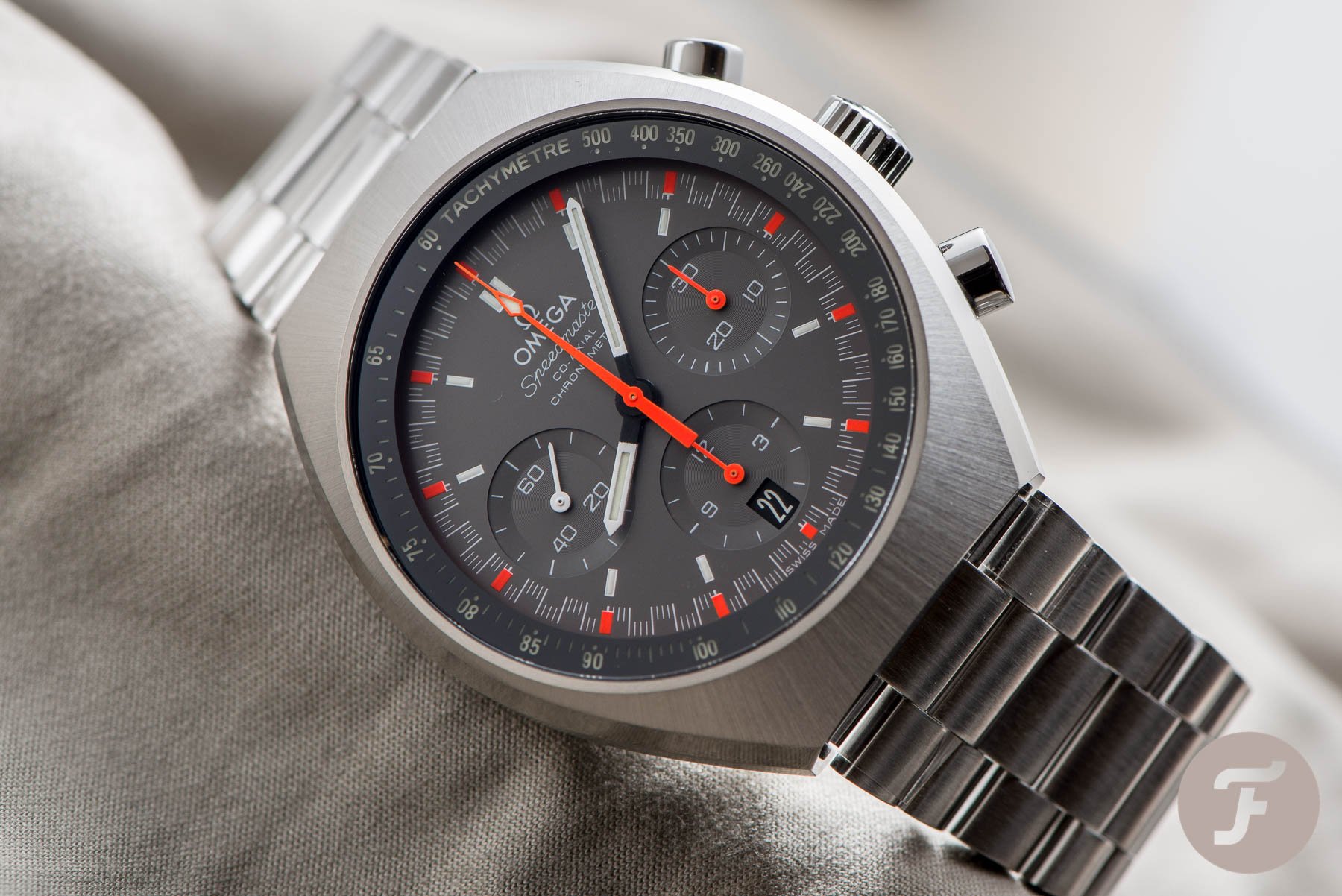 Buying a new Omega Speedmaster Mark II
Last but not least, let me make you aware of the Speedmaster Mark II re-edition that Omega introduced a few years again. It is still in the current collection, and it's based on the original Speedmaster Professional Mark II (145.014) that was introduced in 1969, powered by the hand-wound caliber 861 movement.
It was available in a normal version with a black dial and white printing, and a "Racing" edition using red and orange on top. The same applies to the current collection, and Omega added a bi-color edition as well. These models are all powered by Omega's caliber 3330 chronograph movement and start at €5,600.
Buy what you like best
As always, don't pick a watch to please others, or the general opinion of the great leaders of the internet, but buy what you like best! With the new Omega Speedmaster Professional Master Chronometer, you can't go wrong, you just need to decide whether you want to have an applied logo and see-through case back or not. If you're fortunate enough to choose something in precious metal, I wouldn't hesitate, it just needs to fit your life(style).
More information via Omega's official website or check our dedicated Speedy Tuesday section here.