Zelos Drops Its New Spearfish Dive Watch Featuring A Brand-New La Joux-Perret Movement
Zelos takes a big step up in quality and refinement with its latest offering
You may have recently read my collector's week article from last weekend. If you did, you'd know that I got into this hobby by collecting microbrands, and I still follow the microbrand sector very closely. Why? Well, there are some great brands out there making excellent watches and having a positive impact on the industry as a whole. One of those brands is Zelos. Today, I am looking at the Zelos Spearfish, the latest model in its collection with an exciting new movement.
When it comes to microbrands, Zelos is one of the more prominent names in the game. The Singaporean brand has built up a very loyal following over the years, and many collectors have built up vast collections of Zelos watches. It helps that Zelos does a few things very well. Firstly, it builds good-quality watches with bold, eye-catching dials and materials at affordable prices. Secondly, Zelos founder Elshan Tang has developed a reputation as one of the most customer service-focused brand owners out there. I genuinely don't think I have ever read one single bad thing about the brand in that regard. In this industry, that's practically unheard of…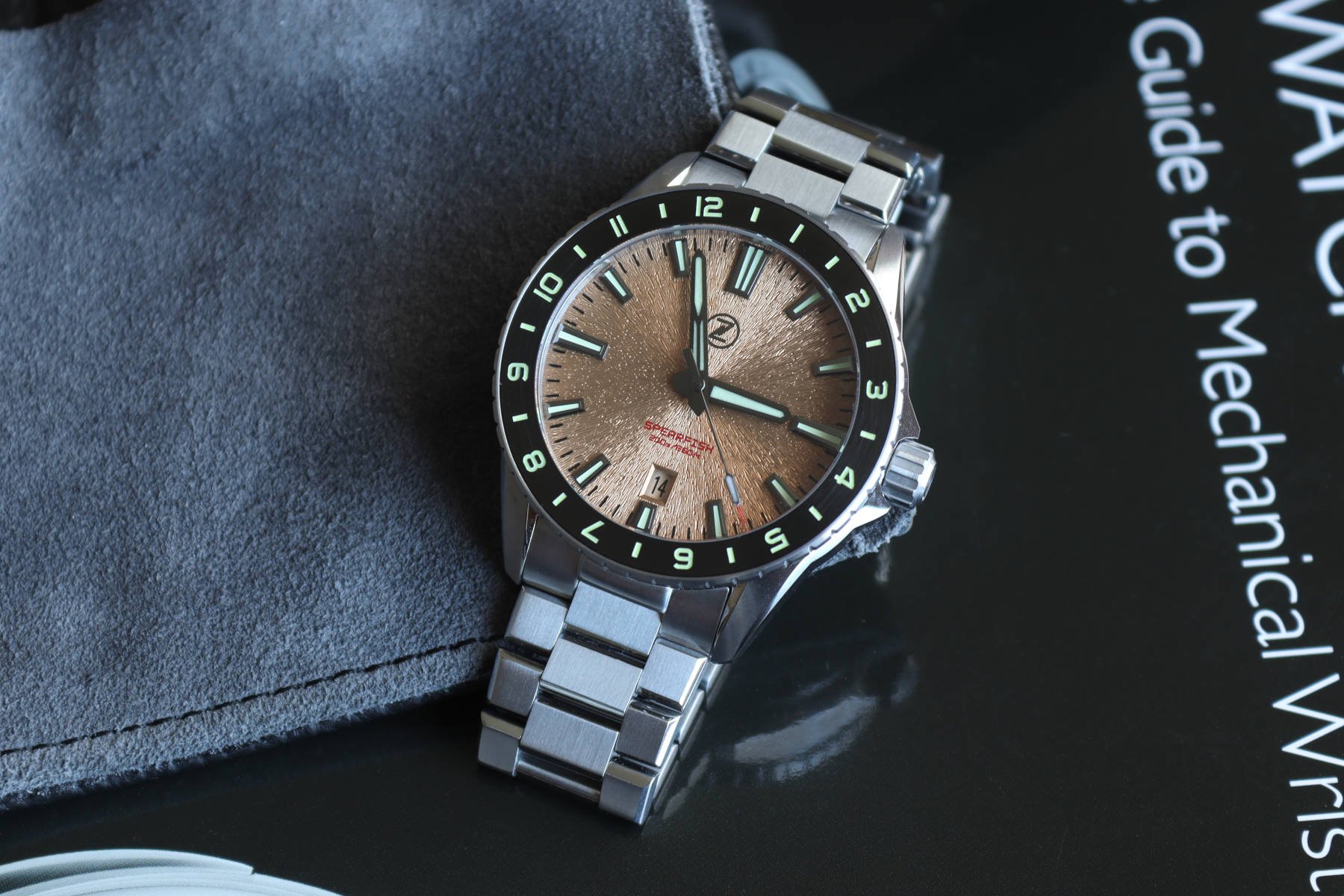 Enter the Zelos Spearfish
I have previously written about my Zelos Swordfish 40 Crystallized Titanium. The Swordfish is the "basic" dive watch in the Zelos collection. It's one of the brand's entry-level collections, but that doesn't mean that the quality is not excellent. I was impressed with the build quality, and I still own and enjoy that watch. So, I was intrigued when Elshan mentioned that he had a new, updated version of the Swordfish in the works with a new movement, a slimmer case, and upgrades to the finishing. Enter the Spearfish, the watch I have before me today.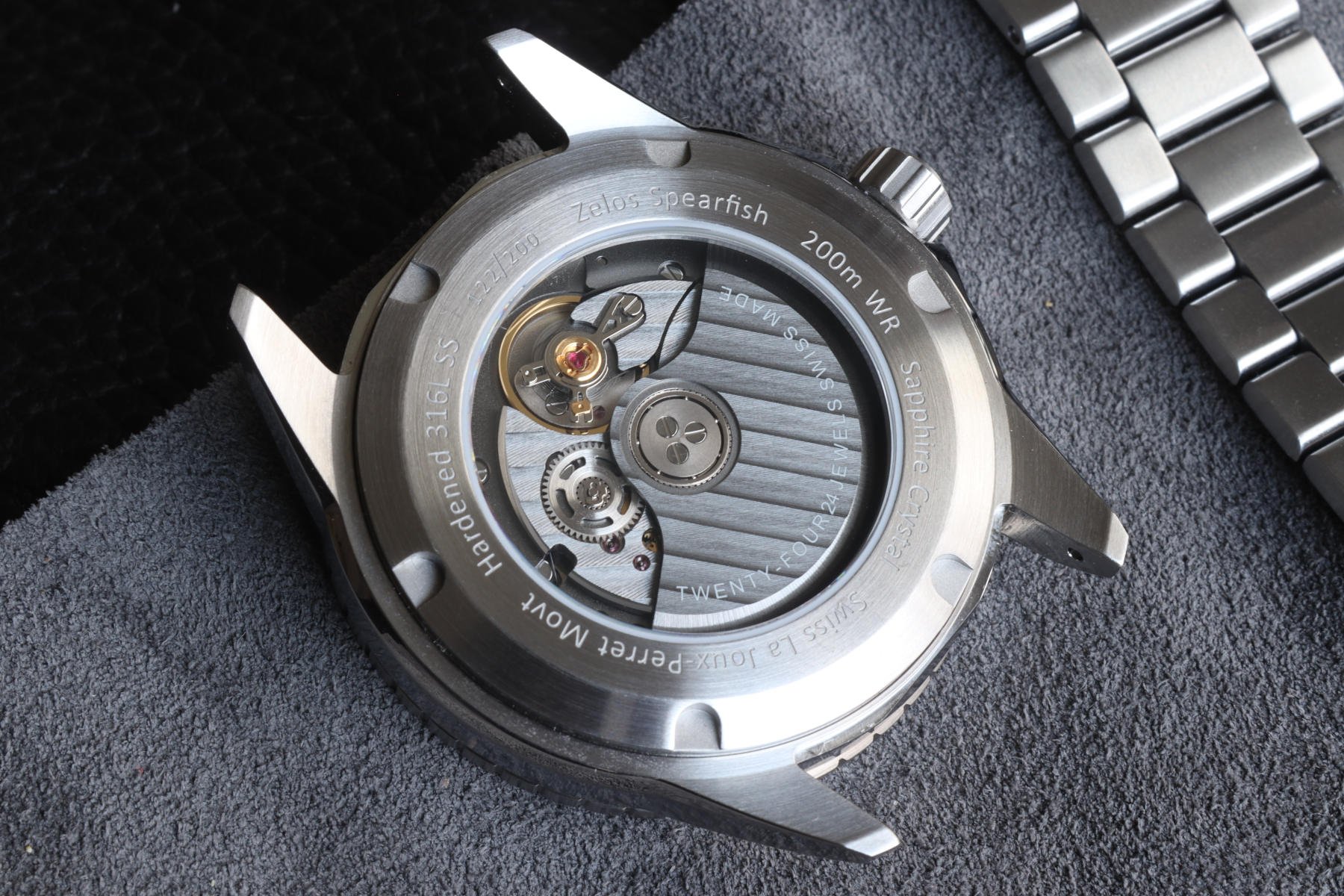 Introducing the brand-new La Joux-Perret G100 movement
I've been wearing the Swordfish now for about seven days straight. I don't usually get the luxury of wearing review watches for that long, but I asked Elshan if I could borrow it for a bit longer as I wanted to get to grips with the movement. I don't usually spend too much time writing about movements in microbrand watch reviews. Most microbrands stick to the classic stable of movement manufacturers that we all know very well — ETA, Sellita, Miyota, Seiko, and the like. This is where the Zelos Spearfish takes a different path.
Eschewing its usual Seiko NH35, the Zelos Spearfish uses a brand-new movement from La Joux-Perret. This isn't Zelos's first dabbling with the premium movement manufacture. It's previously called upon La Joux-Perret calibers in both of its high-end Mirage watches, namely, a tourbillon and a skeletonized, hand-wound, eight-day movement. However, for the Spearfish, Zelos is turning to the manufacture's brand-new three-hand movement, the G100. La Joux-Perret designed this movement to be a direct competitor and drop-in replacement for the ETA 2824 and Sellita SW-200. So, how does it match up?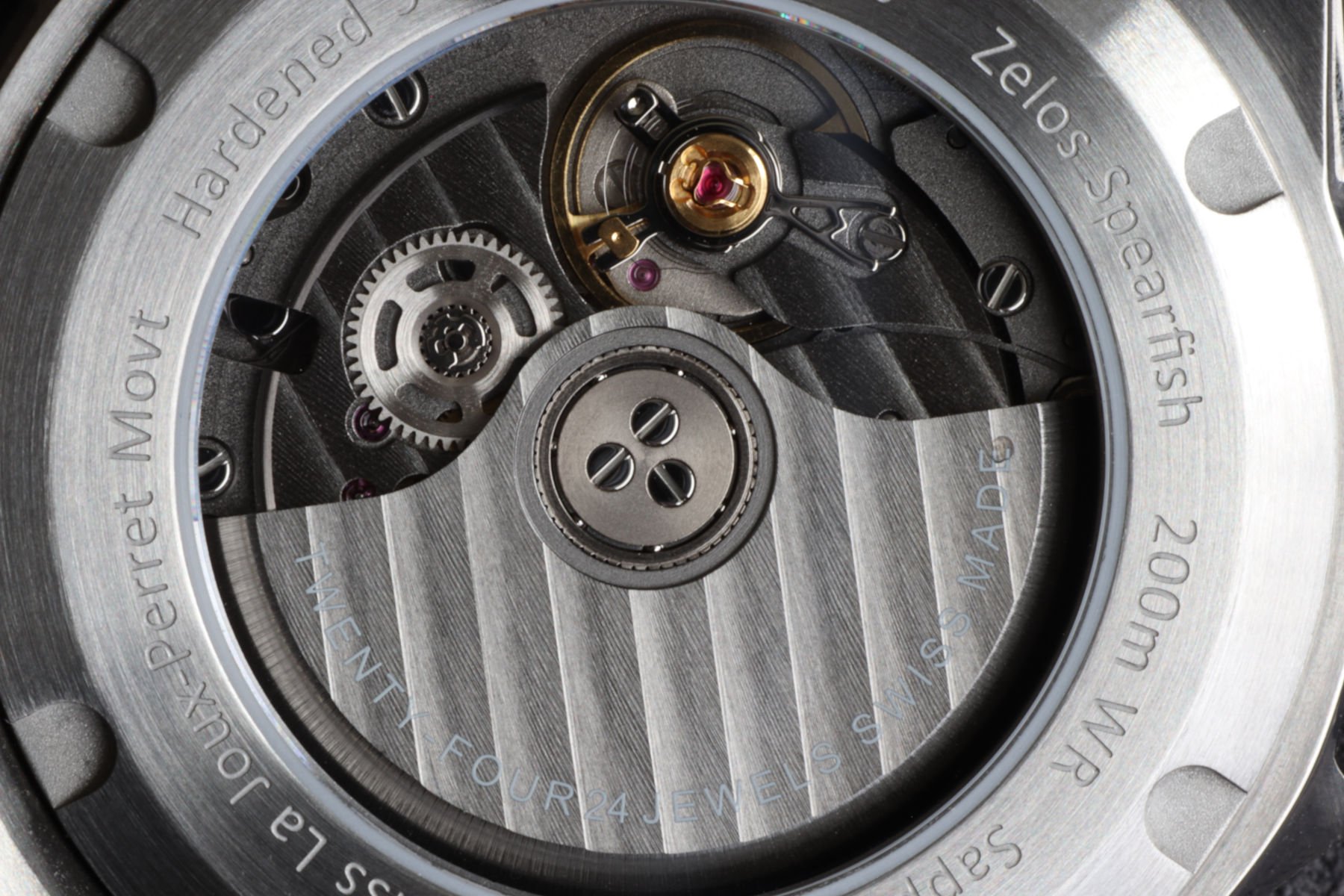 Does it look familiar?
At present, there's very little solid information out there on the new G100 movement. La Joux-Perret itself is yet to update the catalog on its website. Thankfully, The Naked Watchmaker did a stripdown analysis of the movement that helps give us a little more profound insight. I highly recommend you give that article a read here.
Just looking at the movement, I believe it may be built around Miyota's 9-series architecture. If that seems a little peculiar, you have to remember that the Citizen Group owns both Miyota and La Joux-Perret. La Joux-Perret's movements are usually a lot higher in price, so by using the Miyota-owned architecture as a starting point, the manufacture would be able to tweak and improve it while saving a lot in development costs. This would enable La Joux-Perret to produce a movement that can compete with the ETA and Sellita on price as well as performance. I can't confirm the above suspicions, and I doubt that either La Joux-Perret or Miyota would confirm them either. So, this is all conjecture at this point; just keep that in mind.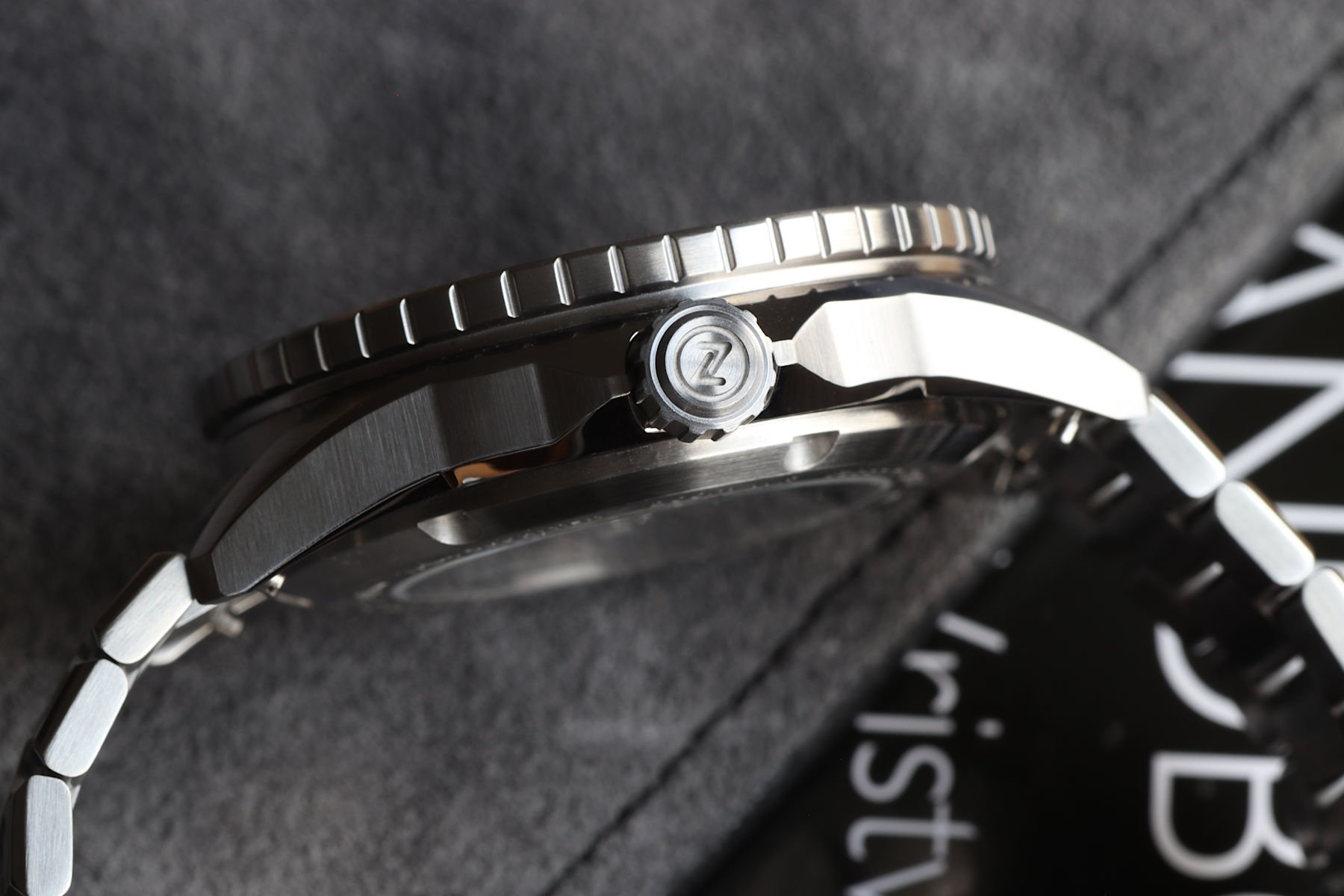 Positive performance from the new guy
That said, there are certain features visible on the G100 through the Spearfish's display case back to show you this is not just a regular Miyota movement with a different name. Three screws hold the solid tungsten rotor in place, and it turns on a ball race with seven ball bearings. This is more akin to the premium ETA 2892 and Sellita SW-300 movements. The G100 also offers a 68-hour power reserve that smashes its competition, so we can see right away how La Joux-Perret aims to position its new caliber with premium features and an affordable price point. If the G100 holds up, it could be a serious game-changer in terms of forcing ETA and Sellita to bump up their game. After all, healthy competition is always welcome, as it only benefits us as end consumers.
As the Spearfish had the new G100, I decided it'd be a good exercise to track the accuracy. After all, what good are a 68-hour power reserve and premium build quality if the accuracy is not up to scratch? Using the WatchTracker app on my phone, I monitored the Spearfish across seven days, adding regular data points. The results were mighty impressive, to say the least. Across seven days, the Spearfish averaged out at +2.6 seconds a day, with a -3.7/+5.1 seconds slowest/fastest variance. This puts it well within COSC-level specs. Not bad for a watch that costs just $645, right?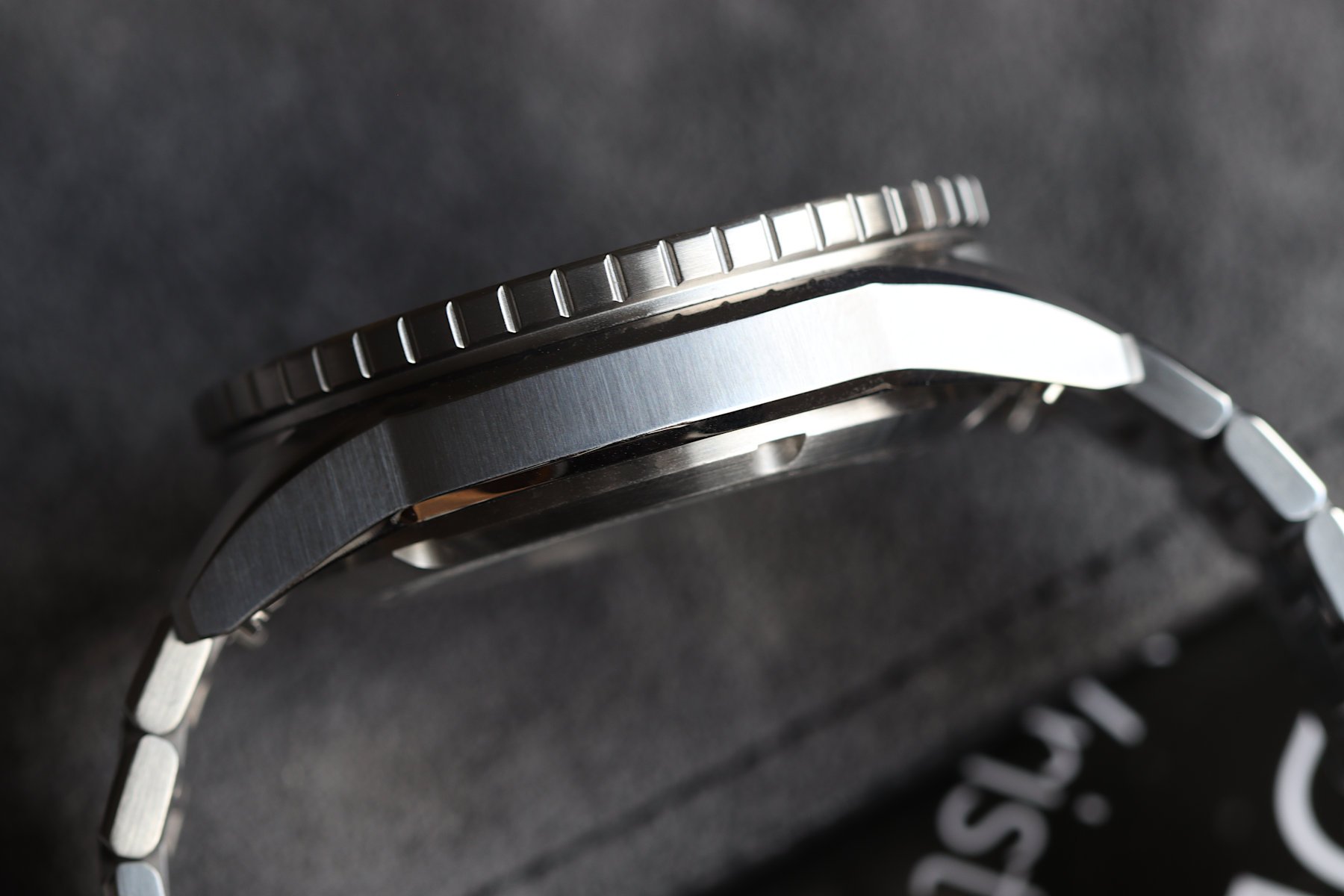 The Zelos Spearfish makes a case for best in class
It would have been all too easy, yet criminal, for Zelos to take the existing Swordfish case and pop in the new movement. Thankfully, Zelos went back to the drawing board (literally) and subtly improved the case silhouette for the Spearfish. The sharper lines of the Swordfish case make way for luxurious polished bevels along the case edge, stretching from lug to lug and incorporating into the crown guards. The machining is excellent, and the transitions from the brushed to polished surfaces are flawless.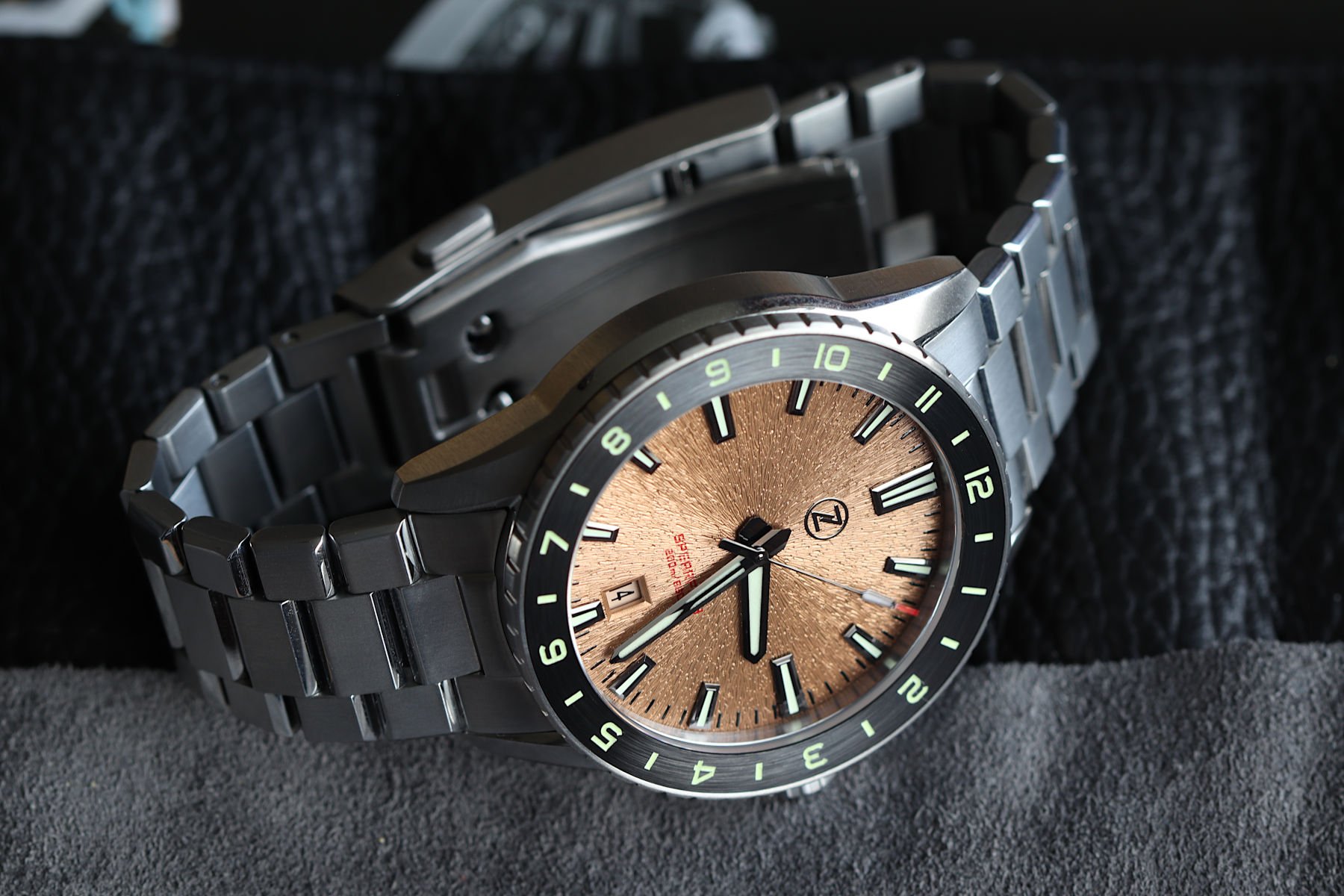 To further emphasize the machining quality, bi-directional bezels are notoriously tricky to get right. They often suffer from loose action with serious back play. The 60-click 12-hour bezel on the Zelos Spearfish, however, is quite simply excellent. Back play is practically non-existent, and the operation is as smooth as you could possibly want. I just can't help but be impressed with this watch time and time again.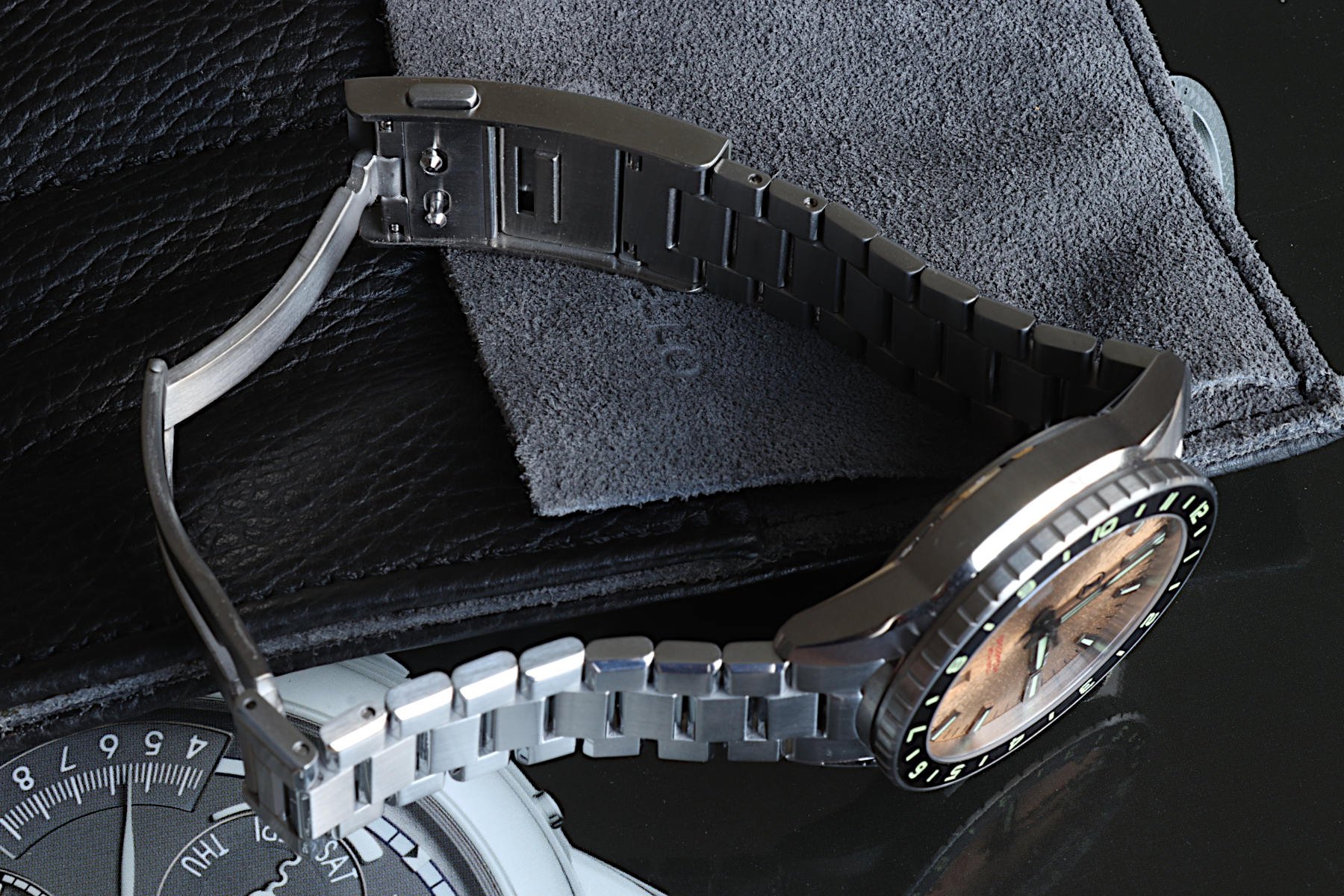 Excellence personified (in bracelet form)
Zelos has found a fantastic supplier for its manufacturing. In my experience, its watches have always been great, but I've never had a chance to go hands-on with one of its bracelets before. I've only heard positive things on Facebook groups in the past, but I hadn't had the chance to make up my own mind. The Spearfish bracelet is absolutely superb. A bracelet is one of those aspects that can make or break a watch. Imagine purchasing a watch only to find that the bracelet is inferior to the watch head. Your experience is ruined while you try and find an alternative strap or third-party bracelet, and it's never quite the same. Sadly, I have been in that exact position before. But the Zelos Spearfish bracelet commits no such crime.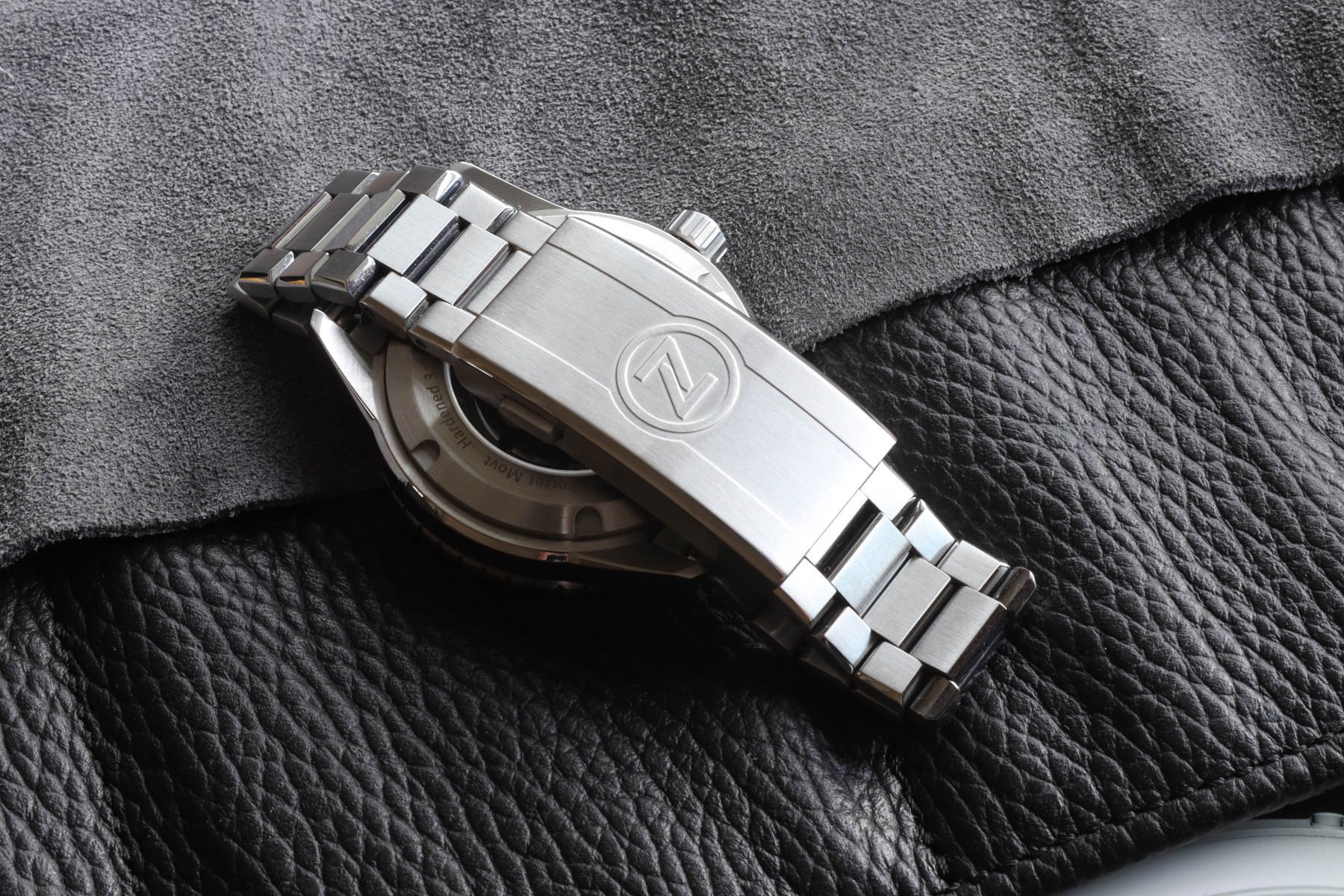 The link articulation is one of the best I have seen, and it bats far beyond the $645 price point. This won't be the last time I express my incredulity at how Zelos is offering this watch at this price. I'm not in the habit of suggesting a brand should charge more, but seriously, I would. The brushed bracelet links have a subtle polished chamfer along the upper edge, which nicely echoes the beveling on the case edges. It's a wonderfully harmonious continuation of the design. Even the machined flip-lock clasp, with its tool-less, on-the-fly micro-adjustment is, hands down, the best clasp I have ever experienced from a microbrand. Formex and Monta receive a lot of praise for their clasps. Having not seen one in the metal, I cannot compare. But Zelos's effort sits at the top of the pile until I do.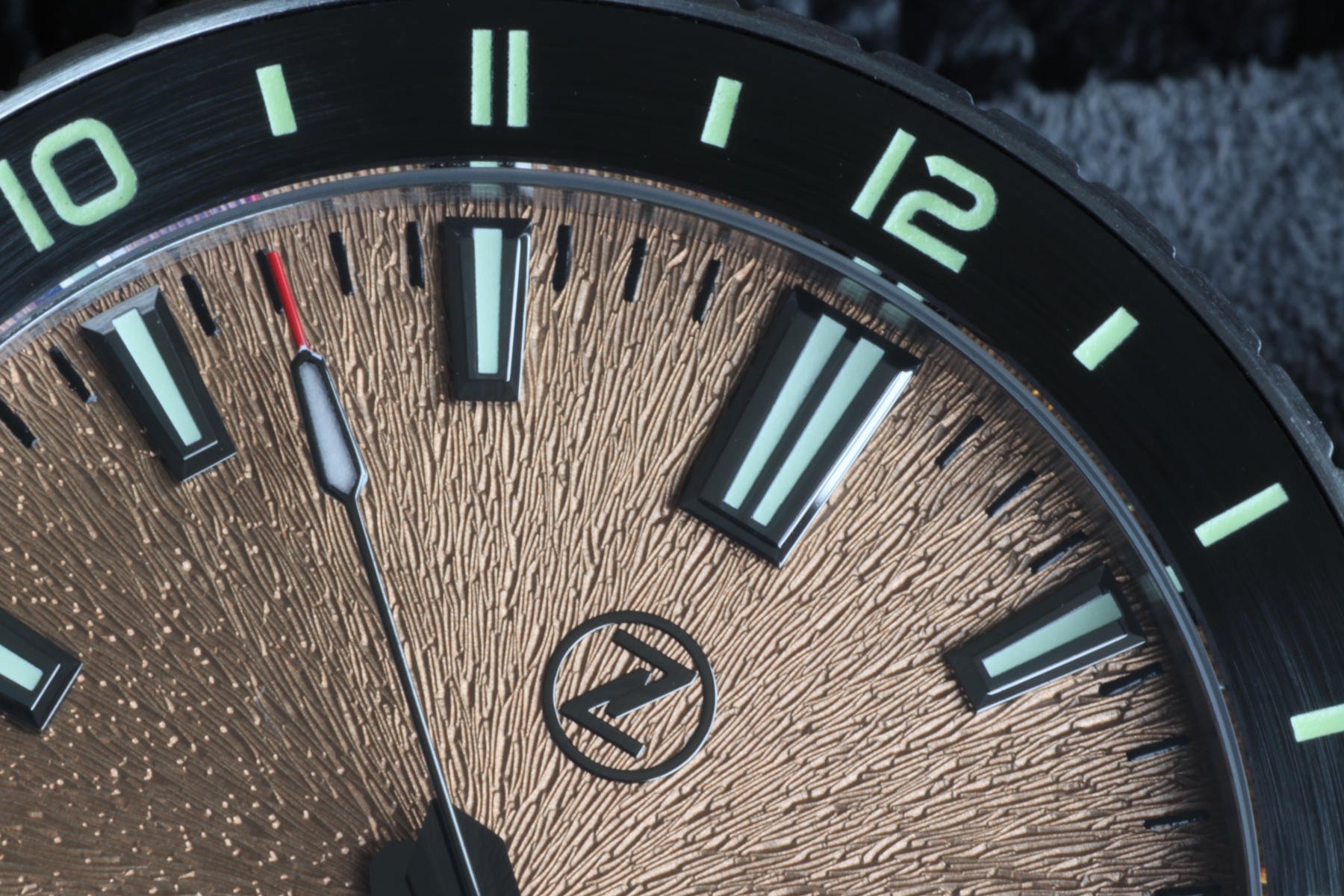 A beautiful copper dial
The Zelos Spearfish comes in a choice of six dial and bezel combinations. Three have a traditional dive bezel, and the other three have a 12-hour bezel. The watch I have is the 12-hour model with the "copper" dial. Zelos's watches are usually relatively well known for featuring bold and funky dial colors and patterns, and this one is no exception. It features a radial sunburst texture that catches and plays with the light. I can understand that not everyone will love the dials, but Zelos fans adore them, so don't expect to see this change any time soon. The copper dial has a metallic sheen, and the color is rather fetching. At first, I thought I'd perhaps have liked the green dial the most, but I couldn't imagine choosing a different one after wearing this copper dial for the past week.
The date window at 6 o'clock reveals a color-matched date. It's not the perfect like-for-like color, but that would be hard given the dial's metallic color and texture. It does, however, offer just the right amount of contrast to make the date wheel legible at a glance. Function trumps form here in a good way. Thankfully, the other dial decorations are more subtle. Zelos always keeps its branding minimal with a simple applied logo at 12 o'clock. Above the date window is the word Spearfish and a reminder of the 200m water resistance in red print.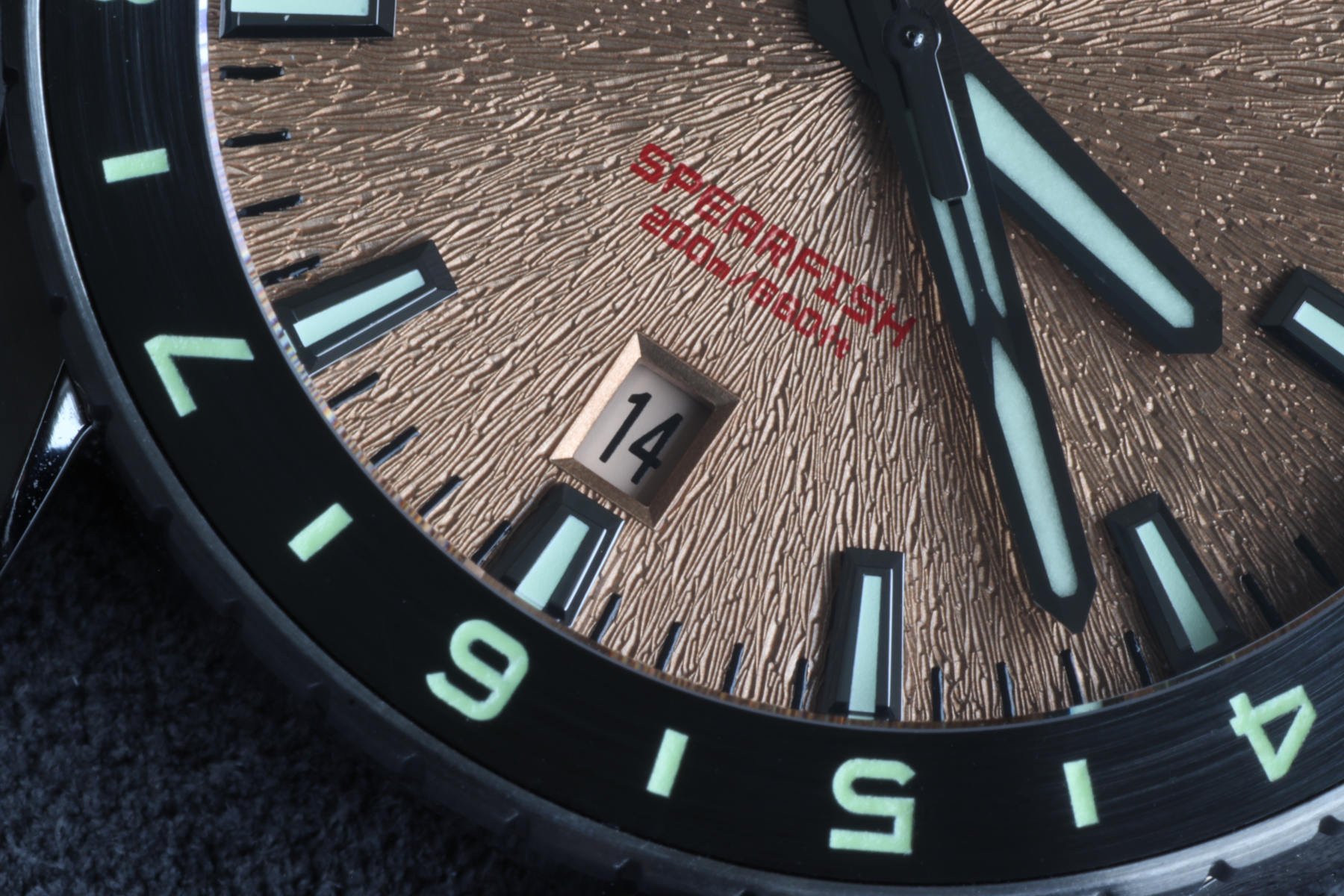 This is true progress from a forward-thinking brand
After I read that the Spearfish was a step up, I knew I had to find out for myself. Knowing the price, I wondered just how much improvement there could legitimately be given the price point of $645. However, I was more than pleasantly surprised. Zelos has refined its core dive watch with excellent finishing, subtle case reshaping, and an excellent new movement. This kind of watch should make Zelos's competitors sit up and take notice.
After wearing this for a week straight, it's tough not to wonder how Zelos has managed to achieve such an impressive watch and offer it at this price. I genuinely cannot find a single fault with the watch here, and that almost sickens to me to say. I can usually find at least one thing I would like to see improved in microbrand watch reviews. That's not the case with the Zelos Spearfish. Dare I say that it's perfect? Assuming you can find a dial and bezel combination that you like, I don't think you can go wrong here. Once again, Zelos has set the standard for what a microbrand can (and should) be.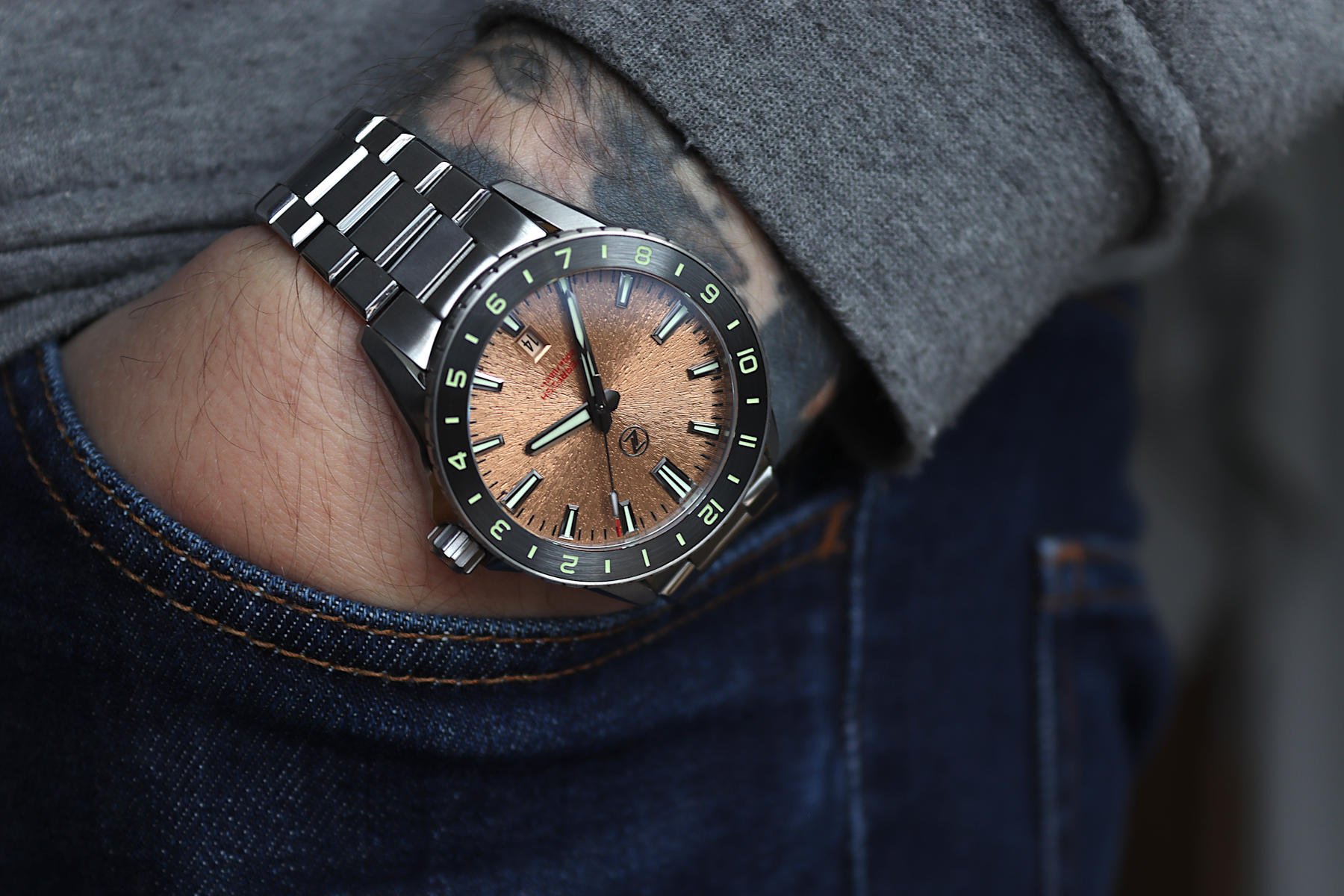 Zelos Spearfish price and availability
As mentioned, prices for the Zelos Spearfish start at $645 for the regular dial types, rising to $699 for the forged carbon dial/bezel, and $749 for the meteorite dial. Act fast, as the prices will increase come May 15th. That said, I'd be surprised if any watches were left by then. Take a look at the lineup on the Zelos website. All Spearfish models are available now.
Follow me on Instagram: @davesergeant | @fratellowatches
Watch specifications
Dial
Copper with sunburst pattern texture
Case Material
316L stainless steel
Case Dimensions
40mm x 47mm x 11.5mm
Case Back
Sapphire display
Movement
La Joux Perret G100, 28,800vph (4Hz), 24 jewels, 68-hour power reserve, adjusted in 4 positions
Strap
316L stainless steel bracelet with fliplock clasp and toolless micro adjust
Functions
Hours, minutes, central seconds, date