Starting Out: How Collecting Microbrands Allowed Me To Experiment And Explore
Building a collection of affordable watches
Not every story into watch collecting starts with a fortuitous inheritance of a beautiful vintage Omega or stumbling across an all-original Rolex Submariner 6538 at a yard sale. While there are some lucky people out there who stumbled into watch collecting quite high up the ladder, my story started a little more innocuously. I started out collecting microbrands, mainly because, for my budget, they were more affordable and accessible. That said, I also found something with microbrands that the macrobrands didn't seem to offer.
What was that thing I found? Fearless creativity. Now, let me caveat this by acknowledging the sheer number of fly-by-night "brands" that start up thinking they can make a quick buck off some poor sucker who thinks the epitome of watchmaking quality can be found in the pages of catalog brands like Daniel Wellington. Sadly, those chancers do a lot of damage to the reputation of the genuine microbrands out there that make a positive contribution to this sector of the watch industry. Going back to the creativity point, though… Often, microbrands are one-person operations. This means designs are also a one-person affair, allowing concepts to turn into actual physical manifestations of the original idea rather than be diluted by design committees.
Not all microbrands are created equally
Sure, not every microbrand design is a home run — in fact, quite the opposite. The design-committee approach has its benefits and allows wayward ideas to be hidden away in locked cupboards, never to be seen again. That said, some microbrands release watches that are so incredibly refreshing and something that you just wouldn't see from a macrobrand. This freedom of creativity appealed to me from the start, and it's probably what helped form some of my more eclectic taste in watch design. Just ask Rob Nudds; he'll tell you. Nowadays, my collection has diversified, and I've added some pieces from the more prominent, more well-known brands, but I still wear and enjoy my microbrand watches. I thought it might be nice to introduce the Fratelli to a few of the microbrand pieces in my collection for collector's week!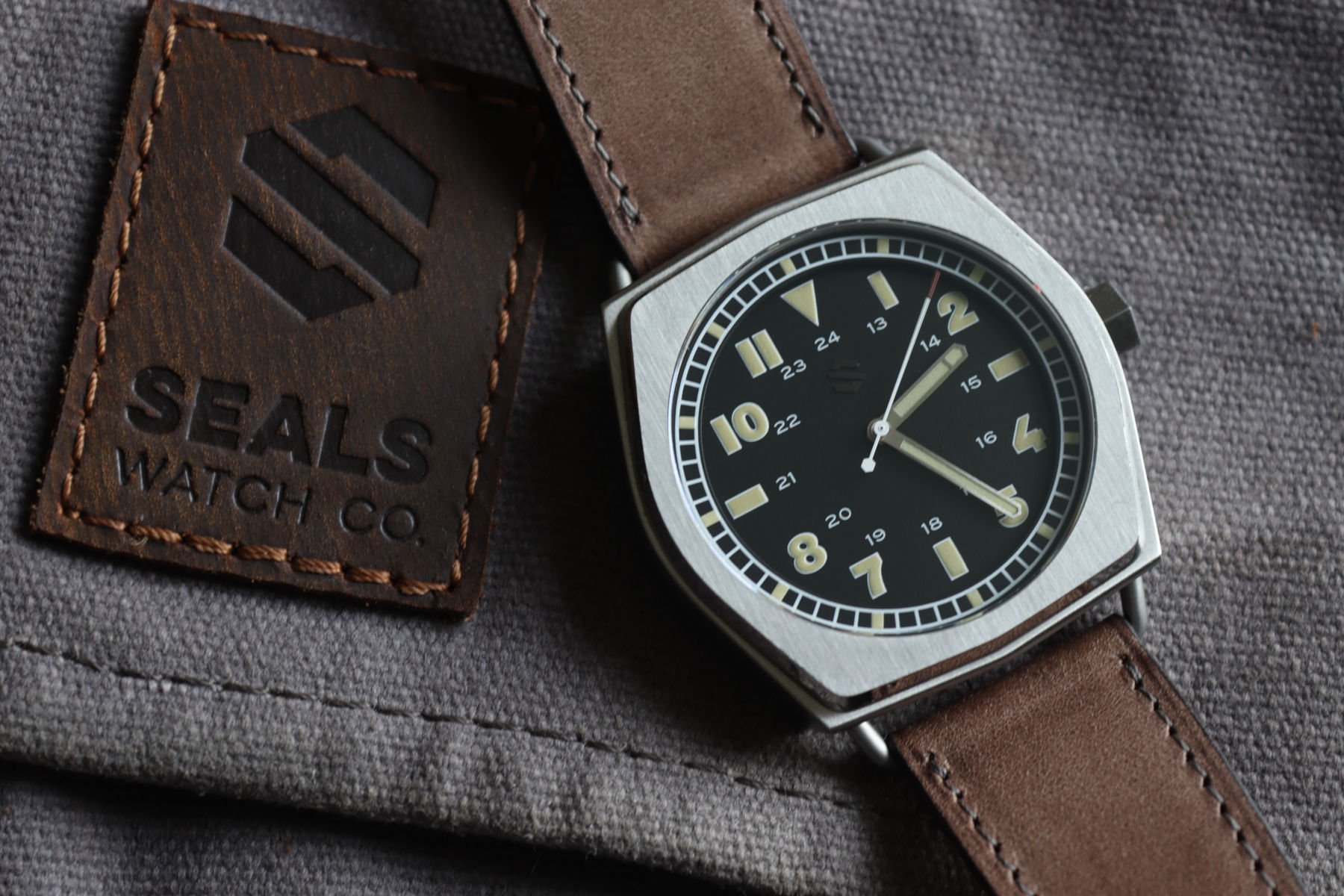 Seals Model C Field Explorer
I bought this watch to wear at a special event. It was my first microbrand purchase, and I spent hours pouring over online reviews, videos, and the like before taking my card out and purchasing. The one downside to microbrand watches is nine times out of ten, you have to make the purchase blind, having never held the watch before or strapped it on the wrist. That's why reviews and videos are so critical, I guess! There's always a small element of trepidation when taking it out of the box for the first time.
According to the brand owner, Michael Seals, he modeled the peculiar case shape on the side-profile of WW2 tanks. I think I can see the inspiration, but I mostly loved the vintage field-watch vibes that this piece exudes. It works equally well on a nice leather strap as it does on a well-worn and fraying canvas strap. It dresses up or down easily and is more versatile than it may look at first glance. Despite its somewhat atypical aesthetic, it's often proved extremely popular with friends and fellow collectors at watch meet-ups! Let me know what you think of this one in the comments! If the Fratelli call for it, I may do a full review and write-up soon.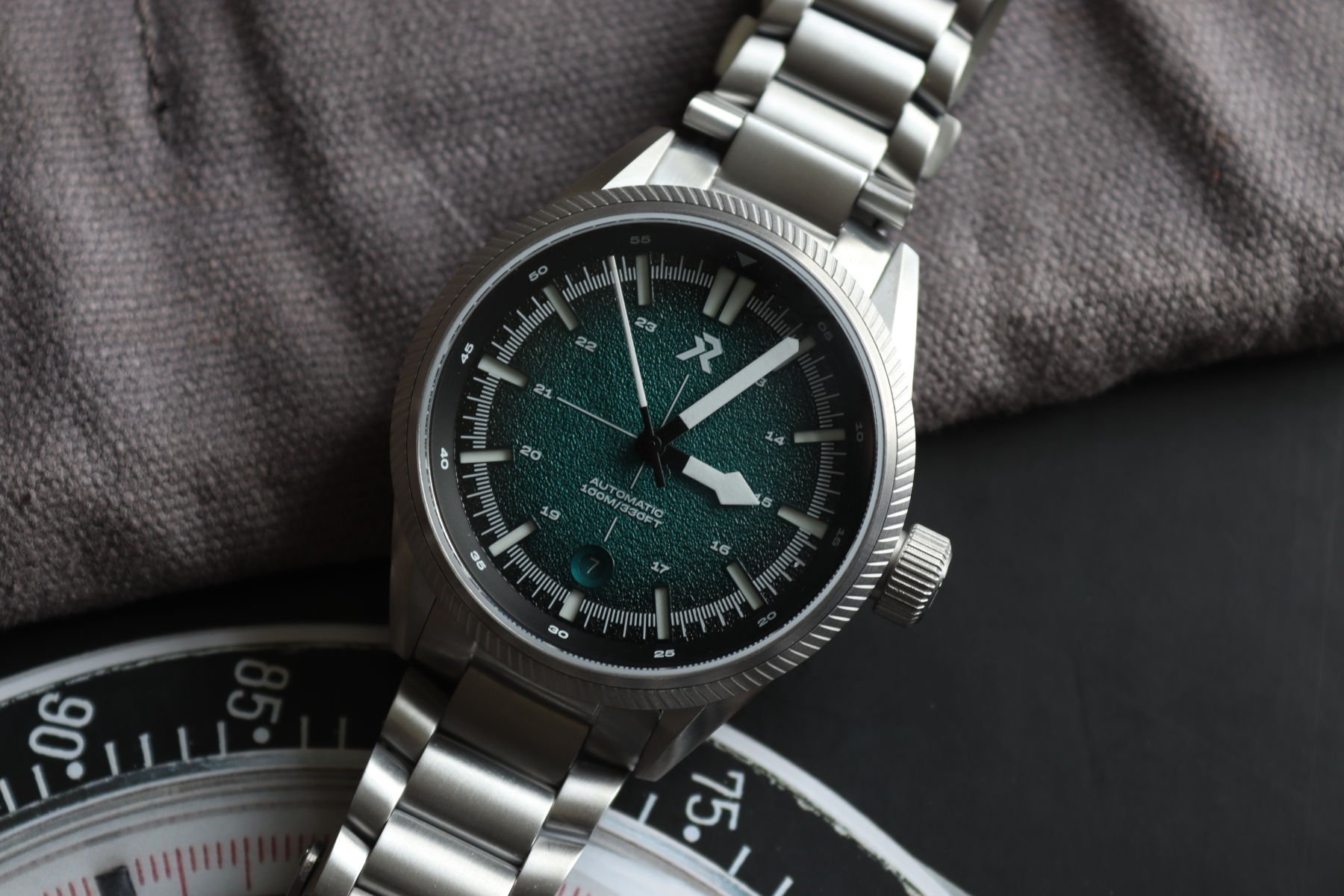 RZE Fortitude
RZE is the most affordable brand on this list, but its watches are also some of the most fun as a result. I have two RZE watches in my collection, and this brand is one that kickstarted my love and appreciation for titanium watches. I wear both watches quite frequently, but I decided to go with the more recent Fortitude pilot's watch for this article. The reason I chose it is because I'd not been too fussed by traditional pilot's watches until the Fortitude. I often deemed them too large and a little bland for my tastes. But when RZE dropped its Fortitude, there were enough modern twists that made me feel it deserved a closer look.
While my review featured the Nimbus Grey dial, I opted for the Turbo Teal option for my collection. I loved the subtle dégradé teal dial. The Fortitude was also my first experience with a titanium bracelet. Due to the lightweight nature of the metal, titanium bracelets can feel a bit "tinny" and "rattly", but when you strap one on the wrist, the benefits are immediately evident. I like the look of a watch on a purposely designed bracelet, and the Fortitude delivers that by the bucketload. And, given the price, you really can't go wrong! Read my review of the RZE Fortitude here.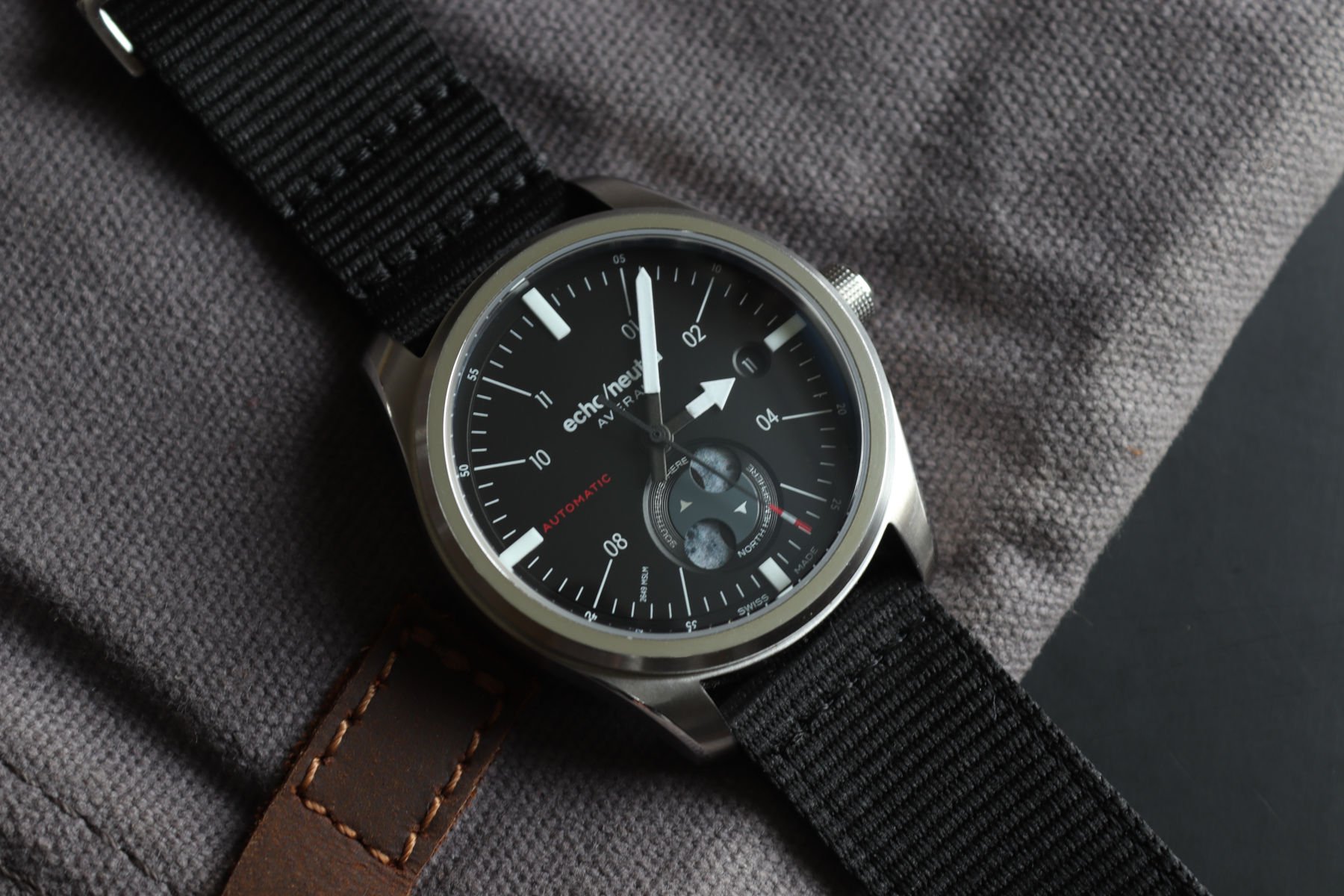 Echo/Neutra Averau 39 Moonphase
The Echo/Neutra Averau 39 Moonphase was the most recent addition to my microbrand collection. The moonphase complication has long fascinated me, but I'm not a fan of the usual classical variations. If you've followed my writing here on the pages of Fratello, you'll know I tend to veer away from classical watch design in favor of bolder, more modern watches. So, despite its appeal to me, I forgot all about adding a moonphase complication to my collection. Then came the IWC Big Pilot Perpetual Calendar with its modern take on the moonphase. I loved it, but a) the watch was well out of my price range, and b) the watch was far too big for my puny wrists. Again, I was left to lament the lack of a moonphase in my collection! So you can imagine my joy when Echo/Neutra came along with its Averau 39 Moonphase!
While I love each watch on this list, I believe the Echo/Neutra Averau 39 Moonphase exceeded all my expectations the most. Most of the watches in my collection get regular wrist time on rotation, but I find myself reaching for this watch when in doubt. It's a combination of the perfect size and clean, clear legibility. What more do you want from an everyday watch? Read my review of the Echo/Neutra Averau 39 Moonphase here.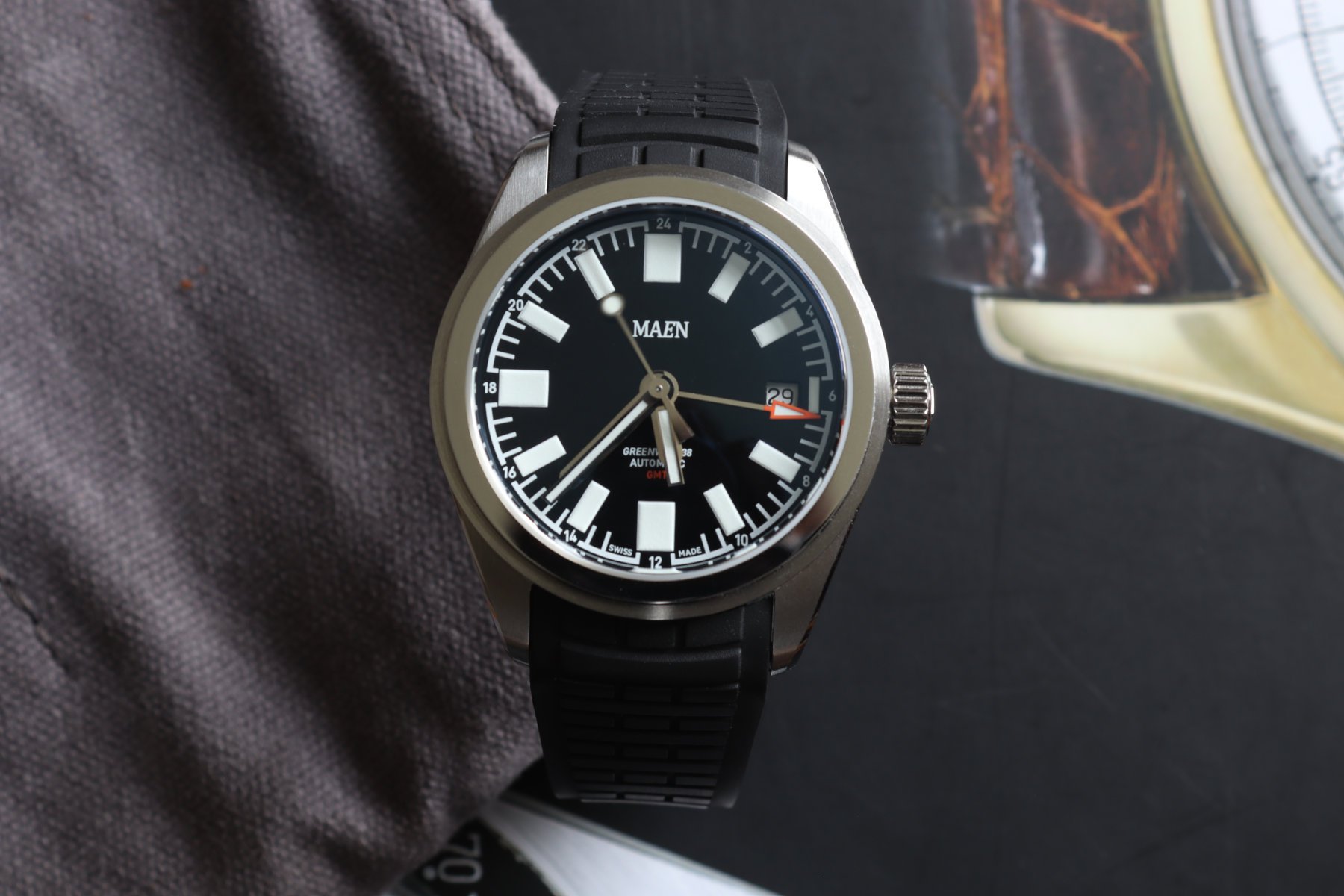 Maen Greenwich 38 GMT
Like the Echo/Neutra, the Maen Greenwich 38 GMT is another watch that I bought because it offered a complication that I didn't have elsewhere in my collection — a GMT. Now, I'm not saying a GMT is something I explicitly "needed", but I'd quite fancied one for a while. I travel a little bit from time to time, but not usually more than +1 hour. That's something I can keep track of in my head, but where's the fun of that?
Maen's Greenwich 38 GMT caught my eye thanks to its large hour markers, which dominate the dial, along with the fitted rubber strap. There are some serious Aquanaut vibes here, but not in any homage kind of way. I'm not into the homage-watch fad, but I appreciate watches that capture the essence of other watches I like while still doing their own thing. The Greenwich 38 GMT is the perfect example of that. This watch was also one of my first experiences with a sub-40mm watch, and since then, I've found myself dialing in on the 38-40mm case sizes as they seem to be the perfect size for my wrist. Read my review of the Maen Greenwich 38 GMT here.
Final thoughts
These four are just a few of the microbrands I've owned over the years. I've moved some pieces on after I realized that they weren't quite right for me. That said, my journey with microbrands allowed me to experiment with different styles to work out what I did and didn't like. I still enjoy wearing these watches alongside the likes of my Breitling or Grand Seiko! I'm keen to hear from the Fratelli on the topic of microbrands. Where do you stand on them? Do you have any in your collection? Make sure to let me know in the comments below!
Follow me on Instagram: @davesergeant | @fratellowatches