20 Years Of Collecting Speedmasters – How It Started
A watch that left the Omega factory on October 22nd 1968 - 51 years ago
Exactly this month, it is 20 years ago that I bought my first Speedmaster. The perfect moment to share a story on my own Speedmaster and about collecting them.
I've told the story about when, where, and why I bought my first Speedmaster many times during our Speedy Tuesday events, but I don't think I wrote it in an article. Twenty years ago, on October 1st, 1999, I purchased my first Speedmaster. It wasn't long after I learned that this watch actually the watch worn on the Moon. My father told me about Omega being the brand on the Moon when I was a young kid (11 years old or so), but he never told me it was the Speedmaster.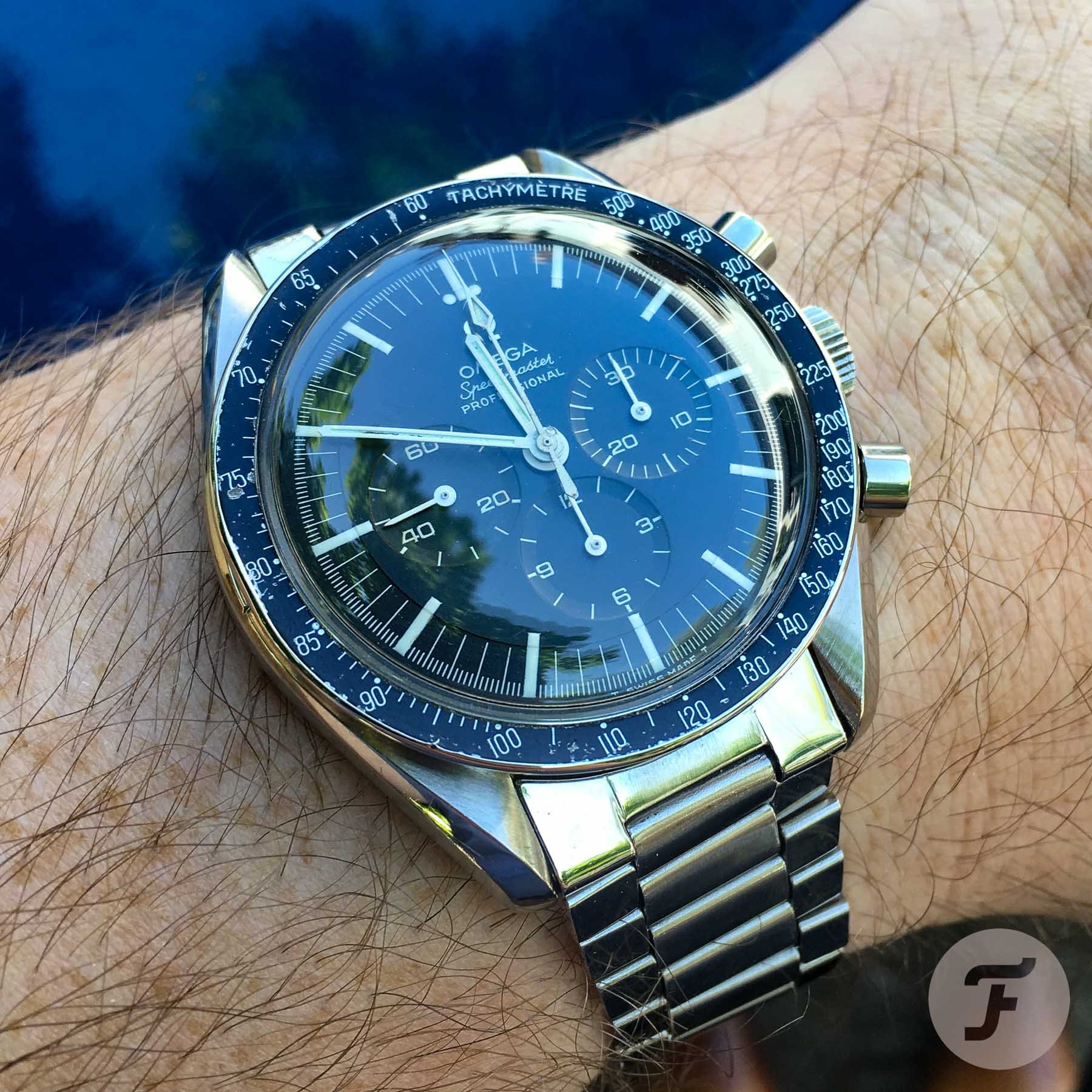 Speedmaster 145.012-67
A Speedmaster Professional with reference 145.012-67, with the famous caliber 321. At a price that is unthinkable of today, but even back then a lot of money for a student. So much actually, that I had to get rid of my car to be able to purchase this Speedmaster. It was a Peugeot 205 GTI, and before you will frown and say that these cars are worth quite a penny today, let me tell you that it wasn't in the right condition anyway.
I actually wanted a modern Speedmaster Professional, with caliber 861 or 1861, as it would be my daily watch. But you have to understand that back in those days, a young pre-owned (or new) Speedmaster was more expensive than an old vintage model. That's correct, and there was a few hundred Euro difference between a young pre-owned caliber 861 and this Speedmaster Professional 145.012-67.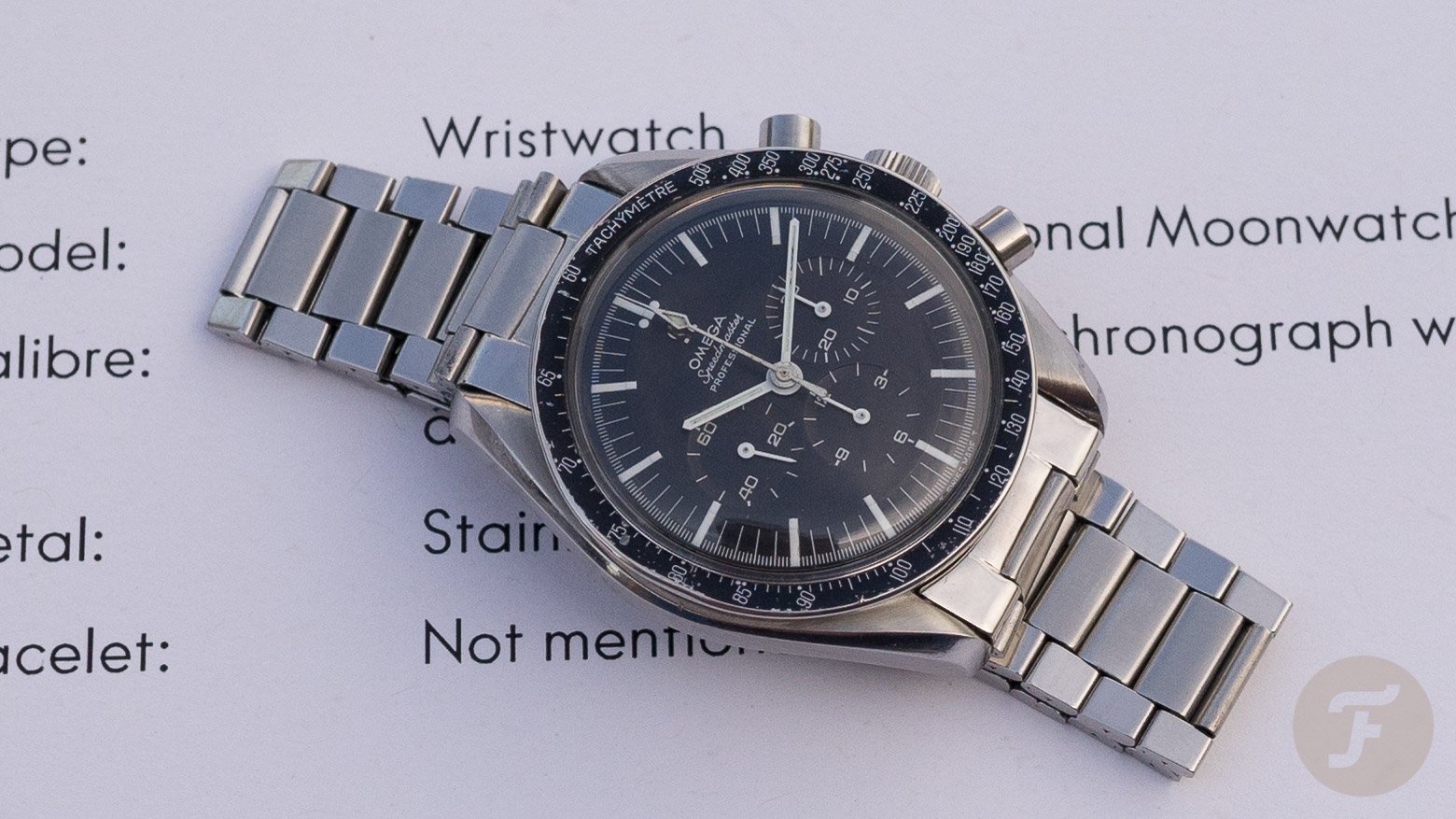 October 1st, 1999
Before that October day (it was a Friday) in 1999, I did my homework as good as possible. There was no Moonwatch Only, and there were no websites that had detailed descriptions of the Speedmaster. There were the Omega forums on WatchUSeek and TimeZone, where other collectors (like Chuck Maddox) were keen on the Speedmaster and did (some) research on the watches. Mainly by just observing and studying Speedmasters that were bought by others or offered on auctions or websites. There was no proper access to the Omega Museum archives, where facts could be checked.
So, on October 1, with cash in my hands, I stepped into this watch shop (today it would be called a 'Boutique') in The Hague and talked to the owner about this watch. He actually decided to give me a discount, as he noticed I was sincerely interested in the Speedmaster and had done my homework. Only a bit later, I learned he was a Speedmaster collector himself (and who happens to be this guy)
The Speedmaster Professional I purchased wasn't perfect. The paint was gone from the small hands, the bezel was damaged, and there were some marks and scratches on the case back. But who cared? It was the Speedmaster, the watch that was worn on the Moon. I wore this watch for several years, almost daily.
Restoration
A Dot-Over-Ninety bezel was not a thing in 1999
At some point, I decided to have it restored. Again, this is not something I would probably do today. But this was another time, where the technical condition of a watch was more important to me than originality (time correct). As long as the parts would be genuine Omega, I was fine. There was no discussion about Dot-Over-Ninety bezels in those days. A DON bezel was not a thing in 1999. The hands should be white, not metal. The bezel should be flawless, not dented, or pieces of paint missing. So, new hands and a new bezel. New crystal, pushers, and crown as well. Since the watch came on a strap, I also needed a bracelet. I think it was 2000 when I found a NOS reference 1450 bracelet. A whopping amount of 300 Dutch guilders (~ 140 Euro) was exchanged for it. I wore this watch almost daily, had it serviced once every few years, and even to this day, it runs perfectly.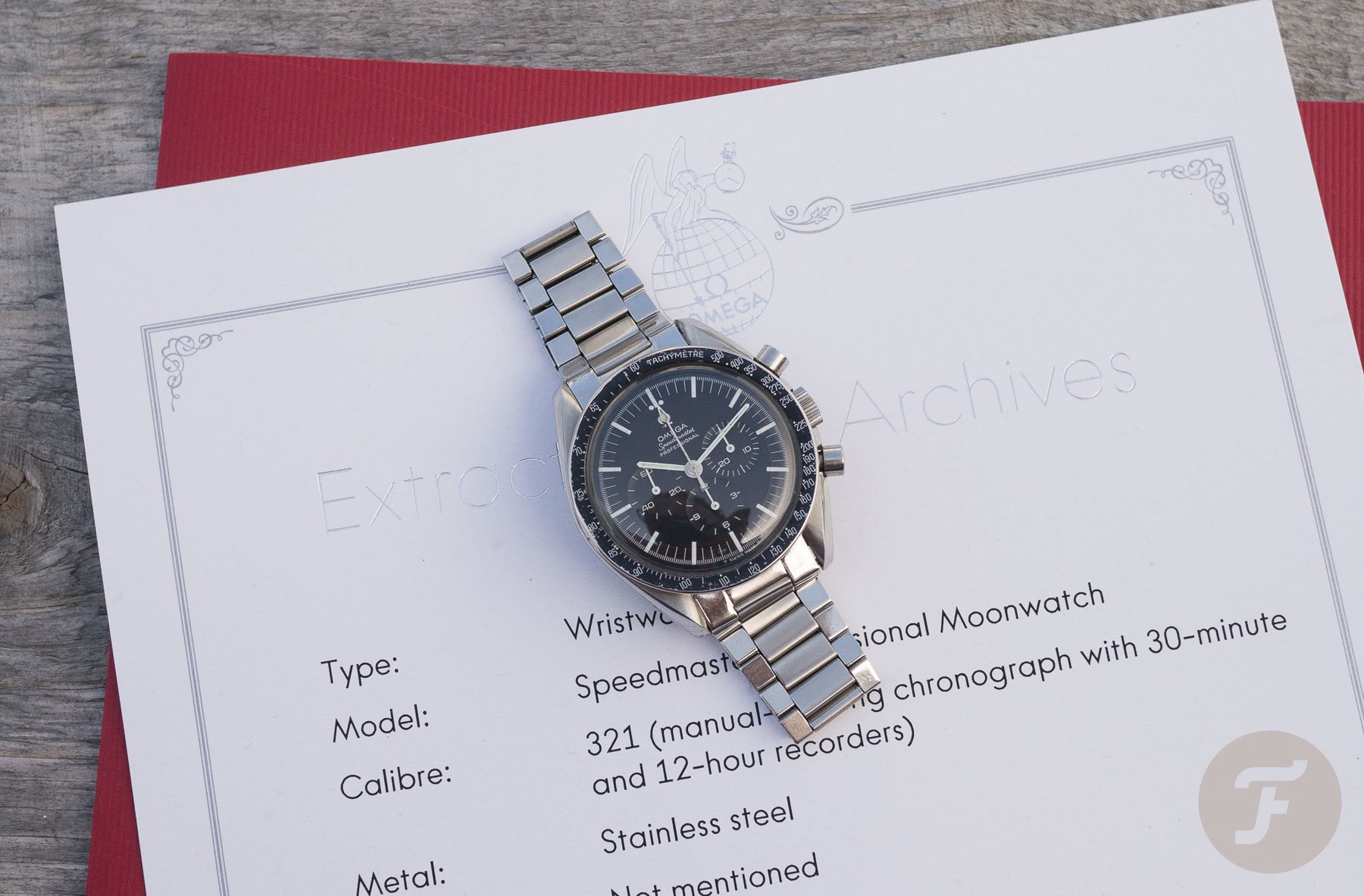 This is the watch that ignited my passion for the Speedmaster, and I have bought (and unfortunately sold as well) many of them. I also purchased a few more caliber 321 Speedmasters in the early 2000s but sold them all. I was a student, and it was a way to create some extra income (although there wasn't much profit to be made back then). The last caliber 321 145.012 I bought was in 2003, for approximately €1300.-. Go figure. I am not sharing my entire collection here (for several reasons) but will highlight a few models that I purchased over the years.
Omega shipped this watch to Finland on October 22, 1968 (yes, that's exactly 51 years ago, today)
But first, let me tell you that a few years ago I decided to bring back the 145.012-67 in its original condition. The major issue were the hands. I still had the original ones, but unless I would be able to paint them, those were quite fubar. I was able to source an original caliber 321 chronograph second hand, though, with tritium lime. The hour and minute hands still are too new for this reference, but hard to come by (so if anyone knows a set, yeah, shameless plug). The bezel was just a matter of money and condition. I found this one for a few hundred two years ago, it has some scratches, but that reminds me of the one it came on, and the Dot-Over-Ninety is clearly visible. Purists can sit down again. The original crown and pushers I still have, but the current set is fine. This is something where I draw the line. I love my watches to be original, but they also need to be in perfect technical condition. Since the crown and pushers need to properly fit (and gasket needs to be good), to prevent moisture from entering the case (and thus movement), I don't mind that these are new. Years ago, I also bought a reference 1039 bracelet for this watch. In excellent condition, including working flexible links and the combination of matte and polished finishing on the surface still clearly visible. When I purchased this watch, I asked for an Extract of the Archives, stating Omega shipped this watch to Finland on October 22, 1968 (yes, that's exactly 51 years ago, today). Fun fact, that was my dad's 18th birthday*.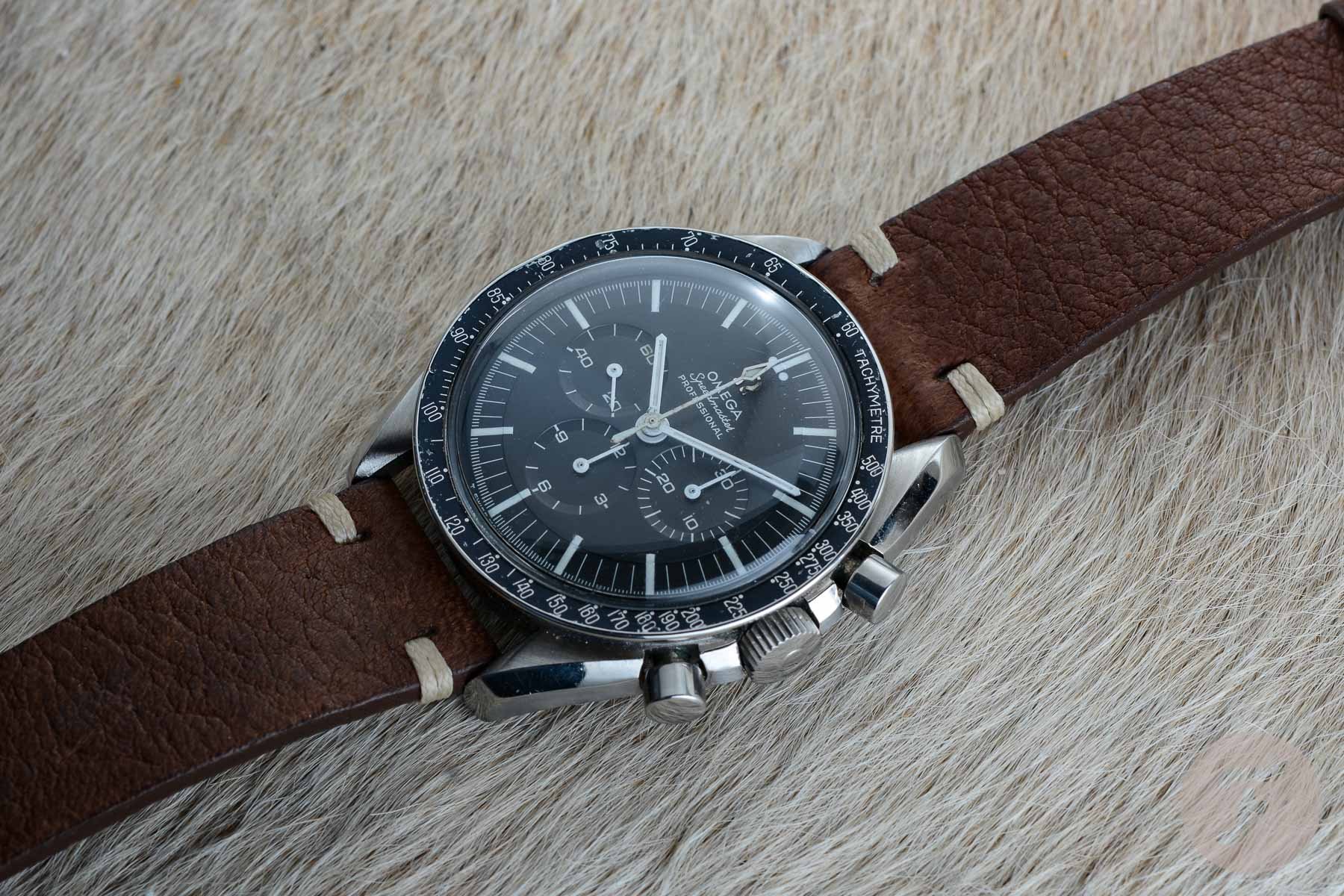 A Selection Of Speedmasters I Collected
As said, after this Speedmaster Professional 145.012-67, many followed. I regret selling some of the Speedmasters, especially the caliber 321 models and early 145.022's I used to have. That said, I also regret selling some modern ones. I had several 3570.50s but also a sapphire sandwich (3573.50) that I liked. You can't keep them all, though.
I thought it would be fun to share some of my Speedmasters here, models that I collected in the past 20 years.
Speedmaster Professional 3570.50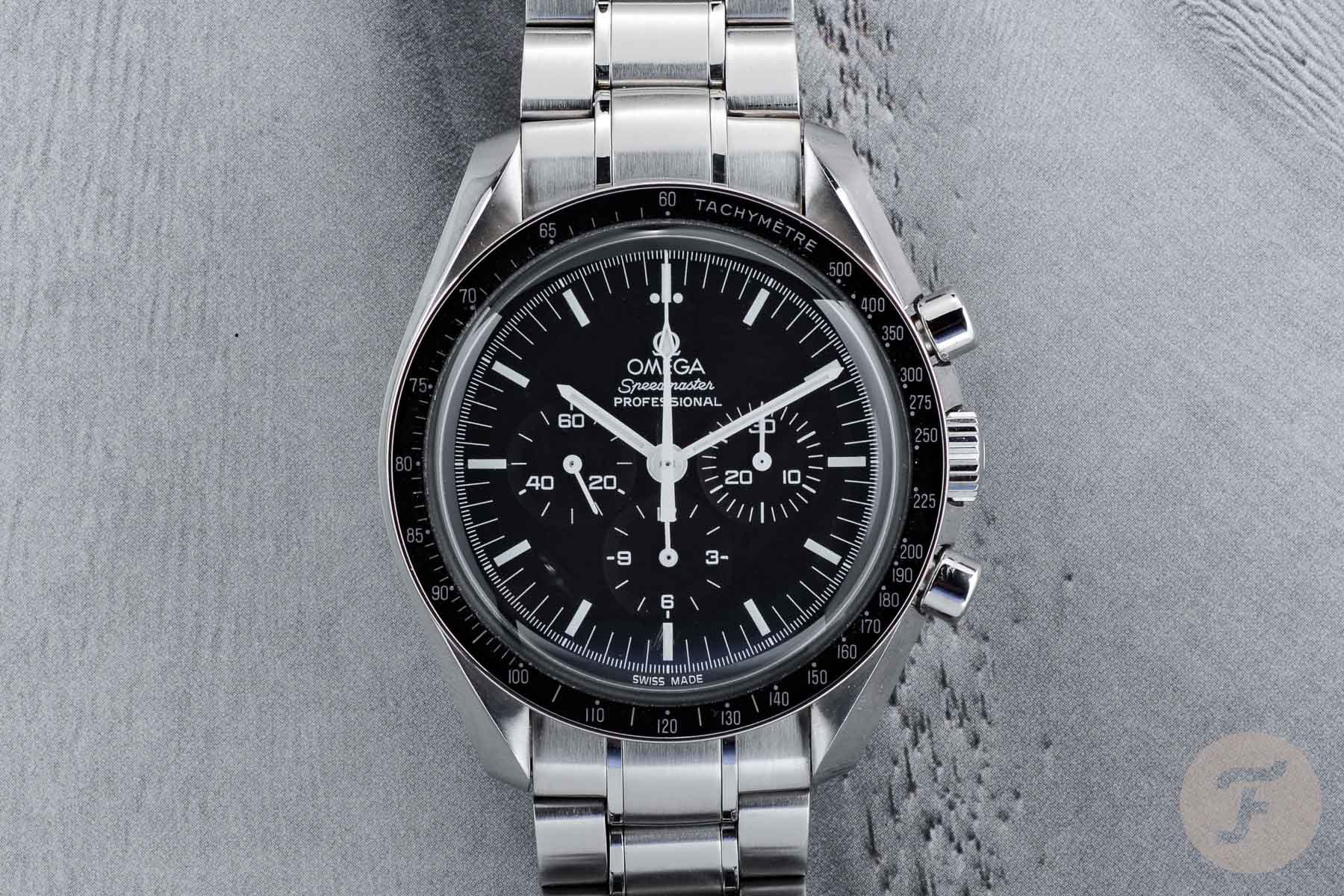 Very often, I will tell people that this is the Speedmaster Professional to get first. An incredible deal, even for its retail price of €4700 these days. A hand-wound Lémania based movement (caliber 1861) with quite a track-record, the dial is probably the most legible one for a chronograph, and the case design is timeless. It is a direct descendant of the watch that was used on the Moon by Aldrin and other astronauts. I am not a fan of the bracelet design, but on the other hand, it is very comfortable and never failed on me. A no-brainer. I purchased this Speedmaster 3570.50 new early 2013, so before Omega started to use the large black box with all the cool accessories.
Speedmaster 125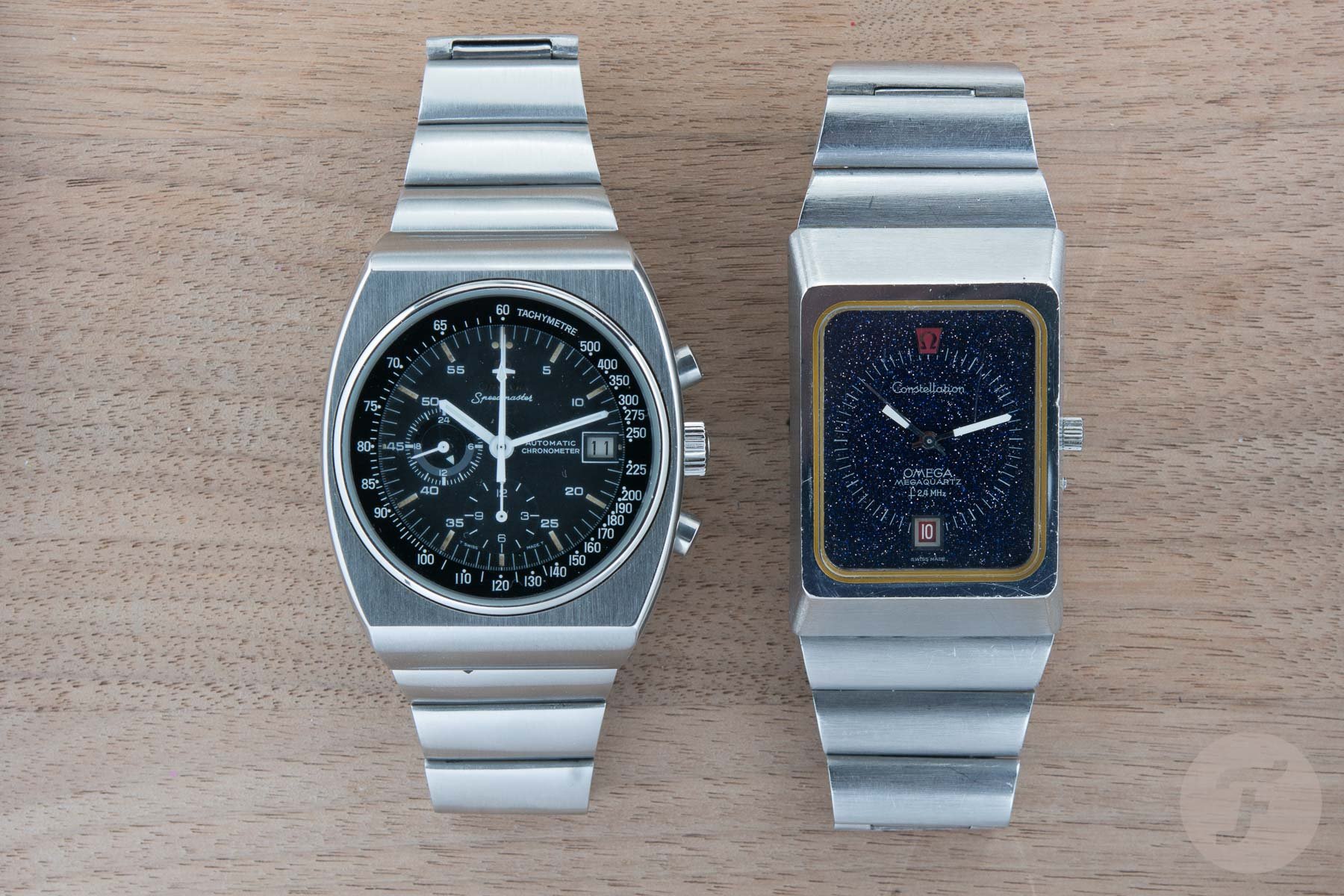 It isn't about the watch on the right (which is cool on its own), but about the Speedmaster 125 that is on the left in this picture. Both watches mark an exciting time in the watch industry, though. In terms of design, but also when it comes to movements and precision. Anyway, the Speedmaster 125 was introduced in 1973 to celebrate the 125th anniversary of the brand. Equipped with Lémania based caliber 1041 movement. Similar to the caliber 1040 movement (Lémania caliber 1342 is the base), but with chronometer certification. For a long time, people thought this watch was limited in production, and some Extract of the Archives will indicate there are only 2000 pieces of them. However, more recent research showed that there are many more of these. We published about the production numbers here. I purchased this watch in 2012, for about €1400,- I think. It is a great piece, and I bought it because of its significance in Speedmaster history and because of the fresh design and automatic Lémania movement. I rarely wear it, though, even I do believe it is not as uncomfortable as it might look.
Speedmaster Professional 145.022-69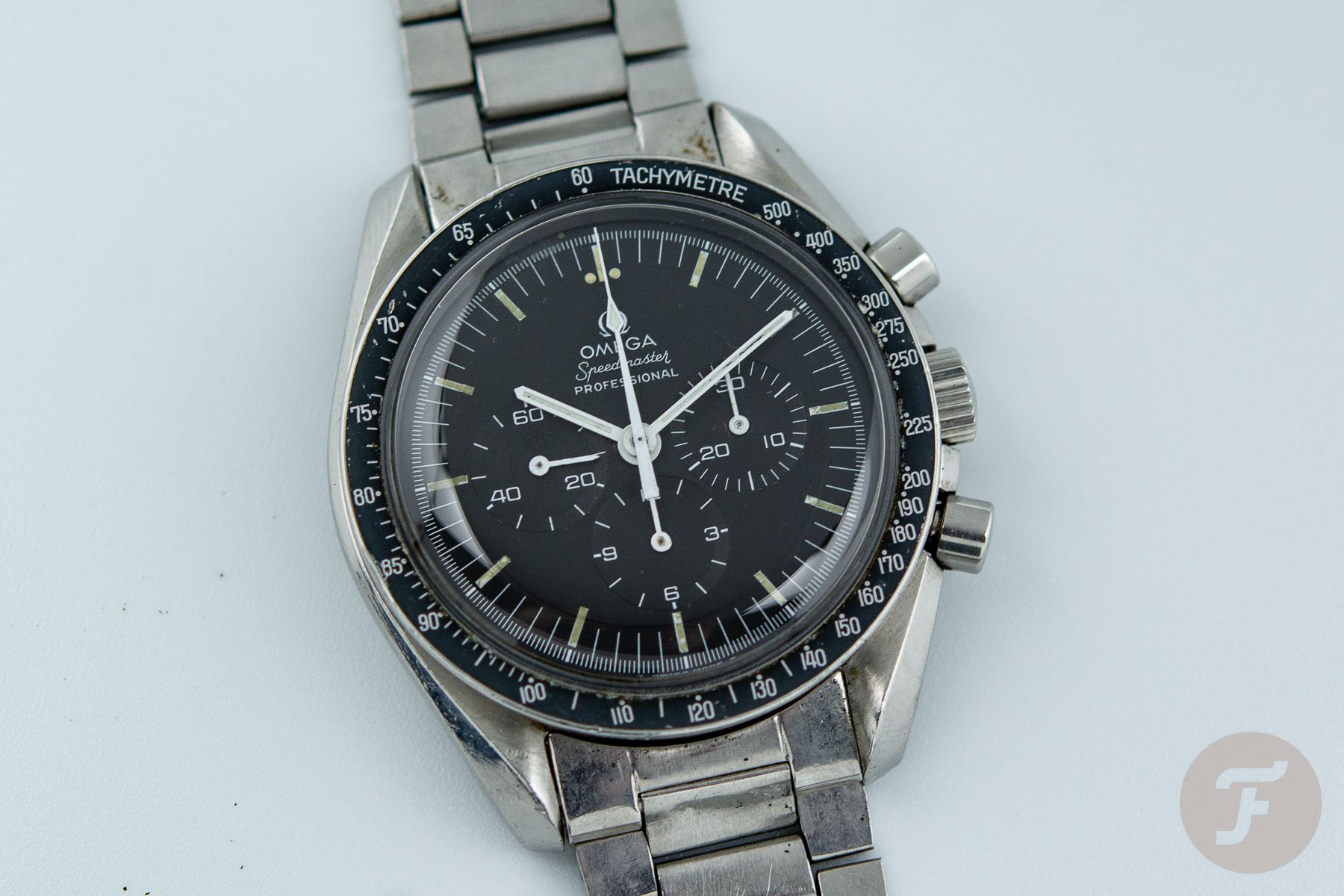 I had many of these but kept selling them to friends and colleagues as I believed they deserved to have a proper vintage Speedmaster. The Speedmaster Professional 145.022-69. This one is produced in the mid of 1971, right before the next reference/iteration (145.022-71) was introduced. It has the step dial, the Seahorse case back, and the reference 1039 bracelet. I purchased this watch somewhere in 2015, for €1500.-. It was quite dirty (as you can see), and that's how I like them. The chances are that they haven't been tampered with. I bought this from a guy that was located near our office, who offered it to me via an email. I also have a 145.022-76, from 1977, that matches my birth year. The case back is different, and there is no step in the dial (since the 145.022-74). These 145.022s are still relatively easy to find and are fun to wear. You pay for condition, though. This 145.022-69 isn't the best, where my 145.022-76 was simply New Old Stock when I bought it, which also has a market value that is much higher than this 145.022-69.
Speedmaster Apollo XIII 3595.52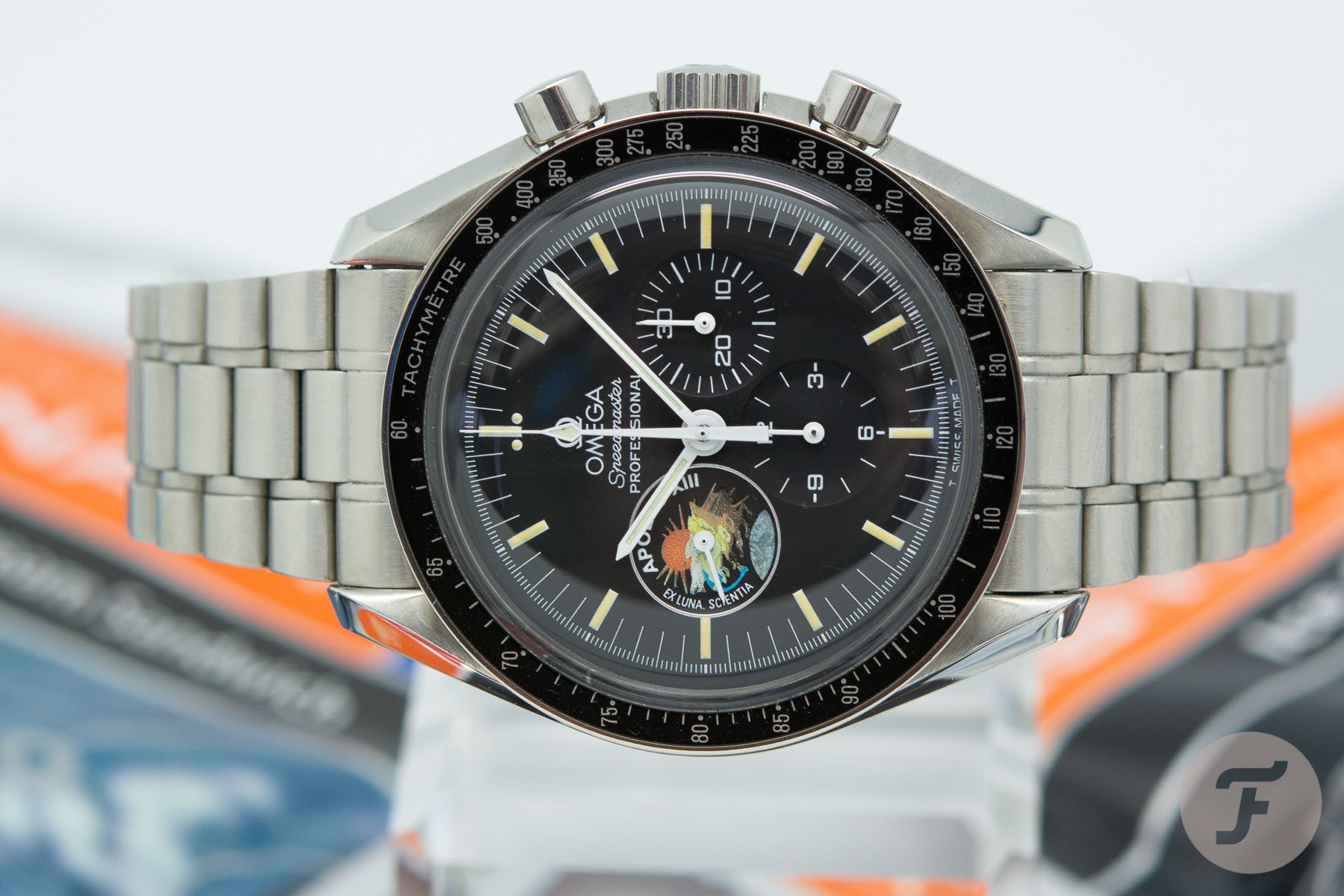 One of the coolest limited editions in my book. This Speedmaster Professional was introduced in 1995 to commemorate the 25th anniversary of Apollo 13. It has the mission patch on the 9 o'clock subdial. 999 pieces in total for this run, and it also shows that Omega was in a different flow in those years. It took them probably more than six months to sell them all, as you will also find them produced in 1996 with the later bracelet attached. In 1998, this patch model was also used in the famous mission cases with 23 watches (+ 1 additional spare movement). There are 50 of these mission cases, of which 40 were meant for the market. So that adds a few more of these watches. What I love about this piece is the yellow-ish patina on the hour markers and hands. The reference 1479 is one of my favorite bracelets, as well. I purchased this watch in 2013, and I believe the value was around €5000 at the time (it was part of a trade with an Audemars Piguet Royal Oak Chronograph). In the same deal, I got this Speedmaster Snoopy (2003) model. All complete with boxes and papers. One of these watches was NOS, but I wear both of them (not at the same time). For watchnerd reasons, I scratched the case of this Speedmaster Apollo XIII on the door of the Apollo Command Module in Houston.
Speedmaster 3594.50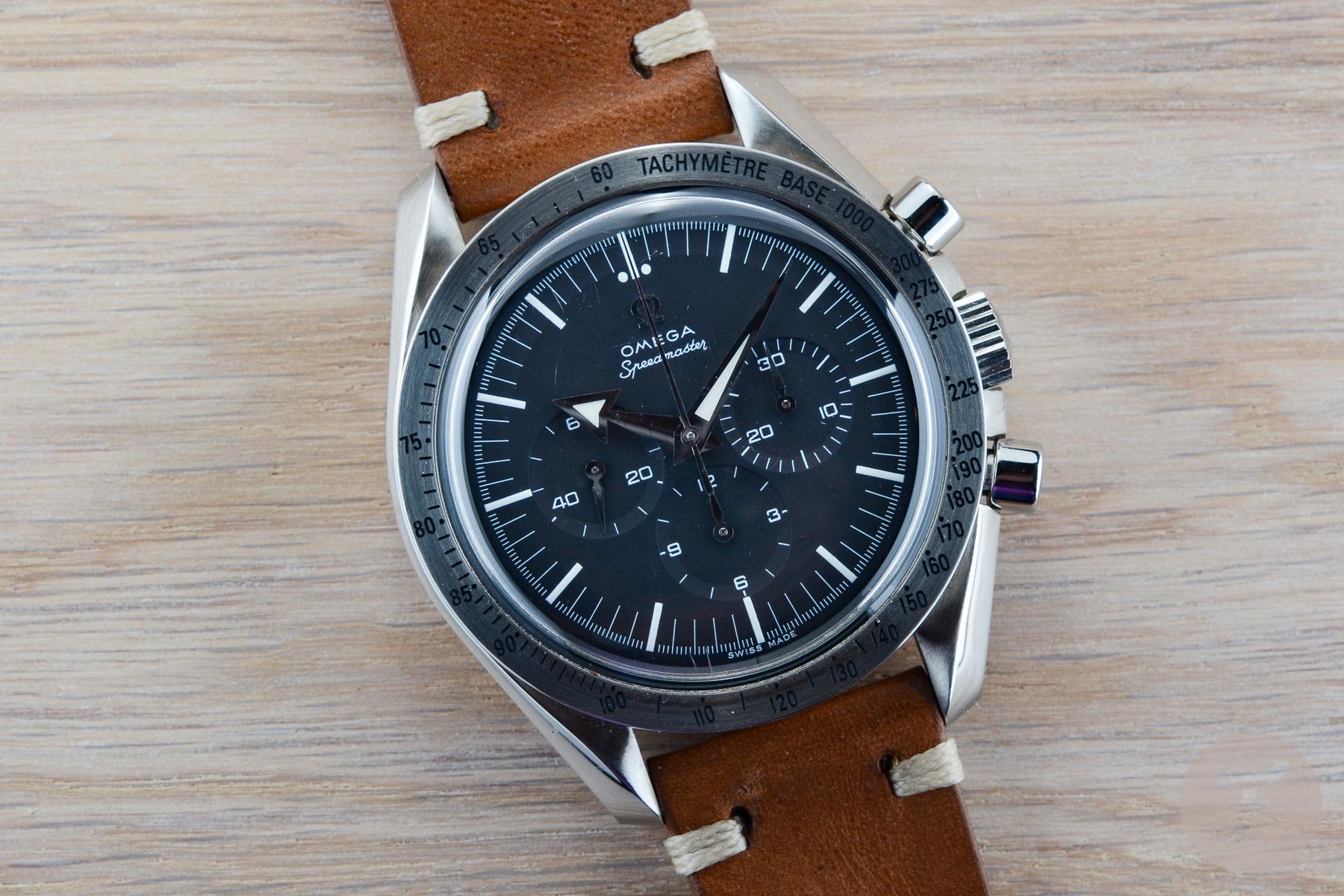 This watch was introduced in 1997 but was also part of the earlier mentioned mission cases. It was introduced as the Speedmaster'57 Replica, a pretty lousy name for a watch, which also might be the reason it didn't work on the market. Later on, Omega renamed it to Speedmaster'57 Relaunch (long after it was discontinued). I think it is a very cool piece. It shows that Omega was aware of their history in those days, but didn't have the means to do it as proper as they did it in 2017 with the 60th anniversary Speedmaster edition. I received this watch in 2013 from my wife and daughter for my first Father's Day. You can easily find these on the market, and it is a cool piece to wear. The steel bezel and the Broad Arrow hands give the watch a bit more dynamic than the regular Moonwatch. The case and movement are identical, though. I always find the dial to be a bit more grey-ish than the standard Moonwatch dial, but this could be an optical illusion. These were on the market from 1997 till 2003, and you will find the earlier ones with a black leather box and bracelet without push buttons. The later models have the red leather box and a newer type bracelet.
Speedmaster'57 60th Anniversary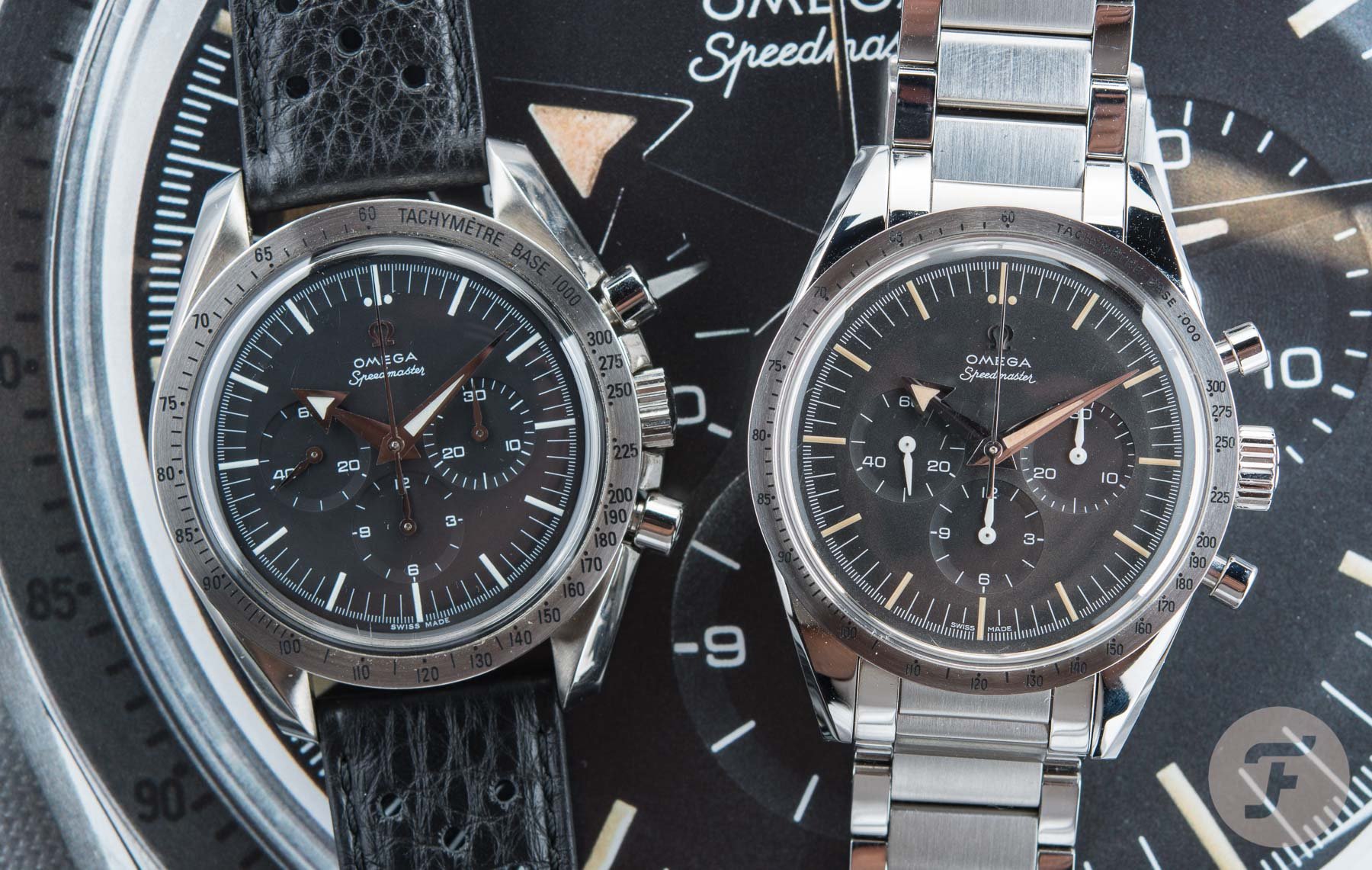 Another modern limited edition, from 2017. On the left, you find the reference 3594.50 I described above, and on the right is the 2017 version of the Speedmaster'57. A straight-lug case with the same dimensions as the original Speedmaster CK2915 (1957-1959), broad arrow hands, a bit of that faux-patina, and a bracelet that has the looks of the old reference 7077 bracelet. It is a bit thicker, though, and the clasp is quite bulky. But hey, it is a great watch and wears perfectly. This watch was also available in a Trilogy Box set, together with a re-edition of the Railmaster and Seamaster 300. All three were watches introduced in 1957 and regarded as watches for professionals. The box was limited to 557 pieces and the separate watches to 3557.
Speedmaster Mark II 145.014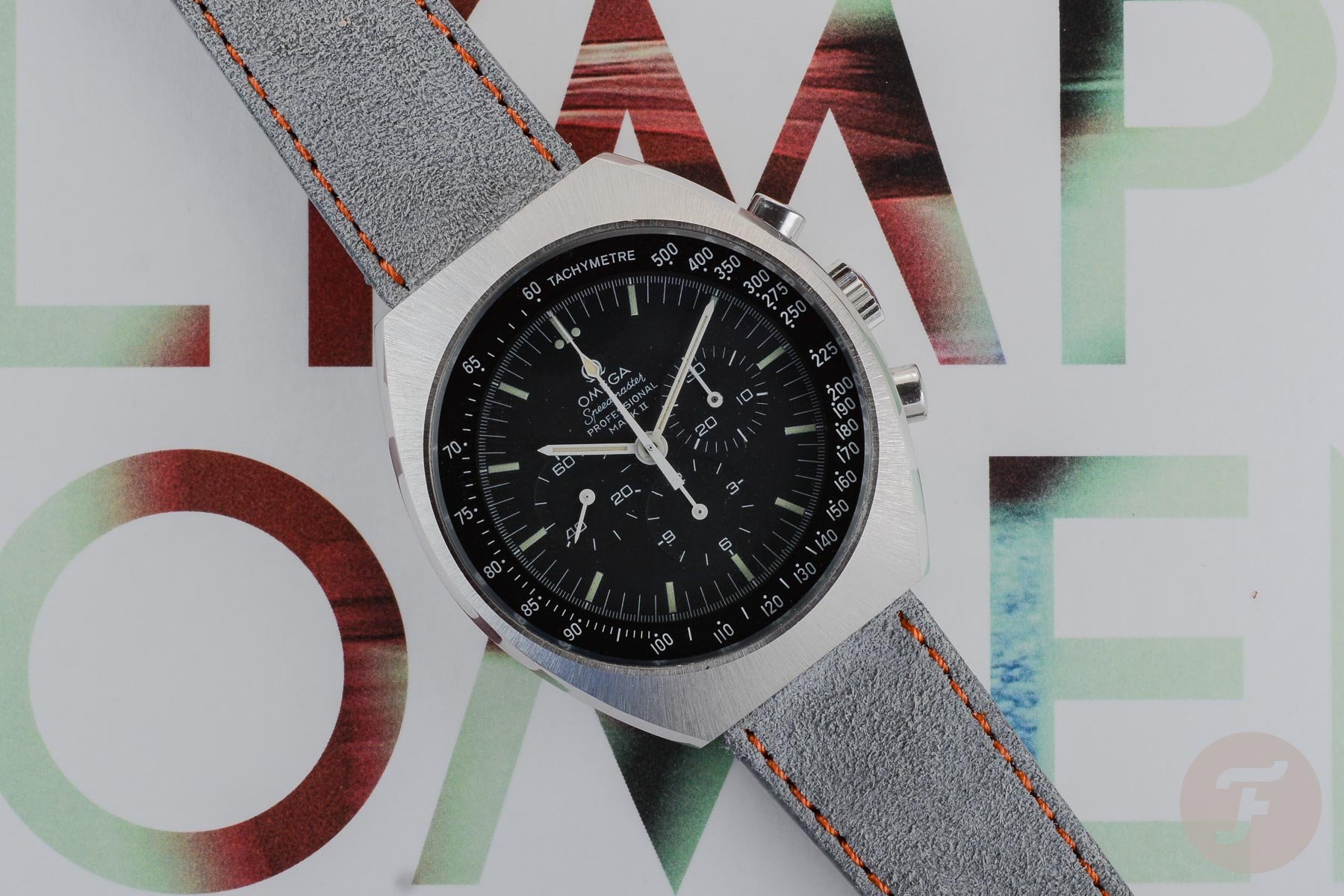 The Mark II is a pretty cool watch. For a long time, these watches were not very sought after and could be found for attractive prices. I think they are still worth every penny of today's asking prices, with the caliber 861 movement and the excellent case design (and finish). The Mark II was introduced as a second Speedmaster model in 1969 and perhaps a bit more modern (at the time) when it comes to design. Now, you could say it is bulky and a typical product of that era. This watch has little to do with space, aside from the fact that the case design is derived from the Alaska project prototype. I am not exactly sure when I purchased this watch, probably around 2010 or 2011. I think I paid about 1000 Euro and had it serviced and overhauled for a few hundred more. I also have the original bracelet, but it also looks good on a leather strap. Omega continued to do more designs and used the 'Mark'-series till the 1980s, for the Mark V.
Speedmaster Professional Apollo XI BA345.0802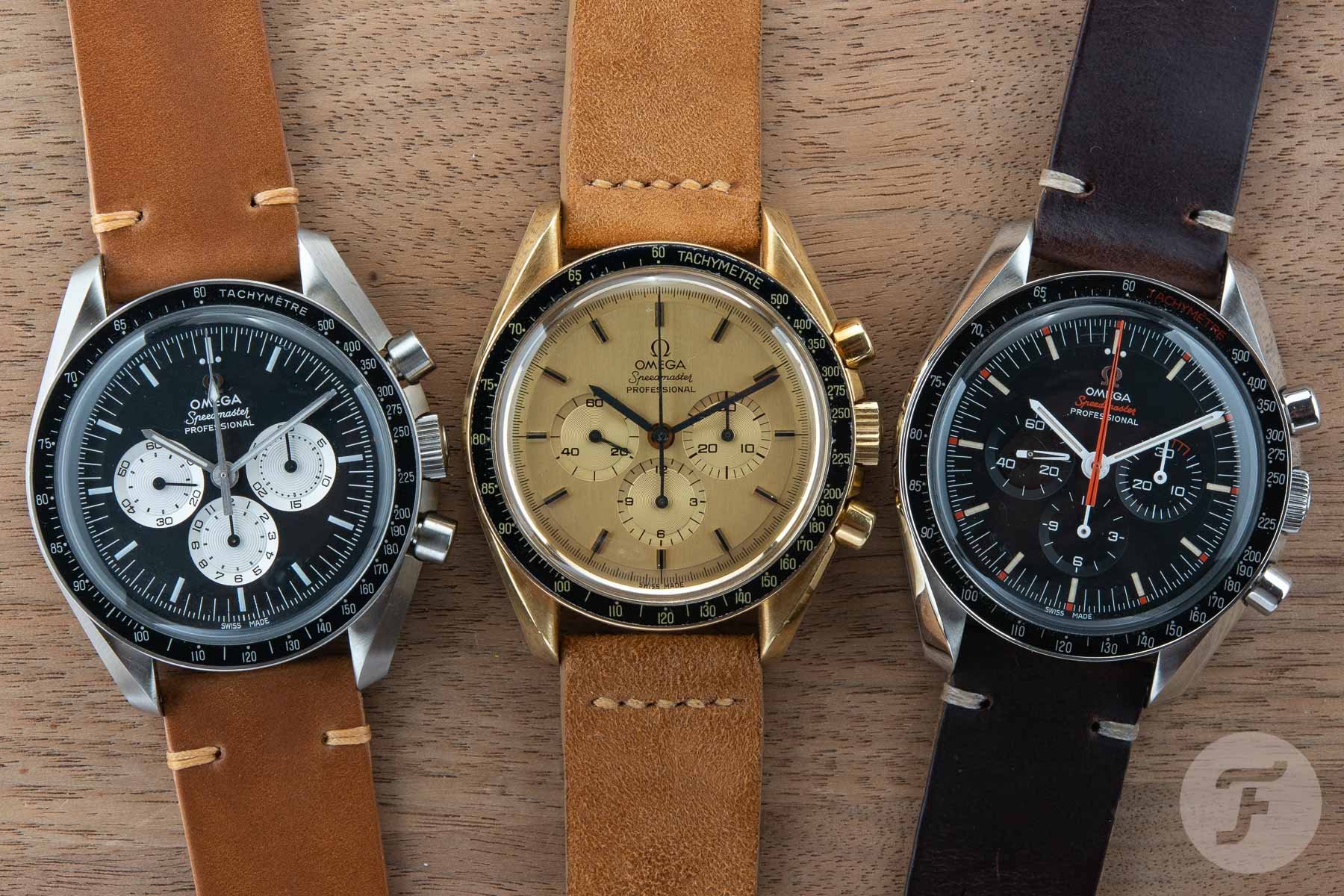 Flanked by both Speedy Tuesday editions, the gold Speedmaster Professional BA345.0802 in the center is one of my favorite pieces. I bought it in October 2014, when I was visiting Munich. Together with my friend Ben, who you might know from Hodinkee, we were visiting a few dealers, searching for a gold Speedmaster (I was on a mission that day). This one was for sale at one of the vintage dealers in the city center. It came on a gold bracelet as well, but for the picture, I put it on one of the leather straps (all straps in these pictures come from Straps By Fleur btw). It is funny actually, as the first time I saw this watch in the flesh was earlier in 2014, during the Winter Games in Sochi. Also together with Ben Clymer. Astronaut Thomas P. Stafford was also there as a special guest from Omega, and he showed us his yellow gold Speedmaster Professional. It happened to be this watch, and it was introduced in 1980 to commemorate the Apollo XI mission in 1969, but also to celebrate the fact that the Speedmaster was chosen once more for the (then) upcoming Space Shuttle missions. Only 300 pieces of this gold piece have been made, and it was not a great seller back then. It was in the Omega catalog from 1980 till 1988 and cost as much as a BMW 3-series. Twenty pieces were made in white gold, all for the German market. I believe only a few of those survived. Of the 300 yellow gold pieces, approximately 150 were for the German market. With the financial crisis in the 1980s, I bet a lot of them ended up in the melting pot.
I don't want to emphasize on the Speedmaster Speedy Tuesday models too much in this article. But those are very meaningful to me as well, for obvious reasons. I have no.13 of both limited editions, as that's my favorite number.
Speedmaster Silver Snoopy Award (2015)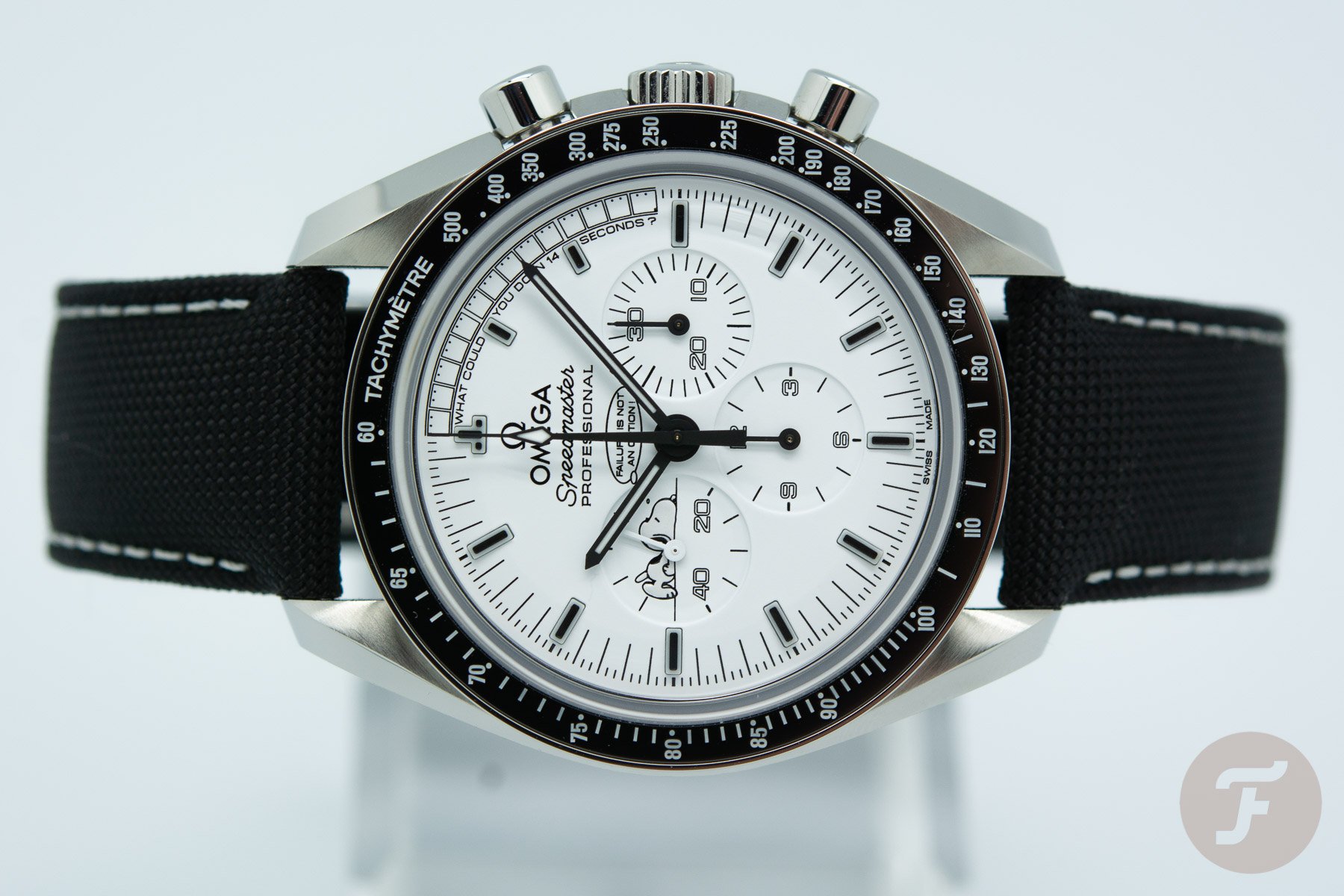 This Speedmaster Silver Snoopy Award is the 3rd watch to commemorate Apollo 13 and the second that has a Snoopy on the dial (you can read here why there's a Snoopy on the dial). I am fortunate to own all three of them, and with the 50th anniversary of Apollo 13 next year, I am hoping to see something cool as well. This white dial Silver Snoopy Award was introduced in 2015, for the 45th anniversary. The dial is very cartoon-ish, but on the wrist, you hardly notice it. The case back is very impressive, with a silver Snoopy lapel pin figure on a blue and black enamel background sprinkled with silver dust. You can find it all here. The black soft strap is amazingly comfortable, and I noticed that a lot of people also ordered this strap for the first Speedy Tuesday edition.
Speedmaster Professional 'Tintin' (2013)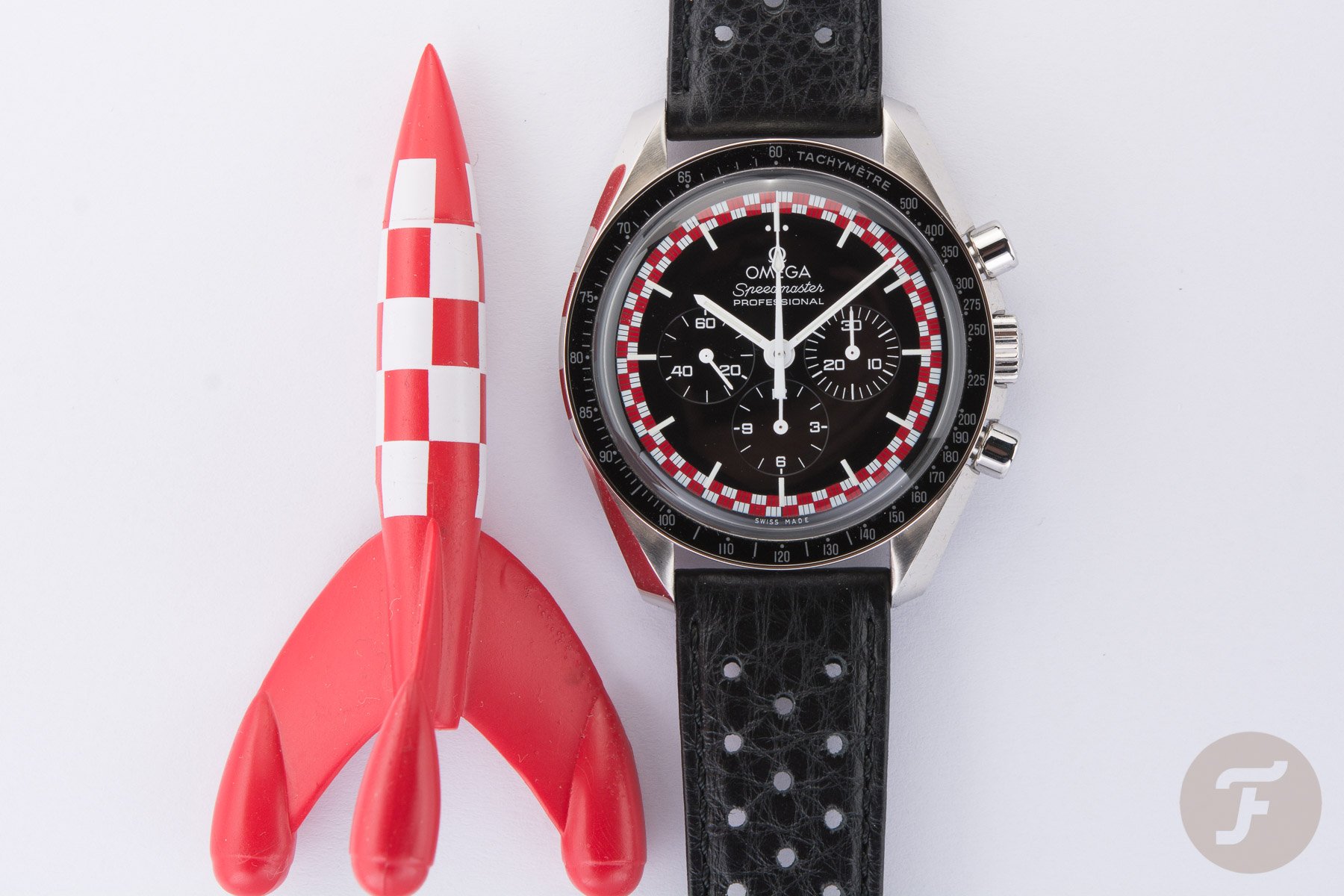 The Speedmaster Professional 'Tintin' was released in 2013 and first introduced as a Speedmaster 'Racing.' Much like the special edition for Japan in 2004. When we had our meeting in Basel, I asked Omega about the dial, as it didn't strike me as a Racing dial, to be honest. They started to laugh and explained the story about Tintin and how they wanted to make this a tribute to the cartoon from Hergé. We published this 'breaking news,' and the watch was quickly after nicknamed 'Speedmaster Tintin'. I received a letter from the legal department from Hergé, telling me to take a picture of from the Tintin album (Explorers on the Moon) – which I own and scanned for the occasion – and stop using the name Tintin. Well, I took of the scan, but refraining me from using the name Tintin is nonsense (and they know it). Anyway, the watch is cool, and the red and white give it a very distinct look. On the original watch that Omega had in mind, there's a little rocket on the dial (as pictured on the left). I wonder what would have happened if they would have marketed that watch. In all honesty, I think people would have ignored it, and part of the success of this watch now is the story of how the watch didn't become a Tintin watch. I bought mine brand new in 2017 during a trip to Japan (the watch was discontinued in 2016) for approximately €2200,-. I guess Tintin doesn't have fans in Japan.
I showed you ten of my Speedmasters (11 if you include the 145.012-67) and a bit of a background story for each of them. I hope you enjoyed it, and I might do another run on some of my other Speedmasters at some point.
If you have a story you want to share with us and our readers, fellow Speedmaster enthusiasts, please mail me. Why you bought a Speedmaster, or perhaps you received one with a special reason. Modern or new, all stories are welcome!
*p.s. Happy birthday, dad!