Balazs' Top 10 Straps Every Watch Guy Should Have
A different strap for every day and every occasion
Unless you want to go down the road of modded watches, the simplest way to give your precious timepiece a fresh look is a new strap. Especially if the piece is on a bracelet, throwing a leather strap can change how the watch looks and feels entirely. This is not rocket science; many of us use this "trick." However, for those of you lost in the world of wristwear, I have selected the Top 10 Straps you should own.
My list, as always, does not come in a hierarchical order. These are just the styles I prefer and wear on my watches the most often. I hope you'll find at least one that you have not heard of before.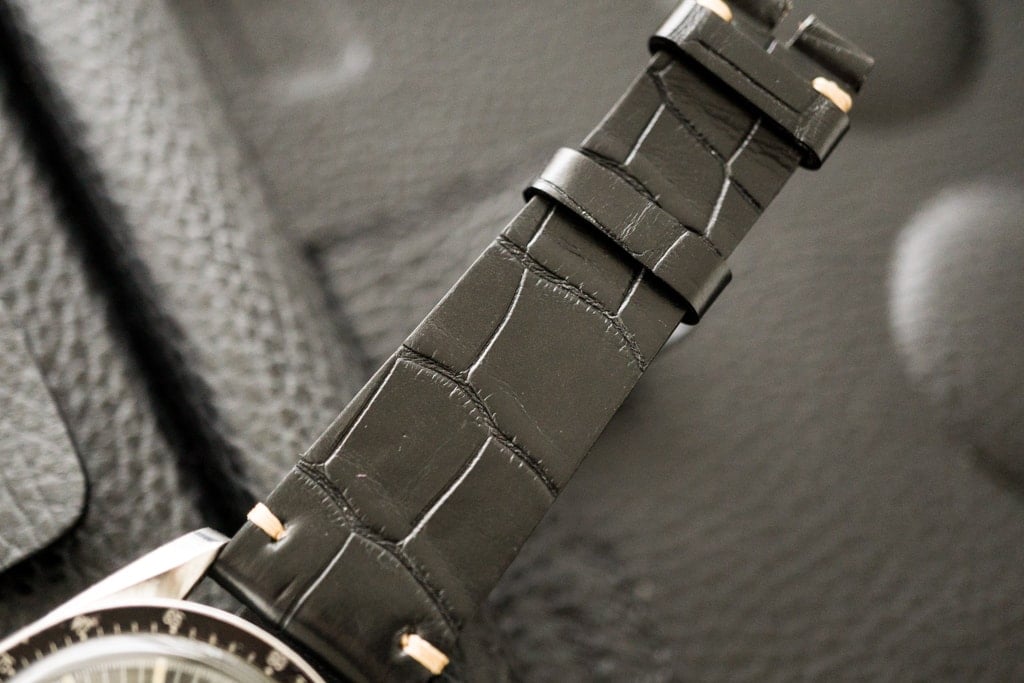 1. Exotic leather
Now, this is a tricky one, I know. Exotic leather is not exactly "trendy" in 2020, but not every crocodile band comes from an illegal farm. Still, you should definitely make sure that you are buying from a legit source. Exotic straps are not cheap, but they are sturdy and can give your watch a classy look. And I'm not even talking about those shiny alligator-grain straps that you can buy for a tenner.
Those try to imitate the luxury straps of the '80s and '90s. I like the look of those straps on certain watches (they look particularly at home on a Patek grand complication, for example). For the most part, however, the days of shiny croc straps are long since past. What are trendy nowadays (and have been for a while) are vintage-style straps with side stitching. If you want to be audacious, exotic is always the way to go. Check out these babies, for instance.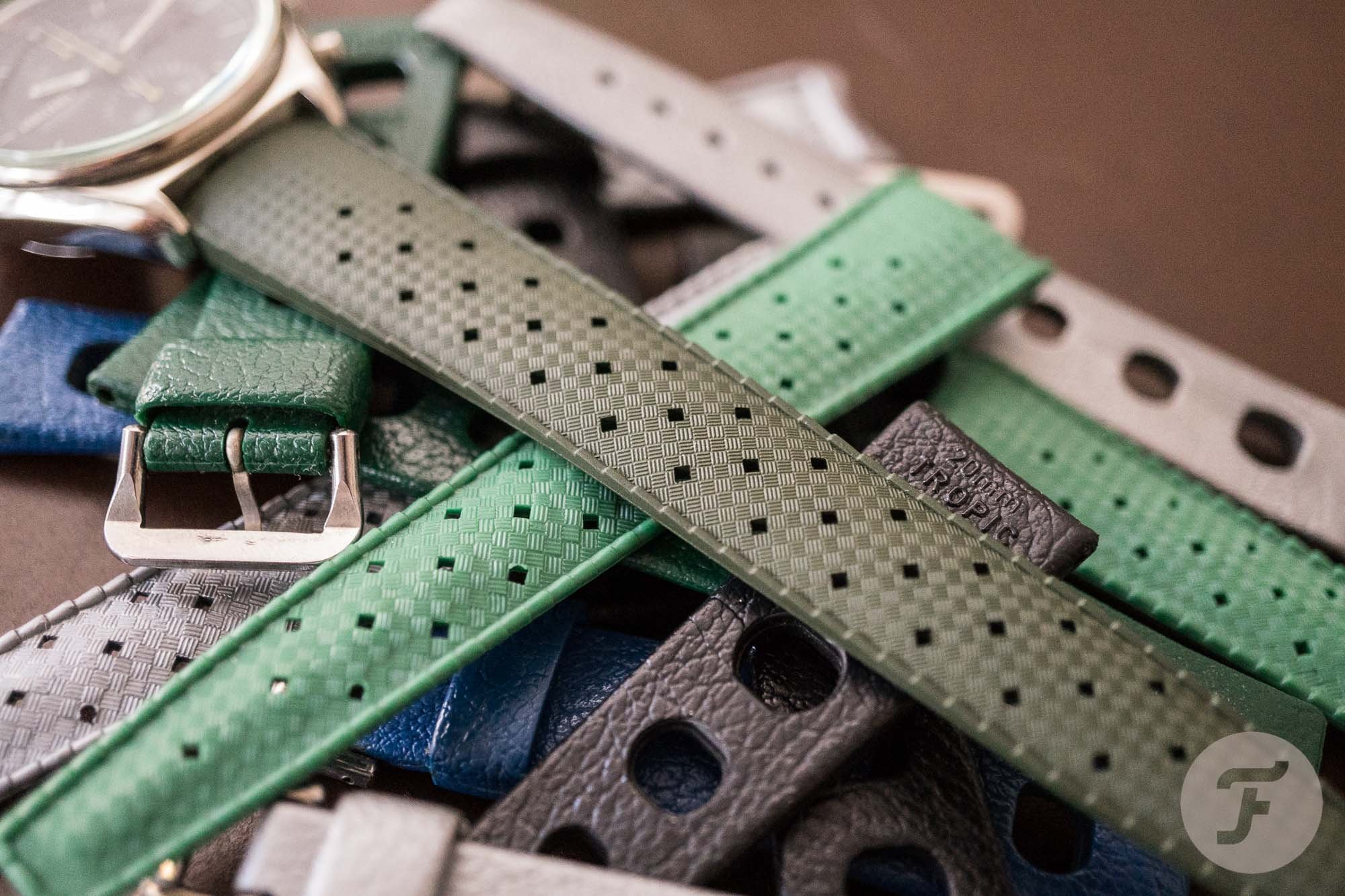 2. Rubber straps
Contrary to popular belief, a rubber band does NOT only look good on a diver. Clearly, some types of rubber straps are made for that purpose and that purpose alone. If you're looking for a tough, durable dive-only rubber strap, you could try an ISOfrane.
But for a different look entirely, why not consider the newly released Tropic straps? Or why not try and get one of their vintage counterparts — an original Tropic Sport? Every time I bring these vintage Tropics up — because I love them so much — somebody has to spoil the party. I hear things like, "They are stiff," "They break," or, "They're overpriced." If those are your sentiments, then this style of strap is not for you. But vintage guys do love them. And hey, if you want something modern, go with the new Tropic straps. Or any other rubber, for that matter. Now I would not put a rubber on a Lange, but that's me. Just because I won't be taking a particular watch for a swim doesn't mean it can't live on a rubber strap. I mean, is every Submariner owner a diver?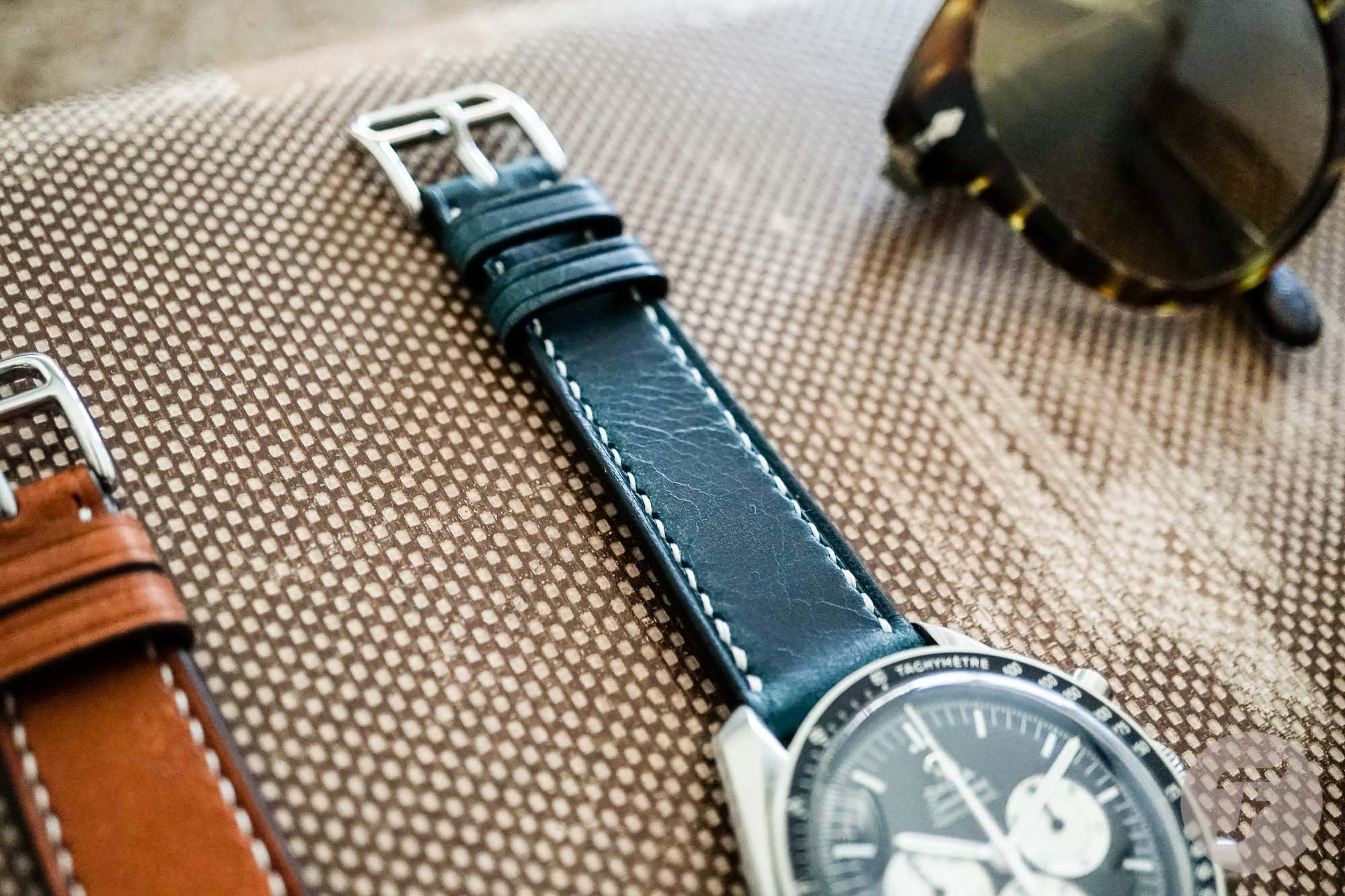 3. Vintage (style) leather
This is probably one of the most popular options within our industry. A simple leather strap with side stitching and smooth lining goes a long way. These straps come in all colors, shapes, and sizes. They all share one thing in common, however: the aged leather.
It can be an actual vintage, decade-old hide. More often, however, these only look old thanks to certain procedures. In any case, the look is just awesome. You can throw it on a new watch. But they look especially good on a vintage piece. Even if the strap comes looking new, fresh out of the packaging, they easily develop a patina. I'm so happy to see them used by watch brands more and more these days. Brands offer some of their watches on these incredible leather straps, which is great. We need versatility in the industry, and selling your piece on a special strap is one way to achieve this.

4. Horween
Horween is not a leather type; it's the name of a company (Horween Leather Company) based in Chicago. Its catalog offers only a few types of leathers, but I guarantee you've heard of all of them. Horween sells (American) football and baseball-glove leathers, but my favorite is the Shell Cordovan. There is something special about these hides. It is the color tone and its exceptional shine that make the Horween Shell Cordovan leather straps outstanding.
Primarily, Shell Cordovan is a material used for footwear, dress shoes, boots, and other types of leather goods. And when we talk about leather goods, we clearly think of straps. Imagine having a beautiful pair of Crocket & Jones Shell Cordovan boots with a nice watch on a matching Horween strap. Pure class. Luckily, many strap ateliers offer Horween leather straps, whether it is Shell Cordovan or Chromexcel — perhaps even football leather.

5. Rally strap
Five or six years ago, there were far fewer strap ateliers than there are today. The whole scene was different. Other than the major brands like Hirsch, ABP Paris, or Morellato, only a handful of brands were on the watch scene. This was when I started writing my Watch Strap Review series. My goal was to bring new faces to the forefront.
A lot of brands at the time had rally straps in their catalogs. They were very different from each other. Some had small perforated, Heuer-style patterns; others had the three large holes that got smaller towards the buckle. One thing was common, though. Rally straps could make almost any watch sportier. They also felt better in the summer, thanks to the holes. They don't work with every style of watch head, but they really bring it to life when they do.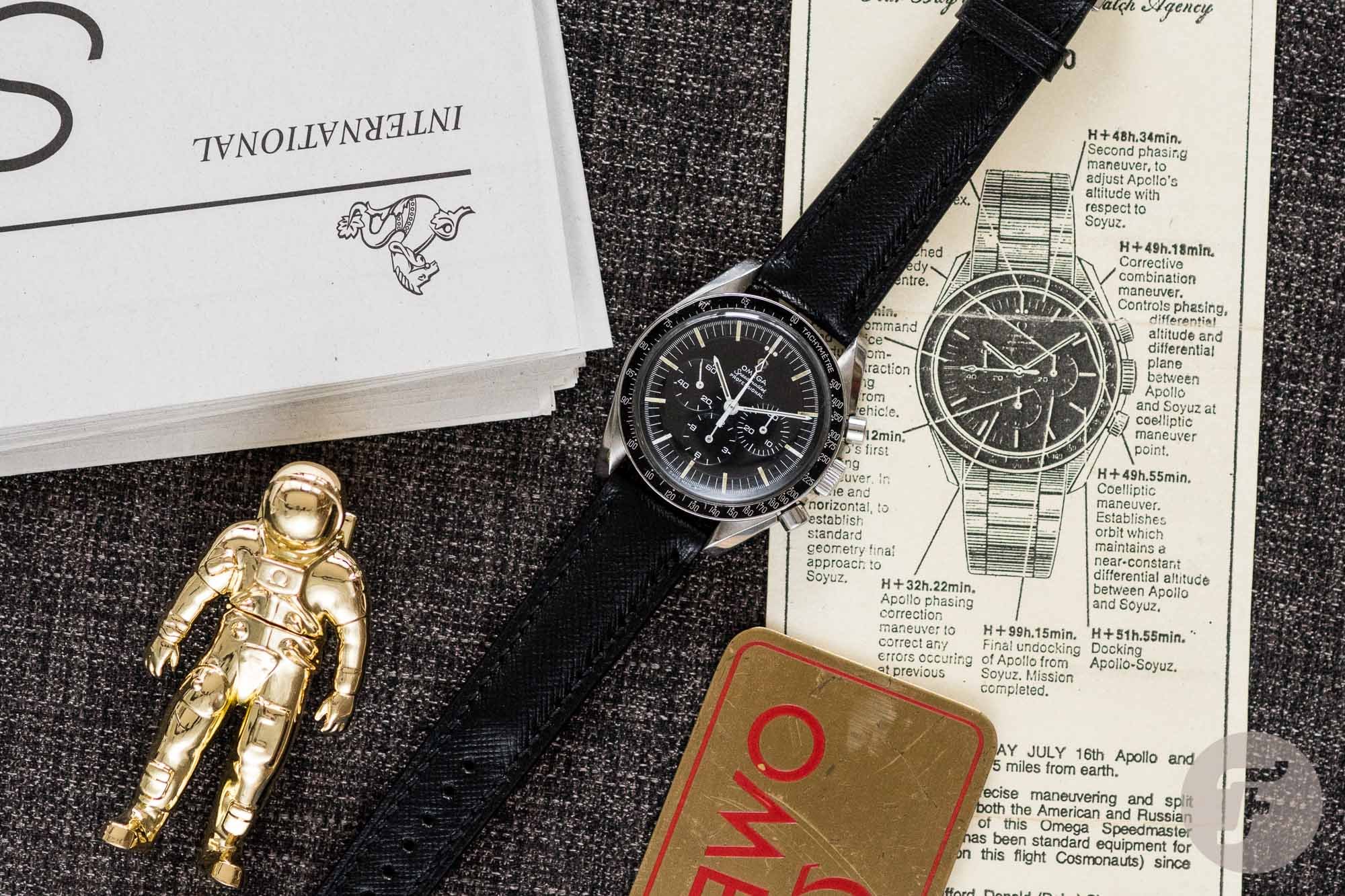 6. High-End leather
Strap makers follow fashion trends and try to weave them into their goods (sometimes literally). This is why we're seeing more and more straps made of high-end leather — Saffiano and Epsom come to mind. Both are stamped-grain leathers coming mostly from Italian and French tanneries. Strap makers source these leather hides from the same tanneries as luxury brands such as Prada or Hermés. Saffiano leather is the one Prada uses, as well as Genteel Handmade Straps. Epsom is a similar-looking leather. This is the choice for Hermés' many leather creations. Furthermore, you can find Epsom straps in Delugs' catalog. Their interesting texture makes these leather hides stand out from "ordinary" straps.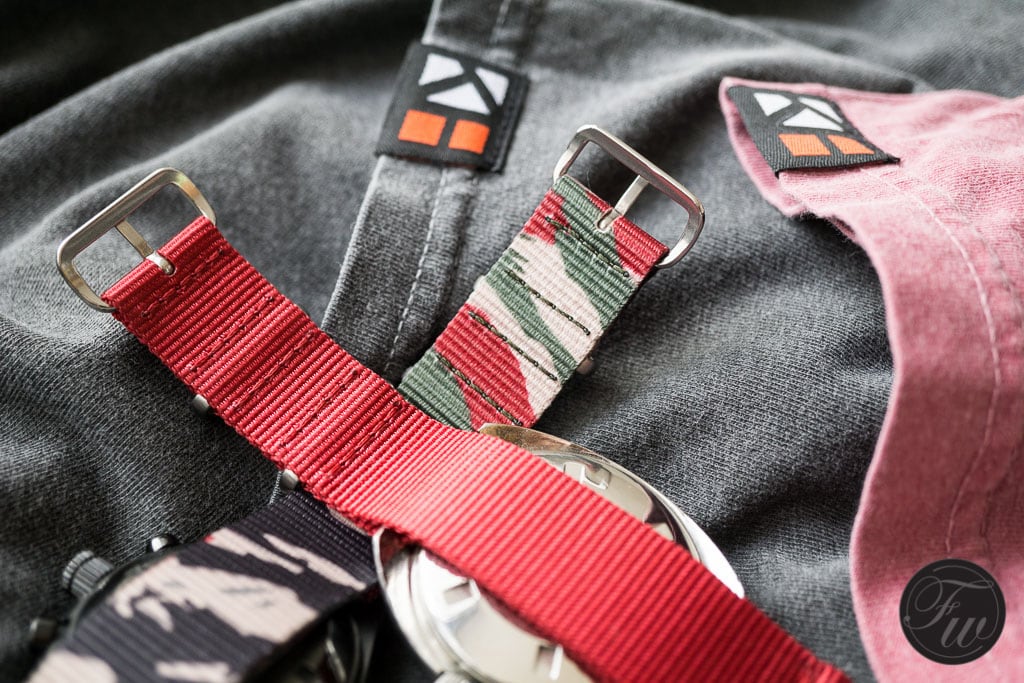 7. NATO straps
This is an obvious choice. You simply have to have a NATO (or ZULU) strap in your watch box. They come in all sizes, with thousands of colors and patterns, and are just so much fun. You can dress your watch up with a leather NATO strap. Or give it a sporty look with a colorful nylon one. Want to show support to your team? Get one in your team's colors! Or buy one from a watch brand for your matching timepiece (I'm looking at you, Omega).
NATO straps have been around for a long time now. Finally, it is not only the third option by brands but often the first one. An industry that thought knows it better slowly started to listen to their audience and adapt. The watch community made NATO straps trendy, not brands. For that, I am thankful. All hail the Nato strap.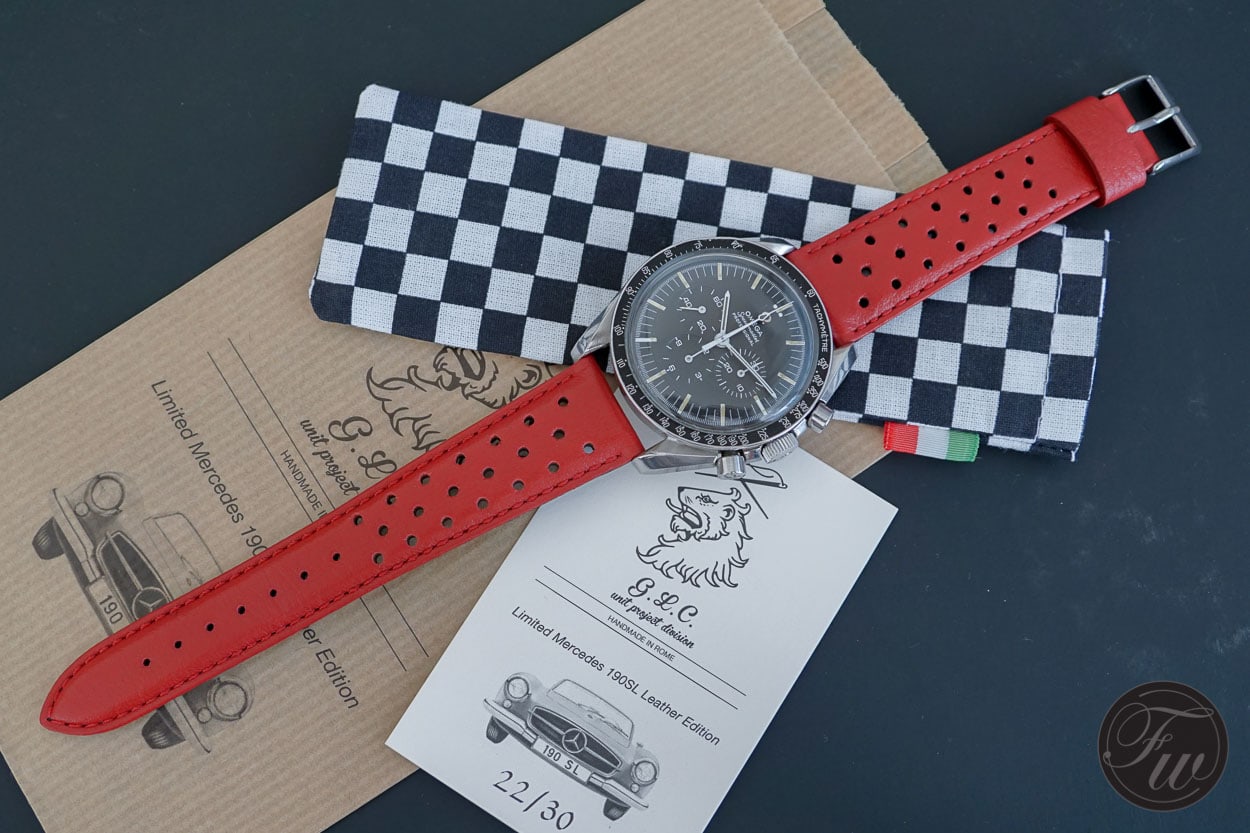 8. Custom leather strap
An exceptional watch can be an exciting conversation piece. The same applies to top-notch leather straps. Imagine you are wearing your precious piece on a strap made from Porsche or Mercedes seat leather. Or rocking a military watch on a band made from old ammunition bags. How about riding your motorcycle wearing a watch on a vintage biker jacket strap?
Although it is not easy to find, these types of leather goods do exist. I have featured a number of them in the past. And the best thing about it? You can create them too. Find a cool vintage motorbike seat that is beyond repair, or salvage a cool vintage leather bag that bit the dust. Chances are, a skilled strap maker can still turn that into an awesome band.  The options are just endless, and the final product will be unique.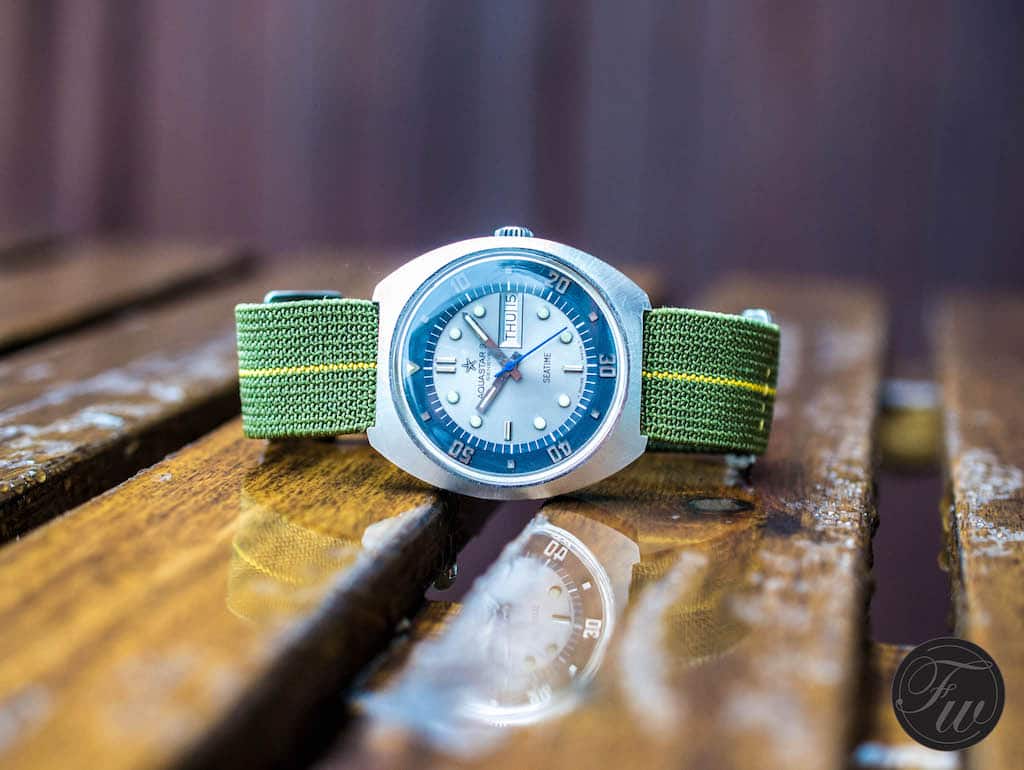 9. Erika's Originals
OK, I know that Erika's Originals is not only a type of strap but a brand too. However, she offers something nobody did before her. Sadly, since then, others have started to copy her original design, which I find uncool. Erika was creative enough to bring a product that was exclusive on the strap market. I'm talking about the Erika's Original Marine Nationale straps. She obviously took inspiration from the actual vintage French Navy straps. Nevertheless, she upgraded the looks and design while keeping the OG appearance using vintage materials as often as she could. Since then, she widened her product list with several different versions. My favorite, however, will always be the vintage MN strap.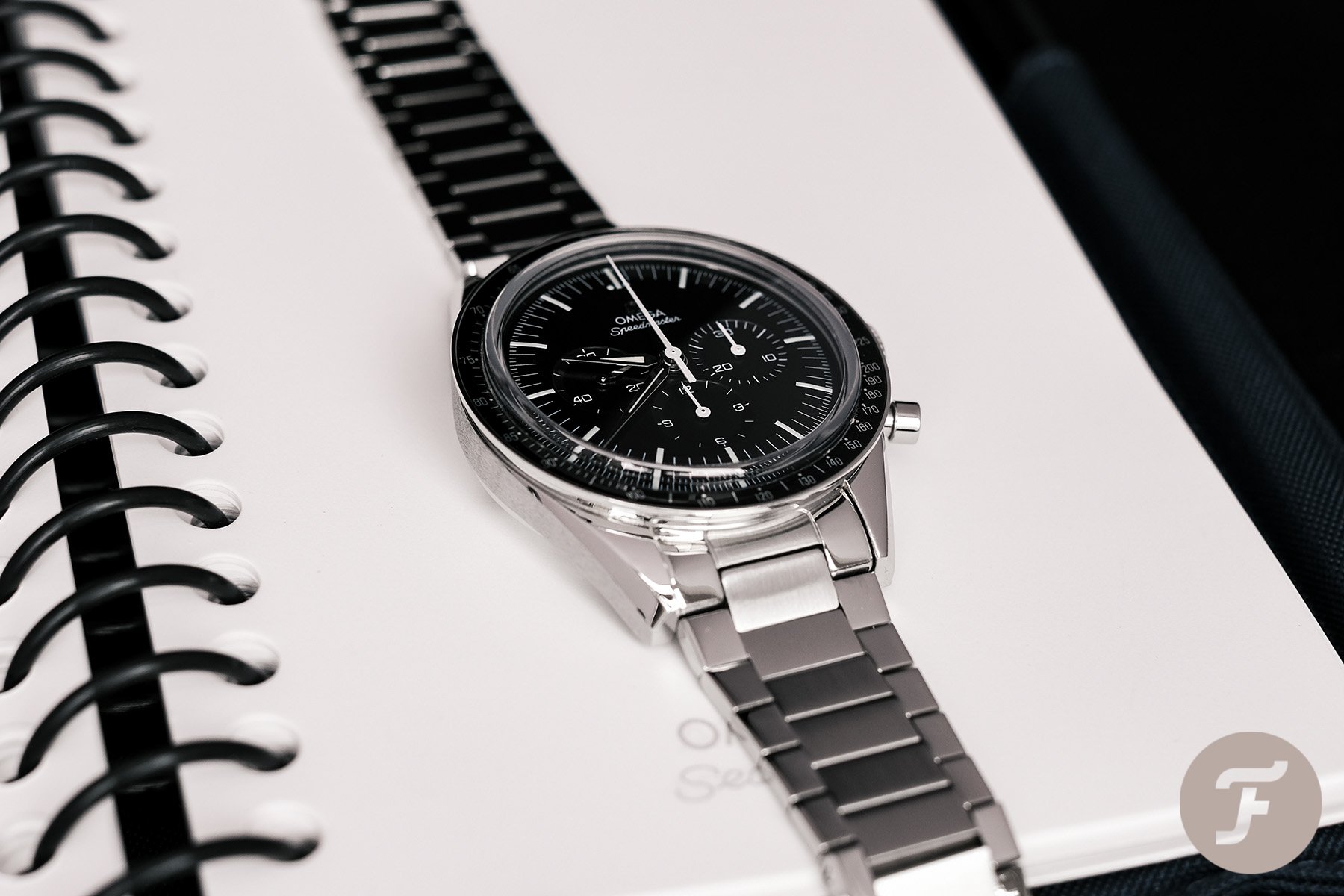 10. Flat link bracelet
Strictly speaking, these are not straps. Yet, I feel that we should include them in the list. Flat link bracelets seem to be the hottest trend these days. This year, we've talked a lot about the amazing flat link bracelets made by Forstner. They are very well made and sturdy products from a company that offers so much more than that. But Forstner is not the only brand with a flat link bracelet. Uncle Seiko is another company that sells such a bracelet.
We did a comparison article not too long ago. While we connect flat link bracelets to Omega, I strongly feel they look just as smart on many other watches. Just think of riveted bracelets. To many, they are a vintage Rolex thing. But back in the day, many brands used the same design on their timepieces. What I'm trying to say is this; whatever you like, wear it.