Buying My Own Arguments: The Girard-Perregaux Richeville Arrives
The dangers of being a watch journalist (and not caring one bit about Instagram algorithms)
This might not come as a surprise, but my enthusiasm for watches is very real, even if it gets me in trouble occasionally. You might have read my story on how to consolidate a collection, and yes, that was an autobiographical tale. This is not the New York Times, so I am allowed to have a slightly colored, subjective viewpoint. I do try to put myself in other watch buyers' shoes though, as a watch can be a knock-out even if I find it slightly odd myself. This certainly applied when discovering the quirky Girard-Perregaux Richeville for an article. But then I had a second look.
My personal challenge is having diverse tastes. This simply means that I do get tempted (a lot!), hence the need for a consolidation of my collection. While writing the Best-Kept Secrets story on the Girard-Perregaux Richeville, I questioned my motives. This was a watch that popped up on one of those late-night searches on Chrono24 where you enter a budget, brand, or a complication just to see what you find. Yes, my article had some great comments, but unfortunately, my own arguments worked all too well on me.
The 2007 Girard-Perregaux Richeville ref. 2750
That article was only meant to kick off a new series on secret gems, but it got to me. The same day it got published, I was back on Chrono24. And my wife, a very style-conscious Milanese, sealed the deal. I hit an unfortunate turn with my order for a Jaeger-LeCoultre Reverso Tribute. Three months into a long wait for that blue-dialed wonder, it turned out the non-official dealer had not actually ordered it, and I was sent to the back of the queue. Then, my wife peeked over my shoulder and told me this blue Girard-Perregaux Richeville was more stunning. Sure, I want the flip-able Reverso on my wrist one day, but her comment made me click the order button for this… and for a surreal $2,700, less than a third of the JLC. The blue Richeville dial is of a similar tone, and it even had a ton-sur-ton navy crocodile strap — hello!
Post-buying remorse?
Well, for one thing, I hadn't tried it on. Did I have post-click regret while waiting for its arrival from California? Well, the cheapest chronograph from Girard-Perregaux now costs way over $10,000, so how could I lose? This 2007 model had a full AD service in 2021 and had stayed unused after that. And that really showed on this delightful chronograph. Typing this feels strange, as a solid no-chronograph guy until very recently. And though I still eschew the multi-register busyness of a Navitimer, even a three-register Chopard chronograph has found its way into my box.
Anyway, I had two new blue straps ready to go for the Richeville, as when buying a 15-year old watch, the last thing you want is the original leather. But here, the hand-sewn navy crocodile GP strap seemed hardly used, yet wrist-shaped and pristine. A dab of Autoglym car-leather cleaner and — wow! A new one would probably set me back $200-300, so this one stays.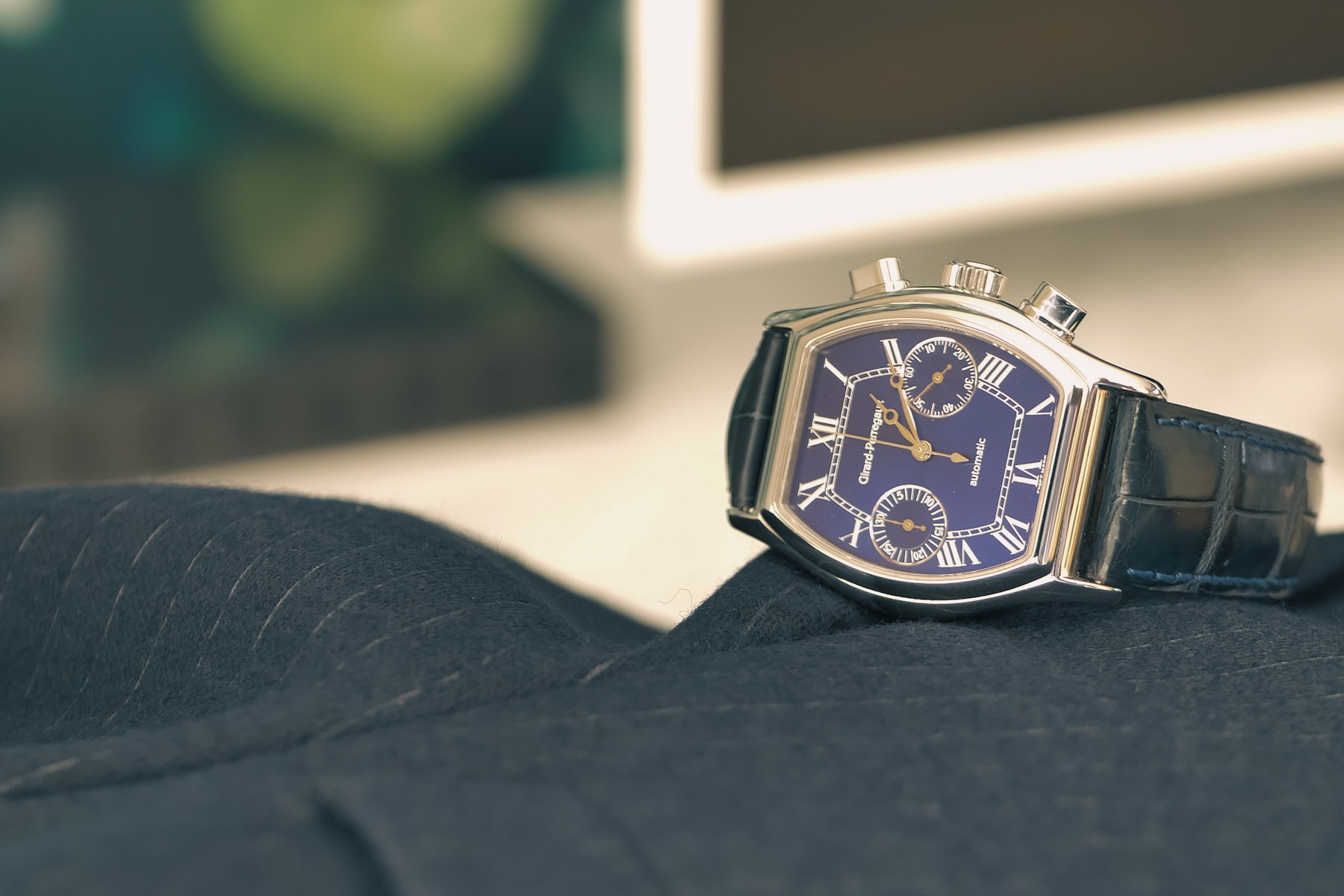 Polished ergonomics
The flowing case shape is clearly of the 2000s, and while I would love some contrast between brushing and polishing, the comfort is unparalleled. The soft case lines are gorgeous, with a strong taste of Cartier Tortue, a chronograph that starts at $43,000 for a pre-owned example. Unlike the discreet mono-pusher Cartier, the Girard-Perregaux Richeville has design contrast in its pushers and crown. The 11.3mm-thick case has a 45mm lug-to-lug and a perfectly flat (numbered!) case back hiding the 45-jewel ETA-based GP 2280-581 caliber. The stubby lugs curve ever-so-slightly downward, making it sit dead flat on the wrist (more of this, please!). And it is a dress chronograph, a very unlikely choice for me.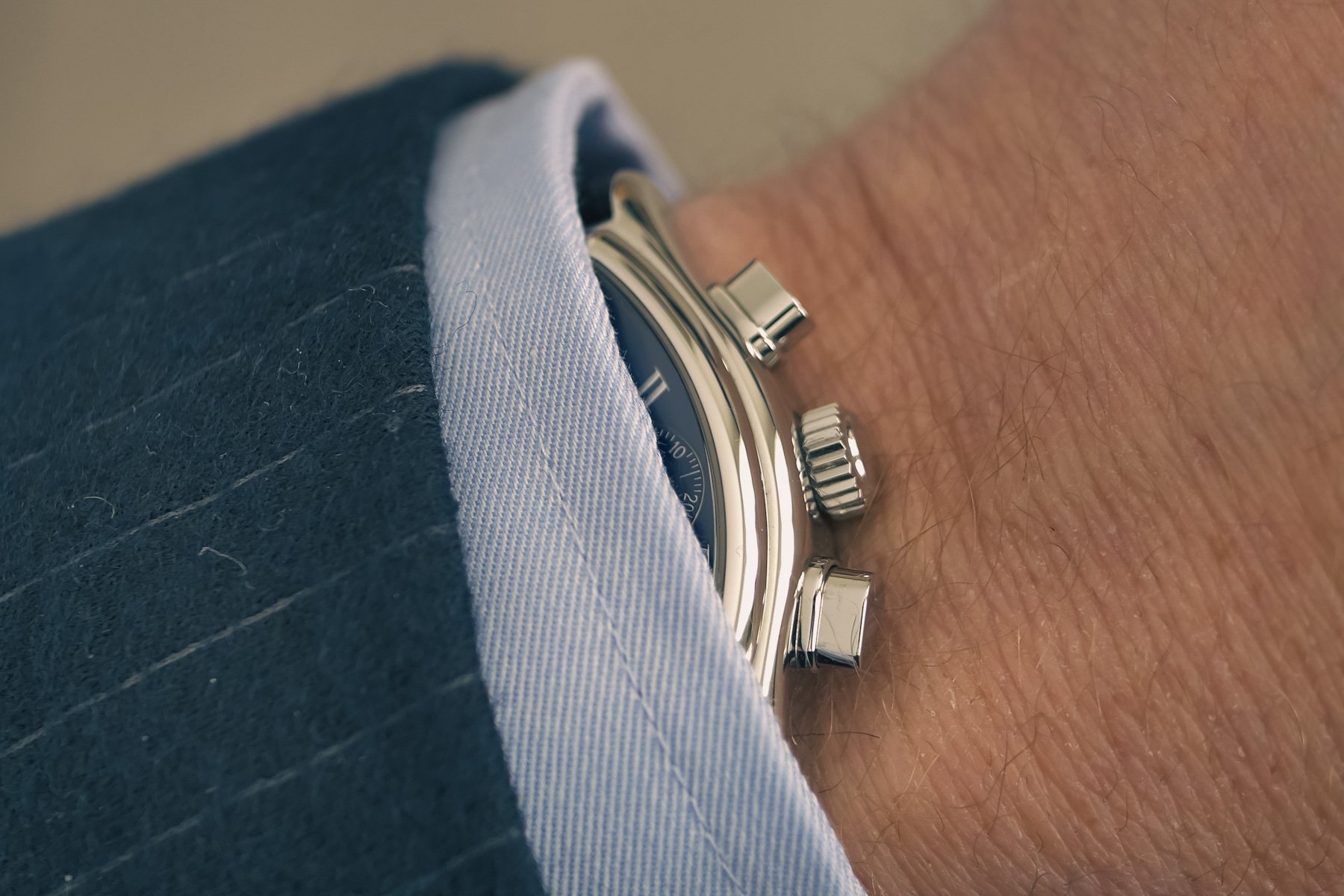 When bold pushers make a watch
The Richeville, however, is a different take on stopwatch functionality, catering to a more refined taste. It's not an overly sporty timekeeper, and the pushers make the watch. The case is 36mm wide, while the large crown and pushers extend it to around 39mm and make for a tougher image. Granted, this is a very dressy chronograph, and that's exactly why the bold and functional pushers and crown work as a cool contrast. For those of you who notice, there is also a hint of Cartier Roadster, which might also classify as a well-kept secret? Come on, Fratelli, someone has to fight the Instagram algorithm. It could be you.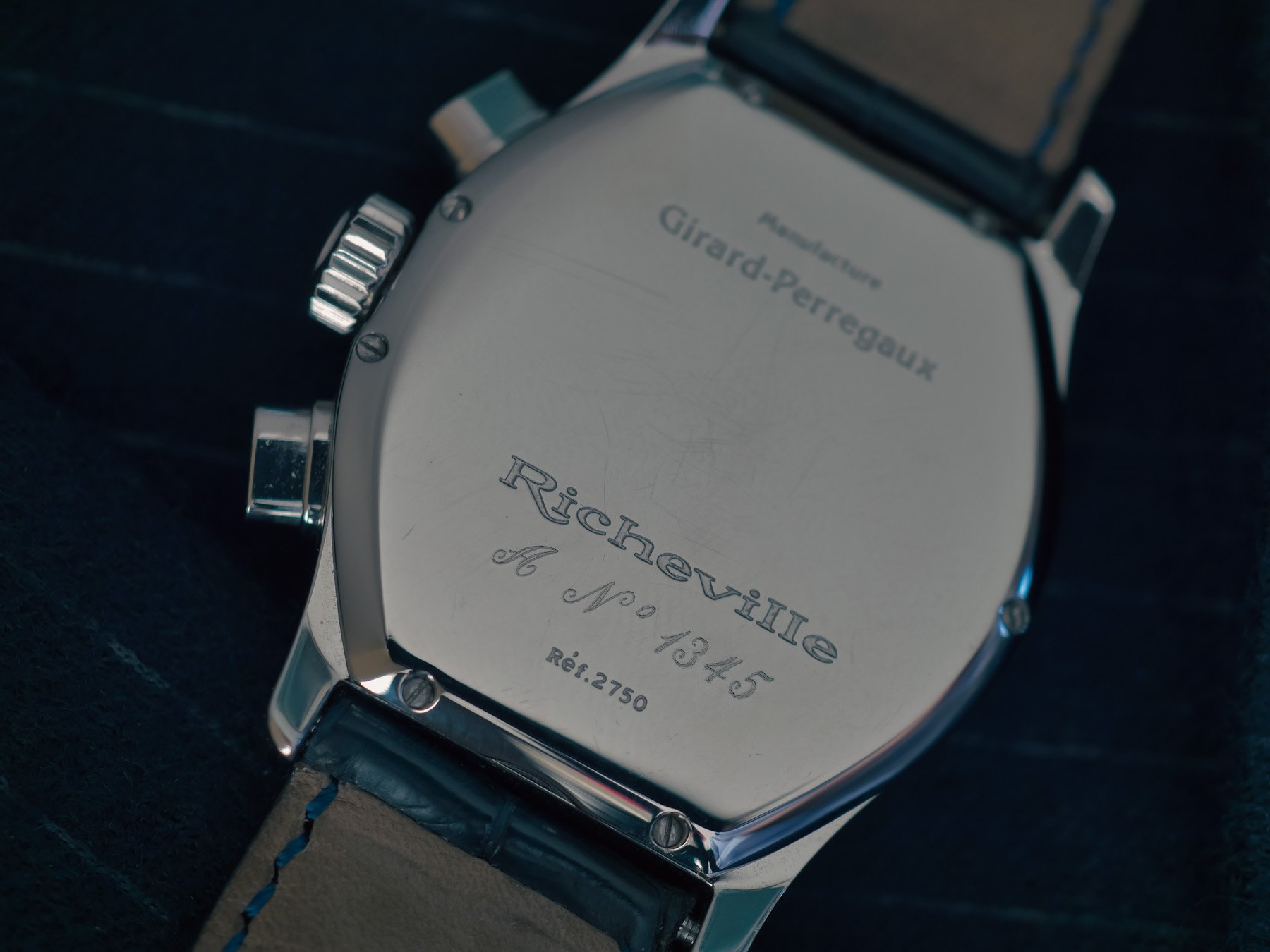 Who buys a non-round and not-quite-rectangular watch in 2022?
Well, except for my purple G-Shock, all of my watches are round-cased. I did hesitate when buying this for that very reason, as I could hardly remember when I last had a rectangular watch. No, hang on — I had a Cartier-Cintrée-ish Armani watch for my wedding in Milano, but that was it. And I owned that watch way back in 2006, before disappearing into the deep rabbit hole of mechanical watches.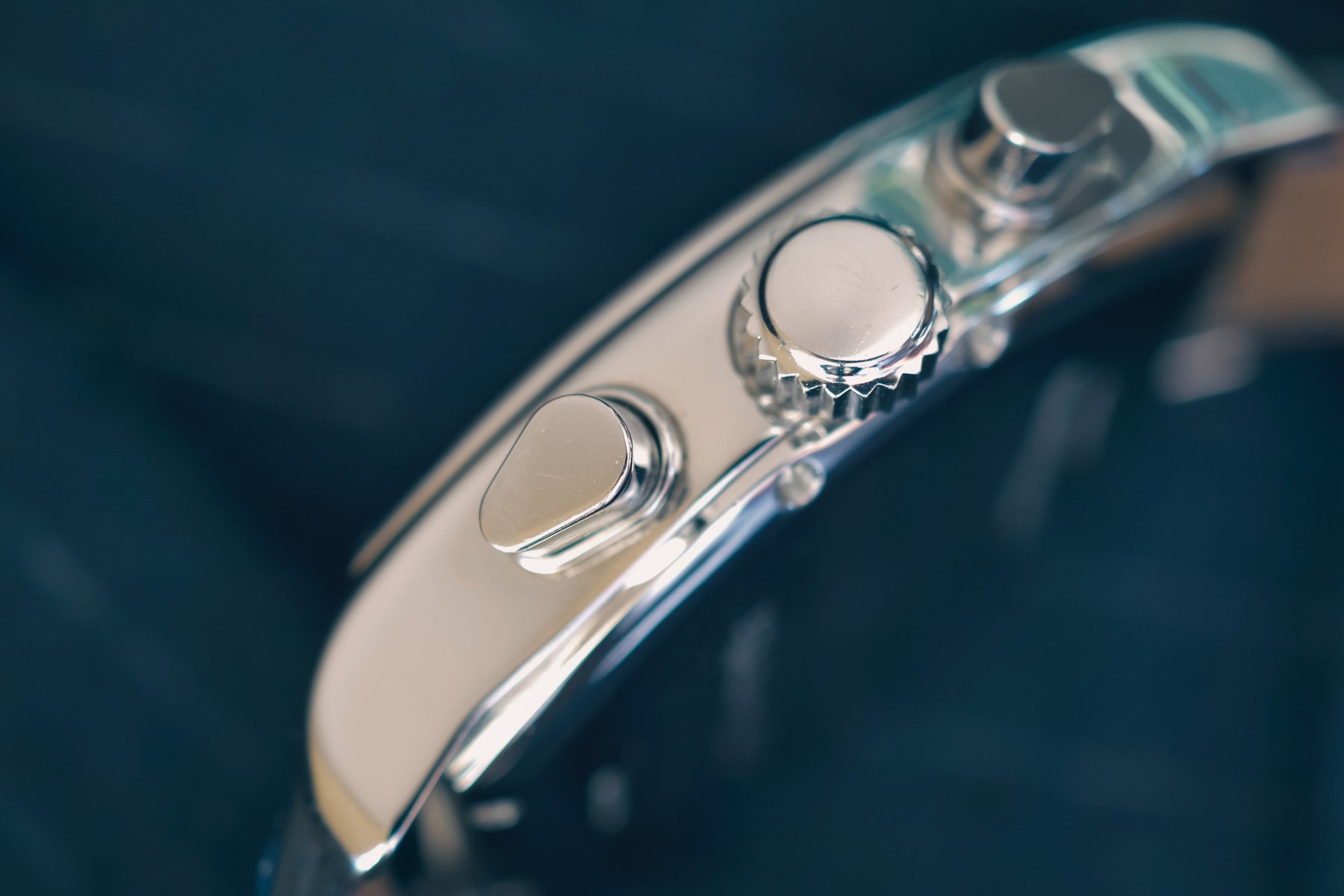 While the final iteration of the Richeville had a Tortue-esque rounded design, this particular case is stepped. The oblong sapphire crystal sits inside a chunky rounded bezel that makes for some nice reflections in the light. Do I wish it was a little bit sharper? Well, sometimes after wearing my razor-sharp Grand Seiko. Nevertheless, it still feels right.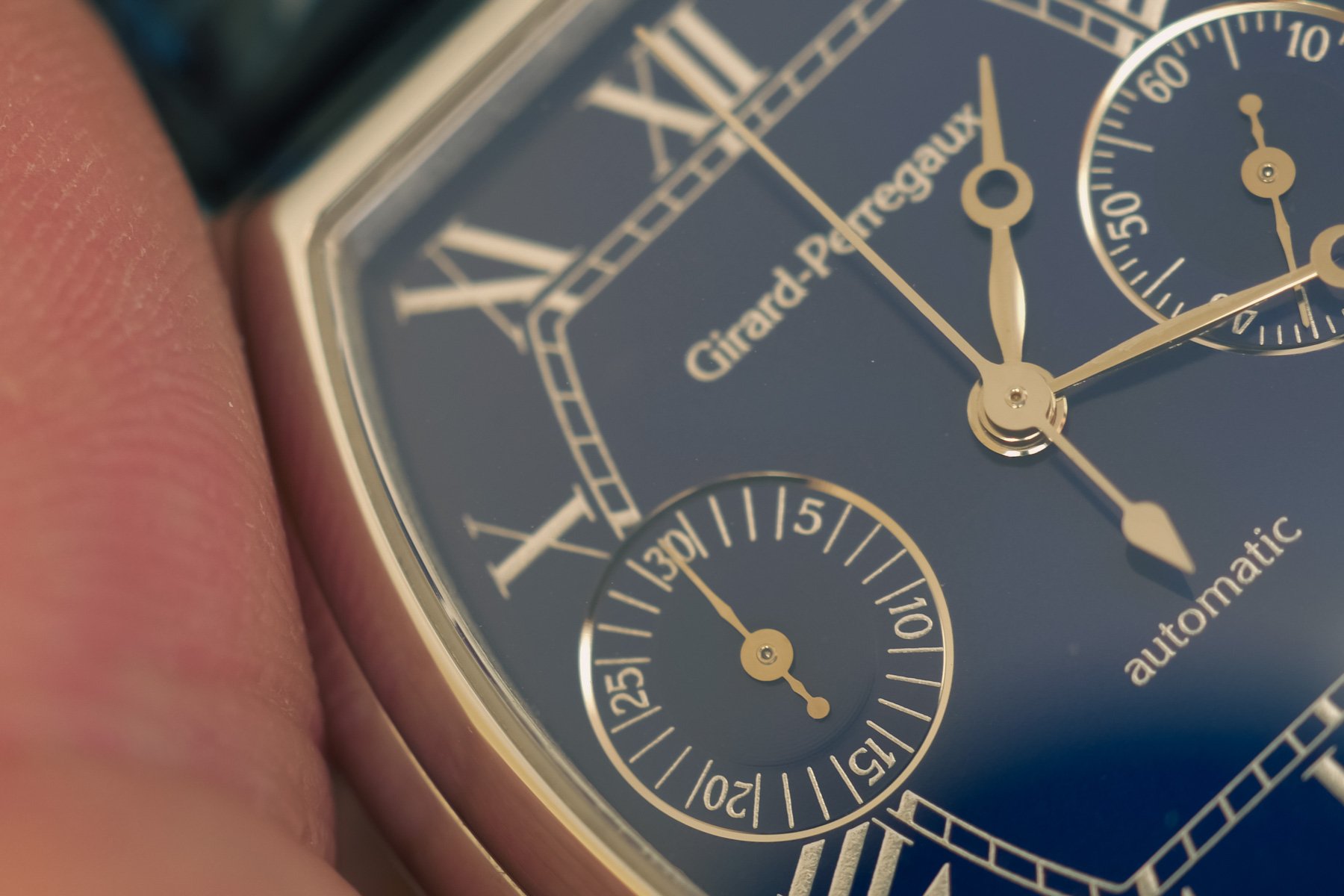 Blue or purple, sir?
I'm also not a huge fan of Roman numerals, but these are printed with such finesse. The sparkling silver color is exact in its execution, and it plays well with the dark blue of the dial. This is, in a similar way to the Reverso Tribute, a color that segues into purple in the right light. When that happens and I get a twinkle of reflection from the scalpel-thin polished frames around the registers, it gets to me.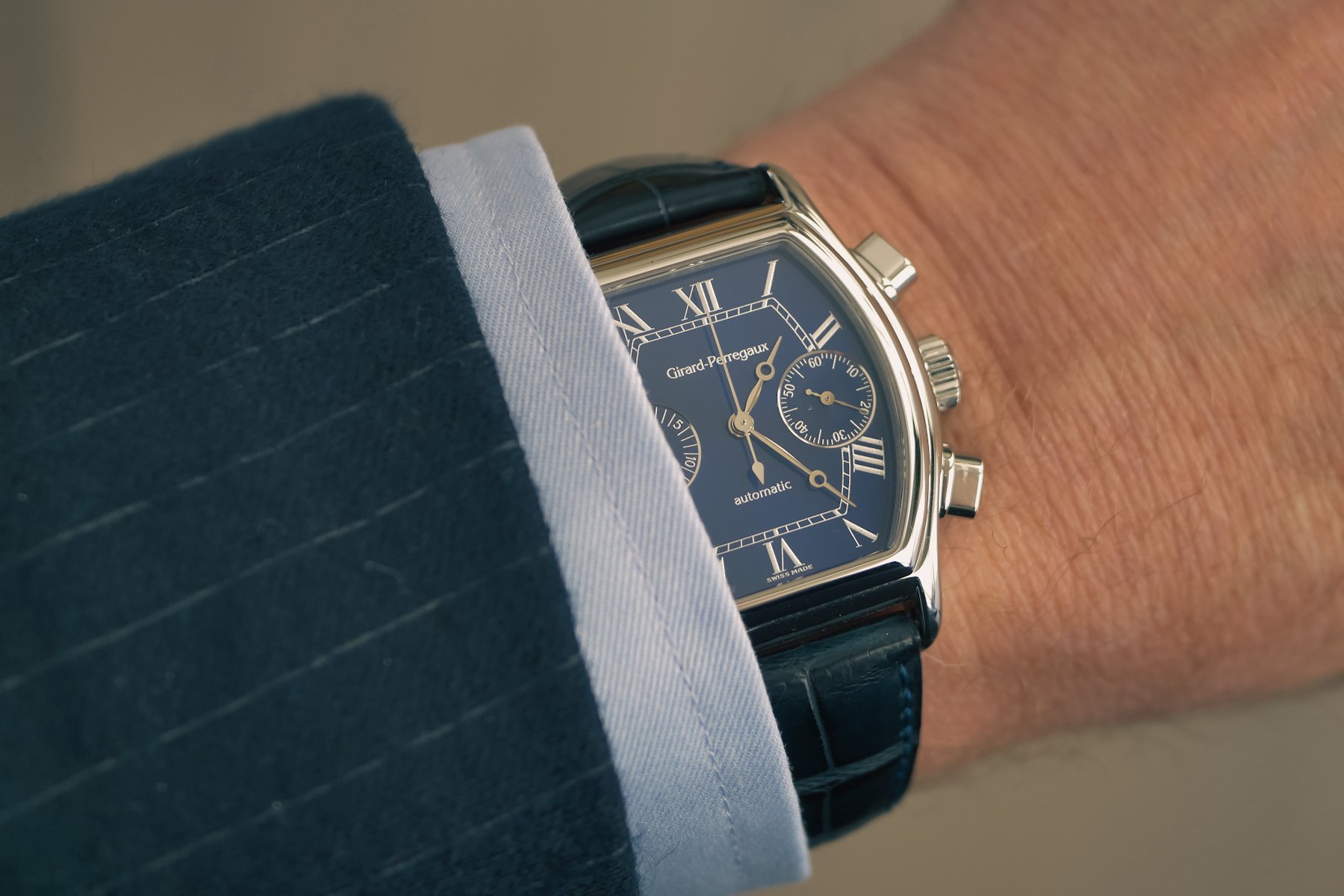 Is it a keeper?
Yes, it's staying, and there is a simple reason. This is a watch that felt instantly at home after the first time I slid the strap into its keeper. The previous owner must have had exactly the same-size thinnish wrists, as the fit felt bespoke. The pushers are smooth in action, and the 15-year-old ETA movement knocks me out at -3 to -5 seconds per day. Suffice to say, this has become a firm favorite dress watch (no, they're not dead), and it even made me suit up for these shots. Does it give me that elusive feeling of luxury? Yes, absolutely, while at the same time inspiring me to find more well-kept secrets on Chrono24. In fact, I might have found a couple already, so stay tuned.
Find me and follow me at @thorsvaboe