Fratello Christmas Special – The Omega Speedmaster Rising Sun
First off, for those who are celebrating, the Fratello team wishes you a very Merry Christmas.  If not, happy Speedy Tuesday! We do our best to publish new content on Christmas day because, after all, it's a decent day to laze on the couch and relax. So let's get into what has to be one of the most surprising and attractive Speedmasters to date, the Omega Speedmaster Rising Sun.
A Speedmaster Quintet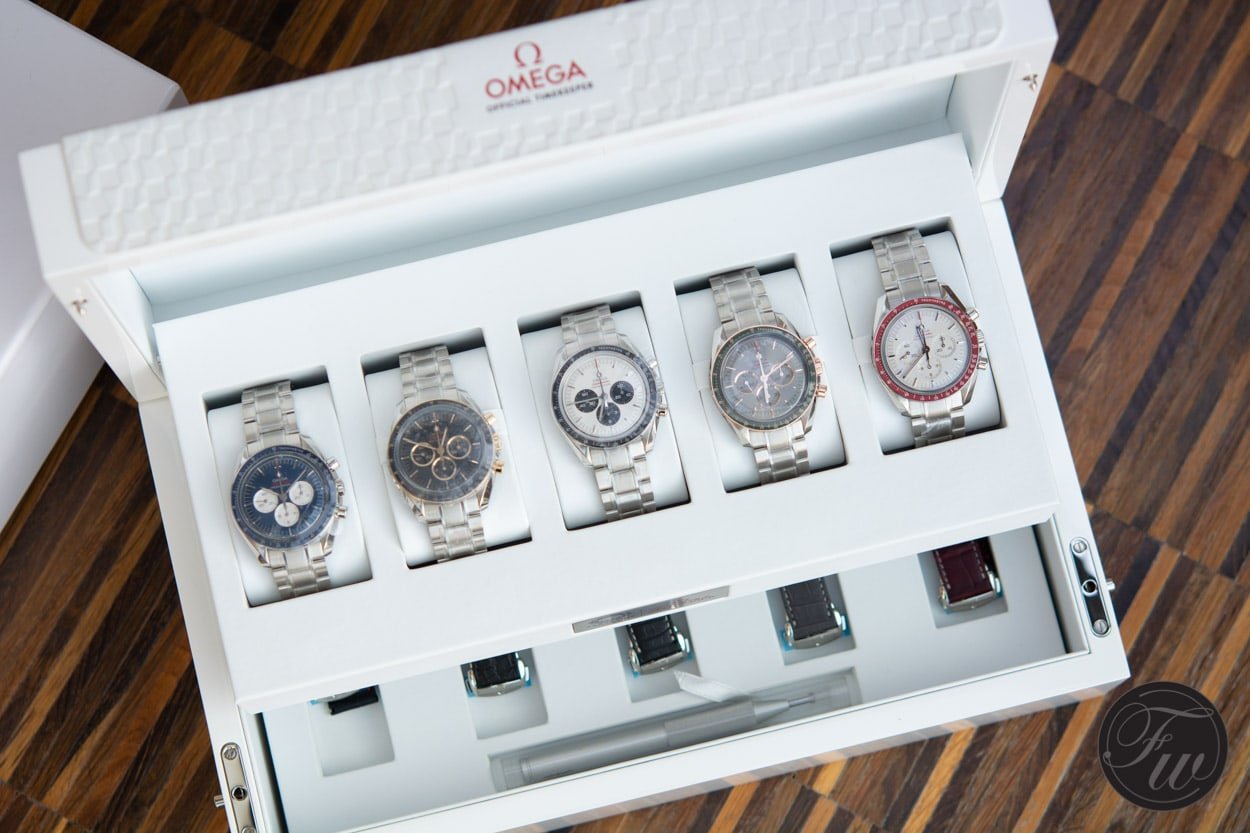 It was late July this year when Omega dropped news of a quintet of Speedmasters to be released for the Japanese market in commemoration of the upcoming 2020 Tokyo Olympics. As a set (55 boxes), but also as separate watches. With 2020 pieces of each model (and the 55 sets), the watches started shipping to Japanese boutiques over the last couple of months and will be released in waves up until the Olympics themselves. All 5 models come on a bracelet, feature a domed sapphire crystal and are encased in a large white box with the Tokyo Olympics logo. For the well-heeled, all 5 can be purchased in a limited set – from what we've witnessed thus far, the reception has been overwhelmingly positive as the individual pieces and sets have been selling out immediately at boutiques. To recap the 5 models within the series, 3 are fully stainless and 2 include a dash of gold. Prices convert to roughly 5,225 Euros for the stainless models and 6,470 for the bi-colored versions. All bear a resemblance to a prior Speedmaster limited edition, at least color wise, but 2 of the 3 full stainless models are spot on reissues of former Apollo references (we wrote about them here).
Omega Speedmaster Rising Sun
The third stainless piece, the Omega Speedmaster Rising Sun, recalls the limited edition platinum Chronometer Moonphase from 2016 and to Robert-Jan and me, it was the one to have.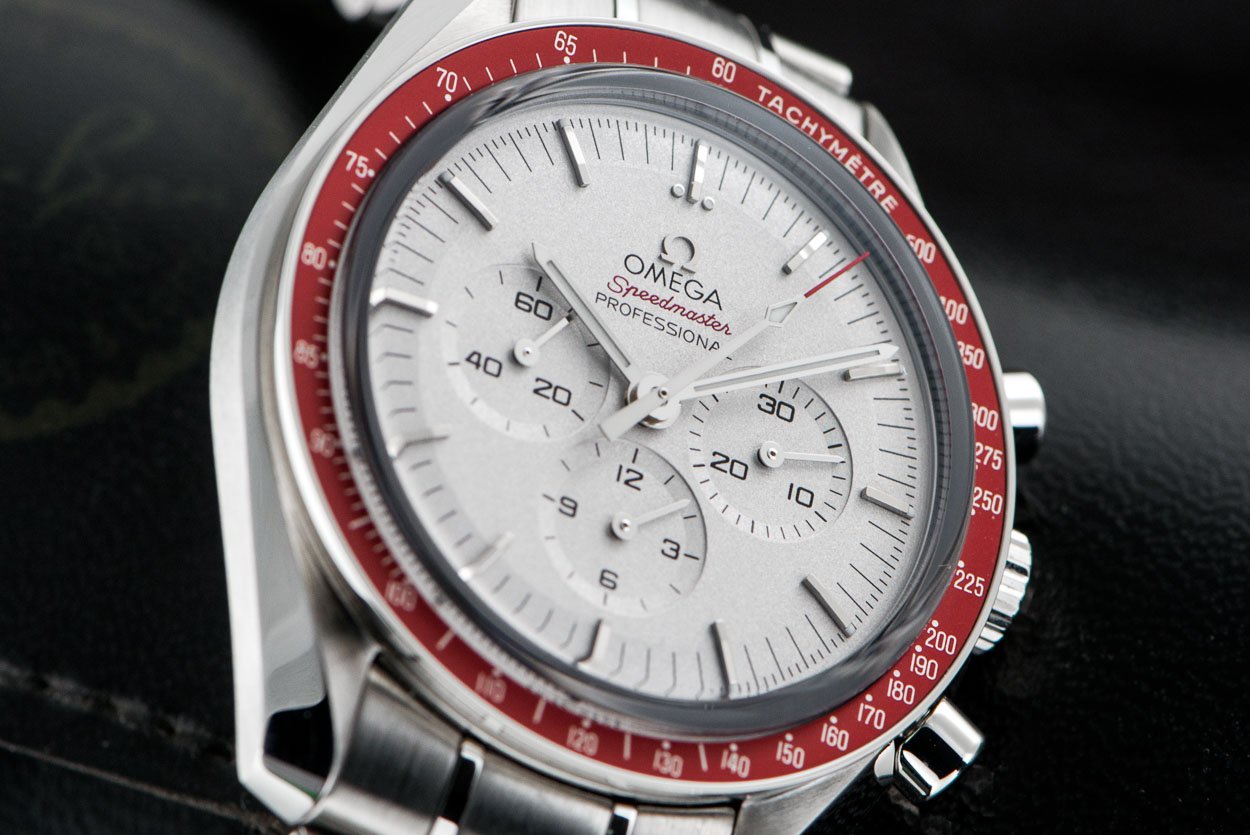 Mike's Take 
I'll admit that when I saw the "Tokyo 5", I was impressed but I wasn't immediately sold on any one of the models. I could get on board with the notion from some that 2 of the stainless models – those direct reissues – represented great value, especially since the Apollo models have now crested the 5-figure mark. The 2 bi-color models were tempting, especially the black-dialed version, but in the end I felt I would've bought one to buy it if that makes sense; the passion wasn't there. Upon closer inspection, though, the Omega Speedmaster Rising Sun began to speak to me. In the end, I decided to order one sight unseen.
We gave the Omega Speedmaster Rising Sun its nickname due to its hue proximity to the Japanese flag. Sure, in this case, white is replaced with grayish silver and red with more of a burgundy, but we think it aligns perfectly well with the flag of the country that is hosting the Games in 2020. Despite the fact that Japan is, hands-down, my favorite country to visit, I didn't choose to buy this model for sentimental reasons. No, I chose it because the colors work and it's completely unique on a Speedmaster Professional.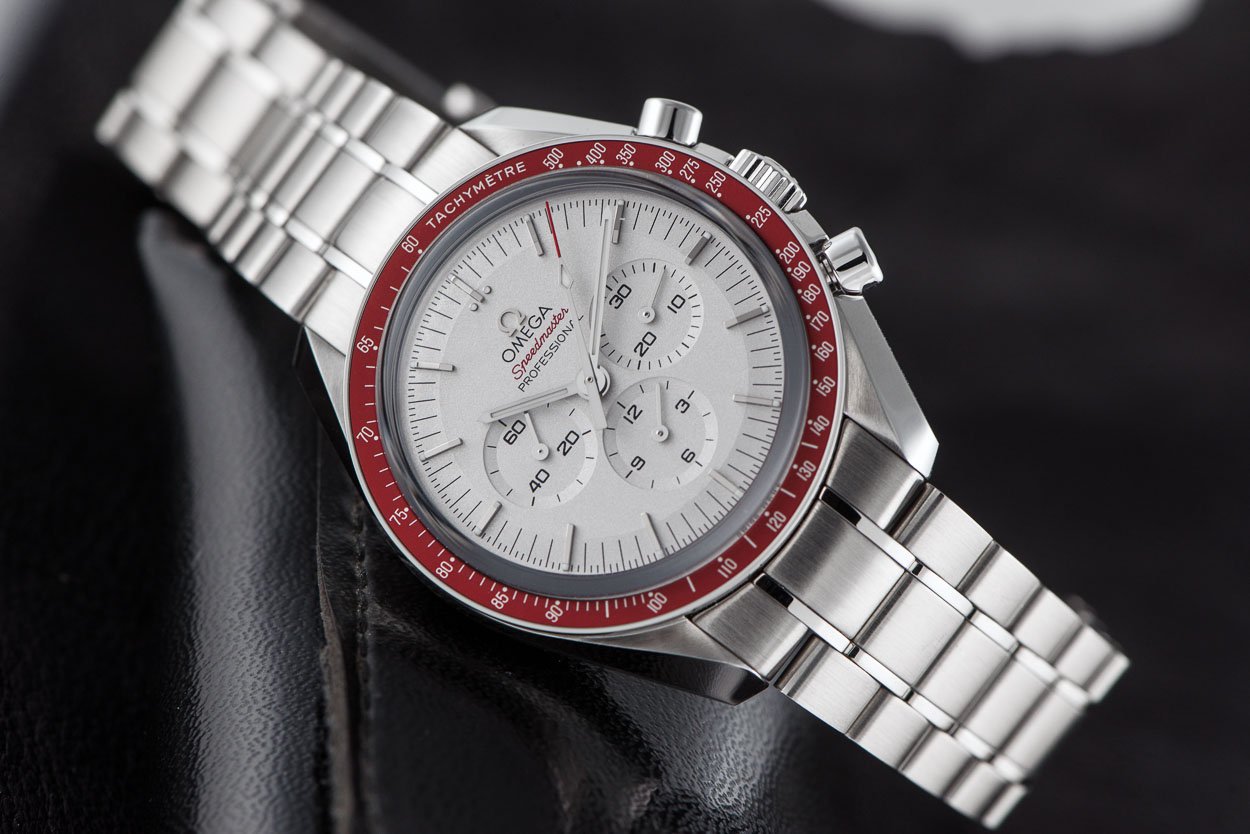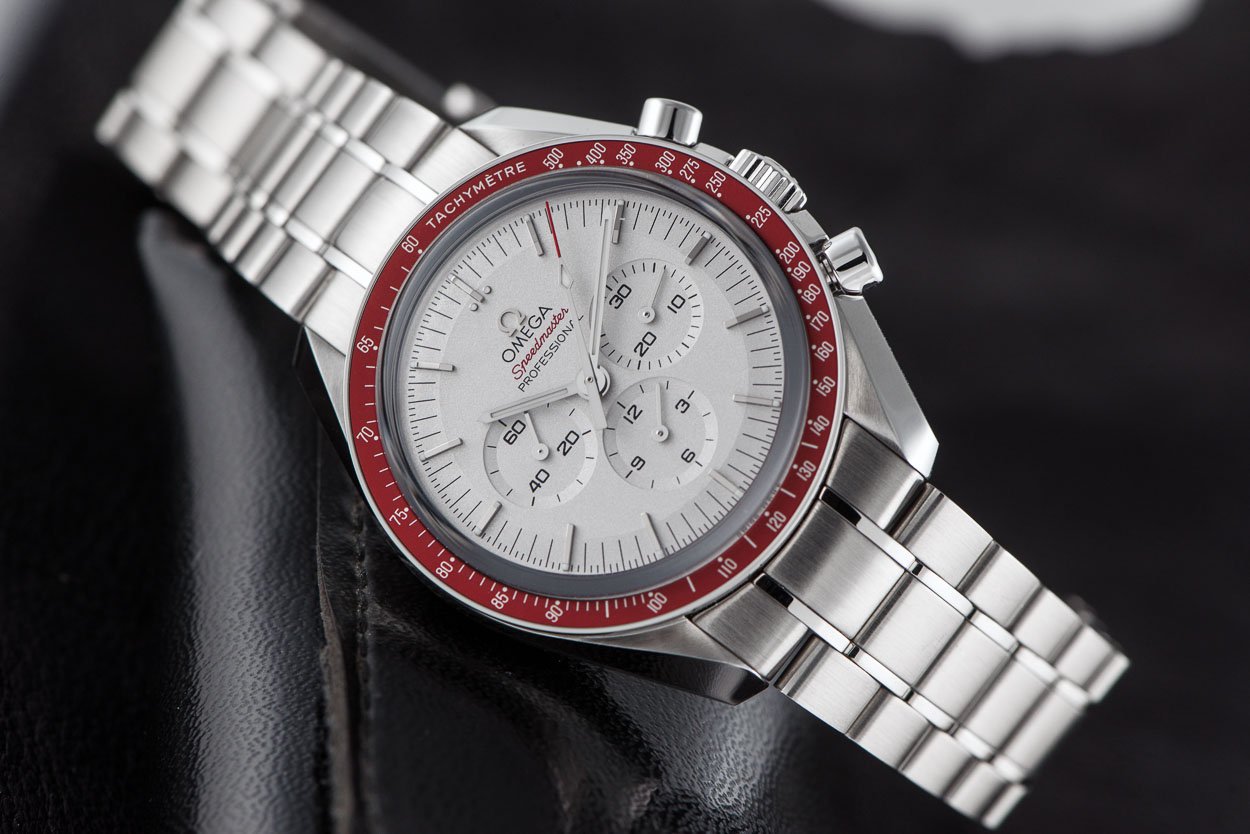 The dial of the Omega Speedmaster Rising Sun reminds me a lot of the dial from the Grey Side of the Moon. I reviewed that model a couple years ago and to this day, it's my favorite of the ceramic lineup. Some say it's a bit too close to a steel case, but it's still the watch that I've worn that's received the most unsolicited positive feedback of any watch I've worn within a one-week period. Even though the Rising Sun's dial isn't made of platinum, it gives off a similar look. And when paired with a splash of burgundy script on the dial, the same color on the tip of the central chrono hand, and that gorgeously tinted tachymeter bezel, there's a real wow effect that comes together. I even like it on the bracelet and that's not typical. The caseback is beautifully done as well with an amazing amount of detail.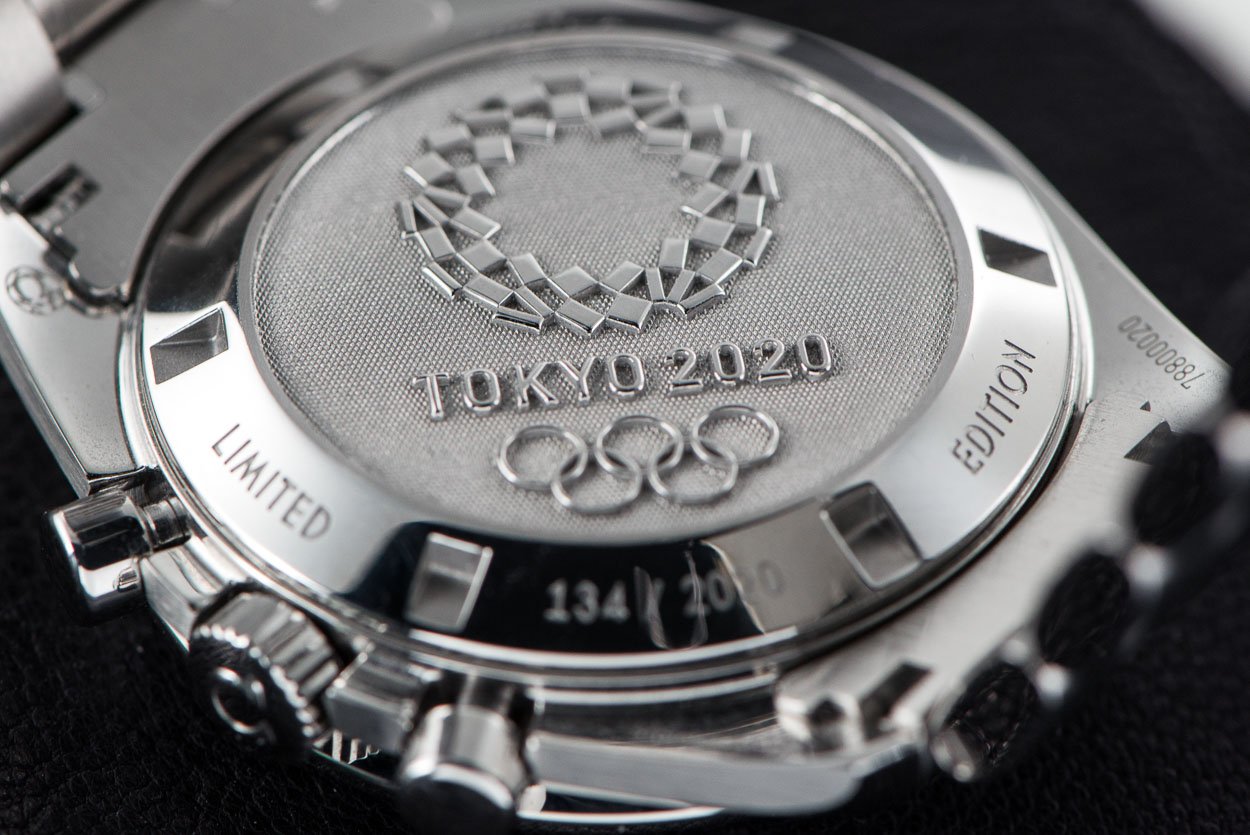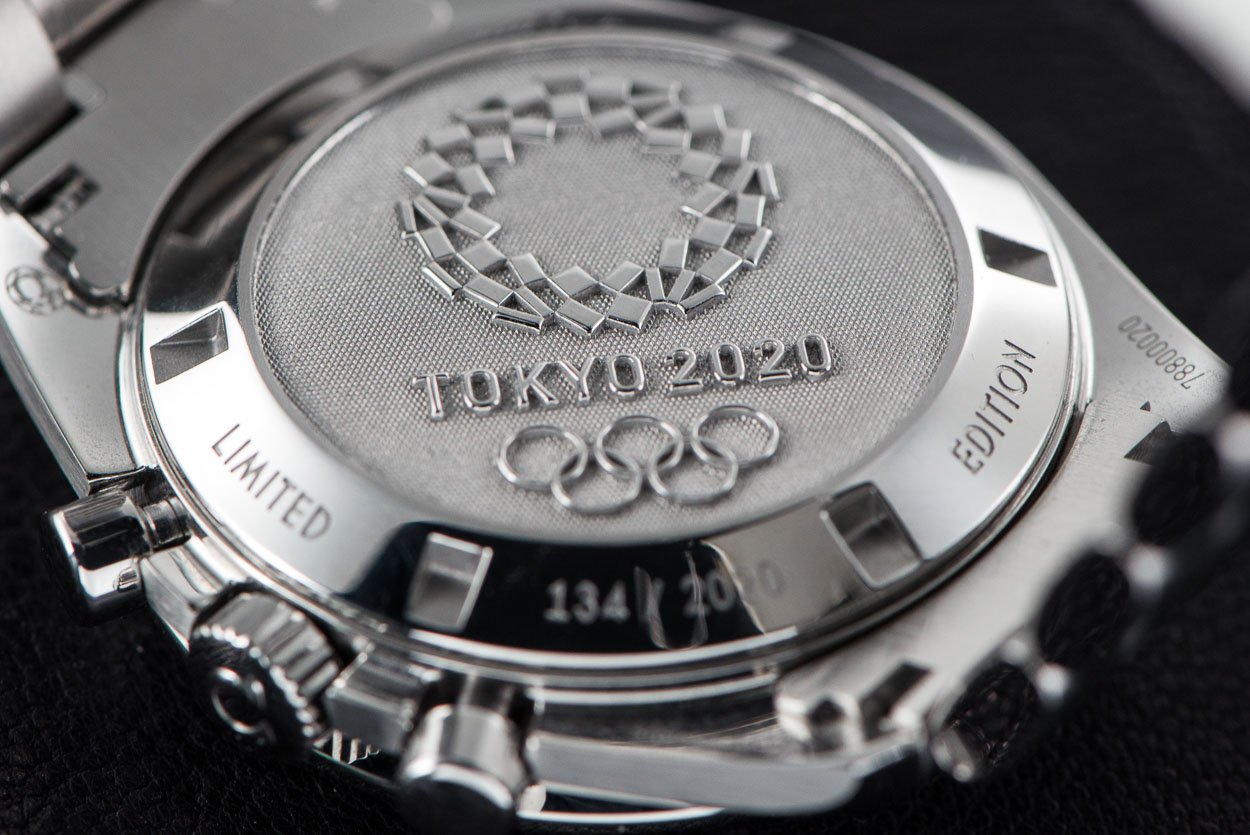 There's another thing I'll admit about the purchase of the Omega Speedmaster Rising Sun. From day one, I chose this watch as a gift for my wife on Christmas. She owns a few nice watches such as a newer Datejust and the Oris Divers Sixty-Five, but she's always loved and wanted a Speedmaster. If she's wearing one of mine, it's the Tin Tin that gets the nod because of its colors, but my wife is a little wary of scratching the Hesalite crystal. This made the Rising Sun a no-brainer decision when I read about its sapphire crystal. And even if the colors aren't like the Tin Tin's, they're within the same family and should go well with most things she wears. I was even able to pick out a serial number that's truly meaningful to the both of us. Oh, and with its easy microadjusting clasp, I won't mind borrowing it from time to time.
Upon opening it for the first time, it dazzled under the bright lights; it's truly magnificent! No, I won't forget picking up the Rising Sun and hopefully, I won't forget my wife's reaction. If you're reading this early enough on Christmas Day, she's probably just about to open it!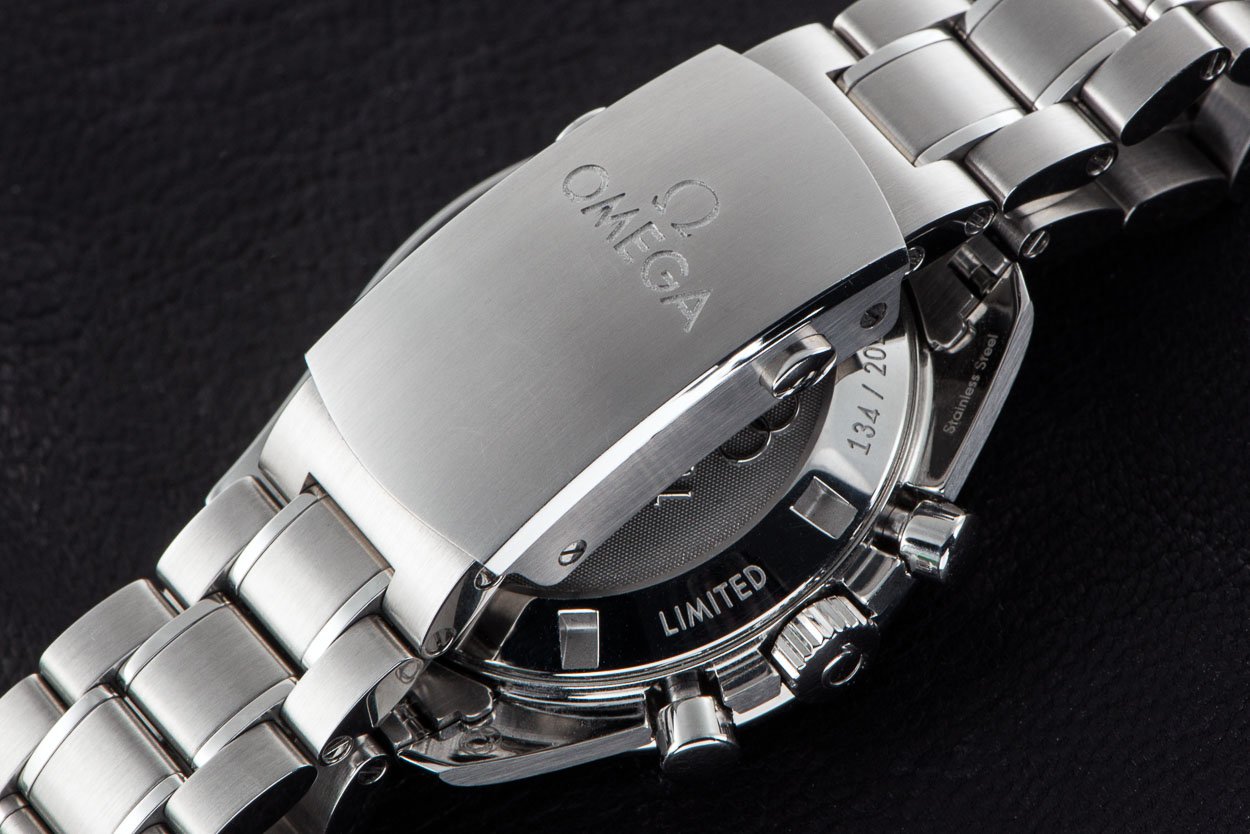 RJ's Take
When Omega released the Speedmaster Tokyo 2020 Olympic Set I was a bit surprised. I received the news via one of our readers, and I couldn't find anything about it. Normally, we get our press materials very quickly from Omega, but now it remained silent. I reached out and asked and after a few moments, they sent me some release information. It wasn't communicated outside Japan, so only a few media reported about it. Being the Speedy Tuesday guys, I felt we needed to do so as well so we did. As Mike pointed out in the introduction, all 5 models find their inspiration from existing models. The bi-colour watch with the green bezel was high on my list, as it wasn't inspired by a previous Moonwatch edition and I do love a bit of gold on a watch as I explained in this article. However, after some 'internal' discussion with the Fratelli, I decided to go for the one with the burgundy bezel and 'platinum' dial. It reminded me much of that Moonphase model that Omega showed us in Basel in 2016. That was an exclusive platinum version of the Moonwatch Co-Axial Master Chronometer Moonphase watch, on a beautiful burgundy leather strap. In other words, unaffordable for this guy.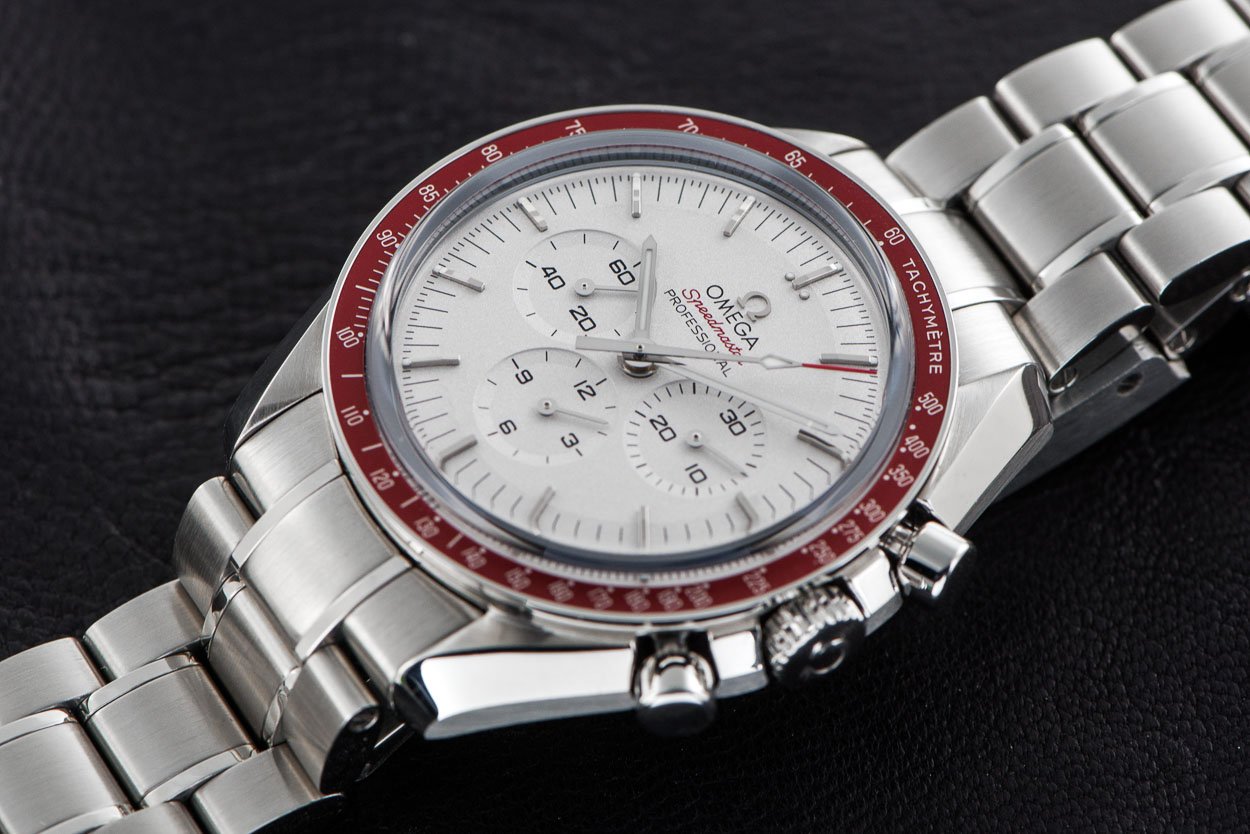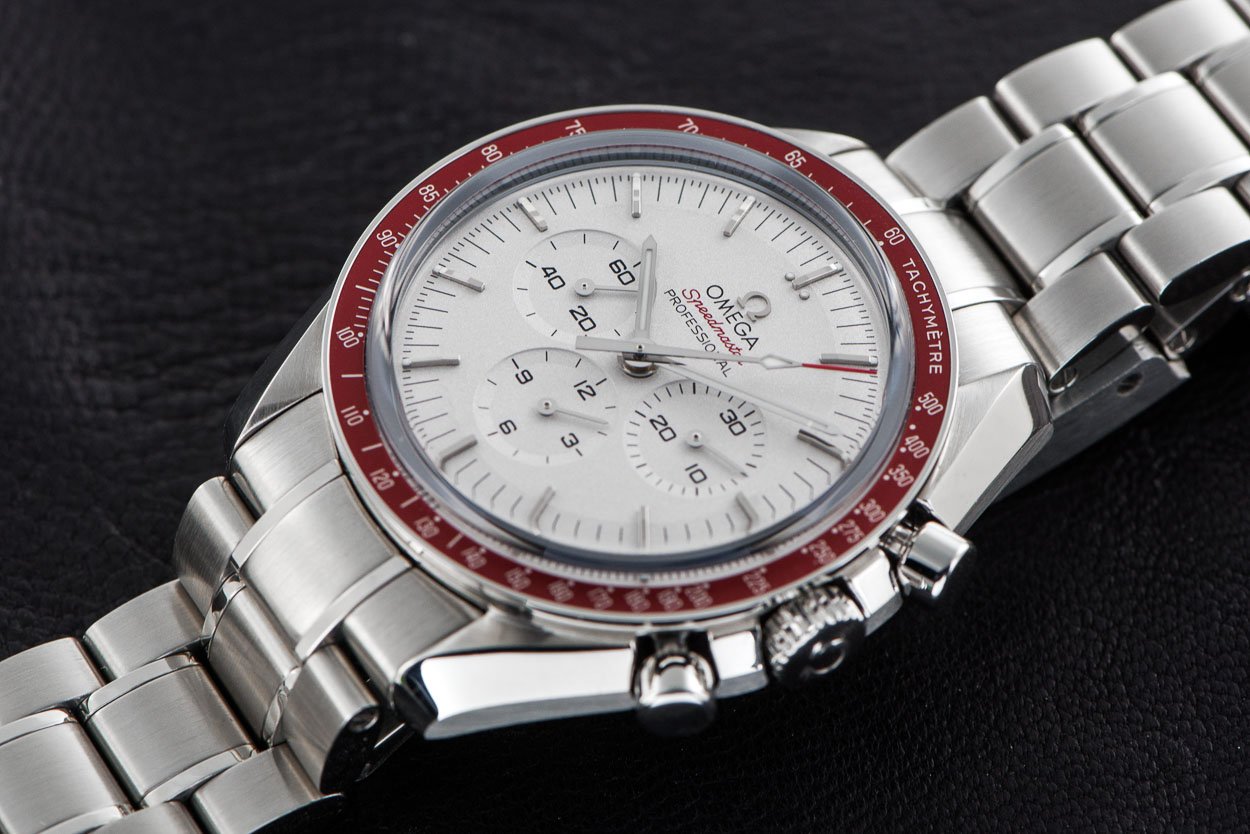 I actually got my Omega Speedmaster Rising Sun, as we nicknamed it already, a few months ago and wore it quite a bit already (as some of the images might show). It quickly became one of my favourite modern Speedmasters. After showing it to Gerard and Berti, they were also convinced they need one. Actually, someone that I know bought the set of 5 watches bought the burgundy model separately as well, to make sure he can wear it without the fear of damaging it too much.
The sapphire crystal and bracelet make the Omega Speedmaster Rising Sun having quite an impressive weight. I think it must be the heaviest Speedmaster 'Moonwatch' model I have in my collection (my 18-carat gold Moonwatch has Hesalite front crystal and a sapphire caseback). The bracelet has the screwed links and clasp that can easily extend by pushing a button on the inside. This way, you don't have to resize using tools.
In the past, I used to own a Rolex Yacht-Master 16622 with the platinum bezel and dial. A perfect summer watch in my opinion, but it had to go as I needed to make room for something else in my collection. I sometimes missed the platinum dial, especially in the bright sun. Now, the dial of this Omega Speedmaster Rising Sun (reference 522.30.42.30.06.001) isn't made of platinum, but it does look very similar with its lovely grainy structure. The silver hands give enough contrast to the dial to read the time without any issues. The red tip of the chronograph seconds hand and red printing give a nice contrast to the dial as well.
I've been to Japan twice, so not as often as Mike, but from what I've learned it is quite a Speedmaster loving country. It has been for a long time, not only because of the use of Speedmasters in the Ultraman series, but also because of the fame that the Speedmaster 125 got there, the 300 Mitsukoshi Speedmaster watches in 2003 for the famous department store in Ginza and of course the most complicated Speedmaster that was ever made, the Speedmaster Perpetual Calendar in 1991 (50 pieces only, only for the Japan market). In that respect, I can imagine that Omega did another specific release for this market. I assume that there will follow more Olympic Games editions in 2020 that will become available worldwide, as they usually do. Unlikely to be another Speedmaster in my opinion, but probably something from the other collections.
Any criticism? Sure. The most important thing is that it was not a worldwide release. Country-specific releases are somewhat annoying as it can be a real burden to obtain one. This watch is only for sale in Japan. Another point of attention is the caseback. I am not talking about it being a limited edition (that I don't mind, although the definition of 'limited' should be revised), but about the engraving on there. The Tokyo 2020 medallion is in bas-relief on the sunken center part of the caseback. Now, the edge between the lower part of the caseback and its bezel with 'Limited Edition' engraving, is razor sharp. Every time I slide off this watch there are some arm hairs missing.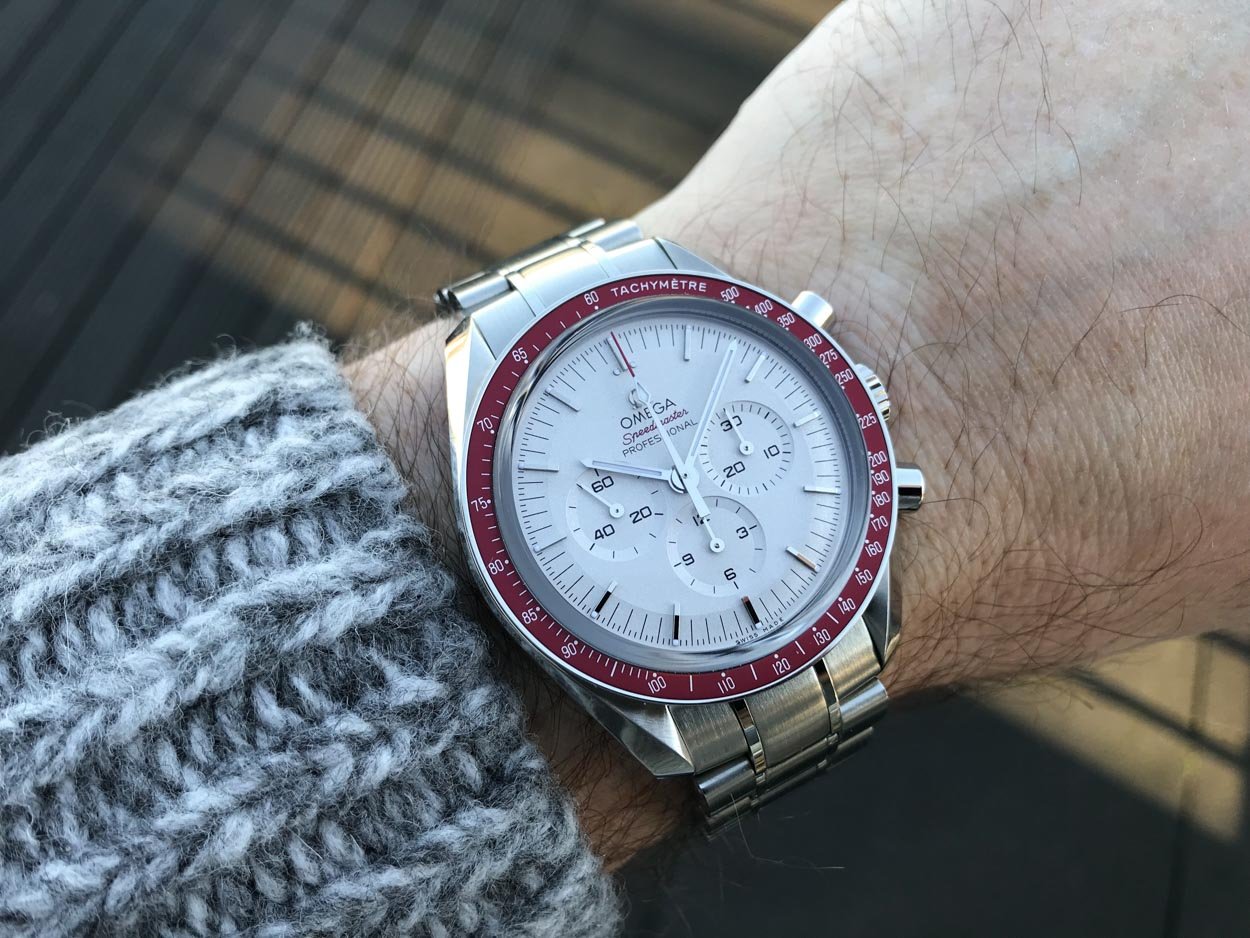 That said, the Omega Speedmaster reference 522.30.42.30.06.001 is a great watch and especially if you are looking to add a Speedmaster to your collection that is not the typical black dial version with white baton hands, this is a great addition. Would it be my first pick if I wouldn't own a Speedmaster yet? Definitely not, but to each his or her own. The applied logo, step dial, 42mm case and – of course – the hand-wound caliber 1861 are all very 'Moonwatch', and I have to say that the watch gets a lot of positive comments from Speedmaster collectors as well. I am happy to have picked the Rising Sun model over the bi-colour version and, in the end, this is probably going to be my favourite summer watch! It will also do for Christmas though.
Have a wonderful Christmas time!
More information on the Omega Speedmaster Tokyo 2020 edition can be found on the official Omega website (Japan).