Hands-On: The New HTD Aquatíc Palletoni And SpaceBoy Dive Watches 
A perfect pair of skin divers to spend the summer with
I hear you! Summer isn't quite here yet. But having had a couple of weeks of warm, sunny days here in The Hague, it's already starting to feel like it is. And let's face it, June 21st is just around the corner. So, what better way to call in the summer than with a perfect pair of beach-ready, vintage-inspired, beautifully made skin divers? I certainly can't think of one, and it seems that the folks at HTD can't either. And though not entirely new at this point, I'm very happy to introduce the latest from the Italian brand. These are the HTD Aquatíc Palletoni and SpaceBoy dive watches. And though they are indeed divers, you'll see that they feel no less at home inside of a rally car burning rubber on the rural roads of Sicily.
But before we get to that side of things, let's focus on the watches. At first glance, you might see what I see. That's two vintage skin-diver-inspired watches with a lot of charm. To me, these two pieces fall right in line with watches like the Oris Divers Sixty-Five, the Edox Hydro-Sub, the Yema Superman series, and even the crowd favorite Seiko SPB143. However, those brands are all just taking something out of the pages of their own history books. What HTD has managed here is to create something that both looks and feels like a watch that could have been found in any number of brand catalogs in the '70s and '80s. These watches have the looks, they have the specs, and thanks to the brand's cool partnership, they live up to the old-school watch lifestyle more than any modern reissues.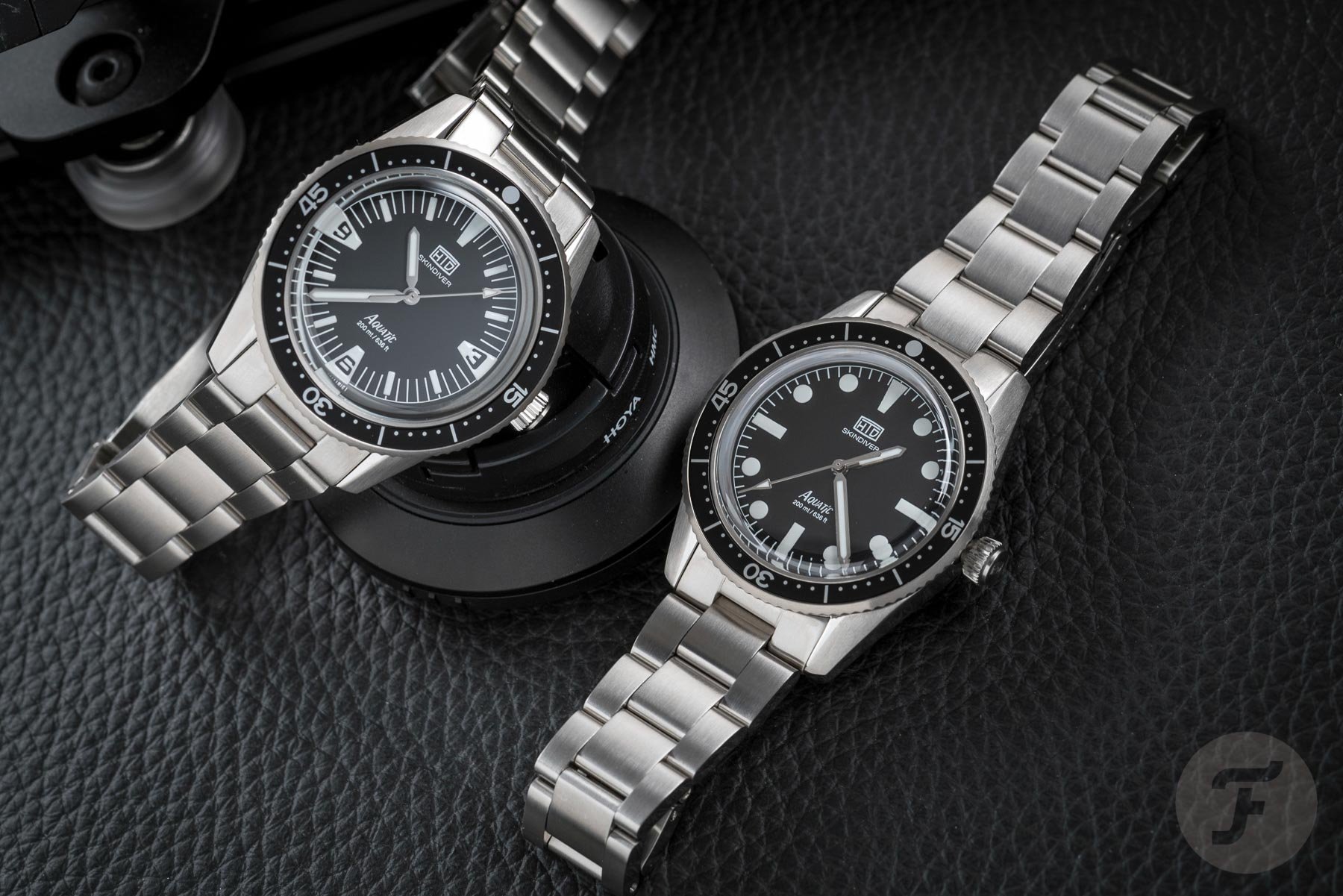 HTD Aquatíc — Palletoni And SpaceBoy
Now, these watches are nothing new. In essence, you have monochrome steel-cased divers with a rotating bezel, a screw-down crown, and 200 meters of water resistance. A lot of watches offer this and superb execution to boot. So what exactly makes the HTD Aquatíc watches stand out from the crowd? In my opinion, it's a matter of design, execution, and mission statement in equal parts. Design-wise, there's a lot to like. The 39mm cases stand just 10mm tall (12mm including the crystal) and have a lug-to-lug of 47mm. In the real world, these numbers translate to supreme wearability. The 20mm lugs mean that if you get tired of the bracelet (which is fantastic at the price point) you can always swap the watch onto your favorite straps.
Though I must admit, it may take some time for that to happen. This is simply because the bracelet is incredibly nice for a watch under €1,000. Easy to adjust with a flat-head screwdriver, the links taper from 20mm to 16mm for a retro look matching the rest of the watch. That said, I can't help but feel that the HTD Aquatíc watches would both look brilliant on a NATO or Tropic-style rubber strap between the slim dual-finish lugs. Other great details include the brilliant 120-click bezel, which has great action and grip to it. The brand's logo and typography are also fantastic throughout. The Swiss Super-LumiNova BGW9 shines bright both on the dial (where it is generously applied) and in the slightly domed hands. The tapered crown embossed with the logo is the cherry on top.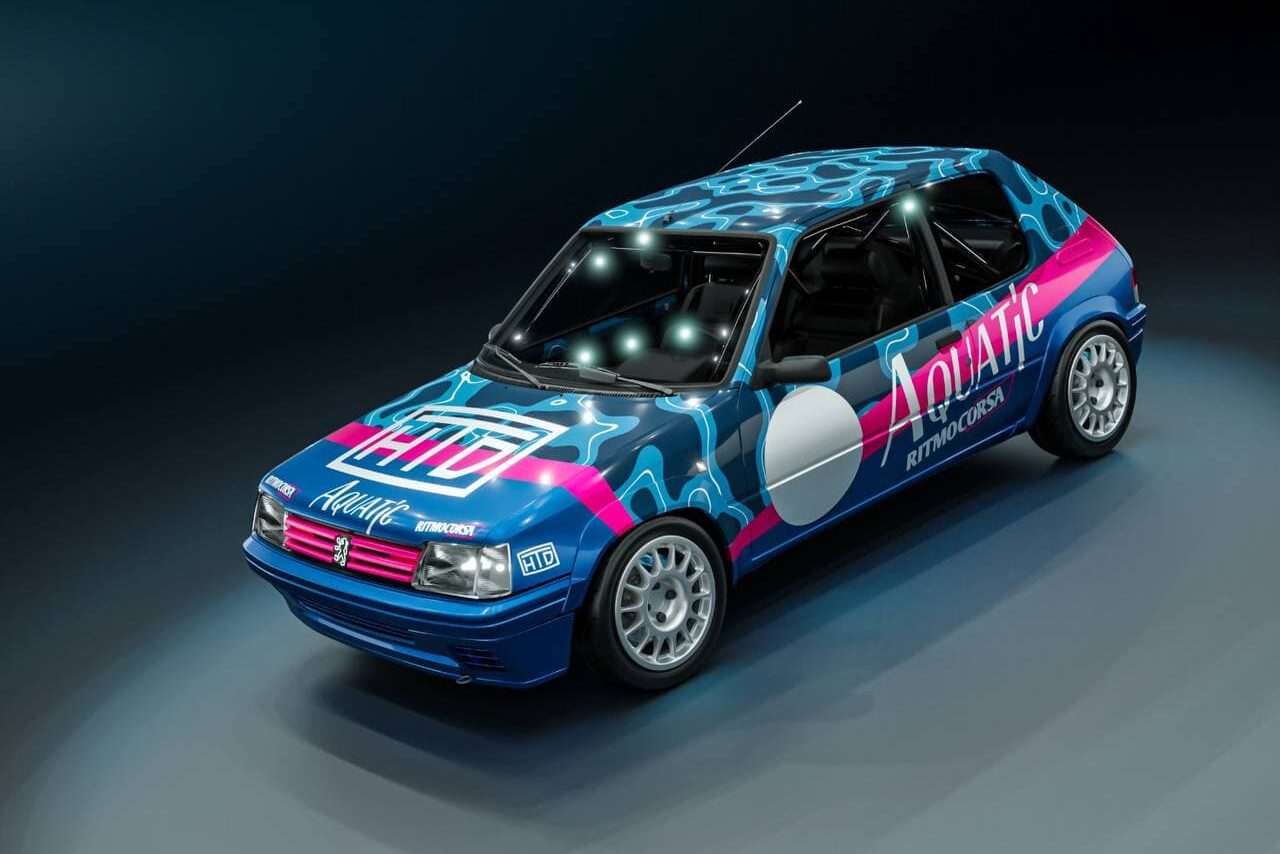 A diver on the race track
Wait, what are you doing? Put away those cigarettes, take off those Carreras, and shave off that mustache… Actually, scratch that! Keep it all. Just put one of these HTD dive watches on your wrist, get your helmet on, and jump into this fine-tuned rally machine. Now you're living the dream that fuels the collaboration between the HTD Aquatíc and Ritmo Corsa. This partnership came from a shared passion for the retro days of cars, watches, and unadulterated, reckless fun. And in the hills of Sicily, young Italian thrill-seekers do their best to reconnect to those times. Just follow the exhaust sound and the smell of burning rubber and high-octane fuel. When you see a souped-up Peugeot 205 in blue-and-pink livery, you'll know you're in the right place.
Racing team Ritmo Corsa has embraced its partnership with HTD in a typically Italian all-in kind of way. These guys don't cut corners, they take them sideways at 90km/h. So the smoking hot blue-and-pink Aquatíc livery (designed by Davide, who was responsible for last year's McLaren F1 team's livery) reflects this passion for the good old days, specifically, the 1980s. And much like Heuer (check out the red case back sticker) HTD steps up to place its name on the car and its watches on the drivers' wrists. Again, this is nothing new, but it's inspiring to see it happen in 2022 on a scale that allows for the authentic passion of both of these brands to shine. For more high-octane shenanigans, check out Ritmo Corsa on Instagram. The team's account is definitely worth a follow.
Final thoughts
So, enough high-speed racing action (you can shave that mustache now). Let's get back to the HTD Aquatíc watches for a second before I wrap things up. As you've seen in the pictures, there are two models — the Palletoni and the SpaceBoy. Both feature the same Miyota 9039 caliber inside. This is Miyota's premium workhorse movement and provides these watches with great timekeeping and 42 hours of power reserve. What sets these two watches apart can be found under the U-Box Ultradome sapphire crystal (with an anti-reflective coating on its underside). It's a matter of dial design.
The Palletoni features a more traditional dots-and-dashes lume application with a reserved minute track. The SpaceBoy (my favorite) goes all-in with tons of lume, color-inverted 3, 6, and 9 numerals, and extended hash marks on the minute track. Both reflect this unmistakable vintage vibe that HTD aims to capture, inspiring old-school summer fun all year round. They are available on the HTD website now for €750, a price for which you get a hell of a watch! Oh, and you can enter your wrist size when ordering so you receive a watch that's ready for action right out of the box.
But you've had enough of me telling you about this pair of cool divers. Now I want to hear from you. What do you make of these two? Do you see yourself donning an old pair of Carrera sunglasses and hitting the curviest road in your vicinity? Or perhaps it's more of a wetsuit-and-spear-gun vibe that you have in mind? Let me know what you think of the HTD Aquatíc watches in the comments below.