Hands-On With The Bvlgari Octo Finissimo S Chronograph GMT "Reverse Blue Panda"
Everyone knows pandas look better in blue
I don't usually buy into the hype around things. When people around me are all praising something, I typically try to avoid it. For example, when Game Of Thrones was on TV, my friends were raving about how fantastic it was and how I simply had to watch it. I declined and didn't even give it a chance. My friends later tricked me into watching an episode, which turned out to be just as good as they had promised, so I went back and watched the entire thing. Curses! At least I wasn't trapped in the "one episode a week" and "months/years between seasons" cycle. The same goes for Bvlgari and its Octo Finissmo watches. The hype and praise are unanimous and unrelenting. Today I have been given the Bvlgari Octo Finissimo S Chronograph GMT to take a closer look at and see for myself why the hype is real.
At the start of the year, our very own Bobsled Bobby introduced us to the Bvlgari Octo Finissimo S Chronograph GMT reference 103467. Feel free to take a quick look at his article to refresh yourself on the basics.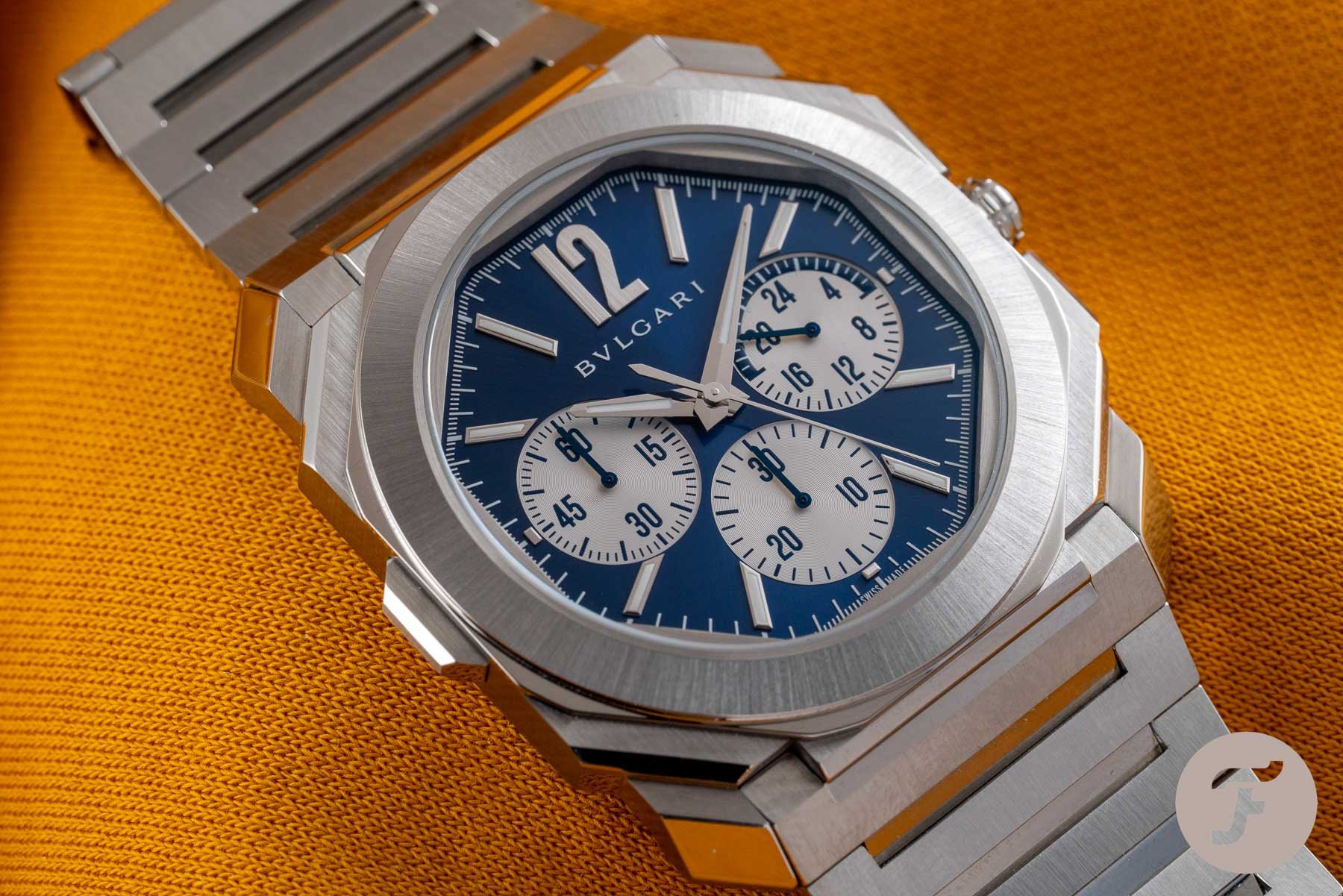 Digging into the hype
The Octo Finissimo watches are known for their incredible thinness. Now when I tell you that the Octo Finissimo S Chronograph GMT is a belt-busting 8.75mm thick, you may think that, in comparison, it's a chunky monkey. While 8.75mm is still thin for a watch, it's nothing compared to the size 0 waistlines of its Octo siblings. But when you step back and realize that this 8.75mm includes a chronograph and a GMT, it suddenly becomes incredibly impressive. What's that? Mind still not blown? It's also water-resistant to 100m. Take that all you non-believers.
I have yet to meet someone who does not like how an Octo Finissimo case wears.
On the wrist, this thing sings. Because of the slim case thickness, and superbly engineered bracelet, it's a joyous watch with which to adorn your wrist. I usually prefer my watches a little closer to 40mm in diameter, but the 43mm of the Octo felt right at home. I'm not blessed with "ripped" wrists, able to pull off larger-sized watches usually, but the flatness of the Octo Finissimo S Chronograph GMT sat nicely. As with any watch, you never truly know until you try it on yourself, but I was pleasantly surprised here. I had expected it to look and feel a little unwieldy, but it did not; it was a very pleasurable wearing experience. The case's flat design is not innately wrist-hugging by design, but I have yet to meet someone who does not like how an Octo Finissimo case wears.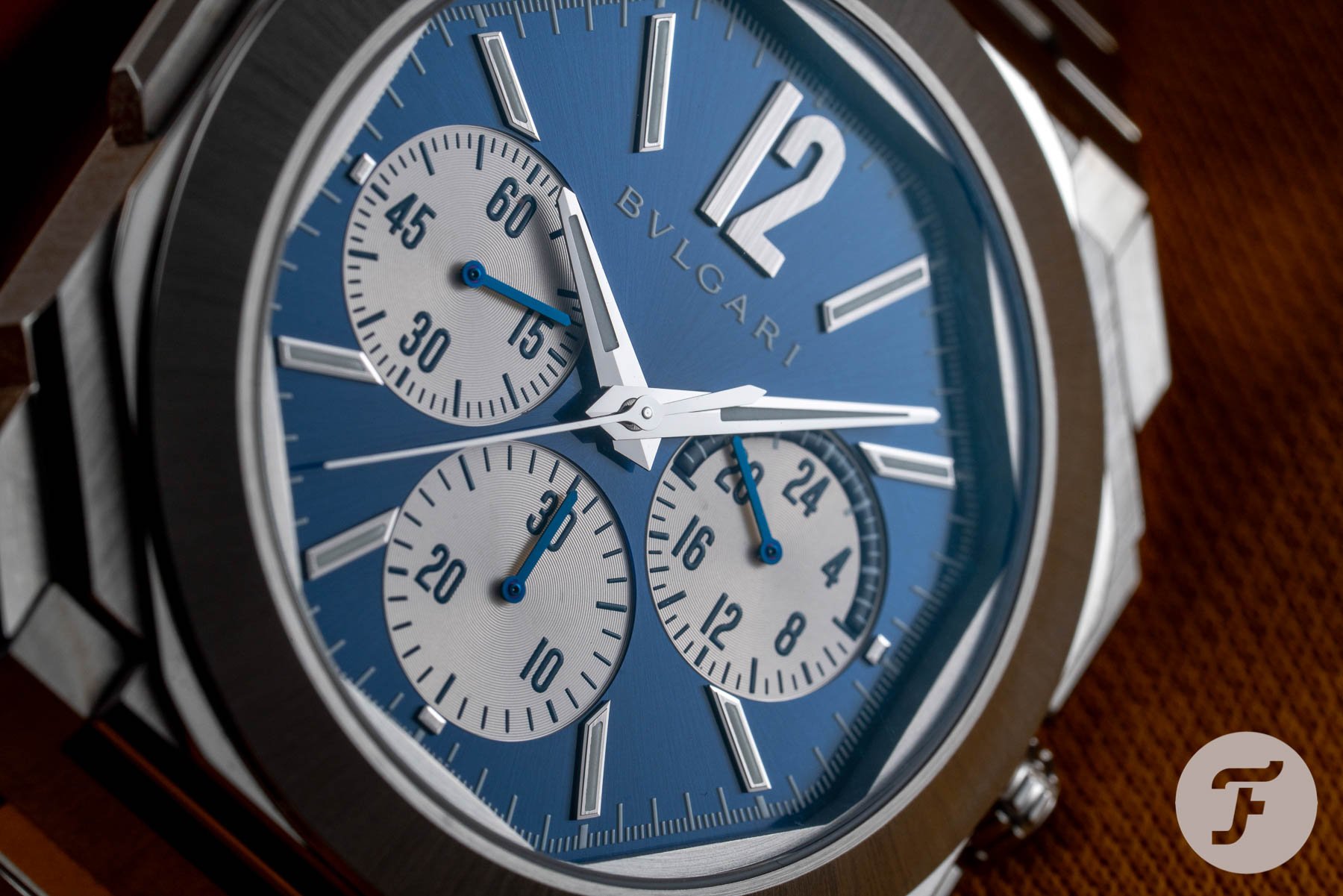 Making a case for blue pandas
The octagonal dial is the star of the show here. Its excellence lies in its subtle simplicity and ability to complement the stunning Octo case silhouette. At its core is a warm blue sunburst. Yes, I use the term "warm" for a blue. That might sound a little peculiar, but compared to the usual monochromatic color schemes employed by the Octo Finissimo range, the rich shade of blue does feel warm when combined with the white sub-dials and brushed steel case. It evokes a feeling of a luscious sandy beach and lapping waves of the ocean surf. I don't know about you, but that scene feels nothing but warm to me.
The dial layout is no different from the previously-released titanium chronograph GMTs, but it still feels fresh and new. That's the effect of this beautiful reverse panda dial. The sub-dial at 9 o'clock displays the running seconds. Elapsed minutes are tracked via the sub-dial at 6 o'clock. Finally, the second time zone is displayed on the sub-dial at 3 o'clock. In addition, the pusher at 9 o'clock lets you quickly adjust the local time in one-hour increments, without affecting the minute hand.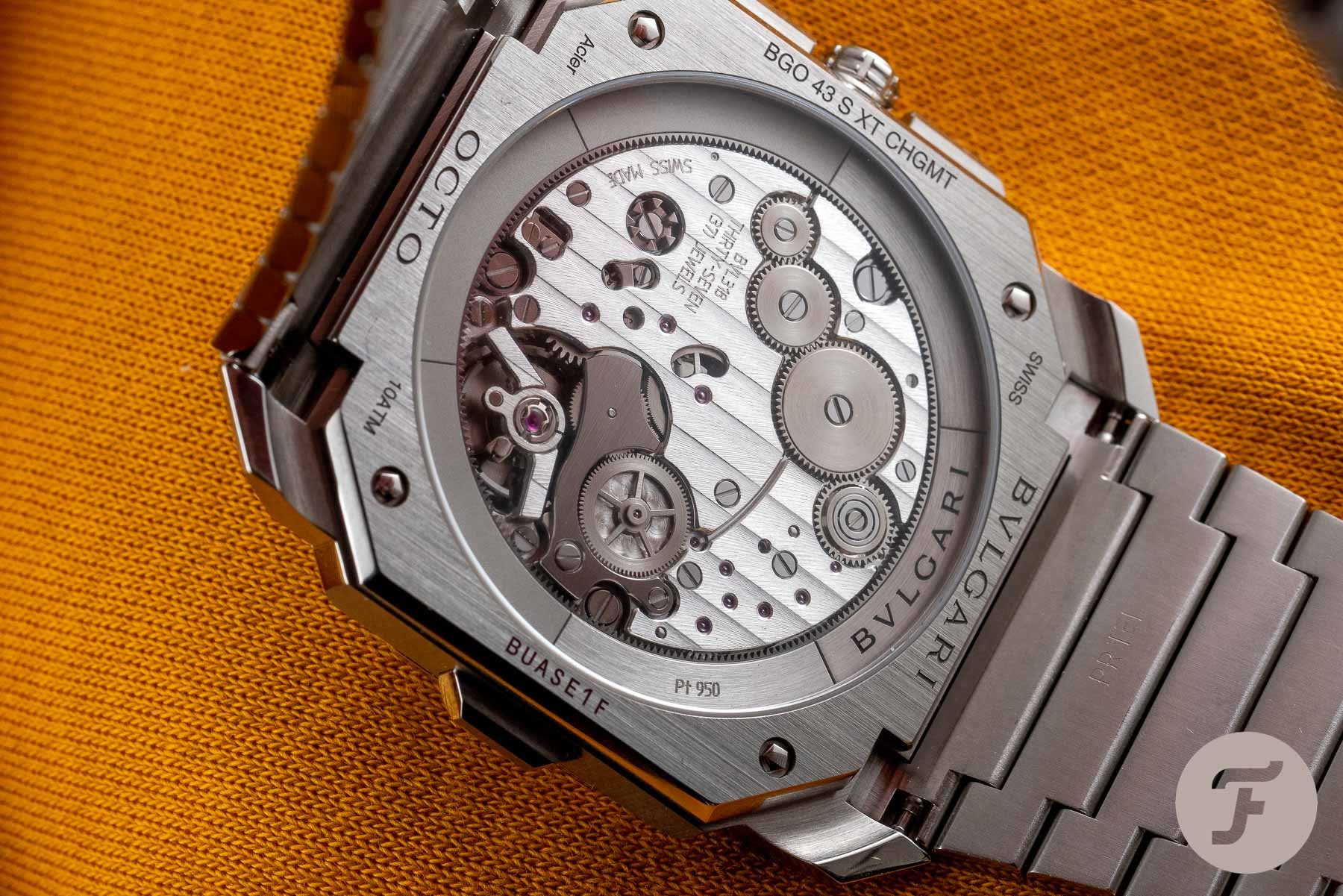 That "belt-busting" 3.3mm BVL318
Just as the dial layout is identical to the previous models, so too is the movement. The Bvlgari Octo Finissimo S Chronograph GMT is equipped with the in-house developed and manufactured Calibre BVL318. This superbly executed movement is an automatic movement with a delicious peripheral rotor, allowing the wearer to appreciate the movement in all its glory through the display case back. Despite being Italian in design, the movement is very German in design with that glorious three-quarter plate, thin Geneva stripes, and machine-beveled bridges.
It's clever stuff…
The peripheral rotor is also one trick used to allow for such thinness. At just 3.3mm thick (uncased), how are the multiple functions made possible? The larger movement diameter of 37.2mm allows for the components to be arranged horizontally rather than vertically. Additionally, moving the second time zone to a sub-dial rather than displaying via an additional centrally mounted hand saves more vertical real estate. It's clever stuff, but all seems quite logical when you think about it. Do you still want more? Well, this slim little ticker will keep on beating for a very reasonable 55 hours when fully wound.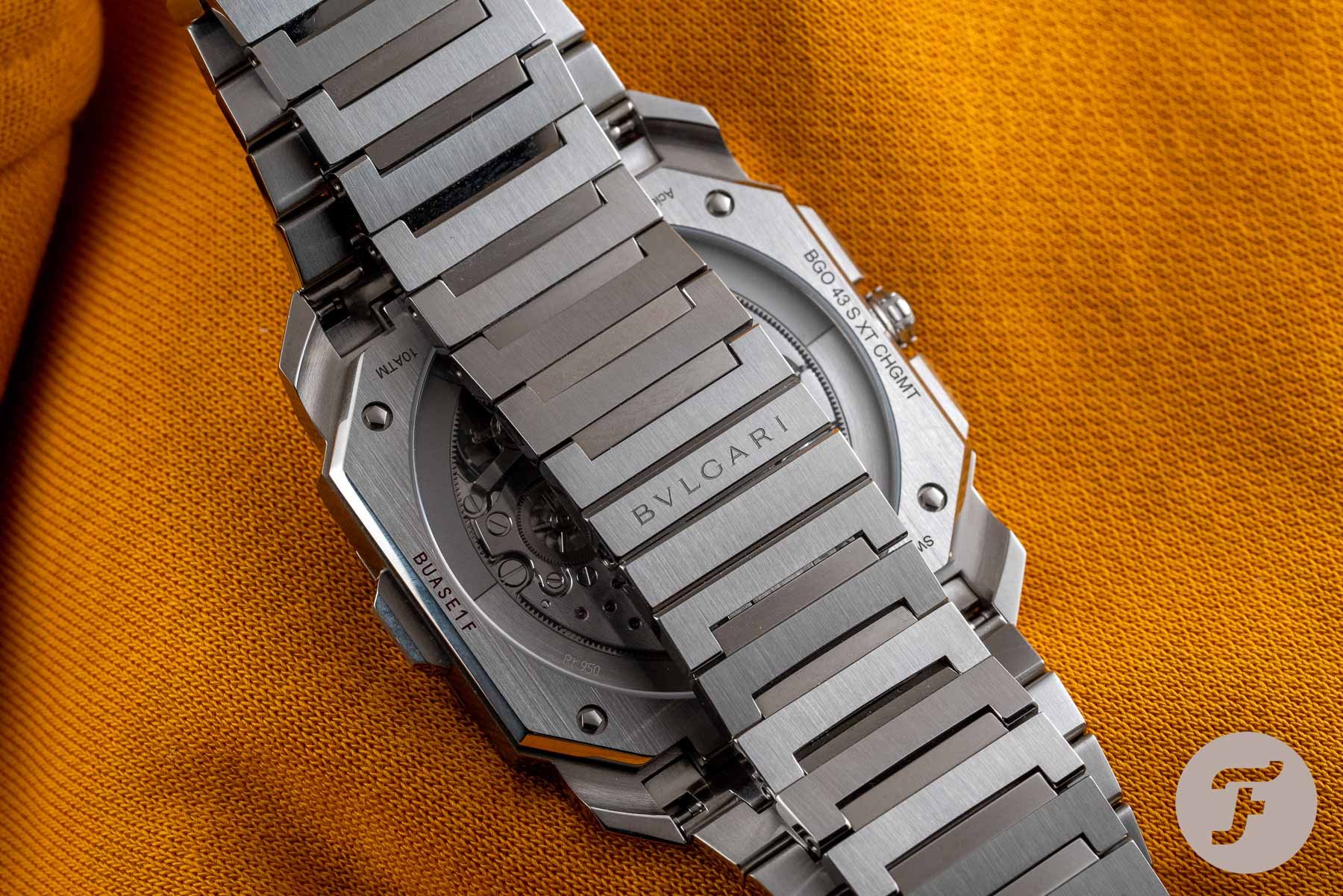 Supreme comfort
I have a funny old relationship with bracelets on watches. We have one of those "on-again, off-again" relationships. Sometimes I go through phases where I really enjoy wearing them, and then I go through a period where I intensely dislike them. At the time of this review, I was in an "off" period, and I was expecting this to reflect on my opinion of the Bvlgari Octo Finissimo S Chronograph GMT's bracelet. However, this appears not to be the case. I guess this adds credence to the old adage that "a good bracelet is tough to beat". Ok — that's not an actual saying, but I feel there's a certain amount of truth to it. I've never come across a bracelet like this one before. Its construction perfectly complements the case from a visual standpoint. Technically, this is not an integrated bracelet, but the bracelet appears to effortlessly integrate itself into the case due to the multiple facets, angles, and lines that form the Octo case shape.
…the Octo has been nothing but kind to me.
As far as bracelets go, it also wears incredibly light on the wrist. It's slim and comfortable and, notably, doesn't rip the hairs from my arm. I'm not a particularly hairy-armed individual, but I still suffer from some bracelets doing their best to make my arms balder than they should naturally be. That could contribute to my hot/cold attitude towards bracelets, but the Octo has been nothing but kind to me. It is a critical contributing component to the positive wearing experience. I think that sometimes, designers forget about the importance of bracelets. There's only a handful of brands who, in my opinion, treat their bracelets with the same care, attention and respect as their watches. After experiencing an Octo Finissimo on the wrist, Bvlgari has added itself to that small list.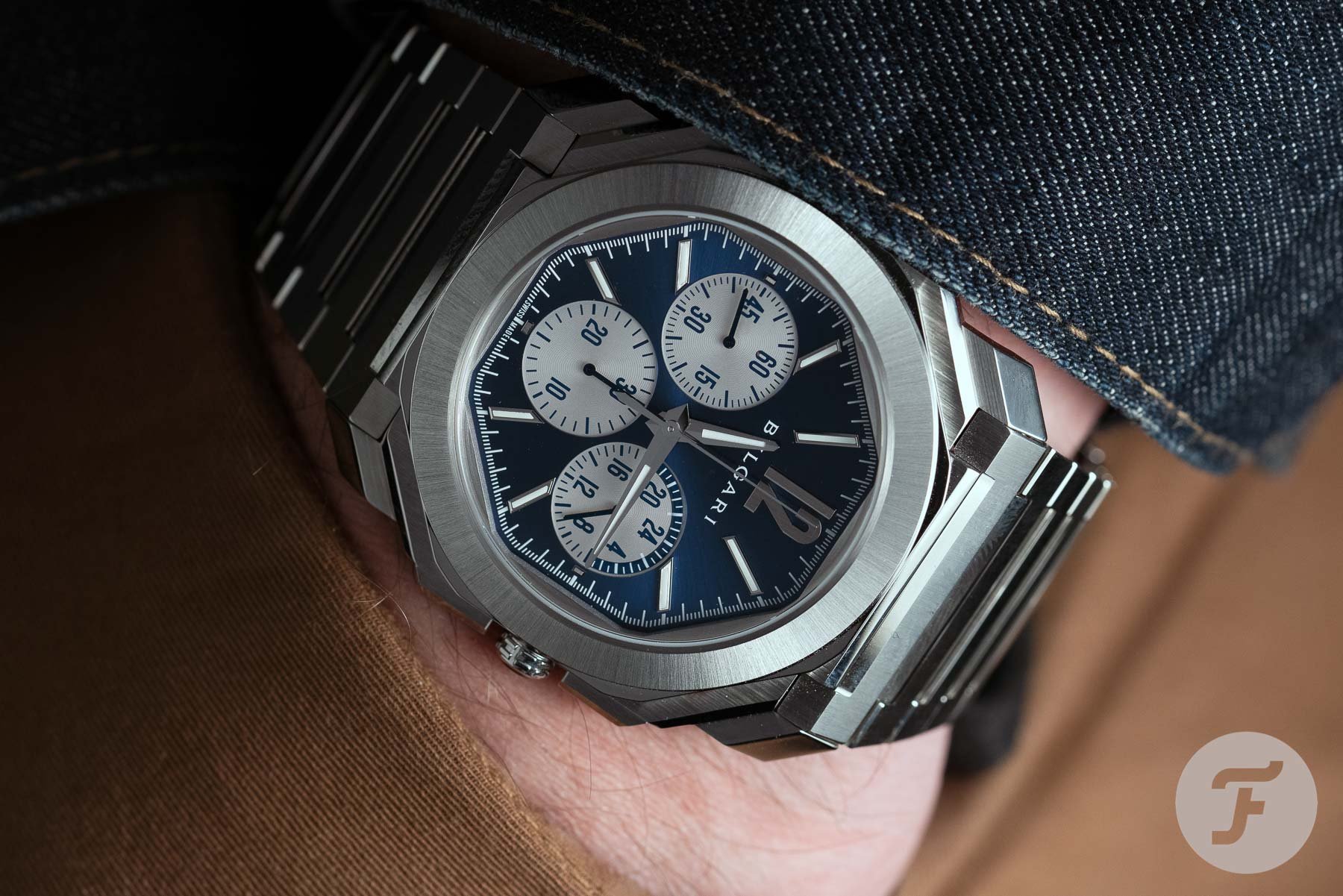 What do I think of the Bvlgari Octo Finissimo S Chronograph GMT?
I'm beginning to understand why so many of my Fratello brethren love Bvlgari. I've only had hands-on experience with two watches from the Italian brand, but both have been wholly positive. The Octo Finissimo S Chronograph GMT has been particularly eye-opening, though. The Octo Finissimo has always looked impressive in photographs and on paper, but seeing really is believing. A hands-on experience has indeed validated the continuous praise and celebration heaped upon the range. I am a believer. All I can say to those not yet converted, experience this watch in hand, and you won't look back. Find out more on the Bvlgari website.
Watch specifications
Model
Octo Finissimo S Chronograph GMT
Case Material
Stainless steel
Case Back
Sapphire display case back
Water Resistance
10 ATM (100m)
Strap
Stainless steel bracelet
Functions
Hours, minutes, running seconds at 9 o'clock, central chronograph seconds hand, elapsed minutes at 6 o'clock, second time zone at 3 o'clock (quick adjust via button at 9 o'clock)