March Mania Preliminary Four: RJ — Audemars Piguet, Rolex, Omega, Longines, And More…
Welcome, one and all, to the preliminary round of March Mania 2021, here on Fratello. Are you a watch maniac like we are? If so, you're sure to love our month-long feature. 96 watches reviewed last year line up for a battle royale like nothing that's gone before. We need your votes. We want your comments. Help us decide the champion and share in its glory! Let the games commence…
In this round, your task is simple: vote for your favorite watch. Below you will find a selection of 12 timepieces that we covered here on Fratello throughout 2020. Why not refresh your memory by clicking the links and reading those eruditely penned odes to wrist-wear? Once you've made your selection, vote using the poll form below. Every vote counts because only the top eight will make it through to the next round.
Login to your Fratello account and drop us a comment. Who did you vote for and why? What's your prediction for the later rounds? Will the Omega Speedmaster 321 triumph once again… Who knows? You decide!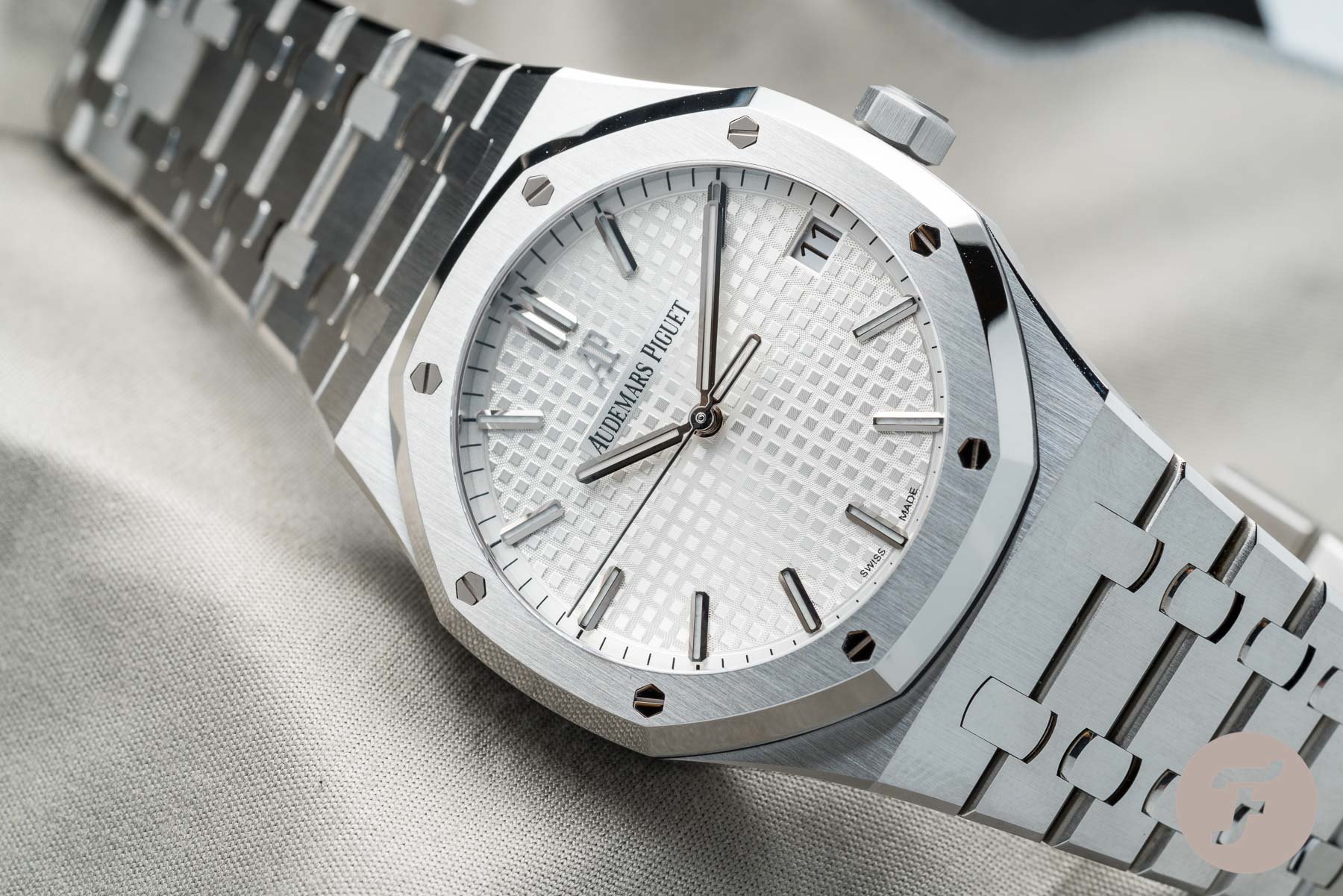 Audemars Piguet Royal Oak 15500ST
The Royal Oak is hot, but that wasn't always the case. It changed after 2012 when AP celebrated the 40th anniversary of its iconic octagonal luxury sports watch. From that moment on, the focus was no longer only on the Offshore models, but also (again) on the "regular" Royal Oak watches. My preference always has been the 15202, and I've been proudly wearing one for many years. But somehow my first Royal Oak, a silvery-white dial 15300ST from 2006, never really left my thoughts. This 15500ST has a lot of ingredients of the 15300ST, but with a new movement, new diameter, and some small changes on the dial. Based on the comments on the article I wrote on the 15500ST, I'd say the 15202 is still the top pick but also received some positive words on variations like this 15500ST. ScottC wrote:
I am happy that they brought back the silver dial after a couple of years without. Seeing how nuts the market is it's tempting to consider all I could have for the same market price but I still enjoy it too much.

Omega Seamaster PloProf 1200M
One of my best all-time horological purchases is the Omega Seamaster PloProf 1200M. It took me ages to decide whether I wanted to go vintage or new, and when I was done thinking and analyzing, the steel PloProf 1200M got discontinued. Somehow Omega managed to make me one, so probably the very very last one ever produced. However, you might find yourself lucky that there's still one in a display somewhere. They weren't bestsellers, but I feel that this watch, which was in production from 2009 till 2019, has been heavily underappreciated. In this article, I talk about buying a pre-owned PloProf, whether that's vintage or a modern re-edition like mine. If there's only one regret I have, it's that I didn't buy it earlier on. I'd like to quote from a comment that our reader Plecren left below that article:
Great article but I sort of hate you for it! Been well aware that these (particularly the previous gen 8500 steel version) were a sleeper. Had my eye on a few recently but prices are on the up and they are getting rare so you highlighting it can only increase my struggle!

Longines Spirit Chronograph (silvered dial)
Longines has a very interesting collection of Heritage models, based on watches from its rich history. I was surprised that the Spirit is part of the brand's Sports collection, instead of a Heritage model. But, in the end, it is about the watch, not the collection or label. The Longines Spirit Chronograph with silver dial is my favorite of the bunch and I had a great time reviewing it. Well made, good proportions, and a fair price tag. As one of our readers (Raoul) commented on our hands-on article:
Longines makes exceptional watches at realistic prices….
And I definitely agree. For €2,950 you purchase a watch with great looks, superb performance, and a modest size (42mm diameter). It is also a watch that is very versatile, You can easily change-up the strap to tailor it to any occasion.

Omega Speedmaster Calibre 321
The winner of our Speedmaster World Cup series in 2020 and the most recent Speedmaster I added to my collection. The amazing Speedmaster Calibre 321 is a perfect everyday companion, that has the looks and same movement as the original 105.003 "Ed White". In this case, though, you don't have to worry about damaging your precious vintage Speedmaster.
Omega did an outstanding job in re-creating one of the most iconic chronograph movements in the world. The Speedmaster Calibre 321 is based on the original Moonwatch, the reference 105.003 that was certified by NASA for all manned space missions. It is one of my most worn Speedmasters since I got it in July last year. The bracelet makes it a perfect fit, but the true beauty is inside, to be admired via the sapphire case back. You can read my review here.
Thanks for the review Robert, you must be very excited, nearly the perfect watch, one comment, for the price I feel they could have provided a micro adjustment clasp. — LEN HERBERT
He's right, it is nearly the perfect watch. Would it be more perfect with Hesalite and an aluminum bezel? Perhaps, but it would be too close to the original 105.003, and sapphire and ceramic make this new Calibre 321 a perfect everyday watch. Regarding the micro-adjustment clasp, I've seen that comment more often. This bracelet can be adjusted in 1/3rds of a link, which is perfect for me. But I assume that they mean to say it would be nice to have a stepless adjustment. Or an adjustment without using a small tool. To be honest, I never adjust clasps after I initially set them correctly. Not with this watch, nor with some of the watches I have with a stepless adjustment clasp.

Rolex Submariner Date Gold 126618LB
Gold! Always believe in your soul; you got the power to know; you're indestructible, etc.
You know the lines. I love gold watches, and not only since I turned 40, as Mike Stockton thinks. The new Submariner, the previous Submariner, any Submariner… It doesn't matter; as long as it is in gold I am down with it. A beautiful divers watch in precious metal (especially in combination with blue), is just majestic (as I wrote here). Let's have a look at one of the comments that the article received:
This is my dream watch and always has been (from the 1980s reference onwards). They just have become to darn expensive. On the other hand, that's sth I always said so perhaps it is just time to buy it. Next thing you know these are 70K. — JOHNNY ROLEX
Great user name, for sure. So, the problem is true that the longer you wait, the more expensive these things get. It also applies to Porsche 911s, Leica cameras, Speedmasters, Royal Oaks, etc. At some point you need to think "screw it, I am getting one" only to find out 5 years later you made a heck of a deal back then. It has happened to me a number of times. If you really love something, get it. Perhaps very foolish advice, but it worked for me.

Breguet Classique 5157
One of the most under-appreciated brands when it comes to Haute Horlogerie is Breguet. I didn't pick one of the brand's complicated watches, despite the tourbillon being Breguet's invention. I picked the simplest watch from the Breguet collection. "Purest" might be a better word. I had this watch for review last year and I enjoyed wearing it immensely. If I needed just one watch to indicate the time and nothing more, this would be very high on my list.
A round case with two hands, ingredients for pure boredom perhaps. But not with this Breguet Classique 5157. A beautiful hand-guillochéd dial, Breguet hands, and a thin and very wearable 38mm case. Powered by Breguet's self-winding caliber 502.3, visible through the case back.
What a beautiful, simple and elegant watch. The most under appreciated high-end brand in the world. Looking at prices of used Breguet watches , these are a bargain. — David
On the pre-owned market, these watches are literally a no-brainer. While a lot of people are so focused on getting something from the Patek brand or Lange, for example, they might oversee what's out there from Breguet, offering equal quality and finishing. I've come to love the guilloché dials and the beautiful movement finishing of Breguet.

Bvlgari Octo Finissimo Steel Polished
Bvlgari is a brand I never would have considered buying in the 1990s when I started collecting watches, but with its Octo Finissimo, the brand's game changed massively. What an interesting design. It is unique and with an amazing finish. What the Royal Oak 15202 was for me 20 years ago, the Octo Finissimo is today. This model is accessible, still under the radar, and with an incredible bracelet. I can't stress enough how important a good bracelet design is to me. And Bvlgari nailed it, big time. There's a range of models offered now, but my pick would be the Octo Finissimo Steel Polished with a blue or black dial. Titanium is not for me, and the gold ones are way out of my budget at the moment. As someone commented:
This piece and the Glaschutte Seventies are two of the most compelling alternatives to the Royal Oak, Nautilus, and Overseas trilogy. That either is actually affordable is even better. — Jay Small
Hey, it is not cheap by any means (€11,800) but still below what an AP Royal Oak 15202 retailed for when I purchased mine in 2009. As another person commented, it's just a matter of "when and which".

Grand Seiko SLGH003 9SA5 Hi-Beat
It seems to me that all recent success of Grand Seiko is coming together in its new range of watches, like this SLGH003 (and SLGH005), with the in-house 9SA5 movement. While Grand Seiko was on the level of Haute Horlogerie with the finishing and quality of its cases, dials, hands, etc. the brand was off the pace regarding its movements. That was especially true when compared to Omega and Rolex, for example. Enough has been said and written on the craftsmanship of the external components, it is time we talk movements.
The 9SA5 is the latest generation of Grand Seiko Hi-Beat movements, with its own clever Dual Impact escapement. We explained it to you here. The downside is that the new 9SA5 caliber does have a negative impact on the pricing, these watches are just below €10,000. Somewhat frustrating is that the prices vary heavily per market, in the USA the retail price is significantly lower (by the thousands). I hope Grand Seiko is somewhat able to fix this in the future.
It's good to see this new caliber starting to appear in steel watches, albeit still limited production. It'll be interesting to see if/when it becomes serially available. — Nick Scap
The answer to Nick's question or comment came rather quick. The SLGH005 "White Birch" is the non-limited edition Grand Seiko with the 9SA5 movement.

Audemars Piguet Royal Oak Offshore Beast 25721ST
When "The Beast" was introduced in 1993, I wasn't aware of these watches, or Audemars Piguet in general. It wasn't until a few years later that an Audemars Piguet brochure taught me about the Offshore collection. Big, bad, and super expensive. I neglected the Offshore for a long time, although I did warm up to the Offshore Theme Safari watch at some point. It wasn't until I met with a Royal Oak Offshore collector, who had a number of these references deriving from "The Beast". We did a massive write-up about it back then. Bigger watches are more common now, and I grew a bit in size as well since the 1990s.
Love The Beast. That's the original Royal Oak Offshore! — TheWatchGod
I can't disagree with our reader with the interesting nickname, The Beast is indeed the original Royal Oak Offshore. The OG, so to speak. We dedicated one of our Sunday Morning Showdowns to The Beast, which can be read here.

Glashütte Original PanoMaticLunar
The PanoMaticLunar is not new, I've seen it many times and love this watch from Glashütte Original. Despite the slight resemblance to that other brand that sits on the horological high street of Glashütte. What makes this PanoMaticLunar standout, is the green dial color. Like a proper Grand Seiko, it has been inspired by nature. The forest on the Ore Mountains bordering Saxony and Bohemia is represented in this deep green color on the dial. Although green is not my first choice for a dial color, it looks simply amazing on the Glashütte Original PanoMaticLunar. It demonstrates how well a color goes with one watch, while it doesn't do anything for me on another. Glashütte Original did an amazing job, and I wouldn't mind adding this beauty to my modest collection. Balazs wrote an article on this model here.

Omega Speedmaster Moonshine
If I have to choose one watch to wear for the rest of my life, this is the one. I saw it in early 2019 and decided I had to have it. And that's a decision that doesn't come easy for me, as it is a €32,800 watch. I love the Speedmaster Apollo XI 50th anniversary watch in 18ct Moonshine gold. It is a homage to one of the most impressive achievements by mankind, and to the first gold Speedmaster from 1969 presented to the Apollo astronauts. In my opinion, this 50th-anniversary edition is even nicer and better than the original, and I don't say that very often about re-editions. I am proud to have this one. And it gets even better. I am a collector of the no. 13 when it comes to limited and numbered editions.
Not only because that's my birthday (April 13th), but also because my daughter Charlotte was born in '13. On the day of its release, I asked Omega if no.13 would be available for me, and it was. It gets even better: the original BA145.022-69 (gold) Speedmaster with number 13 was given to astronaut Thomas Stafford. One of my favorite Apollo astronauts who I've met on two occasions. Everything came together for me with this watch.
Anyway, it is a nice pale version of yellow gold, has a massive gold dial with onyx markers, and a piece of a lunar meteorite on the case back. The movement is a gold version of the new caliber 3861 Master Chronometer. What's not to like? It has become a watch that I almost wear on a daily basis since I got it in 2019. I wrote an article here on my life with this watch after one year of wearing it.
Beautiful words, you made me think in a concept that I never thought about before, "a lifetime watch companion".  — Alexander Raven

Rolex Yacht-Master 16622
As weird as it may sound, the Rolex Yacht-Master is one of the last collections Rolex added. In 1992, the Crown introduced the Yacht-Master in full gold. The one here though, the 16622, was introduced in 1999. A combination of steel and platinum, which Rolex likes to call Rolesium. The entire rotatable bezel is made of platinum (Pt950) as well as the dial. When I got into watches in the mid/late 1990s, it was my first encounter with a waitlist for Rolex watches.
Two years, they said. However, that changed sooner rather than later and this Yacht-Master turned out to be one of the most under-appreciated Rolex sports models (as we recently talked about in this video). I like quirky things, and these Yacht-Master watches are just that. I had one of these watches in 2007 and traded it a few years later for a Royal Oak 15300. But somehow I always regretted it a little bit (and then you have to pay!). So I got one last year again, and this one isn't going anywhere.

So now it's over to you! We want your votes but we also want to hear your thoughts. Better still, by sharing them with us, you'll put yourself in the running to win either a LIC leather watch strap or (drum roll, please), the HAMILTON INTRA-MATIC AUTO CHRONO. Yes, that's right, as Karina detailed in her post yesterday, we will be giving away one of Hamilton's most popular models for one lucky commenter. How do you win? Comment on the March Mania tournament as often as you can, engaging with other readers, helping to create a happy community atmosphere. The best contribution will be handsomely rewarded, so what are you waiting for? Let your voice be heard!