Mark Knopfler – An Omega Speedmaster Fan
It's been a while since we reported about a Speedmaster sighting by a celebrity. In the past, we have seen Russel Crowe wearing one in many of his movies. He also had a Speedmaster in his private collection until recently. He auctioned numerous personal memorabilia away, including the watch, to…well, pay for his divorce.  Ed O'Neill, the star of Modern Family, Married with Children and one of my favorite movies; The Adventures of Ford Fairlane also sports a Speedy regularly on and off screen. RJ also wrote a report about James Corden ditching is AP Royal Oak for an episode of Carpool Karaoke with Christmas Season favorite, Michael Bublé. I don't follow Corden closely so I'm not sure how often does he wear the Speedmaster. Yet, it's good to know that he has one in his collection. Recently however I came across some footage of Mark Knopfler wearing one.
Mark Knopfler
To die-hard Speedmaster fans, this is no news. We have reported about Mr. Knopfler sporting a gold 3693.50 back in 2015. Sources close to him told me that he is, in fact, a huge Omega and Speedmaster fan with quite a collection including some limited editions. What he has we do not know yet, hopefully, we will be able to report on that one day. In the meantime, though, I would like to get back to that article in 2015. In the end, we posted a photo of him from a magazine. He was wearing a Speedy that sort of looked like a "regular" model but at the time we had no further info on that. It looks like the watch is on a black leather strap and it's not a Broad Arrow or 57 Replica model. Just lately, I came across a video of Knopfler wearing the same watch.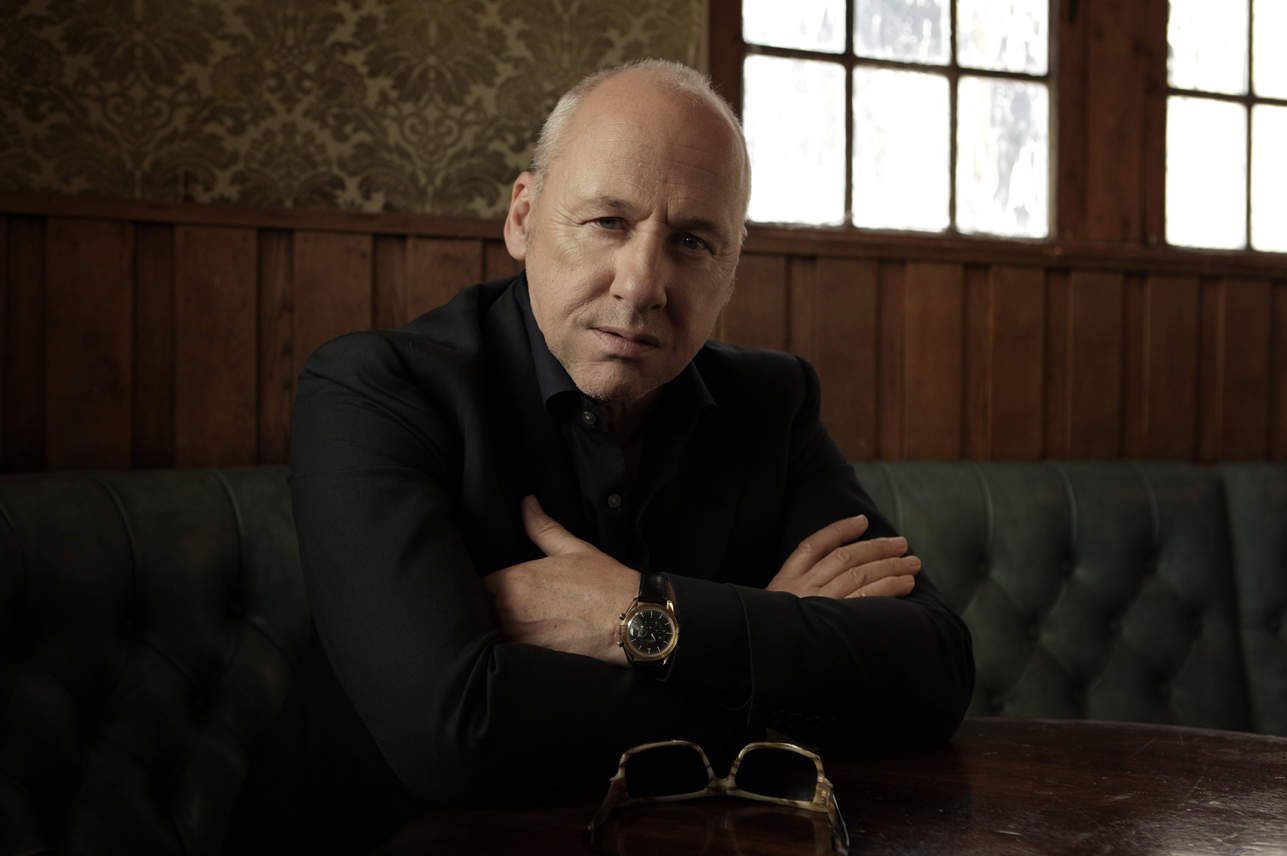 Black Strap 1 and 2
Of course, I am not 100% sure of this is the very watch he was wearing back in that magazine shot. The resemblance is striking though. It's either that or Mr. Knopfler wears all of his Speedmasters on a black leather strap. I found a video on YouTube, while I was listening to some good old Dire Straits, from a 2016 documentary called Soundbreaking. In this clip he is talking about playing guitars and in a number of close-up shots, you can see a Speedmaster on a black leather strap. As YouTube does it these days, this clip was followed by another one of him, this time a 2018 interview he did in a morning show (?) at the BBC. Guess what, another (or the same) Speedmaster on a – different – black strap. You can clearly see the 2 side stitches at the lugs.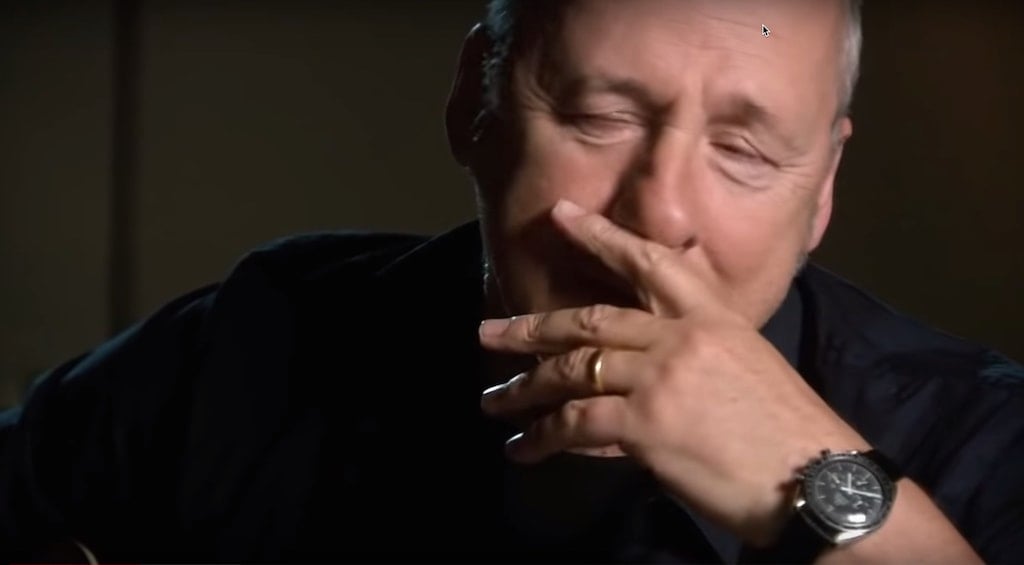 NATO Strap
So, after watching these 2 videos I kind of went on a hunt. I wanted to find other images where Mark Knopfler is wearing this regular Speedmaster on a strap. As luck would have it, I found a photo of him. This is from an article in Zeit Magazin (online version of a German newspaper, Die Zeit) from a few weeks ago. Obviously, the photo in the article could, and probably is, older than December 2018. It's a beautifully photographed image of Mr. Knopfler resting is head on his arms. The beauty of the photo is not only the artistic composition of it but his watch. On his left wrist, he wears a regular Speedmaster (yet again) on a NATO strap. So that's the same (?) watch on 3 different straps in the last year or so. Mark Knopfler clearly has a thing for the Omega Speedmaster Professional.