MOONWATCH ONLY – 60 Years of OMEGA Speedmaster
We are proud to show you some previews of the upcoming Moonwatch Only – 60 Years of Omega Speedmaster edition. It is the new and updated version of the Moonwatch Only book that was introduced in 2014. The book that should be the standard for all books on watches just got better (and more complete).
Moonwatch Only is one of, or perhaps it is, the best book about watches available. Not only because it goes into every tiny detail, but also because it has some clever diagrams and charts on how to detect the correctness of a certain watch. In this case, Speedmasters. We reviewed the Moonwatch Only release from 2014 in detail in this article introduction evening of the book and we organized an in Amsterdam together with the Tourbillon Boutique.
Moonwatch Only – 60 Years of Omega Speedmaster
On March 22nd, during BaselWorld 2017, the new Moonwatch Only "60 Years of Omega Speedmaster" will be unveiled in full with a couple of signing sessions.
The 60th anniversary of the Omega Speedmaster, that we discussed here and here, was an appropriate reason to revise the existing Moonwatch Only (the current standard on Speedmaster literature) with a new chapter on the Speedmaster reflecting 60 years of innovation through approximately 15 Speedmaster models that differ from the Moonwatch. Also, there are more Speedmaster 'Moonwatch' variations included in this book. This 60 years of Speedmaster edition contains 4 new chapters, 68 additional pages, 190 new photographs, some corrections and updates and reworked chapters.
NASA and Omega
This new Moonwatch Only edition also shows the tight relationship between the NASA and Omega. Omega Museum director Petros Protopapas and former NASA engineer Jim Ragan (responsible for the selection and testing of astronaut equipment between 1964 and 1999) wrote the "Speedmaster and NASA" and "The Alaska Project" chapters. So you will get the best information on these topics, straight from the source.
Speedy Tuesday Limited Edition
With pride I can also state that the authors included the Speedmaster Speedy Tuesday limited edition in their Moonwatch Only – 60 years of Omega Speedmaster book. Besides this edition, there are also more Speedmasters included, such as the non-NASA 1971 Speedmaster that we covered here.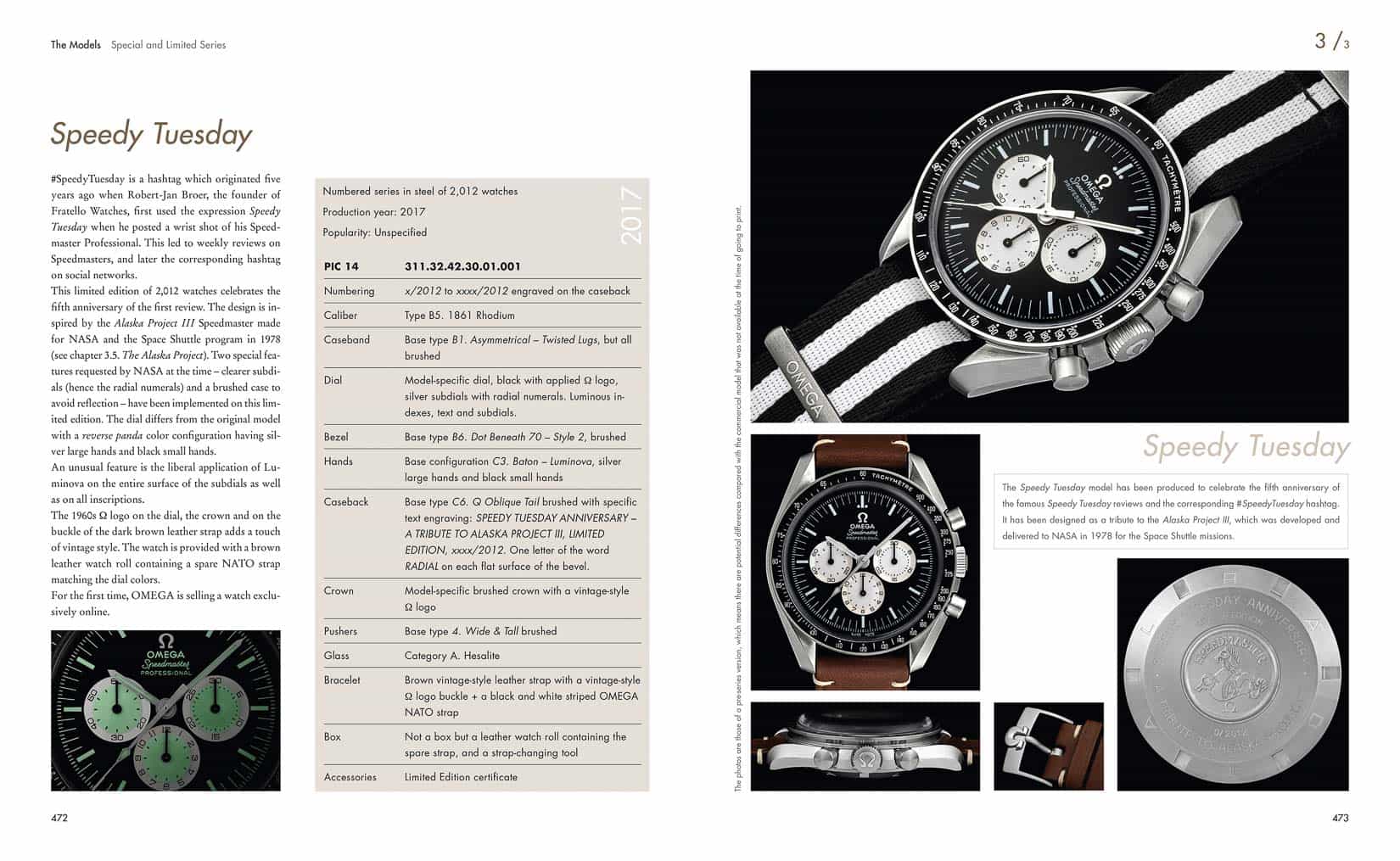 Some Thoughts
If you don't have the current edition of Moonwatch Only and consider yourself a Speedmaster nut or someone who is aiming for a vintage Speedmaster and don't want to make any (expensive) mistakes, this new edition is a no-brainer. The price of the previous edition was 250 Euro and that might seem a lot for a book, but these books will help you prevent making expensive mistakes, sometimes worth multiple factors of this book's price tag.
Are you already owner of the Moonwatch Only book, then the question is whether you need, or want, this update. I am such an avid user of the Moonwatch Only book, that I can't wait till I will have this new version in my hands. For new models that appeared between 2014 and now, it isn't that necessary to go after this one. However, when you are interested in vintage models and care for some of the additional stories on Omega and NASA and the Alaska Project for example, it would be a very nice addition. 68 extra pages and 190 new photographs are definitely worth investigating whether this book is something for you if you already have the first edition.
Price of the Moonwatch Only '60 Years of Omega Speedmaster' will be 250 Euro (290USD / 220GBP) More information and pre-ordering via WatchPrint.