Reverse Panda – The Return of a Design Classic
Reverse Panda
Around this time of the year some watch websites already start to speculate about the latest novelties brands will release during BaselWorld. There are trends however, patterns if you like, that come in waves year after year and will have an impact on the novelties. Just think about the emergence of smart and connected watches or the bronze cased models from a few years ago. It seems that this year watch manufacturers are again reaching back to their old playbook. They are pulling out something that worked for them many years ago and as a matter of fact, never went out of style. It is not a case shape or complication rather a design element that characterizes the whole watch; panda or more precisely reverse panda dials.
What is it exactly?
For those of you not familiar with the term, we are talking about chronographs almost exclusively. A panda dial is white with black sub dials while the reverse panda is just the opposite. Here, the dial is black with white sub dials. Reverse panda dials, as far as vintage watch lovers' are concerned, are more popular than normal panda dials. I think it has to do with the fact that the majority of the dial is black with only a few light elements on it, and as we know dark toned dials are more popular than light ones. So while a reverse panda is still a dark dial it has a bit of a twist, a touch that smoothens the otherwise rugged look. Either way every serious watch brand had or has a reverse panda in their line up at some point.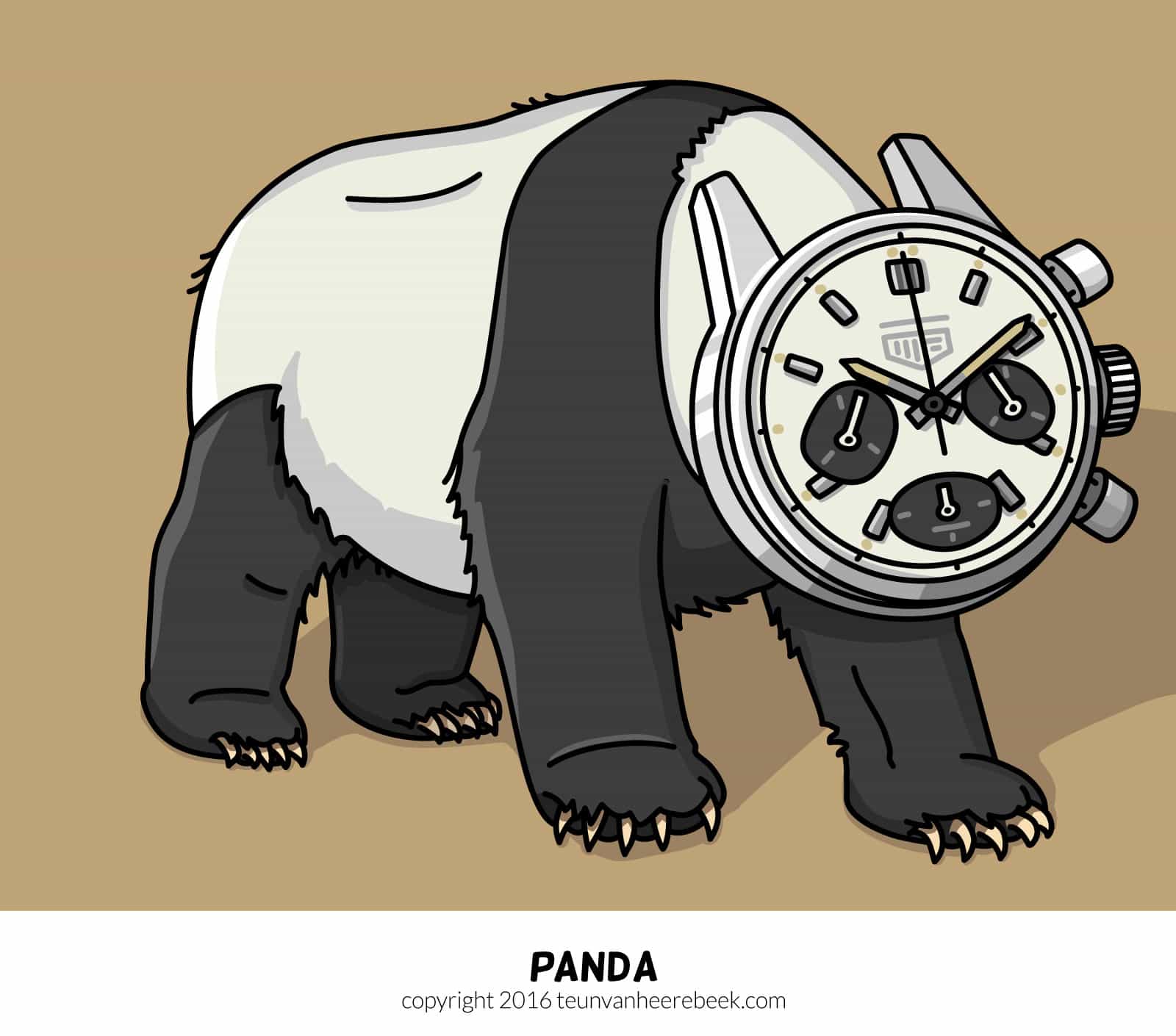 Rolex Daytona
there are a number of icon reverse pandas, but the ones that stand out the most have to be the vintage Rolex Daytonas. There are a bunch of different reference numbers starting as low as the reference 6239 all the way to the 6265. These watches are so easily distinguishable from other vintage models. Even a glance at the owner's wrist is enough to see what model he/she is wearing. That's how iconic the Daytona is. As a matter of fact, the famous Paul Newman Daytona (6263) also has a panda dial. He wore the white dial version with black sub dials but a reversed variation was also offered by Rolex at the time.
Universal Geneve
Another one, and personal favorite, is the Universal Geneve Evil Nina. Named after the wife of car racing legend Jochen Rindt, the version that triggered the nickname, the UG Nina Rindt, is actually a panda dial. She wore it while out and about or in the paddock during the 1960's. As she was a model and wife of one of the greatest drivers so a lot of photos serve as proof that she preferred the watch a lot. Universal Geneve actually released three models; a white one (Nina Rindt), a black reverse panda (the Evil Nina, because of the "evil" contrast of black and red) and a blue dialed model. We dealt with the Evil Nina a while back already in one of our #TBT episodes. Just like the Daytona, the Evil Nina also has 3 sub registers positioned at 3, 6 and 9 o'clock.
Heuer
Speaking of #TBT archives we have the" husband" of the Universal Geneve Evil Nina, that is the Heuer Autavia Jochen Rindt. Heuer released many reverse panda dial watches in the 60's and 70's mostly in their legendary Autavia and Carrera lines. One of these watches were the Jochen Rindt Autavias 2446. The analogy is the same; Rindt wore this watch for a number of years and collectors named it after him. The dial layout is again the same as above; three sub dials all white while the rest of the dial is black. Mario Andretti, another race car driver legend wore a two-register dial Heuer Autavia which now bears his name among collectors. But the true three-register reverse panda Heuer will always be the Jochen Rindt Autavia. Other legendary brands such as Breitling, Hamilton, Gallet or Wakmann, among many more, also had reverse panda dials at one point in their lineup.
TAG Heuer Autavia
That was the past however and now we are talking about this upcoming BaselWorld. As a few brands already released some novelties that the press will have a chance to take a closer look soon we see this pattern coming back. One of the most obvious ones are TAG Heuer. Last year they started a very cool initiative. Instead of making and in-house decision of what model will they release for the reissue of the classic Autavia, TAG Heuer created a website where fans and collectors could vote for their favorite model. No surprise that a reverse panda came out as the winner. Since then the watch has already been produced and introduced during a number of events. The reception of the model is truly great among industry people as well as press and fans of TAG Heuer. We can't wait to see it in Basel.
Audemars Piguet Royal Oak Chronograph
Those of you who followed the new releases from SIHH this January might remember that Audemars Piguet came out with a number of new Royal Oak Chronographs (click here). However, it's worth mentioning that the Le Brassus manufacture also released both a panda and reverse panda dial version of the 41mm Royal Oak Chronograph.  Sometimes you don't need to go over to the extreme to bring something cool and interesting to the table. Thought it's worth mentioning that in case of the AP chronograph the dial contrast is not black and white but black and silver it is still as close as it gets to a real panda.
Omega Speedmaster Speedy Tuesday
Lastly we have our "own" watch; the Omega Speedmaster Speedy Tuesday. We covered it quite extensively so I will not get into the details. As you know, Omega never released a reverse panda Speedy Pro before this model. They did regular panda watches or a very similar reverse blue panda (Gemini IV). It is truly a milestone and fits perfectly into the evolution of the Speedmaster Professional.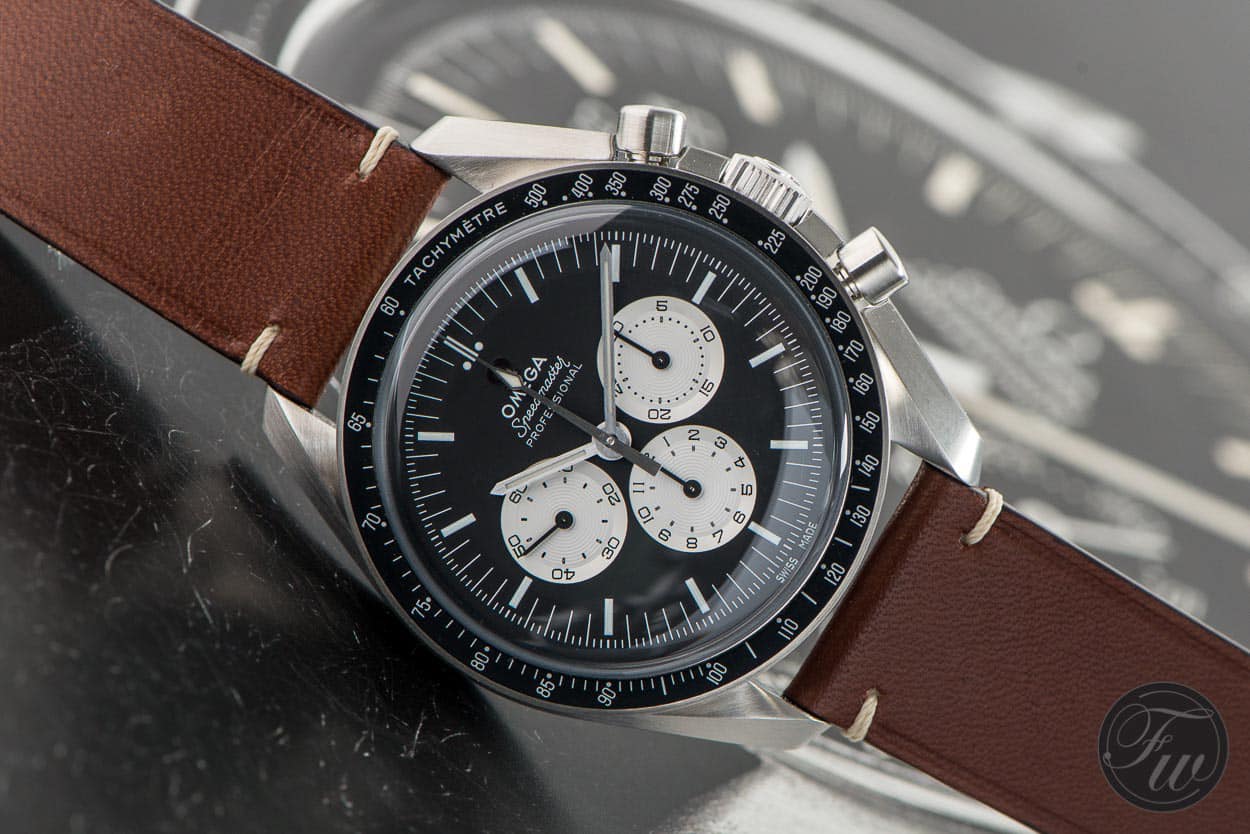 Anybody else?
Is it a coincidence that Omega, TAG Heuer and Audemars Piguet all release(d) a reverse panda chronograph this year? I don't know. What I do know however is that I like the tendency and I hope other brands such as Zenith or Longines will jump on the band wagon and come out with a great reverse panda chronograph in the near future. If that happens I consider this year's BaselWorld a success for the chronograph enthusiasts.