Rob's Top 5 GMT Dive Watches For Christmas — Grand Seiko, Omega, Oris… But No Rolex
Dive in to a world of versatile gift options...
Who doesn't like multi-functional, go-anywhere, do-anything watches, eh? And when it comes to gift buying, you're probably best off covering as many bases as you can. I thought long and hard about the kind of watch it's hard to criticize. Although these choices are certainly not dainty watches, the versatility and wearing enjoyment promised by GMT Dive Watches is out of this world.
I would say if you're buying for a guy or girl that is known to like big, sporty watches, and is a fan of techy, over-engineered aesthetics, this is a list for you. There's a range of price points below, starting below €2,000 and moving up to a shade over seven grand. But the great thing about all these watches, despite 60% of them coming from crazily well-known brands like Grand Seiko, Oris, and Omega, is that they're still a bit under-the-radar (especially my Omega selection, which, to be honest, is probably the pick of the bunch).
The Rolex GMT Master II, for example, has no lume pip on the timing bezel.
Read on and let us know what we missed in the comments section below. You might be surprised at how few GMT Dive Watches there are. While it seems like there are simply loads, the majority of GMT watches aren't fit for use beneath the waves. The Rolex GMT Master II, for example, has no lume pip on the timing bezel. The same is true of the Tudor Black Bay GMT. And countless others…
Melding the functionality of a GMT watch with that of dive watch is rarer than you might have imagined. I might have cheated slightly with the uni/bidirectional bezel action, but it's Christmas so I hope you don't mind cutting me some slack…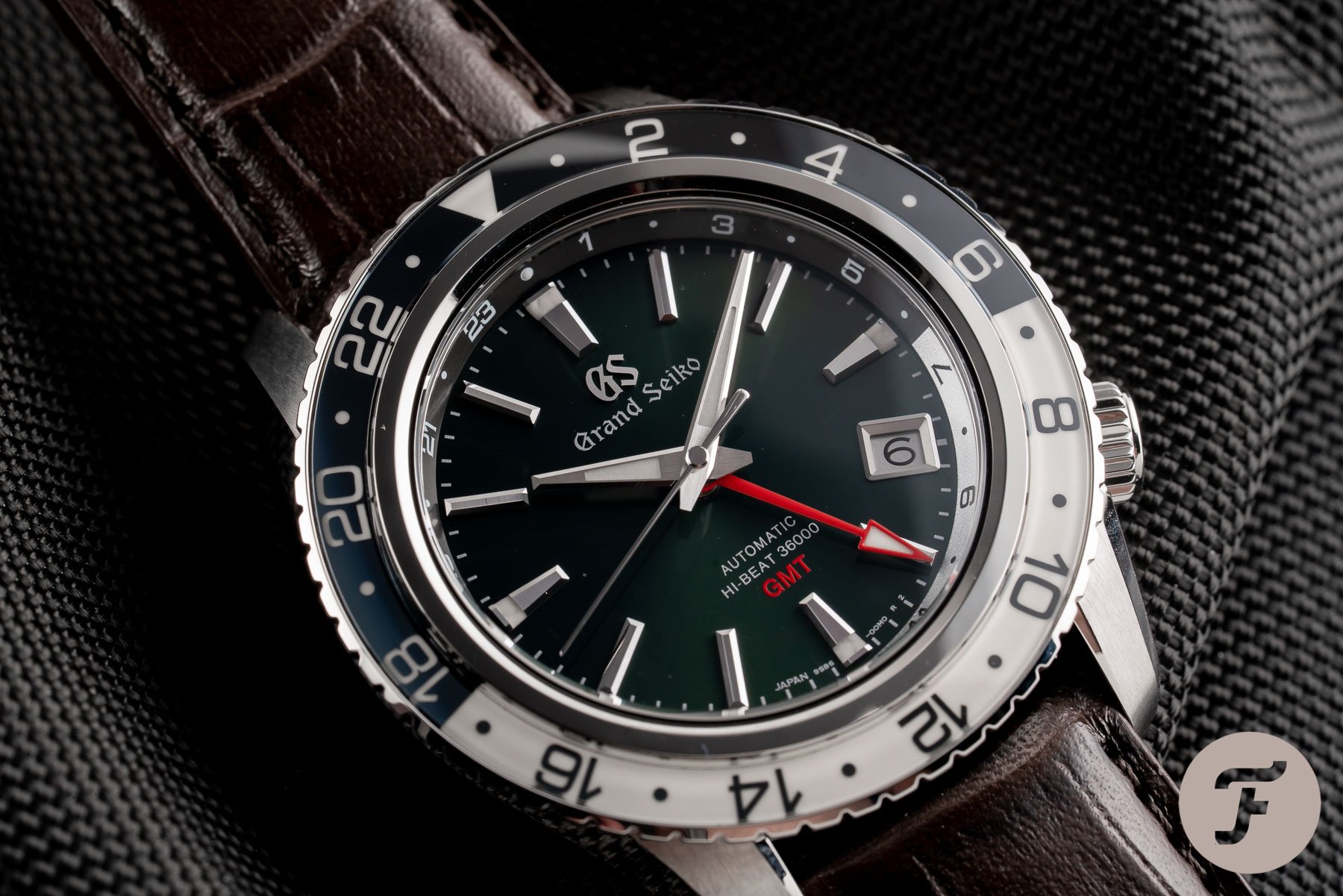 Grand Seiko SBGJ239
I like seeing RJ excited. When he discovers a new watch he (unexpectedly) likes, it is like watching an enormous child be given a Street Fighter II arcade machine full of sweets. It is heartwarming, to say the least. Normally, RJ expects to like Grand Seiko products. Our passion for the Japanese juggernaut is well-documented, after all. But even despite such high-expectation, we can still find ourselves pleasantly surprised from time-to-time.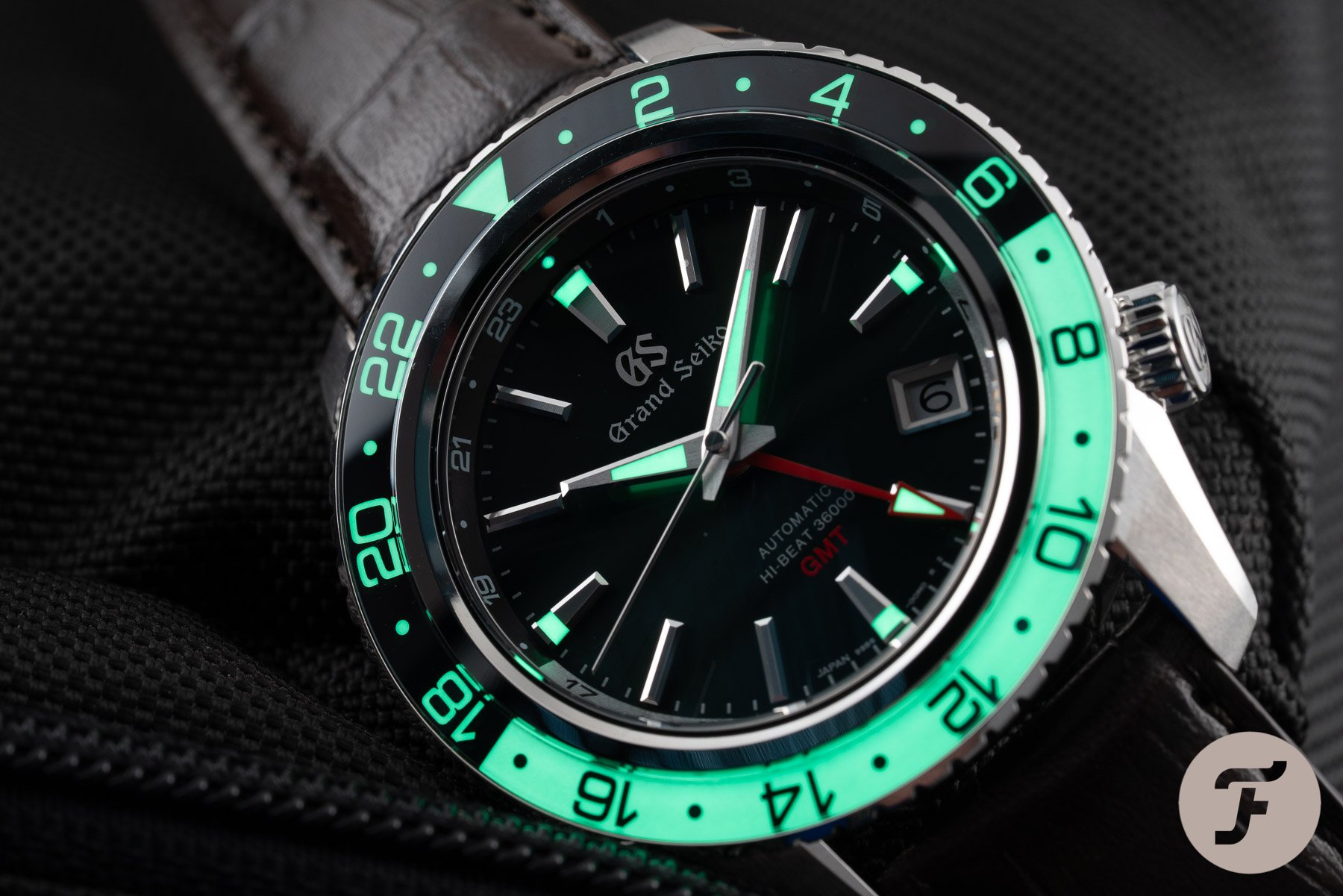 Reference SBGJ239 didn't just surprise us; it delighted us. RJ was so effervescent about his experience with this watch during the loan, I just had to get it on my own wrist. I had imagined the 44mm diameter to make for an unwieldy product, but my fears were unfounded. The watch head balance is excellent. Better still, the wide, sapphire bezel (which promises one of the finest night-time light shows you're likely to see south of Lapland) makes the watch seem much smaller and flatter than it actually is. And as for that green dial and those red accents…
This is a truly rare combination of finishing, color, expert execution, and no-holds-barred horology. At €6,800, it is the second most expensive watch on this list but it justifies its price tag with components to spare.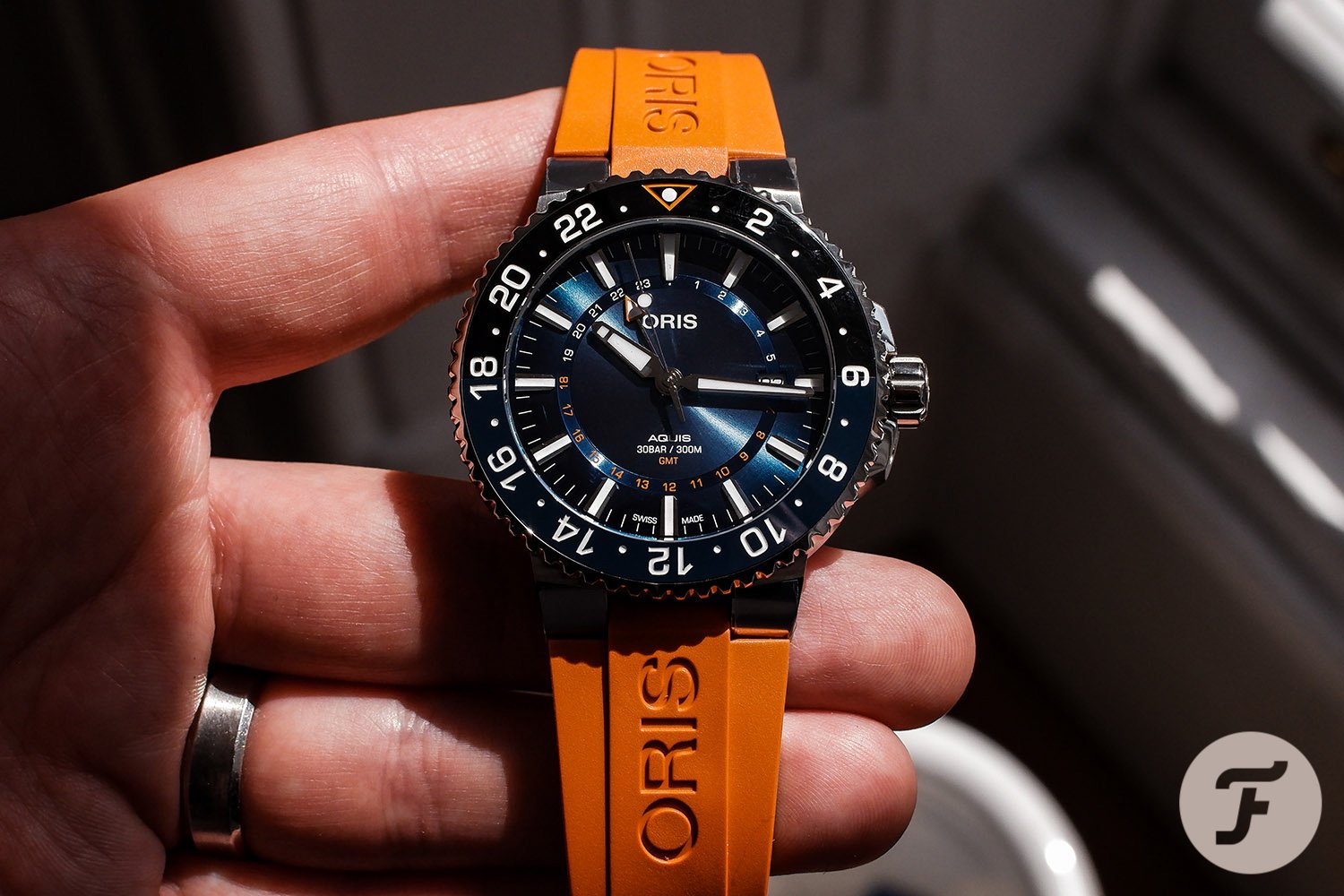 Oris Aquis Carysfort GMT
I do not own an Oris Aquis and, as time goes by, I'm less and less convinced I know why. A run of stellar releases over the past few seasons has left us would-be Oris owners spoilt for choice, but aside from the handsome, GMT-less Oris Aquis Great Barrier Reef III, the only one that really stole my heart was the Carysfort GMT.
…one of the most full-blooded Oris watches out there …
The dial color is simply awesome. It shifts from a bright to deep blue in the sunlight as the sea itself seems to change color throughout the day. The vivid orange accents may be a bit sporty for some (with the Great Barrier Reef III offering a softer GMT-less alternative), but this is one of the most full-blooded Oris watches out there (aside from our limited edition, of course).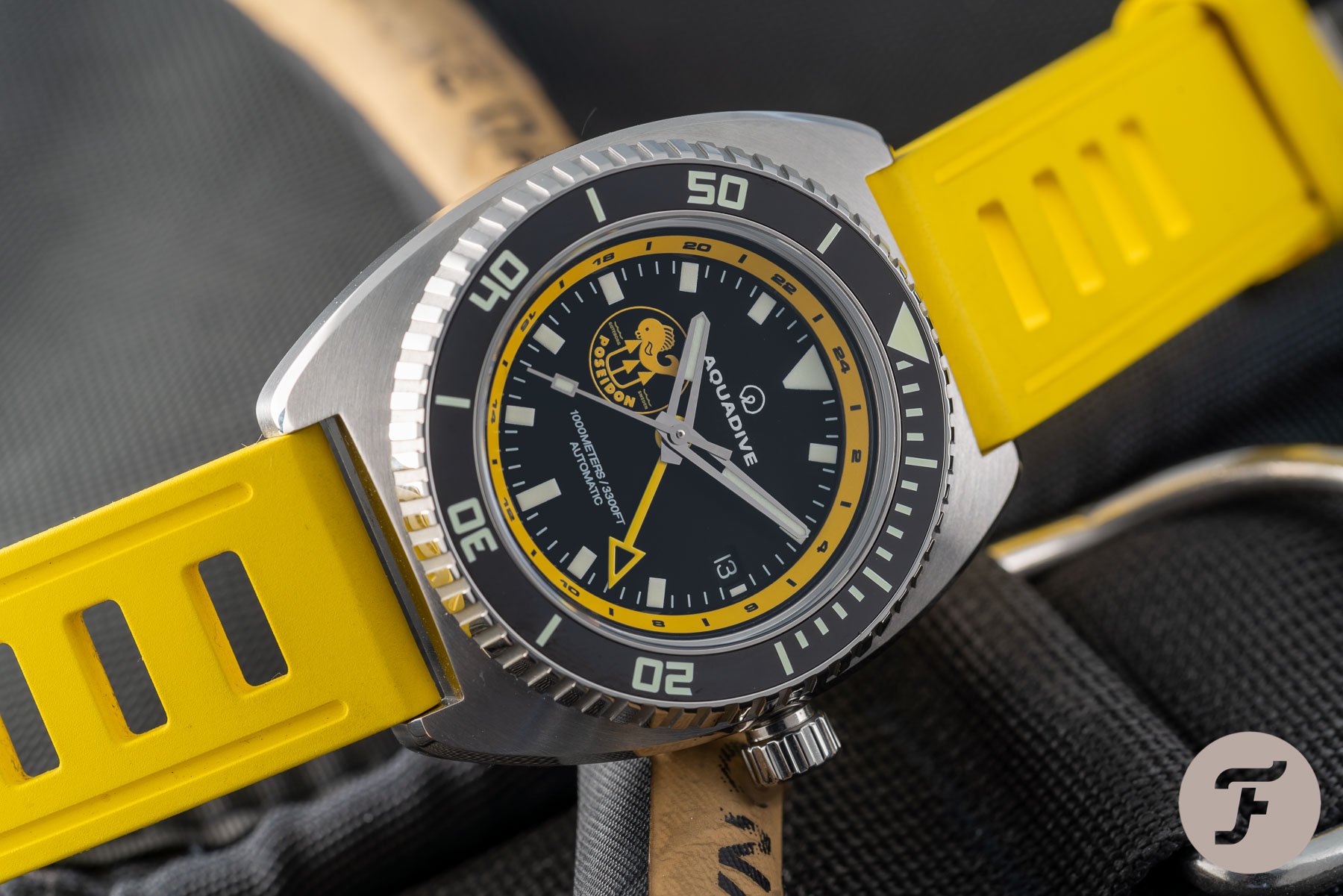 Aquadive 100 GMT Poseidon
Call me biased if you will, but I put my money where my mouth is. This Aquadive joined my collection this year and made it onto my Top 5 purchases of 2020 list published last month. As it turns out, I probably should have waited, because I've added three watches since (a Rolex Precision Oysterdate and two Casios — a vintage Surfing Timer and Sky Walker inspired by Mike's article last week). Regardless, this one would have hung around in that list. It's a very special purchase and, bizarrely, the most affordable GMT dive watches on this list with a sub-2k pre-order price. It's no shrinking violet, for sure, but if you love yellow and taking your dive watches seriously, this is the one for you.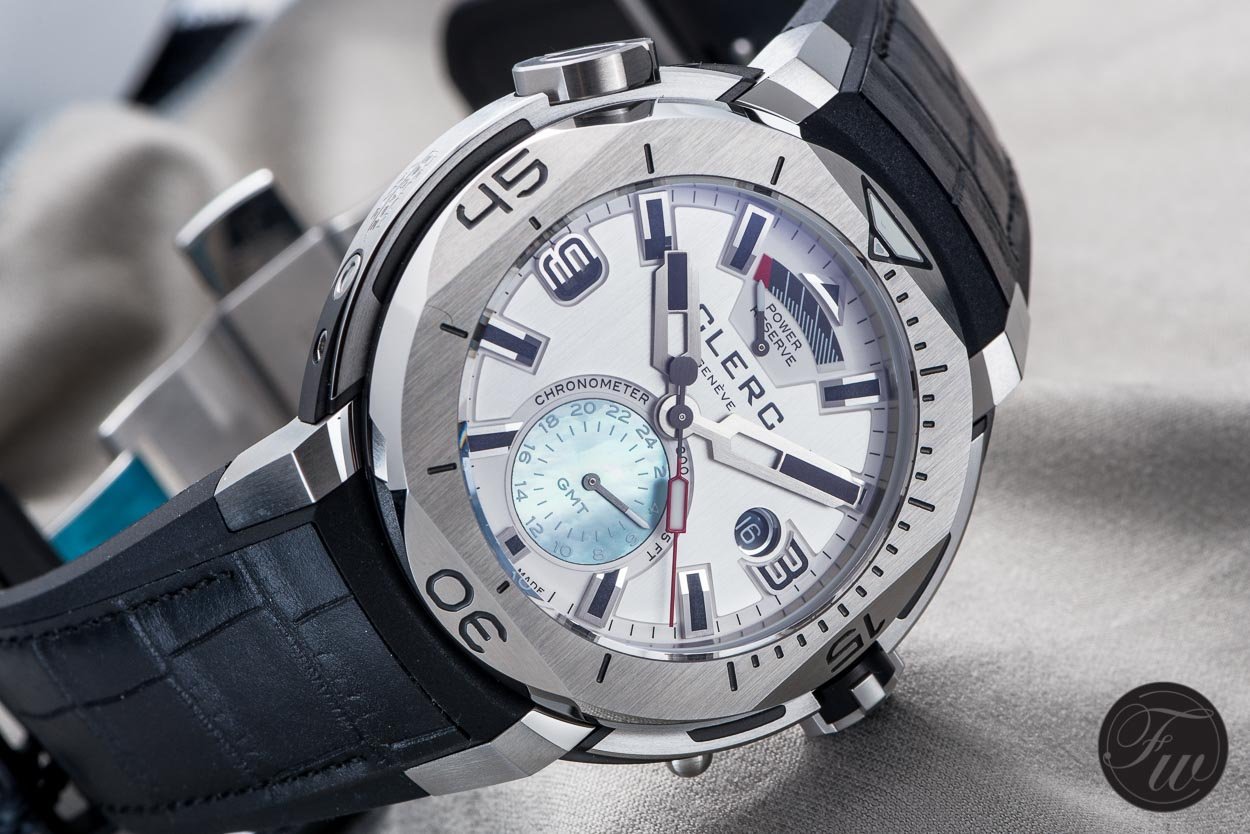 Clerc Hydroscaph GMT Power-Reserve Chronometer
I've long been a fan of Clerc (a brand that remains seriously under-the-radar), but this was never my favorite model until I saw it in the metal. The Hydroscaph chronograph had always been my number one. I liked the violent black and orange colorway. This one, when I saw press shots of it, looked weak in comparison. The Mother of Pearl sub-dial (which houses the GMT) looked too elegant. Boy, I was wrong…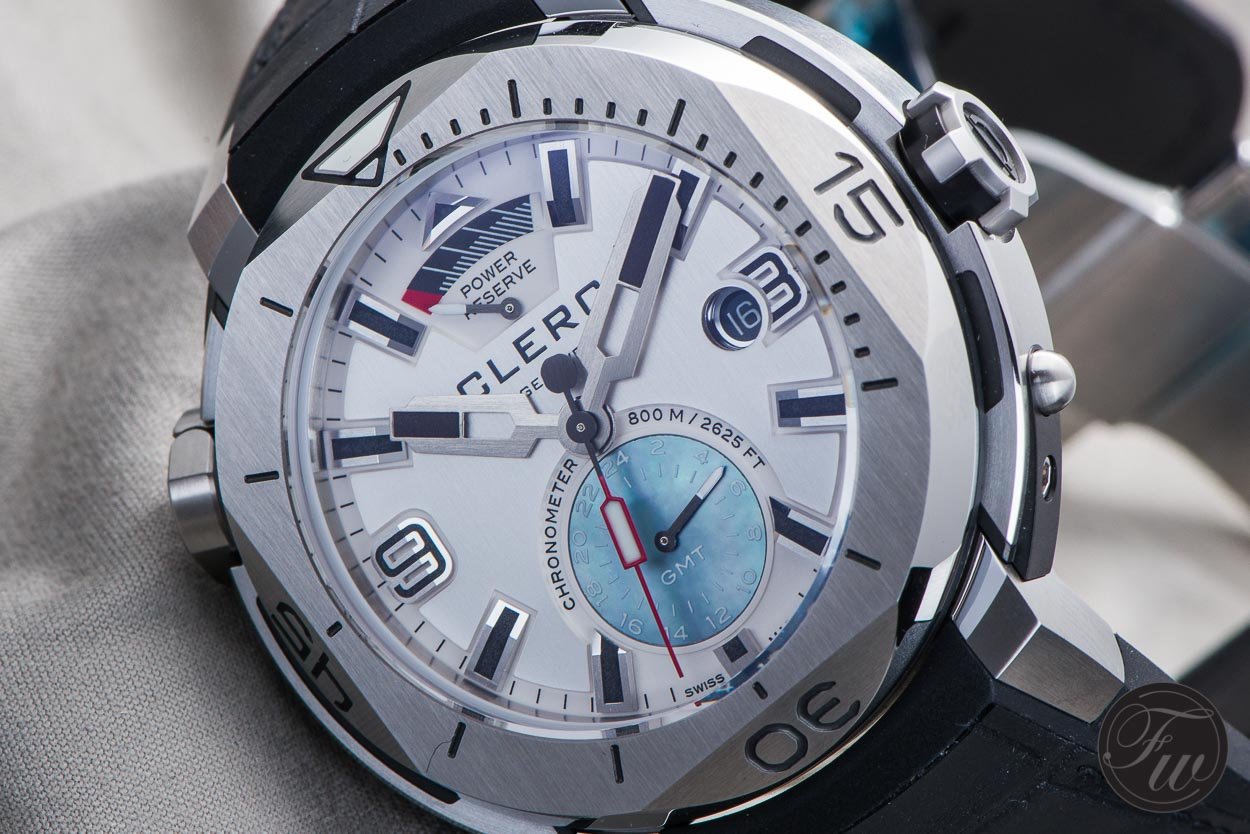 I understand the skepticism here, I really do. But Clerc is a brand that manages to reduce the downright daring to simply different. How many other men's watches would stick a slice of pale blue MoP on the dial and expect to get away with it? This watch is kind of like a Hell's Angel in a tight pink T-Shirt — it is so self-assured it goes beyond the point of ridiculous and becomes cool. I don't own one, but I'd love to. Finding someone to sell you one will be the hardest part, though. Clerc's dealer network is abysmal and the brand's online presence incredibly poor. I resorted to finding a pro dealer on Chrono24 that had one of these (new) for sale. Apparently, you can get them for sub-5k these days. That's a lot of watch for the money.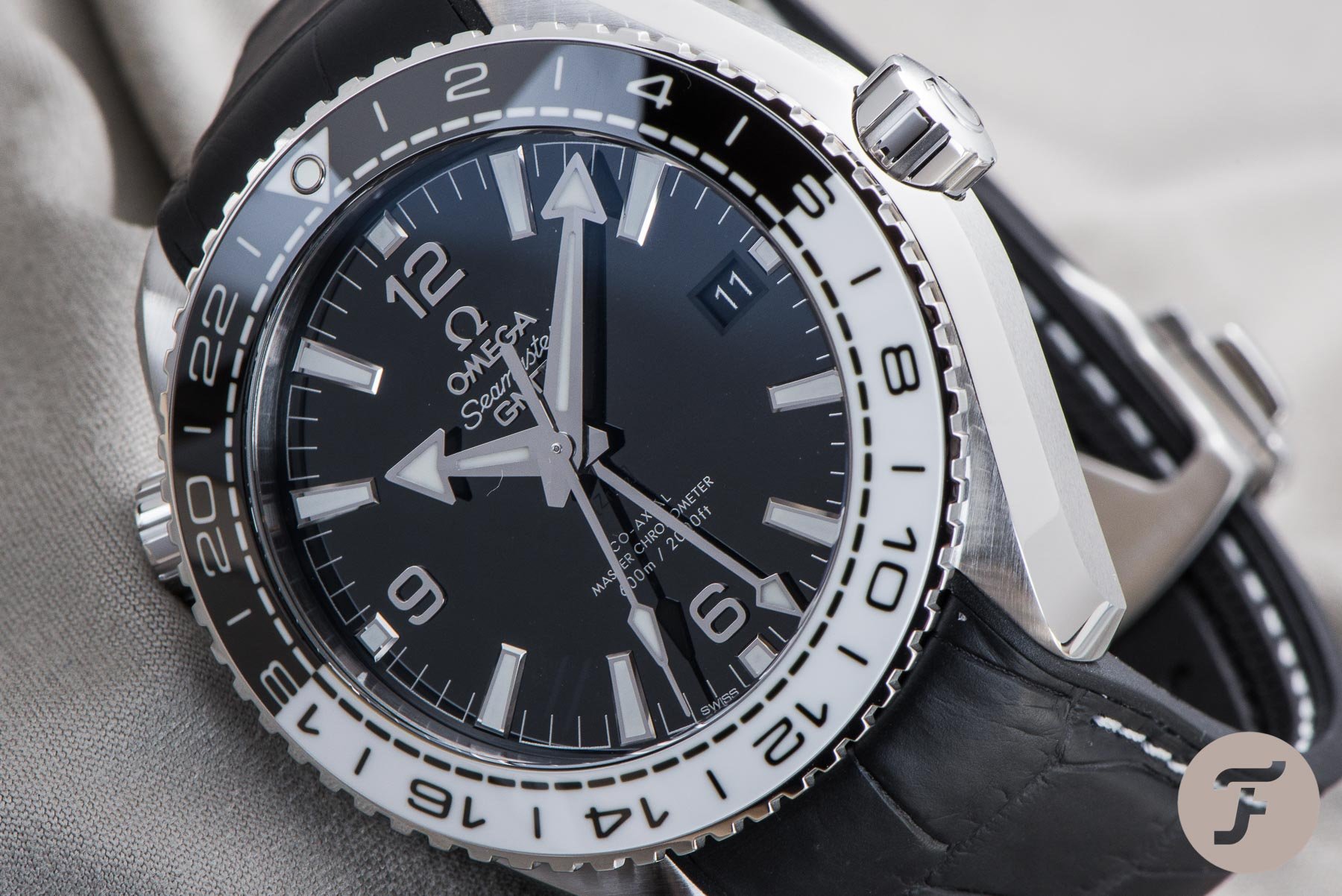 Bonus pick: Omega Seamaster Planet Ocean 600m 215.33.44.22.01.001.002
No, no, no: don't be disappointed. This isn't the sneaky awesome Omega I promised you at the top. This is just a really good, really solid, incredibly underrated Seamaster Planet Ocean I simply had to share with you. My old mate Ian Allen from Wallace Allen jewelers in Ayr, Scotland, was often seen rocking one of these. If you think it is an odd choice (as I did at the time), consider this: Ian is an Omega dealer. He's had the entire collection pass through his hands at some point or another. Having the chance to compare so many models in the metal is a massive advantage to anyone. It also means that the choices those lucky few make having had that experience should be noted.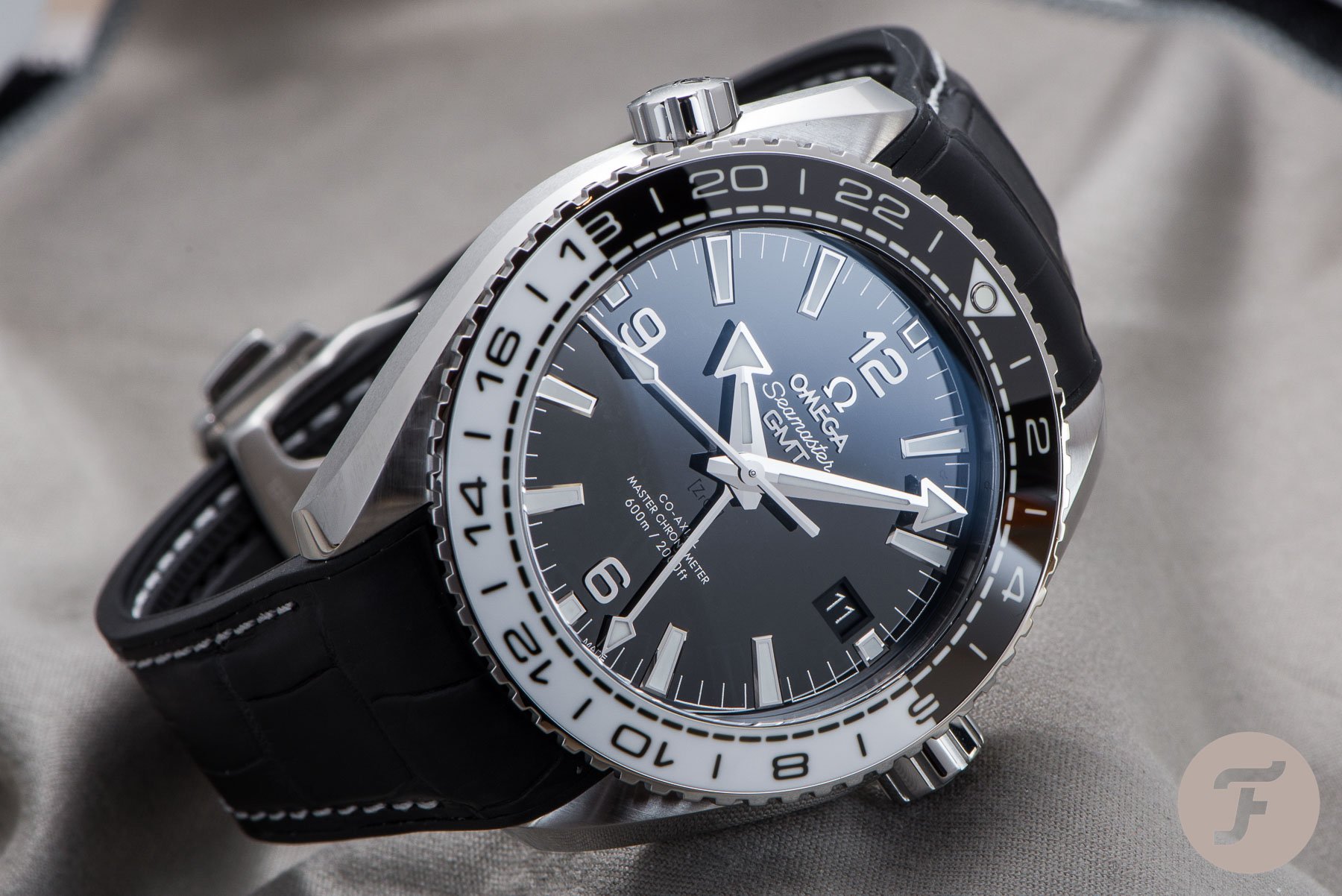 Truthfully, I'm not much of a fan of the Planet Ocean range. I find it a bit unsatisfying most of the time. But I have to say this piece is truly stunning on the wrist. If I'd never seen it, I wouldn't be saying that. From catalog shots along, it looks dull. It appears to be a black and white bore. In real life, in natural light, however, the ceramic bezel, ceramic dial, polished indices, and arrow-tipped hands make for one hell of an impact piece. It is, in my mind, one of the best GMT dive watches on the market.
Best of all, there are very few Omega Seamaster Planet Oceans that work quite as well as this does for business and pleasure. A quiet hero nestled among the gods, for sure… Just over €7,000 (depending on your country) will get one of these on your wrist.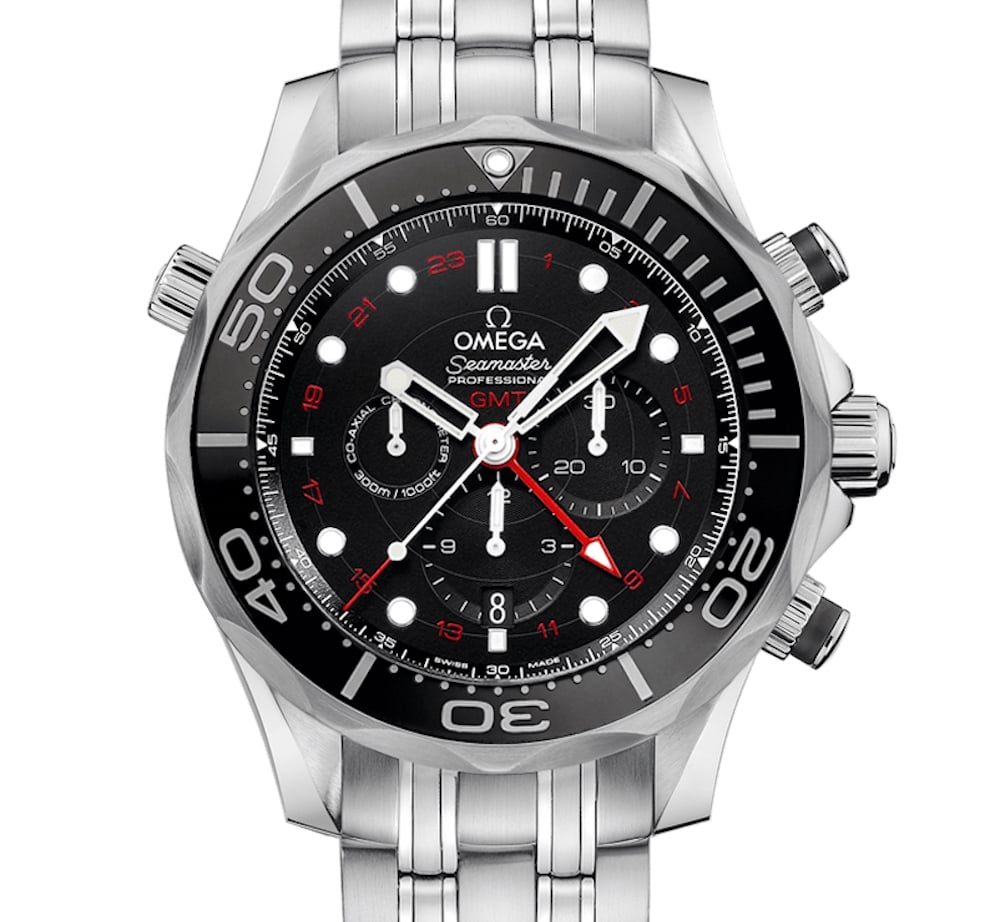 Top Pick: Omega Diver 300m Co-Axial Chronometer GMT Chronograph 44mm 212.30.44.52.01.001
In the past fortnight, I've developed a weird (for its suddenness) obsession with Omega Seamaster Chronographs. As a side note, I'm planning a World Record attempt for 2022 and I've been searching for a possible timing partner. I am becoming ever more convinced that I can't do much better than an Omega Dive Chronograph, but the question is which one to pick (unless I can talk Omega into making me a special one…we shall see).
…there are few Omega Seamasters that can hold a candle to this one in terms of functionality and unique looks.
Omega is always improving. I love the new chronograph models. I really do. When you compare the functionality, the movements, and the sheer presence of models like the Ta/Ti/Sedna RJ lovingly reviewed next to the standard Seamaster collection (especially the expensive "No Time To Die" Bond version) the value proposition becomes apparent.
However, within that collection, a couple of old holdovers exist. At €5,845, reference 212.30.44.52.01.001 is a steal. Stylistically, it fits with the generation prior to the 2018 reimagining of the Seamaster 300m core. But, and this is crucial, it has a GMT function. Nowadays, there are few Omega Seamasters that can hold a candle to this one in terms of functionality and unique looks. Aside from a blue-dialed version with yellow accents, this one's on an island. As such, it's my top pick for the best GMT Dive Watches to gift a loved one (or yourself) this Christmas.