Introducing: The Seiko 5 Sports 55th Anniversary Ultraseven Limited Edition SRPJ79
A tip of the hat from Seiko to all the Ultraman fans out there
Today Seiko announced the release of its latest limited release. The Seiko 5 Sports 55th Anniversary Ultraseven Limited Edition pays tribute to five and a half decades since the first broadcast of the popular spinoff in the Ultraman series. This late-1960s cult tokusatsu show reigned supreme for two decades and heavily influenced Japanese pop culture. With many characters and sequels to the original that introduced new characters and storylines, it's a classic that continues to inspire. Today, Seiko looks back fondly and taps into the incredibly cool and unique aesthetic of the show for its latest creation. A watch worthy of the Ultra Guard, this Seiko 5 is undeniably cool, whether or not you are a diehard fan of the show. Let's take a closer look!
I would assume that many of you, like me, were introduced to the Ultraman franchise thanks to the special collaboration with Omega for the second Speedy Tuesday watch. Inspired by the show's lead character and a watch worn by several characters in the show, the Speedmaster Ultraman was an instant hit. Far less orange and black, the silver-dominant appearance of the Seiko 5 Sports 55th Anniversary Ultraseven is also extremely cool. "The official instruments of the Ultra Guard" is the official theme of the watch. And first impressions certainly do not disappoint. It definitely looks the part and even includes several small details that fans of the show will recognize.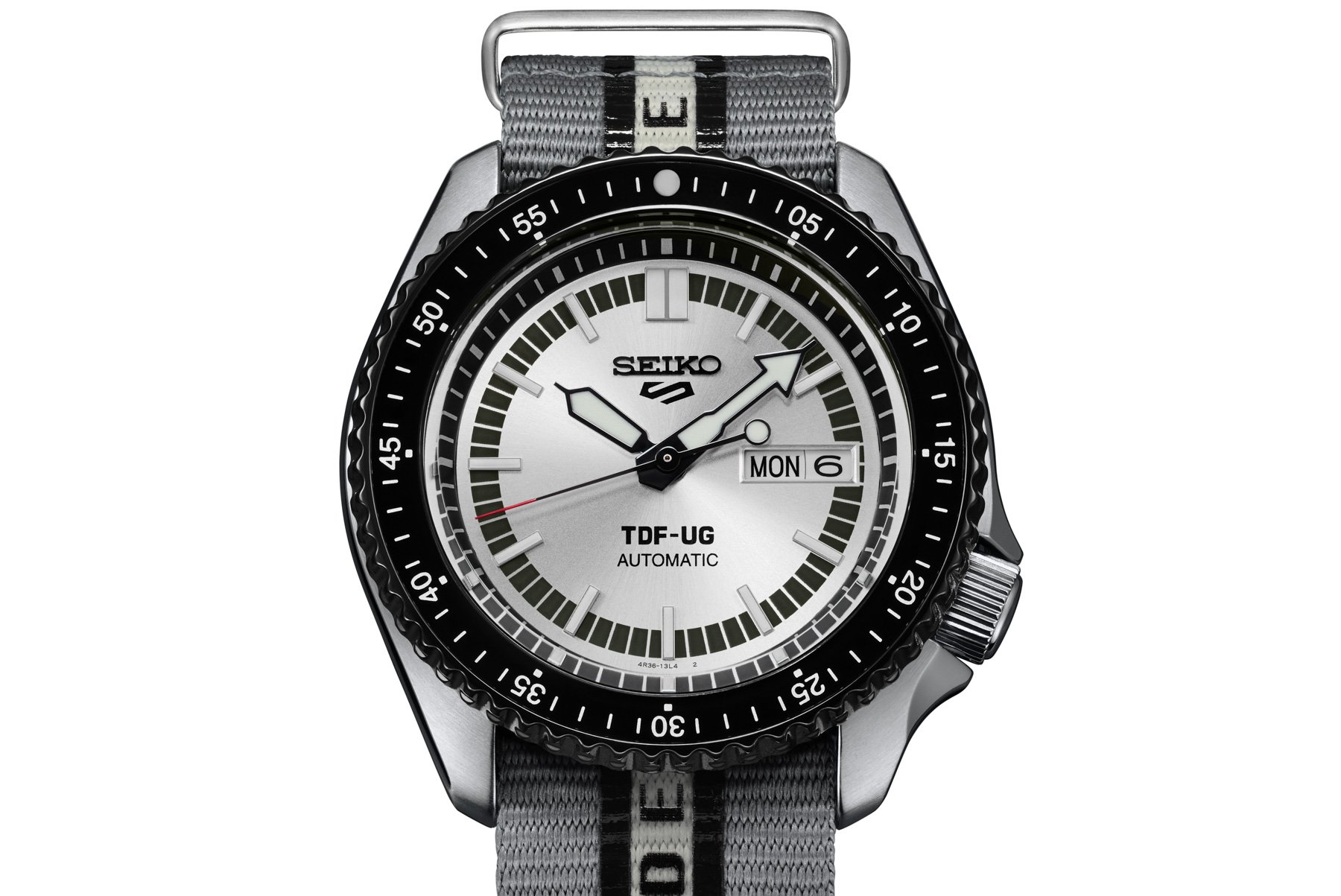 The Seiko 5 Sports 55th Anniversary Ultraseven
Taking the beloved Seiko 5 Sports as its base, the 55th Anniversary Ultraseven SRPJ79 has received a considerate makeover. Opting for a silver, black, and white colorway (with just a hint of red on the seconds hand and case back), the watch certainly looks like a piece of kit from the show. There's something undeniably charming about the show. It has the same low-budget cult appeal of early Star Wars and Star Trek. It also offers a unique view of how Japan perceived futurism back in the '60s. On the dial, you will see the inscription TDF-UG. This stands for "Terrestrial Defense Force — Ultra Guard". It plays with the idea that the watch might be a piece of kit worn by the earth's defenders themselves.
On the back, a special red crystal is signed with a silhouette of Ultraseven, as well as a serial number and the "limited edition" designation. Complete with a Terrestrial Defense Force NATO strap in matching livery and a special signed storage and presentation tin, this one is sure to draw in plenty of collectors. If you want to feel like you have been transported to late-'60s Japan, getting one of these limited-edition watches on your wrist will certainly do the trick. And I think its looks certainly hold up even if you're not a fan of the show. In terms of specs, the watch is a standard Seiko 5 Sports. You can read all about the watch here.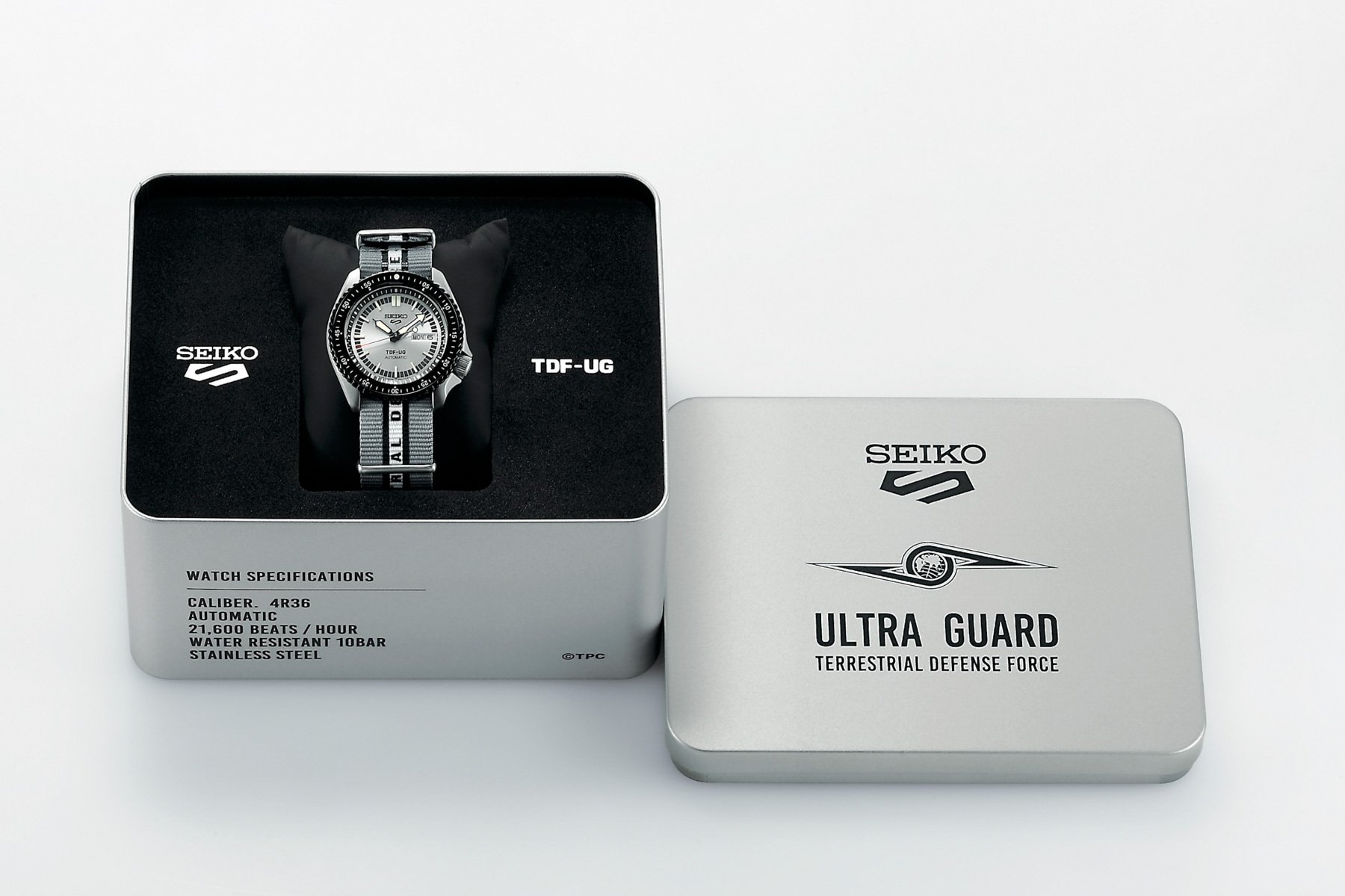 Final thoughts
It's truly great to see Seiko having fun with its Seiko 5 line. We have seen several collaborations take place this year already, including the black-camo Seiko 5 with Yuto Horigome. More recently, we saw two special Kosuke Kawamura Seiko 5 models. We even saw the One Piece limited editions earlier this year. Establishing the Seiko 5 sports as a G-Shock-like platform for collaborations is a clever move. It means that fans of specific artists or franchises won't have to shell out thousands to get their hands on a special piece. I could imagine that if one of these really strikes a chord with you, it wouldn't be one to pass up. Especially as prices tend to remain reasonable (usually below €500).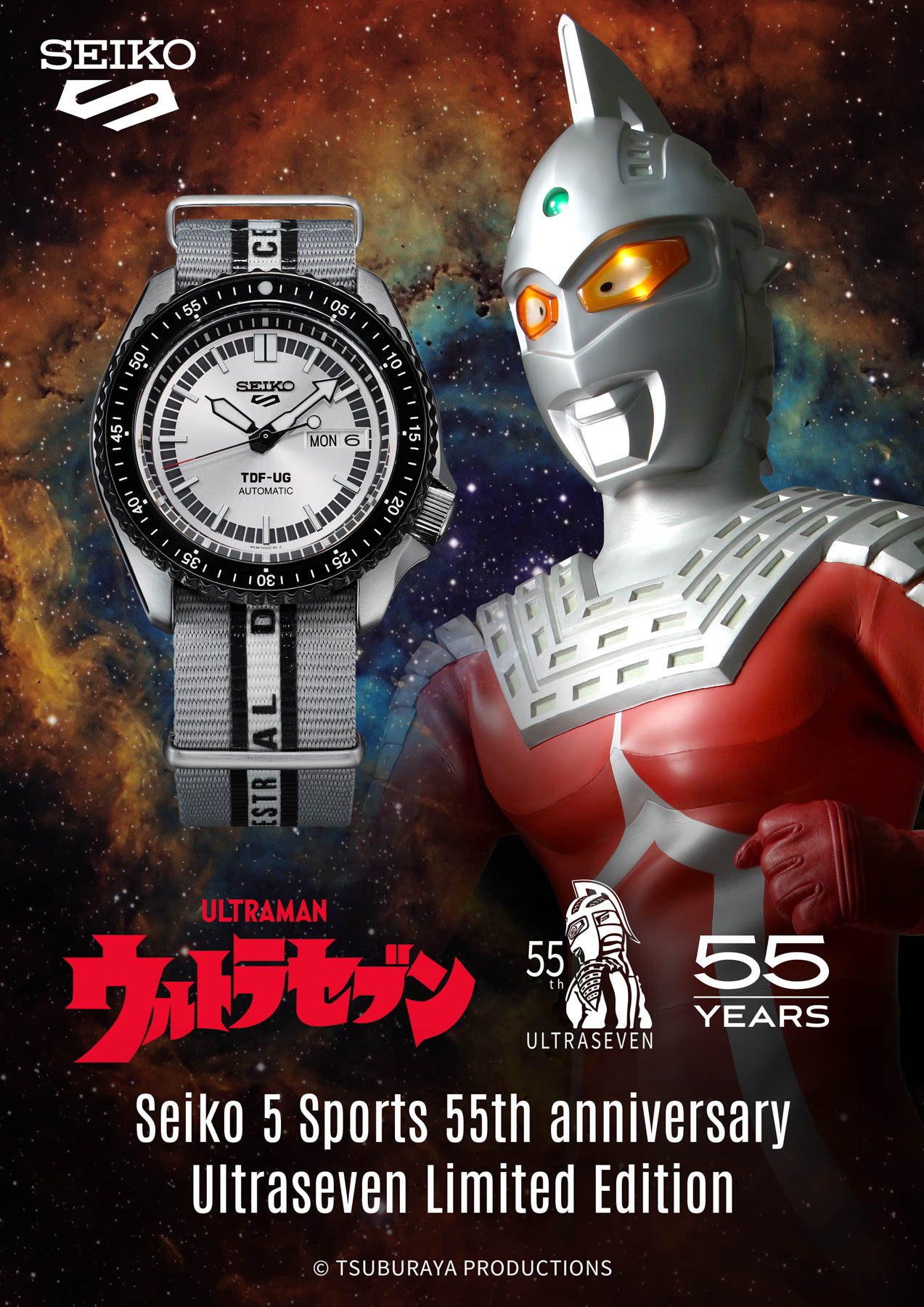 The Seiko 5 Sports 55th Anniversary Ultraseven SRPJ79 will be made available in January 2023. Seiko has announced that 3,400 units will be available. The RRP for the Seiko 5 Sports Ultraseven LE is €450. For more imformation, stay tuned to the Seiko website, as there's sure to be more coming soon.