Love Is In The Air This Valentine's Day With The New Swatch Half <3 Red and Half <3 White Watches
The perfect gift for that special someone
Valentine's Day is upon us once again. And if you're looking for the perfect gift for that special someone, Swatch has you covered. Whether you want to declare your love to your crush with a grand romantic gesture or to celebrate the day of love and romance with your significant other, nothing quite says "I love you" like offering someone half of your heart. No, not your actual heart! And I'm also not talking about one of those half-heart necklaces (they're just a tiny bit passé). I'm talking about a wonderful ticking piece of Swiss watchmaking in the form of the new Swatch Half <3 Red and Half <3 White!
To celebrate this year's loveliest of holidays, Swatch has gone all-in with the romance. The brand has created a pair of watches meant to be shared by all you lovebirds out there. From long-established power couples to new lovers enjoying the honeymoon phase, this pair of watches are the perfect gift to celebrate your love for your better half. And every time you come together, your two half-hearts will make a whole. It's a feature you can enjoy with the lights on… Or off! That's thanks to the luminescent heart on the dial.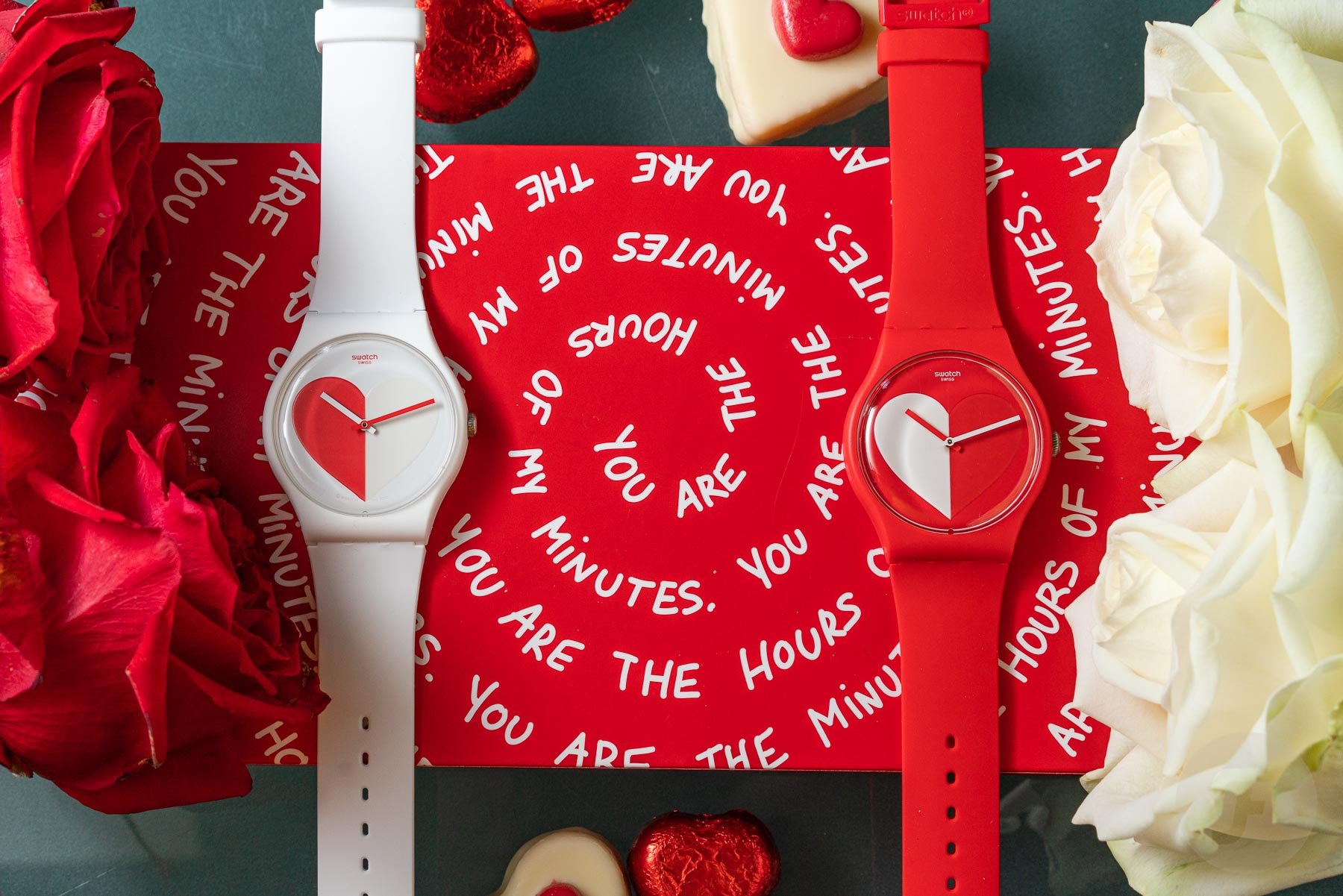 Swatch Half <3 Red and Half <3 White
We all know that Swatch loves to stay up to date with the latest festivities. The brand releases thematically relevant watches for anything, from the Lunar New Year to everyone's favorite British secret agent, and even iconic works of art. But a recurring theme that Swatch never misses is Valentine's Day! This year, the brand has released a grand total of three special watches to celebrate the day of romance. The Half <3 Red and Half <3 White, and the Love O'Clock. However, as much as I love the fun and unique date wheel on the Love O'Clock, nothing quite beats the ability to share a special pair of watches with your partner. Inside a pair of red and white New Gent Biosourced 41mm watches, Swatch has split one heart, ready to be shared and brought together.
Each one of these watches features half of a red heart on the dial, with the other white half coated in luminous material. Yes, even in the dark, you'll be able to follow your heart. Whether you buy the pair to share or to wear yourself, a special "in case of emergency love, break glass" display box will ship with the watches. However, the supply of these boxes is limited. and they will only be made available for  the very first orders. But the box is the perfect place to proudly display these two watches. Whether you choose to wear them or simply hang them on the wall as a memento, you will be ready for any eventuality. And who knows, some of you singles out there might even find themselves reaching for a hammer to set the watches free!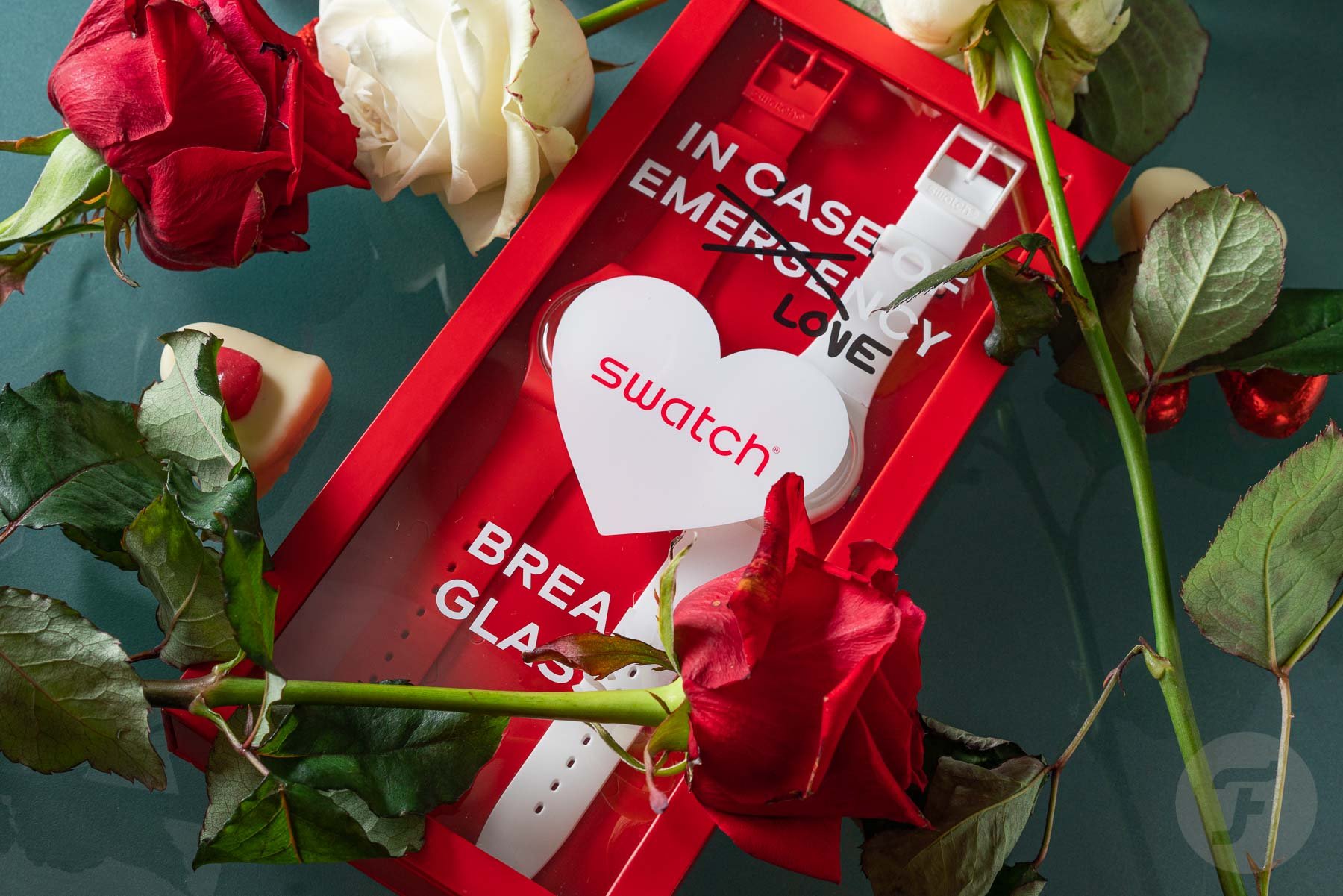 Final Thoughts
Valentine's Day is often perceived as a somewhat cheesy affair. A Hallmark holiday. However, there is something satisfying about embracing the corniness and just enjoying the day. Whether you're spending today out with friends, family, or your other half, remember to tell the special people in your life that you love them. And if it is that special someone, perhaps getting them a piece of your heart in the form of a cool watch is the best way to let them know. Each of the Half <3 watches will set you back €80, with the Love O'Clock priced at €70.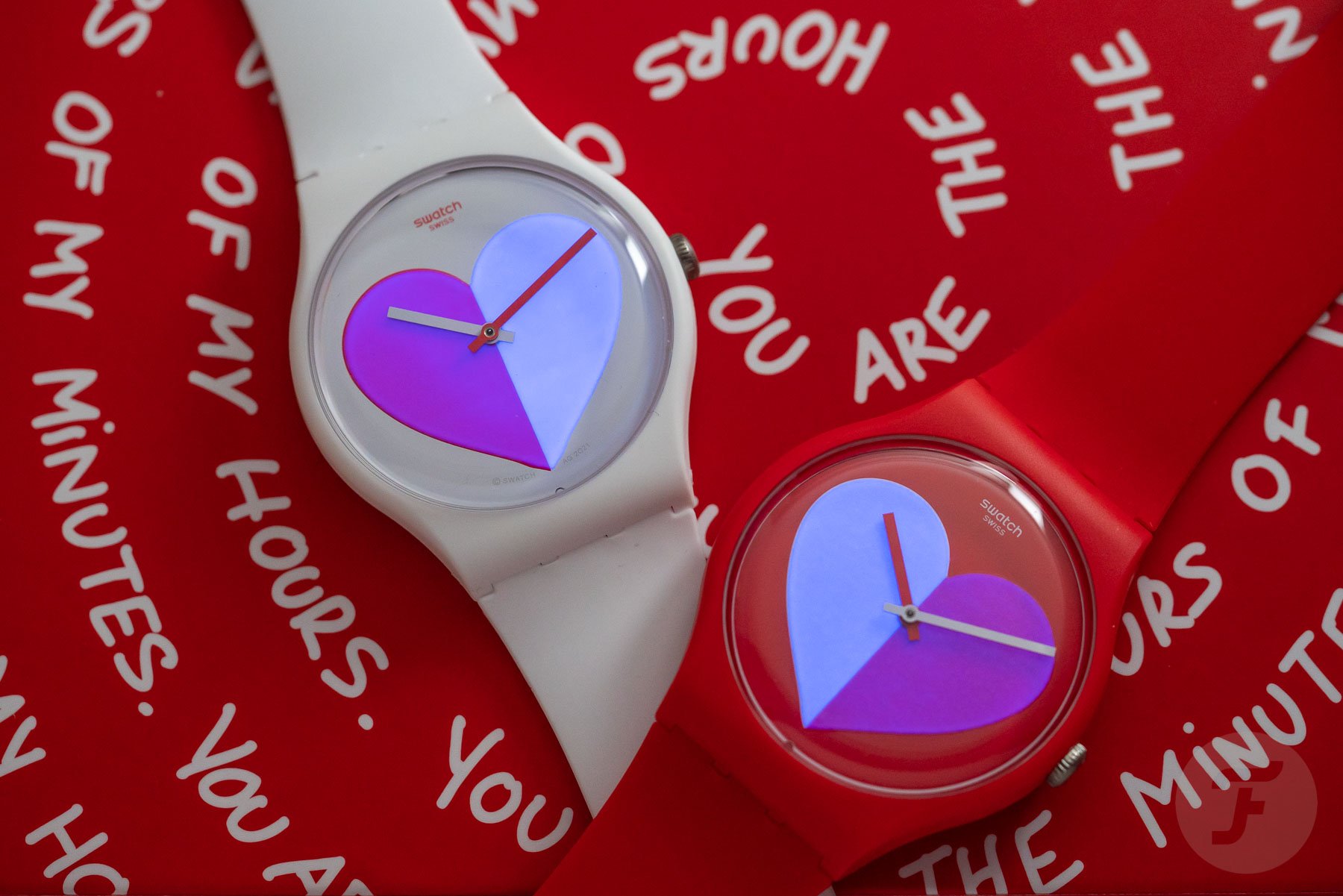 Happy Valentine's Day, dear Fratelli! <3
For more information on the Swatch Half <3 Red and Half <3 White, check out the Swatch website.