#TBT Angelus Chronodato With A Fiery Dial
When a gold-plated watch actually becomes desirable
I didn't have to buy this Angelus Chronodato, but I wanted to. One look at that dial with its crazy patina and the seldom-seen tachymeter scale and you will be hooked too.
I never buy gold-plated watches… until I have to. Sometimes, you don't have the luxury of a wide range of choices and just have to go with what you can get. Take the Tourist Everlight, the world's first mechanical wristwatch with an electrically lit dial, for instance. The Avia Ajustor with external balance regulation or dead-beat Tourist Radio-Top would be a few more examples, and the crazy Sperina Counter watch that I've never, ever seen in a steel case would be yet another. Sometimes you're just glad when you find some specific movement or complication, regardless of what it's cased in.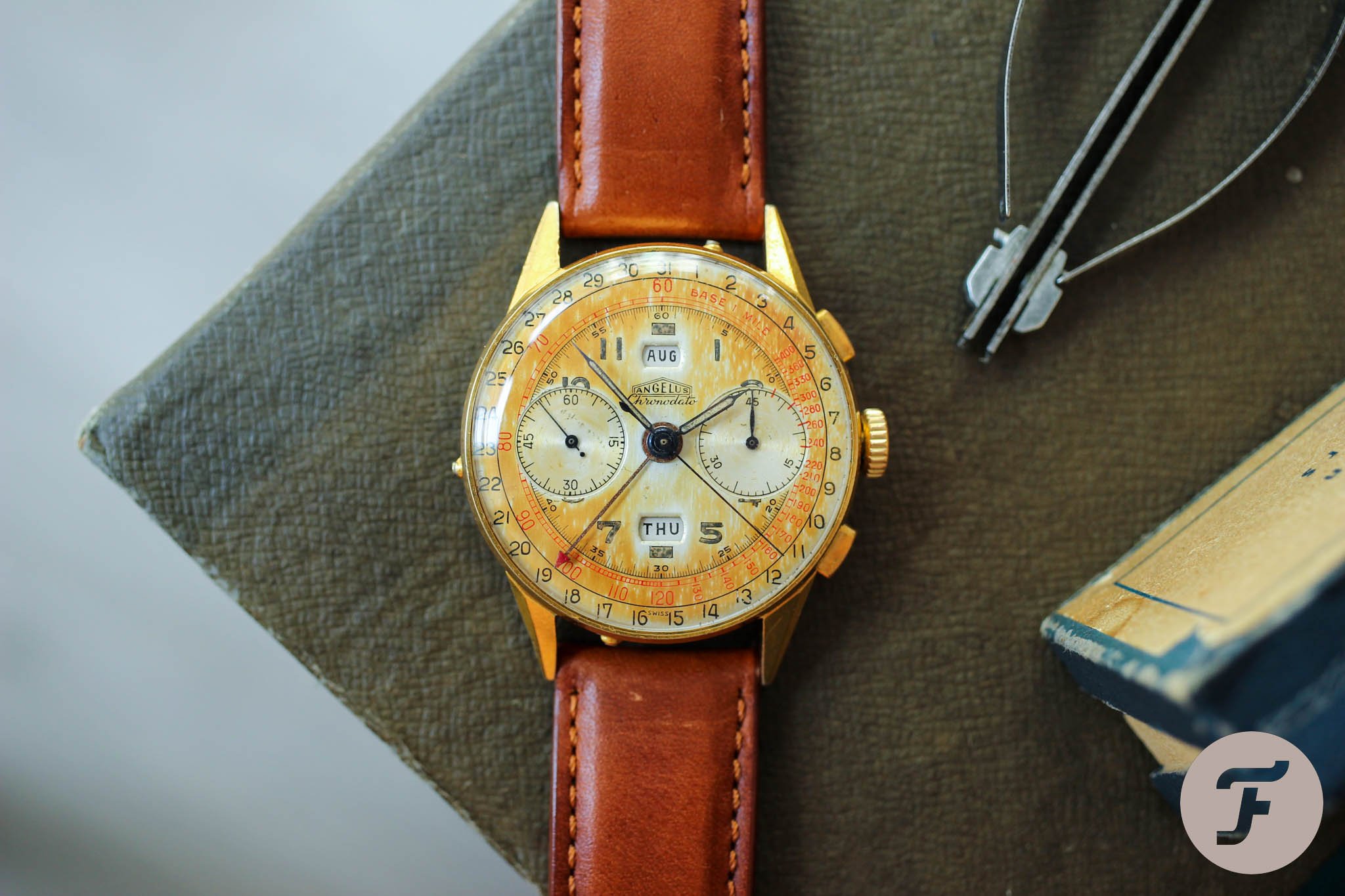 A search for a steel Angelus Chronodato
I blame so many people in my watch-loving circles, mostly because they showed me some special watch references that I had to put on my wishlist. It was Balazs and his article back in 2016 that made me start searching for a Chronodato, the world's first serial-production chronograph wristwatch with a full calendar (day, date, and month).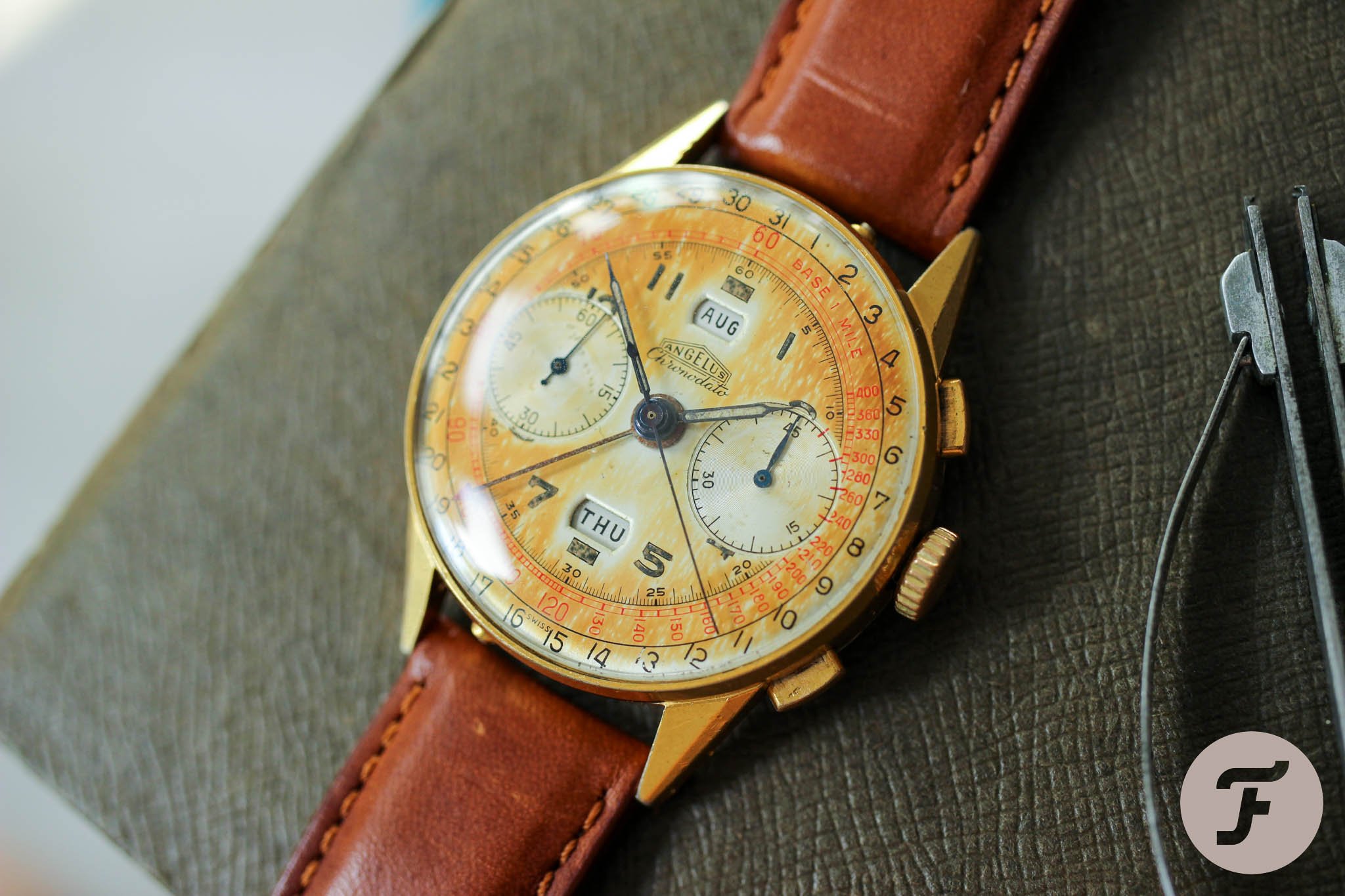 Solid gold was a no-go for me, and I skipped over gold-plated cases with chewed lugs as fast as I could. Like many other watches, the Angelus Chronodato looks like a different piece when cased in steel. It's more charismatic, and however funny it may sound, it looks more serious. By my estimate, however, you will see maybe 20 solid gold or gold-plated versions for every single steel model. Condition ranges big time, and spotting solid, unmolested pieces with beautiful dials is becoming more and more difficult.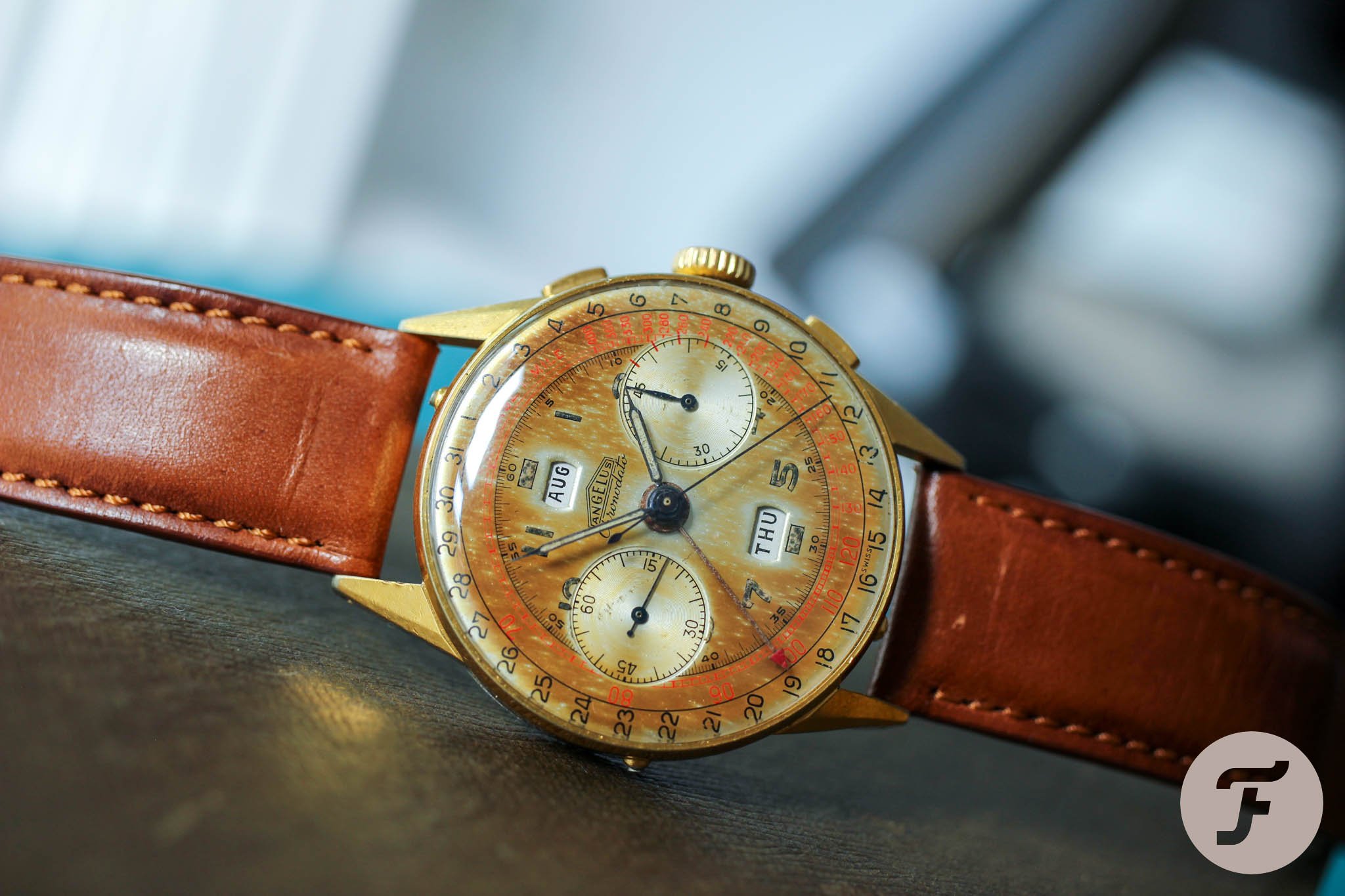 The Angelus Chronodato isn't a Submariner
I don't know who I discussed this with — Mike, probably — but we concluded that Rolex watches are built like tanks. The Chronodato sits on the other side of the spectrum. The Chronodato is that ailing, weakly classmate who gets sick anytime you open the window during class. It's a fact that the Angelus Chronodato looks like a very delicate watch, and it is one. But I guess that's also part of its charm.
From steel to a gold-plated Chronodato
My patience paid off, and after a few years of waiting, a beautiful, untouched steel Chronodato with original lume popped up. I was ready and I landed it. The countless number of buy-out offers I've gotten for my steel Chronodato only confirm that it's not easy to find an honest steel piece. After I got my Chronodato, I was off the market. But because I was too lazy to delete all my Chronodato auction crawlers, I have kept abreast of the market offerings.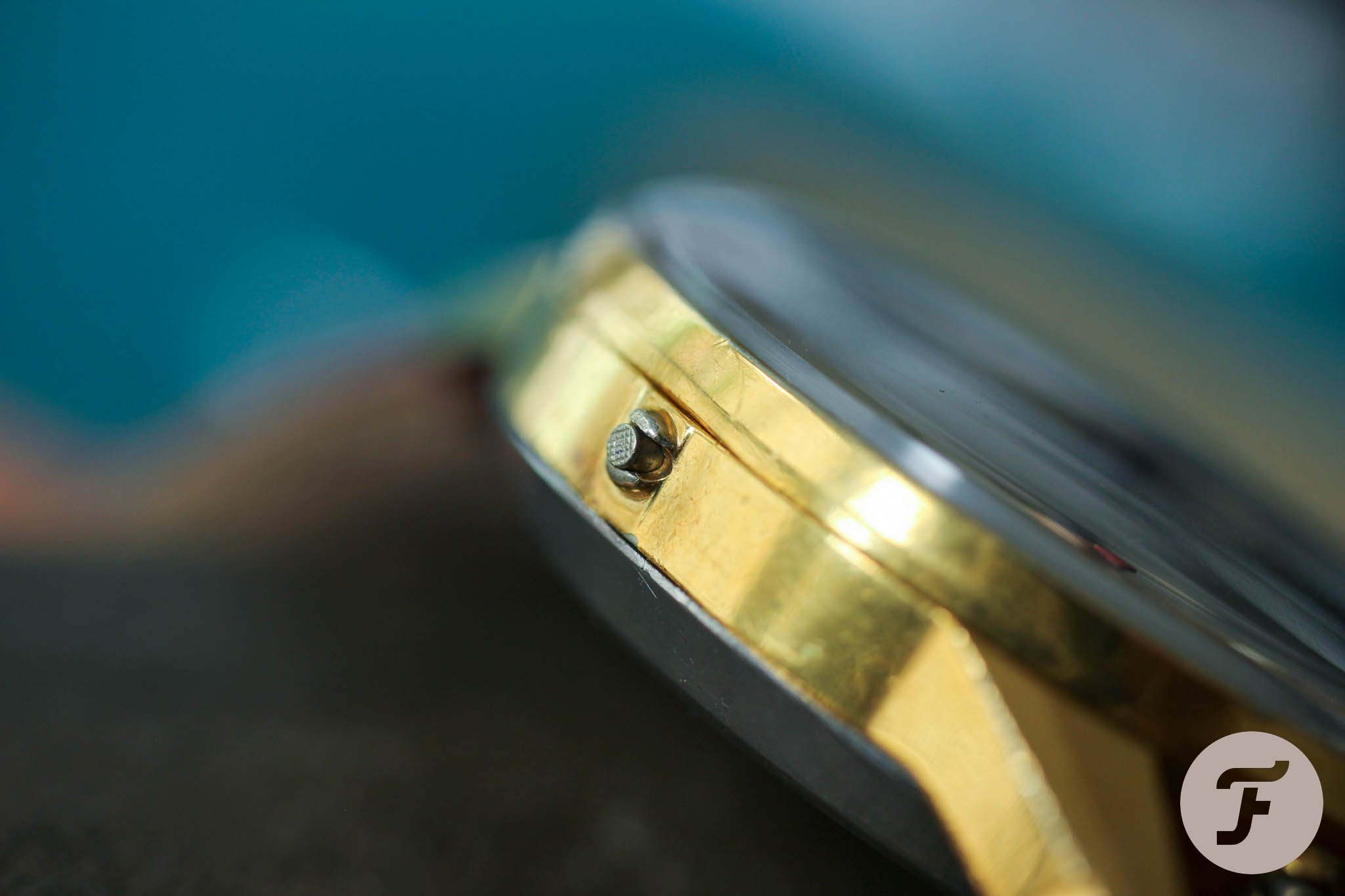 I have seen many Chronodato watches in the last five years, but I never considered a gold one for a second. Well, a surprise is a crucial part of the watch-collecting hobby, obsession, or whatever you call it. And you might get surprised by not only what you find but also by what you get excited about. I wouldn't expect to get excited about a gold-plated Chronodato. Well, until out of nowhere — meaning out of some random UK auction house — a picture of this watch popped up in my mailbox. It was instant love. I was blown away by the striking patina. I registered for the auction, and I won it.
The patina
When I age, I want to age like this Angelus Chronodato. No matter if it's Clint Eastwood, Robert Redford, or Paul Newman, they all have their charisma underlined with hundreds of wrinkles popping on their skin. My burning Angelus Chronodato is like them. You know their "original" faces from dozens of old photos or movies, but you can't stop being amazed by how beautifully they all aged. They are all still themselves, and at the same time, they are not.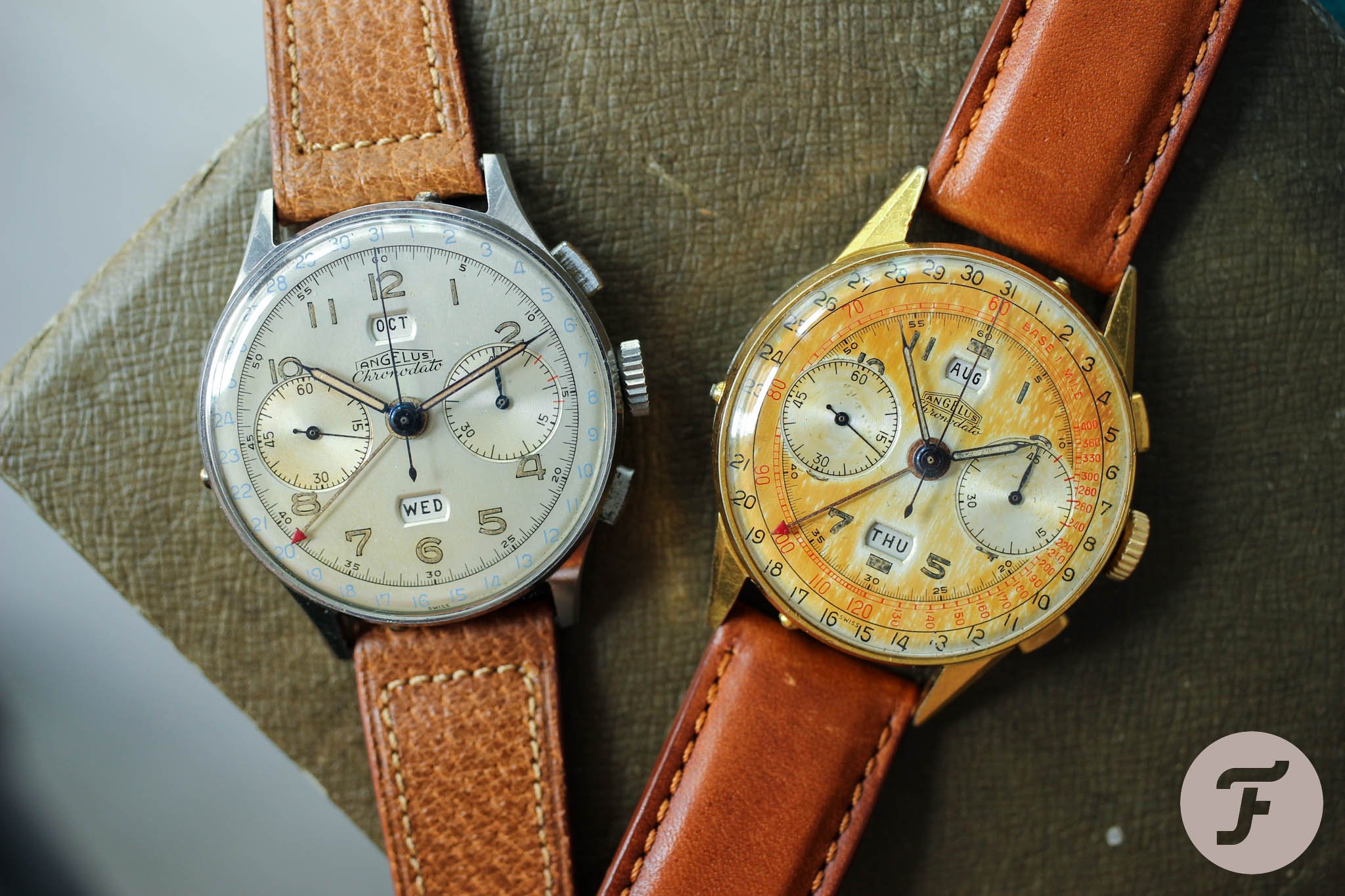 This side-by-side picture of my steel and gold-plated Chronodato watches shows it in the best way possible. The steel Chronodato keeps its young and fresh temperament. Besides the light yellowish tint in the southern part of the dial, it looks like it just left the factory. The sandy lume in the hands is perfectly flat like a sheet of paper. The light blue date numerals around the dial are all perfectly clean, and none of them have been damaged during a careless service. Finally, the red detailing on the date pointer and minute sub-register adds just the right amount of vividness to the dial.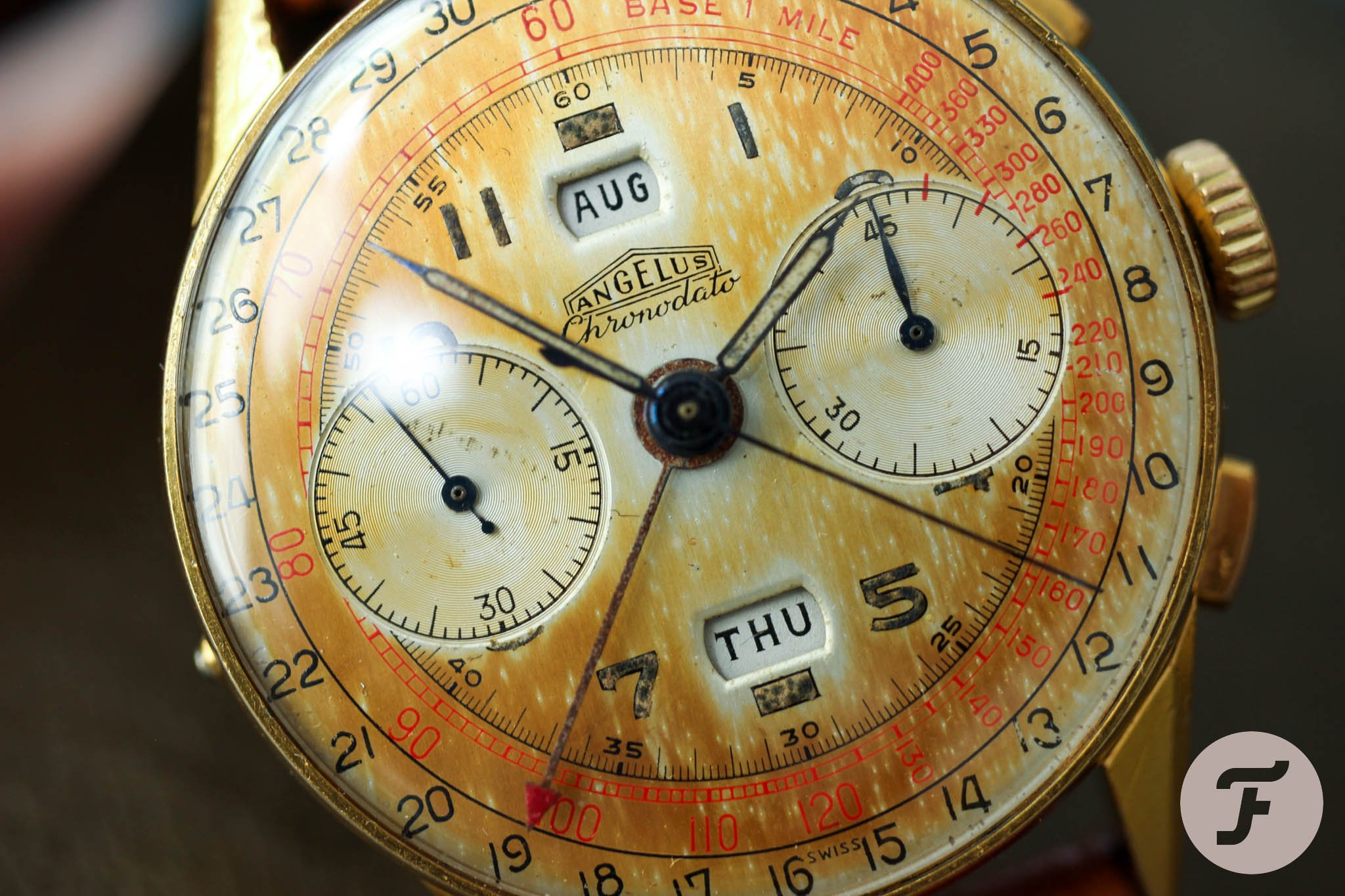 A dial in flames
Now, look at the gold-plated Chronodato. Only a few watches in my collection are as expressive as this one. It reminds me of a sky over the battlefield that is literally set on a fire with hundreds of burning cannons. The entire dial is covered with flames. You can feel it desperately trying to take a deep breath to survive. The burning blaze is concentrated so heavily around the tachymeter scale that it almost turns brown. A rare add-on to the dial, the screamingly red tachymeter scale looks like it's being burned alive. The lumed Arabic numerals are the final reminiscence of a rotting battlefield. The lume is not consistent anymore, and the numbers look like the dying embers from destroyed artillery.
In need of help
The condition of the watch required a bit of advanced attention. When I found it, some ignoramus had painted the hands all black, lume included. We had to dissolve the paint in a way that would retain the blued finishing of the hands. My magic watchmaker Tomas did a fantastic job. We got rid of the super-high crystal, which was killing the vintage vibe. Tomas found a perfectly fitting thin crystal. He did a full service of the movement and also fixed the date-change function that was a bit stuck.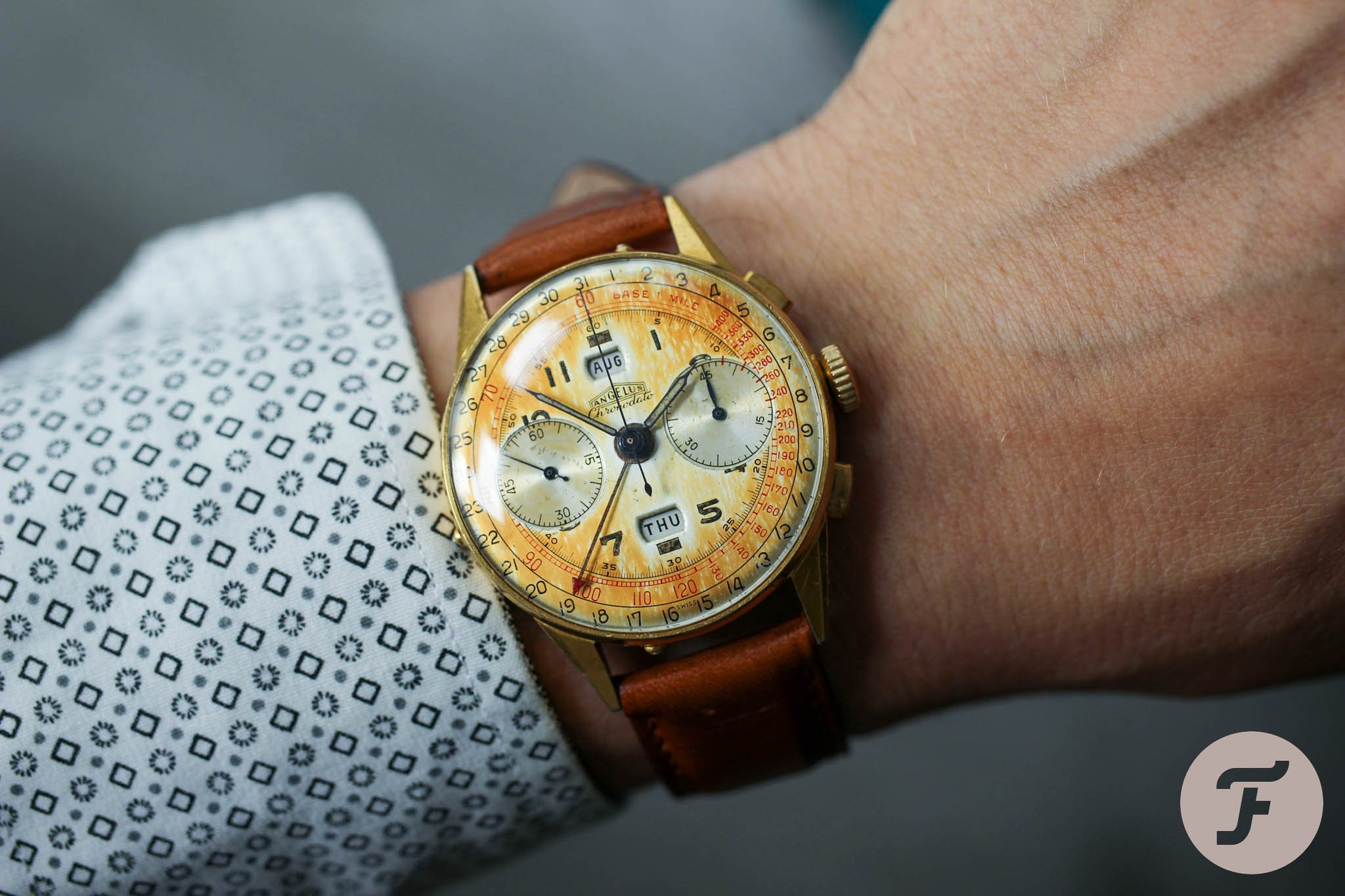 Wrist time
I paired this Chronodato with a rich, smooth brown leather strap from Colareb. I found contrasting stitching too disturbing, but matching stitching gave it a more decent look. The serial number dates this Chronodato to 1943/1944 and makes it slightly younger than its steel brother. The later double-frame Angelus logo with the straight upper line in the "E" is consistent with that. Also, take note of the slightly different lug style. The lugs are longer and flatter, and they gave a misleading feeling that this Chronodato is slightly larger than it is.
Last thoughts
With a never-ending watch wishlist, I don't have much room for "double acquisitions". I do have a few of them, I admit, but they were all the result of a spontaneous purchase rather than a long-planned acquisition. This time, I instantly surrendered to the epic patina, but I believe I didn't lose the battle. Happy hunting.