The New Blancpain Air Command 36.2mm Is A Goldilocks Grail
And once again I'm feeling a deep small-cased infatuation for gold
Last autumn, I was the Fratello correspondent at the Oslo Watch Fair and spent some time in the Blancpain booth. There, I tried on the last edition of the intensely blue Blancpain Air Command in titanium and fell for its charms. But I did so despite its 42.5mm case, which, even with the lightness of titanium, was still rather large. This has all changed with the new Blancpain Air Command 36.2mm.
It is as if Blancpain read my mind, but why would I say that? Well, the top story last week on Fratello was my yarn on the 36mm IWC quartz-powered 3741. This got masses of comments from the Fratelli (thanks!), and it almost seems like our collective message of small-cased love reached Blancpain. The brand just released a delightfully sized and still intensely blue Air Command. And it seems to have shrunk in the wash to a perfect fit.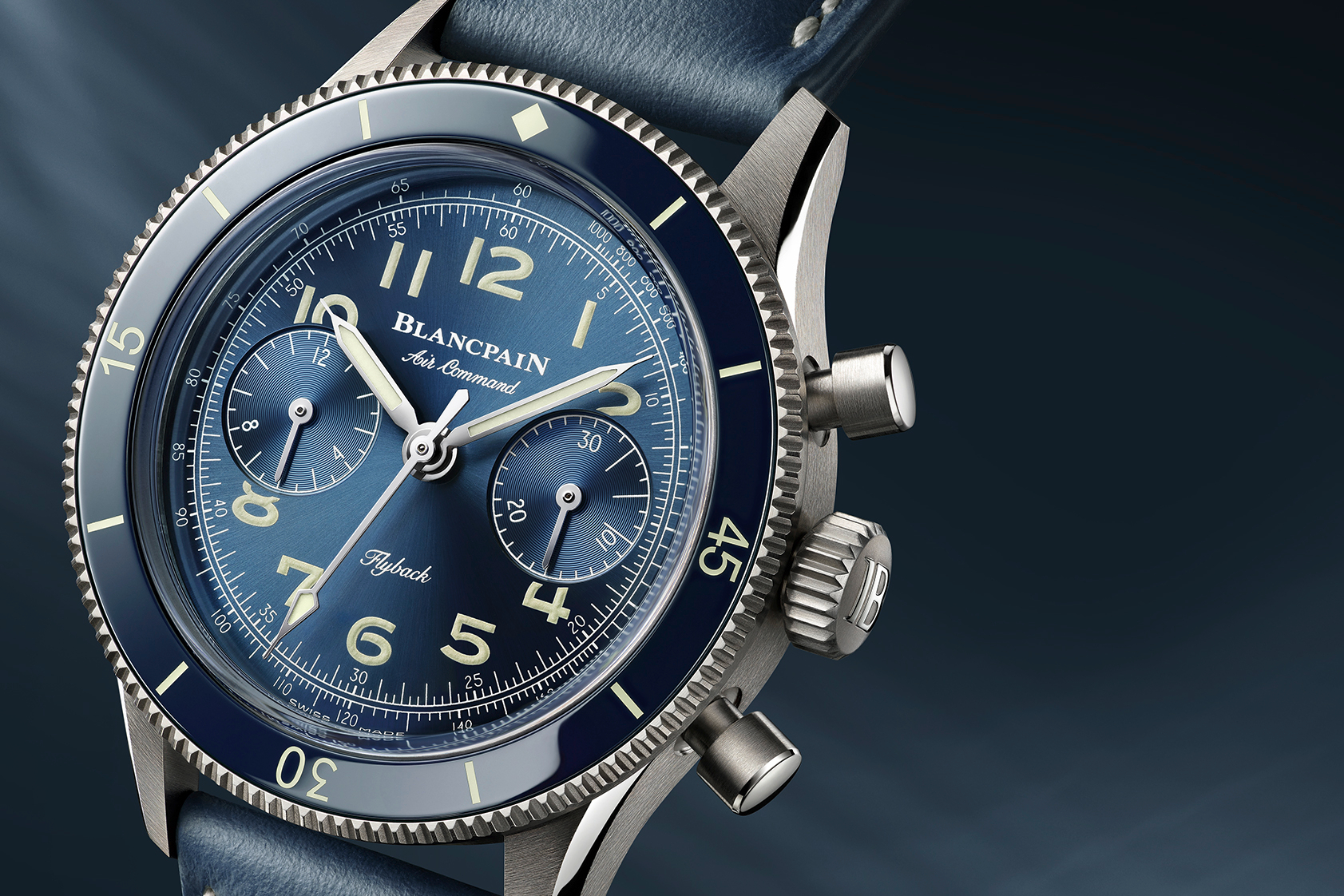 Let's not use the term "unisex"
Obviously, in mentioning it, I sadly acknowledge its existence. The term, however, is seriously outdated. I will also choose to ignore the fact that Blancpain seems to angle this delicious chronograph towards female watch buyers. Yes, this is a one-for-all fit. Just like the 38mm Fifty Fathoms Bathyscaphe in my story on blue diver's watches a couple of days ago, this is a sweet-fitting gem. I'm not knocking the big-wristed guys out there. I'd be happy with a 43-45mm Fifty Fathoms to show off the classic on a bigger scale. But alas, my wrists aren't up to the job, and even if they were, the comfort of something under 39mm is too good to ignore. Like the 42.5mm version, this new 36.2mm Air Command is available in titanium as well as red gold, and do you know what? I'd go for red, unashamed gold any day of the week.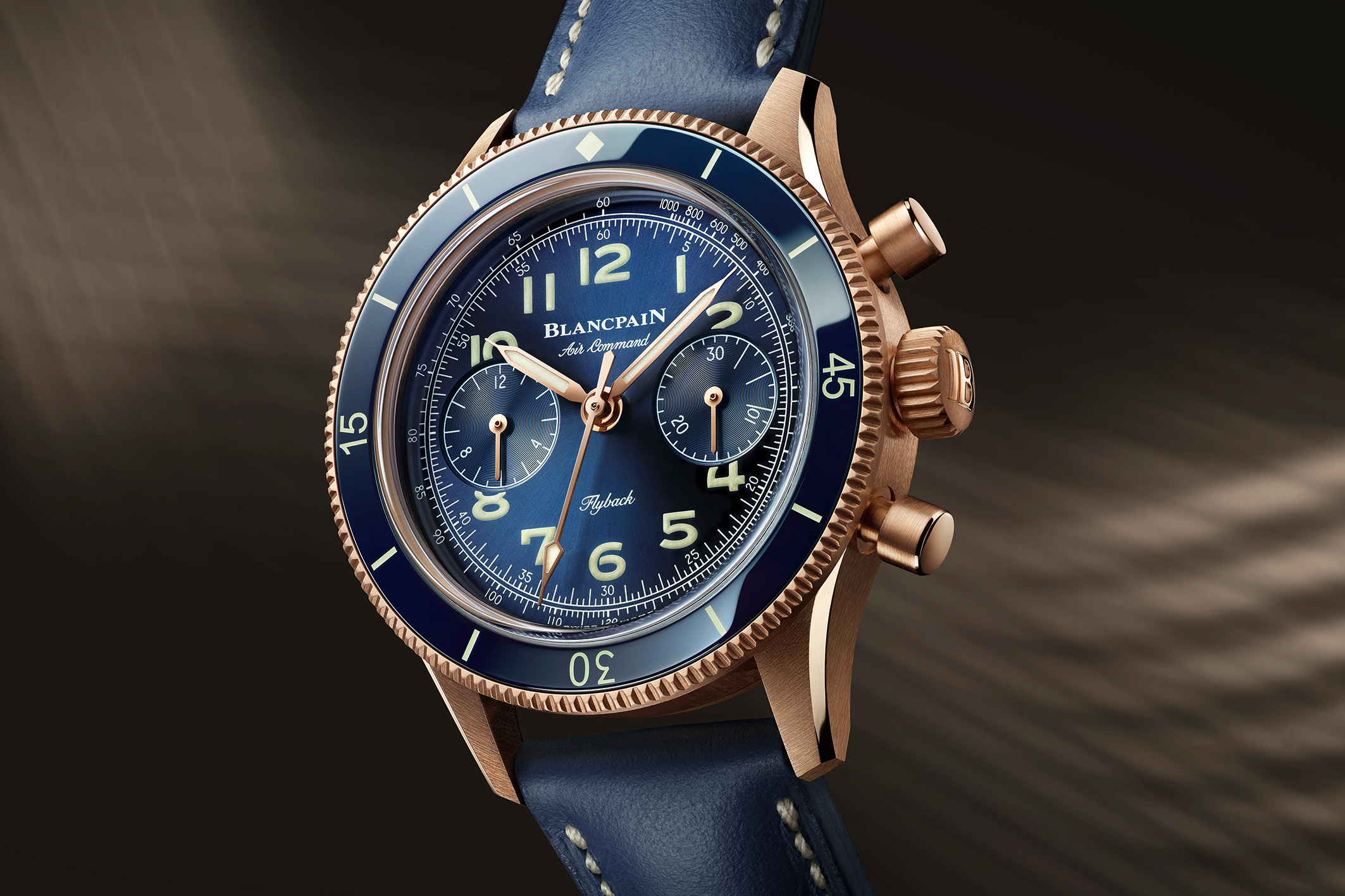 A lustrous celebration
In the hypothetical situation of having a €30,000 budget to spend on a watch, I am a contrarian. I would never spend above retail on a ubiquitous Rolex but would be far happier with something only recognizable by a small audience. That's actually a good point in any situation, so buy the watch that makes you happy. It'll give you a sense of time travel or well-being, not followers. Tangents aside, I do enjoy the concept of titanium watches, and it's a great way to make a larger watch comfortably light. But at a touch over thirty-six millimeters, the comfort is as inherent as it is absolute, so go for gold. The brushed red gold is a lustrous match to the dark and intense blue of the sunray dial and glows warmly. From sweeping lugs to a thin polished bevel on each pusher top, the details are sublime.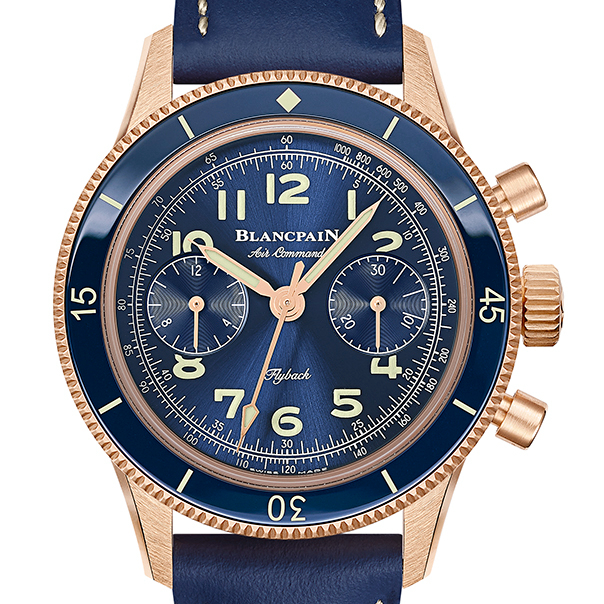 Incorrectly perfect
At 36.2mm, for once, we are looking at a role reversal; the 1950s original Air Command was actually 42mm in size. That is great for legibility, but unless you fly vintage monoplanes and need to complete your look, this Air Command is not going to be used as a flight tool. The look is identical to the modern 42.5mm version, save a few proportions like the script on the dial seeming larger and perhaps the bezel-to-dial-size ratio. But seriously, no matter how you look at it, this is an evocative flight instrument that doubles as a very elegant dress piece, and the details are nothing but sharp. The snailed, recessed dual registers are dramatically cut into the fat-lumed Arabic numerals and sit balanced within the maximalist dial. Light beige Super-LumiNova for the numerals and hands makes for a period-correct look.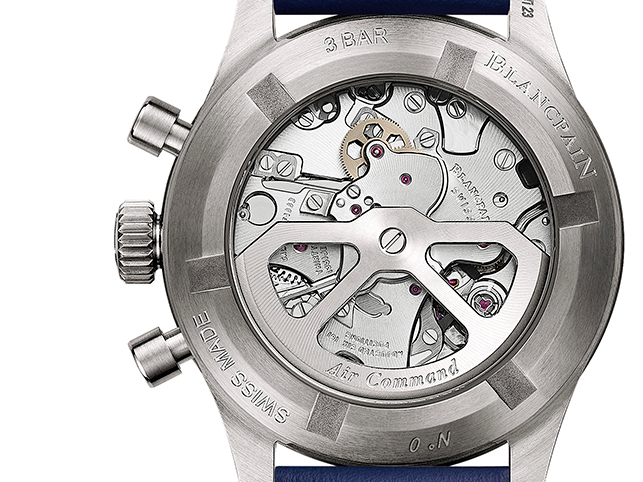 The flyback conclusion
The in-house F188B caliber is an automatic column-wheel chronograph movement with a vertical clutch for smooth operation. It also packs an antimagnetic silicon balance spring, as well as the top-spec flyback function. What else could you wish for when the dial is of such balanced joy? I'm still betting all my chips on gold, even if the titanium version is lovely too. The intrinsic luxury of the red gold gives the Air Command a different vibe, accentuated by the view through the rear sapphire.
If you enjoy a good dual-register layout in a small size, there aren't exactly rich pickings from big Swiss brands.
I am surprised but delighted that Blancpain chose this small-sized path, especially as it becomes a beautifully contradictory model. In a turnout for the books, this new 36.2mm reference is smaller than its original inspiration. And yes, it seems that Blancpain is nudging it in the direction of a female audience, true. But I have a feeling this vintage-cool tool with a flyback chronograph appeals more to a male audience. If you enjoy a good dual-register layout in a small size, there aren't exactly rich pickings from big Swiss brands. Even at €28,920 in red gold and €17,500 in titanium, this is a compelling duo indeed.
Dear Fratelli, is this small-cased chronograph from Blancpain yet another sign that small is the new big? Or am I simply appropriating a watch for myself that's not entirely meant for a male demographic? Let us know what you think in the comments.
Find me and follow me at @thorsvaboe